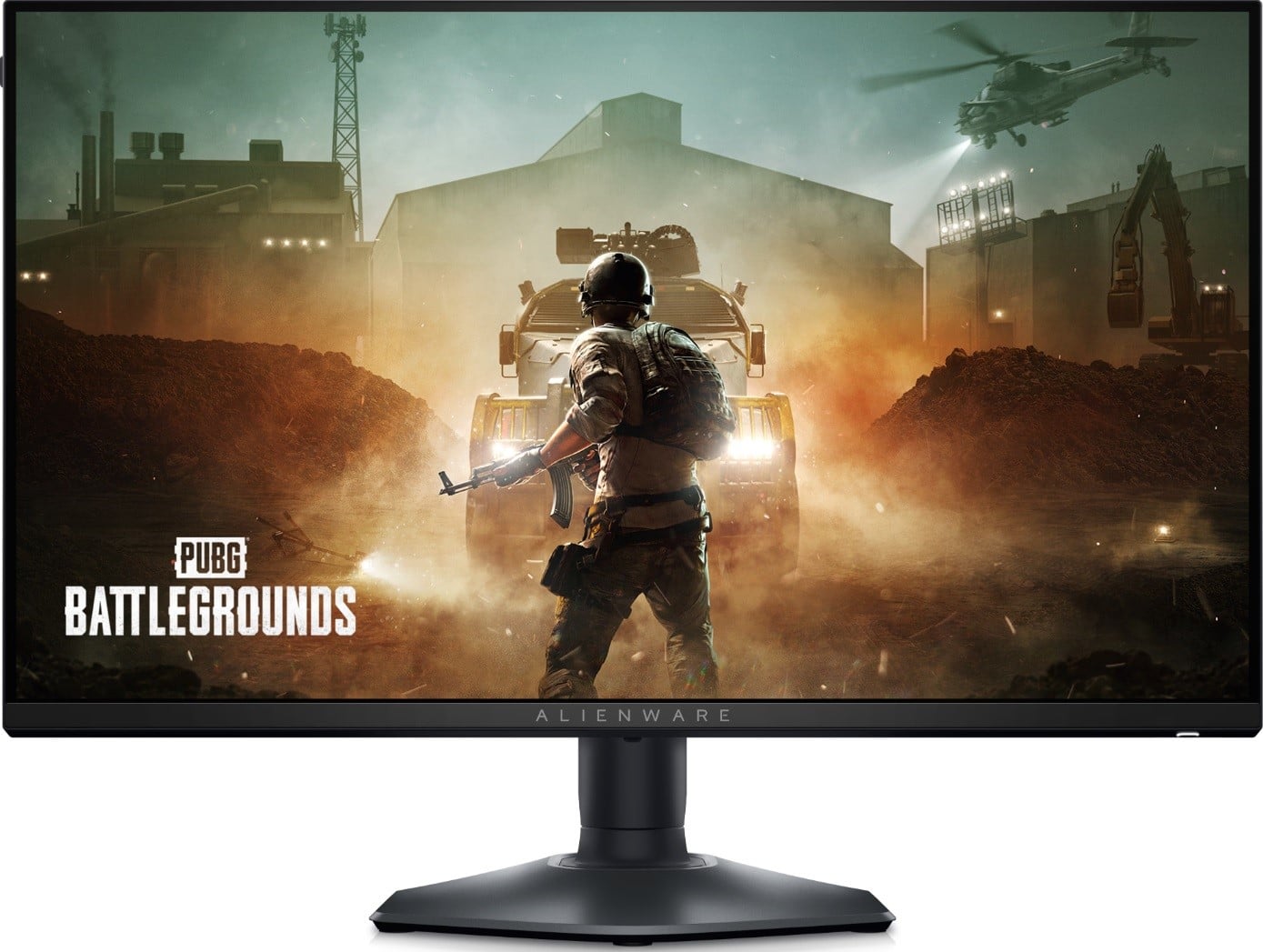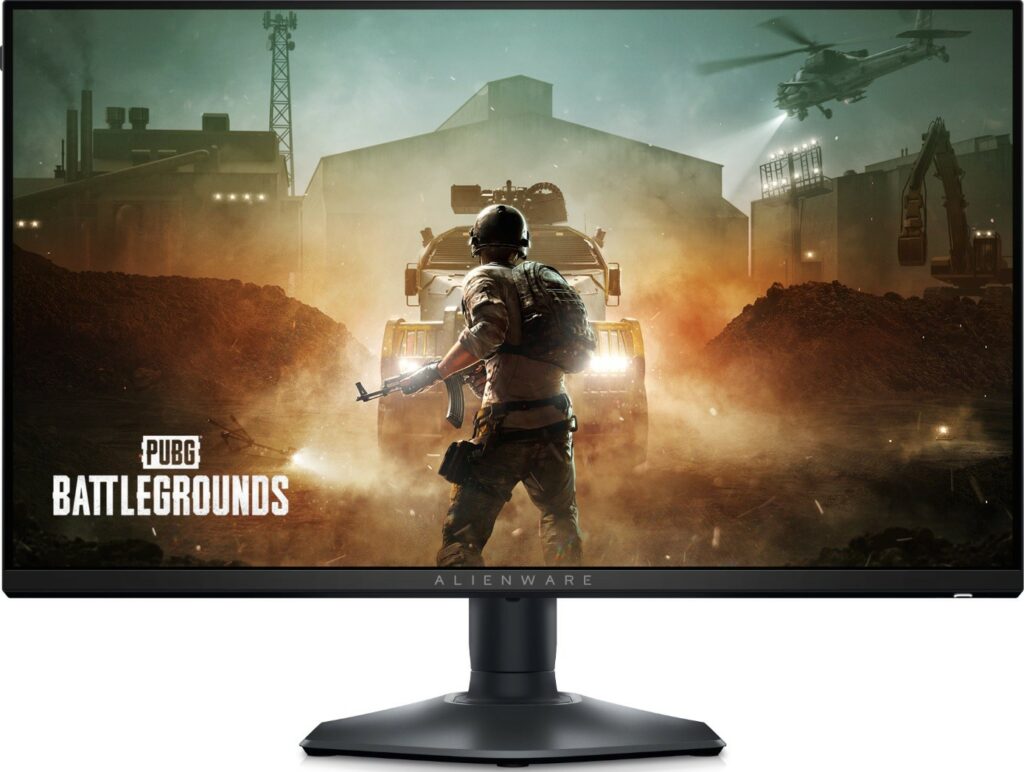 The Alienware AW2523HF focuses on speed and combines it with the company's premium branding to produce a compelling monitor. Another great thing about it is its current price which is at least $200 cheaper than the first 360Hz models. The Alienware AW2523HF specifications dictate that it's a must-have for competitive gaming, but is it worth the price?

Alienware AW2523HF Specifications
Screen Size: 25 Inches
Resolution: 1920 x 1080 Full HD
Aspect Ratio: 16:9
Panel Technology: In-Plane Switching (IPS)
Refresh Rate: 360Hz
Response Time: 1ms
Contrast Ratio: 1000:1 (Static)
Brightness: 400 cd/m2
Built-in Speakers: No
Stand: Height – Yes
Stand: Tilt – Yes
Stand: Swivel – Yes
Stand: Pivot – Yes
VESA Compatibility: Yes (100 x 100)
Connectivity: DisplayPort 1.4 x 1, HDMI 2.0 x 2, USB 3.2 x 4, 3.5mm Jack x 2
Dimensions with Stand(WxHxD): 21.9" x7" x 9.6"
Weight: 12.2 lbs

Design and Features
The Alienware AW2523HF sports a simpler look than its predecessors so it's a bit easier to match with themed setups. The monitor has a matte black chassis so it doesn't look as conspicuous as the older Alienware models. Its display is bezel-free on three sides but you can still see some inner borders while it is running if you look close enough.
It's not a big monitor, plus it's quite nice that the product's overall dimensions when fully assembled have been reduced. It now only needs 9.6 inches of depth, unlike some variants that have massive bases and stands. It also only weighs 12.2 pounds so it's light enough to be brought to competitions or even LAN parties with your homies.
One of the probable reasons why the design changed for this model is its lower pricing than the previous iterations. However, that doesn't mean that it seems like it's cheapened since the build quality is still quite good. The chassis and stand are robust and there were no signs of wobbling or cosmetic defects like uneven seams on the monitor so it is still satisfying to hold and look at.
The Alienware AW2523HF has a joystick for its OSD at the bottom near the brand logo for easy access. This is a much better design implementation than pesky buttons or controls that are placed at the back since you don't have to reach in to access it. other premium models go as far as adding remotes, but it is not necessary for a purely desktop display like this.
The stand included in the package offers tilt, swivel, pivot, and height adjustments for your convenience. This feature is a must-have, so gamers don't have to suffer through hours of gameplay while straining their necks because of poor viewing angles. You can use VESA mounts, but it's only necessary for some instances like when you have multiple displays.

The Alienware AW2523HF has more to offer compared to its Dell counterparts when it comes to connectivity. It has DisplayPort 1.4, two HDMI 2.0 slots, four USB 3.2 ports, and two 3.5mm jacks for speakers and headphones. What it's lacking is a USB-C connector which should be a standard on all monitors that are above the budget price range.
Another missing feature from this model is a pair of upgraded built-in speakers. That's fine since it is competitively priced and most of its intended audience will use headsets anyway. Enclosing your hearing in a pair of properly-tuned cans will help you focus, so it's a must to get a decent product if you want to be competitive.
Display and Performance
The Alienware AW2523HF sports a 25-inch Fast IPS panel with a 1920 x 1080 resolution, a 360Hz refresh rate, and a 1ms response time. The backlight has a 400 cd/m2 output while the contrast is listed at 1000:1 like most IPS monitors. This model is rated with VESA's HDR 400 standard, but we all know how limited that is when it comes to HDR effects.
1080p monitors at this size are still popular since they are easy on the eyes while requiring less GPU horsepower to reach a certain framerate. We know that there is an initiative to push E-Sports into the 1440p category, but it still hasn't caught on simply because you need more powerful GPUs for them. Most of us are also used to the resolution so there is no need for an adjustment period.
The Alienware AW2523HF produces more than 100% sRGB, but it lags in DCI-P3 with its 75% coverage. Its default accuracy is excellent since the deltaE average is only at 1.89 so the colors already look balanced when you power it up for the first time. Gamers will be happy that they don't have to tweak the monitor except when it's to adjust something as simple as the brightness level.
Calibrating the monitor reduced the dE average to 1.51 which isn't great, but still impressive for a gaming display. A colorimeter was used to get this result, so you will need to buy one to get the same level of improvement. However, we advise against it since this model will mostly be dedicated to gaming instead of a mixed-use variant.
The Alienware AW2523HF's backlight produced a healthy 415 cd/m2 at 100% so it has plenty of juice to fight off glare. Its contrast reached 1197:1 at 50%, but it is still insufficient in helping the monitor to produce deep blacks like VA panels. The monitor may be new, but it's still bound by the limitations of IPS panels unlike those with mini-LEDs.
Panel uniformity for the test sample was excellent since there were barely any defects like backlight leaks. There is some variance in the backlight's spread, but it is mostly unnoticeable unless you put on a black image. Note that this can change between every AW2523HF made due to tolerances, so it is possible to get a worse unit if you are unlucky.
What's best about the Alienware AW2523HF is its superb pixel response time thanks to its sky-high 360Hz refresh rate. It is unnecessary to use a high level of overdrive provided that your framerates reach the 360Hz limit. This monitor is great for fast-paced or competitive games thanks to this characteristic.
The Alienware AW2523HF is compatible with both FreeSync and G-Sync, unlike its predecessors which were separated by the two. This is a must-have feature, so the gamer doesn't have to spend twice on a monitor when the time to upgrade the GPU arrives. Input lag sits under 3ms so this model is unquestionably suited for its main purpose and audience.
Thoughts on the Alienware AW2523HF
The Alienware AW2523HF is a fantastic choice for fast-paced or competitive gaming thanks to its speed and responsiveness. It is not as bold-looking as the older models, but it retains the brand's solid build quality and character. It's also tuned properly from the factory, but that doesn't leave a lot of room for calibration.
However, it still isn't perfect like most gaming monitors in the market today. Its gamut coverage and calibrated accuracy are not the best, and it lost some of the distinct features like the AlienFX lightning to make it cheaper. These are minor complaints, but they may matter to those who want a truly bespoke gaming display for their setups.
Pros:
Fast and Blur-Free
Full sRGB Coverage
Fully Adjustable Stand
Excellent Build Quality with Lower Price
Cons:
Limited Contrast
No Extended Gamut
Poor HDR Performance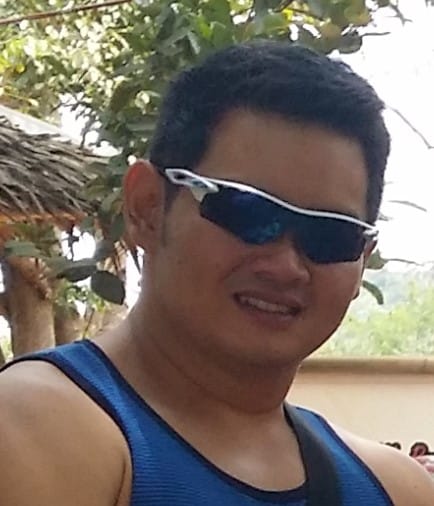 Paolo is a gaming veteran from the golden days of Doom and Warcraft. Since junior high, he has been building gaming systems for family, friends, and colleagues. High-performance monitors are one of his fixations; he believes that every citizen's right to enjoy one. He has gone through several pieces of hardware in pursuit of every bit of performance gain, much to the dismay of his wallet. He has also spent half a decade researching, reviewing, and writing about these products and now has over 1400 articles about the best gaming tech under his belt.