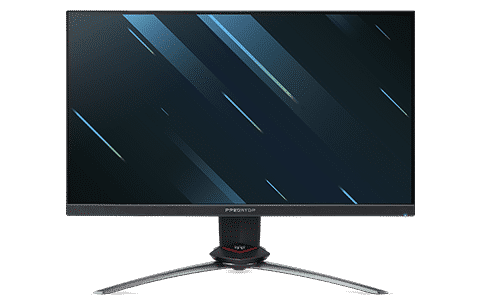 The Acer XB273UGX pushes the boundaries further with a 270Hz 1440p display over the 240Hz competition which are already impressive.  It's overkill, but it's seriously fast with great image quality to boot thanks to its Fast IPS panel. The Acer XB273UGX isn't cheap, but let's check out if it's capable of stellar performance that will make it a worthy investment.

Acer XB273UGX Specifications
Screen Size: 27 Inches
Resolution: 2560 x 1440 WQHD
Aspect Ratio: 16:9
Panel Technology: In-Plane Switching (Fast IPS)
Refresh Rate: 270Hz
Response Time: 0.5ms
Contrast Ratio: 1000:1
Brightness: 350 cd/m²
Built-in Speakers: Yes (2 x 2 Watts)
Stand: Height – Yes
Stand: Tilt – Yes
Stand: Swivel – Yes
Stand: Pivot – Yes
VESA Compatibility: Yes 100 x 100
Connectivity: DisplayPort 1.4 x 1, HDMI 2.0 x 2, USB-C PD65W x 1, USB 3.0 x 4, 3.5mm x 2
Dimensions With Stand(WxHxD): 24.08″ x 20.87″ x 9.30″
Weight: 13 lbs

Design and Features
The Acer XB273UGX looks like the X25's bigger brother, so it looks simpler and cleaner compared to its 165Hz twin, the XB273UGS. The monitor has a matte black and gunmetal combination, but it has a red accent on its upright. The display is bezel-free on three sides so the screen looks clean and wide open even if it still has inner borders.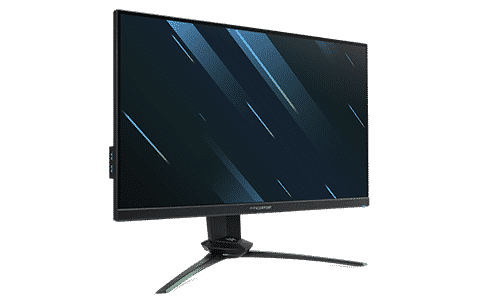 It has an oversized stand, but the Acer XB273UGX manages to stay within reasonable dimensions due to the angles of its structure. It only needs 9.3 inches of depth and it doesn't weigh a lot at 13 pounds. The less aggressive design also played a role in reducing its heft while also making it look more sophisticated than its predecessors.
Build quality for the Acer XB273UGX is excellent as expected from a premium variant made by a top-tier brand. It's mostly made of plastic, but the panels are thick and well-reinforced so they are sturdy. there are no obvious cosmetic defects or flaws, and we didn't feel any flexing on the plastic. The base and its attachment point are firm and stable so the monitor won't be dancing around even if you pound on your desk.
The Acer XB273UGX has a joystick for its OSD controls so users won't have to struggle with calibration or hot swaps. Acer is known to have heavily-equipped OSDs, so it's best to have a tool that will help you navigate it with ease. What's missing from this flagship model is a remote, but we think that's okay since joysticks are already very user-friendly.
The stand included with the Acer XB273UGX offers tilt, swivel, height adjustments, plus it can pivot both ways. The base does cover a large area, but its design leaves some spaces in between the legs for smaller peripherals. You can use VESA mounts with it, but it's unnecessary unless space is very limited or if you have a multi-screen setup.
The Acer XB273UGX has plenty of connectivity features, starting with the standard DisplayPort 1.4 and HDMI 2.0 for monitors in its class. You also four USB 3.0 ports for accessories, but what makes it special is it includes a 65-watt USB-C that supports the full resolution. The monitor has Display Stream Compression or DSC, so it can put out the full 270Hz refresh without subsampling.
This layout is probably one of the best in the gaming monitor market right now, but the letdown here is the 2-watt speakers. They sound tinny and unsuitable for gaming, plus it's easy to make them distort by raising the volume. This is forgivable since gamers will opt for headsets anyway, but it is not what we expected from a top-tier product.
Display and Performance
The Acer XB273UGX boasts a 27-inch Fast IPS panel with a 2560 x 1440 resolution, a 270Hz overclocked refresh rate, and a 0.5ms boosted response time. The backlight has a 350 cd/m2 typical brightness, while the contrast ratio is listed at 1000:1 like most IPS variants. This model is rated for HDR 400 performance, but we know that it's limited when it comes to the actual imaging improvements.
27-inch screens for the 1440p resolution are considered the sweet spot since the pixel density is balanced just right. It's extra sharp, but small objects like text don't become microscopic just like with 4K variants which have an even tighter pixel pitch. QHD will strain your GPU, so make sure you have a top-end GPU if you want the full 270Hz output.
The Acer XB273UGX renders 100% of the sRGB and around 94% DCI-P3 which is excellent for a high-refresh gaming monitor. it also looks like it's factory-calibrated since its deltaE average is only at an impressive 1.38. It's ready to rock once it's out of the box, although we recommend trying some of the settings first to see which will work best for you.
Calibrating the Acer XB273UGX pushes it into prosumer monitor territory since its dE average dropped to an even more impressive 0.68. That makes it suited for editing and design, unlike many gaming monitors which hit a threshold when calibrated. It has a USB-C slot as well, so gamers who work in creative industries can just plug in their workhorse laptops like MacBook Pros to it.
The backlight also gets quite bright, reaching as much as 490 cd/m2 which exceeds its HDR 400 rating. the contrast ratio is great for IPS as well since it managed 1252:1 at 50% brightness. However, the monitor's black luminance still isn't deep enough, so blacks or dark scenes can sometimes appear washed out.
Panel uniformity for the Acer XB273UGX isn't the best, but it's decent enough to prevent some contrast loss or major clouding issues. The deviances can become noticeable in dark or all-black scenes, but for the most part, you won't see them. take note that this varies between every monitor due to the nature of IPS technology and some manufacturing tolerances.
Pixel responsiveness is one of the reasons why you should buy the Acer XB273UGX if you are an avid competitive gamer. The screen is free from blurring at 270Hz, so you only need to set its overdrive to its Normal level. Pushing it higher will induce overshoot which is quite visible in fast-paced or contrasting scenes.
The Acer XB273UGX is compatible with both FreeSync and G-Sync, so you won't have problems with GPU selection in the long run. Both companies now have ideal cards for the monitor, so it's great that you don't have to stick to one brand during your upgrade cycle. Input lag is extremely low at 2.5ms, so delays or de-synced instances aren't part of the equation.
Thoughts on the Acer XB273UGX
The Acer XB273UGX is one of the best high-end monitors you can buy if you want pristine image quality and ultimate agility. The 270Hz screen is extremely fast, and yet it can also provide excellent colors by default or when calibrated. We like the design of the monitor, but we wish it had the same RGB lighting at the rear as the Acer X25.
It's tough to list flaws for the Acer XB273UGX aside from its high price point which puts you in range of the 4K 144Hz variants. It's also overkill for us, especially since many GPUs will hit a limit at their resolution. It's a fantastic buy if you want the best monitor in a specific category, but be prepared to shell out some money for it plus a meaty GPU.
Pros:
Great Gamut Coverage
FreeSync/G-Sync Compatible
Fantastic Default and Superb Calibrated Accuracy
Fast and Blur-Free
Cons:
Expensive
High Black Luminance
About the Author: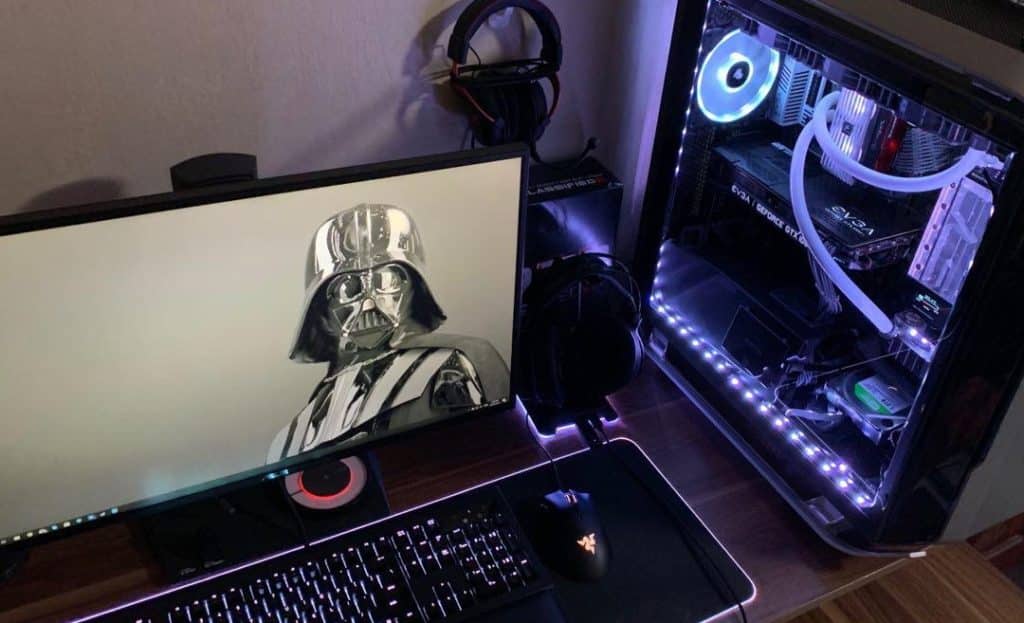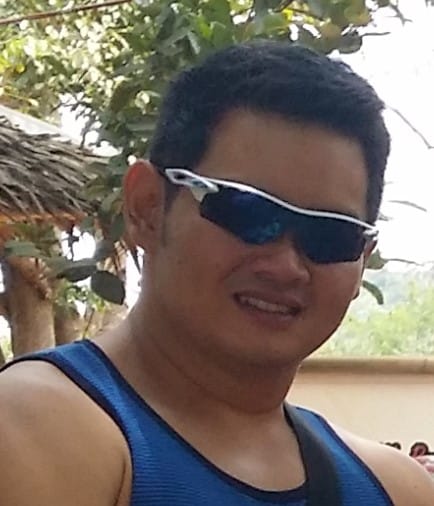 Paolo is a gaming veteran since the golden days of Doom and Warcraft and has been building gaming systems for family, friends, and colleagues since junior high. High-performance monitors are one of his fixations and he believes that it's every citizen's right to enjoy one. He has gone through several pieces of hardware in pursuit of every bit of performance gain, much to the dismay of his wallet. He now works with Monitornerds to scrutinize the latest gear to create reviews that accentuate the seldom explained aspects of a PC monitor.