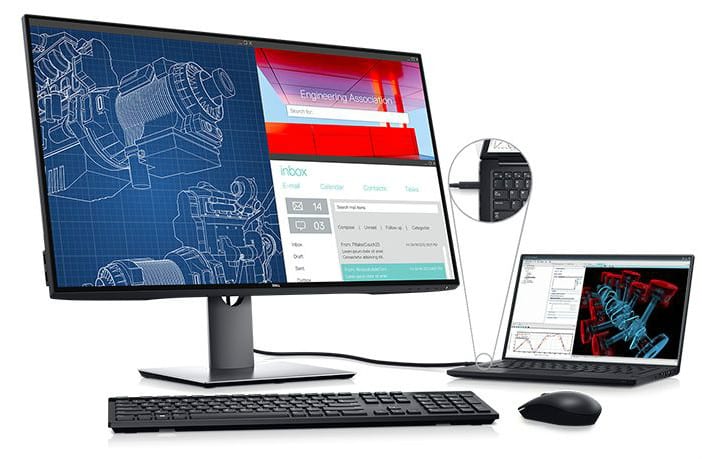 The Dell U3219Q offers a stunning, 32-inch display with a gorgeous 4K resolution that fits right into the ideal sweet spot for visual enjoyment. UHD monitors are very much in demand, but only a few can offer the right mix of features for both gaming and productivity. We're looking forward to the Dell U3219Q and its HDR400 compatibility, but is it worth its premium price tag?

Dell U3219Q Specifications
Screen Size: 32 Inches
Resolution:3840 x 2160 4K UHD
Aspect Ratio: 16:9
Panel Technology: In-Plane Switching (IPS)
Refresh Rate: 60Hz
Response Time: 5ms
Contrast Ratio: 1300:1 (Static)
Brightness: 400 cd/m²
Built-in Speakers: No
Stand: Height – Yes
Stand: Tilt – Yes
Stand: Swivel – Yes
Stand: Pivot – Yes
VESA Compatibility: Yes 100 x 100
Connectivity: DisplayPort 1.4x 1, HDMI 2.0 x 1, USB-C x 1 , USB 3.0 x 4, 3.5mm Audio Jack
Dimensions with Stand(WxHxD): 28.05" x 233" x 8.66″
Weight: 12.8lbs

Dell U3219Q Video
Design and Features
The Dell U3219Q sports the brand's signature minimalist aesthetic which fits a business setting while suiting a lot of gamers' tastes. The chassis comes with the familiar mix of matte gray and black which has provided the brand's display products with their clean and unassuming looks. The massive screen on this device is also bezel-free courtesy of the brand's InfinityEdge treatment.
What we dislike as early as now is the Dell U3219Q's OSD button layout instead of using a joystick. Although the group is located at the bottom bezel, we still think its inconvenient especially if you recalibrate your monitor a lot.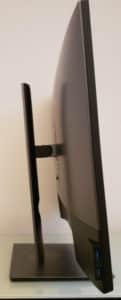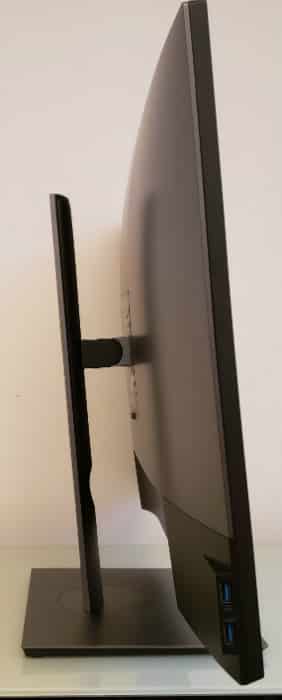 The Dell U3219Q looks like any other monitor from the brand, but what makes it unique is its size and features under the hood. The I/O panel for this model includes DisplayPort 1.4 and HDMI 2.0 for HDR-capable inputs, and four USB 3.0 slots for your accessories. There is also a USB-C receptacle which is compatible with DP 1.4 Alt Mode for single cable operation.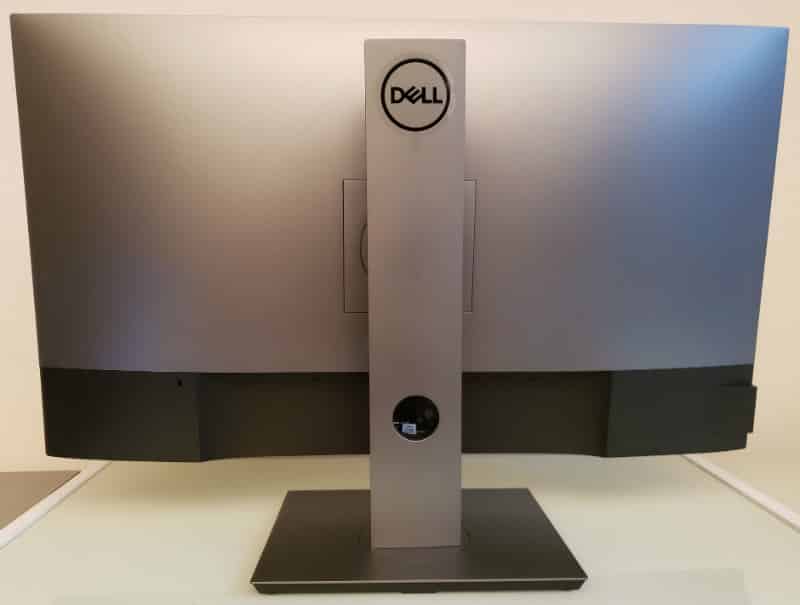 It's also worth noting that the Dell U3219Q's USB-C slot serves up to 90 Watts of charging power for mobile devices. This capability extends the product's definition of mixed usability, enabling it to be a suitable dock for your MacBook Pros or other high-end USB-C laptops. We're glad that we are finally seeing USB-C solutions with decent power delivery which was very difficult to find in the previous year.
The Dell U3219Q may be bigger than the typical offerings we see, but it's also quite slim and lightweight. The chassis isn't too thick so there should be no issues when you flush, or wall mount this beautiful device. It's also easy to carry around since it weighs in at only nearly 13 lbs.
We also like the fact that even if the Dell U3219Q is a sizable monitor, its still held down by a modestly-proportioned stand. The device will only consume 8.6 inches of depth on a desk, providing users with extra space for larger keyboards or desktop doodads. It's also worth noting that the mechanism supports height, tilt, swivel, and pivot adjustments as well as VESA compatibility.
The Dell U3219Q is beautifully crafted with great materials and quality control. The monitor doesn't feel flimsy and there are no gaps in the seams or burrs on the edges. The design may be plain, but it has become synonymous with durability and reliability over the years.
Display and Performance
The Dell U3219Q sports a 32-inch IPS panel with a 3840 x 2160 resolution, 60Hz refresh rate, and 5ms response time. The module is powered by a 400cd/m2 WLED backlight and is specified to have a 1300:1 native contrast ratio. The product is rated as HDR-ready with VESA's HDR400 specifications, but this model cannot match the UP2718Q's true HDR capabilities.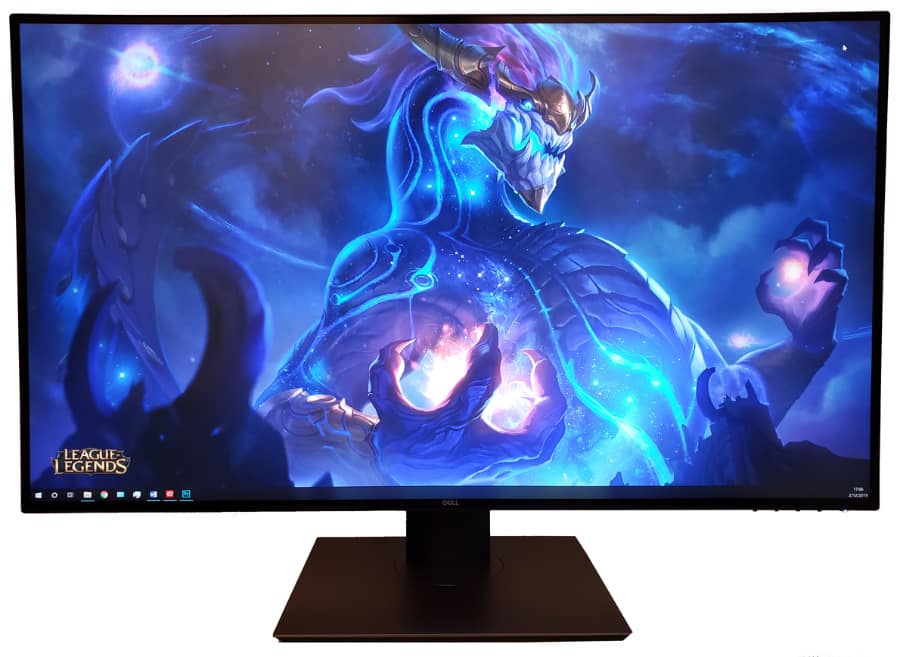 It's also worth mentioning that the pixel density of 139.87 PPI is ideal for all types of use since the resulting output will not need scaling for most people. 4K feels much more comfortable on a 32-inch screen than it does on a 27-inch variant. The visuals are still crisp without sacrificing the visibility of smaller objects or text, making games or any task enjoyable and comfortable.
The Dell U3219Q went through the brand's signature factory calibration which results in great out of the box performance. The display is capable of 100% sRGB coverage with an accuracy of DeltaE 1.77 which is comparable to professional monitors. The gamut isn't as rich as we had hoped, but the screen is still able to produce around 83% Adobe RGB or 69% DCI-P3.
The monitor's gamma sits at 2.2 perfectly at both the default and calibrated settings. You can calibrate the Dell U3219Q with a colorimeter to push its color accuracy to DE .55 and color temp that's closer to the ideal  6500K standard. For most users doing this isn't necessary, but if you already have a colorimeter on-hand, you might as well.
The monitor can extend its DCI-P3 coverage to as much as 76.5% which doesn't meet some standards, but vibrant enough to add an improvement. Couple this with a 1410:1 contrast ratio and you get decent HDR performance that has noticeable enhancements over a regular SDR display. The Dell U3219Q even has a basic local dimming backlight feature, but it isn't as good as most edge-lit and FALD-equipped variants.
One of the flaws of the Dell U3219Q is its poor panel uniformity which is common in larger monitors. There are no issues when showing light or colored images, but casting an all-black picture will reveal clouding and a few light leaks at the edges. This results in black level deviations, but it could vary from unit to unit.
The Dell U3219Q is more like a prosumer display than a variant for gaming, but it's a highly suitable option for our favorite hobby. The size is perfect for 4K gaming on PC and consoles, plus the added HDR effects can enhance your visual experience.
But what makes it great as a solution for digital enjoyment is its motion handling which doesn't produce noticeable blurs. The monitor only needs its overdrive set to the Normal level, and then you are pretty much golden. The Dell UP3219Q doesn't have Adaptive Sync solutions, but its low input lag of only 9ms is already a great reason to get it.
Thoughts on the Dell U3219Q
The Dell U3219Q is every bit a premium monitor thanks to the brand's amazing touch on both the design and calibration of the display. IPS monitors of this caliber which are capable of fantastic out of the box image qualities are still far and few in between. The monitor's gaming performance is also a key selling point since the size and the resolution are perfect for the PC and consoles such as the Xbox One X.
The only deterrent for users is the Dell U3219Q's steep pricing which almost costs as much as a professional display. The cheaper and smaller 4K  LG 27UK650 monitor or the value-oriented ViewSonic VP3268-4K represent tough competition at a much friendlier price point.  However, the Dell U3219Q's refined capabilities are well worth the cost if you are looking for a well-tuned mixed-use monitor for everyday use.