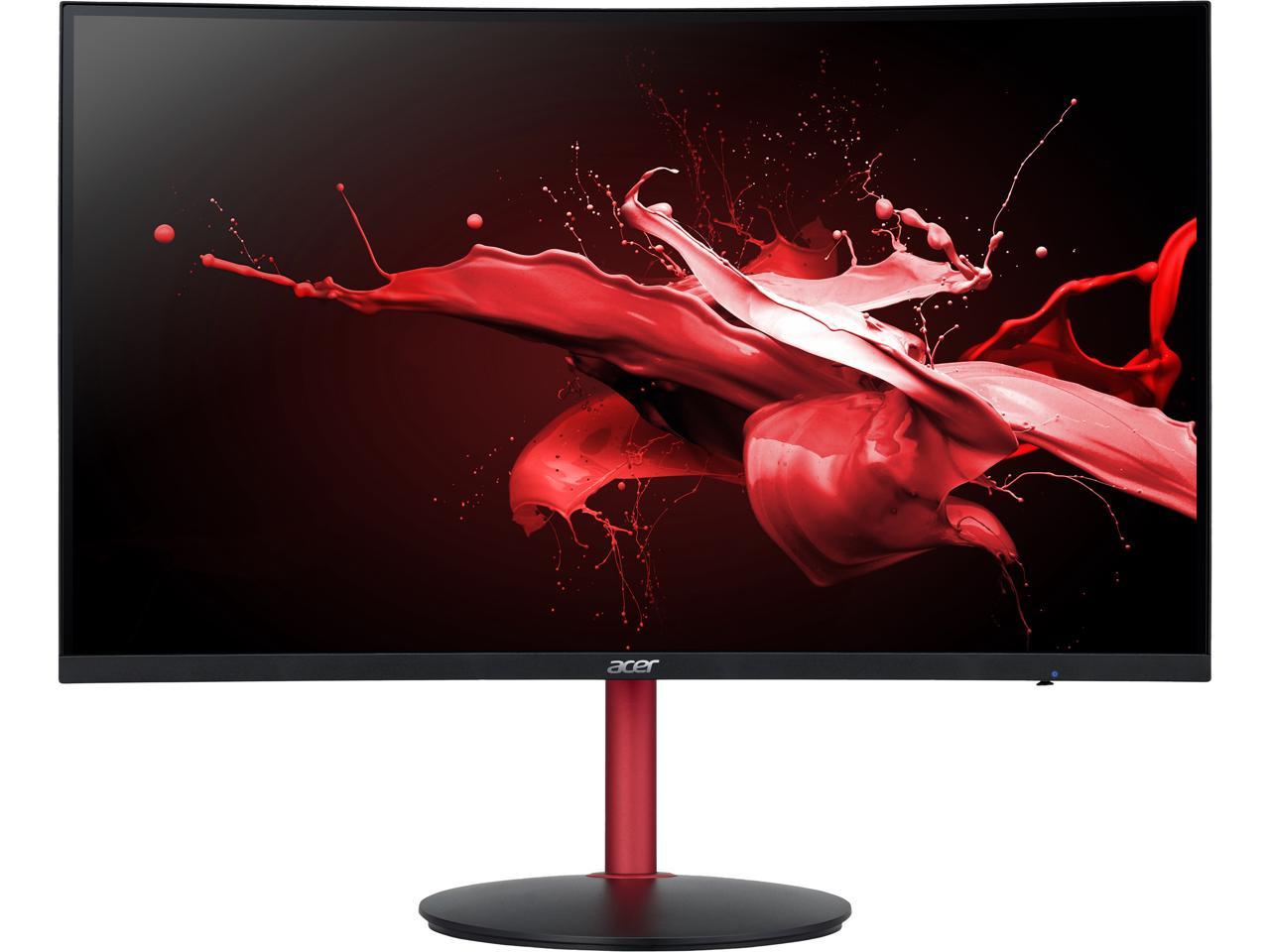 Acer XZ272U P
is an affordable solution for gamers who want a smooth, high-contrast screen in a curved package. The monitor retails at the $300 mark, but it already offers a 1440p resolution which previously cost closer or higher than the $500 bracket. The Acer XZ272U is very competitive when you look at its value per dollar, but can it provide an impressive performance that we've enjoyed from the brand?

Acer XZ272U P Specifications
Screen Size: 27 Inches
Resolution: 2560 x 1440 QHD
Aspect Ratio: 16:9
Panel Technology: Vertical Alignment (VA)
Refresh Rate: 165Hz
Response Time: 4ms
Contrast Ratio: 3000:1 (Static)
Brightness: 400 cd/m²
Speakers: Yes (2 x 3 Watts)
Stand: Height -Yes
Stand: Tilt – Yes
Stand: Swivel – Yes
Stand: Pivot – No
VESA Compatibility: Yes (100 x 100)
Connectivity: HDMI 2.0 x 2, DisplayPort 1.4 x 1, 3.5mm Jack x 1
Dimensions (W x H x D): 24.1" x 17.5" x 9.2"
Weight: 11.46 lbs

Design and Features
The Acer XZ272U P is part of the Nitro line, so it is less fancy when compared to the Predator models when it comes to aesthetics. The monitor is dominantly finished in matte black, but it has red streaks in some key spots to indicate its gamer-centric nature. the monitor isn't completely bezel-free, but the borders can be considered minimal by today's standards. It is going to be larger than most monitors, but the Acer XZ272U P doesn't take up that much space compared to your office display. It only needs nine inches of depth, plus it weighs under twelve pounds. This is what's great with Nitro monitors since their aesthetics aren't overdone so you get a clean-looking monitor that doesn't intrude too much on your desk.

The Acer XZ272U P's build quality is decent, but its budget-oriented nature becomes apparent if you can compare it to more premium models. The plastic panels are thinner, but they don't flex and it looks like they won't break easily. The stand doesn't wobble if you are typing or gaming intensely, but it can shake if you nudge it accidentally. We like that the Acer XZ272U P already includes an OSD joystick even if it belongs to the budget range of monitors. Its located at the bottom right of the chassis so you don't have to extend and reach over for it. The menu is also laid out nicely, so it's nearly impossible to manipulate a setting unintentionally. But what's best about the Acer XZ272U P is its flexible stand which offers tilt, swivel, and height adjustments for your convenience. You can't pivot the screen, but that's ok since there is no reason to use a curved monitor in portrait mode anyway. You can swap it out in favor of a VESA stand, but we think it's only necessary if you want to save space. Another area where the Acer XZ272U P is limited is its connectivity layout which only offers the bare essentials. You will find two HDMI 2.0 slots and a DisplayPort 1.4 connector for video inputs, along with a 3.5mm jack for headphones and speakers. There are no valuable extras like USB ports, but the product can still handle a gaming PC and two consoles simultaneously. The Acer XZ272U P even manages to include a pair of built-in speakers which aren't impressive, but useful in some cases. The pair only offers 3 watts of power per channel, so they cannot provide the oomph necessary for gaming. However, it is always nice to have a backup for other uses such as conference calls or when the summer gets too hot to wear your headphones.
Display and Performance
The Acer XZ272U P sports a 27-inch curved VA panel with a 2560 x 1440 resolution, a 165Hz refresh rate, and a 4ms response time. The backlight goes up to 400 cd/m2 while the contrast ratio is rated at 3000:1 like most VA panels. this model is VESA DisplayHDR 400 compliant, but we know that its required specifications aren't sufficient in producing a compelling HDR performance. The Acer XZ272U P's size is perfect for its resolution which results in a pixel density of 109 PPI. Games and images will look noticeably crisper and more detailed, but your eyes won't struggle with small objects like text. It's the perfect solution for both gaming and productivity, although it's already considered to be GPU-hungry for demanding titles. The Acer XZ272U P doesn't impress with its 97% sRGB coverage, but that's ok for gaming since many wouldn't even notice the difference. What's great about it, however, is its default accuracy average of 1.31. it is rare to see a deltaE average like that with budget monitors, so you know Acer put in the extra effort even if this model sits at the lower tiers. Calibrating the Acer XZ272U P can get an even lower dE average of only 0.76, but its not worth it at this point. Most users will be happy with the monitor's default look, and only the backlight needs adjustment according to your needs and environment. Buying a colorimeter will also make your upgrade more expensive and the total cost will put you in range of a premium model. The Acer XZ272U P dropped the ball in its brightness rating since it came up short with a maximum of only 305 cd/m2. The contrast ratio doesn't reach its spec as well at 2100:1, but that's fine for a VA panel. It's not great at fighting off glare, but its rich, inky blacks will make up for that shortage. Panel uniformity for the Acer XZ272U P is great since there are no considerable defects on the panel. There are some minor leaks on the upper bezel, but they are only noticeable in all-black images. Take note that this aspect varies between every unit, so there are better and worse specimens out there. The Acer XZ272U P isn't as fast as the other new VA gaming monitors on the market today when it comes to pixel response times. The monitor shows a little blurring in select instances, but most notably in contrasting transitions. Setting the overdrive to its medium setting helps, but we don't think it's much of an issue unless you are sensitive to it or if you play very fast-paced games like CSGO. The Acer XZ272U P is a FreeSync monitor, but it also works with Nvidia's G-Sync Compatible mode flawlessly. This duality extends the monitor's practicality since you don't have to buy a new display if in case you switch over to the other GPU brand. Input lag sits at 5ms at 165Hz, so there is no need to worry about desynced or delayed instances in games.
Thoughts on the Acer XZ272U P
The Acer XZ272U P is a fantastic budget option for gamers, but it's far from perfect. The curved VA panel looks great for games thanks to its high contrast ratio and excellent color accuracy right out of the box. We also like the monitor's functionalities which include a fully-adjustable stand and a pair of speakers which aren't usually involved at this price. The biggest concern with this monitor is its pixel response time, but not many are sensitive enough to notice them in games. The backlight isn't up to spec and its HDR performance is mediocre, but that's forgivable for those who are after an immersive screen that won't bust the bank. The Acer XZ272U P is a great pick if you want a decent gaming monitor at a very reasonable price point, just like the
Gigabyte G27QC
.
Pros:
Very Affordable
G-Sync/FreeSync Compatible
Minimalist Design
Adjustable Stand
Excellent Color Accuracy Out of the Box
Cons:
Not as Immersive as Bigger Models
HDR Performance is Mediocre
Backlight is Limited
Pixel Response Time Not as Fast as Other Alternatives
-About the Author: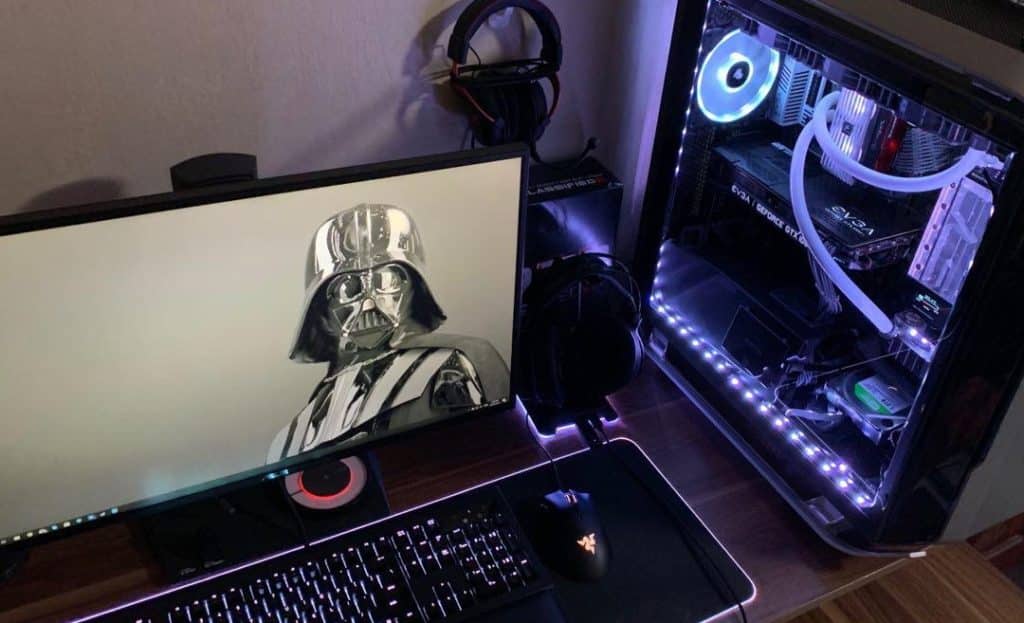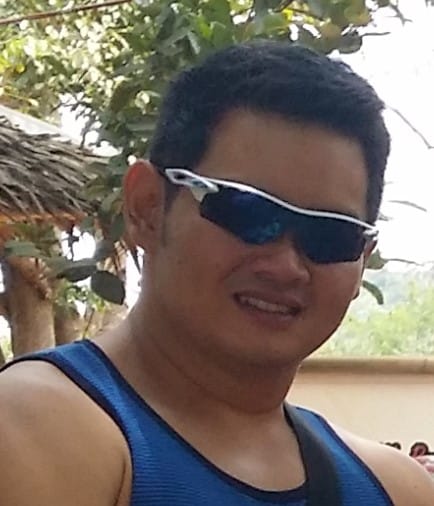 Paolo is a gaming veteran since the golden days of Doom and Warcraft and has been building gaming systems for family, friends, and colleagues since his junior high years. High-performance monitors are one of his fixations and he believes that it's every citizen's right to enjoy one. He has gone through several pieces of hardware in pursuit of every bit of performance gain, much to the dismay of his wallet. He now works with Monitornerds to scrutinize the latest gear to create reviews that accentuate the seldom explained aspects of a PC monitor.