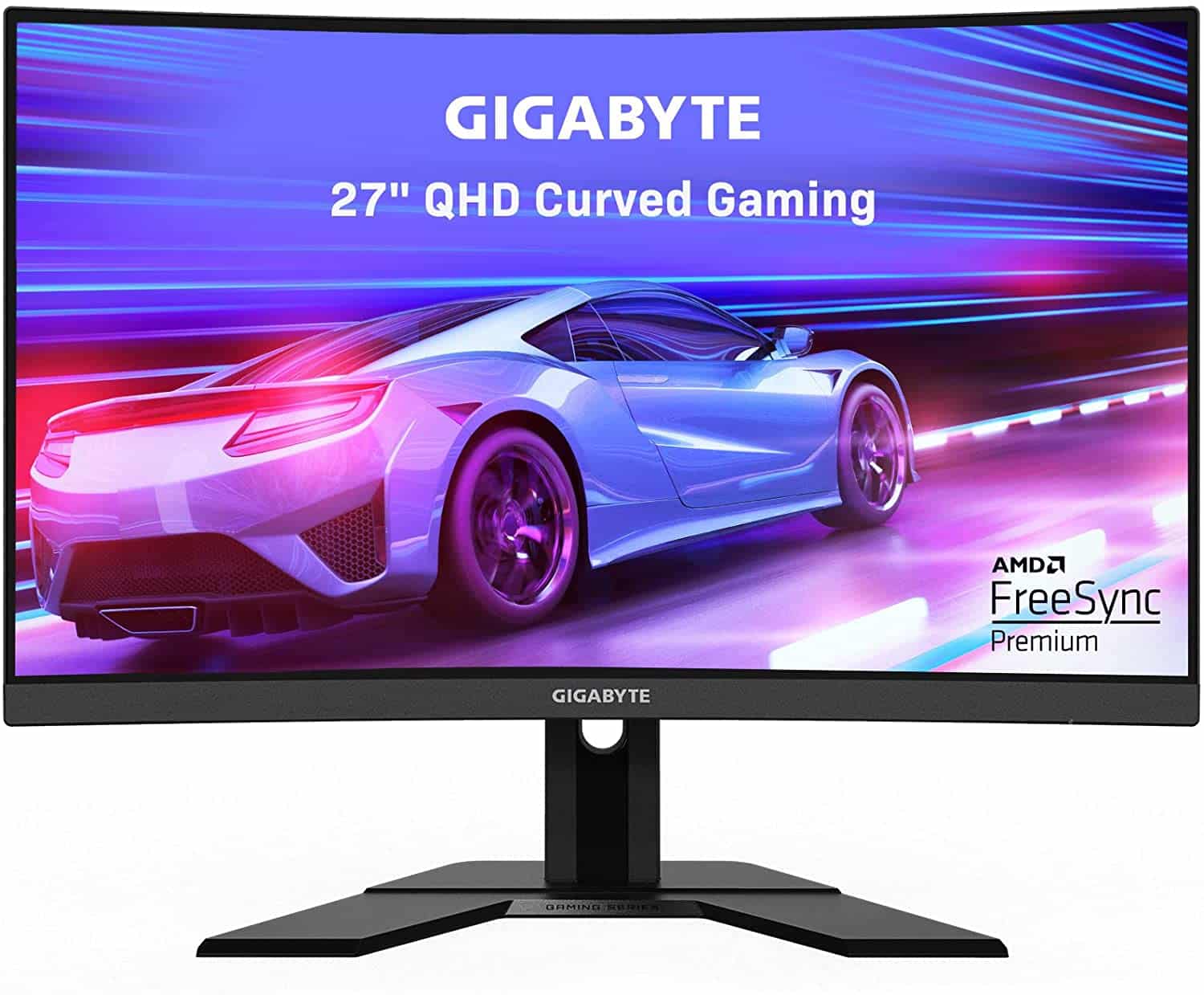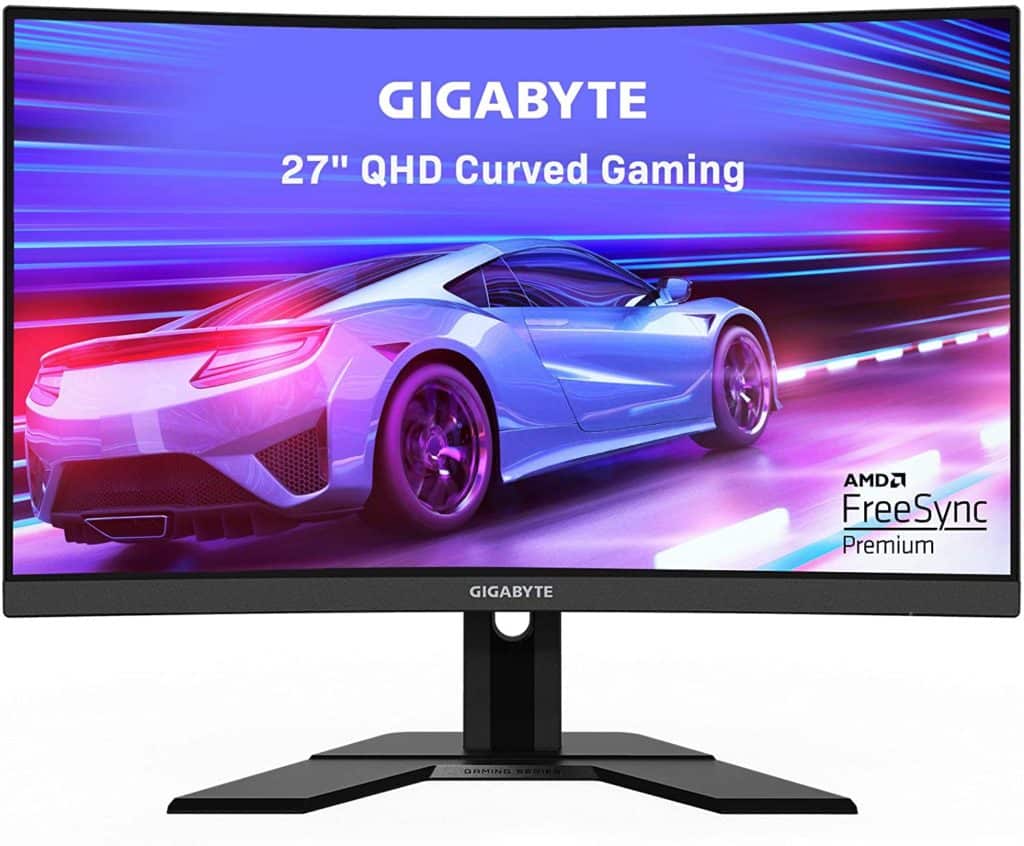 The Gigabyte G27QC is a reasonably-priced 1440p 165Hz gaming monitor designed to give a premium gaming experience. This model shows how far gaming specs have gone in relation to the price tag since it only costs half of what similar-spec variants asked for a few years ago. Let's check out if the Gigabyte G27QC is as fast and eye-popping as its bigger brother, the Gigabyte G32QC.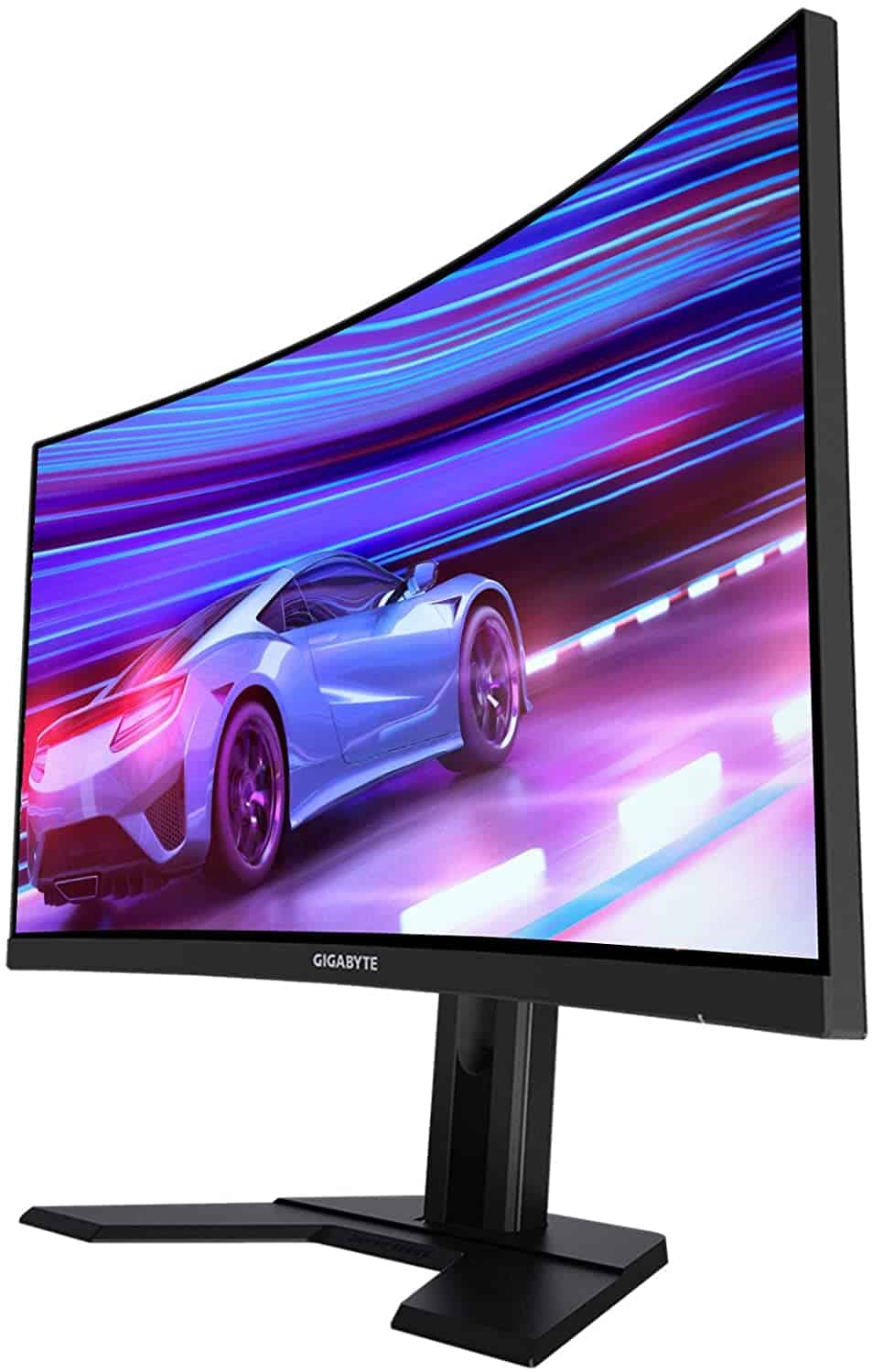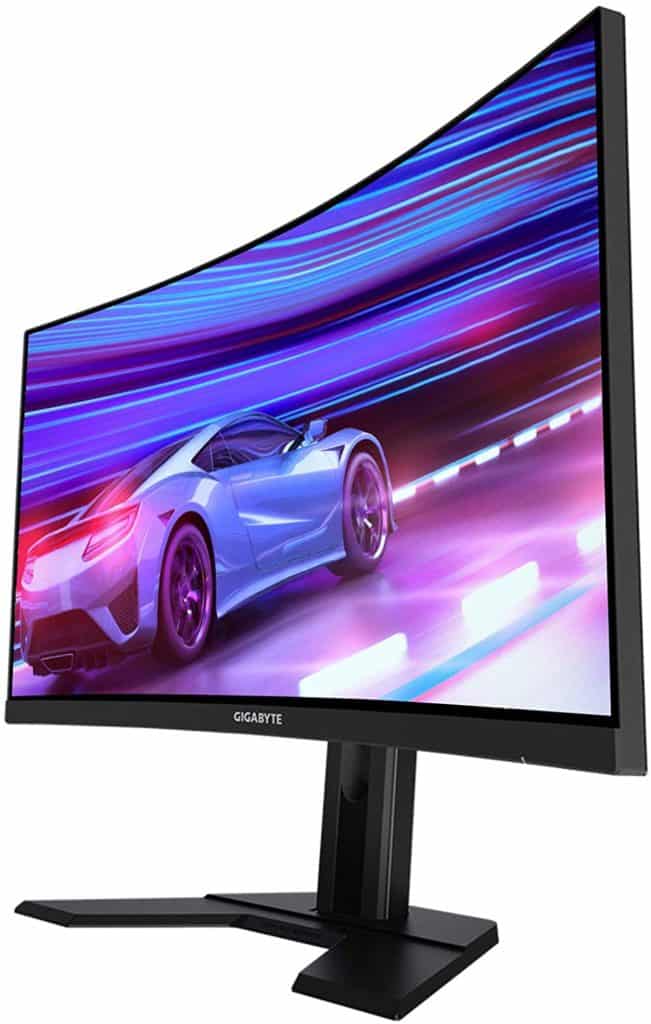 Gigabyte G27QC Specifications
Screen Size: 27 Inches
Resolution: 2560 x 1440 QHD
Aspect Ratio: 16:9
Panel Technology: Vertical Alignment (VA)
Refresh Rate: 165 Hz
Response Time: 1ms MPRT
Contrast Ratio: 3000:1
Brightness: 300 cd/m²
Built-in Speakers: Yes (2 x 2 Watts)
Stand: Height – Yes
Stand: Tilt – Yes
Stand: Swivel – No
Stand: Pivot– No
VESA Compatibility: Yes 100 x 100
Connectivity: DisplayPort 1.2 x 1, HDMI 2.0 x 2, USB 3.0 x 3, 3.5mm Jack x 1
Dimensions With Stand(WxHxD): 24″ x 20.8″ x 8 ″
Weight: 14.11 lbs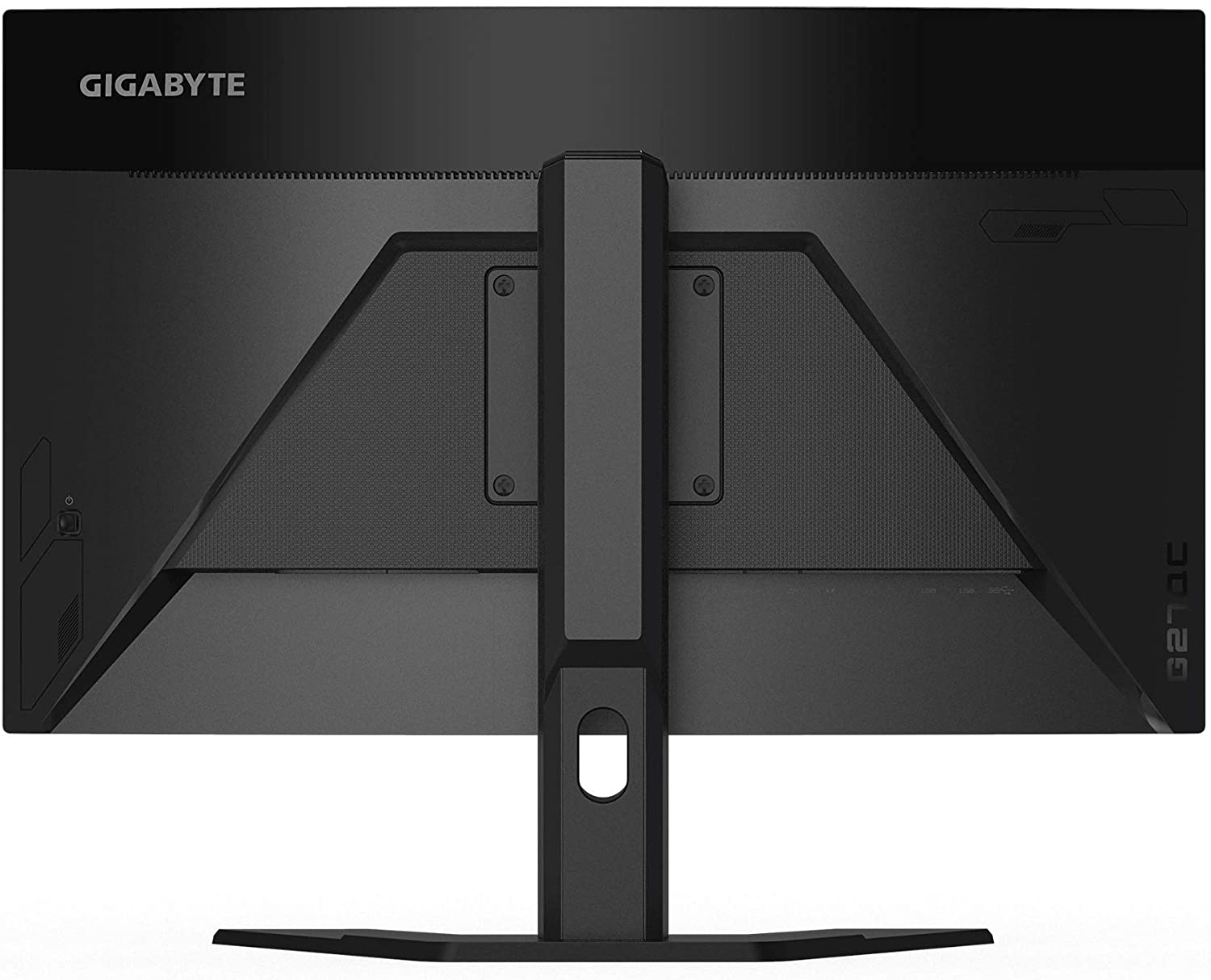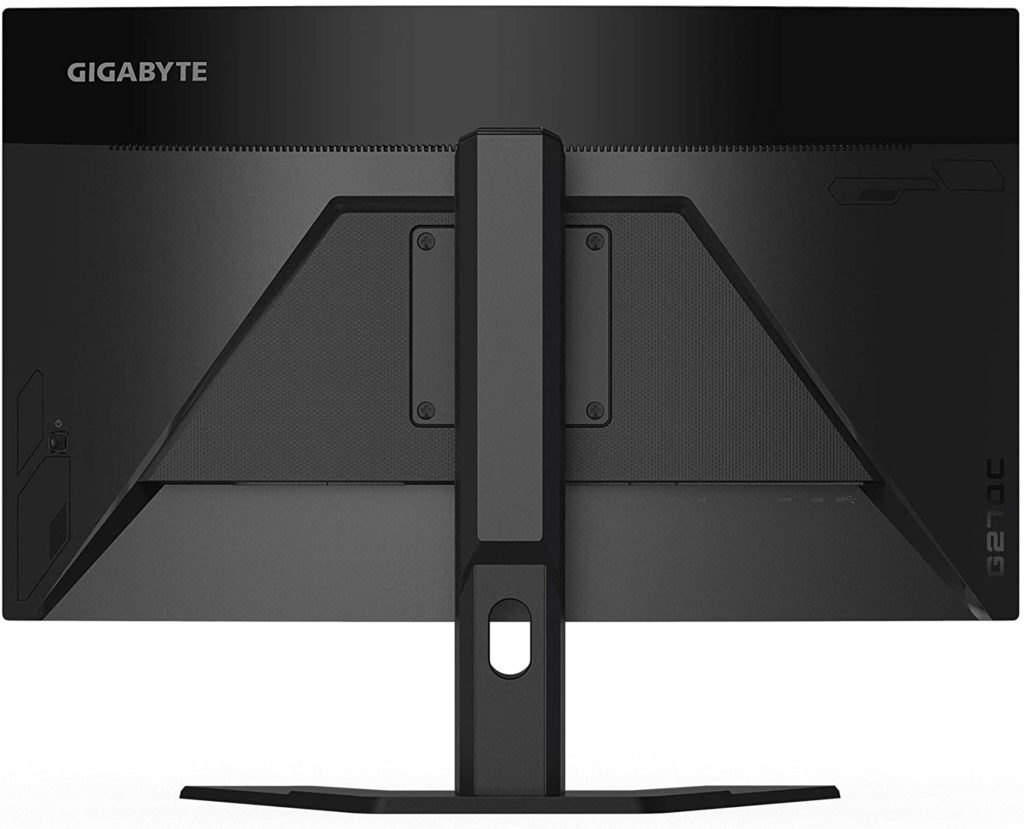 Design and Features
The Gigabyte G27QC is practically identical to the G32QC, but there are some specific differences that can dictate which of the two is perfect for you. The device is finished in matte black, and there aren't any decorative extras such as RGB lighting. The display is bezel-free on three sides, but you will still see inner reasonable panel borders that are not distracting at all.
This model is reasonably-sized and it isn't too heavy, so placement shouldn't be too complicated in most cases. The Gigabyte G27QC's stand doesn't take a lot of space, while the blank area between the two feet is a prime spot for small peripherals like stream decks. It's also a portable option between all the variants, but 27-inch screens aren't exactly tiny or compact either.
The Gigabyte G27QC is mostly made of plastic, but its build quality is excellent as far as budget monitors are concerned. The plastic construction feels durable and it should be able to withstand a few accidental taps. The stand doesn't have any wobbling issues even if the plastics on the hinge feel a bit cheap and fragile.
We like that the brand simplified the Gigabyte G27QC's control layout into a single functional OSD joystick. It is very to use to access the various submenus, but it also doubles as the power button for the device. There are no issues with that and the monitor ends up looking cleaner, but there are instances where you might accidentally power it down while hastily trying to adjust a setting.
The stand that comes with the Gigabyte G27QC doesn't allow swivel and pivot adjustments, but that's ok since the display is curved. At least you can adjust the height or tilt the screen, so a comfortable viewing angle is still possible. The product is compatible with VESA mounting solutions, but we only think that's necessary if you are building a multi-display setup or if space is very limited.
The Gigabyte G27QC's connectivity layout doesn't offer a lot by today's standards, but it includes everything you will need. You will find a DisplayPort 1.2 slot and two HDMI 2.0 connectors that can accommodate your gaming PC and up to two gaming consoles. There is also a trio of USB 3.0 receptacles and a 3.5mm jack for your headset.
The biggest difference between the Gigabyte G27QC and its larger sibling is it has a pair of built-in speakers. They only have 2 watts of power, so they aren't as profound in providing that oomph for gaming or entertainment. However, the current school and work from home trend will find a use for this extra, plus it extends the value per dollar of the already reasonably-priced variant.
Display and Performance
The Gigabyte G27QC sports a 27-inch curved VA panel with a 2560 x 1440 resolution, a 165Hz max refresh rate, and a 1ms boosted response time. The backlight sits at 300 cd/m2, while the contrast ratio is rated at 3000:1 like most VA variants. This model is only HDR-compatible unlike the G32QC which has DisplayHDR 400 properties, but the difference isn't a point to consider in our opinion.
27-inch 1440p screens are the current sweet spot for productivity and gaming thanks to its sharpness and clarity when compared to regular 1080p screens. Text and small objects are noticeably crisper, although they don't look microscopic so scaling isn't needed. This resolution will also strain your GPU more, but you can drop a few settings Anti-Aliasing to improve your framerate.
The Gigabyte G27QC is capable of great color quality just like its bigger brother since its VA panel can produce 120% sRGB and 85% DCI-P3. Default accuracy has a deltaE average of 2.23 which isn't perfect but is already superb for a dedicated gaming monitor. The color temperature is slightly warmer than 6500K, but we don't think it will bother most users.
Calibrating the Gigabyte G27QC is beneficial since you can reduce the deltaE average to 0.78 which makes it usable for professional endeavors. However, the cost of a colorimeter is prohibitive if you are on a budget. You can get away with a few tweaks to the RGB sliders and the brightness, but results will always vary between every panel.
The Gigabyte G27QC's backlight hits a peak of 290 cd/m2 in SDR, but feeding in an HDR input will push it to 392 cd/m2 in some instances. The contrast ratio hits a maximum of 3785:1 at 60% brightness, giving the monitor a better performance in black luminance and saturation. Dark scenes look deep, but there are times where black crush can happen in a few select sequences.
Panel uniformity isn't great on the Gigabyte G27QC test unit since there is some backlight bleeding on the top and bottom edges of the screen. This flaw results in clouding issues when viewing dark or black images, but its less of an issue in full-color. Take note that not all G27QC units have the same symptoms since this it's random due to manufacturing tolerances.
Pixel response time isn't a particular strength of VA monitors like the Gigabyte G27QC but is slightly faster in this aspect than some competitors. Selecting the overdrive's Speed setting is the best solution in reducing blurs and persistence that can appear in fast-paced or contrasting transitions. It does add a tiny bit of overshoot, but that's better than the smudges and trailing if you don't use the feature.
The Gigabyte G27QC is a FreeSync premium monitor but it works with Nvidia's G-Sync compatible mode. This duality extends its value further since you don't have to buy a new monitor to enjoy Adaptive Sync if you switch GPU brands. Input lag is very low at 4ms at 165Hz, making the monitor suitable for competitive gaming.
Thoughts on the Gigabyte G27QC
The Gigabyte G27QC is just as good as the larger G32QC variant so either one is a good buy at their respective price points. Its capable of fantastic color quality if calibrated, but the default setting is highly satisfactory after tweaking the backlight. Pixel response time isn't the fastest we've seen, but it is controllable with the overdrive feature of the monitor.
The Gigabyte G27QC even has a pair of speakers to give you more bang for your buck. Its biggest issue is the backlight bleeding present on the display, but that varies wildly so it's entirely possible to get a unit that is close to perfect. It's a fantastic buy with an entry-level price, but its capabilities and performance can go head to head with alternatives that are usually more expensive.
Pros:
Affordable
G-Sync/FreeSync Compatible
Minimalist Design
Low Input Lag
Decent Color Quality and High Contrast
Cons:
Not as Immersive as Bigger Models
HDR Performance is Non-Existent
Prone to Backlight Bleeding
-About the Author: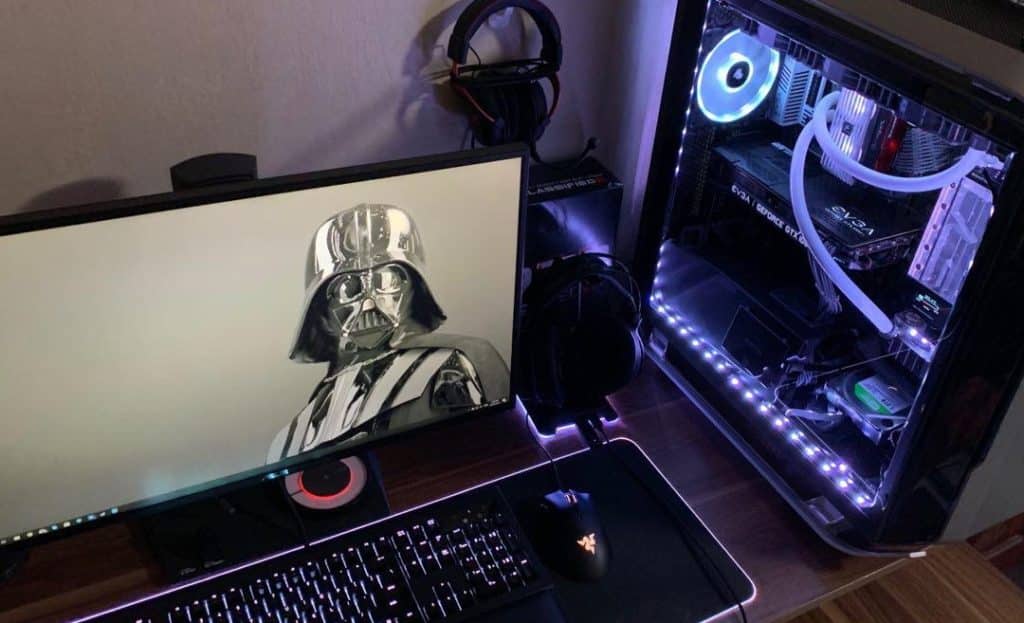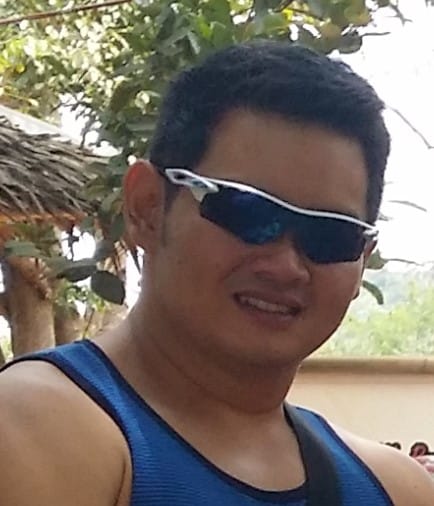 Paolo is a gaming veteran since the golden days of Doom and Warcraft and has been building gaming systems for family, friends, and colleagues since his junior high years. High-performance monitors are one of his fixations and he believes that it's every citizen's right to enjoy one. He has gone through several pieces of hardware in pursuit of every bit of performance gain, much to the dismay of his wallet. He now works with Monitornerds to scrutinize the latest gear to create reviews that accentuate the seldom explained aspects of a PC monitor.