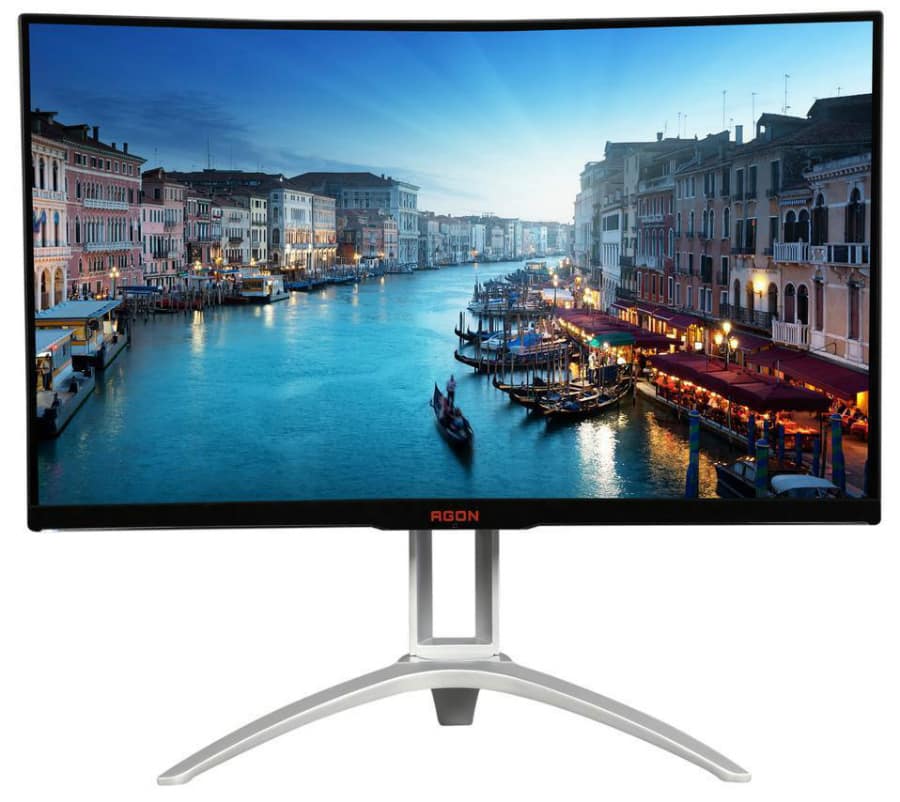 The AOC Agon AG322QCX is the latest entry to the brand's recent stream of outstanding gaming monitors which have competitive pricing and fantastic designs and capabilities. This display behemoth provides a whopping 32 inches of display space via a vertical alignment panel which delivers the best and unbeatable contrast levels. Couple these with fast refresh rates and FreeSync and you get a promising offering which should find a spot among the best in the market.

AOC Agon AG322QCX Specifications
Screen Size: 32 Inches
Resolution:1440p QHD
Aspect Ratio: 16:9
Panel Technology: Vertical Alignment (VA)
Refresh Rate: 144Hz
Response Time:4ms
Contrast Ratio: 2000:1
Brightness: 300 cd/m²
Built-in Speakers: Yes 2 x 5 Watts
Stand: Height – Yes (4 Inches)
Stand: Tilt – Yes (-5.5°/+28°)
Stand: Swivel – Yes
Stand: Pivot – No
VESA Compatibility: Yes 100 x 100
Connectivity: DisplayPort 1.2 x 2, HDMI 2.0x 1, HDMI 1.4 x 1, D-Sub x 1
Dimensions With Stand(WxHxD): 28.1″ x 24.99″ x 10.86″
Weight: 14.64lbs

Design and Features
The AOC Agon AG322QCX is a beautiful piece of kit much like its siblings in the extensive list of Agon gaming displays. The face isn't bezel-free, but the concealed borders are thin enough not to be noticeable when its in use. The screen curves at 1800r which fits perfectly for this size without being too intrusive to your field of view.
The product has a matte black finish all over, but the rear panel includes silver wing-like accents which seem as if they are holding the large cabinet in place. There are four LED accents which can change colors, although limited to only a few basic shades. We have seen this design on their ultrawide variants like the AOC Agon AG352UCG, but appreciation as always is subjective.
What we like about this model is its metal stand which feels heavy and sturdy. From experience, the design and chosen material of AOC's Agon stands are top-notch, and they provide perfect stability even if you pound on your desk. Ergonomics is excellent since you get height, tilt, and swivel for adjustments, although we imagine having a gaming monitor the size of a regular LCD TV wouldn't need much movement to get a perfect view.
The top of the stand terminates with a carry handle if you want to lug this display around, although it is interesting to note that at 15lbs, this is one of the lightest 32-inchers we have seen. One lapse in the design is that there is still no cable tidy option which can hold wires in place. At the top-right of the cabinet, you get the pop out headset hanger which is standard for the Agon line.
The AOC Agon AG322QCX is also compatible with wall mounting solutions since it has a VESA bolt pattern under the attachment point of its stand. However, disassembly will require a screwdriver since there are no QD mechanisms in place. You also get a pair of 5-Watt speakers for near-field listening, but we still recommend a headset or a decent 2.0 or 2.1 set.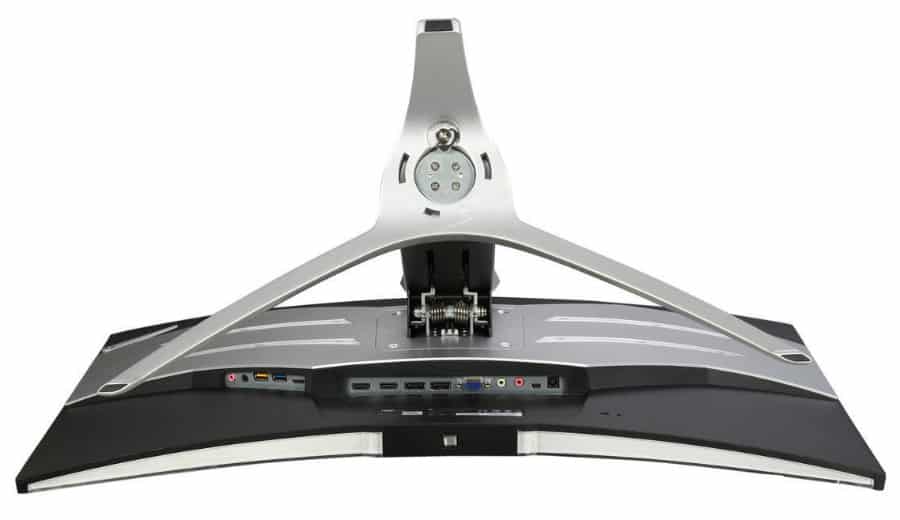 The AOC Agon AG322QCX has plenty of connection options in its I/O layout. Preliminary spec sheets from AOC state that this product will ship with two DisplayPort 1.2 slots, an HDMI 1.4 and 2.0 slot, and a D-Sub Slot for legacy connections. We can't imagine users selecting the D-Sub as the main connector, but it is nice to have if you have a secondary low spec machine beside your beast of a gaming rig.
There is also a proprietary OSD remote in the package which lets you control the OSD without having to reach for typical buttons. The gadget includes hotswap keys and is convenient if you want to regularly tinker with the monitor, however, it feels sluggish when used. We can tell that most will prefer the response of the joystick, but its still nice to have a nifty gadget like this one.
Display and Performance
The AOC Agon AG322QCX boasts a 32-inch VA panel with a 2560 x 1440 QHD resolution, 144Hz refresh rate, and 4ms response time. A contrast ratio of 3000:1 is specified along with a 300cd/m2 backlight. The pixel density on this model sits at 93PPI, immediately suggesting that QHD fits in 27-inch variants better.
However, the AOC Agon AG322QCX doesn't look so bad in this regard when viewed up close. Text and smaller lines or objects still appear clear enough not to need enhancements, while games are still crisp and detailed. But if you are coming from a 4K display, you might be disappointed in the screen's output.
A colorimeter reveals that the AOC Agon AG322QCX is capable of 84% DCI-P3 coverage, which equates to 100% sRGB plus a few extensions. Accuracy is fantastic at only DeltaE 1.8 which is potentially better than some design-oriented monitors we have tested. This model can be used out of the box, but we recommend tinkering with the RGB sliders a bit to get an acceptable setting.
Contrast can easily reach 2800:1 at reasonable brightness levels, giving users the inky blacks and detailed shadows they will love. The AOC Agon AG322QCX carries a feature called Shadow Control which is supposed to increase visibility, however, it is best to turn it off for better results. We recommend setting the brightness to around 40% to 60% to strike a balance between eye-comfort and imaging performance.
The AOC Agon AG322QCX's panel uniformity is superb despite its size and curve which are both factors that cause deviances or bleeding. Variations in brightness and color did not exceed 7% from the center, so there will be no noticeable washed out colors or dim areas. However, take note that this aspect will vary from unit to unit.
VA panels are prone to blurring or ghosting, and the AOC Agon AG322QCX isn't exempted. We noticed a few trails here and there at 60Hz, but once frames jump close to the maximum of 144Hz, the blurs become overshoot. Activating FreeSync (AMD GPU required) alleviates this, so Nvidia users need a bit of tweaking to avoid these flaws.
If your system can consistently keep high FPS, we recommend using the medium setting of the Overdrive feature. However, if your games are demanding and frames stay closer to 60Hz, we recommend choosing the Weak Overdrive setting for best results.
The AOC Agon AG322QCX is a gaming monitor, so it is responsive and fast. The low input lag of only 6ms will give gamers the connected feel without any perceivable delays between control inputs and the screen.
Thoughts on the AOC Agon AG322QCX
The AOC Agon AG322QCX offers excellent performance and an aesthetically pleasing, yet functional design at a reasonable price. The VA panel in this model is commendable thanks to its fantastic capabilities in color volume and accuracy. It's also as responsive as the best E-Sports monitors out there, so there are no compromises if you go for this display.
We have a few gripes on the AOC Agon AG322QCX such as the blur reduction which could use an improved implementation and the lack of a few creature comforts. But all in all, for a 32-inch 144Hz monster at a sub-$500 bracket, these complaints are easy to ignore.