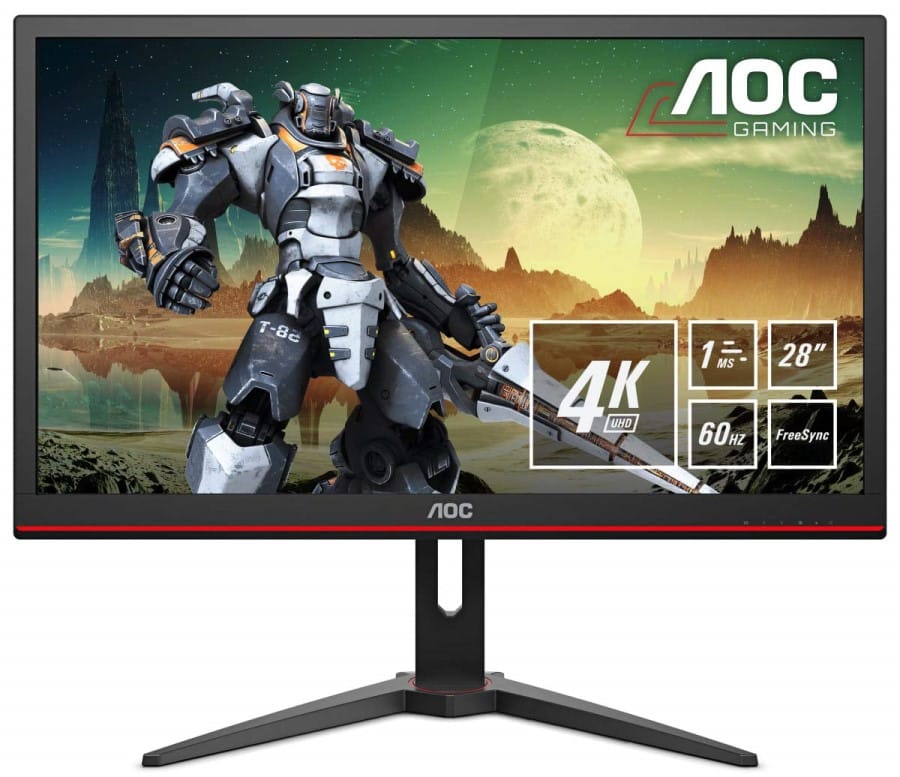 The AOC G2868PQU offers high-end 4K gaming with FreeSync and HDR compatibility at a wallet-friendly price point. The device strips off all unnecessary features and focuses on the display without sacrificing its quality and reliability. The AOC G2868PQU's specifications aren't new, but is it the new budget 4K gaming monitor king in 2019?

AOC G2868PQU Specifications
Screen Size: 28Inches
Resolution: 3840 x 2160 4K UHD
Aspect Ratio: 16:9
Panel Technology: Twisted Nematic (TN)
Refresh Rate: 60Hz
Response Time: 1 ms
Contrast Ratio: 1000:1
Brightness: 300 cd/m²
Built-in Speakers: Yes (2 x 3 Watts)
Stand: Height – No
Stand: Tilt – Yes
Stand: Swivel – No
Stand: Pivot – No
VESA Compatibility: Yes
Connectivity: DisplayPort 1.2 x 1, HDMI 1.4 x 1, HDMI 2.0 x 1, D-Sub x 1, USB 3.1 x 5, 5mm Jack(In/Out)
Dimensions (WxHxD): 201" x 21.64" x 9.64"
Weight: 83 lbs

Design and Features
The AOC G2868PQU doesn't go for aggressive, gamer-centric aesthetics, but its dashes of red betray its purpose for gaming. The chassis comes with a matte black finish that feels nice to the touch without attracting fingerprints or smudges. The display isn't bezel-free, but we can't consider the reasonable plastic strips intrusive since the display area's maximization isn't affected.
One of the budget cuts the AOC G2868PQU had to make is its OSD control layout which utilizes buttons instead of a joystick. Each one is crisp and clicky, but using it to manipulate the OSD takes time to get used to. Plug and play users won't mind, but enthusiasts who want to adjust the screen regularly will find that tweaking can be a chore, especially in the dark.
The AOC G2868PQU feels solid and robust despite its low weight which surprised us the most. There is a slight wobble, but regular usage will not reveal it unless you rage on your desk after a defeat. AOC deserves applause since the brand does not skimp on quality control with their offerings, including this variant.
The stand included with the AOC G2868PQU offers excellent ergonomics which should allow users to set their preferred view angles. Adjusting the screen is critical for TN monitors to avoid color shifting due to their poor viewing angles. The device is VESA compatible, but spending extra cash on an aftermarket option is unnecessary for this model.
The AOC G2868PQU has a plethora of connectivity options at its disposal to cater to various needs. The panel at the rear contains DisplayPort 1.2, HDMI 2.0, HDMI 1,4, and a VGA connector for your PC and other host devices such as gaming consoles or video players. There is also a total of five USB 3.1 connectors which should be able to accommodate most of your peripherals with ease.
Speakers are also part of the AOC G2868PQU's package, but the 3-watt output isn't sufficient for gaming or entertainment use. The sound starts to garble at high volumes, plus you don't get a range of detail that's ideal for modern games like PUBG or Apex Legends where hearing your opponents coming is vital.
Display and Performance
The AOC G2868PQU sports a 28-inch TN panel with a 3840 x 2160 resolution, 60Hz refresh rate, and 1ms response time. The backlight and contrast are limited to 300 cd/m2 and 1000:1 respectively, even if the monitor is marketed as HDR compatible. VESA's standard starts at 400 cd/m2, but even that isn't sufficient in providing the impressive visuals we all desire.
4K UHD is extra crisp when viewed in 27 or 28-inch formats, making it great for games and movies. However, other uses such as document processing and office work can become straining to your eyes due to the text being too small. Users with 20/20 vision usually do not have issues, but others might need to use scaling, which isn't 100% reliable for all apps and programs.
The AOC G2868PQU produces up to 97% of the sRGB gamut, but its accuracy of Delta E 3.2 needs some improvements via calibration if you want to use the display for color-critical applications. Games and movies won't look tremendously affected by this limitation, but colorimeter can reduce the errors considerably to around Delta E 2.3 for other uses. Gamma sits at 2.1, so the screen appears a bit brighter at the expense of a few notches of vibrancy.
The AOC G2868PQU reaches its backlight specification perfectly at 301 cd/m2, but its contrast is sorely lagging behind its competition. The screen could only put out 812:1 at default, and lowering its brightness to comfortable levels only netted an increase to 840 cd/m2. The screen looks a bit grayish when viewing an all-black image in the dark, but only VA panels are the only true solution to this dilemma.
Turning down the backlight to around 30% helps the display to compensate against the grayscale errors posted by the low contrast and gamma. It's also a more comfortable setting for extended use for games and other tasks since too much illumination can damage your eyes.
The AOC G2868PQU performs decently when it comes to uniformity, since brightness variance averages at 8% across the screen. The corner quadrant displayed a maximum of 15% when the backlight is at max power, but regular use won't reveal this issue. Colors on each section of the screen stayed very close to the D65 standard, so there are no noticeable miscolorations in games and movies.
Motion handling is the strength of TN panels, but the AOC G2868PQU is slower than most due to its exponentially increased pixels. Blurs and smudges can be seen in fast-paced action or when you pan the screen too quickly. Thankfully, the monitor's overdrive setting solved this at its middle setting, but do take note that selecting the maximum level will induce visible overshoot in some sequences.
The AOC G2868PQU is a FreeSync gaming monitor with a 40 Hz to 60 Hz functional range. It should work with G-Sync compatibility mode based on its specifications, but the device was not thoroughly tested to be issue free. Input lag is limited to 11ms, so you don't have to worry about delays or "de-synced" instances.
Thoughts on the AOC G2868PQU
The AOC G2868PQU is a reasonably-priced 4K gaming monitor that goes head to head with the likes of the Asus MG28UQ. This model posts minor improvements over the latter, but its availability in all regions needs to improve. The monitor's functionality is excellent, but you could get a more accurate option like the LG 27UK650 for a few more bucks.
The AOC G2868PQU isn't great for color-critical work, but its gaming performance is more than reasonable for most scenarios. It's a suitable option if you also use 4K consoles like the Xbox One X thanks to its generous connectivity layout. This model is a great buy, but its currently priced higher than what was originally intended.
About the Author: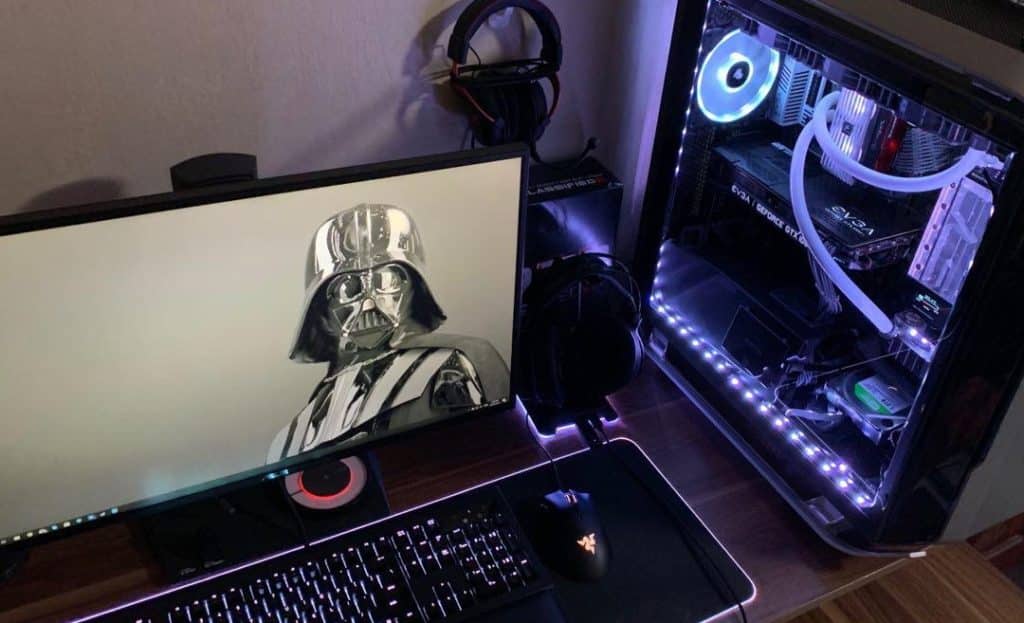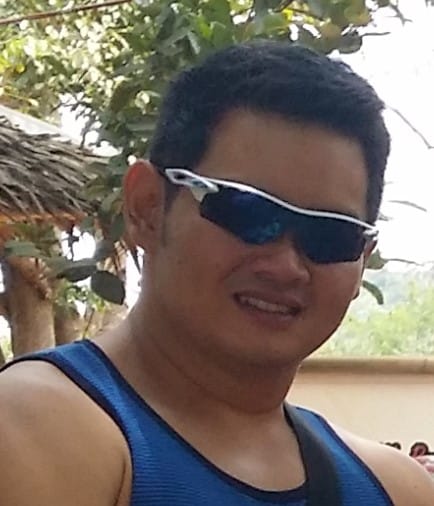 Paolo is a gaming veteran since the golden days of Doom and Warcraft and has been building gaming systems for family, friends, and colleagues since his junior high years. High-performance monitors are one of his fixations and he believes that it's every citizen's right to enjoy one. He has gone through several pieces of hardware in pursuit of every bit of performance gain, much to the dismay of his wallet. He now works with Monitornerds to scrutinize the latest gear to create reviews which accentuate the seldom explained aspects of a PC monitor.