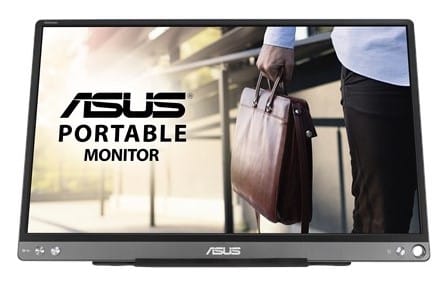 Pros:
Thin and Light
Accurate IPS Panel
USB-C Single Cable Operation
Attractive Design
Lower Price
Cons:
Low sRGB Coverage
Draws Power from Laptop via USB-C
Washed out Colors
The Asus MB16ACE is a reasonably-priced portable monitor with a good IPS panel that will slide right next to your laptop in it's carrying case . The device is extra slim and lightweight, but its essentially a fully-functional monitor that will expand your workspace where ever, whenever. The Asus MB16ACE succeeds the MB16AC with a price decrease, so let's check out how it compares to the older model.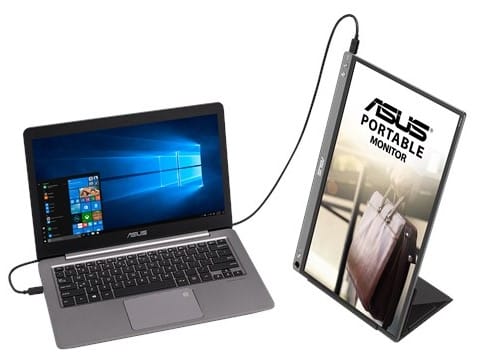 Asus MB16ACE Review
Screen Size: 16 Inches
Resolution:1920 x 1080 FHD
Aspect Ratio: 16:9
Panel Technology: In-Plane Switching (IPS)
Refresh Rate: 60Hz
Contrast Ratio: 800:1
Brightness: 250 cd/m²
Built-in Speakers: No
Stand: Height – No
Stand: Tilt – Yes
Stand: Swivel – No
Stand: Pivot – No
VESA Compatibility: No
Connectivity: USB-C x 1
Dimensions With Stand(WxHxD): 14.16″ x 8.9″ x .32″
Weight: 1.6 lbs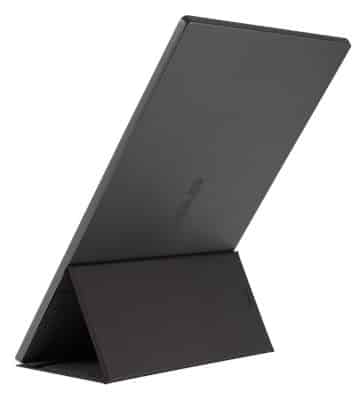 Design and Features
The Asus MB16ACE sports a sleek aesthetic that makes it look like a slightly larger professional tablet at a glance. The charcoal gray exterior is a nice touch that will easily match most laptop colors, including the crazy ones like burgundy or pink. The monitor isn't bezel-free, but the flushed borders on the display are thin and not distracting at all.
One of the things that will worry many users is how light the Asus MB16ACE feels at just 1.6 pounds. Thankfully, its not as fragile as it looks thanks to a chassis that has just the right amount of structural strength to keep the unit together. There is also no manufacturing or cosmetic defects on the sample, and we are expecting every retail unit to follow suit.
The bottom strip that's also finished in charcoal gray holds three buttons which give you access to the OSD and switch the Asus MB16ACE on or off. We still prefer joysticks, but the menus in this model are concise even if it already includes the essential controls. Each of the buttons is tactile and responsive, so there should be no miss-presses or any similar issues while in use.
The Asus MB16ACE still uses the protective cover/stand combination which is lightweight and sufficient for the task. This part uses a magnet that attaches to the upper back of the monitor and is usable in both portrait and landscape mode. Take note that you need to download a driver to ensure that the screen follows the orientation or position you prefer.
You can also use a pen to prop up the Asus MB16ACE, so the cover isn't completely essential for day to day use. You can insert it in the hole at the corner of the monitor, and it will stand stable in both portrait and landscape positions. We know its hard to entrust a display to a simple pen, but trust us when we say that it works nicely.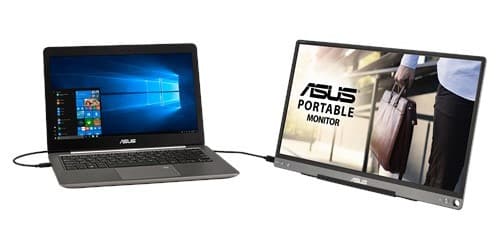 The Asus MB16ACE connectivity layout consists of a USB-C slot and nothing more, so HDMI-only devices are out of the immediate equation. The slot supports DP Alt Mode, plus the monitor uses it to draw power from your laptop. Connecting this product to your MacBook or XPS 13 will deplete its charge faster, so make sure you have the charger or a powerpack in tow for work marathons.
However, the Asus MB16ACE is still usable for non-USB Type-C laptops thanks to the USB-C to USB-A adapter that's already included in the package. You can use this display with any USB 3.0 slot, provided that you download the necessary DisplayLink driver for compatibility.
Display and Performance
The Asus MB16ACE sports a 15.5-inch IPS panel with a 1920 x 1080 resolution, 60Hz refresh rate, and a 5ms response time. The backlight is rated to be stronger this time at 250 cd/m2, while contrast is still limited to 800:1. These specs aren't high-end for gaming or editing, but the product emphasizes more on convenience rather than a specific use.
The pixel density of the Asus MB16ACE's screen sits at a little over 142PPI, so it will look sharper than your regular 24-inch Full HD monitor at home or the office. The desktop space on the display doesn't increase from the typical, but small objects like text and some images will look sharper and more detailed. We don't think you will need scaling for this monitor, especially if you are used to laptops that have the same size and resolution.
The Asus MB16ACE showed improved color performance compared to its predecessor, starting with a slight increase in sRGB gamut coverage to 69%. The monitor can look duller than other full sRGB monitors, but at least you get superb accuracy the DeltaE average staying at 1.2. Color temperature is slightly warmer than the 6500K standard, but it doesn't discolor images to an annoying degree.
The Asus MB16ACE also produces strong contrast performance, reaching as much as 1200:1 in tests. This portable device has the best black luminance performance to date, but some dark scenes can still look grayish at times. The latter is a known weakness of IPS panels, but this particular variant is better in that regard.
One thing the Asus MB16ACE missed from its spec sheet is its brightness maximum which failed to hit 250 cd/m2. The recorded output maxed out at 220 cd/m2 which isn't bad and is still bright enough for daily use. We recommend staying at 50% and above to keep the screen as vibrant as possible, since setting the backlight too low can make the screen look washed out.
The IPS panel on the Asus MB16ACE did not show any leaking or uniformity issues that were readily noticeable. The screen looked even apart from a few drops in contrast near the corners which were only detected by a colorimeter. Of course, you still need to consider manufacturing tolerances, especially for IPS-based products.
The Asus MB16ACE showed decent pixel response times for a 60Hz monitor, but blurs are still visible if you play fast-paced games. The monitor doesn't have overdrive options like ELMB or anything similar, so you have to live with this limitation. However, the MG16ACE was not meant for gaming, so missing this aspect is reasonable.
The Asus MB16ACE doesn't have adaptive sync capabilities so G-Sync compatibility and FreeSync are out. Again, the monitor wasn't meant for gaming, so we don't have any complaints regarding its lack of a VRR solution. We were not able to measure the input lag of the monitor, but it felt closer to a 10ms 60Hz display like the BenQ GW2480 we tested earlier.
Thoughts on the Asus MB16ACE
The Asus MB16ACE is a great buy if you are looking for a well-designed and attractive screen that offers decent performance in image quality. The screen is extra clear and sharp thanks to the tighter pixel density, so viewing text or images will always be a pleasurable experience. The IPS module's gamut coverage isn't the strongest, but its excellent accuracy makes up for it.
The only worrying functionality of the Asus MB16ACE is it draws power from your laptop via its USB-C interface. It's not a flaw per se, but we all know that the most powerful laptops already draw a lot from its battery. The Asus MB16ACE is an excellent buy to extend your workspace on the go, but you might need to be tethered to a wall socket.
About the Author: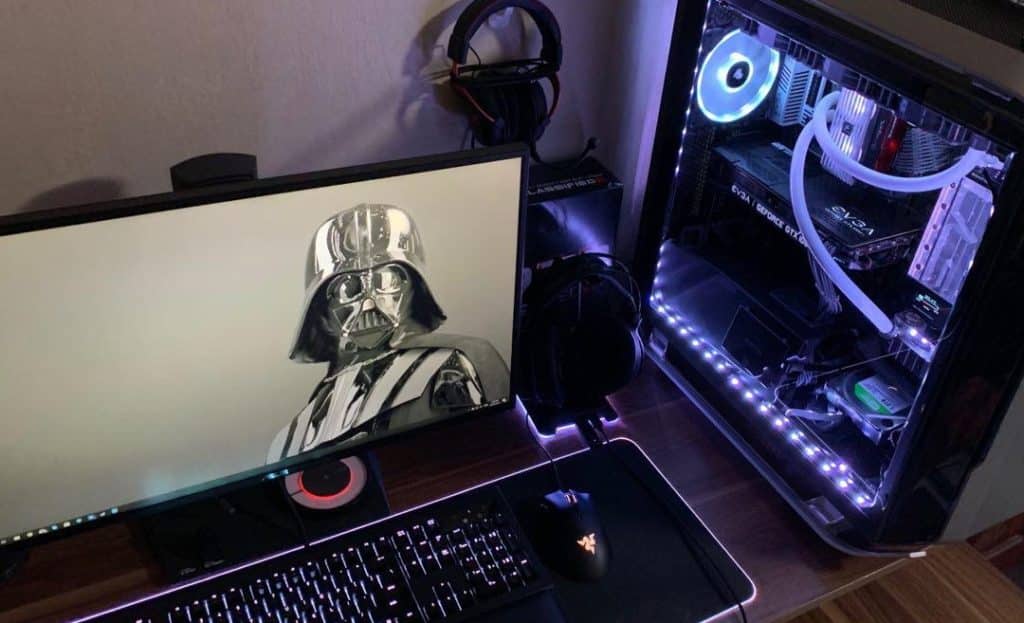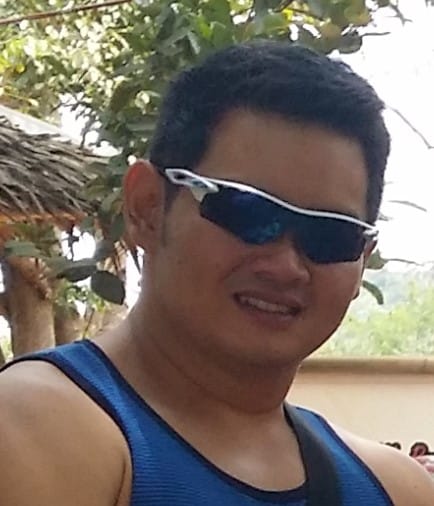 Paolo is a gaming veteran since the golden days of Doom and Warcraft and has been building gaming systems for family, friends, and colleagues since his junior high years. High-performance monitors are one of his fixations and he believes that it's every citizen's right to enjoy one. He has gone through several pieces of hardware in pursuit of every bit of performance gain, much to the dismay of his wallet. He now works with Monitornerds to scrutinize the latest gear to create reviews that accentuate the seldom explained aspects of a PC monitor.