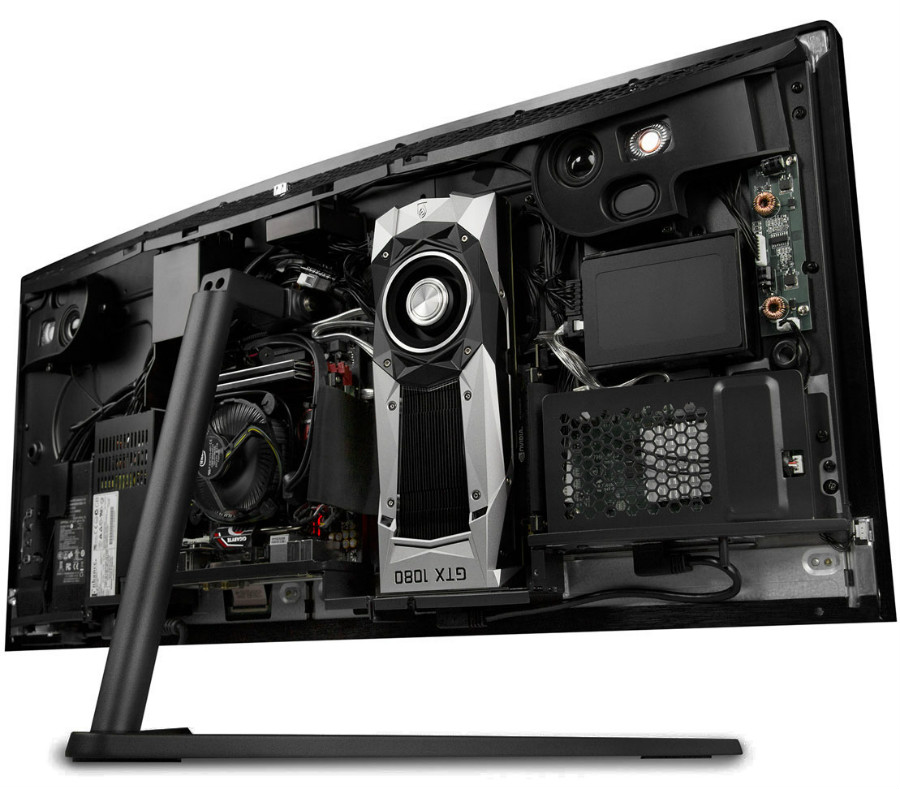 The Best All-In-One PCs are an excellent compromise for those who are looking for a PC which has desktop-grade performance but less spatial impact like a laptop. Most of the critical components are hidden in a single enclosure which allows owners to take it out of the box, prop in onto a desk, and start playing right away.
But like laptops, these gadgets also come with limitations which often turn-off those who are seeking powerful graphics or fast performance in complex applications. They are also quite expensive, and some cost as much as a full-blown monster rig.
But if you are a consumer who is willing to live with trade-offs to get the best of both worlds, these are your current bets for the best all in one PCs for the money you worked so hard for.
Things to Consider When Buying One of the Best All In One PCs
1. Specs (Processor, RAM, Storage, GPU, Etc.)
Most of the AIOs available on the market do not have upgradable components, so you are stuck with the package you picked up until it dies or an upgrade comes along. The first thing you should consider is to get the best CPU and GPU you can get with your budget since most of the time, these two are built into the AIO's motherboard.
Like laptops, you can usually add RAM sticks or swap the storage drive with the help of certified technicians or stores, or you can do it yourself with accompanying risks. One of the biggest reasons to buy AIOs is the convenience of not having to tinker with it before use, so purchasing a minimum spec device is contradictory to the whole deal.
2. Features
Features such as extra ports or wireless functionality are all essential to the equation of buying one of the best all in one PCs. Convenience is your main keyword in this endeavor, and having to buy additional adapters or ports will clutter the streamlined designs and forms of these beautiful devices.
Most of the time, keyboards, mice, and webcams are included, but you might want to add a speaker set, a secondary display, or an HDD rack to your chosen AIO, so it would be wise to check if you have all the necessary ports before pulling the trigger.
3. Price
When buying one the best All In One PCs, one should expect a bit of overpricing when compared to a built desktop. You are, after all, paying a premium for convenience and design. You might also need to cull your expectations regarding performance for these devices since most models ship with discrete GPUs or CPUs like those you can find on laptops.
These components are much smaller and consume less power, but in practice, they have penalized capabilities when compared to their desktop counterparts. Manufacturers have to use these instead of the latter to keep thermals and consumption in check, plus to keep that sexy AIO sexy.
4. Purpose (Work or Play?)
Upon reading our selection, you will instantly notice that the majority of the models involved are for enterprise or design usage more than for gaming. AIOs are found in sophisticated offices and elegant homes, and the tasks they are used for usually revolve around basic or editing purposes.
But due to the rise in popularity of compact gaming rigs like LAN boxes, we now have gamer-centric products in the market. These products are scarce, but the latest products carry a few surprises. Curious? Read on to find out.
The Best All In One PCs for Gamers and Professionals
1. HP Envy 34 Curved All in One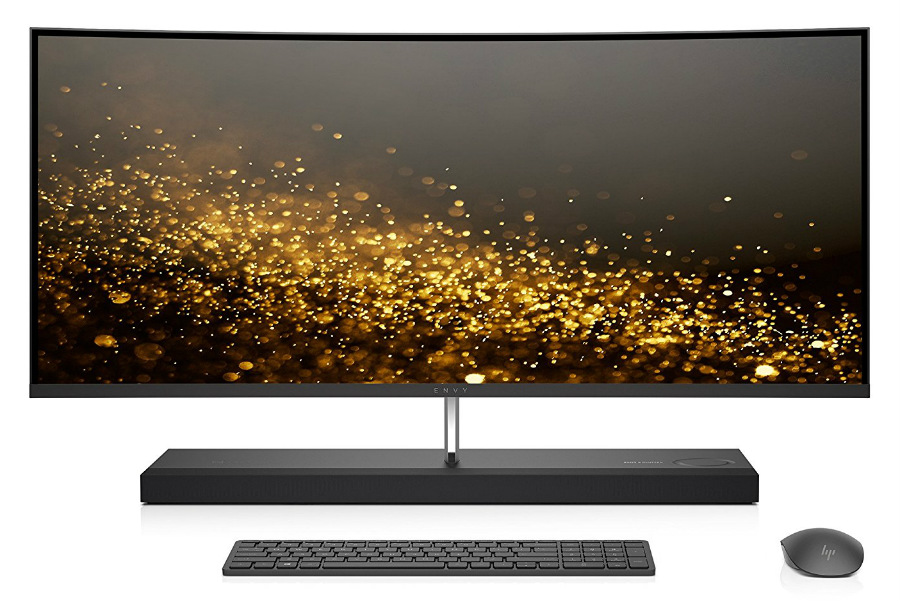 The HP Envy 34 curved all in one PC is a work of art thanks to its sleek lines, slim figure, and design scheme made to make professionals swoon while working on this impressive device. The screen packs a resolution of 3440 x 1440 which enables users to multitask or view a chunk of a timeline while working on videos, or simply enjoy 21:9 cinematic experiences from Amazon Prime.
While the screen makes the HP Envy 34 Curved All-in-One ideal for multitasking, this model also packs the latest Intel Core i7 and DDR4 RAM to help you steam through the most recent professional applications for editing pictures or videos. The included RX460 graphics card isn't punchy enough to play the latest games at this resolution, but if you are in the market for a luxurious business or home PC, this is an excellent candidate.
2. Dell XPS 27 Touch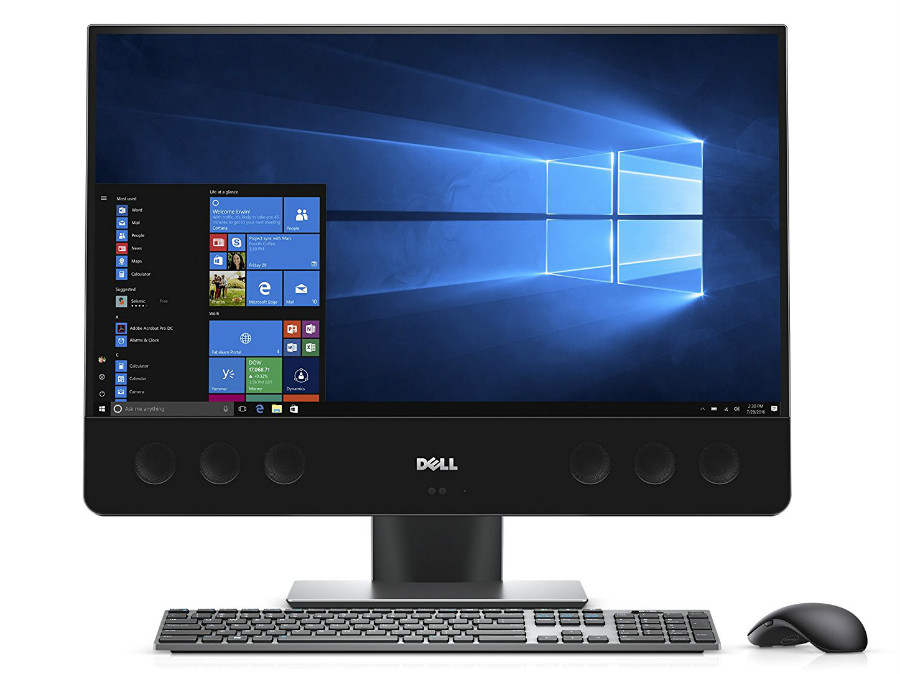 The Dell XPS 27 looks like any other budget AIO in the market, but it packs a few features which make it worthy to be one of the best all in one PCs for the money. The 27-inch screen boasts a 4K UHD resolution and touchscreen functionality allowing users to interact with Windows 10, compatible applications, and their features.
Like the option above, this model is unsuitable for gaming since it only has an AMD r9 M400 processor which is merely enough to get you through some media processing. But what makes the Dell XPS 27 unique aside from its i7 processor and DDR4 ram of up to 64GB is its integrated sound bar which has ten drivers powered by a dynamic amplifier with 50w per channel. This feature is regarded as one of the best built-in speakers in the business, so for excellent movie or music experience while working, the Dell XPS 27 top notch as an all in one solution.
3. Microsoft Surface Studio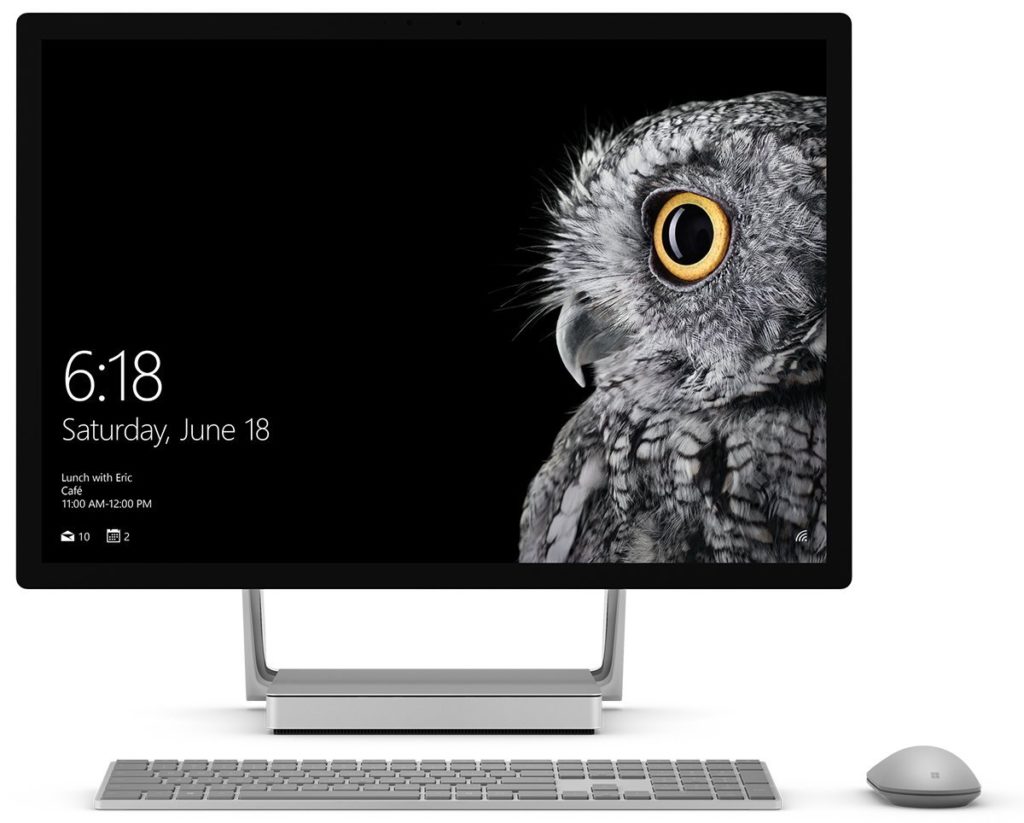 The Microsoft Surface Studio was conceived to cater to designers and creators with its unique 4500 x 3000 touch display which folds down to your desk to mimic a drawing surface. This intuitive functionality allows an incredible number of ways you can express your ideas or concepts. The stylus along with Windows 10 creator's update increases the utility of this modern marvel, but these features come at a big cost.
Even so, the innards of the Microsoft Surface Studio does not disappoint, since it packs an Intel i7 6820HQ and a GTX 980M, plus an abundance of DDR4 memory. These components usually come with cream of the crop laptops which boast performance ratings that can rival some desktops, but the potential of this product is wasted if you want to game on it. Still, the Microsoft Surface Studio is one of the most innovative products we have seen today, and since it has the potential to change the professional PC market, it is indeed one of the best all in one PCs you can buy.
4. Apple iMac 5K Retina Display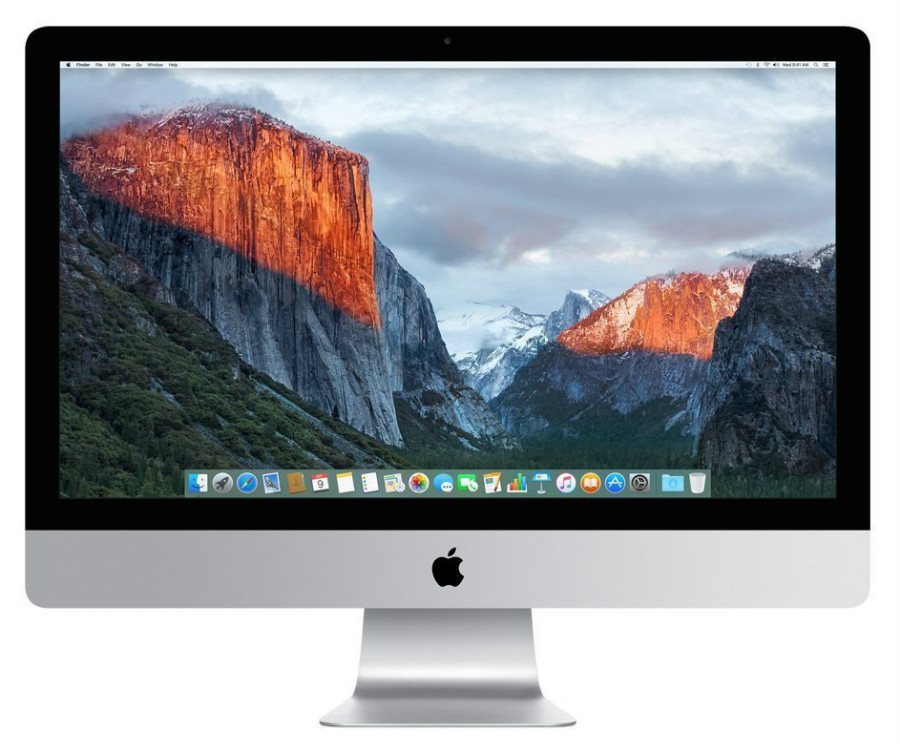 The market for professional products have evolved, but the Apple IMAC 5K Retina Display remains a staple weapon in a graphics professional's arsenal. This model still adopts the design of its older counterparts, but there is little to argue about since the formula works so well. The slim form factor and the luxurious and minimalistic finish entices the meticulous tastes, while the build quality and well-optimized functionality satisfy the question of value, despite the middling specs.
The Apple iMac's secret weapon lies not in meaty specs but in its gorgeous 5K retina display, which can show 25% more colors in the P3 gamut standard. 5120 x 2880 of pixels squeezed into 27-inches looks sharp and detailed as hell, and as advertised by Retina screens, you won't notice any graininess or jagged edges caused by a bigger pixel pitch. The package is concluded by a pair of excellent built-in speakers, savvy yet functional mouse and keyboard, plus all the ports including Thunderbolt 2 slots for a rich and productive working experience.
5. LG ChromeBase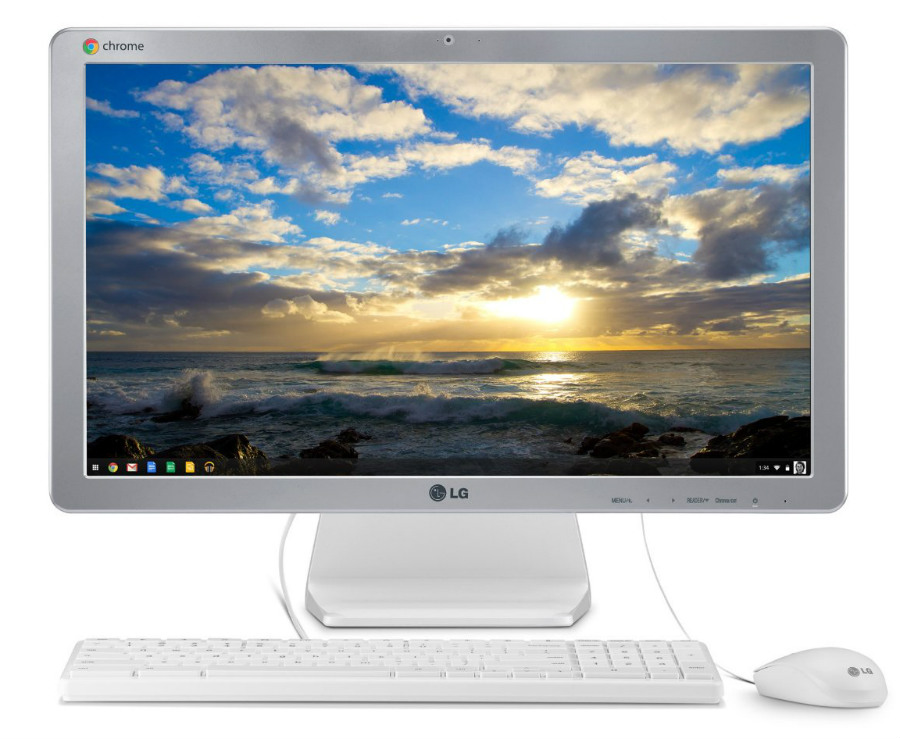 For basic computing tasks such as browsing and editing, you get the very affordable ChromeBase which costs a little more than a sophisticated tablet but comes with the best all in one PC features. This model comes with humble specifications such as ain Intel Celeron Dual Core CPU, a 16GB SSD, and 2GB of RAM, but you can't deny the interest a product like this builds since, for its price, it already comes with AIO functionality.
The LG ChromeBase comes with its own keyboard and mouse, built-in speakers, and Google's barebones Chrome OS which allows the use of essential apps such as Office and Google's suite of free programs. The display can't be compared to what the other models offer here, but it is capable of 95% sRGB and a Delta E result of 2.2 after tinkering. You can also use this device as an external screen for your main rig, but as it is, the LG ChromeBase is already a commendable primary AIO PC in itself.
6. Lenovo IdeaCenter Y910 Gaming AIO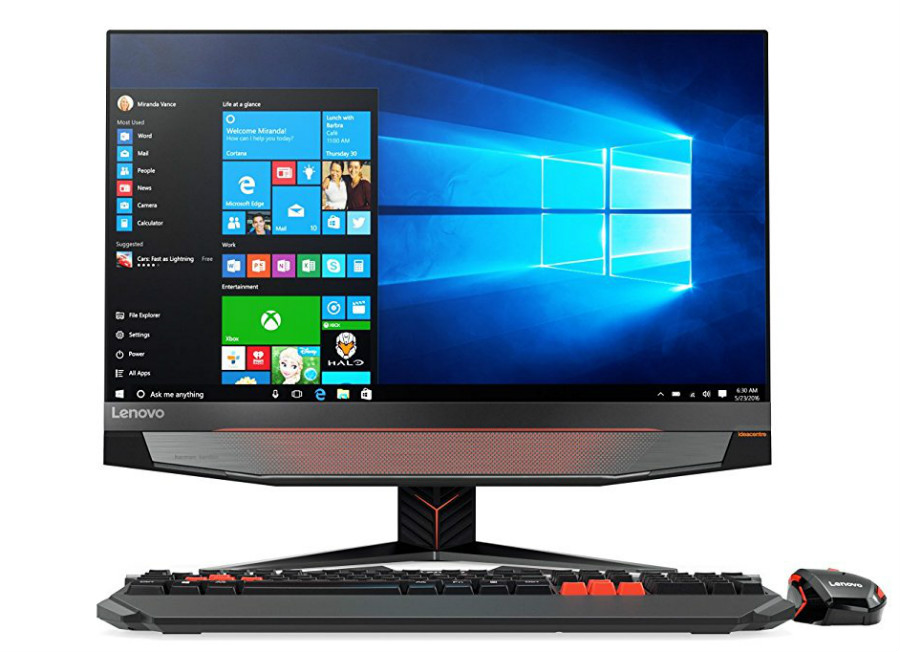 The Lenovo IdeaCenter Y910 changes the way we think of AIOs since it comes with a respectable gaming pedigree plus the ability to upgrade some of its performance components. The top of the line model comes with an Intel i7 6700 Processor, a GTX 1080 GPU, 16GB of DDR4 RAM and a 256GB SSD which enables bleeding edge graphics and speed in the latest AAA titles.
The Lenovo IdeaCenter Y910 sports an aggressive, black and red theme and a functional yet minimized form designed to take up less space and provide gaming goodness without the fuzz of cables. The included screen only has a 1920 x 1080 resolution which is plenty for your enjoyment, while audio is provided by a pair of Harman-Kardon 5-watt speakers in soundbar configuration.
But the feature we love about the Lenovo IdeaCenter Y910 which makes it one of the best all in one PCs in this day and age is the ability to upgrade your internals once they fall short in performance. You simply press the Y button on the back plate to reveal the compact internals allowing you to upgrade your RAM, storage or even the desktop grade GPU. Lenovo's Nerve Center then lets you easily customize and control the functions of this device, making it an outstanding entry for this guide.
7. Digital Storm Aura Ultra-Wide Gaming AIO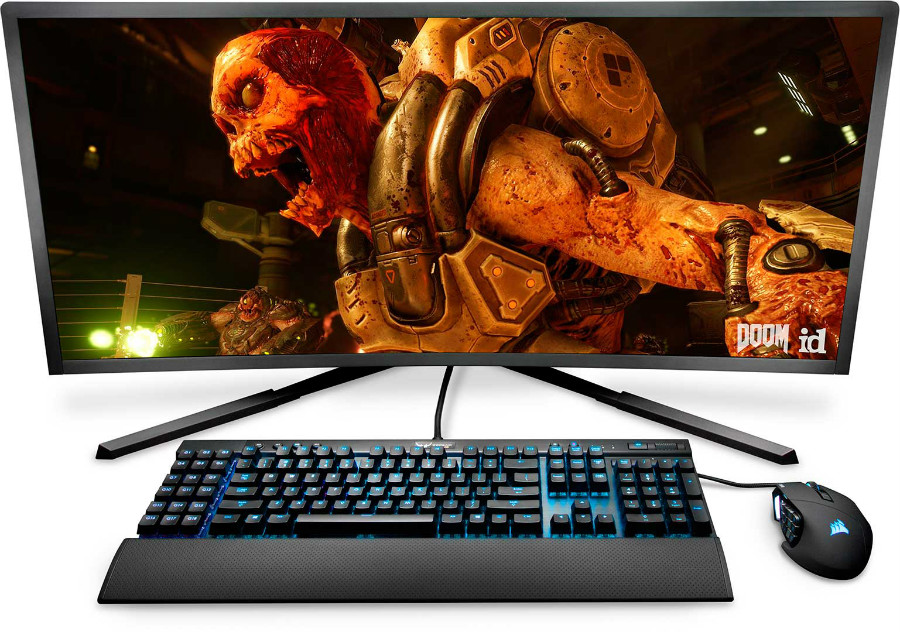 The Digital Storm Aura Ultra-Wide Gaming AIO is the most exciting product in this list. This full-featured and upgradeable AIO allows it owners to upgrade the GPU, RAM, and storage by simply removing the rear cabinet cover. This outstanding product ships with high-quality components. You get the latest Intel i7 CPU, an MSI Z270 ITX gaming motherboard, up to 32GB of DDR4 RAM, an SSD and HDD for storage, and a dual slot GPU up to the GTX 1080.
To keep its meaty specs cool and kosher, the Digital Storm Aura Ultra-Wide Gaming AIO utilizes a unique closed loop liquid cooling solution. You can opt for a standard heatsink and fan cooling, but the 70 degrees under load results of the closed loop cooler is too good to ignore. Surprisingly, this ultra-wide gaming AIO functions completely like a full desktop PC since the motherboard's I/O is fully exposed for connectivity. You also get a pair of built-in speakers, extra ports for USB and SD cards, and display input ports which enable you to use this product as a dedicated monitor by itself.
The Digital Storm Aura boasts a 34-inch curved IPS screen with a 3440 x 1440 resolution and a 60Hz refresh rate. Viewing angles are excellent, and the curvature provides a perceived level of immersion. The size of the whole package and the weight which comes in at a whopping 35 pounds might be a deal-breaker for some, but it is a strange fact that this model is almost identical in depth and size to the Acer Predator X34, which is only around 10lbs lighter despite being an excellent dedicated gaming monitor. For its specs and design, we can say that the Digital Storm Aura is the ultimate contender for the best all in one PCs.
Final Thoughts
Despite standing as the middle ground between desktops and mobile computers, AIOs have limitations in both power and functionality. They also demand a lot of money for ownership, but in the technological world, convenience and compactness always come with a hefty cost.
While most of the products we selected for the best all in one PCs are mostly for professional or home use, we're glad that there are companies from two sides of the spectrum like Digital Storm and Lenovo. These makers are willing to break the mold and provide an excellent solution which cures the very issues why AIOs are less considered. But what makes AIOs and an enticing and continually evolving product aside from their compact and convenient designs is their variety, since, for every type of user, the market now provides an adequate product worthy of your hard-earned funds.