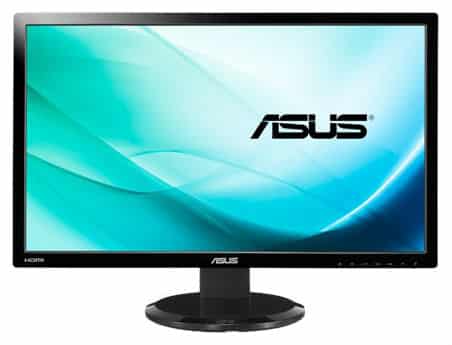 Price: ~ $460
Size: 27."
Max Resolution: 1920 x 1080
Display Type: LED – lit
Panel Type:  TN
Refresh Rate: 144 Hz
Asus has become a juggernaut in PC Hardware over the past decades, and their monitors are nothing to laugh at. While the VG278HV comes in at the lower end of their gaming monitors, it still brings with it a bucket and a half of features and hardware to bring your gaming experience to the next level.
Targeted to the professional gamer, this good gaming monitor has great clarity, although it can't compete in color with other monitors in the category as it only has a color gamut of 72%. That being said, it does have its Splendid Video Intelligence technology that allows you to pick between 6 different modes, each optimized for a different activity, like Gaming, Night View, or SRGB. Of course, like any other TN screen, there are issues with deep blacks and viewing angles.
Thankfully, the VG278HV lives up to its 1ms, trace free response time, and the 144 Hz refresh rate allows for some smooth viewing. Along with that, this monitor has small blue light emissions, which most other Asus screens don't. Also on offer is four different color temperatures modes further to adjust your viewing preferences, and a contrast ratio of 50,000,000: 1. Max Brightness comes in at a respectable 300 cd /m2, making the overall quality and adjustability pretty good.
The catch here is that the monitor doesn't come with any adaptive sync technology that most other monitors at this price range do. Ultimately, this means that you might have some small tearing issues if you play games with massive graphical requirements, although if your play is mostly focused on League of Legends and Hearthstone, you should be more than fine.
Leaving the interior and going out to the exterior, we have a sleek display with a large footprint. The stand is both heavy and sturdy and supports a full range of motion, including vertical pivot and horizontal swivel. Unfortunately, there's no landscape mode, and it doesn't have much height adjustment, coming in at a maximum of 100mm. There's also no cable feed hole, which is essential for keeping thing organized.
Speaking of wires, the VG278HV has three different ports: HDMI, Dual Link DVI – D and D-sub. It also comes with a 3.5mm Mini – Jack, although you probably won't need it, as it has two 3W speakers. No display port, unfortunately, although that is to be expected.
So what's the final verdict? Well, in most cases you are better off spending a bit more to get a display with a fuller set of features. That being said, it's not a particularly bad monitor, and if you keep your professional/hardcore gaming mostly to games with low graphical requirements, then this screen should serve you well enough. Otherwise, you might want to go for the MG278Q instead.