All resolutions are at least full HD 1080p if it is more than that it will be written in the extras column. You can read more details about the monitors further down the page after the table. Adaptive sync etc will also be written in extras, also if there is blue light reduction. The reason we don't have prize is that the prices changes, so we have provided a link to the latest price of the monitor in Amazon. Further, down you can see that we have found two very impressive 144hz monitors for you with very low prices. They are the Asus VG248QE and AOC G2460PQU. A 144hz monitor is not always necessary for an average gamer. Our research shows that the average gamer doesn't experience the big difference. The price of these monitors is also too high for this budget. But we will always be looking to include more 144hz monitors, g-sync monitors, and free sync monitors within this categories budget.
You can view our list of monitors for competitive gamers if you want to level up with your gaming performance. All of the monitors in our competitive list includes 144hz refresh rate. Check out our list of 144hz monitors for competitive gamers.
Monitor
Refreshe rate
Response time
Input lag
Extras
Price and Rating
Our Review
ASUS VG248QE 24″
144HZ
1ms
13ms
Editor`s Choice
144HZ
3D
Ergonomic
TN Panel
See in Amazon
Asus vg248qe
Asus VH238H 23"
75 HZ
2ms
11ms
Anti glare
TN Panel
See in Amazon

Read it here
Asus VS278Q-P 27"
76 HZ
1ms
10ms
Anti glare
TN Panel
See in Amazon
Read it here
Asus VX238H 23"
76 HZ
1ms
10ms
Anti glare
TN panel
See in Amazon
Read it here
Asus VS239H-P 23"
60 HZ
5ms
10 ms
Anti glare
IPS Panel
See in Amazon
Read it here
Acer G246HL 24"
60 HZ z
5ms
11ms
TN Panel
Anti glare
See in Amazon
Read it here
AOC G2460PQU 24"
144 HZ
1ms
n/a
144hz
TN Panel
Anti bluelight
See in Amazon
Read it here
AOC G2460VQ6 24"
75HZ
1ms
n/a
Freesync
low bluelight

See in Amazon
Read it here
Dell S2740L 27"
60 HZ
7ms
3.2ms
IPS panel
See in Amazon
Read it here
Dell U2412M 24"
60 HZ
8ms
9.4ms
IPS Panel
anti glare
Hight adjsutment, pivot
See in Amazon
Read it here
Dell U2311H 23"
60HZ
8ms
10,6ms
IPS panle
Anti reflection
Hight Adjustment
See in Amazon
Read it here
Dell U2414H 23,8"
60HZ
8ms
4ms
IPS Panel
Anti glare
low bluelight
hight adjustment
See in Amazon
Read it here
HP 23XI 23"
76 HZ
7ms
10ms
IPS panel
anti glare

See in Amazon
Read it here
Samsung S24D590PL 23,6"
60HZ
5ms
17,2ms
PLS panel
anti glare
See in Amazon
Read it here
Viewsonic VX2263Smhl 22"
60HZ
5ms
n/a
IPS panel
low bluelight
anti glare
See in Amazon


Read it here
ASUS VG248QE: An impressive 144hz Monitor for the price 
EDITOR'S CHOICE FOR AVERAGE GAMER: Click to Read our Complete review.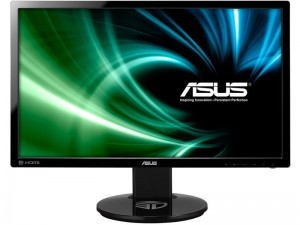 For less than $250, ASUS gives you a gaming monitor with specifications that can measure to monitors priced more than twice its value. Not only does it produce a 144 Hz refresh rate but with a minimal response time of 1ms, your odds for ghosting and motion blur elimination has not been higher within the price range. Additionally, it gives you the option for 3D gameplay (with the right GPU), as it is NVidia 3D Vision 2 Ready. Along with ASUS's leading Smart Contrast Ratio technology, you get a competitive contrast ratio of 80,000,000:1. Usually, when something sounds too good to be true it is, but in this case, the users (including us) has testified the quality of this monitor. Besides the specs, it also comes with No blue light reduction and a limited amount of ports makes the tradeoff visible but these are minor flaws and can easily be countered (install software from the internet for blue light reduction). We were wondering why this monitor was the most popular on Google searches, and we found our answer. Most value for the money by miles. Great gaming specs, excellent quality of hardware, and great price = editor's choice for the average gamer. Check out price and ratings on Amazon here.
ASUS VX238H: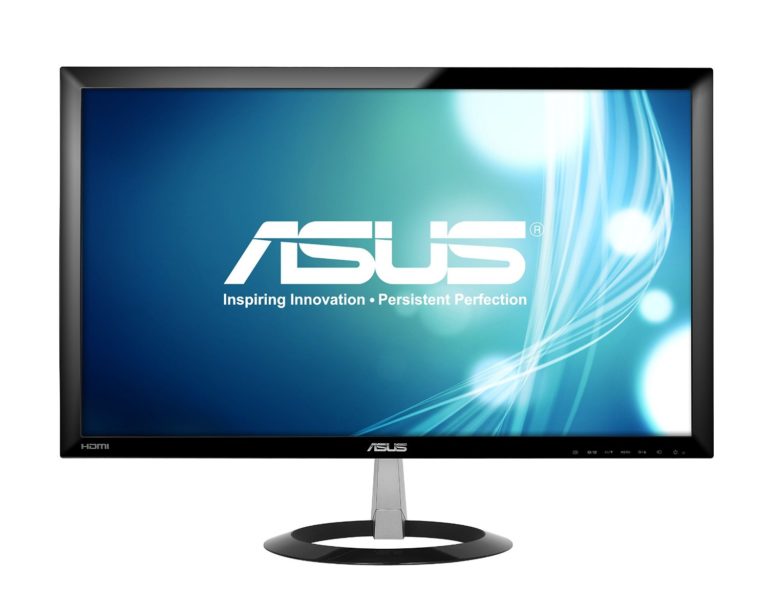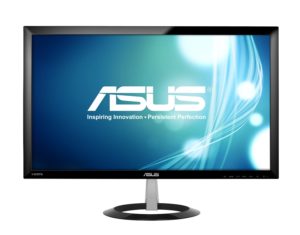 Equipped with a TN panel technology, the ASUS VX238H provides the gamer with exceptional pixel response and snappy responsiveness, along with an equally impressive 10ms input lag time. These qualities put the ASUS VX238H among one of the best gaming monitors you can get for less than $180. The price is also an indication of a tradeoff, and, in this case, the ergonomics are non-existent (only tilt) while the low blue light feature is missing as well (however, there are plenty of free software that can reduce blue light emission). Considering the price, this monitor is still worth a look. Asus Gaming website. Check out price and ratings on Amazon here.
ASUS VS278Q-P: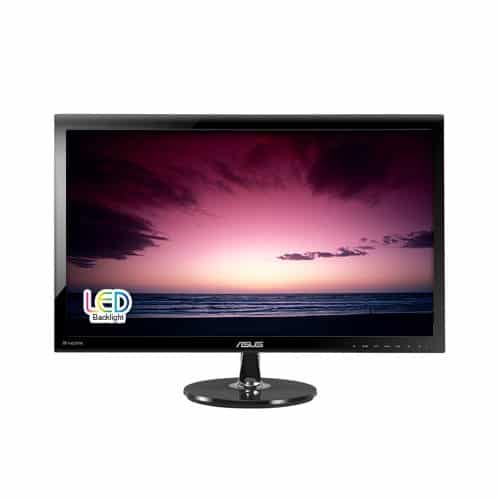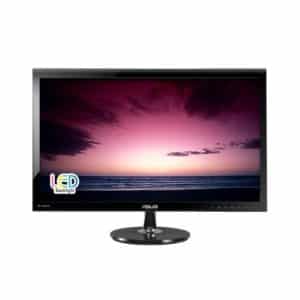 This 27" Full HD screen covered with an anti-glare coating, comes with a refresh rate of 75 Hz and a competitive GTG response time of 1ms. It is designed for the gamer who prioritize image quality over refresh rates, as the static contrast ratio is an abnormal (way above average) 5000:1, while the dynamic contrast ratio, aided by the ASUS contrast technology, reaches 80,000,000:1. This provides an above-average image quality, and the total gaming experience is further enhanced by the notably low input lag time of only 10ms. While tilting is the only option for ergonomics, the VS278Q-P comes with a variety of I/O ports (2 HDMI's, 1 VGA, 1 DP). Check out price and ratings on Amazon here.
ASUS VS239H-P: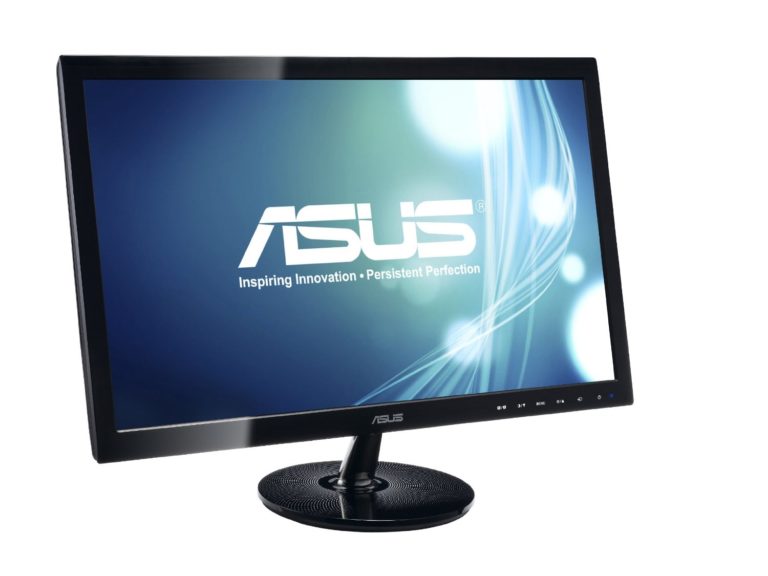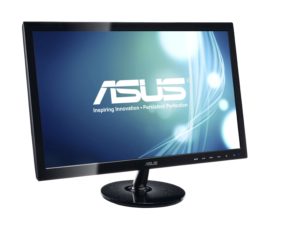 For games where imagery and color performance is of immense importance and prioritized higher than refresh rates (mainly RPG and console games) – maybe even compromised by a lower response time, the panel type is vital. For these exact games, ASUS developed its VS239H-P model, which, to start with, is equipped with an IPS panel. This 60 Hz, 5ms response time and 10ms input lag time monitor produces extraordinary color accuracy and display especially taking its price into consideration. Ergonomics is limited to tilting. However, the ASUS Contrast Ratio Technology helps the VS239H-P reach a contrast dynamic ratio of 80,000,000:1. Check out price and ratings on Amazon here.
AOC G2460PQU:  A 144hz monitor from AOC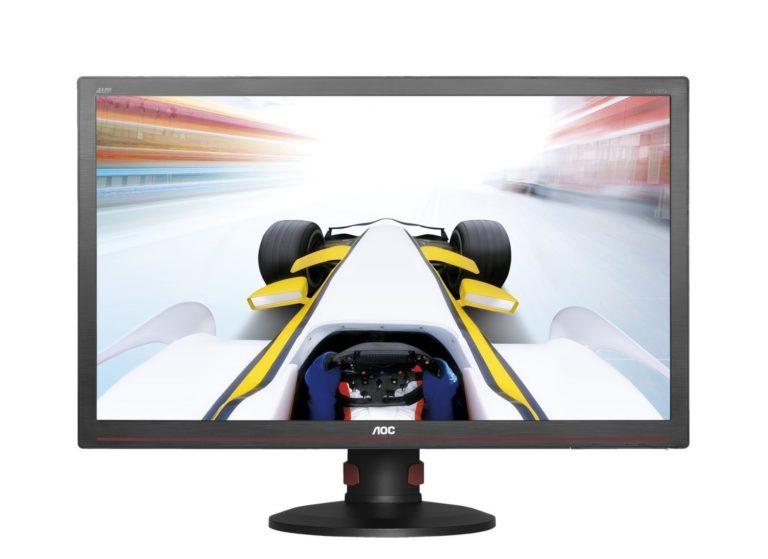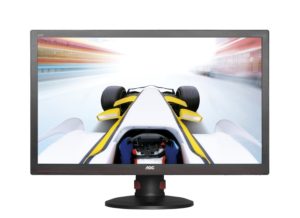 ASUS hit the jackpot when they released the VG248QE, aiming at a target group that for a long time had been ignored – and the market thankfully rewarded the gratitude by making it one of the most popular budget gaming monitors on the market. AOC's response was the G2460PQU. Equipped with similar gaming specs of 144 Hz refresh rate, a GTG response time of 1ms and an equally good contrast ratio of 80,000,000:1, AOC's G2460PQU should not go unnoticed. It comes with the same rich ergonomic options as well as something extra. This monitor brings you 4 USB 2.0 ports as well as a D-Sub input, and the color is something which I favor – the matte-black finish. The input lag on this monitor is 28ms compared to the ASUS VG248QE's 23ms. Because the ASUS VG248QE has proven itself on quality while the AOC was just released in 2014 and still need to prove its sustainability (since low budget monitors are notoriously known for dead pixels within the first year or 2), it is not the Editor's choice for the average gamer, however, not far from it. Check out price and ratings on Amazon here.
AOC G2460VQ6: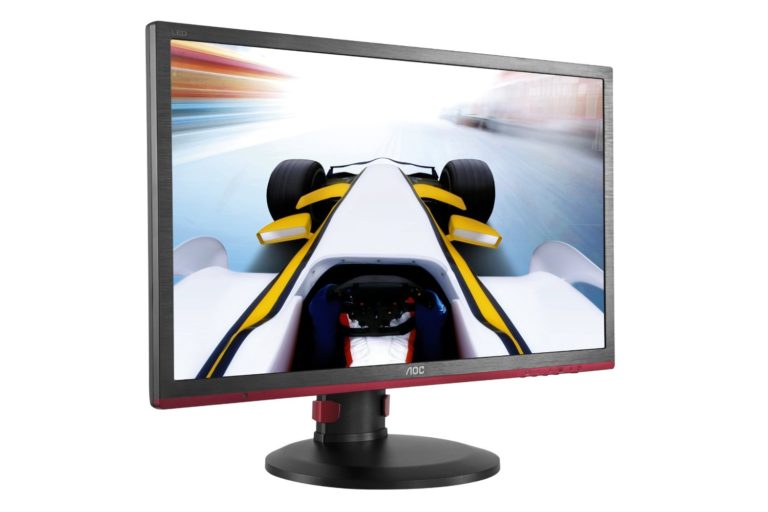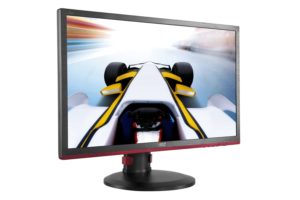 The matte-black finish matches well with the red line, making this a beautiful piece of
Gaming hardware. The G2460VQ6 is AOC's attempt to create something that is as beautiful outside as it is inside – a monitor with great looks, great specs and at a great price. Equipped with Free-Sync technology (which evidently mean a great reduction in input lag time) and a GTG response time of a remarkable 1ms, this 24" Full HD gaming monitor has, as we believe, fulfilled its goal. It applies for the gamer that wishes to play fps games like counter-strike with no screen tearing and with a minimal amount of motion blur and ghosting while still have some money left from his savings account. Check out price and ratings on Amazon here.
Acer G246HL:
With a competitively fast GTG response time of just 5ms, Acer have successfully designed a gaming monitor that can run fps games at a level that is above expectation, considering the 60 Hz refresh rate and the price of just $143.81, making it the cheapest monitor on our average gamer category list, but far from the worst. The input lag time was measured to about 11ms, which is more than adequate when playing fps games that are less graphical such as counter-strike. The compromise has been taken from the ergonomics since it only comes with tilting options and there is no headphone jack on the monitor neither. But for $143.81 you get an HDMI port, a DVI-D port and a VGA port and last but not least a monitor capable of playing fps games (on an acceptable level). 
Check out price and ratings on Amazon here.
Dell S2740L: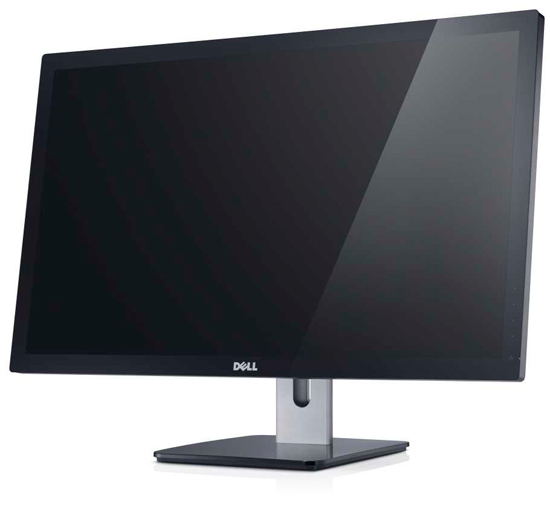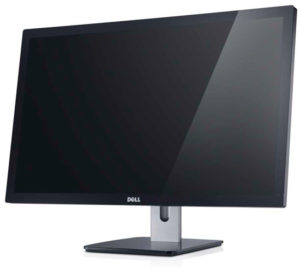 This monitor is designed for the quality minded gamer regarding hardware sustainability.
The S2740L is laid upon an IPS panel for maximum exploitation of color performance and accuracy as well as image quality. It has a relatively large screen (27") which is great for games where beauty and imagery is a top priority. With an input lag time of only 3ms and a GTG response time of 7ms, this 60 Hz gaming monitor is for the RPG gamer who does not wish to change his monitor within the next five years. Check out price and ratings on Amazon here.
Dell U2414H: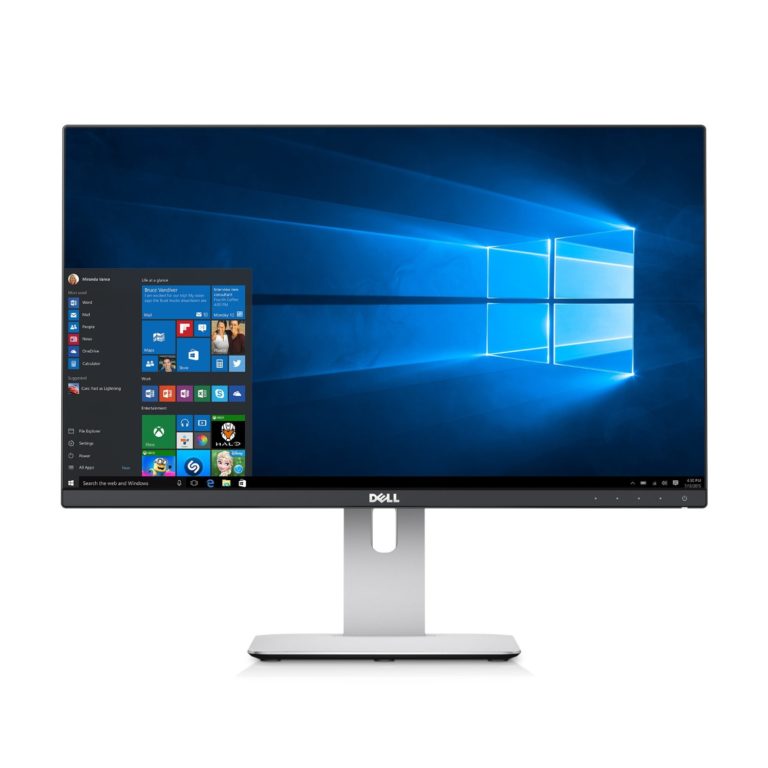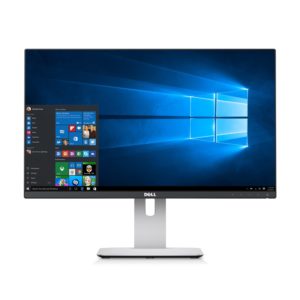 All the Dell monitors, categorized in the average gamer list are mostly useful for RPG and console games – the U2414H is no exception, however, it is the most expensive of them (Dell) and with good reason. Besides the low input lag time of 4ms and the IPS panel, the U2414H comes with a low blue light emission feature for the convenient of your eyes. Ergonomic options are numerous as well as the I/O ports which besides the DisplayPort and the 2 HDMI's, comes with a mini DisplayPort, an audio line in and 4 USB 2.0 ports. The matte-black color matches great with the metallic stand and seems quite thin making the physical aspect account for its favor as well.
Dell U2412M: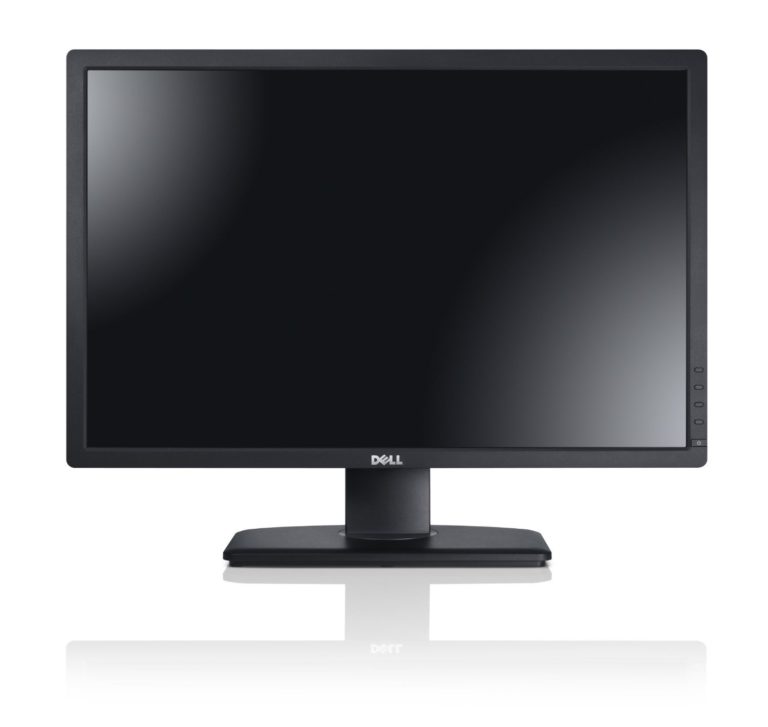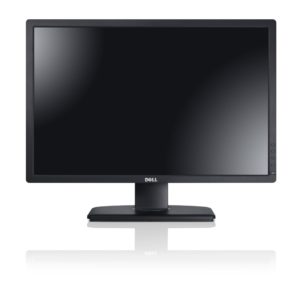 This 24" Full HD monitor from Dell is designed for the optimistic RPG games like Skyrim as it provides some of the best picture display quality you will see in the average gamer category. A fast input lag time of 9.4ms combined with an almost equally fast GTG response time of 8ms sets the foundation for a great gaming experience for the above-mentioned genres. The U2412M also provides the gamer with great ergonomic flexibility – a rare niche within the average gamer category. As always, Dell's well-known niche is the hardware quality.  See what previous buyers think about it and check out the Dell U2414H is available on Amazon. Check the price here.
Dell U2311H:
Just as the U2412M, the U2311H is aiming at the RPG gamer audience, but for $10 less. Those $10 is a tradeoff for a screen that is 1" smaller than the U2412M but comes with CCFL backlighting which increases the color gamut to produce a total of 102% of the visible color spectrum, as opposed the LED backlight which produces the standard 72%. This means an increased color quality incomparable to most monitor within its price range. The described specs are still qualified for a smooth gaming experience (assuming playing RPG or console games) and the various options for ergonomics are a pleasant feature. See the latest price and another information Dell U2414H is available on Amazon. Check the price here.
HP 23XI:
HP has with their 23XI, given their contribution to the average gamer category. Equipped with an IPS panel and a response time of 7ms, this 76 Hz budget monitor differentiates itself through physical design. If you are an old school gamer who is mostly interested in image quality and color productivity (accuracy) – and you love to see a metallic/matte-silver look on your monitor then this is the monitor for you. See it on Dell U2414H is available on Amazon. Check the price here.
Samsung S24D590PL: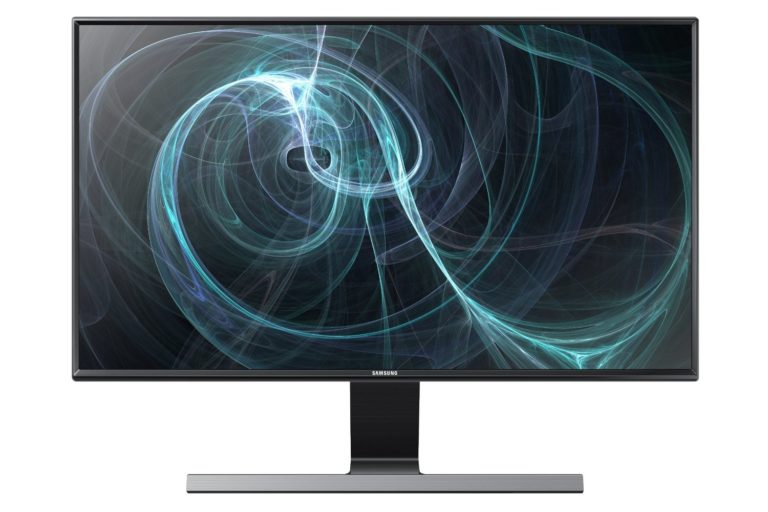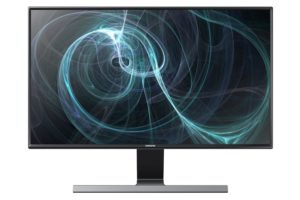 This stylish 23.6" gaming monitor from Samsung is a delightful sight for the eye and performs an excellent color accuracy with its PLS panel technology (Samsung claims their PLS panel performs better than the standardized IPS panels and there may be some truth to it although the performance differs from monitor to monitor). At 60 Hz the S24D590PL resolute with Full HD and a fast response time of just 5ms, however, the input lag time could use some adjustment as it is among the slowest within the average gamer category (17.2ms). The smooth gaming experience is possible during RPG games and console games but because of the relatively slow input lag time, one should not purchase the S24D590PL for the use of games where quick reactions are the main factor. Check the latest price and ratings on Amazon here.
ViewSonic VX2263Smhl: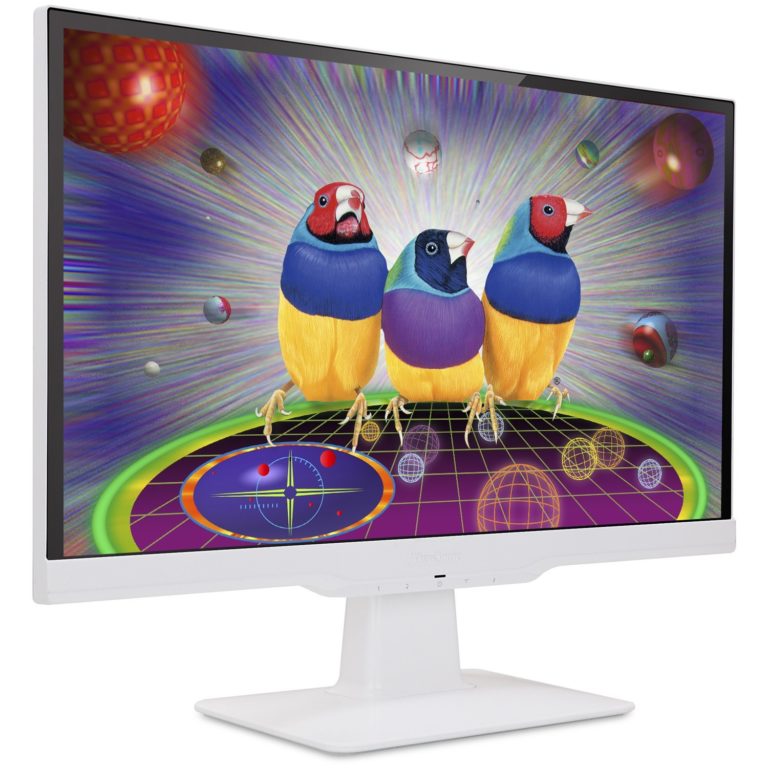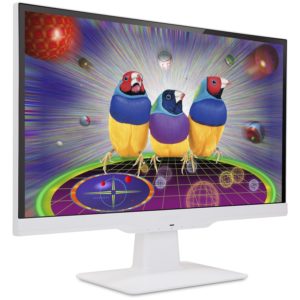 The VX2263Smhl aims at pleasing both the console gamer and the RPG lover. With 60 Hz,
It is adequate to play any console game to its fullest extent as well as the RPG PC games (or other games where image quality and scenery is of priority like Skyrim). This is possible through the IPS panel technology, which emphasizes color accuracy and performance to display pictures and images as it is meant to be viewed. The response time is 5ms, which is an acceptable time for games with a lot of action and movement. Besides the 2 HDMI ports and 1 VGA port, there is a low blue light emission feature that enables you to play games for longer periods of time without getting eye-irritation. Although only of 2 Watts, the VX2263Smhl comes with inbuilt speakers for the sake of the console gamer, we recommend using external speakers through the audio line in, available on the side of the screen. www.viewsonic.com to see more about this company.
Read our buyers guide for Gaming monitors here.
Read our list of 144hz monitors for competitive gamers.