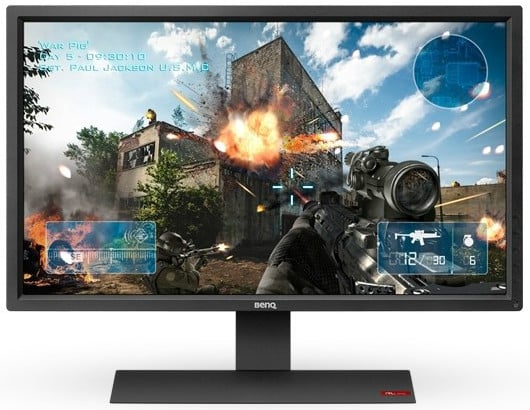 | | |
| --- | --- |
| Panel and Size | TN – 27 inch –  Aspect ratio: 16:9 |
| Resolution | 1920 x 1080 |
| Refresh rate | 60hz |
| Adaptive sync | No |
| Response time | 1ms |
| Speakers | 2 Stereo |
| Connections | 2 x HDMI , 1 x DVI-D , 1 x D-SUB |
| Brightness | 350cd/m2 |
| Warranty |  3 Years |
BenQ RL2755HM Review
BenQ has released quite a number of great gaming monitors not only for the PC gamer but also for console gamers as well.
Today, I am going to talk about the BenQ RL2755HM gaming monitor. This is part of their hybrid gaming monitors that, as previously mentioned, is suitable for PC and console gamers.
Now, what are the things that make this gaming monitor great? Well, it is actually a rather large gaming monitor at 27 inches. Most gamers love this screen size as they can see a lot of details when they are gaming.
Furthermore, the BenQ RL2755HM also has a 1080p (1920×1080) resolution screen and it has a lag-free 1ms GTG response time.
Review of BenQ RL2755HM – The Design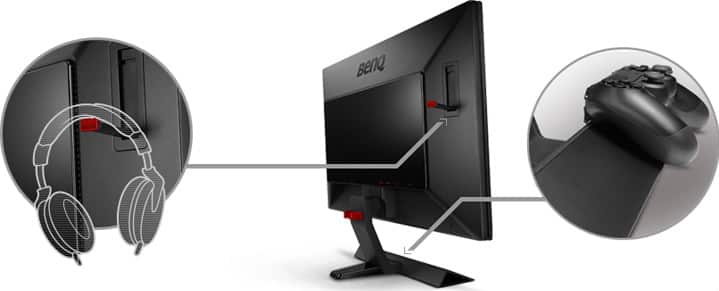 As previously mentioned, this gaming monitor sports a 27-inch screen which is perfect in most gaming situations. The monitor is predominantly black and it has 0.5-inch bezels on the edges of the screen. It is a bit on the thicker side but it isn't really noticeable when gaming.
The BenQ RL2755HM also has a convenient rubber stand. According to BenQ, this rubber stand can be used to place your game console's controllers when you're not using them.
The design of the rubber stand seems like it was made for a Playstation controller but an Xbox controller can be placed comfortably on it without slipping.
At the back, you can see a foldable flap that you can use to put your headphones on it. Although the feature is nice, I feel that the plastic flap can break, especially if your headphones is a bit on the heavier side. Still, this is a great feature to have.
The BenQ RL2755HM has 8.4x 25.2x 18.8 (LWH) dimensions and it is fairly light at 12.1 pounds. Even with its lightweight, this gaming monitor feels sturdy thanks to the materials used.
BenQ RL2755HM Review – The Screen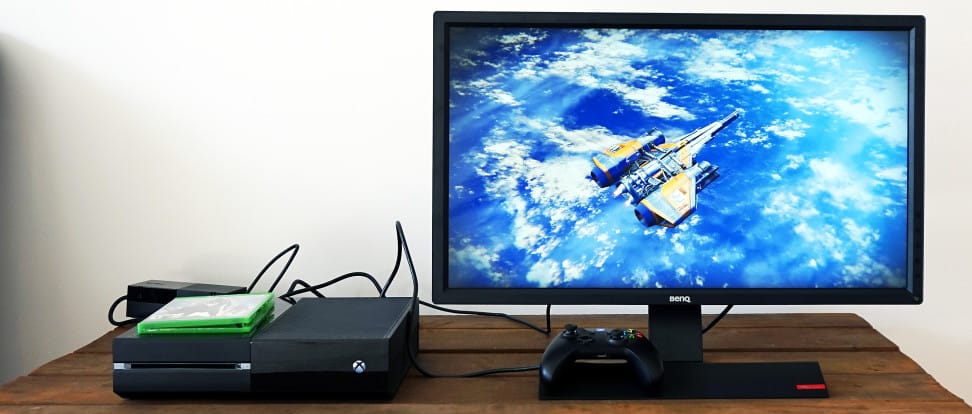 As for the monitor's display, the BenQ RL2755HM has a resolution of 1920×1080 and it has a 1ms GTG response time. For those of you who do not know, the response times you normally see on the spec sheet of gaming monitors refers to how fast it can handle inputs.
1ms is the fastest you can find on the market. So, what does this really mean in the real world? If you have a 1ms response time monitor, that means that there will be very low input lag and there are no ghosting issues.
Ghosting issues are prevalent in fast-paced games like FPS games, for example. When you look at another direction quickly, you will instantly notice the ghosting if your monitor has, say, 8ms response time.
The BenQ RL2755HM, again, is perfect for PC and console gamers because of its amazing response time; eliminating ghosting and any input lag your PC or console may give.
Do keep in mind that this gaming monitor only has a TN panel, so color reproduction might not be the best one there is. It does have a 20,000,000:1 contrast ratio which is on the high end for this display panel.
Even though it is only a TN panel display, the viewing angles are pretty good compared to the standard TN panel monitor. Again, just don't expect to be blown away by the details as TN panels are not really great when it comes to color reproduction.
The monitor can also be tilted 5-degrees forward and 15-degrees backward if you like. Sadly, there is no height adjustment for the RL2755HM.
Display I/O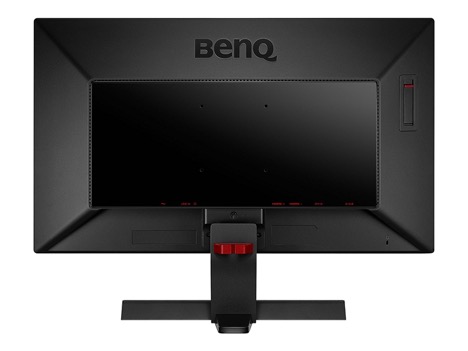 For the ports, the BenQ RL2755HM has a wealth of I/O inputs to satisfy the common gamer. It's got 2 HDMI ports so you can hook it on another TV or you can easily plug another device with an HDMI adapter. It also has a DVI-D and a D-Sub port as well (although, I recommend only using either the DVI-D or HDMI port for better results).
Aside from the aforementioned ports, this gaming monitor also comes with a line-in port so you can plug your speaker/subwoofer system and there is also a 3.5mm headphone jack so you can plug in your favorite gaming headphones directly into the monitor.
Unfortunately, gamers who are looking for a DisplayPort will be discouraged as the BenQ RL2755HM doesn't come with one. But hey, the 2 HDMI ports should be enough in most use case scenarios.
Gaming Performance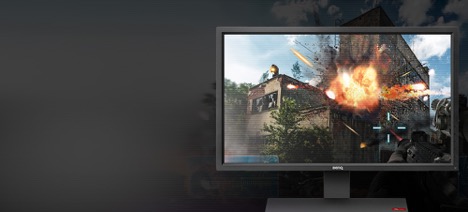 The BenQ RL2755HM is surprisingly good for a TN panel monitor. The visuals are smooth thanks to its 1080p resolution and 20,000,000:1 contrast ratio.
The Blacks and the whites in any game is discernable and any other details can easily be seen thanks to its Black eQualizer technology. Basically, what this technology does is it allows you to quickly pinpoint any color (other from black and white) if they are predominantly in a dark or light area.
The picture on the left is an example of a game without the Black eQualizer technology turned on while the picture on the right is where the feature is enabled. This feature is turned on by default.
You can see that any color or detail that is not black or white can easily be discernable thanks to this proprietary technology.
The 1ms GTG response time also helps immensely for fast-paced games like Halo or Counter-Strike: Global Offensive. Every time you turn to another direction, you will see less ghosting than any gaming monitor that has more than 1ms response times.
This gaming monitor also has a brightness level of 280 nits which actually makes the RL2755HM one of the brightest monitors in its class.
But for me, the color reproduction is not that good if you're playing visually rich games such as World of Warcraft, for example. An IPS panel display would've been better but it has a much higher response time than a TN panel.
The sound that the RL2755HM emits is considerable but it is not that great. You need to be a bit closer to the monitor to really enjoy the sound it produces and even at max volume, it is not audible enough. You will be better off using a true gaming headset instead (and if it comes with a 3.5mm headphone connector, then you can plug it directly into the monitor).
Lastly, do note that the BenQ RL2755HM is only a 60Hz gaming monitor which means that it can only produce 60 frames per second. Gamers who are looking for a monitor with a refresh rate higher than 60Hz might want to look at other BenQ gaming monitors.
Features
I am happy to say that the BenQ RL2755HM has a wealth of features so that you can truly enjoy your gaming experience.
Aside from the Black eQualizer technology mentioned above, the BenQ RL2755HM also comes with preset picture modes that you can use by toggling it via the OSD (Onscreen Display).
The picture modes that you can use are the Photos, Fighting Games, Real-time Strategy, First-person shooters, low-power consumption, and Movies. If you want to use your own, you can store up to 3 profiles that you can tweak to your liking.
By default, the gaming monitor comes in the FPS picture mode which is pretty good in most cases. It is slightly brighter than the Standard setting but it is not too overwhelming at all.
It is interesting to note that the Fighting Mode is a picture mode that was actually co-designed by a popular gamer, Justin "JWong" Wong. BenQ hired his services to allow them to create a monitor that is also great for fighting games.
Most people who have tried this monitor for fighting games, however, have mixed reviews. For some, they actually like the fighting mode as it makes the two characters onscreen more pronounced, while others do not like it because the colors just look pale than any other preset picture mode.
What gamers usually use are only three of the preset modes: the First-person shooting mode, the Standard, and the Movies.
The FPS mode is actually quite nice and is perfect for most games. The Standard mode is a good balance between color and performance and the Movies preset mode is great for visually appealing games.
Aside from the preset picture modes, the RL2755HM also comes with an impressive 20-color vibrance setting that allows you to quickly choose between the 20 preset color saturation modes. This is purely subjective so choose the one that you like the most.
The BenQ RL2755HM gaming monitor also comes with the low blue light and Flicker-free technologies to alleviate eye strain while gaming. The former lowers the blue light that is emitted by the monitor while the latter eliminates screen flicker that can lead to headaches and nausea.
And lastly, this gaming monitor comes with a Smart Scaling feature that allows you to set the monitor to different screen sizes to match your taste. You can choose any of these screen sizes: 17-inch, 19 (and 19-Wide), 21.5-Wide, 22-Wide, 23-Wide, 23.6-Wide, 24-Wide, and the default 27 inches.
Conclusion
The BenQ RL2755HM offers superb performance for a 60Hz TN panel display. This gaming monitor was made not only for PC enthusiasts but also for Console gamers as well.
Although this gaming monitor is locked at 60Hz, it doesn't suffer from any ghosting issues thanks to its quick 1ms GTG response time.
For a TN panel display, this gaming monitor displays pretty good details that you normally wouldn't see in other TN panel monitors.
The BenQ RL2755HM has a lot of ports you can use such as 2 HDMI ports, a DVI-D port, and a D-Sub port. Because of its limitations, the monitor doesn't come with a DisplayPort connection. But, with the inclusion of 2 HDMI ports, it really isn't that big of an issue.
The rubber stand is also a convenient addition to the RL2755HM as you can place your controllers and gamepads on it. The rubber finish ensures that your gaming peripherals won't slip from the base. It also comes with a convenient foldable flap so you can put your headphones on the monitor. I just don't recommend putting a really heavy gaming headset for prolonged periods, though.
This gaming monitor also comes with welcome features such as the low blue light and flicker-free technologies, as well as the Black eQualizer technology, the included picture preset modes, and the 20-level color vibrance setting.
By default, the monitor comes with the FPS preset mode which is pretty good in most cases. If you want the details of both the FPS and Movies presets, then use the Standard Mode.
If there is one gripe I can say about the monitor, it would be the 0.5-inch bezels on the side of the display. Other than that, for a 60Hz TN panel with 1ms GTG response time and a wealth of other features, the BenQ RL2755HM is a great choice.
This gaming monitor is currently priced at $259.99.