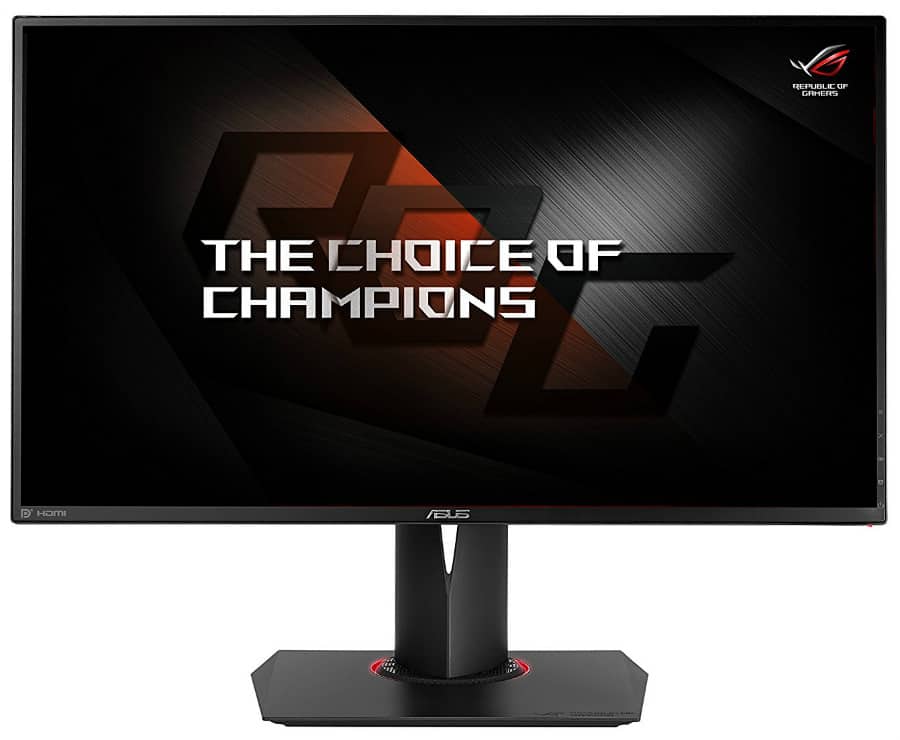 Updated: The Asus PG278QR boasts a 1440p screen with an upgraded 165Hz refresh rate to create an advantage over its already excellent predecessor, the Asus PG278Q. We consider this as the segment's sweet spot when it comes to performance and eye candy, coupled with its G-Sync functionality and reliable build quality. The Asus PG278QR is our gold standard for gaming monitors, so read on if you want to know why.

Asus PG278QR Specifications
Screen Size: 27 Inches
Resolution: 1440p QHD
Aspect Ratio: 16:9
Panel Technology: Twisted Nematic (TN)
Refresh Rate: 165hz
Response Time: 1ms
Contrast Ratio: 1000:1 (Static)
Brightness: 350 cd/m²
Built-in Speakers: Yes
Stand: Height -Yes (4.72 inches)
Stand: Tilt – Yes (-5°/+20°)
Stand: Swivel – Yes (-60°/+60°)
Stand: Pivot – Yes (0°/90°)
VESA Compatibility: Yes (100 x 100)
Connectivity: DisplayPort 1.2 x 1, HDMI 1.4 x 1, USB 3.0 x 2, 3.5mm Audio Jack
Dimensions with Stand(WxHxD): 24.41″ x 21.77″ x 9.37″
Dimensions without Stand: 24.5″ x 14.29″ x 2.6″
Weight: 15.43lbs

Design and Features
If you are familiar with the Asus PG278Q, one of the first 144hz 1440p Gsync monitors available, then the QR version offers no difference whatsoever from a physical standpoint aside from a few updates. This version comes in a matte graphite black finish which we honestly prefer over the lighter tone of the 2nd generation treatment found on products like the Asus PG258Q. This version looks cleaner plus there are only 6mm thick bezels to contend with so the view is mostly unobstructed and maximized.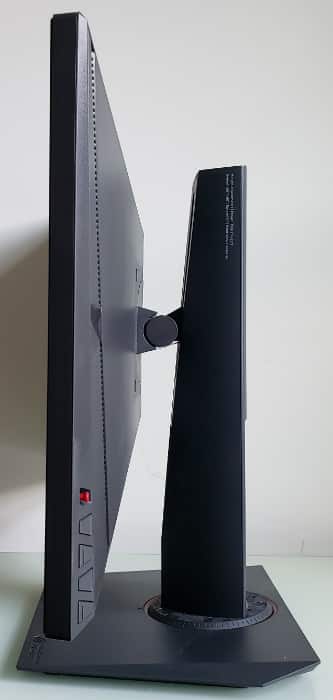 The rear panel of the Asus PG278QR is more interesting since this is where you will find most of its functionalities. For starters, the angular slits of the air vents combined with the color give it the stealth fighter look while helping the components inside purge the heat. All of the OSD buttons including the power switch are found on the lower part of this side, accessible from the right side on the front.
The layout includes a joystick for navigation plus hotkeys for Asus' GamePlus and GameVisual modes, making it convenient to surf through the menus. On the other hand, the Asus PG278QR's limited layout is neatly hidden under the lower slits in down firing positions so wires can easily shoot through the cable management hole. Due to G-Sync's enforced limitations, you only get DisplayPort 1.2, HDMI 1.4, two USB 3.0 slots, and a 3.5mm audio jack.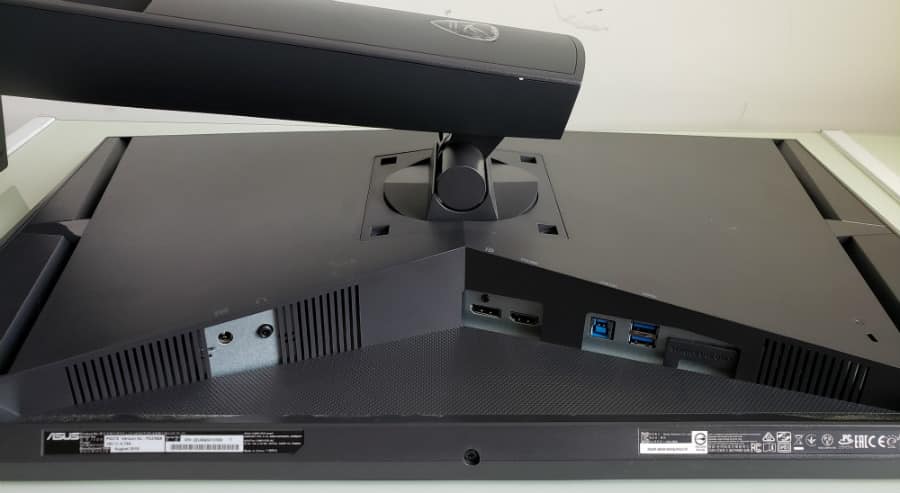 The brand built this premium model like a tank, but they included a highly flexible stand that offers height, tilt, swivel, and pivot which is are smooth, but rigid enough to stay steady. The Asus PG278QR has a TN panel after all, so adjustments to avoid degradation on the screen are crucial. It's hard to believe, but if in case you would prefer an aftermarket option, you can remove this mechanism to reveal VESA holes for mounting.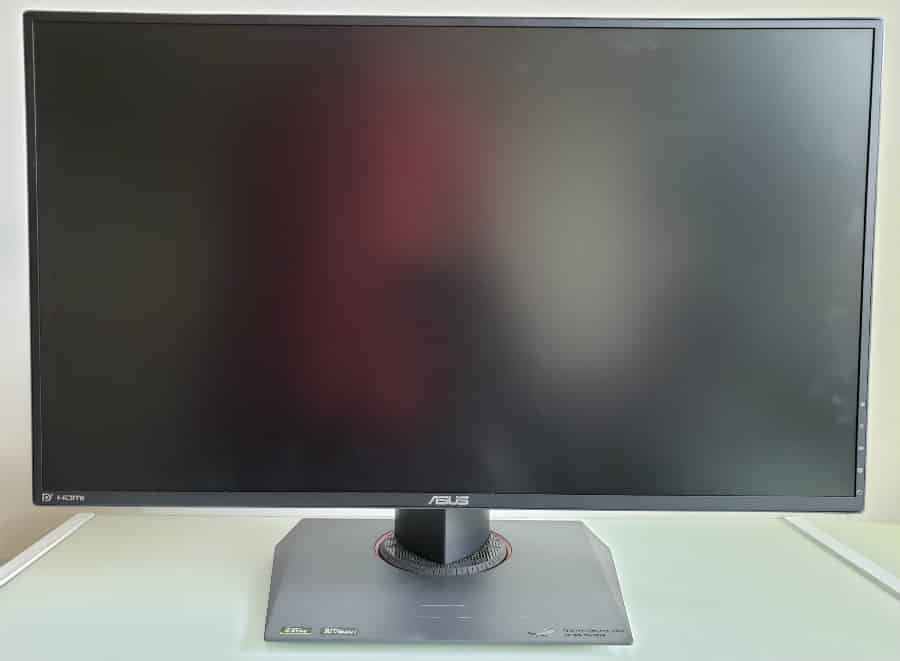 What we like about the Asus PG278QR is its emphasis on stealthy killer looks, a concept which the brand dismissed in favor the titanium gray and orangey robotic designs the current line now includes. The only aesthetic extra this model has is its LED ring which Asus calls Light In Motion. This part lights up in red when G-Sync is active or gently pulses in standby mode.
Display and Performance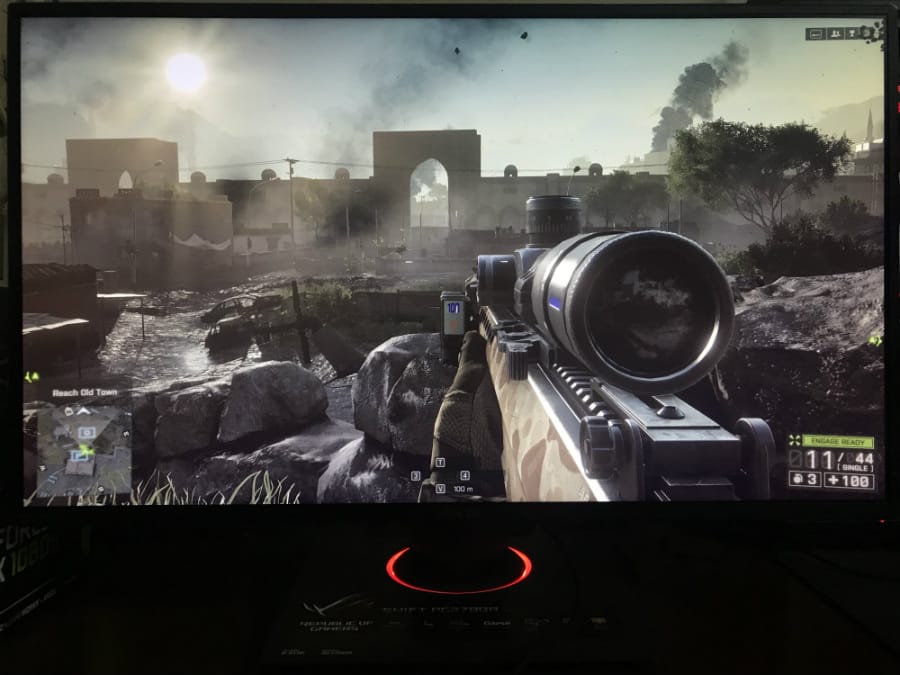 The Asus PG278QR sports a 27-Inch TN panel with a 2560 x 1440 resolution, 165Hz refresh rate, 1ms response time, and 1000:1 contrast ratio. The previous version only had 144Hz, and on this model, we did not encounter any issues when activating the minor overclock via the OSD. G-Sync has a range of 30Hz to 165Hz on this model, but it would be a challenge even for the GTX 1080Ti to reach this limit in some titles.
The TN panel used in the Asus PG278QR is one of the best we have seen thanks to its speed plus its 8-bit interface without dithering. sRGB coverage sits at 99% with some minor under coverage in greens, which can be expected from the panel tech. Accuracy is impressive at DeltaE 1.2 out of the box, but it can be perfected to DeltaE of .6 with the help of a colorimeter which is brilliant for gaming-grade TN panels.
The Asus PG278QR's contrast is one of the best in its class as well, slipping between 880:1 to 920:1 depending on brightness, which exceeds its specification at 385cd/m2 at 100%. For comfortable use, we recommend staying at 20 to 30 on the slider which is safe and much more comfortable for extended use. Setting the Gamma isn't an issue as well since the OSD carries a preset which includes 1.8, 2.2, and 2.5.
We recommend using 2.2 for most scenarios but found that 2.5 sometimes help colors pop in vibrant or cartoony titles. We can say that this AU Optronics module probably maximized the potential of the panel tech due to these results. What the PG278QR offers is a color and contrast reproduction that is the closest you can get to IPS technology's capabilities, without sacrificing the speed it provides.
TN panels are considered a thing of the past, but the advantage is that users avoid issues we usually find in IPS and TN panels. The Asus PG278QR we tested did not have backlight bleeding nor did we see interlacing or ghosting during testing, since the pixel transition was fast enough. For a 165Hz TN gaming monitor, these visual flaws will be the least of your concerns.
We tested games like Battlefield 1 and Overwatch on the Asus PG278QR with G-Sync activated. When paired with an equally beastly GTX 1080Ti, this gaming monitor's visuals are buttery smooth despite the fluctuations in the frame rate. The proprietary tech might be expensive, but it's difficult to go back to a 60Hz display without adaptive sync. Activation is flawless since Nvidia Control Panel instantly recognizes the device, but you might need to access the G-Sync submenu in the utility to make sure it is turned on.
If G-Sync isn't your cup of tea, you can operate the Asus PG278QR just like any other E-Sports monitor with its other features. This model is still Nvidia 3D Vision compatible plus it carries its implementation of ULMB, so you can still enjoy blur-free gaming via backlight strobing. Some gamers prefer using ULMB over G-Sync because the latter has a 2% penalty, but either way, the Asus PG278QR works fantastically.
Finally, the Asus PG278QR can give some of the 1080p monitors E-Sports events use when it comes to responsiveness. This model clocks in at only 3.8ms which are next to nothing regarding delay, so even the most sensitive players won't feel any sluggishness. Gaming on the Asus PG278QR is buttery smooth and at the same time receptive, and during our tests, we found that it's our mechanical skills that got us fragged instead of the monitor's capabilities.

Thoughts on the Asus PG278QR
The Asus PG278QR is the best G-Sync gaming monitor your money can buy today simply because its pros outweigh the cons. The imaging reproduction is the best we have seen on TN panels, so it's easy to ignore known issues such as limited viewing angles and the lower vibrancy. The 165Hz refresh rate and G-Sync function flawlessly, and once tested, gaming without them is a huge bummer.
The timeless build quality and stealthy design are still one of our overall favorites, so even if this model already has some age to it, it will last you a few years. Newer versions from Asus and its competitors are virtually on our doorsteps, but the Asus PG278QR still retains its crown as 2017's Overall Best Gaming Monitor for us here at Monitornerds. In recent times, this model offers the best performance per dollar value in the market, so we recommend it as a must buy if you are upgrading.
Editor's Note: The Asus PG27VQ curved gaming monitor with a 165Hz refresh rate with G-Sync and Aura Sync is now available. However, we still prefer the PG278QR due to its lower price and flat screen which is ideal for competitive gaming.