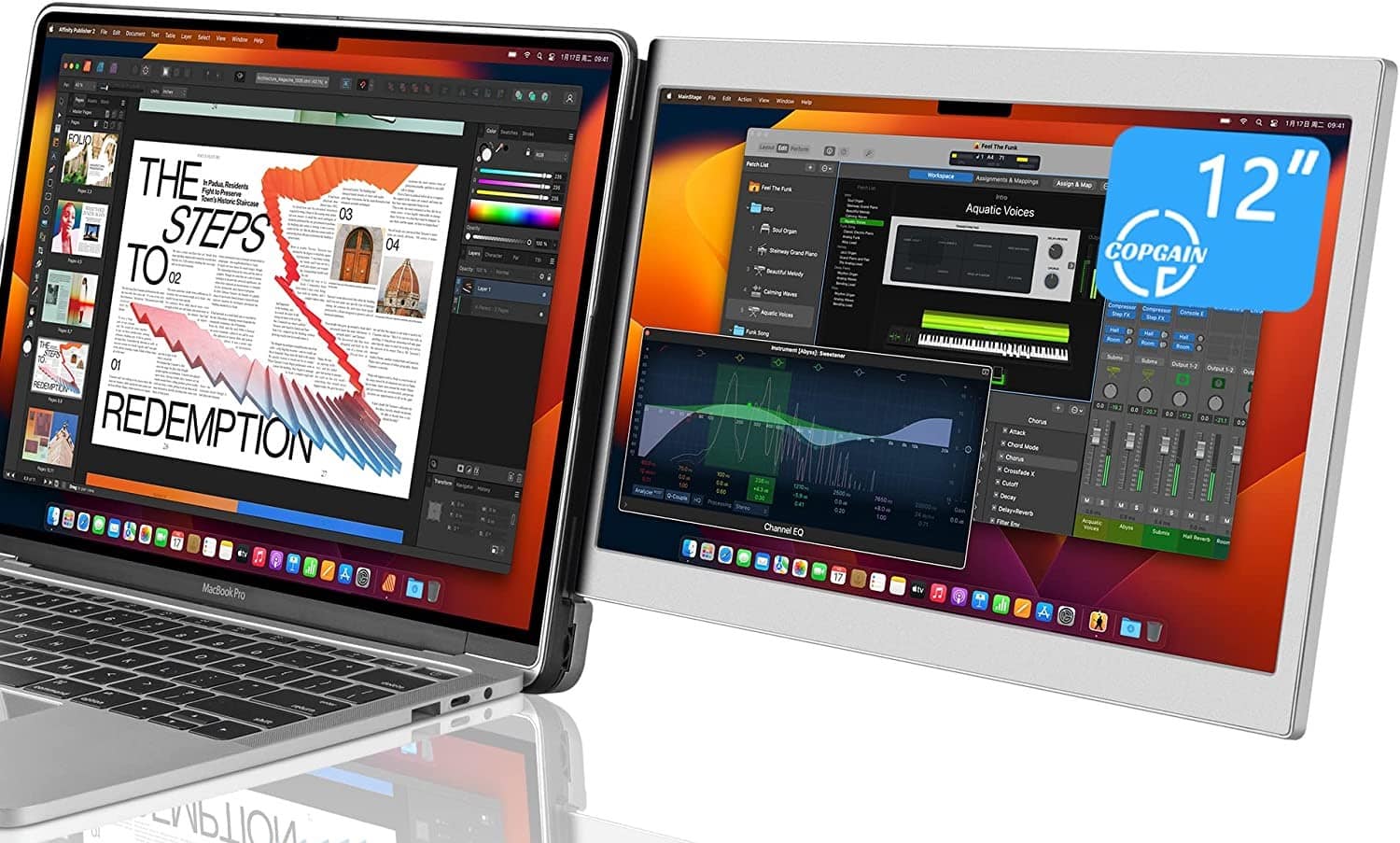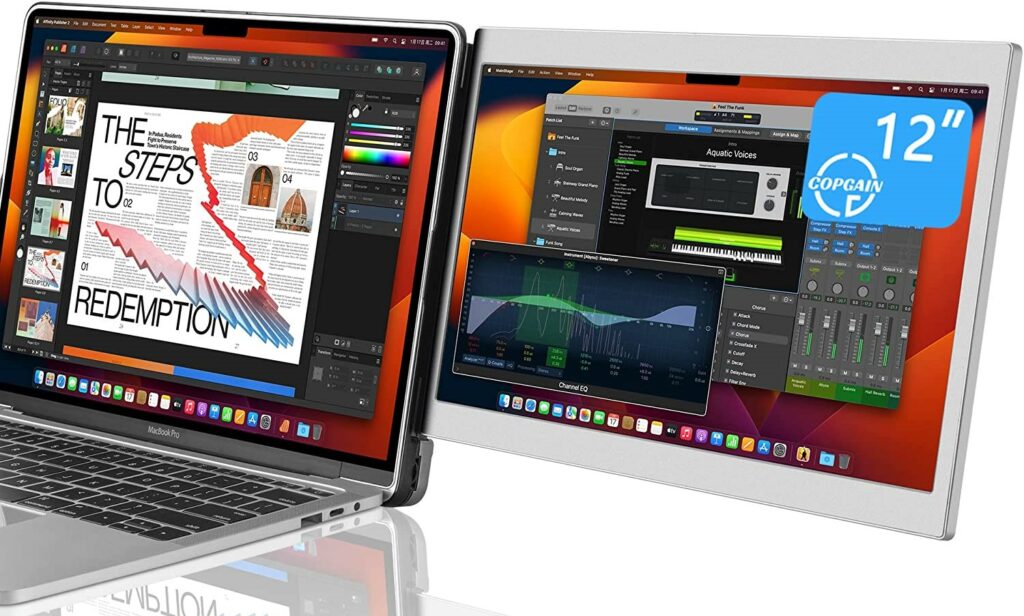 The CopGain P1M offers a unique design that aims to make extending your MacBook's screen space painless and affordable. It's smaller than identical competitors with a 12-inch screen, but that also means that its 1080p screen looks sharper. The portable monitor market has become very competitive, so let's see how it stacks up.
CopGain P1M Specifications
Screen Size: 12 Inches
Resolution:1920 x 1080 FHD
Aspect Ratio: 16:9
Panel Technology: In-Plane Switching (IPS)
Refresh Rate: 60Hz
Contrast Ratio: 1000:1
Brightness: 300 cd/m²
Built-in Speakers: Yes
Stand: Height – No
Stand: Tilt – Yes
Stand: Swivel – No
Stand: Pivot – No
VESA Compatibility: No
Connectivity: USB-C x 1, USB-C Cable (Built-in) x 1
Dimensions With Stand (WxHxD): 12″ x 8.42″ x .7″

Design and features
The CopGain P1M sports a unique design that is both functional and clunky in some aspects. The device has a matte silver aesthetic which matches the most commonly bought colorway used by Apple's products. The display isn't bezel-free, so the screen looks even smaller than it actually is.
There are multiple P1 variants from the brand, but the M in this model name indicates that it was designed for Apple's MacBooks. It was intended for the 14-inch model, but solutions for the famed laptop's other sizes are also available. The device itself was lightweight, but adding the metal cover made it heavier than some portable monitors we've tested.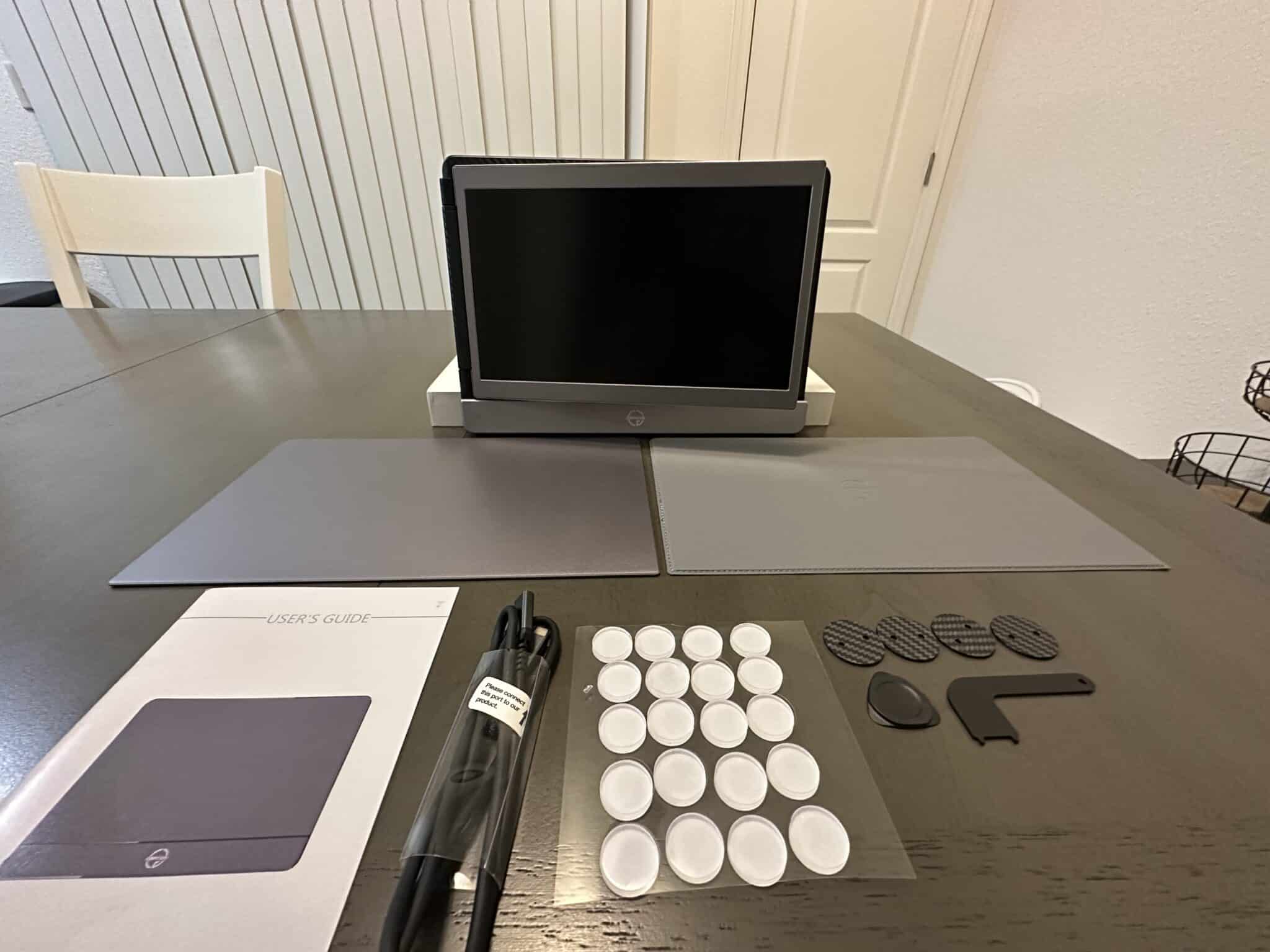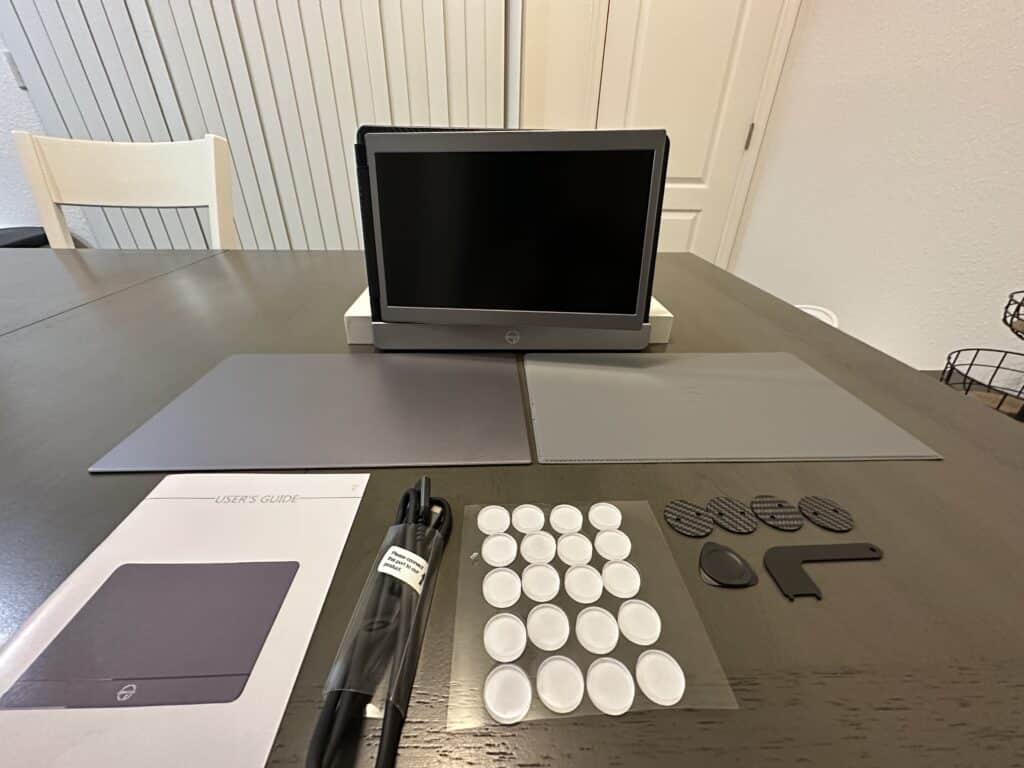 The P1M includes several accessories that make it functional and well-protected while in transit. It includes a leather magnetic cover and the metal one mentioned above, along with grommets and adhesives for the snap-on case. It also has an extra USB-C cable and tools for the grommets.
Our main gripe with this monitor is the need for the adhesives and the grommets to secure the monitor to a MacBook. That means that it must stay on there once you attach it, and removal can be a bit difficult, even if there is a tool for it. The display's swing-out is also limited to the right of the screen, so those who prefer their additional screen on the left.
The CopGain P1M's build quality is a mixed bag, but there is always some room for improvement. There were uneven gaps between the bezel and the panel, and some of its major parts felt plasticky. However, the device as a whole is durable, including its smooth and solid hinge, which will not allow the display to break off easily.
However, we were unable to test its structural functionality on our laptop, which was bigger than what it was designed for. This is one of the biggest limitations of this model since it was designed for a specific laptop size group. Other options have adjustable brackets which can fit on various products, so they are better if you upgrade your device often.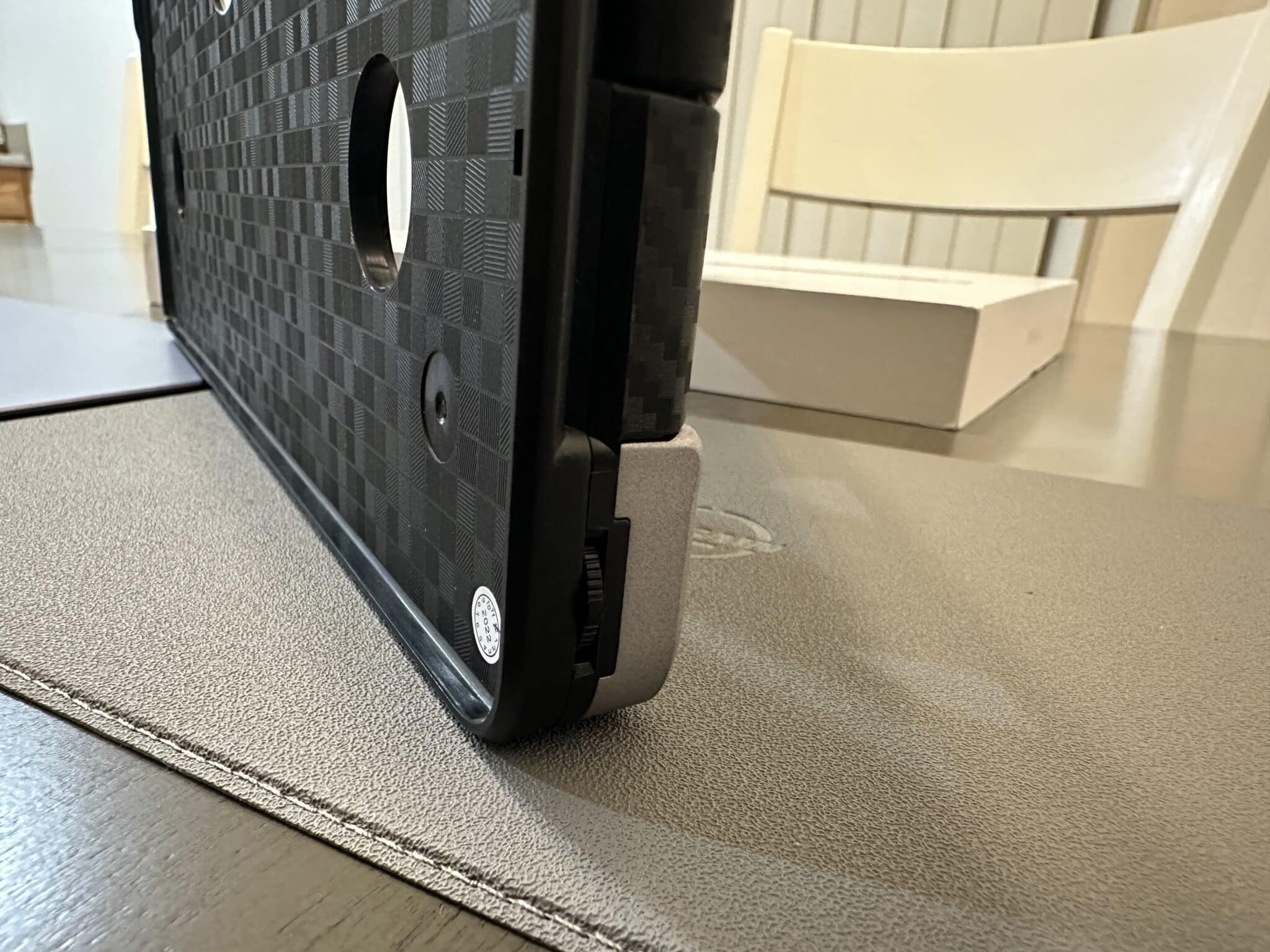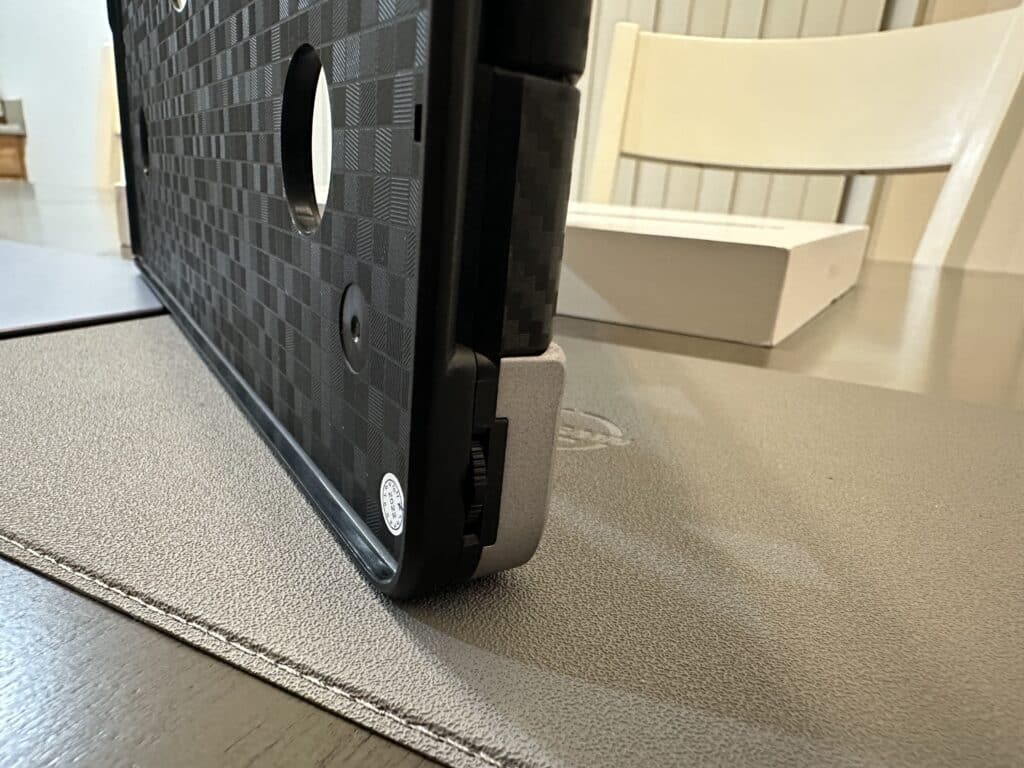 The only control available on the P1M is a scroll wheel that raises and lowers the brightness while doubling as a switch for the device and its OSD. A short press opens the OSD, while a longer hold will switch the display on or off. It is easy to use, but those with pudgy fingers like me might find it a bit inaccurate to use.
The good news is that this monitor is stable, and it swivels just enough to give you a good and usable angle. Other portable monitors rely on a flimsy flip-cover to prop them up. It adds weight to the monitor but lessens the annoyances of using a portable display.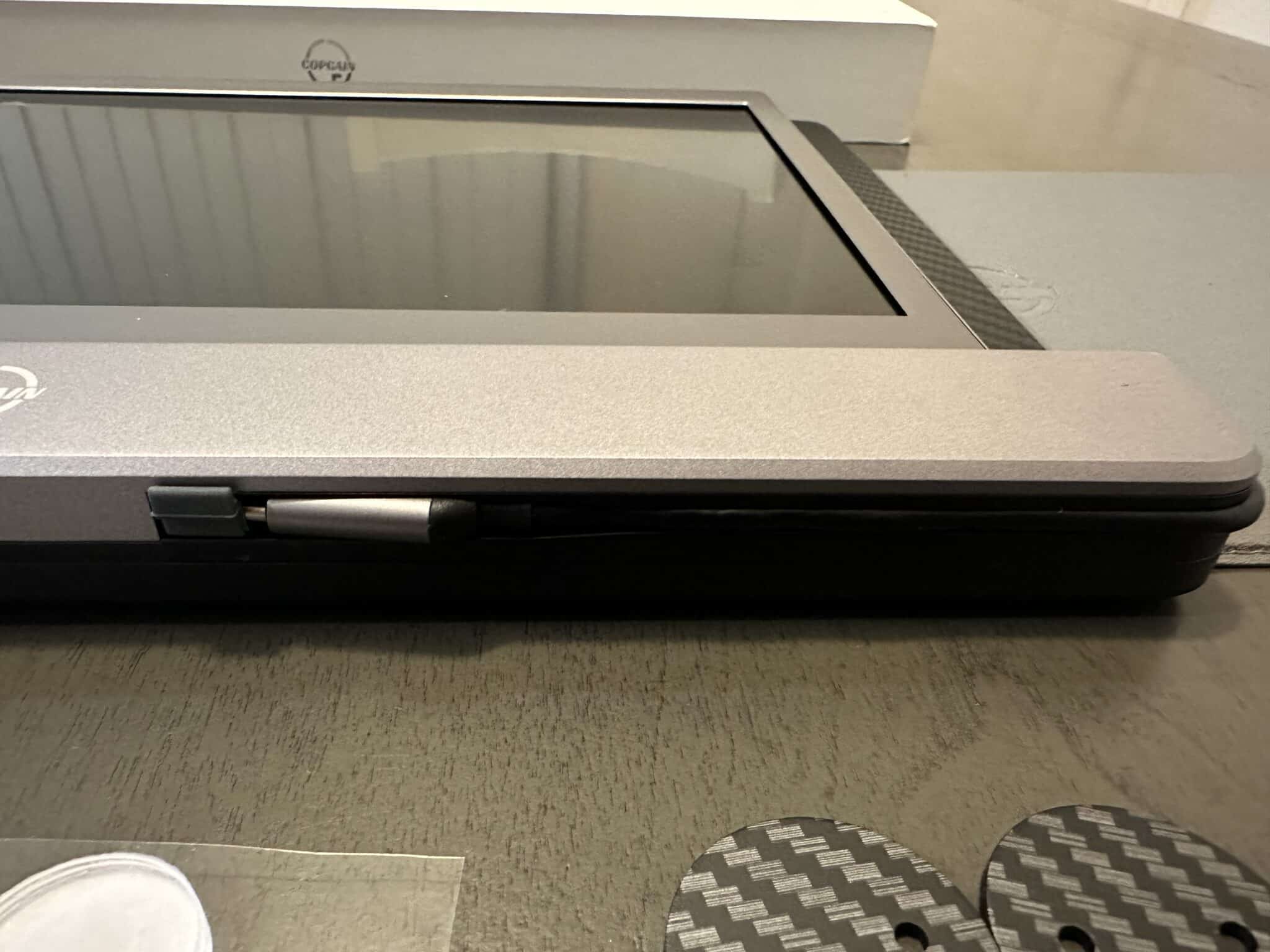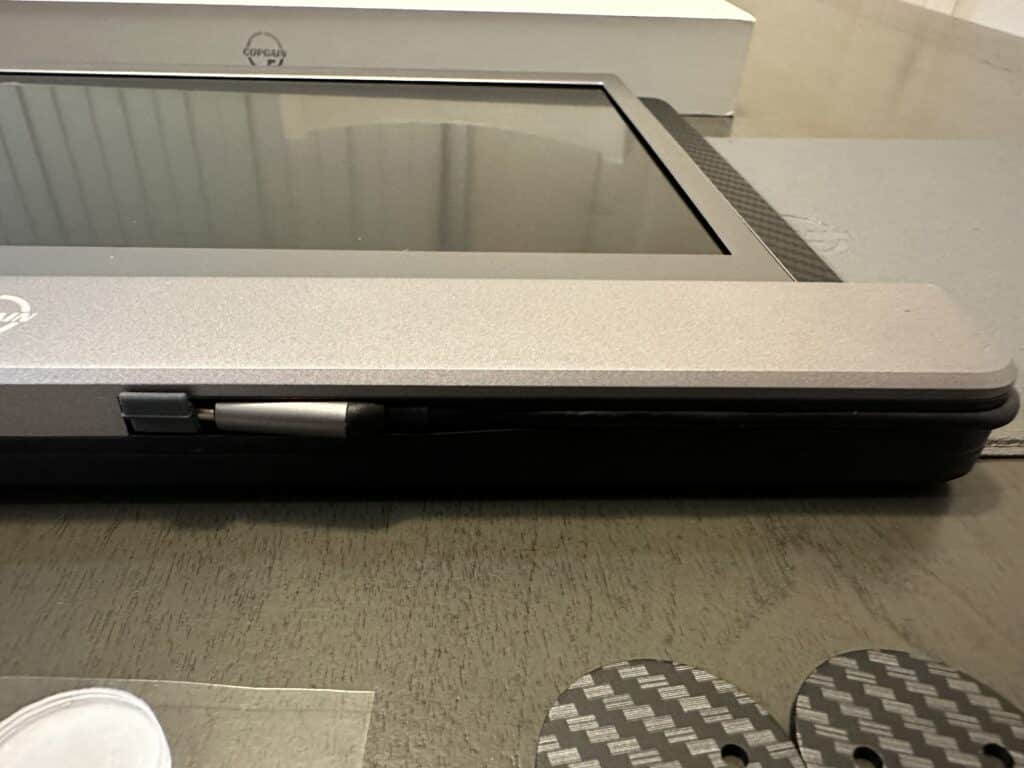 Another unique feature we've encountered with the CopGain P1M is its connectivity layout. It has a short built-in USB-C cable and a USB-C slot which is originally intended for a power source. The USB-C cable that's with the chassis is only a few inches short since it was initially intended to connect to the slots on MacBooks, which are close to its hinge.
It's not usable if your laptop has its USB-C ports elsewhere, although the USB-C slot on the monitor also supports video input and power delivery. You lose the benefits of an external power source, which also guarantees that this model will work with 14-inch laptops from other brands. You also don't have to deal with this limitation since there are variants that are designed for Windows-based laptops of various sizes.
The CopGain P1M also has built-in speakers, but they are tinny and weak, so we think most won't use them in noisy environments like cafes. However, the monitor is designed to attach to your MacBook, so using its considerably better built-ins will be your solution. We think it is nice to have in case you find a crucial moment, like when your laptop speakers stop working during a conference call.
Display and Performance
The CopGain P1M sports a 12-inch IPS panel with a 1920 x 1080 resolution, a 60Hz refresh rate, and an undisclosed pixel response time. The backlight is rated at 300 cd/m2 while the contrast is at 1000:1, like most IPS panels. This model was not meant for gaming and entertainment, so it doesn't have certain features like HDR certification.
The 12-inch 1080p display looks too small for some, but that is mostly factual if it is used as a main display. However, this was meant to extend the MacBook's screen space, giving you a digital copy holder or more room to maneuver your apps. Another benefit is it also has a tighter pixel pitch, so it won't look too out of place next to a crisp Retina display.
According to our Spyder V Elite, the CopGain P1M rendered an impressive 96% of the sRGB gamut and 82% of the DCI-P3 color coverage. Its default accuracy was not impressive since the deltaE average was too high at 3.69. The screen will look unnatural to a vibrant and calibrated retina display, so its applications are limited against anything related to editing.
Calibrating it with the Calibrite Display Plus produced an excellent accuracy rating that has a deltaE average of only 0.6. It's not as vibrant as a MacBook's screen, but that kind of calibrated performance will come in handy for editing work. However, you need a capable colorimeter and its resulting ICC profile to achieve that.
The CopGain P1M's backlight did not reach its 300 cd/m2 claim since it only produced 145 cd/m2 at 100% output. It is not suitable for use outdoors, although you can find the best shade possible to make it usable against daylight. Its contrast, on the other hand, reached 1140:1 at 35% brightness, so it's a bit better when it comes to black luminance.
We also checked if the brightness limitation was caused by a single cable operation. It was, in a way, but plugging in the monitor to an external USB-C power source only raised the max brightness to 147 cd/m2. We think its a quality control issue, although we're hoping CopGain can offer a fix f
Panel uniformity for the test sample did not have any major issues like backlight bleeding. The variances in the backlight's spread were minimal because of the screen's small size, so it won't be a big issue for some. However, this can change between units due to manufacturing tolerances, so there are worse ones out there.
The CopGain P1M is limited to 60Hz, and it is not the fastest IPS portable monitor when it comes to motion clarity. Some minor smudges or persistence can happen in fast-paced scenes, but it's not a big deal for the types of games that this monitor will probably see. It doesn't have an overdrive feature to quell it, but that's fine since the product wasn't really designed for gaming anyway.
The CopGain P1M also lacks Adaptive Sync, but that's a common omission on portable monitors. Most of them are not intended for gaming, plus 60Hz 1080p is reasonably easy for any device to meet on most titles. Input lag felt closer to a 15ms monitor, so the device is still responsive enough for basic tasks.
Thoughts on the CopGain P1M
The CopGain P1M is a uniquely designed solution that solves your MacBook's limited screen space. It's equipped to be secure on your laptop's shell with as little added weight as possible, so you don't have to spend too much time setting up your mobile workstation. Its IPS panel is small and inaccurate out of the box, but it has a lot of room for improvement if you have a colorimeter.
This monitor has some questionable design decisions, such as its mounting solution and connector layout. We understand that CopGain has its rear covered with specific variants for other laptops, but that also means that you have to buy another model if you change to a different laptop. Based on its performance alone, it's a decent choice for 14-inch MacBook owners.
Pros:
Excellent Calibrated Accuracy
Great Contrast for Portable IPS
Leightweight
Single Cable Operation
Cons:
Clunky and Limited Design
Short USB-C Cable
About the Author: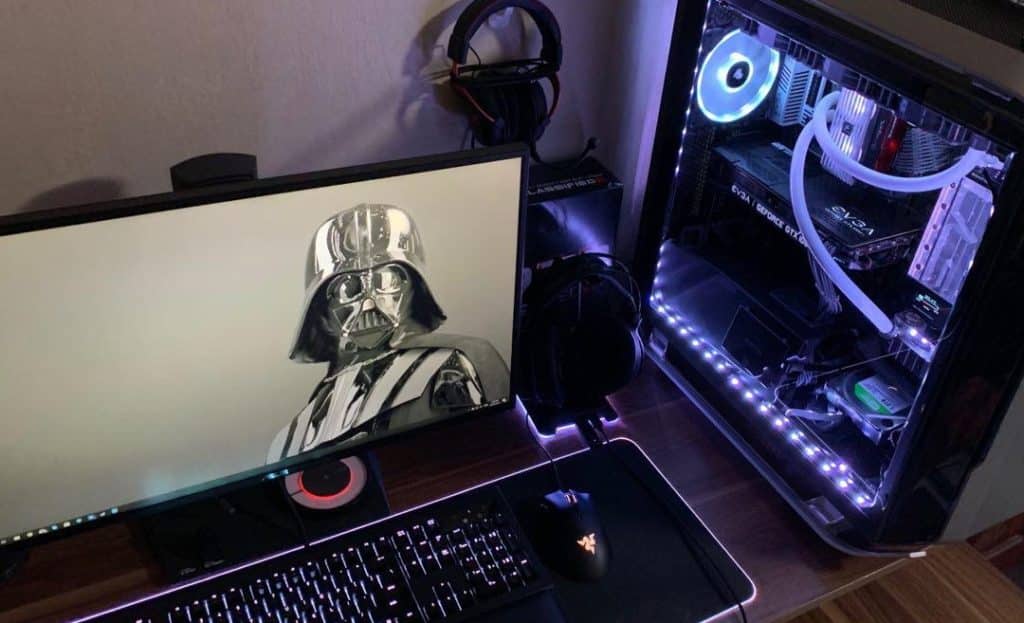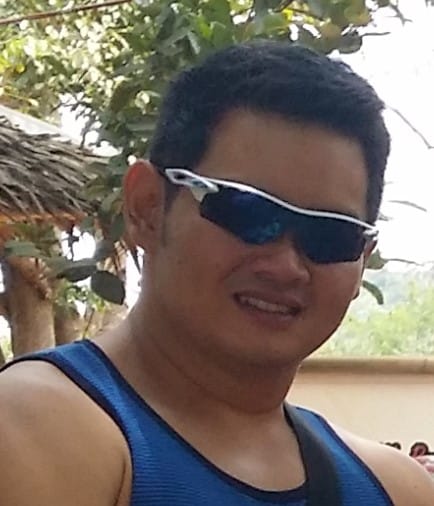 Paolo has been a gaming veteran since the golden days of Doom and Warcraft and has been building gaming systems for family, friends, and colleagues since junior high. High-performance monitors are one of his fixations; he believes that every citizen's right to enjoy one. He has gone through several pieces of hardware in pursuit of every bit of performance gain, much to the dismay of his wallet. He now works with Monitornerds to scrutinize the latest gear to create reviews that accentuate the seldom explained aspects of a PC monitor.