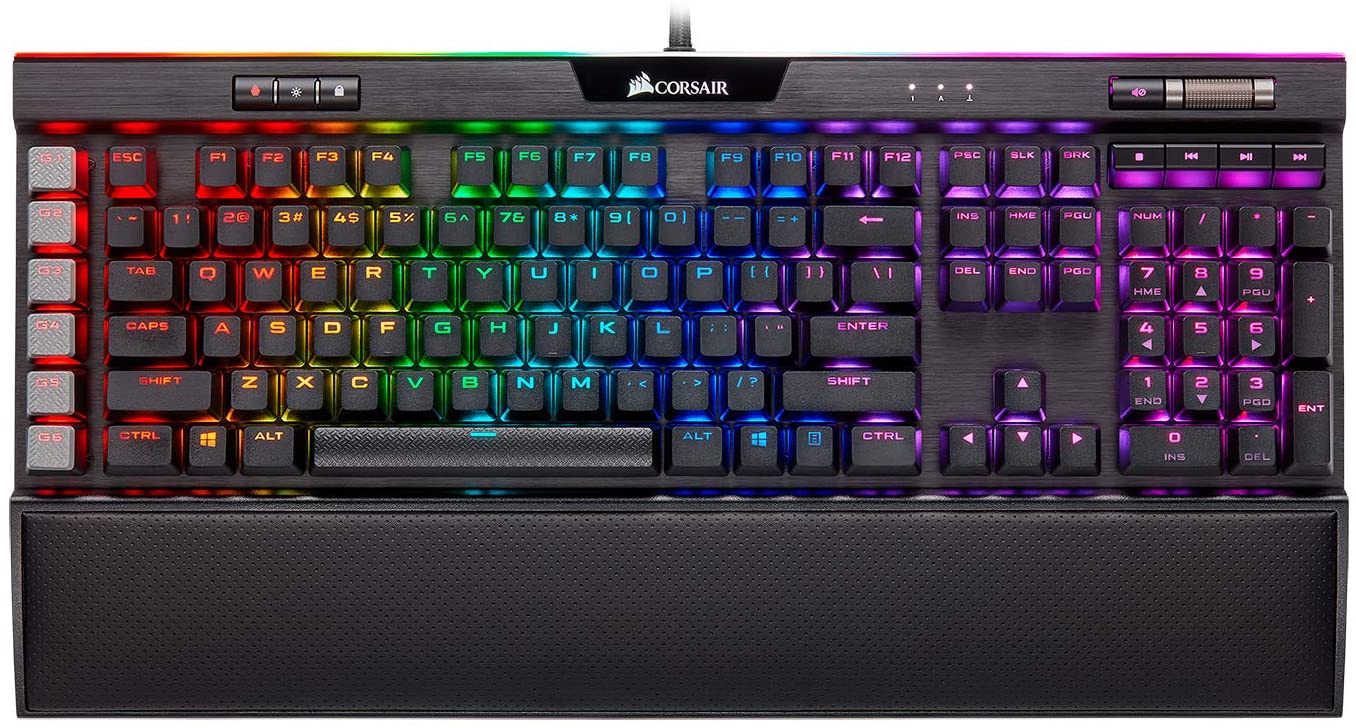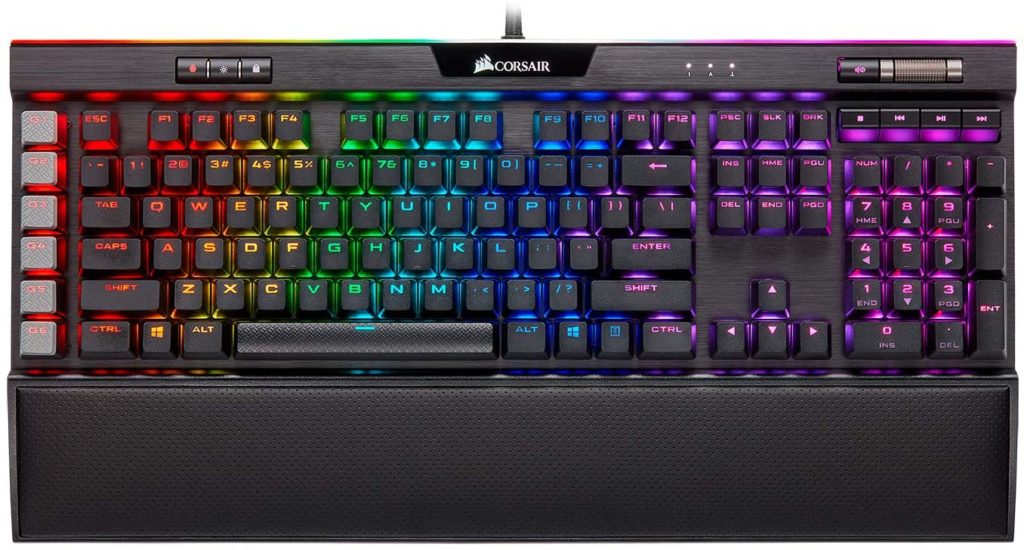 The Corsair K95 RGB Platinum XT is a revamped version of the very popular K95 Platinum with added features and functionality. The keyboard's design did not change, but that means you still get to enjoy the K95's best features such as its metal volume wheel. The Corsair K95 RGB Platinum XT isn't cheap, but can its affinity for streamers built into a proven design make it worth the price?

Design and Features
The Corsair K95 RGB Platinum XT doesn't look different at a glance from its predecessor, but it does have a few key improvements on its spec sheet. The brushed aluminum top panel gives it a durable and premium character, while the black color mixed with some grays will always look good no matter what. The RGB lighting is the cherry on top for many gamers which completes its aesthetic appeal.
The Corsair K95 RGB Platinum XT comes in at under 3 pounds, and it isn't the largest full layout mechanical keyboard in the market. The device is roughly 18 inches by a little under 7 inches, so you save a bit of space compared to some models. The wrist rest will eat up a lot of space, but we think the small sacrifice is worth it for what it offers.
The new and improved wrist rest on the Corsair K95 RGB Platinum XT now has a plush breathable leatherette surface, unlike the plasticky predecessor. It's more comfortable and supportive during extended use, so that's a huge plus in our book. Its also flatter than the original, but at least it doesn't feel like a flimsy piece of plastic anymore.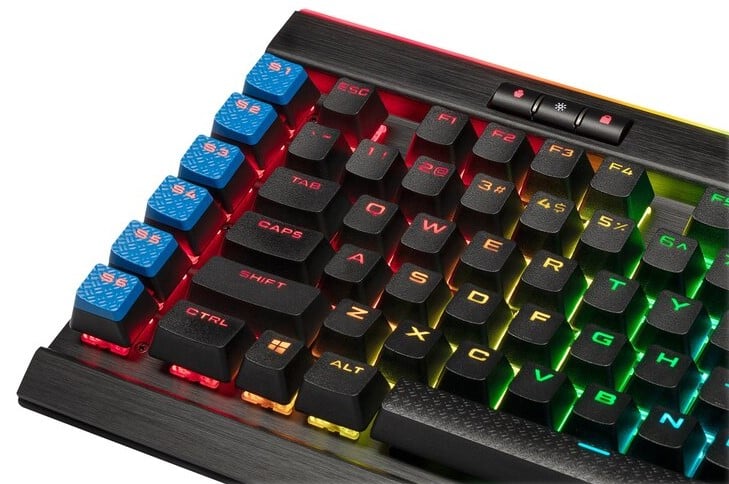 The Corsair K95 RGB Platinum XT also gets upgraded with PBT double-shot keycaps which are more durable and less prone to fading. The characters are bright and clear, and they let out just the right amount of light for a beautiful glowing effect. Users often have to buy them separately for keyboards, but it looks like leading brands are making them a standard part of the package.
You also get extra textured keycaps for the macro buttons at the side which denotes their functionality for Elgato's streaming ecosystem. The macros now support some of the Elgato Stream Deck's functionalities, so you can essentially set them as shortcuts. The add-on seems minor, but streams, where a lot of stuff goes on, will find them useful.
But of course, the special feature here is the Cherry MX switches which feature fantastic reliability along with its tactile and clicky feel. There are several flavors to choose from, but our favorite is the Speed Silver variant which works great for both gaming and productivity. But take note that the keys are soldered, so you need a bit of expertise if you want to replace a broken one personally.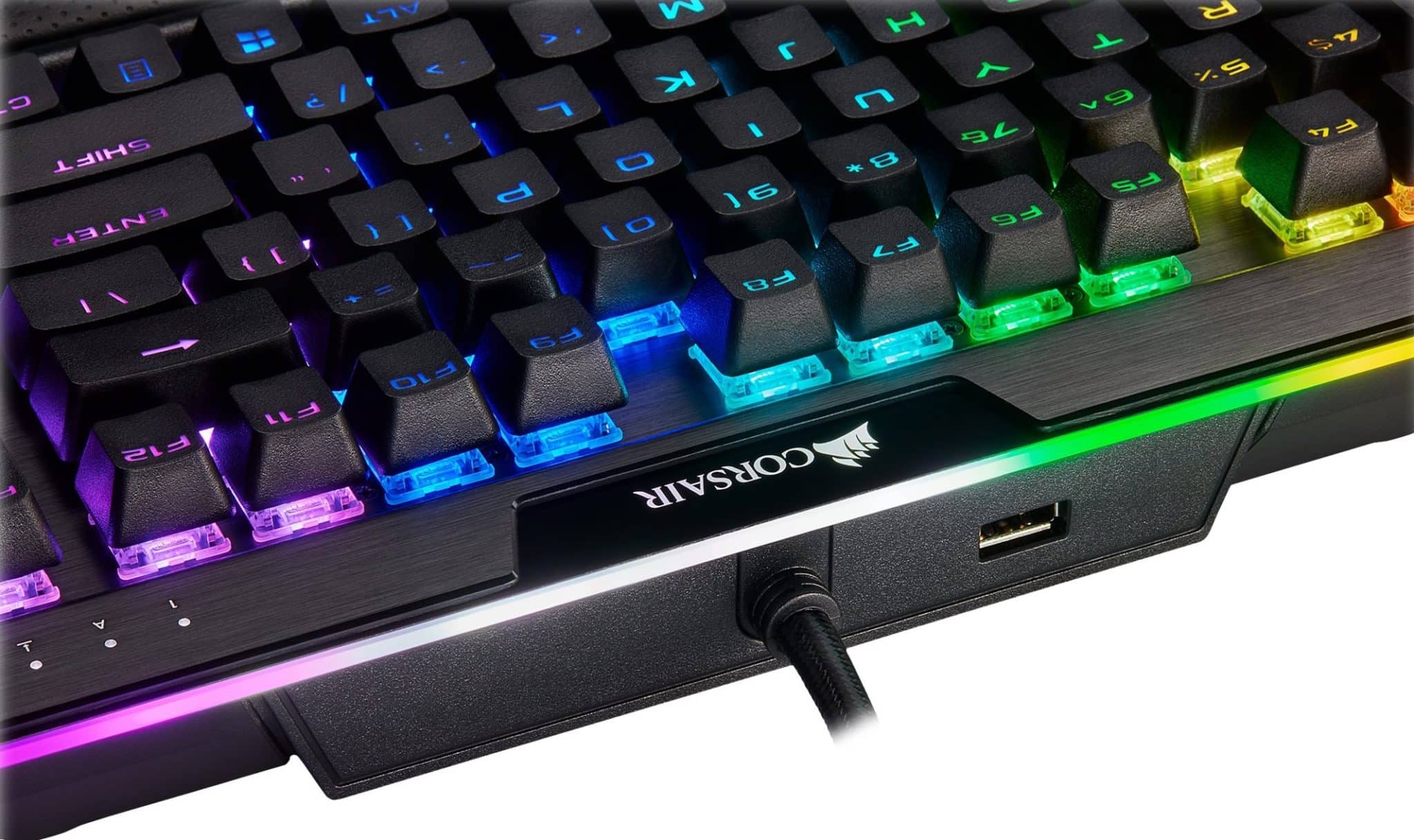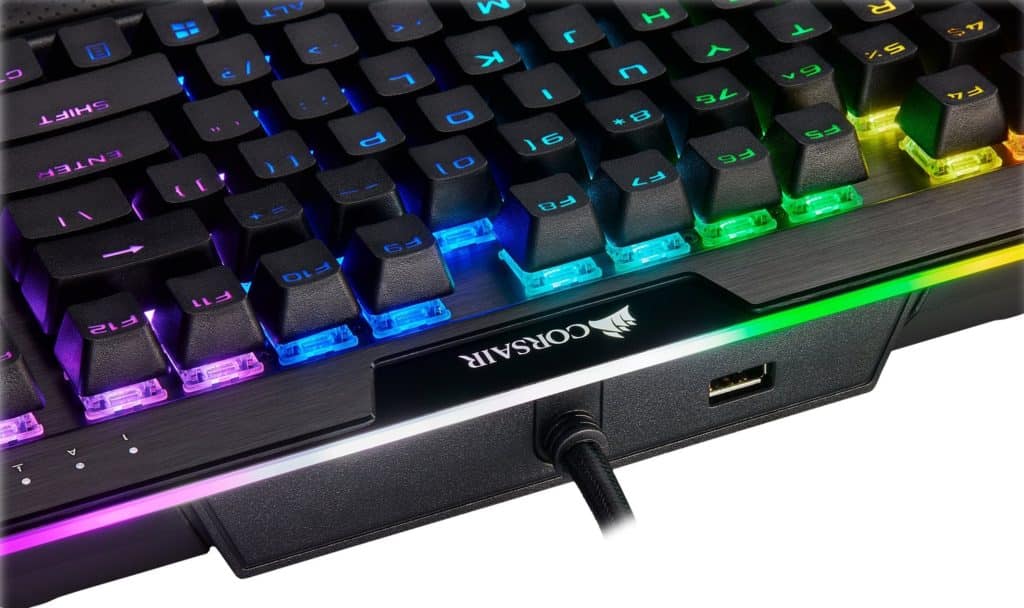 Another feature we love on the Corsair K95 RGB Platinum XT is its dedicated layout for multimedia use at the top right corner. The metal-based volume roller and specific buttons for stop, previous, play or pause, and fast forward. Normally this isn't important for the majority, but the convenience they offer comes in handy for those who listen to music and would want to avoid alt-tabbing.
The highlight for many on the Corsair K95 RGB Platinum XT is its RGB lighting which is maximized by the floating key design. There is also an LED strip at the top of the keyboard which adds a nice lighting accent for your setup. The lighting can be manipulated via Corsair iCue which allows you to customize hues and themes readily.
Performance
The Corsair K95 RGB Platinum XT's performance is as impressive as its looks and extensive feature set thanks to its functional design and Cherry MX switches. Each key is very responsive and satisfying to press thanks to the shorter actuation point and contactless feedback. This variant's linear characteristic makes it satisfying to use for gaming and productivity, plus it's not as noisy as the clicky blue switches.
Of course, the switch type is a matter of choice for various users, although the clicky versions are more popular for the Corsair K95 RGB Platinum XT's primary use. All of them are as reliable and satisfying as their other counterparts, but the Speed Silver is currently the fastest one available that isn't optical. If you don't have a preference yet, we recommend going to a retail shop to try and test at least a few switch types to find the perfect fit.
The Corsair K95 RGB Platinum XT's macro keys called G-Keys are compatible with streaming platforms such as Elgato's Stream Deck and Streamlabs, OBS, Twitch, and the like. The problem is most of the keyboard's functions are driven by iCue, while the other relies on Stream Deck's functionality. You have to run both to be able to use this feature, and we think it would take some configuring and practice for some.
One issue here is that both the apps will trigger the macro key's assigned functions when you press one of them. It's impossible to run the Corsair K95 RGB Platinum XT with all of its functions if one is shut down. One solution is to create a keyboard profile in iCue where the G-Keys are empty so that it doesn't interfere with the Stream Deck controls you've set.
The Corsair K95 RGB Platinum XT's RGB functionality is excellent, especially if you already have Corsair parts and peripherals and builds. The brand's iCue software does a great job of keeping functions and lighting options in line all in a single window. The lights are bright and satisfying, but some may want to turn down the brightness especially in the dark.
The floating keycaps let out a lot of light to add to the RGB strip's output at the top. It can get distracting for competitive games, but it is always nice to look at if you want to play around with your system's accents and overall theme. As always, setting profiles for various activities is necessary, and we're thankful that iCue is as intuitive as it is now.
Thoughts on the Corsair K95 RGB Platinum XT
The Corsair K95 RGB Platinum XT is an expensive keyboard, but its got one hell of a line up when it comes to features and aesthetics. The robust and well-loved nature of Cherry MX switches when combined with RGB and gamer-centric functionality is tough to beat in the market. The upgrades such as the double shot caps, improved wrist rest, and Stream Deck functionality makes this variant a top pick if you have the money to spend.
However, we don't think it's a worthy upgrade if you already own the venerable K95 Platinum which in itself is an awesome keyboard. Streaming users will also most probably already have an Elgato deck, so it might not be worth re-spending the $200 for this model. But if you haven't upgraded yet, then the Corsair K95 RGB Platinum XT is one of the best choices for the best possible gaming, working, and streaming experience outside of full-custom boards.
Pros:
Fantastic Cherry MX Speed Silver Switches
Lots of RGB Lighting
Fast and Very Responsive
Added Streaming Functionality
Upgraded Wrist Rest and Keycaps
Excellent Build Quality
Cons:
Expensive
Complicated Setup
About the Author: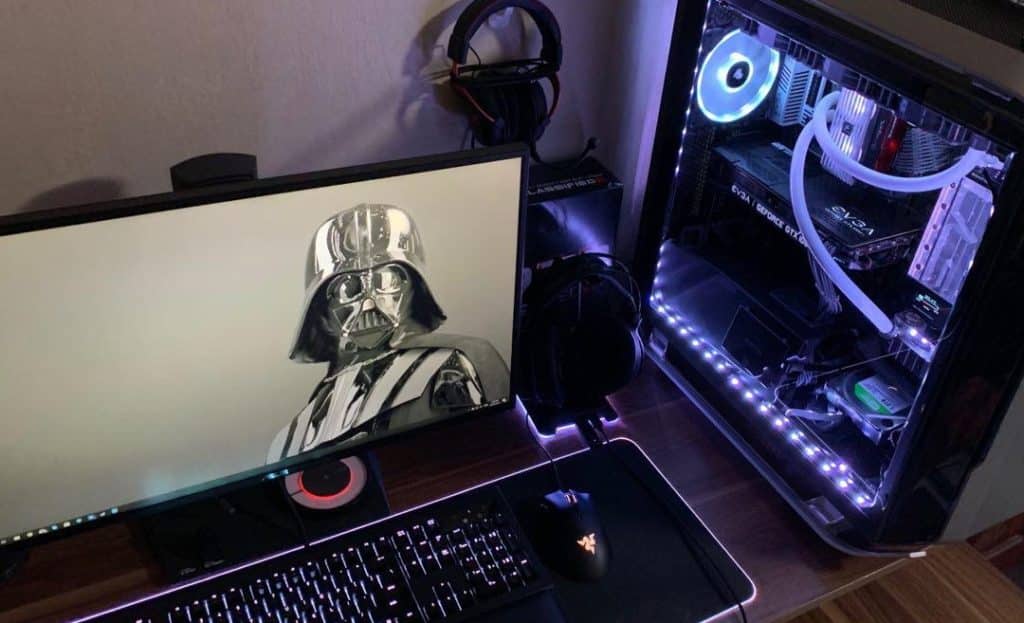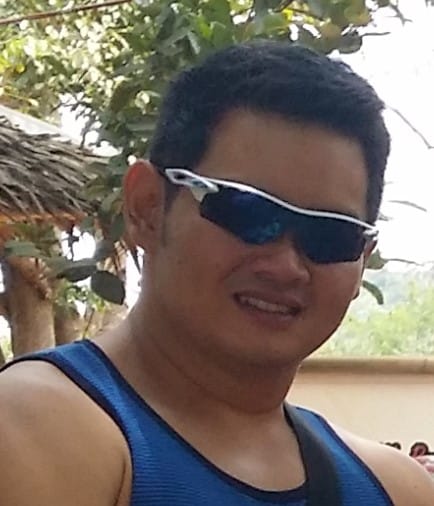 Paolo is a gaming veteran since the golden days of Doom and Warcraft and has been building gaming systems for family, friends, and colleagues since his junior high years. High-performance monitors are one of his fixations and he believes that it's every citizen's right to enjoy one. He has gone through several pieces of hardware in pursuit of every bit of performance gain, much to the dismay of his wallet. He now works with Monitornerds to scrutinize the latest gear to create reviews that accentuate the seldom explained aspects of a PC monitor.