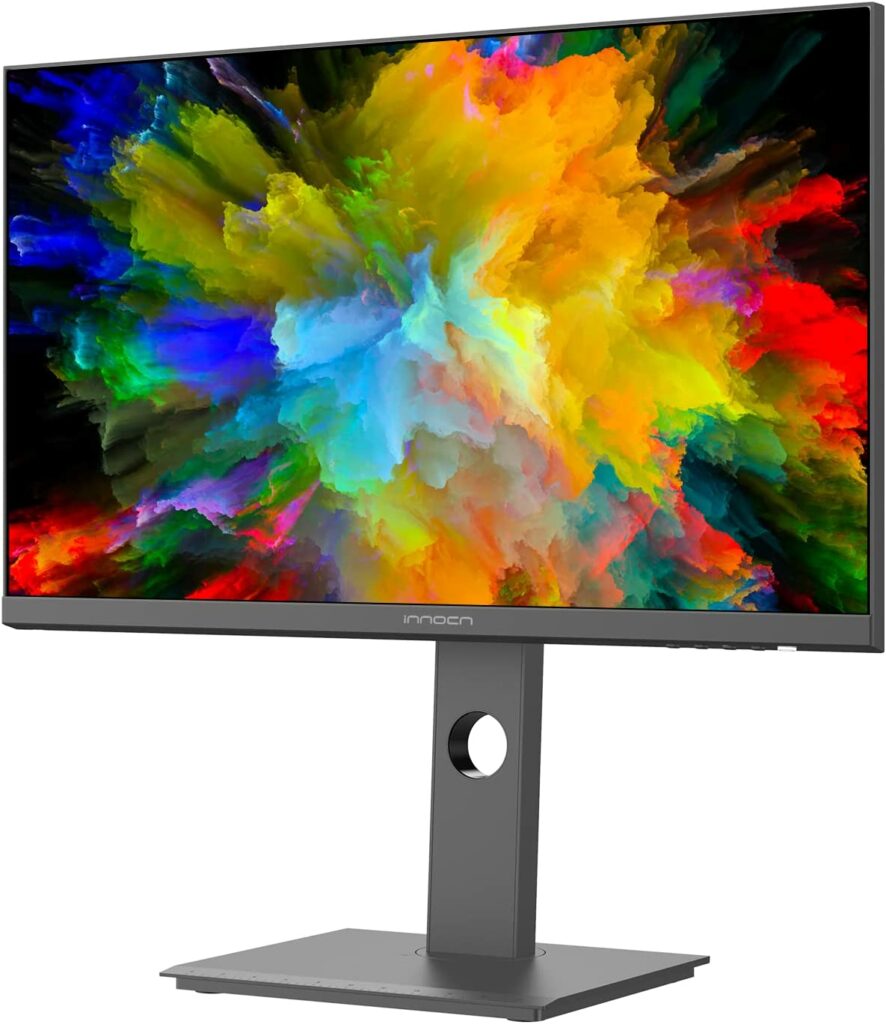 The Innocn 24C1Q is intended as an affordable solution for users who want a flexible and functional monitor with a sharper screen. Its 24-inch 1440p IPS panel isn't very common, so it's an attractive pick for those who want what 4K screens can offer at a lower price. It also offers a 90-watt USB-C slot, so it is worth more than just a second look.
Innocn 24C1Q Specifications
Screen Size: 24 Inches
Resolution: 2560 x 1440 WQHD
Aspect Ratio: 16:9
Panel Technology: In-Plane Switching (IPS)
Refresh Rate: 75Hz
Response Time: 5ms
Contrast Ratio: 1000:1 (Static)
Brightness: 300 cd/m2
Built-in Speakers: None
Stand: Height – Yes
Stand: Tilt – Yes
Stand: Swivel – Yes
Stand: Pivot– No
VESA Compatibility: Yes
Connectivity: DisplayPort 1.2 x 1, HDMI 2.0 x1, HDMI 1.4 x 1, USB-C PD90W x 1, HDMI 1.4 x 1, USB-C PD65W x 1, USB 3.0 x 2, 3.5mm Audio Jack x 1

Design and Features
The Innocn 24C1Q is a business monitor, so it's no surprise that it looks simple and functional like many of its competitors. It has matte black housing, so it looks subdued, and it's very easy to maintain and protect from dust and smudges. The screen has a bezel-free design on three sides, but it still has inner borders that show up when it's in use.
It also has decent build quality so most won't even notice that it comes from an up-and-coming brand. The plastics used are thick and sturdy, so they won't simply crack or break when moderate force is applied. The included stand is firm and stable, so the screen won't sag or shake while you are working or playing games.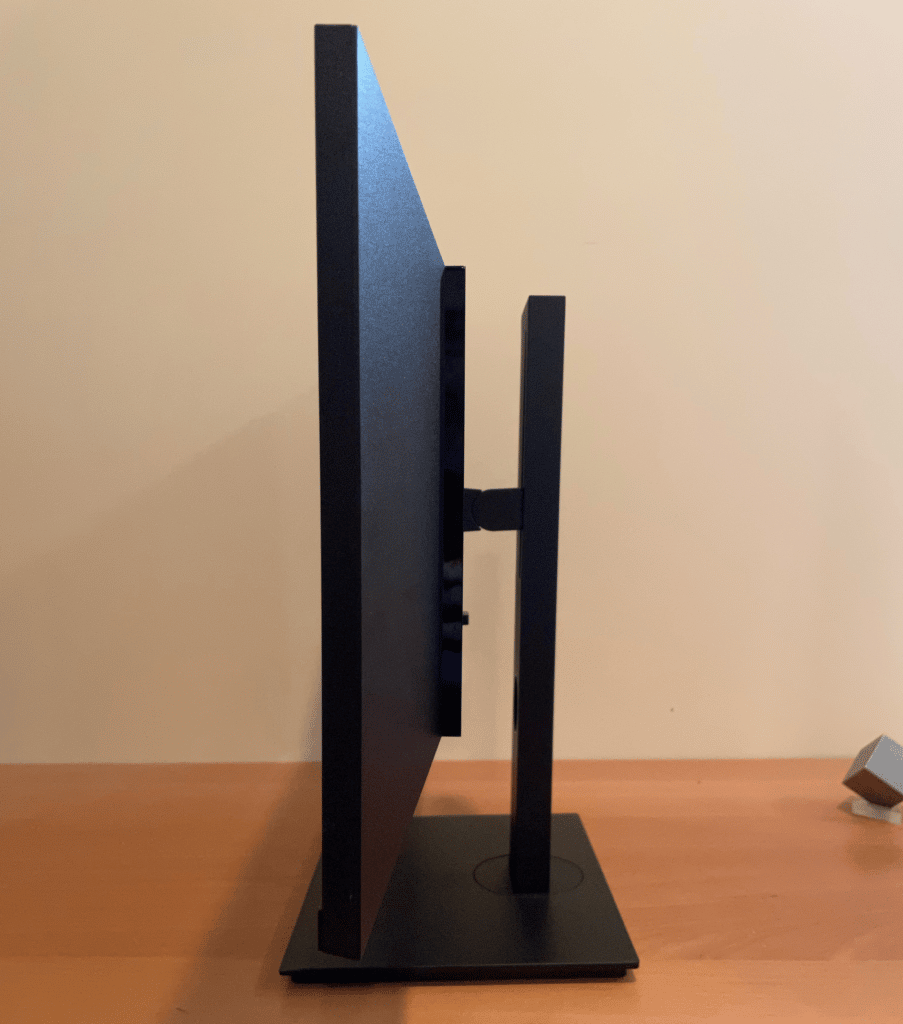 It's not a big monitor, so it should fit right into most desks, even those used for study corners in rooms with limited space like dorms. It is also light enough to be moved around, so rearranging your setup or bringing your workstation to a group activity for school is doable. The only time where its large base will factor in is when you use multiple screens, but there is a solution for that.
The Innocn 24C1Q is an affordable option when compared to something like the LG 24QP750-B so it is missing a few creature comforts. It has OSD buttons instead of a joystick, so it would take more time and effort to adjust something. The keys are located at the front of the bottom bezel so they are accessible and readily visible, but it can still get confusing unless you memorize their functions.
The stand included with the monitor offers tilt, swivel, pivot, and height adjustments for your comfort and convenience. It is easy to get a comfortable viewing angle, even if your workspace is cramped or if you have other displays on deck as well. You can use VESA mounts, but we think that the default stand is already good enough unless you want to build an ergonomic multi-monitor setup.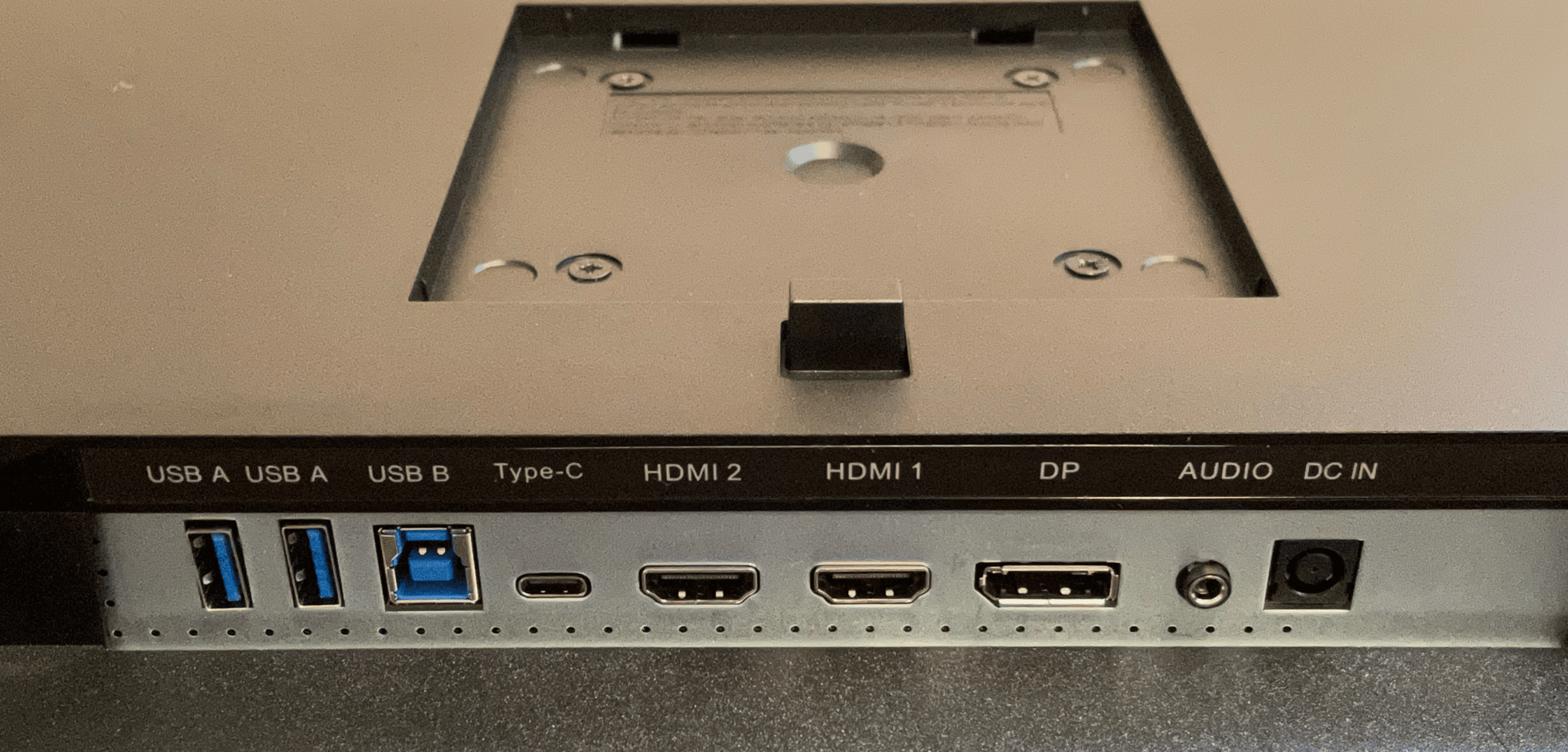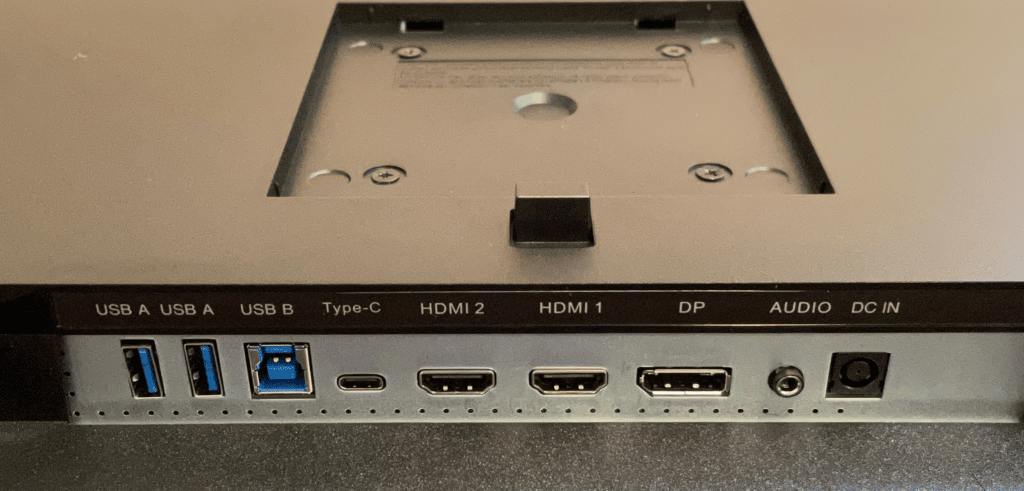 The main attraction of the Innocn 24C1Q's physical features is its connectivity layout. It has the standard DisplayPort 1.2 and HDMI combo, but what stands out is its 90-watt USB-C which you won't find on other sub-$300 monitors. This enables the display to handle high-spec workstation laptops like MacBook Pros or even gaming laptops.
You also get USB 3.0 slots and a 3.5mm jack, but there are no speakers on the monitor since it's a budget model. However, we're happy with what it has to offer versus how much it costs, plus it even has a higher resolution IPS screen to boot.
Display and Performance
The Innocn 24C1Q features a 24-inch IPS panel with a  2560 x 1440 resolution, a 75Hz refresh rate, and a 5ms response time. The backlight has a 350 cd/m2 maximum while the contrast is still listed at 1000:1 like most IPS panels. It doesn't offer any special imaging features like HDR, but the product page does mention accurate sRGB output courtesy of factory calibration.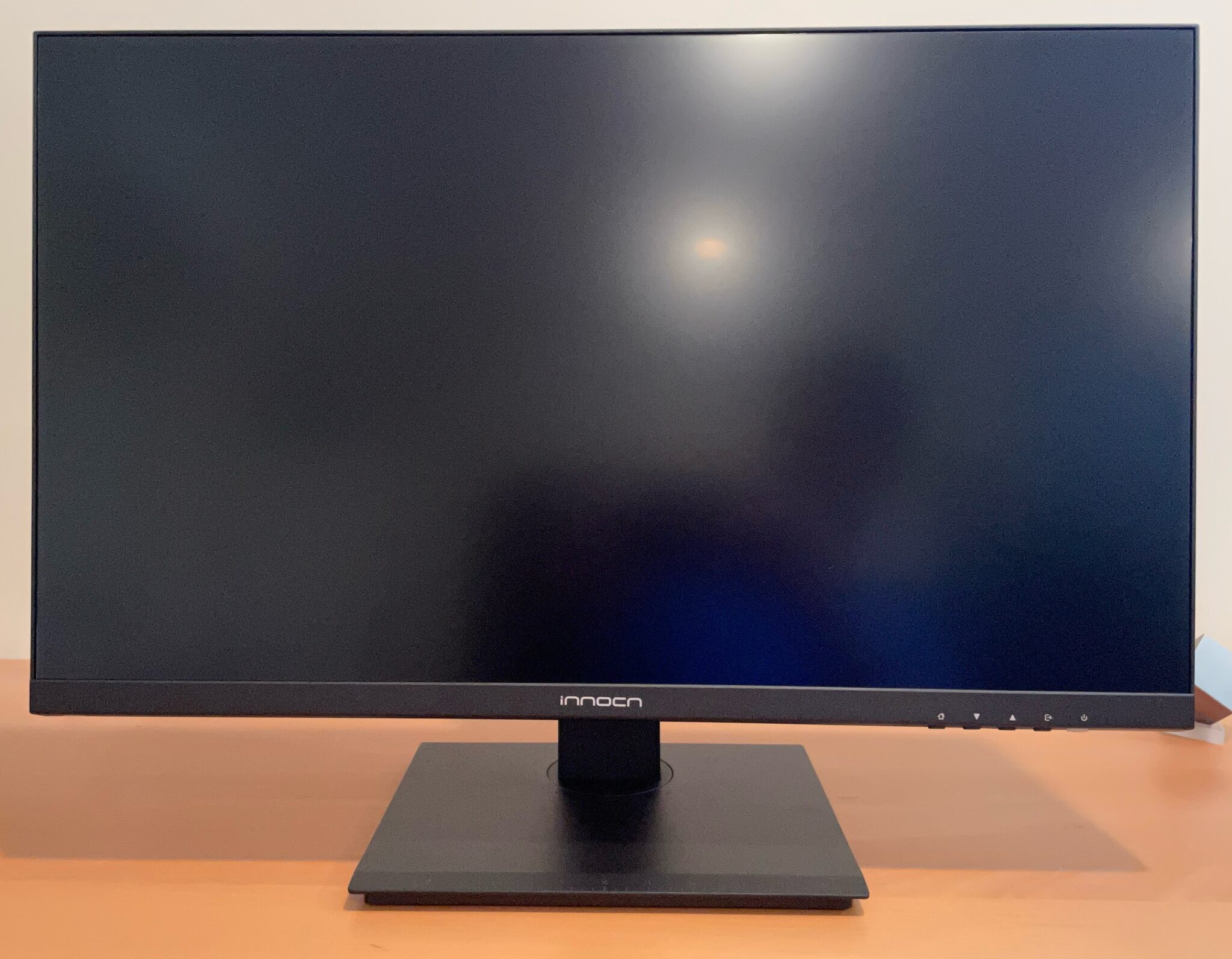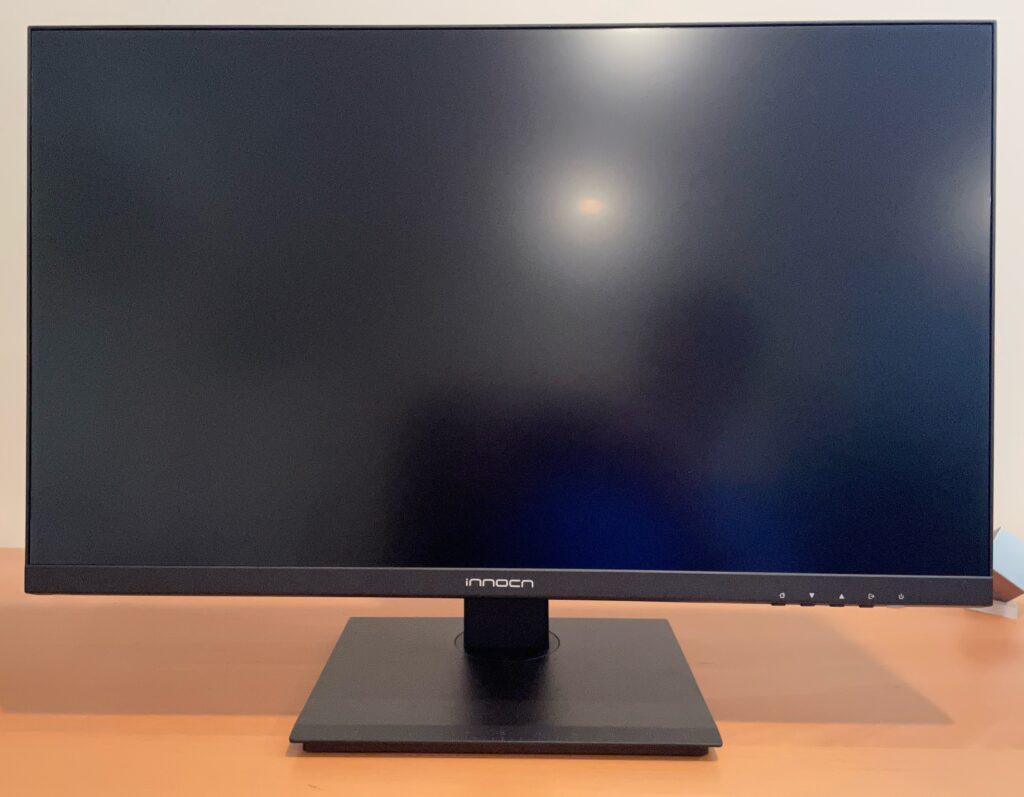 1440p monitors are crisper than your regular office display even if you go with the 27-inch or 32-inch variants. However, this model is smaller, so the pixel density is higher at 122 PPI so images will look more detailed while letters and numbers will be sharper. You also get more screen space, so getting this instead of a 1080p screen is a great solution for your multitasking needs.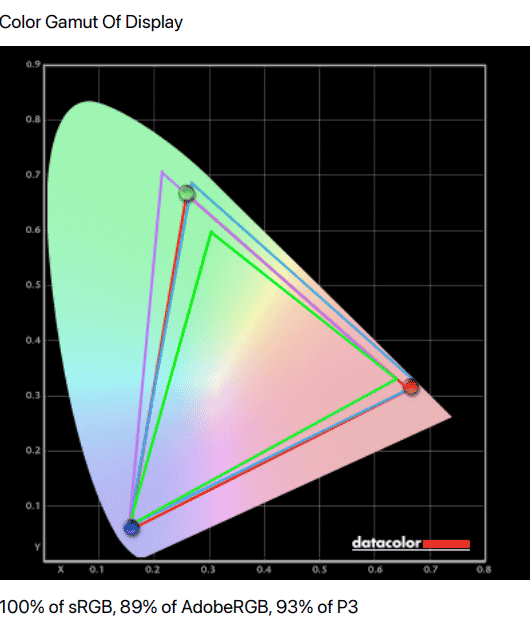 The Innocn 24C1Q renders 100% sRGB and 93% DCI-P3 for excellent vibrancy in any type of application. The default accuracy was a little over the company's claims since the deltaE average is at 2.12, but that can be considered to be within the margin of error. Most panels have varying characteristics, so we can still rate the default setting of the screen positively.
Calibrating the Innocn 24C1Q reduced its dE average to 0.97 which is excellent for a budget business monitor. The downside is that you will need a colorimeter to achieve that, and those cost almost as much as the monitor. The default setting is acceptable in our option, so buying the gadget will only be necessary if you are using the monitor for something as sophisticated as color grading.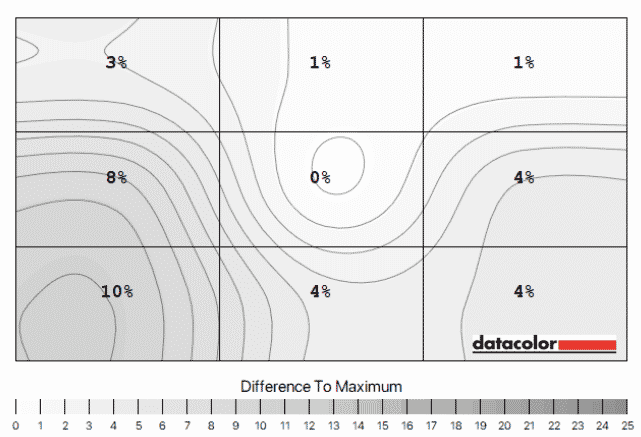 Its backlight reached 301 cd/m2 at 100% which is enough to fight glare and give you some room for adjustment. But on the other hand, its contrast was limited to 980:1 at 50% brightness, so the monitor is still incapable of deep blacks. That's acceptable for most IPS monitors, and only VA and OLED types will be better in this regard.
Panel uniformity for the sample had some issues since the lower edges of the screen were dimmer than the rest. This isn't a major issue for the most part, but it can show up when you are viewing dark scenes or images. Not that this can vary between every monitor made since there are manufacturing tolerances so it's entirely possible to get a unit with no issues.
The Innocn 24C1Q doesn't have Adaptive Sync features so you can't use FreeSync and G-Sync. 1440p at 75Hz isn't much these days for modern GPUs, but it would still be nice to have some protection in case you play a very demanding game. Input lag sits at 9ms at 75Hz so there is no need to worry about delays or sluggishness while using the product.
Thoughts on the Innocn 24C1Q
The Innocn 24C1Q isn't perfect, but it has some merits that punch beyond what its price range can offer. You get a vibrant and accurate IPS panel with a higher resolution and a 90-watt USB-C built into a simple, yet robust chassis. You get all that for under $300, so it's a steal that's difficult to resist for customers who want a functional display.
The Innocn 24C1Q  isn't perfect like all of the monitors that are currently available on the market. However, it's difficult to air out those minor imperfections since it's already so affordable. It's a great buy if you simply need a monitor for remote setups, although we know the smaller 24-inch screen and 1440p combination do not appeal to a whole lot of users.
Pros:
Wide Gamut Coverage
Excellent Color Accuracy
Fully Adjustable Stand
90-Watt USB-C
Cons:
No Speakers
No Adaptive Sync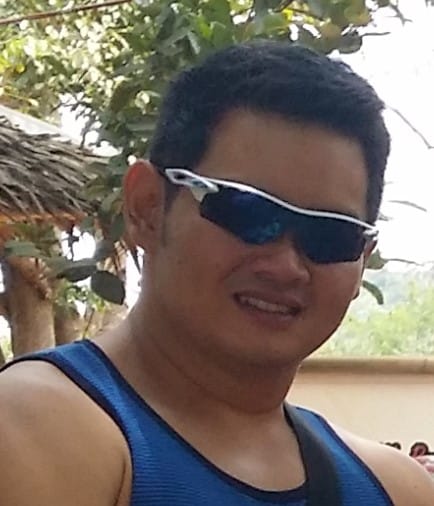 Paolo is a gaming veteran from the golden days of Doom and Warcraft. Since junior high, he has been building gaming systems for family, friends, and colleagues. High-performance monitors are one of his fixations; he believes that every citizen's right to enjoy one. He has gone through several pieces of hardware in pursuit of every bit of performance gain, much to the dismay of his wallet. He has also spent half a decade researching, reviewing, and writing about these products and now has over 1400 articles about the best gaming tech under his belt.