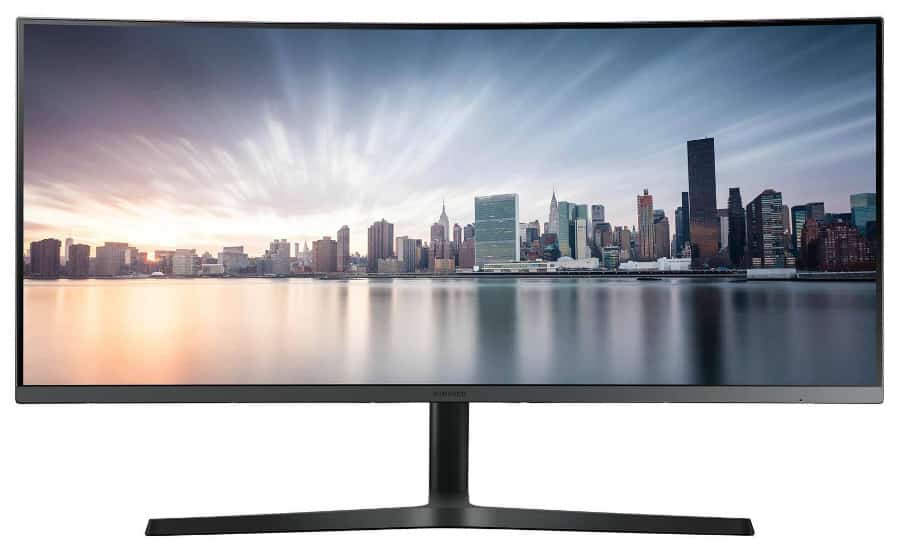 The Samsung C34H890 offers a stunning curved VA screen with a 3440 x 1440 resolution and 100Hz refresh rates and enhanced backlight technology. This model is nearly identical to the Samsung C34F791, save for advancements such as USB-C and a refreshed aesthetic. The Korean giant markets the Samsung C34H890 as a business monitor, but its impressive specs are practically begging for non-stop gaming and entertainment.

Samsung C34H890 Specifications
Screen Size: 34 Inches
Resolution: 3440 x 1440 UW-QHD
Aspect Ratio: 21:9
Panel Technology: Vertical Alignment (VA)
Refresh Rate: 100Hz
Response Time: 4ms
Contrast Ratio: 3000:1 (Static)
Brightness: 300 cd/m²
Built-in Speakers: No
Stand: Height –Yes
Stand: Tilt – Yes
Stand: Swivel – Yes
VESA Compatibility: Yes
Connectivity: DisplayPort x 1, HDMI 2.0 x 1, USB 3.0 x 1, USB 2.0 x 2, USB-C x 1, 3.5mm Audio Jack

Design and Features
The Samsung C34H890 sports a strikingly sophisticated exterior, forgoing the white or blue exteriors and going back to a clean, matte black. The simplified exterior makes this model look more like it was meant for an office, but lots of users prefer minimalist designs over gaudiness. The screen is bezel-free save for the bottom, but we are sure that slim panel borders are still visible.
The 1800r curvature on the Samsung C34H890 is more relaxed than the C34F791's 1500r, but most of the human vision's coverage is still relatively covered. This form factor should feel much more comfortable, and image distortions on the corners should lessen as well. Due to this feature, the side profile looks a bit meatier and difficult to wall mount via the monitor's VESA bolt pattern.
Thankfully, most wouldn't need to explore aftermarket attachments since the Samsung C34H890 includes a fully ergonomic stand. You can raise, swivel, or tilt the screen comfortably, but pivoting was omitted since you won't need it for a curved screen. The mechanism consists of a thin upright with a boomerang-shaped footing which requires an extensive table, but without eating up a lot of surface space.
A standard I/O layout is included with the Samsung C34H890 which comes equipped with DisplayPort 1.2 and HDMI 2.0 as primary video inputs, plus USB 3.0 and USB 2.0 receptacles. But what stands out is the addition of a USB-C connector which serves as both video input and a charging port with 65 Watts for your USB-C device. The main outlets are hidden under a plastic cover, while the USB-C and USB 3.0 slots are readily exposed for convenience.
The monitor's OSD can be accessed with a multi-directional jog button that doubles as a power button at the rear. You can access this easily from the front by reaching behind the lower right-hand corner. Samsung's modern midrange to high-end monitors come with this design which, frankly is a godsend if you regularly adjust your settings.
Display and Performance
The Samsung C34H890 sports a 34-Inch VA panel with a 3440 x 1440 resolution, 100Hz refresh rate, 4ms response time, and a typical contrast of 3000:1. The module supports true 8-bit color without dithering, combined with an enhanced phosphor LED for extensive sRGB gamut coverage. We are surprised that Samsung isn't offering Quantum Dot technology on this device, which is a shame since the latter helped the C34F791 achieve 125% sRGB easily.
The Samsung C34H890 is underwhelming in the gamut department since it can only reproduce 95% of the sRGB color space. The C34F791 was considerably more vibrant, but it has a Quantum Dot film to enhance the shades. Accuracy is decent since errors were limited to a Delta E 2.8 average. However, that isn't good enough for color-critical work.
The VA screen on the Samsung C34H890 appeared slightly washed out when sat beside a comparable display with a better color output. However, for most, the somewhat skewed gamma won't be as noticeable thanks to the fantastic contrast level of 2500:1. The WLED backlight can only go as high as 285cd/m2, but adjusting through the range did little to affect the latter.
The Samsung C34H890 is marketed as a reasonably-priced business monitor, but it isn't difficult to discern that this is a premium model. As such, we think it could do better when it comes to panel uniformity since deviations in both color and brightness average at around 15%. There were also pockets of light bleed towards the corners, but they are less noticeable in gaming or when viewing colored images.
VA panels are prone to interlacing, blurring, or image retention in fast-paced applications such as first-person shooters. Thankfully, the Samsung C34H890 fared better than its gaming-focused counterpart in this regard. There were a few artifacts or trails here and there, but they are less noticeable compared to some monitors we have tested in the past.
The overdrive function in the Samsung C34H890's OSD did little to improve the image further. We felt that the implementation in this model did not boost the screen enough since strangely, reverse ghosting was scarce. You can leave this setting at its medium or maximum settings depending on your needs.
The Samsung C34H890's selling points include productivity tools since the company is marketing it for executives and offices. The OSD includes PBP and PIP functions to maximize the ultrawide screen, allowing users to view content from different sources simultaneously. Other options include eye-safety filters such as Eve Saver Mode and LBL, plus there is a Game Mode designed to increase saturation for gaming.
AMD's FreeSync technology complements the Samsung C34H890 and its 100Hz refresh rate, making it suitable for high-end gaming. The downside is that gamers only get a 48Hz to 100Hz range which is narrow by today's standards. However, you do get to enjoy AMD's LFC and its benefits if in case your FPS drops too low.
We love how the Samsung C34H890 is marketed as a business display with a few gaming weapons under its coat. The 100Hz refresh rate is complemented by an average input lag of only 10ms which makes this model suitable even for competitive gaming. Playing games like PUBG and Fortnite is an excellent experience in an ultrawide like this that doesn't disappoint when it comes to responsiveness.
Thoughts on the Samsung C34H890
The Samsung C34H890 is an attractive mixed-use monitor for both business use and gaming. The 100Hz ultrawide panel is excellent for multitasking and immersive gaming thanks to its properties and the gorgeous 1800r curve. We also like the inclusion of USB-C for mobile devices and the sophisticated design.
It's great that the Samsung C34H890 released with a reasonable price for a high-refresh ultrawide, but there are a few compromises. Image quality is a bit underwhelming while the monitor's blur reduction capabilities aren't up to par with modern competitors. And if you are getting one for gaming, we strongly urge you to consider similar-priced options like the AOC AG352UCG which already includes G-Sync.