The curved 1440p monitors on the desk is a growing trend and is a fantastic way for media consumption and entertainment. But is it any good for editing and as a gaming monitor?
Meet the LG 34UC98, the latest hot curved screen from LG spanning at 34 inches, 3440×1440 resolution, 1440p monitor. It's a 10 bit IPS panel and is an AMD Freesync monitor and a pretty extreme curve. Priced at $1200 you've got to think long and hard before taking the plunge to see if the curve is everything you wanted to be, so here is my side of the story.
I wanted to see if I would be comfortable replacing my dual monitor setup which is 144 hertz IPS and 1440p panels with the LG 34UC98. That's from an organizational point alone that would add extra order to my desk set up and let me place speakers on each side of the monitor given my limited desk space. I love the design language of this screen with an aluminum stand that has a curve of its own. A bit more aggressive than the panel itself but still beautiful in design. It may be challenging to organize the little things around the stand because of that curve, but I honestly think it is totally fine. Now unlike the previous model this monitor has some flexibility with the stand allowing plenty of height adjustment, angle adjustment and even small horizontal rotation to allow you to strengthen the panel in case it is like the cricket.
The rear housing on the monitor is white which may look odd at first, but I think it has the potential to blend in more within your space if it is not facing the wall versus an entirely dark frame. And on the stand is a VESA monitor mount for walls or monitor stands.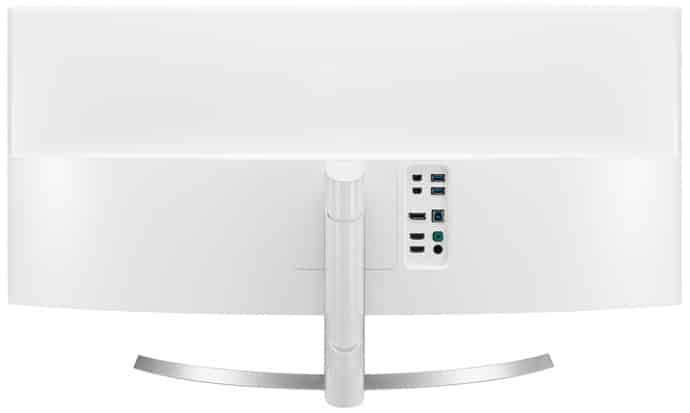 The I/O includes dual Thunderbolt 2.0, dual USB 3.0 with quick chart support, so that is excellent, then there is Displayport to run the screen in Free-Sync mode, dual HDMI 2.0, a headphone jack and power-in. I love that we have Thunderbolt in here to diversify your input options, but no Thunderbolt cables included. We only get an HDMI and a Displayport cables which are also in white to keep up with the color scheme. For cable management, I love the straightforward and tiny clip that attaches to the bottom of the stand and helps to hide anything from the front view which is awesome. The built-in 7-watt stereo speakers are quite decent and loud enough with detailed projection.
Let us focus on the panel itself. The screen is a little extra curved so, at arm's length, it wraps around your vision. In my experience with the earlier model, I could not stand photo editing as everything on the screen is distorted, and so all your lines are skewed and for creative professionals not having reference straight lines and just very difficult to work with. With this model the curve lines are amplified because of the extra curve but I gave it extra shot as my daily driver where the majority of time was spent on my Premiere timeline so shifting the video preview window closer to the middle is quite helpful to reduce the curvature. And of course going full screen with 16:9 content means black bars on either side. But as users migrate towards this 21:9 format, I am pretty confident that we'll see more compatible content which in this native resolution in native format is absolutely fantastic, and combine this with the calibrated colors and pleasing contrast to make media consumption so so awesome.
Now think a trailer which fills the entire screen to give you an idea of what watching a cinema format 4K movie would feel like and then content creators like Ash Taylor whose movies in 21:9 deliver such a unique cinema feel. I feel the hesitation from the consumer side who want to experience 21:9 content is the availability or the lack of it. Sure you can find some amazing gems here and there to watch that fill up the screen without black bars anywhere.
LG 34UC98 Gaming performance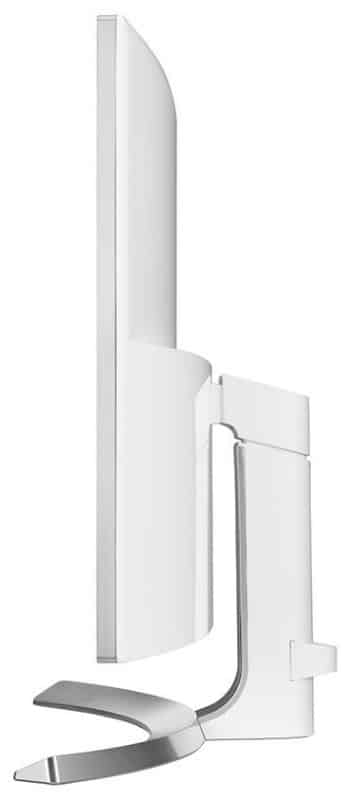 This is where we come to talk about gaming since LG has equipped it with Freesync support via Displayport with an extremely limiting variable refresh rate range of 55 to 75 hertz. So the refresh rate at native resolution is 60 Hertz but with Free-Sync our refresh rate ceiling goes to 75 hertz, so effectively overclocking the panel for smoother gameplay. The sucky thing about Free-Sync is the minimum supported refresh rate which is 55 hertz, so when your frame rate drops below 55 you will still encounter tearing and stutter.
Now gaming in this scale is pretty impressive with the aggressive curve giving you extra round warp but it is not easy to drive this resolution above 55 FPS. When I was gaming with my 980Ti the frame rate was ok but I just couldn't handle all the tearing and stutter, so Free-Sync support is entirely attractive. This, however, means a beefy AMD GPU is required for gaming on this panel with carefully selected in-game settings so your frame rate does not drop below 55 because then you start to stutter and tearing occurs. It is definitely an upgrade over the previous generation models but if only the minimum supported refresh rate while in Fee-Sync mode was, you know, below 55 hertz. Somewhere around 40 so the gamers aren't really stranded for their FPS and have to lower in-game settings in order to play at the proper needed resolution.
I would still prefer a faster refresh rate for FPS games where I don't care about the visual experience although playing Squad with the sunset map was crazy satisfying or the forest map to give you extra field of view which actually is helpful. And this visual beauty is only made better for a slower pace hack and slash games like Victor Vran which is stunning in native resolution, beautiful colors. And this extra wide resolution also give you extra visual of the map which turned out to be super useful and seeing beyond my usual 16:9 aspect. When they open Tomb Raider which is part fighting and part exploration, this unique environment isn't anymore pretty in 21:9 but it feels like more of a cinema experience which to some degree improve my game time.
Summary of this curved monitor
Now when we talk about backlight bleed on previous models which was significant, here it is minimal with some minor spots visible around the perimeter. Now when we talked about this phenomenon of 34-inch curved desktop displays making it into our lives, and the most common term used to describe it as an immersive experience, you know, simply because the things sort of wraps around your front vision. I don't particularly think that is the best way to describe your entire experience. Instead, I would call it a fascinating experience because the real job here is the lack of available 21:9 content. Which isn't the fault of the monitor manufacturers but it's the fault of us as consumers catching up to that format, and content producers.
I have gotten used to editing with this monitor with shifting a few of my windows around. When it comes to gaming, it can be satisfying as long as you maintain your framerate within the Free-Sync range within the 55 and 75 but that is extremely limiting. So the LG 34UC98 is not a gaming monitor by any means instead it has fantastic color information and depth. And to my eye very good screen uniformity to make for an excellent multimedia package with some gaming tricks up its sleeve.