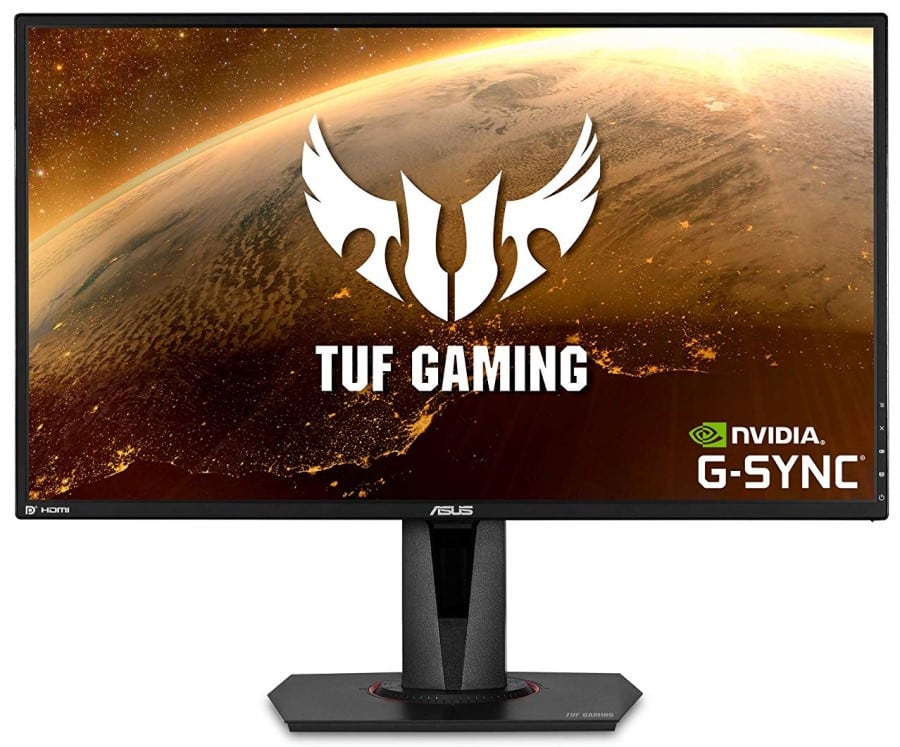 The Asus VG27AQ is a midrange gaming monitor that focuses on the essential aspects such as performance and reliability for the best value per dollar ratio. Despite that fact, the product still includes highly-sought-after characteristics such as an IPS panel, G-Sync and FreeSync compatibility, and Asus' proprietary ELMB technology. The brand's recent offerings such as the VG279Q have succeeded in sales and reviews, but can the Asus VG27AQ receive the same treatment?

Asus VG27AQ Specifications
Screen Size: 27 Inches
Resolution: 2560 x 1440 QHD
Aspect Ratio: 16:9
Panel Technology: In-Plane Switching (IPS)
Refresh Rate: 165Hz
Response Time: 3ms (1ms MPRT)
Contrast Ratio: 1000:1 (Static)
Brightness: 400 cd/m²
Speakers: Yes(2 x 2 Watts)
Stand: Height -Yes
Stand: Tilt – Yes
Stand: Swivel – Yes
Stand: Pivot – Yes
VESA Compatibility: Yes (100 x 100)
Connectivity: HDMI 0x 2, DisplayPort 1.2 x 1, 3.5mm Jack
Dimensions (W x H x D): 24.41" x 14.8" x 8.3"
Weight: 12.79lbs

Design and Features
The Asus VG27AQ belongs to the TUF Gaming portfolio, but it doesn't change its appearance considerably to match the branding's black and yellow themes. The monitor retains the brand's original gaming monitor look you will find on ROG Swift models like the PG279Q or the entry-level variants such as the VG279Q.
This approach works both ways in the sense that many will like the functional look since its easy to assimilate into a build or grow tired from seeing it on multiple generations. We still think that the original design is still the best since it's not too gaudy or aggressive like the Strix monitors. In a way, we are thankful that they did not do a radical TUF Gaming aesthetic for this new series.
The Asus VG27AQ isn't bezel-free, but the thin plastic borders appear very thin and almost unnoticeable for a 27-inch display. The matte black plastic used on these products are sturdy and easy to maintain, so you won't have trouble in keeping the new look of the device.
Build quality is excellent and comparable to the ROG Swift monitors which sit at a higher tier than the Asus VG27AQ. There are no visible imperfections, plus the stand holds the position you set without drooping. Movements on the joints are smooth, but you might have to use two hands to adjust the angle of the cabinet.
The fully adjustable stand on the Asus VG27AQ works great thanks to its wide angles and superb stability. You can tilt, swivel, pivot, and adjust the display's height, so a comfortable position for extended gaming hours is doable. You can also opt for a 100 x 100 VESA mount, but we feel that's unnecessary in this case.

The Asus VG27AQ also got rid of older connectivity standards in favor of a DisplayPort 1.2 and dual HDMI 2.0 connectors. That's fair since most GPUs that can run this monitor smoothly won't have DVI or VGA anyway, but it would be nice to have them if you have older systems you can use. There is also no USB slots on the device which is a shame since they come standard with many contemporary monitors we've encountered.
The Asus VG27AQ also managed to squeeze it a pair of speakers, but its the same 2-watt built-ins that are insufficient for gaming. The sound starts to garble when you pump up the volume, plus it cannot offer any resemblance of bass response. However, that's forgivable since you are better off with a decent headset, especially for competitive play.
Display and Performance
The Asus VG27AQ boasts a 27-inch IPS panel with a 2560 x 1440 resolution, 165Hz overclocked refresh rate, and a 4ms response time. The backlight is rated at 350 cd/m2, while the contrast ratio sits at a typical 1000:1 like many IPS monitors. This monitor lists 1ms instead of the actual 4ms response time, but that describes the ELMB performance of the display.
We love 1440p monitors in a 27-inch form factor due to its perfectly balanced pixel density. You get a substantial upgrade in sharpness and clarity, but smaller objects like text do not get reduced to the point of requiring the use of scaling. 1440p is also generally more GPU-friendly than 4K, allowing users to have more control over the graphics settings they want to prioritize.
What's excellent about the Asus VG27AQ is you don't need to calibrate it once you pull it out of its packaging. The IPS screen is capable of producing 105% of the sRGB gamut with an accuracy of Delta E 1.7, which is encroaching upon prosumer-grade scores. The color temperature is slightly under the ideal 6500K, but the minimal warmth it adds shouldn't bother you.
You can tweak the RGB controls and lower brightness to correct the color and temperature further to drop these deviations. Doing so will put you much closer to 6500K, while Delta E drops to .5 which is rare for a gaming monitor. Both settings produced a contrast of around 1050:1, but gamma did get some minor improvements from 2.3 to 2.19 after the adjustments.
The Asus VG27AQ did show some bleeding on the corners and the bottom edge which diluted the contrast and some shades in the respective quadrants. The 15% deviance from the center becomes noticeable when you view dark images, but in most cases, it shouldn't bother you. Take note that this aspect could vary between unit to unit, so make sure you have flexible returns and exchanges terms with your retailer.
Responsiveness isn't an issue for the Asus VG27AQ even if you don't use its ELMB function. The monitor's pixel response time can keep up with some TN panels we've seen when it comes to blur reduction, but you have to turn up the Trace Free Setting to around 70-80. This setting has the least amount of overshoot, making it ideal for competitive gaming.
However, some images may still seem like they are out of focus even if you apply the settings above. Thankfully, the Asus VG27AQ has a proprietary feature called ELMB-Sync which is actually a backlight strobing method that will not lock out FreeSync or G-Sync compatibility. Using this mode will reduce the brightness by around 15-20%, but it cleans up some halos or trails effectively without leaving you prone to tearing.
The added gaming feature works best if you have a system that can keep frames above 100-120FPS constantly. ELMB-Sync doesn't play well with lower refresh rates since it loses its blur reduction benefits.
The Asus VG27AQ is a FreeSync gaming monitor that protects you from tears and stutters at 40 – 165Hz. The monitor is also certified to be G-Sync compatible, so Nvidia users can still enjoy buttery smooth gaming without issues such as flickering. Input lag sits below 4ms, making the VG27AQ comparable to the fastest monitors in the market.
Thoughts on the Asus VG27AQ
The Asus VG27AQ is a well-rounded gaming monitor that produces excellent image quality and responsiveness. This model blurs the lines between TN and IPS, where many had to choose between pixel responsiveness and color/view angle quality. It's a huge plus that the device is compatible with both FreeSync and G-Sync, giving gamers the freedom to choose without worrying about performance penalties and the like.
Asus is really making good use of its primary gaming monitor design with the Asus VG27AQ. It's getting old, but we still prefer its simplicity and functionality over gaudy options like their Strix offerings. If you are looking to upgrade to 1440p, this gaming monitor should be at the top of your list.
About the Author: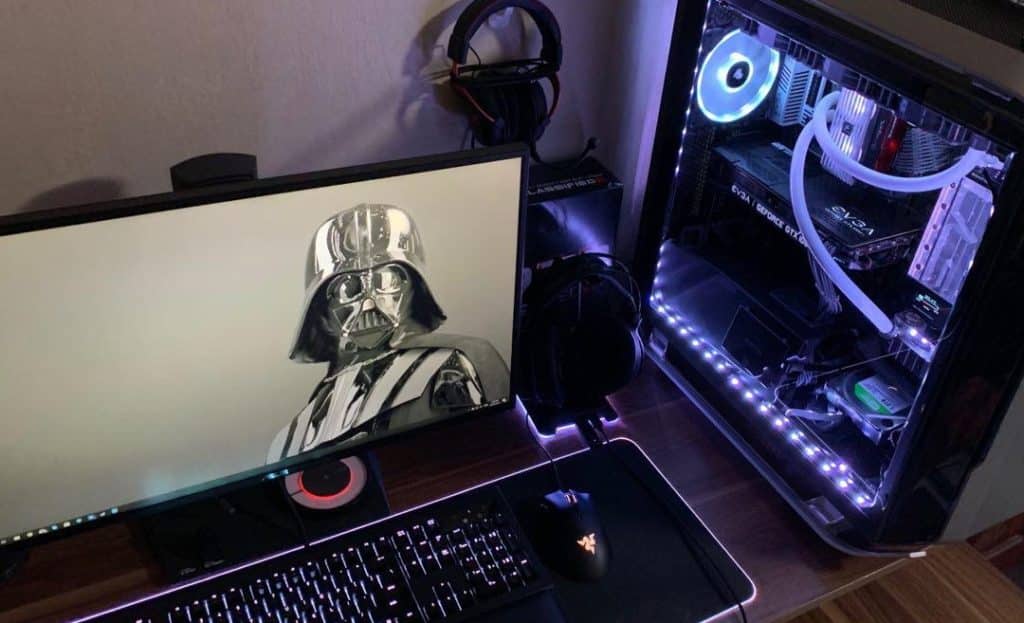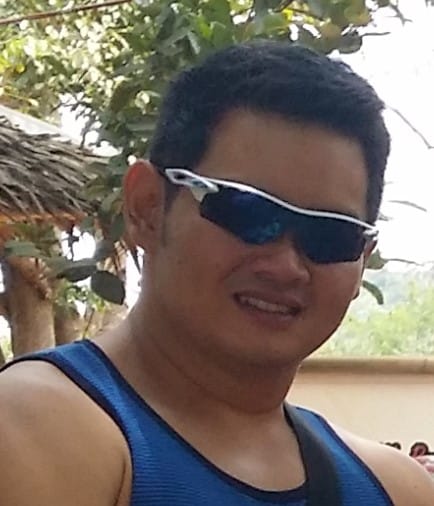 Paolo is a gaming veteran since the golden days of Doom and Warcraft and has been building gaming systems for family, friends, and colleagues since his junior high years. High-performance monitors are one of his fixations and he believes that it's every citizen's right to enjoy one. He has gone through several pieces of hardware in pursuit of every bit of performance gain, much to the dismay of his wallet. He now works with Monitornerds to scrutinize the latest gear to create reviews which accentuate the seldom explained aspects of a PC monitor.