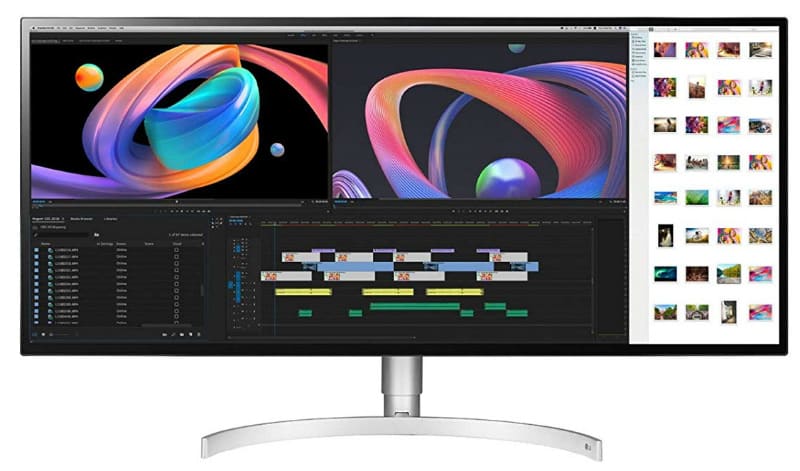 The LG 34WK95U is an excellent solution for users who require the best specifications such as a large screen with an extra crisp resolution. This USB-C Thunderbolt 3 display features amazing technologies such as LG's Nano IPS and HDR compatibility. The LG 34WK95U is a unique niche monitor that is opening up a new segment, but does it have what it takes to set the standard?

LG 34WK95U Specifications
Screen Size: 34 Inches
Resolution: 5120 x 2160 5K2K
Aspect Ratio: 21:9
Panel Technology: In-Plane Switching (IPS)
Refresh Rate: 60Hz
Response Time: 5ms
Contrast Ratio: 1200:1 (Static)
Brightness: 450 cd/m²
Built-in Speakers: Yes 2 x 5 Watts
Stand: Height – Yes (4 Inches)
Stand: Tilt – Yes (-5°/+15°)
Stand: Swivel – No
Stand: Pivot – No
VESA Compatibility: Yes
Connectivity: DisplayPort 1.4 x 1, , HDMI 2.0 x 2, USB-C Thunderbolt 3 x 1, USB 3.0 x 2, 3.5mm Audio Jacks
Dimensions (WxHxD): 32.2″ x 22″ x 9.2"
Weight: 19.4lbs

Design and Features
The LG 34WK95U sports a sleek appearance that would make it a perfect match for Thunderbolt 3 devices like the new MacBook Pro. The monitor is clad in white and silver with clean lines and gentle curves. The face is bezel-free, but there are reasonable panel borders surrounding the screen.
Assembly of the LG 34WK95U is easy as peas since everything snaps right into place if you can do it without any help. Build quality is once again superb for this model thanks to high-precision manufacturing and the use of premium materials. The seams of the chassis are matched perfectly so there is no unevenness or waving on the edges.
The LG 34WK95U's proportions are within acceptable limits thanks to the brand's successful ArcLine stand. The device is 32 inches wide, but its less than ten inches deep. If space is a concern, you can opt for a VESA mount with a 100 x 100 bolt pattern for convenience.
The ArcLine stand for the LG 34WK95U is one of our favorite features despite its lack of a few adjustments. The silver-finished furniture matches the aesthetics of the monitor perfectly, adding that premium feel that users will love. Its worth noting that you can adjust the height or tilt the screen to acquire an angle that's suitable for comfortable posture.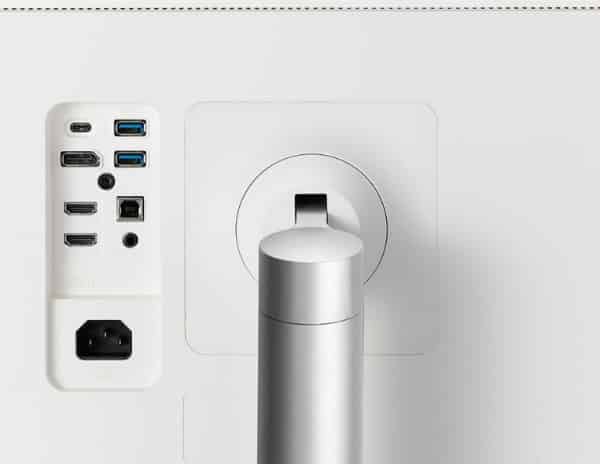 The LG 34WK95U is equipped with the latest connectivity in the market thanks to the rigorous requirements of its screen. The layout includes DisplayPort 1.4, dual HDMI 2.0 slots, and a USB-C Thunderbolt 3 connector. The latter provides 85 Watts of power while receiving inputs, making the monitor a perfect dock for notebooks like the MacBook Pro.
If there's one disappointing characteristic of the LG 34WK95U, it would be its speakers which are a downgrade compared to the LG 38WK95C's set. Each channel has five watts of power, but to compare, the larger model's built-ins have 10 watts each and Bluetooth compatibility.
Display and Performance
The LG 34WK95U boasts a 34-inch Nano IPS panel with a whopping 5120 x 2160 5K2K resolution. The minimum response time is specified at 5ms, while contrast is extended to 1200:1. The biggest selling point of this display is its Apple Retina-like properties which are renowned for its crispness and clarity.
It's immediately noticeable that the LG 34WK95U's is considerably sharper than most that we have encountered. QHD 34-inch monitors look excellent for gaming, but 5120 x 2160 squeezed into this size is on a different level. This makes the monitor perfect for editing work, but gamers might dislike the heavy GPU power requirements.
Color fidelity is impressive as well for the LG 34WK95U making it ideal for use out of the box. The Nano IPS panel produces 100% sRGB with a DeltaE of only 2.11 in sRGB mode. Slight tweaking is still necessary if the screen is a bit warm, but calibrating with a colorimeter will create a perfect setting with a DE of only .40.
The monitor's HDR mode increases its gamut to 85% DCI-P3 which is higher than most, but it falls short of the manufacturer's specifications. The backlight is also ill-equipped to handle this rigorous standard since it maxes out at 450 cd/m2 which doesn't reach the VESA DisplayHDR 600 parameters.
Contrast for the monitor almost reaches the specification at 1190:1 which is excellent for typical use, but slightly lacking for HDR. Shades and blacks are satisfying, save for when viewing the screen in well-lit environments. The monitor's basic local dimming feature doesn't help in this regard due to the limited functionality of edge-lit solutions.
Panel uniformity for the LG 34WK95U test unit is above average at best, since there is some clouding visible when viewing a dark screen. The corners appear darker in tests, although normal usage scenarios will be unaffected. Colors and brightness across the quadrants look even and continuous despite the minor deviances.
We also found it weird that the LG 34WK95U isn't flicker-free, despite today's industry standards. The flaw isn't noticeable even when you minimize the backlight, but it its there. Sensitive users could suffer from nausea or headaches without warning, but the majority of users will be unaffected.
The bad news for gamers is that the LG 34WK95U is a limited refresh rate monitor since its locked to 60Hz. That's understandable since a resolution like this would require multiple top-end GPUs to power decently beyond 60Hz. At least, the Nano IPS panel's pixel response time is quite agile when Overdrive is set to "Fast".
The LG 34WK95U doesn't include VRR tech such as FreeSync or G-Sync which is ironic since the resolution could use one. Input lag is beyond what we expected at 9ms which is within competitive gaming standards. This would be one hell of a gaming display if it had the requisite features such as FreeSync or a higher refresh rate.
Thoughts on the LG 34WK95U
The LG 34WK95U is one of today's best solutions for users who want a massive screen that doubles as a dock for their USB-C laptops. The monitor's special features such as its 85-Watt Thunderbolt 3 port and its 5K2K Nano IPS panel make it a standout in the 34-inch segment. Image quality is impressive right out of the box, but calibration makes the product a sharper tool for computing.
However, for the price, we expected a slightly more perfect display that doesn't have basic flaws such as a non-flicker-free backlight and missed specifications. The monitor promised capabilities that would enable HDR, but sadly, some of its aspects fell short. However, the LG 34WK95U is an excellent buy since it offers unique aspects with great imaging fidelity to match.