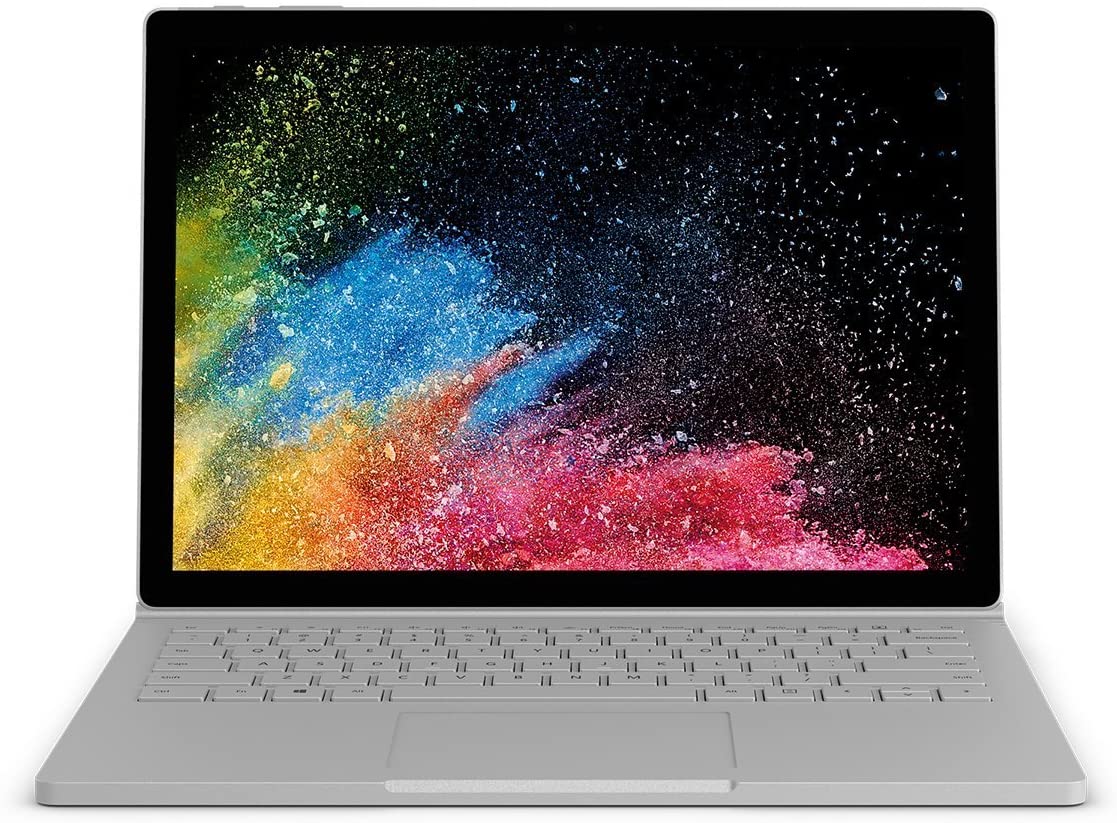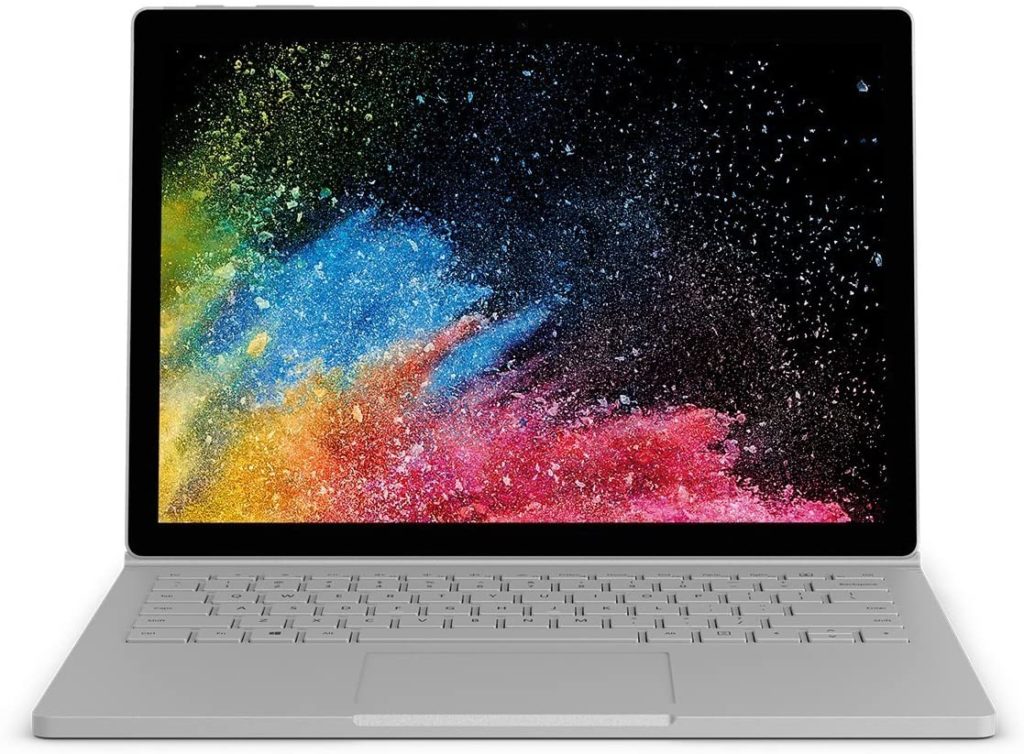 The Microsoft Surface Book 2 is an innovative tablet-slash-tablet that works great for all-around productivity and even light gaming. The device comes in 13-inch and 15-inch sizes and a wide range of hardware specs, all the way up to an Intel i7 and an Nvidia GTX 1050. Let's find out how the Microsoft Surface Book 2 and its duality can become useful in your daily life, whether if its for business or pleasure.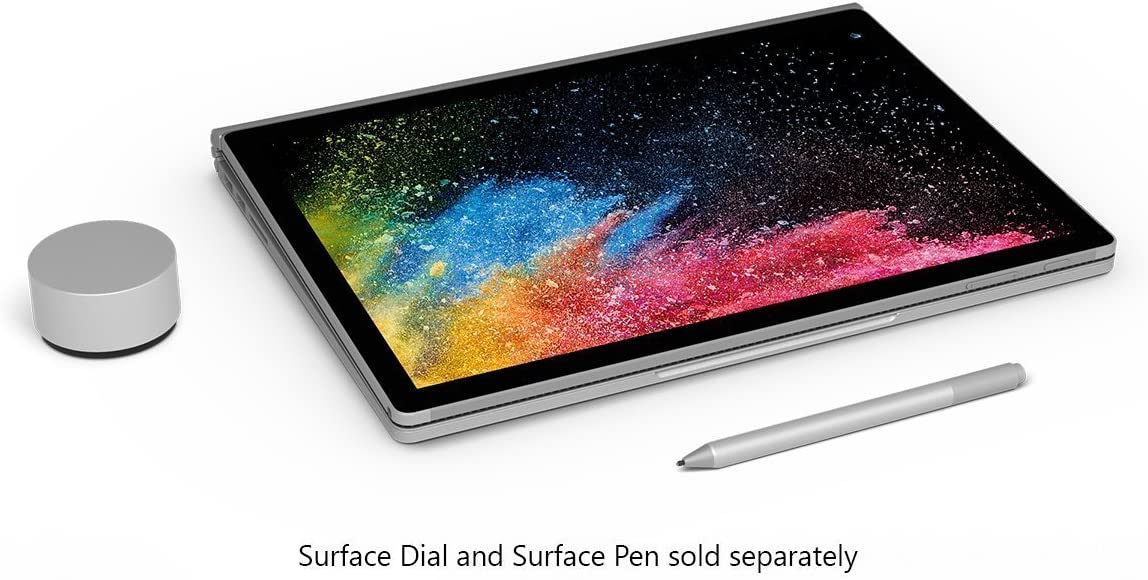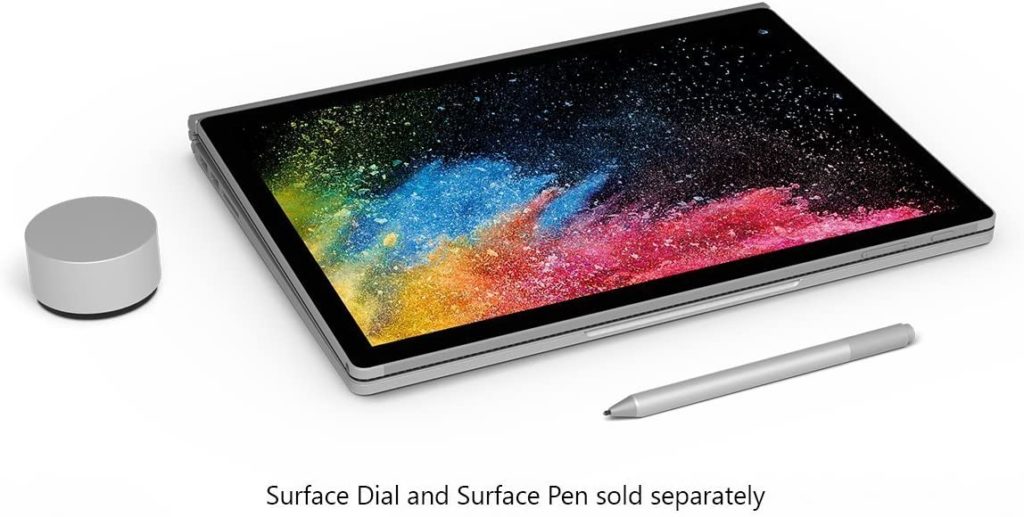 Microsoft Surface Book 2 Specifications
Display: 13.5-Inch PixelSense Display
Resolution: 3000 x 2000 (267 PPI)
Aspect Ratio: 3:2
Contrast Ratio: 1600:1
Touch: Yes (10-Point Multi-Touch)
Memory: 8GB 1866MHz LPDDR3 (Up to 16GB 1866MHz LPDDR3)
Processor: Intel Core i5 8350U (Up to Intel Core i7 8650U)
Graphics: Intel Integrated HD 620 Graphics (Up to Nvidia GTX 1050)
Storage: Solid State Drive 256GB (Up to 1TB PCIe SSD)
Battery Capacity: Up to 17 Hours (Video Playback)
Connectivity – USB 3.1 x 2, USB-C x 1 (3.1 Gen. 1), 3.5mm Jack, Surface Connect Ports x 2, SDXC Card Reader x 1
Wireless: Wi-Fi IEEE 802.1 a/b/g/n/ac Compatible, Bluetooth 4.1
Camera: 5.0MP Front, 8.0 MP Rear with 1080p Video
Speakers: Front-Facing Dolby Audio
Dimensions: 12.3" x 9.15" x .51"-.90"
Weight: 3.38lbs


Design and Features
The Microsoft Surface Book 2's best-known trick is its main chassis with the screen can split from the keyboard to transform into a tablet. The main body is made of magnesium with a matte gray finish to make the device as light as possible while giving off a premium glow. The lower half that holds the keyboard uses plastic with the same color all over which is subdued enough to keep your eyes focused on the screen.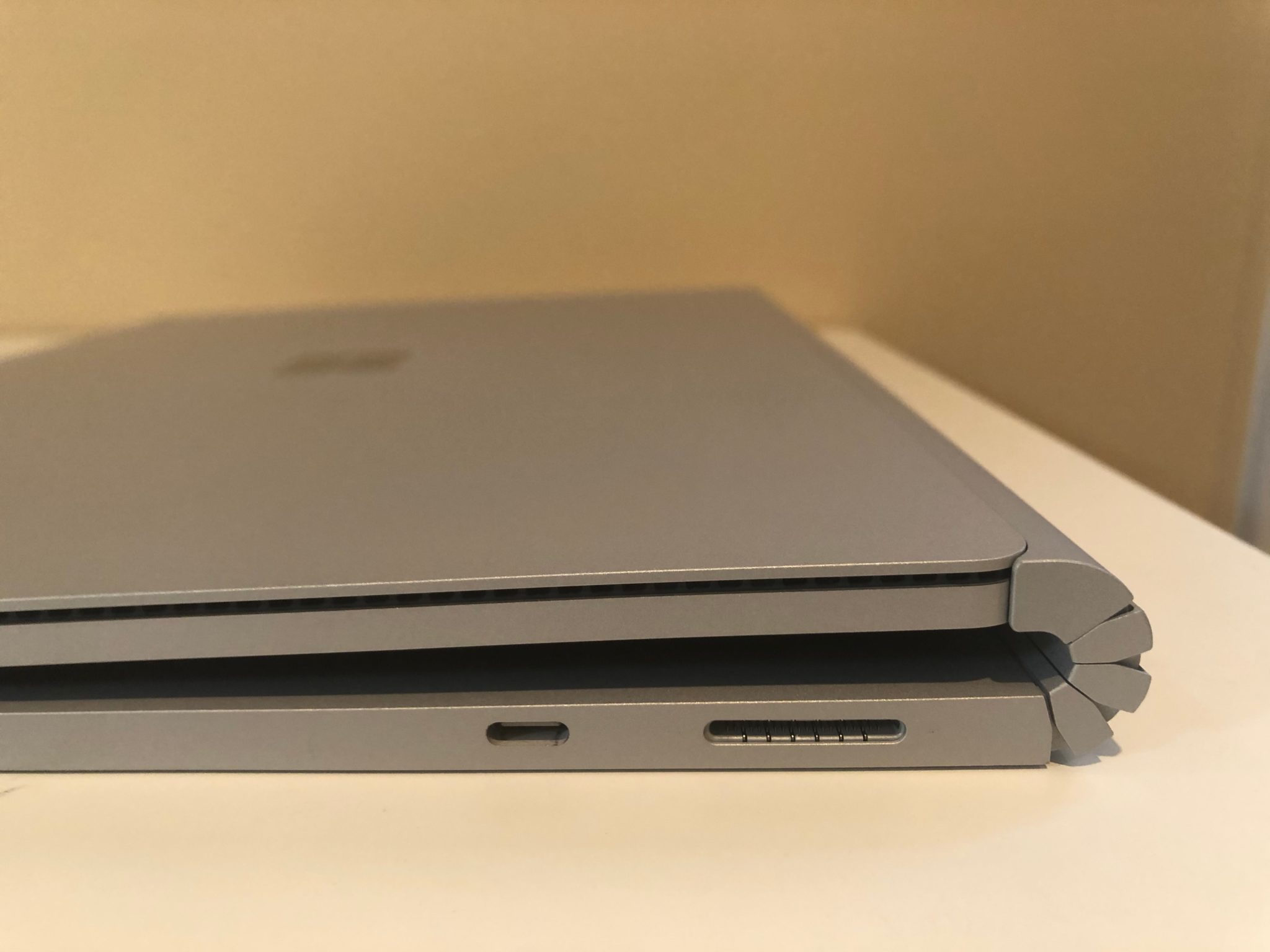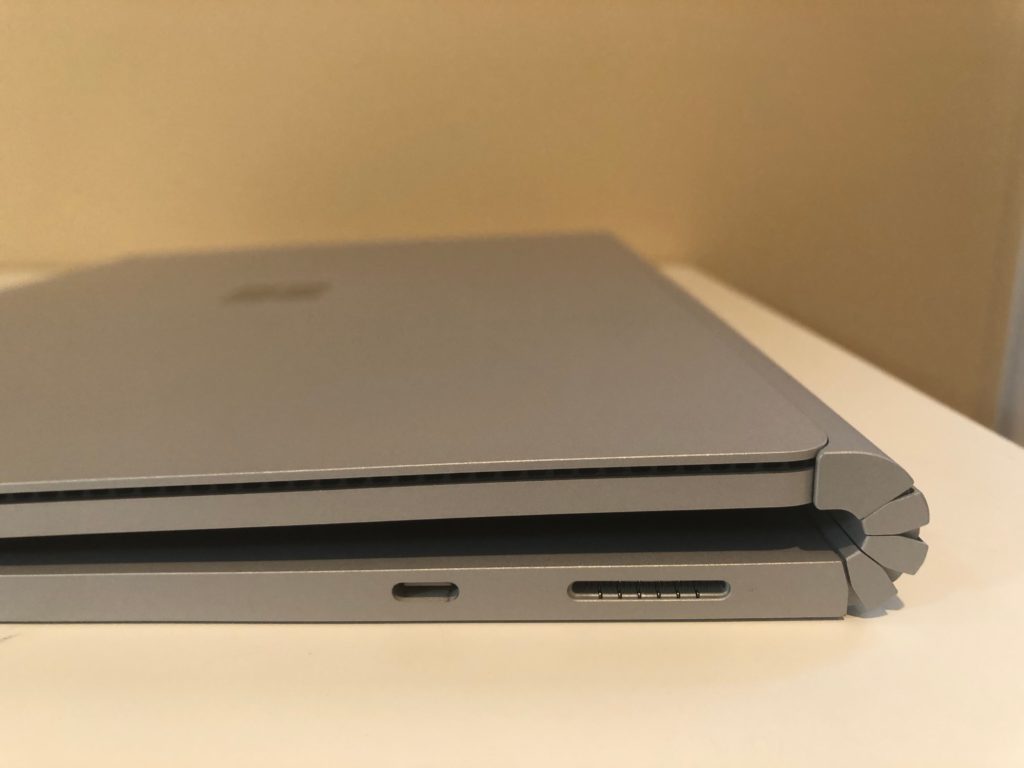 Another unique characteristic of the Microsoft Surface Book 2 is its fulcrum hinge which, according to Microsoft, is now more durable than the predecessor. Opening the device in laptop mode is smooth, but the biggest complaint about it is it doesn't allow the laptop to close flat or in full. There is a gap between the screen and the keyboard which could be a point of failure if the device is squished too hard.
You will also need a good flat surface like a desk or a countertop if you want to use the Microsoft Surface Book 2 in laptop mode. The device tends to tip forward since it is top-heavy due to the placement of its inner hardware. It defeats the notion of the word lap in laptop, so you are better off using it in tablet mode if you don't have a table to work with.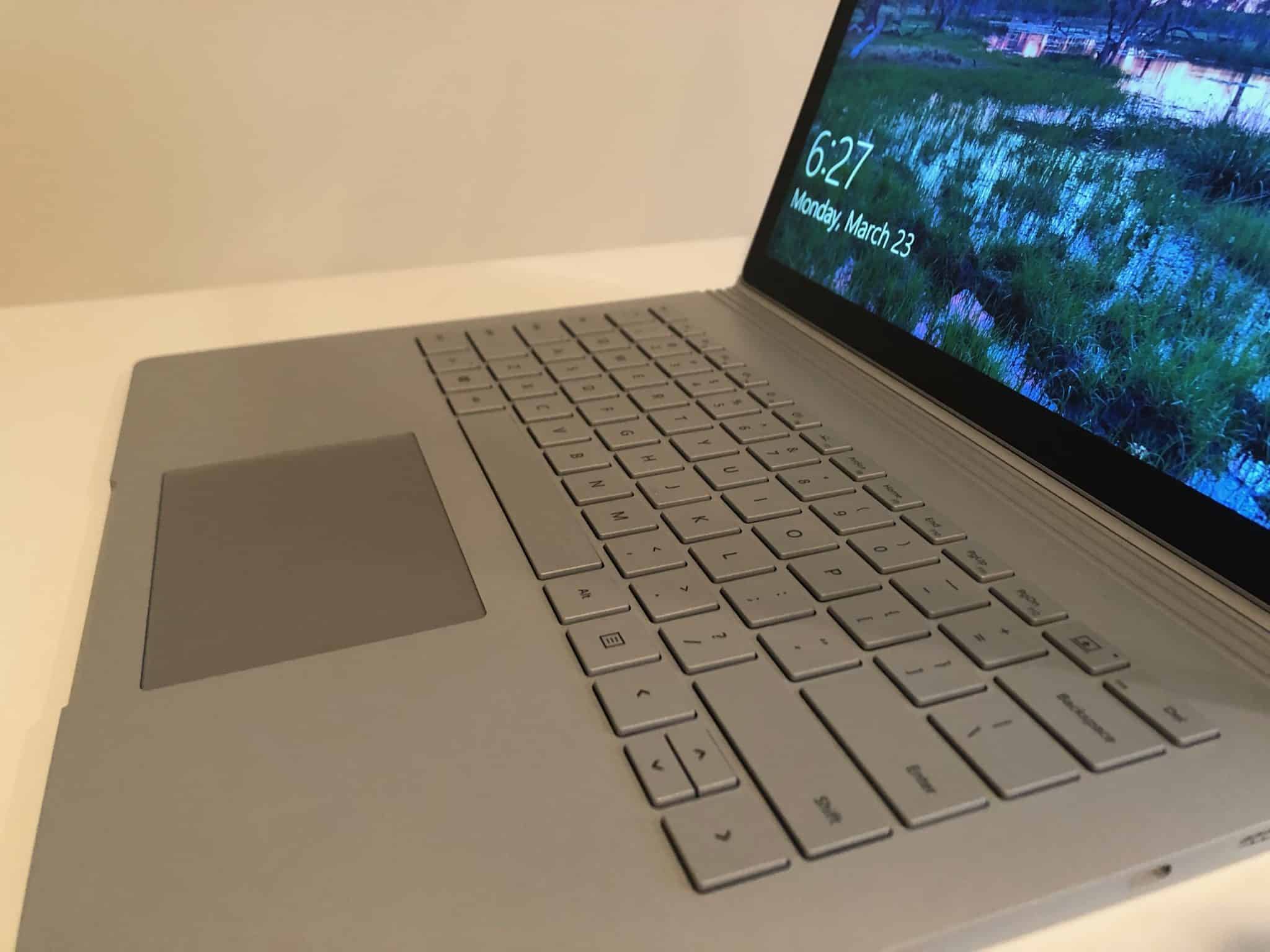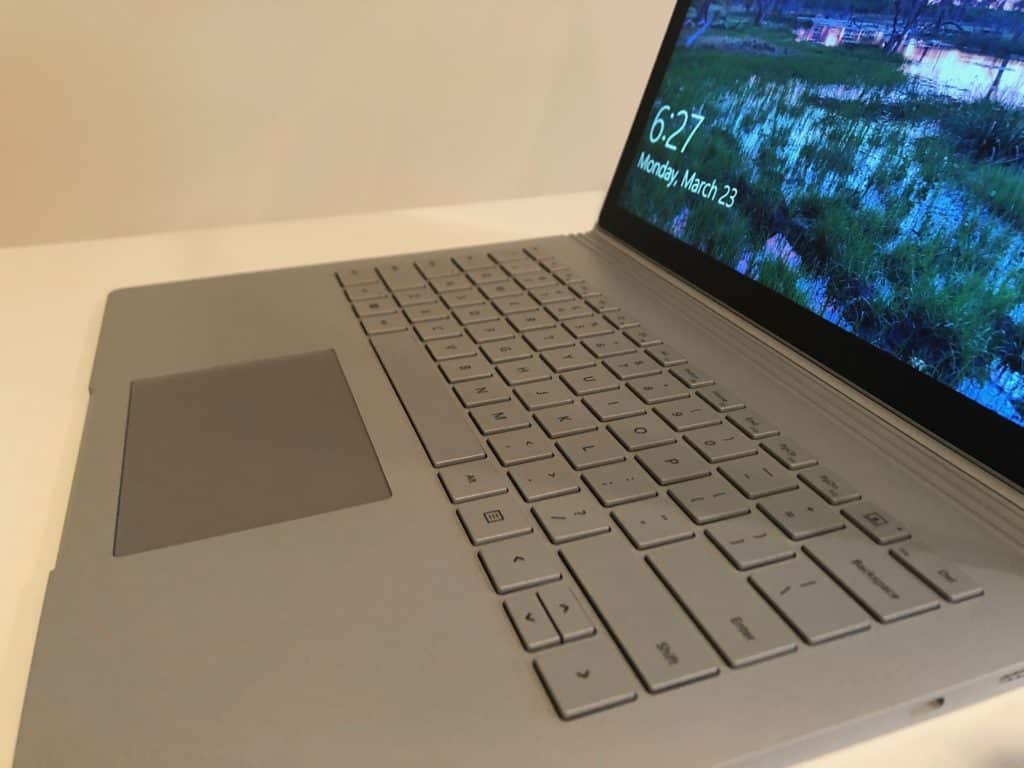 The keyboard on the Microsoft Surface Book 2 has shallow key travels, but each press feels great and satisfying. Each click is satisfying and comfortable, so we can recommend this gadget to writers and bloggers who often produce massive walls of text as content. The touchpad feels smooth and very responsive, thanks to the homogeneity between it and the OS which come from both the same company.
But despite that, we recommend spending $99.99 for the Surface Pen to get the most out of this device. This add-on is touted as the best stylus on the market since its virtually lag-free and has a class-leading 4096 degrees of pressure sensitivity. It's a handy tool if you would like to use the Surface 2 without its keyboard for creative endeavors.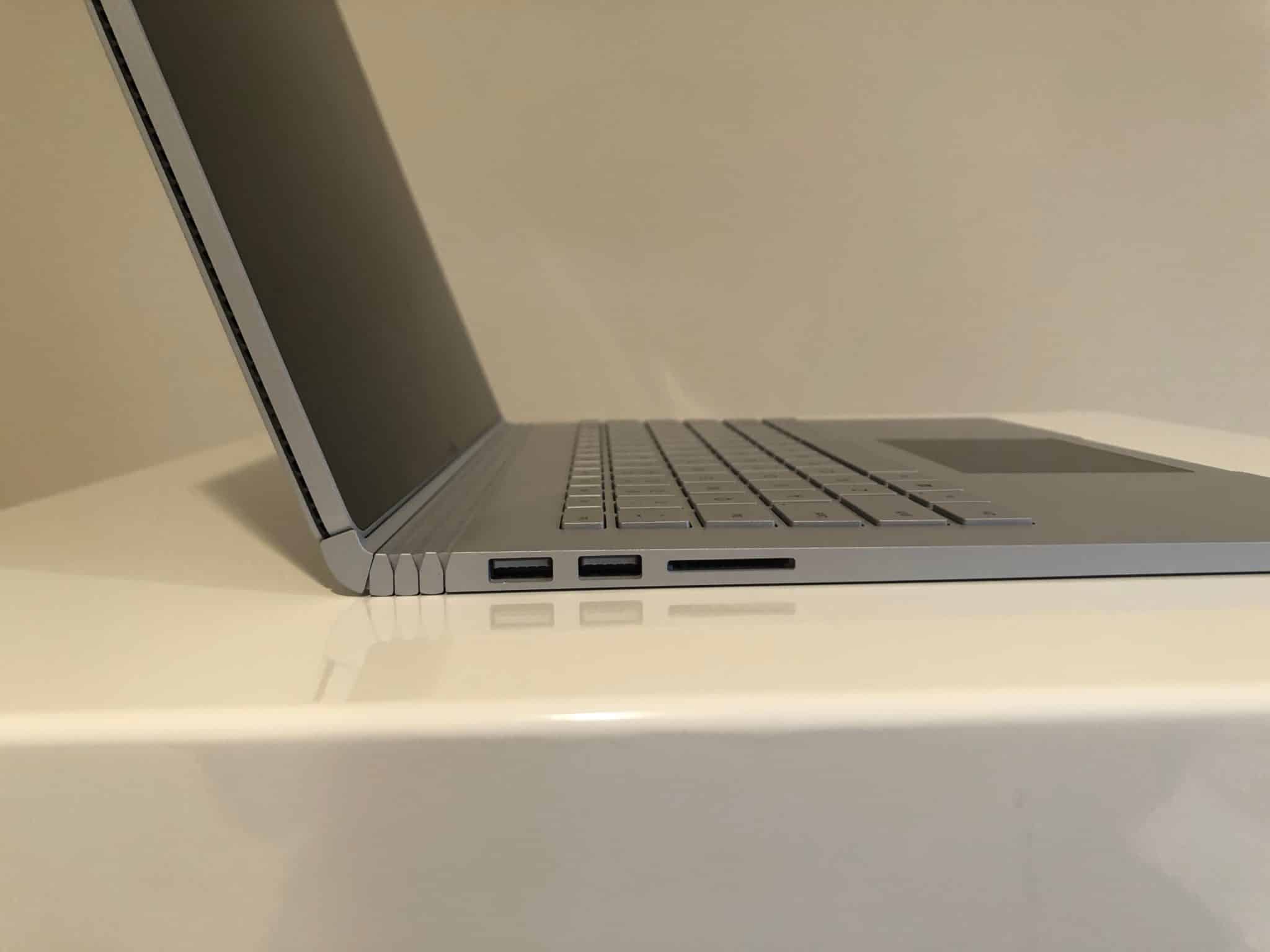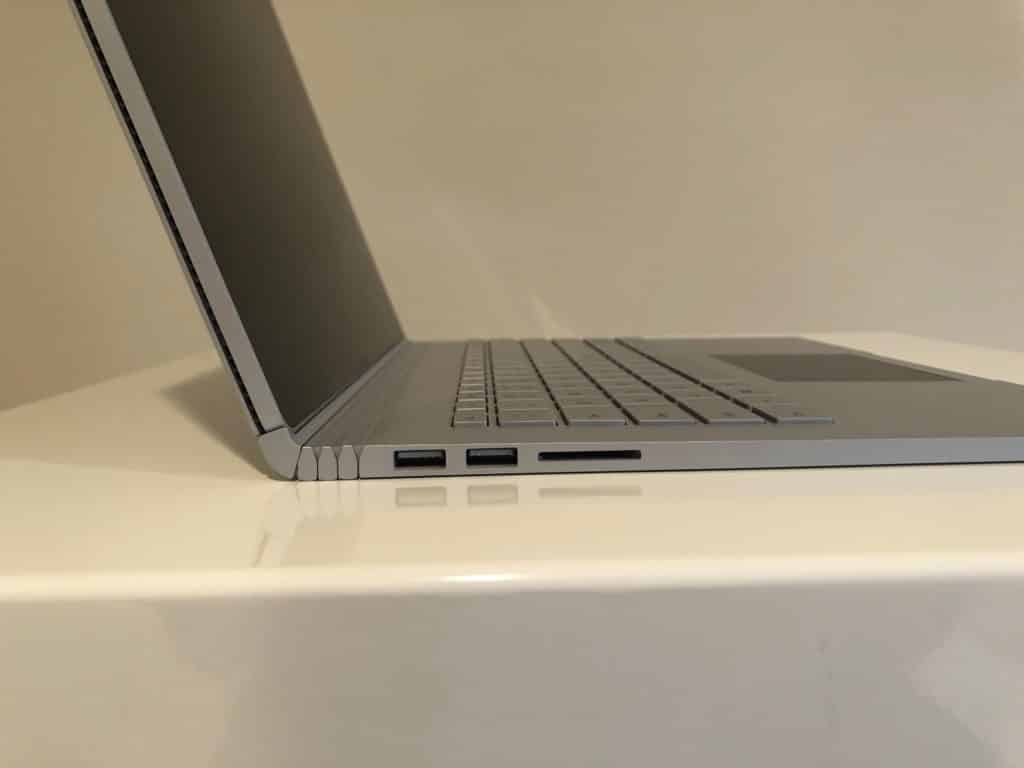 Connectivity on the Microsoft Surface Book 2 is great since it includes a USB-C 3.1 slot which can allow the device to dock with a USB-C monitor. There is also a full-sized SDXC card reader along with it, and two USB 3.1 type-A slots on the opposite side. The two Surface Connect ports can charge the device or transfer data, but you need an adapter for the latter.
Its also worth noting that the Microsoft Surface Book 2's 3.5mm jack is on the upper half, so using wired ear or headphones means you will have a dangling cable in front of you. Having a wired audio connection is invaluable due to numerous factors such as audio quality, but Bluetooth audio equipment is much easier to use. There is a pair of speakers on the front of the tablet, but they could use a boost in volume to go with its decent clarity.
Performance
The Microsoft Surface Book 2 sports a 13.5-inch PixelSense Display with a 3000 x 2000 resolution and a whopping 267 pixels per inch. The screen looks comparable to Apple's Retina displays, offering fantastic clarity and details for any type of image output. 4K movies look great on it even if the aspect ratio and pixels don't match, so images and your artwork will surely be equally eye-popping.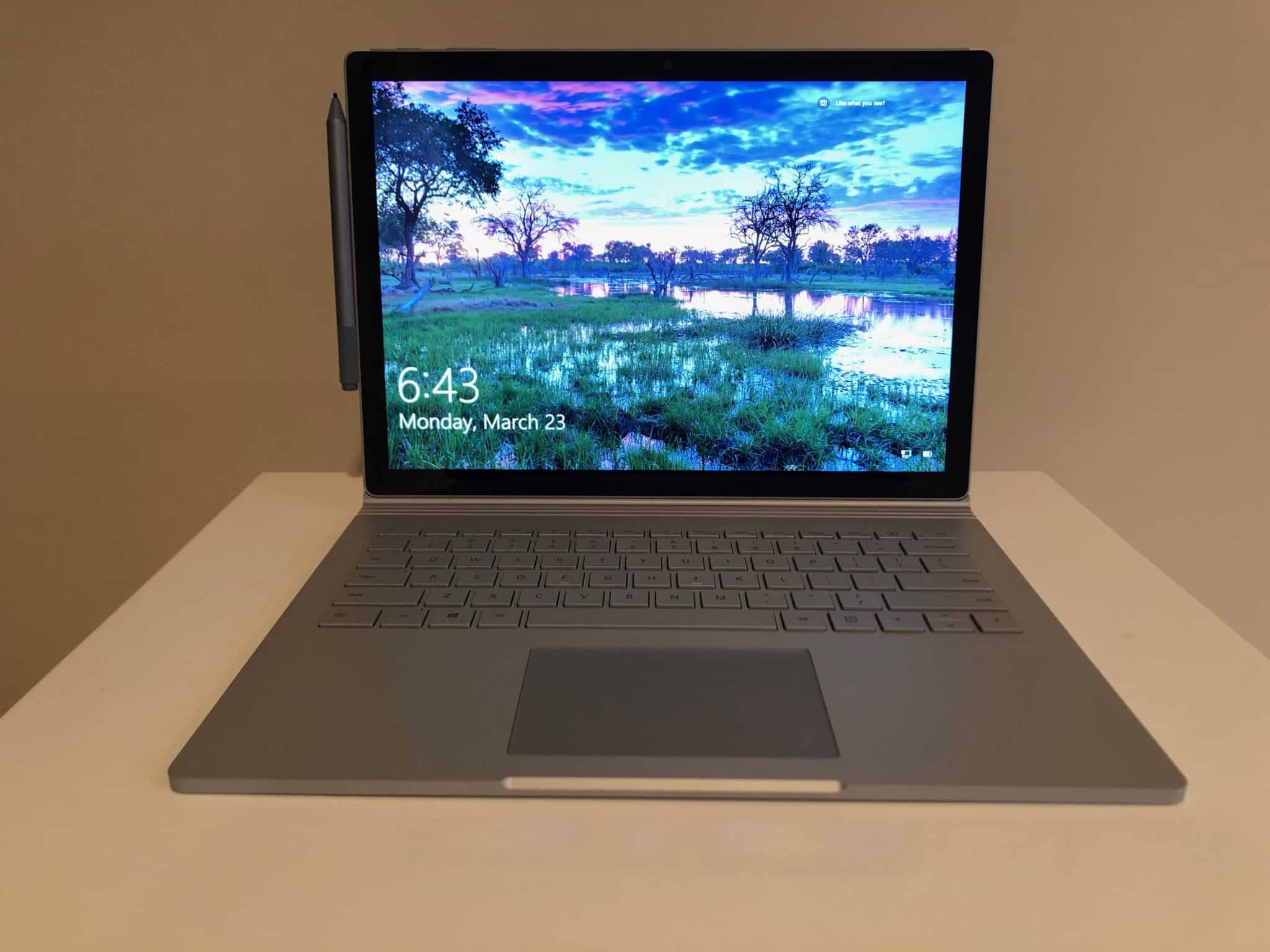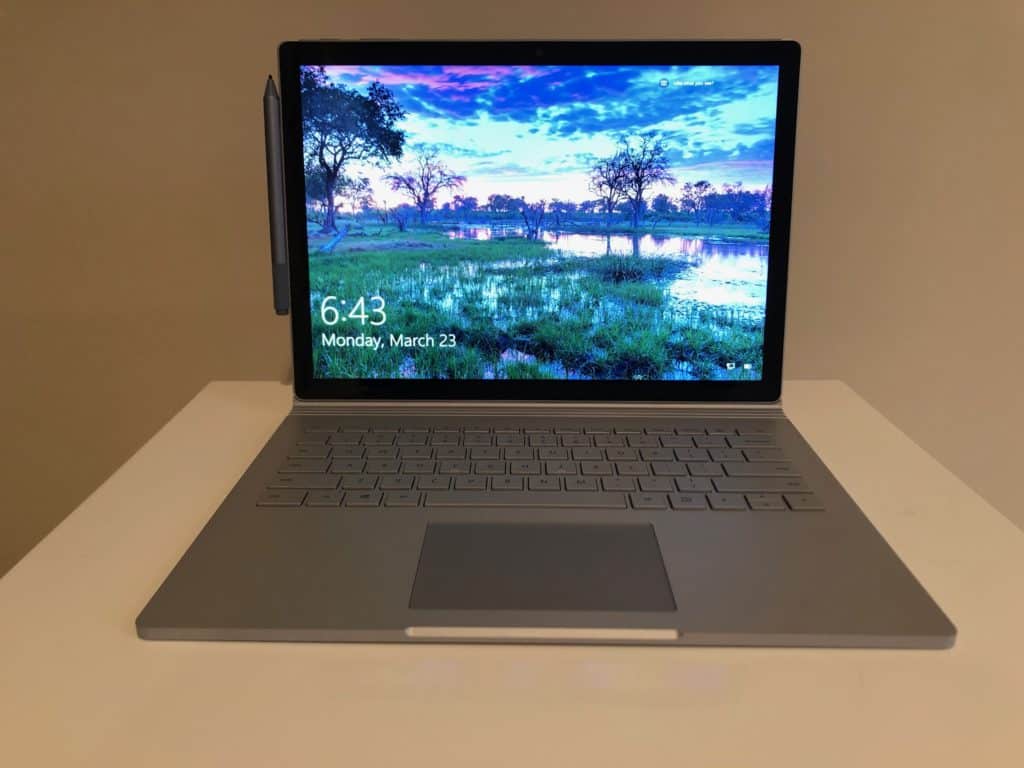 One noticeable characteristic of the Microsoft Surface Book 2's display is it is very vibrant with punchy colors. The screen produces up to 130% of the sRGB gamut with a maximum brightness of 375 cd/m2, placing it right next to the best monitors we tested. These scores are substantially better than what the closest competitor offers, giving the advantage to this model.
Our variant with an i5 8350U and 8GB of RAM works great with the kind of workloads we usually do for Monitornerds. Office apps and browsers usually open with minimal wait times, and they function smoothly without any jitters or hang-ups. Even basic photo editing and post-processing are doable, although larger image files may take slightly longer to load.
Gaming isn't ideal in this trim since there is no GPU and the RAM slightly borders on the bare minimum for most modern titles. Video rendering and some tasks in Photoshop also takes a bit more time, so getting the i7 variant with a GTX 1050 might be beneficial for you. The latter isn't particularly powerful by today's standards, but it will help the aforementioned workloads tremendously.
However, gaming performance will still be mediocre by then, since the GTX 1050-equipped variants barely managed to breach a 30FPS to 40FPS average in many titles. We think it's reasonable that you don't get the meaty Max-Q GPUs with this model since they will expand the size and blow the Microsoft Surface Book 2 out of its modest proportions. Heat will also be an issue with those parts since this gadget already reaches 85 degrees Celsius when it's crunching on the heavier tasks.
The Microsoft Surface Book 2 has excellent battery life, reaching beyond its 17-hour spec in light workloads such as typing and browsing. A single charge will last you all day even if you watch videos, as long as its in laptop mode. Running it as a tablet is disappointing since you can only get more or less four hours out of the smaller battery in the upper half of the gadget.
Thoughts on the Microsoft Surface Book 2
The Microsoft Surface Book 2 has its quirks, but its one of the best hybrids available in the market when it comes to hi-tech functionality and design. The 2-in-1 layout enables a lot of usage possibilities, although some factors like the limited battery life of the tablet might leave users wanting to use it in laptop mode. The hardware's performance isn't particularly impressive, but it can get you through a mix of different professional tasks without draining the battery too fast.
We think that the Microsoft Surface Book 2 is directly comparable to Apple's MacBooks in a way since the latter performs smoothly mostly due to the maturity of OS X. This gadget achieves that with Windows 10 since it's designed for both desktop and mobile use, plus the similitude is there since they are both made by one company. It's an excellent buy as a mobile workstation, but you might want to splurge on the top variant if you need more computing juice.
Pros:
Useful Design
Light Weight
Long Battery Life in Laptop Mode
Bright and Vibrant Display
USB-C Connectivity
Responsive Keyboard, Touchpad, and Surface Pen
Cons:
Pricey
Top-Heavy
Specs are Outdated
Gap Between Lid and Body When Closed
Short Battery Life in Tablet Mode
About the Author: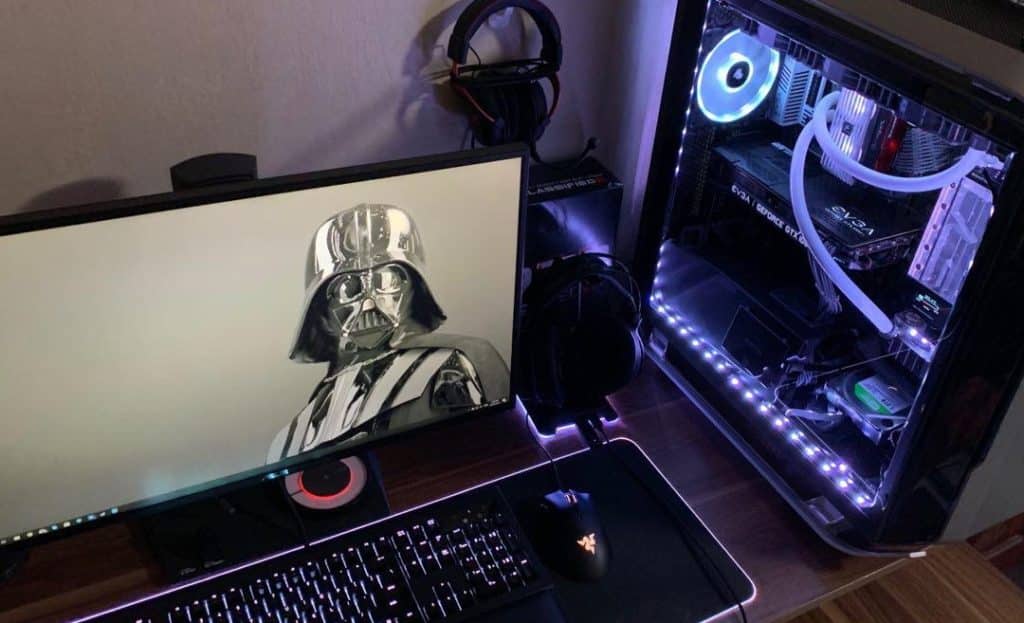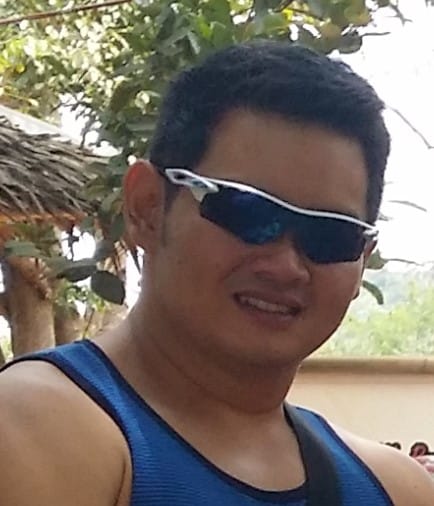 Paolo is a gaming veteran since the golden days of Doom and Warcraft and has been building gaming systems for family, friends, and colleagues since his junior high years. High-performance monitors are one of his fixations and he believes that it's every citizen's right to enjoy one. He has gone through several pieces of hardware in pursuit of every bit of performance gain, much to the dismay of his wallet. He now works with Monitornerds to scrutinize the latest gear to create reviews that accentuate the seldom explained aspects of a PC monitor.