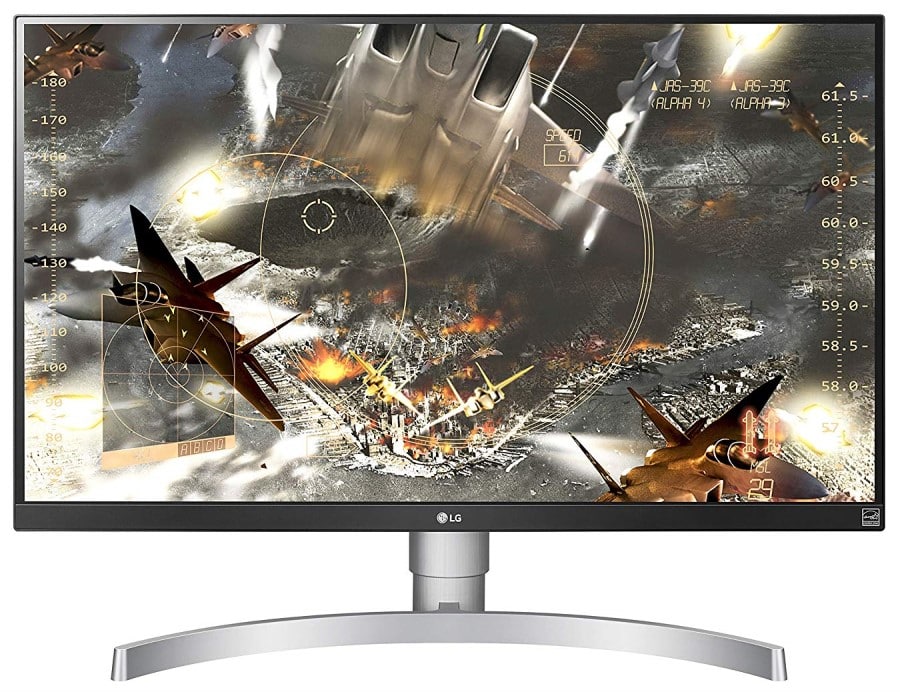 The LG 27UL650 is the next 4K monitor in line to the well-loved 27UK650 which provided accurate color and excellent visuals at a reasonable price. LG seldom redesigns their popular monitor lines, but that can mean that engineering for each device went to performance instead of looks. The LG 27UL650 is currently priced higher than its predecessor, but does it offer a considerable upgrade to justify the cost?

LG 27UK650 Specifications
Screen Size: 27 Inches
Resolution: 3840 x 2160 4K
Aspect Ratio: 16:9
Panel Technology: In-Plane Switching (IPS)
Refresh Rate: 60Hz
Response Time:5ms
Contrast Ratio:1000:1
Brightness: 350 cd/m²
Built-in Speakers: No
Stand: Height – Yes
Stand: Tilt – Yes
Stand: Swivel – Yes
Stand: Pivot– Yes
VESA Compatibility: Yes (100 x 100)
Connectivity: DisplayPort 1.2 x 1, HDMI 2.0 x 2, 3.5mm Audio Jack
Dimensions With Stand(WxHxD): 24.13″ x 17.99″ x 9.1″
Weight: 13.89 lbs

Design and Features
The LG 27UL650's aesthetics has not changed much compared to the 27UK650, but the latter's looks have always placed it ahead of many competitors. The chassis comes in matte white at the back matched with a silver stand that looks sophisticated and unique in a sea of matte black. The monitor is bezel-free on three sides, save for a bottom strip which also houses the LG logo.
The monitor's modest proportions could make you think that it's fragile, but its pleasingly durable and stable once propped on top of a desk. The seams are evenly matched, so there are no gaps or manufacturing defects on the monitor. Build quality is comparable to high-end offerings from brands like Dell or Samsung, so this product should last quite a while.
The LG 27UL650 doesn't have OSD buttons, so have to pick between a joystick at the center or its On-Screen Control feature which lets you tweak the display in Windows. The learning curve to maximize both options is relatively short, unlike with hard to press buttons which become even more difficult in the dark.
One of the distinct physical features of the LG 27UL650 is its ArcLine design stand which has a crescent-shaped base and a telescopic upright. The matte silver finish is a nice touch, but the tilt, swivel, pivot, and lift adjustments are more important. You can also swap this part out with a VESA stand which has a 100 x 100 adapter, but that adds to the total cost of an upgrade.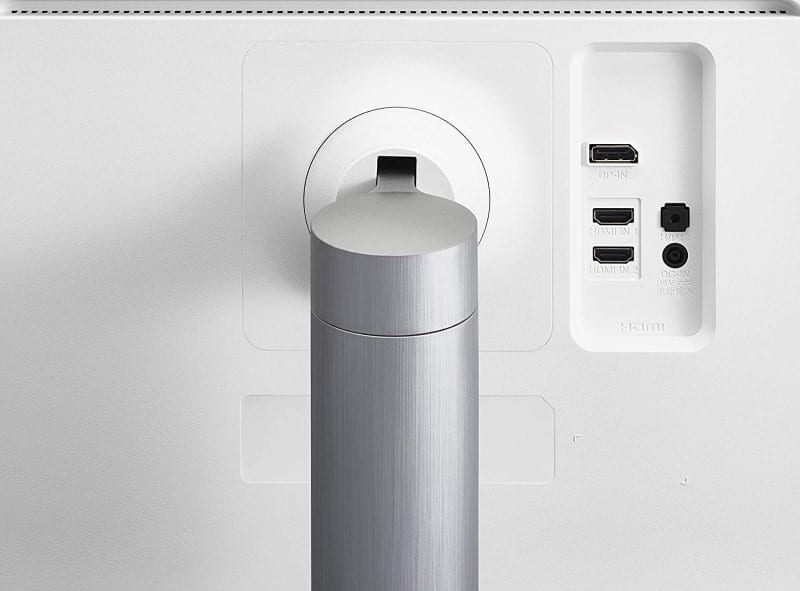 The LG 27UL650 isn't the best when it comes to connectivity, but it's still suitable as a multi-client display for your PC and gaming consoles. The layout includes DisplayPort 1.4 and dual HDMI 2.0 slots which are enough to cover the devices mentioned. The ports are also HDCP 2.2 compliant, so you can use them for streaming services on your media players or consoles.
There are no speakers and USB connectors, but there is a 3.5mm audio jack for your headphones or anything similar. Frankly, these add-ons are seldom missed, but they do add value, especially at the $500 price point.
Display and Performance
The LG 27UL650 sports a 27-inch IPS panel with a 3840 x 2160 resolution, 60Hz refresh rate, and 5ms response time. This model is also advertised as DisplayHDR 400 compliant, but its backlight is limited to 350 cd/m2 while the contrast ratio stays at 1000:1. LG did not use its Nano IPS technology on this variant, so it's not capable of extended gamut coverage and contrast levels.
27-inch models are excellent for 4K screens since the display area makes the pixel pitch tighter. This results in extra crispness and level of detail which will make the monitor fantastic for games and movies. But on the other hand, some users with anything other than 20/20 vision might need scaling for smaller objects such as text.
The LG 27UL650 fulfills its promise of near perfect sRGB coverage with 99.9% gamut volume and excellent accuracy of Delta E 1.7. The color temperature looks balanced despite overshooting the ideal 6500K by a bit, but the difference results in less warmth common to sRGB settings. The predecessor is slightly better, but it's only noticeable if you use colorimeters on both displays.
The one aspect that sits low for the LG 27UL650 is its contrast ratio which only managed to reach 880:1 after calibration. This resulted in middling black depths and some grayscale errors which trained eyes will notice. We recommend turning down the backlight a bit, especially in the dark since using too much of it will make blacks look grayish while some colors appear washed out.
The LG 27UL650's gamma is also slightly off at 2.25, so some scenarios may look a bit darker than the usual. Thankfully, games and movies will not be as affected as much, giving users a balanced overall look.
Uniformity on the LG 27UL650 test unit wasn't as great as we expected due to a backlight leak at the lower left corner. This flaw induced a slightly cooler hue in color temp in the respective quadrant of the screen, resulting in a Delta E of 3.2 from the D65 standard. The rest of the panel is mostly unaffected, but the noticeability of the deviance climbs up when brightness is too high.
Motion handling is one the strengths of LG's IPS monitors since blurs and ghosting are kept to a minimal. The amount you see is born out of the limited refresh rate, but its nothing the built-in overdrive feature can handle. Selecting the Faster option of the setting substantially improves the image without overshoot, so we recommend activating it.
The LG 27UL650 is a FreeSync monitor so it will work great with AMD's upcoming top-end Navi GPUs. G-Sync compatibility mode is supported, but it's not guaranteed since 4K monitors are known to have various issues when trying to activate the feature. Input lag is limited to 9.5ms, so there are no delays or "de-synced" instances when playing your favorite titles.
Thoughts on the LG 27UL650
The LG 27UL650 is an excellent 4K IPS monitor with minor improvements over its predecessor. You get more or less the same color fidelity and a slightly upgraded contrast ratio, but it does little to help the grayish blacks expected from IPS variants. The gaming performance such as responsiveness and low input lag are still there, making this a viable upgrade if you want to enjoy games in 4K.
However, the extra cost isn't justifiable by the slight improvements if you already have the LG 27UK650. But if you are upgrading from a lower variant, the LG 27UL650 is a great purchase, especially if you are shopping for a mixed-use display.