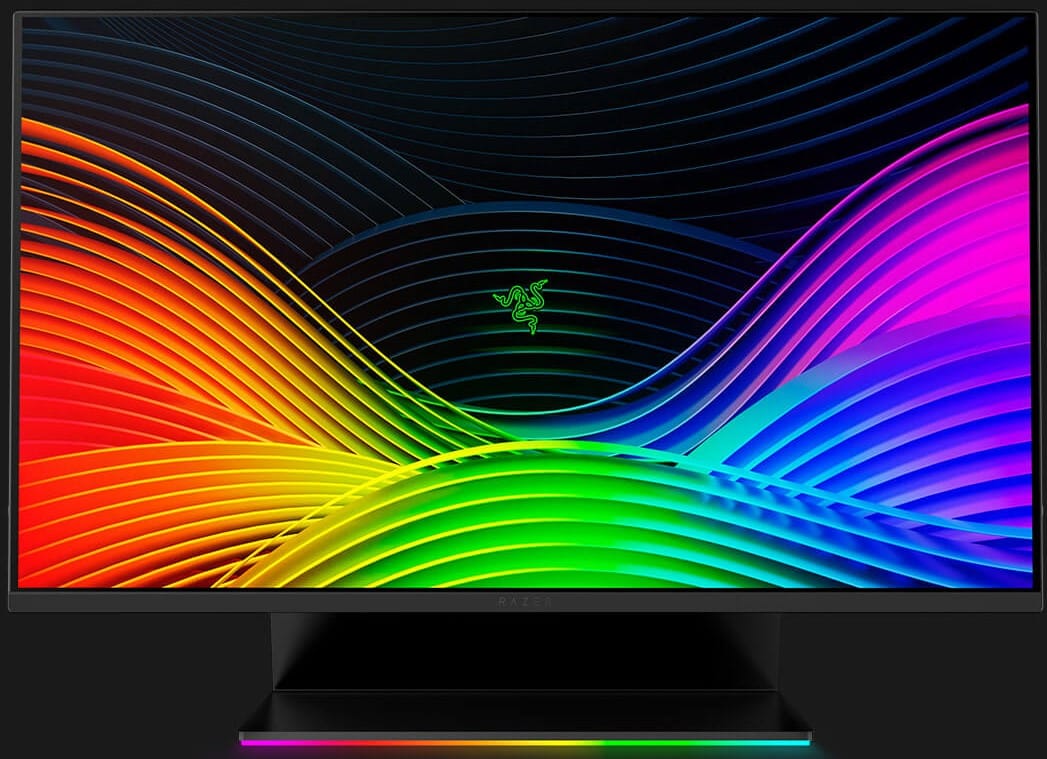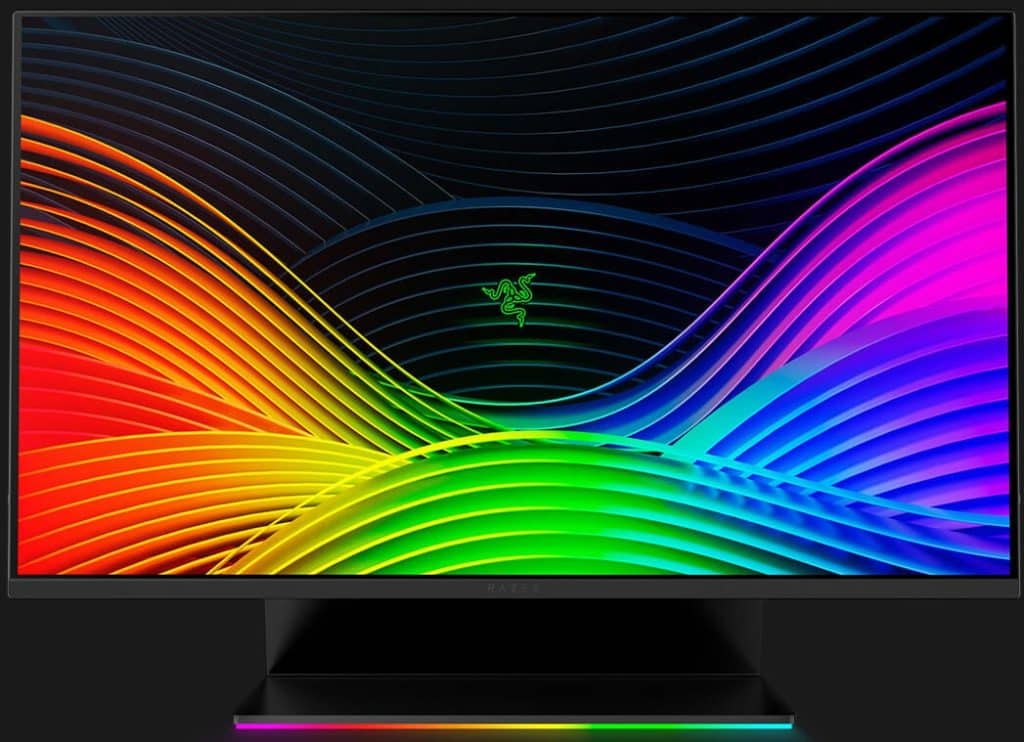 Pros:
Fantastic Design
Excellent Image Quality Post Calibration
Low Input Lag
FreeSync and G-Sync Compatible
Editor's Choice
Cons:
Expensive
Ergonomics Limited to Height Adjust and Tilt
No VESA Mounts
The Razer Raptor is the cult's first attempt at creating a gaming monitor that strictly adheres to the "For Gamers By Gamers" slogan Razer swears by. The pioneer product sports a 27-inch IPS panel with a 144Hz refresh rate which will enable the Raptor to compete with established rivals such as the Aorus AD27QD. The Razer Raptor is dipping in very hot waters of the gaming display market, so let's check out if its a must buy.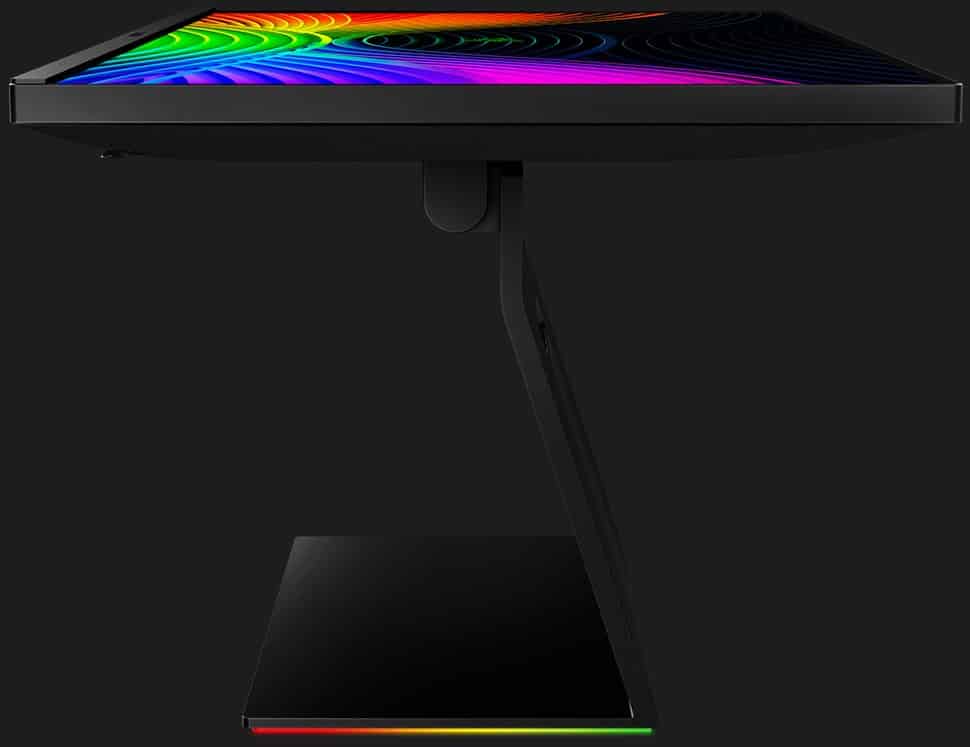 Razer Raptor Specifications
Screen Size: 27 Inches
Resolution: 2560 x 1440 QHD
Aspect Ratio: 16:9
Panel Technology: In-Plane Switching (IPS)
Refresh Rate: 144Hz
Response Time: 4ms(1ms MPRT)
Contrast Ratio:1000:1
Brightness: 400 cd/m²
Built-in Speakers: No
Stand: Height – Yes
Stand: Tilt – Yes
Stand: Swivel – Yes
Stand: Pivot– Yes
VESA Compatibility: Yes (100 x 100)
Connectivity: DisplayPort 1.4 x 1, HDMI 2.0 x 1, USB 3.0 x 2, USB-C x 1, 5mm Headphone jacks
Dimensions (W x H x D): 24.15" x 15.29" x 7.46"
Weight: 25.35 lbs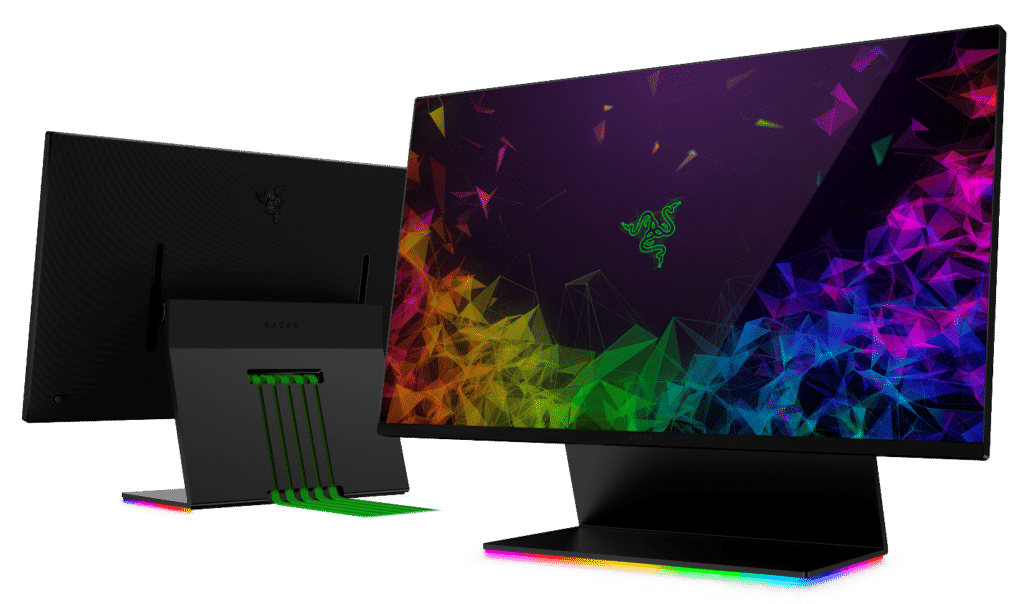 Design and Features
The Razer Raptor is hands down, the best looking gaming monitor in the market thanks to its distinct aesthetics and premium craftsmanship. The monitor has a fine, matte black finish all around which is accented by Chroma lighting in key spots. The display is bezel-free on three sides, allowing users to maximize the viewable space without any distractions.
The brand puts emphasis on a level of uniqueness for the Razer Raptor, but it doesn't come without engineered functionality. Razer has received a lot of heat in the past for their poor products, but their newer offerings have drastically improved in recent times. We also think that the firm is one of the best when it comes to functional design which epitomizes in this model.
Razer used a lot of metals on the Razer Raptor which made it heavier yet more durable than its plastic-clad competitors. This also gives the product a well-made and premium feel, so you won't have to worry about flexing or cosmetic defects. It's also surprising that they applied a cloth-textured layer on the rear panel which feels sexy and unique compared to the plastics we are used to.
You may think that it's severely limiting that the Razer Raptor only has tilt and height adjustments for its display. You can raise the screen by around five inches, but what's surprising about it is you can tilt the screen up to 90 degrees so it lies on a flat axis. The main purpose of this design is so you can reach the I/O panel quicker without having to turn the device around.
The Razer Raptor even has CNC-made cable channels built into its stand for extra neat cable management. The monitor even includes neon green cables in true Razer fashion that fit perfectly into the slots. Regular aftermarket wires should also fit if you want to replace the default, but do take note of the thicknesses especially if you are going with the braided variants.
The stand is then finished off with a Razer Chroma-equipped base that will make the monitor fit perfectly next to a full Razer peripheral setup. You can sync this monitor with the Razer Synapse app which provides full control over the lighting schemes and RGB color.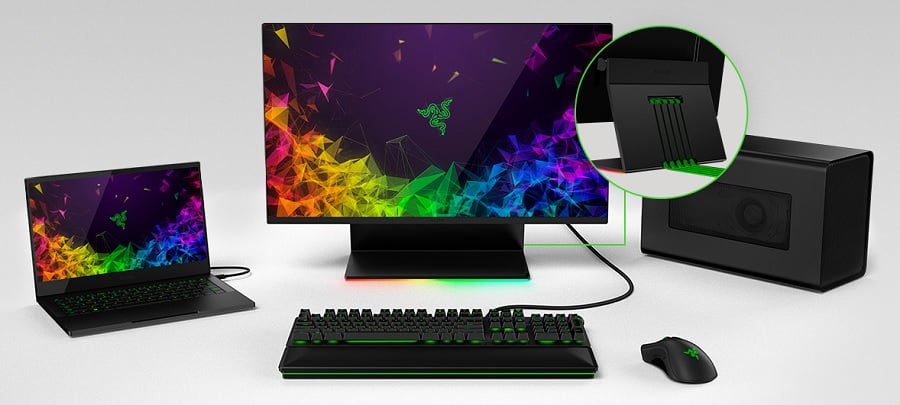 Unfortunately, you can't VESA mount the Razer Raptor due to the way the magnificent stand is designed. The mechanism attaches to the chassis via two rails built into the slits of the back panel, so there is no way of removing it. However, you do get to enjoy smooth movements and the unique ergonomics of the device which is a first in the market.
The Razer Raptor is also decently equipped with connectivity features for your everyday needs. The monitor uses DisplayPort 1.4 as the primary, along with an HDMI 2.0 slot for consoles like the Xbox One X. There is also a duo of USB 3.0 ports for peripherals, but what stands out is the USB-C slot which supports power delivery and DP 1.4 Alt Mode for devices such as MacBooks Pros.
There are no speakers on the Razer Raptor's slim chassis, but that doesn't matter since most gamers usually prefer headsets. Razer has a myriad of capable audio solutions, so this omission shouldn't bother its intended market.
The Razer Raptor has Synapse functionality, but accessing the OSD via the app which would have been brilliant isn't possible. You do get a joystick for easy OSD navigation, but we think this is one aspect that Razer failed to connect for the Raptor. However, this model is only the first outing, and we hope Razer CEO Min Liang Tan catches wind of this aspect.
Display and Performance
The Razer Raptor sports a 27-inch IPS panel with a 2560 x 1440 resolution, 144Hz refresh rate, and a boosted 1ms response time. The backlight is rated at a maximum of 420 cd/m2, while contrast sits at a typical 1000:1. This model is DisplayHDR 400 certified for HDR compatibility with some improvements in some imaging aspects but in a limited fashion.
Razer chose 1440p at upgraded refresh rates because it offers the best balance between sharpness, speed, and GPU power requirements. The screen on the Razer Raptor looks sharp, but it will not require scaling for other purposes such as reading or browsing. We also think that 1440p is the most competitive segment right now, even if 4K HDR monitors, which are very expensive, are starting to pour in.
The Razer Raptor is capable of excellent color quality starting with 100% coverage of the sRGB gamut with a few extensions. The screen is also capable of 89% DCI-P3, enabling better saturation in games and HDR media. Color accuracy out of the box could use some improvements due to the high Delta E of 3.9 and a very warm color temperature.
You can easily correct these errors with a few tweaks in the OSD which will place color temperature closer to 6500K and a drastically reduced color DeltaE of .5. Gamma behaved quite well in both the default MMO picture mode and the calibrated state of the Razer Raptor, so there is no drastic need for a colorimeter.
Contrast, on the other hand, reaches as much as 1200:1 which is comparable to the results gathered from LG's Nano IPS models. Blacks aren't as deep and profound as they are on VA variants, while color separation doesn't show any aberrations between gradients at all. The screen still tends to look grayish when displaying black or dark scenes, but that's an accompanying limitation of IPS tech so it's forgivable.
The Razer Raptor showed mixed results when it came to panel uniformity since there were no backlight leaks on the edges, but some clouding became visible. The screen had a few slightly noticeable light blooms which affected dark images, but it isn't noticeable when full-color media are on-screen. This aspect varies between unit to unit due to manufacturing tolerances, so being able to return the product in exchange for another would be nice.
The Razer Raptor can handle motion and transitions with aplomb thanks to its modern IPS panel with a high refresh rate. However, some pixel transitions are slightly slower than other IPS monitors, so minor blurring and ghosting can happen in some instances. Using the monitor's Weak setting from its overdrive will help, but we suggest avoiding the Strong level since it induces noticeable overshoot.
The Razer Raptor is FreeSync compatible, but its also certified to work with G-Sync compatibility and Nvidia GPUs. This model is priced like a full G-Sync product, but its a better alternative overall since you don't have to stay with one GPU brand for the rest of its lifespan. Input lag sits at 4ms, making the Raptor one of the fastest QHD gaming monitors available.
Thoughts on the Razer Raptor
The Razer Raptor is one of our favorite monitors this year thanks to its fantastic design, functionality, and gaming performance. We think manufacturers need to look up to it when it comes to innovation since monitor designs have staled over the past five years or so. There are a few hiccups such as the poor default imaging profile and the absence of VESA, but these are all forgivable due to the design and its Razer's first attempt.
The only glaring issue we have with the Razer Raptor is its price, which is considerably higher than other IPS gaming monitors like the Asus VG27AQ. We know that the money pays for the fantastic design and development of the product, but the 1440p bracket has already matured enough to produce considerably cheaper alternatives. But on the other hand, we wouldn't hesitate to buy the Razer Raptor simply because it refreshes its niche with an incredible design that doesn't forget about gaming performance.
About the Author: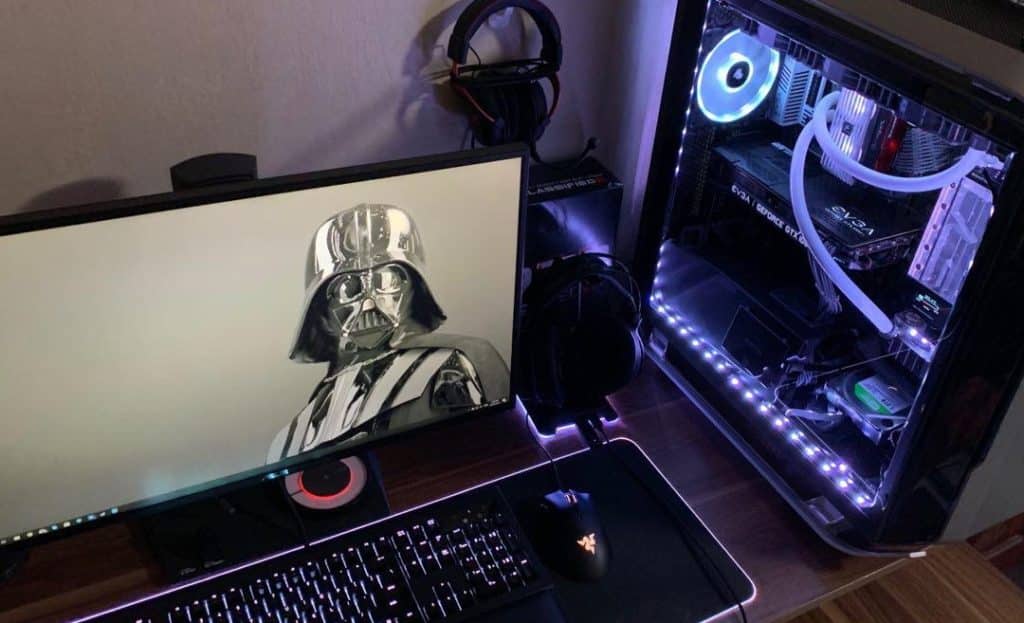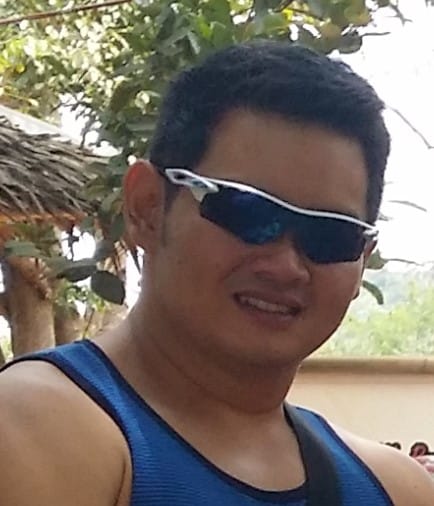 Paolo is a gaming veteran since the golden days of Doom and Warcraft and has been building gaming systems for family, friends, and colleagues since his junior high years. High-performance monitors are one of his fixations and he believes that it's every citizen's right to enjoy one. He has gone through several pieces of hardware in pursuit of every bit of performance gain, much to the dismay of his wallet. He now works with Monitornerds to scrutinize the latest gear to create reviews that accentuate the seldom explained aspects of a PC monitor.