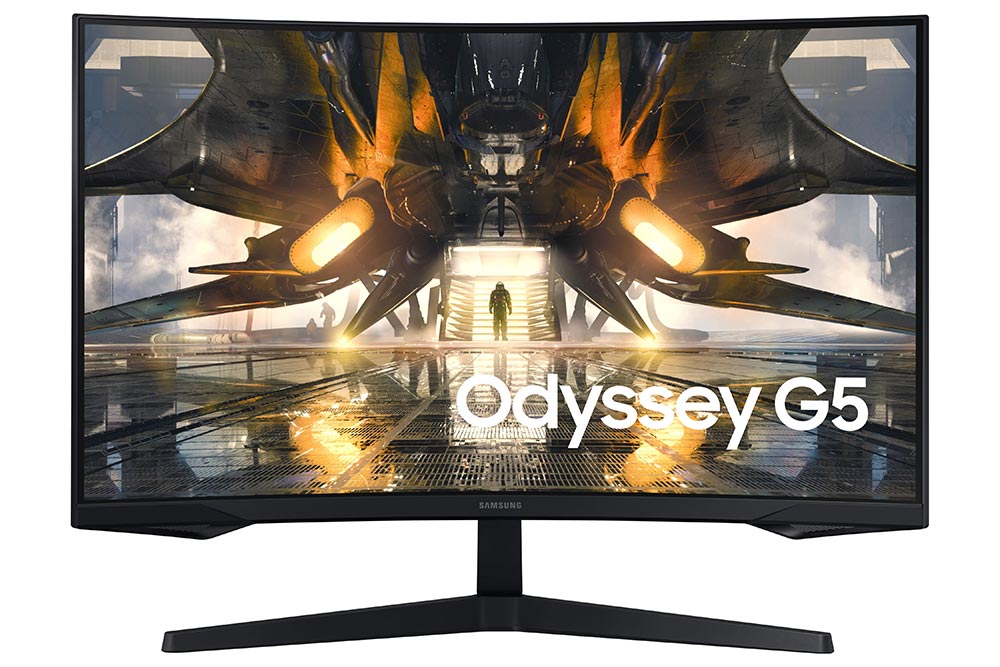 The Samsung Odyssey G5 S32AG55 presents an update to the Odyssey line's midrange monitors for gamers who want great performance at a reasonable price. This model sacrifices some creature comforts to meet a price point that's filled with best sellers. Let's find out if the Samsung Odyssey G5 S32AG55 is a new value king that you should consider if ever you are in the market for an upgrade.

Samsung Odyssey G5 S32AG55 Specifications
Screen Size: 32 Inches
Resolution: 2560 x 1440 WQHD
Aspect Ratio: 16:9
Panel Technology: Vertical Alignment (VA)
Refresh Rate: 165Hz
Response Time: 1ms MPRT
Contrast Ratio: 2500:1
Brightness: 300 cd/m²
Built-in Speakers: None
Stand: Height – No
Stand: Tilt – Yes
Stand: Swivel – No
Stand: Pivot – No
VESA Compatibility: Yes 75 x 75
Connectivity: DisplayPort 1.4 x 1, HDMI 2.0 x 1, 3.5mm x 1
Dimensions With Stand(WxHxD): 27.96″ x 21.01″ x 10.73″
Weight: 12.57 lbs

Design and Features
The Samsung Odyssey G5 S32AG55 is a direct refresh of its predecessor, so they share the same aesthetics and proportions. The monitor has a textured matte black finish which helps it blend in with any kind of setup. This model is bezel-free on three sides, although you will still see inner borders on them if you look close enough.
It's a massive monitor, so you have to take note of your desk's free space for it before thinking of buying it. the device needs almost 11 inches of depth and it's wide enough to cover your bookshelf speakers if your desk is narrow enough. We didn't like how light it is considering its diagonal size, although it is understandable since it only carries the essentials.

Its build quality isn't the best because of the cost-cutting to help the monitor compete at an almost impossible price point. The plastics used can feel flimsy in some spots, but it is still reasonably durable overall. The included stand sits low on the chassis so it's a bit wobbly, but the screen will remain upright if you don't hit it accidentally.
But at least the Samsung Odyssey G5 S32AG55 includes an OSD joystick for its functions, unlike many budget monitors. It's located under the Samsung logo on the bottom bezel so you don't have to lean In to reach it. Samsung does this for almost every model they release, and we think all brands should follow suit and phase out confusing and time-consuming buttons.
The stand that's included in the package only offers tilt, so placing the monitor at the dead center to appreciate its curvature is crucial. The monitor also sits low because of this, so some may feel the need to prop it up a few notches with books or a monitor base. You can use a VESA mount to alleviate this limitation, but that will add unwanted cost if you don't plan for this monitor beforehand.
Its connectivity layout only offers a slot each for DisplayPort 1.4, HDMI 2.0, and a 3.5mm jack for audio. It's always fair to omit additional features if the price is low enough, plus we think that the layout is already sufficient for daily use. you also don't get speakers with this option, but that's okay since headsets will be better at enhancing their immersive properties anyway.
Display and Performance
The Samsung Odyssey G5 S32AG55 boasts a 32-inch 1000r curved VA panel with a 2560 x 1440 resolution, a 165Hz refresh rate, and a 1ms MPRT response time. The backlight has a 300 cd/m2 maximum while its contrast is listed at 2500:1. This model is still limited to HDR10 compatibility like the older model, so the only upgrade your get is the boost to 165Hz.
Larger QHD monitors aren't as crisp as the more popular 27-inch variants, but you still get the extra pixels and space associated with them. It is great for multitasking and productivity while games and movies look cleaner and sharper. Your GPU requirements will also increase, but there are a lot of capable cards now that can handle its 165Hz limit.
The Samsung Odyssey G5 S32AG55 renders 100%W sRGB and around 73% DCI-P3 which is decent for games and daily use. it is also quite accurate out of the box since the deltaE average is only at 2.03 which is an excellent score for a budget gaming monitor. Most users won't need to calibrate the screen so it will be ready for use right away.
Calibrating the display reduced that dE average to 1.55 which is only slightly better than the default setup. However, you need a colorimeter to get this level of improvement from the monitor since it's the only tool that can guide you properly. They aren't cheap and practical if you are only gaming, so we don't recommend spending more cash.
There were some issues with the Samsung Odyssey G5 S32AG55's panel uniformity since there were light leaks near the top corners of the screen. They added noticeable clouding in dark scenes and some color shifts in bright scenes. Curved monitors are always susceptible to this but it's entirely possible to get a better unit with fewer issues.
The monitor's backlight only managed to produce 268 cd/m2 at 100% brightness, but that's more than enough for regular use. The screen's contrast ratio reached 2420:1 at 60% brightness, so the screen is capable of deep blacks like most VA panels. It's a great choice for those who play games with plenty of dark scenes compared to IPS and TN variants.
The biggest weakness of VA panels is still its slower pixel response no matter what the advertisement says. New models like the Samsung Odyssey G5 S32AG55 have certainly improved, but smudges can still appear in contrasting transitions like when a jet booster lights up and streaks by in the night sky. You still need the monitor's overdrive to reduce the minor smudges, but we don't recommend maxing it out since doing so will add overshoot.
The Samsung Odyssey G5 S32AG55 is compatible with both FreeSync and G-Sync so you don't have to worry about tearing and stuttering. It is nice to have both since GPUs are either scarce or expensive, so you might be stuck with one brand or the other. Input lag sits at 4ms at 165Hz, so there is no need to worry about delays while gaming.
Thoughts on the Samsung Odyssey G5 S32AG55
The Samsung Odyssey G5 S32AG55 is a great pick if you don't want to spend too much cash on a fast gaming monitor with a big display. It is not the best in the category, but it's capable of great image quality thanks to its nicely-tuned VA panel. 32-inch screens should be your pick if you want to maximize immersion while staying with the 16:9 format.
However, skimping on your monitor also means you don't get to enjoy some essential creature comforts like a fully-adjustable stand. The Samsung Odyssey G5 S32AG55's build quality also reveals its affordability, unlike many budget models that felt like premium offerings. It's a decent buy if your focus is on its panel's capabilities, but we know some of the limitations mentioned above will be deal-breakers to many.
Pros:
Great Default Colors and Contrast
Affordable Big-Screen Monitor
High Contrast
FreeSync/G-Sync Compatible
Cons:
Limited Features
Poor HDR Performance
Minimal Blurring
About the Author: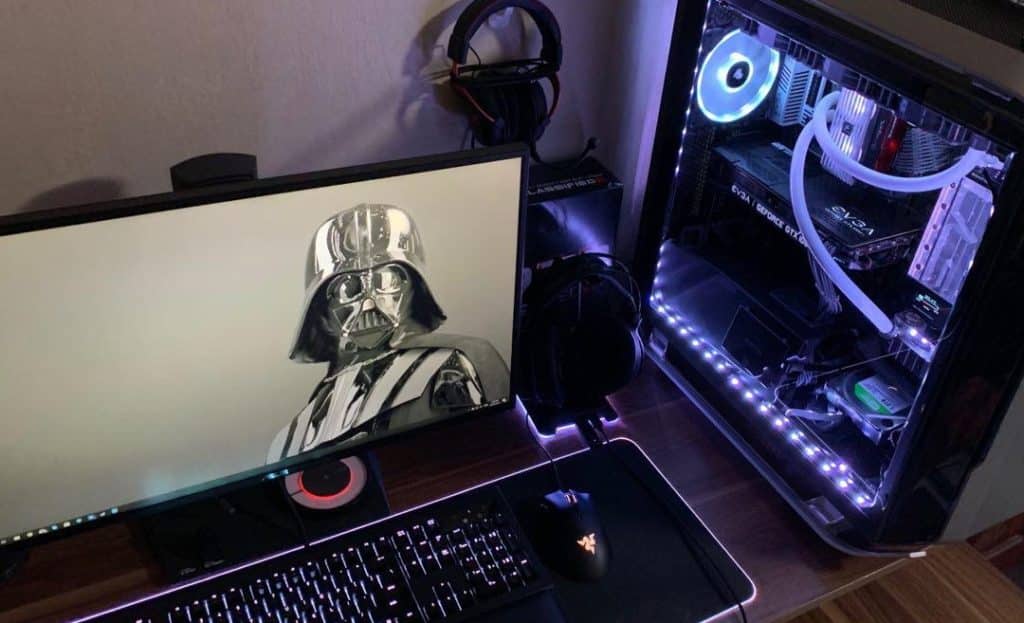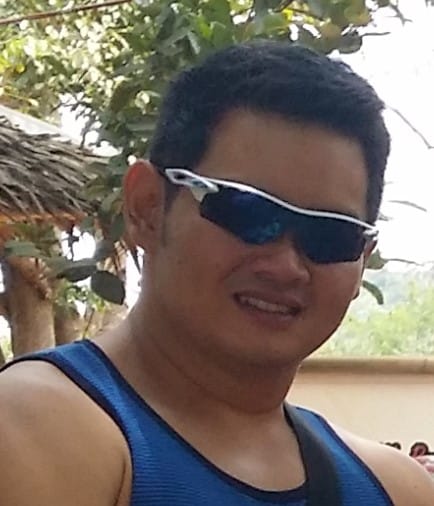 Paolo is a gaming veteran since the golden days of Doom and Warcraft and has been building gaming systems for family, friends, and colleagues since junior high. High-performance monitors are one of his fixations and he believes that it's every citizen's right to enjoy one. He has gone through several pieces of hardware in pursuit of every bit of performance gain, much to the dismay of his wallet. He now works with Monitornerds to scrutinize the latest gear to create reviews that accentuate the seldom explained aspects of a PC monitor.