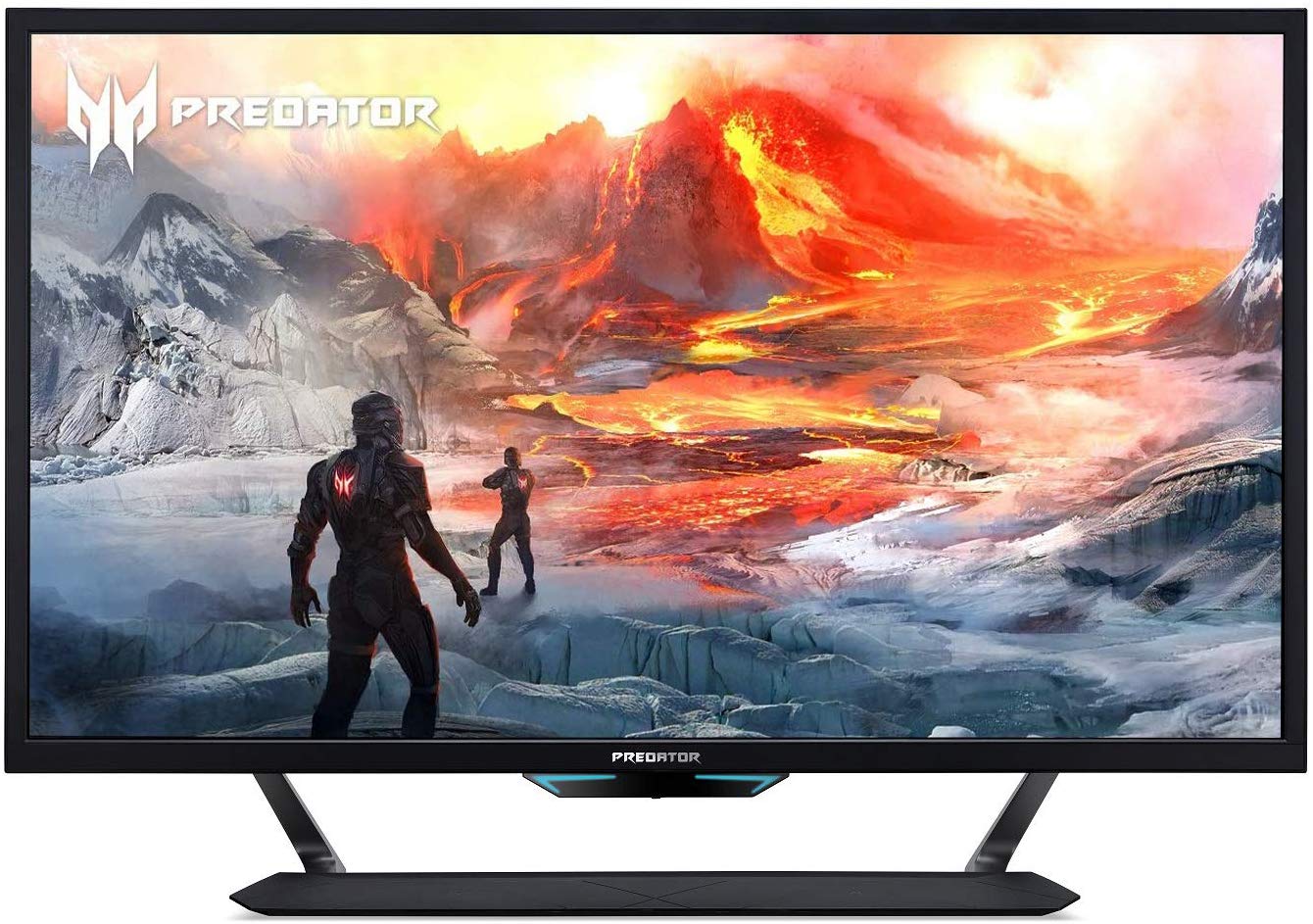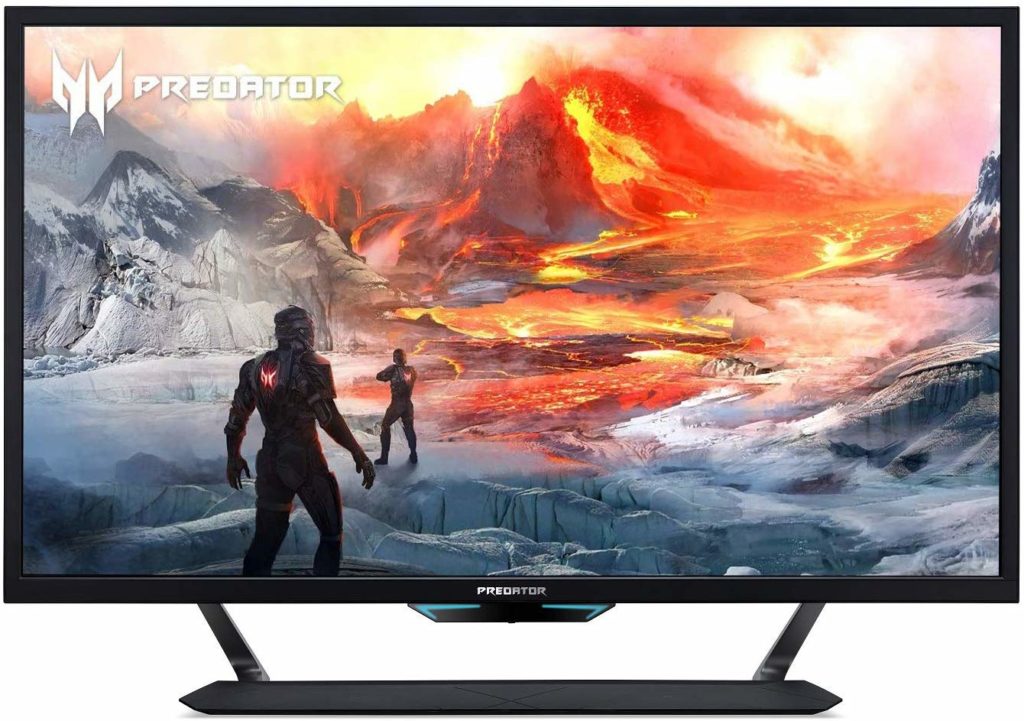 Pros:
Large, 4K Screen
Excellent Image Quality at Default
Impressive HDR Performance
FreeSync/G-Sync Compatible
High Brightness and Contrast
Highly Recommended
Cons:
4K 144Hz Needs Two DP Connections
144Hz Operation Locks out HDR and G-Sync
Prone to Blurring
The Acer CG437K sports a large, gaming-grade display with flagship specs such as its 4K 144Hz screen with HDR 1000 capabilities. The LFGD or large format gaming display is essentially a TV due to its size but without the disadvantages associated with it. The Acer CG437K is an attractive solution for couch gaming while being cheaper than BFGDs, so let's check out what it can really do.


Acer CG437KP Specifications
Screen Size: 43 Inches
Resolution: 3840 x 2160 UHD
Aspect Ratio: 16:9
Panel Technology: Vertical Alignment (VA)
Refresh Rate: 144Hz
Response Time: 4ms
Contrast Ratio: 3000:1
Brightness: 1000 cd/m2 Peak
Built-in Speakers: Yes (2 x 10 Watts)
Stand: Height – No
Stand: Tilt – Yes
Stand: Swivel – No
Stand: Pivot– No
VESA Compatibility: Yes (100 x 200)
Connectivity: DisplayPort 1.4 x 1, HDMI 2.0x 3, USB-C x 1, USB 3.0 x 2, USB 2.0 x 2, 5mm Jack (In/Out)
Dimensions (W x H x D): 38.5 x 26.5 x 10.4
Weight: 41.1 lbs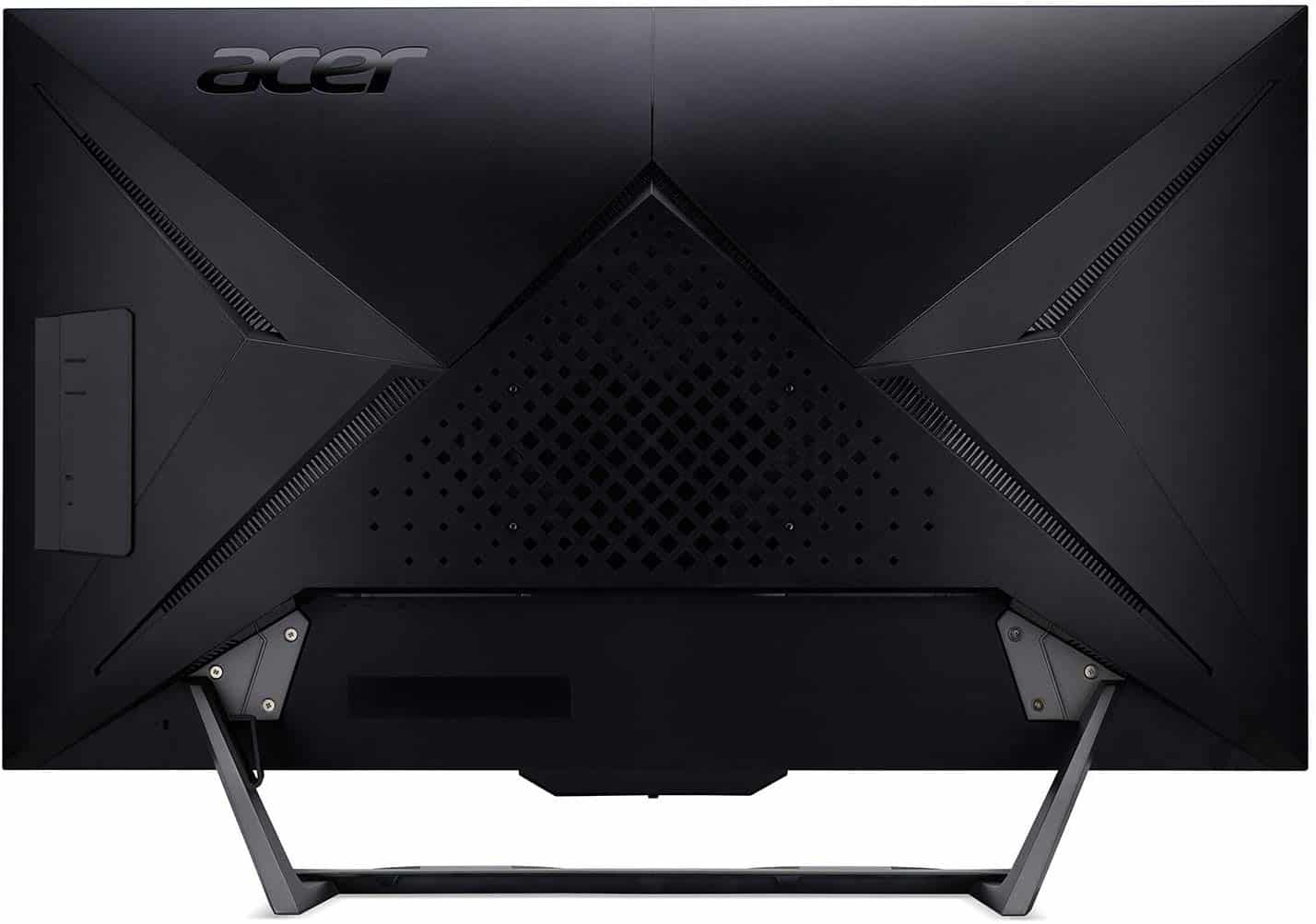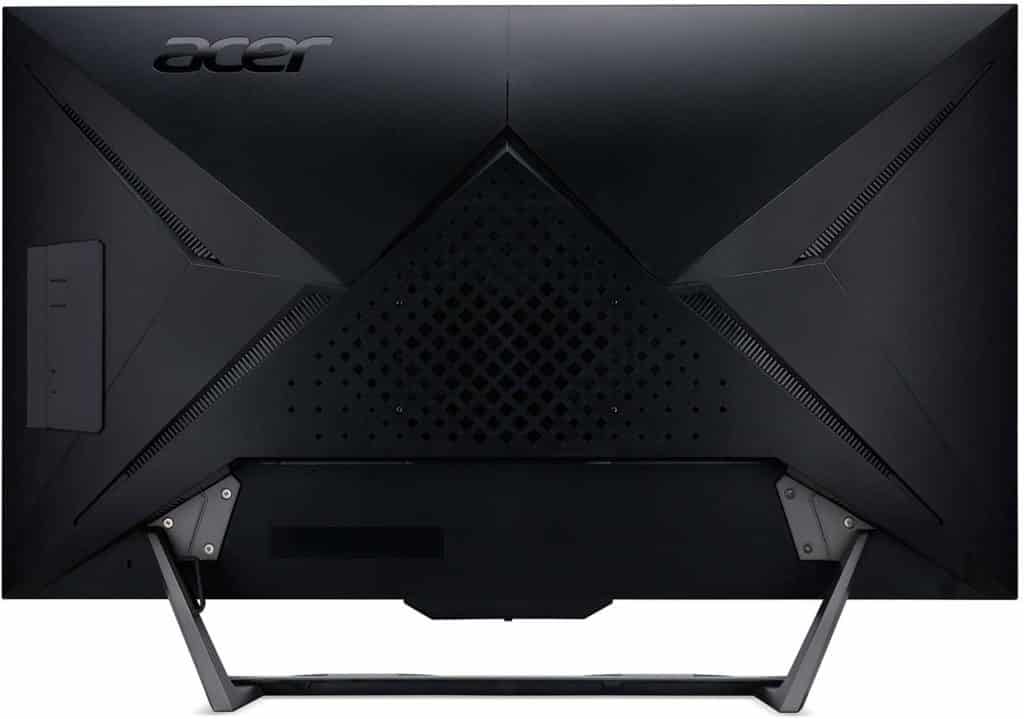 Design and Features
The Acer CG437K isn't your typical monitor due to its size, design, and specifications which are all aimed at enthusiast gaming. The distinct Predator treatment is applied to give the product a more edgy and premium look. The display area isn't bezel-free, but that's forgivable since VA panels have thick inner borders.
The Acer CG437K's size isn't as massive or imposing like the Alienware AW5529QF or the HP Omen X 65. However, this fact means that the monitor is more suited for desktop setups without sacrificing its potential for couch gaming. The CG437K is more versatile due to this, especially if you are not shopping for a screen meant for the living room.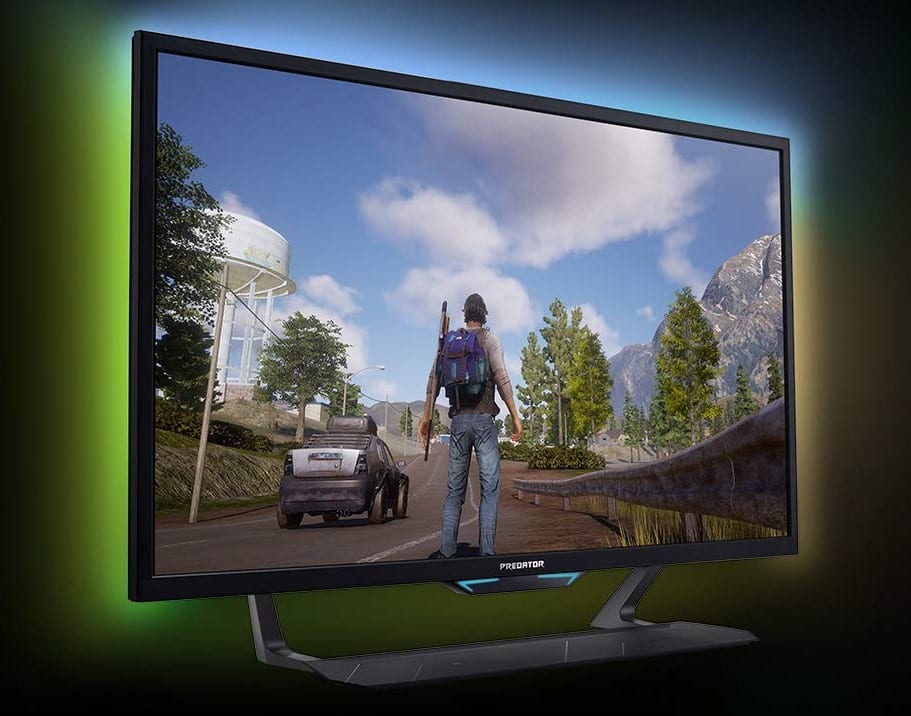 The rear of the Acer CG437K has massive slits for ventilation while doubling as an aesthetic feature that jives with the Predator branding. This model includes four RGB LED strips that connect to slots in the monitor and are controlled by a specific sub-menu in the OSD. You can set it to sync with music or games such as League of Legends or set specific patterns and colors to your liking.
One of the special features of the Acer CG437K is its ambient light sensor that sticks just below the bottom bezel. The add-on detects how bright or dark your surroundings are and then helps the monitor compensate for it. There is also a proximity sensor involved which puts the monitor on standby when no one is around and snaps it back into action once it detects a person.
The Acer CG437K is supported by an extra-wide metal stand that's bolted to the heavy chassis for security and durability. You only get tilt adjustment with the default setup, but it's rare that you will need to adjust the height or even swivel a screen of this size. You can opt for VESA mounting with 100 x 200 adapters, but its quite a challenge to find a suitable product that can handle the weight.
The Acer CG437K may look like a high-end TV, but it still is a full gaming monitor deep down. The layout includes three HDMI 2.0 slots like most 4K TVs, but you will also find two DisplayPort 1.4 slots meant for the PC and 4K 144Hz operation. There is also a total of seven USB 3.0 ports on the monitor which will allow it to handle just about every peripheral a typical setup can have.
Another special feature of the Acer CG437K is it comes with a USB-C slot which you can use to connect mobile devices. This connector adds even more flexibility to the already very capable monitor since it can receive video signals from more device types. However, the sad news is its power delivery which is only limited to 30 watts.
There is also a dedicated remote for the Acer CG437K which makes it easier to adjust a few settings if you are on the couch. However, the four-button and joystick combination is already easy to use since its quicker to access the various submenus of the OSD.
The Acer CG437K has a pair of punchy, 10-watt speakers with just enough bass response and clarity to make it usable for games and movies. Its quality is comparable to what some midrange 4K TVs offer, so we know some will prefer headsets or dedicated speaker systems for more intense gaming. But don't get us wrong; it's nice to have something that isn't limited to two watts per channel as most gaming monitors have.
Display and Performance
The Acer CG437K boasts a 43-inch VA panel with a 3840 x 2160 resolution, 144Hz max refresh rate, and 4ms response time. The backlight has a 1000 cd/m2 peak output while contrast is rated at 4000:1. This monitor supports the VESA DisplayHDR 1000 spec sheet which means you get improved image depth and range.
Displays in this size are less crisp than the typical 4K computer monitors we are used to, but the 103 PPI pixel density isn't something to sneer at. The screen still looks extra crisp and well-detailed, and you will only see the individual dots if you place your face next to the panel. Scaling might still be needed for some users, but the expansive space is a nice thing to have for multitasking.
The Acer CG437K is capable of fantastic color quality out of the box, starting with 97% sRGB and 88% DCI-P3 coverage. The DeltaE average for the two gamuts sits around 1.33, so the screen looks natural and well saturated by default. The color temperature slightly exceeds the 6500K point, but the variance is too little to notice and non-detrimental for the product's main purpose.
The gamma on the Acer CG437K and its modes all fall within 2.2, so the screen doesn't look too dim or bright in some instances. The maximum contrast recorded from the VA panel sat at 4900:1, while the backlight reached as much as 940 cd/m2 in SDR and 1250 cd/m2 in HDR. Grayscale and black luminance is excellent, so shadows and dark scenes will always look good and balanced.
The Acer CG437K's image quality is already excellent as soon as you pull it out of its box. Even if the OSD packs a ton of options such as six-axis color sliders for calibration, there is very little need to touch them. We only recommend setting the brightness to the desired level and making sure that HDR mode is activated manually to ensure that you always get the peak brightness level in HDR content.
The Acer CG437K's panel uniformity showed a small hotspot on one quadrant near the corner which was slightly noticeable when viewing an all-black image. The rest of the screen was not affected by visible clouding, and the defect isn't noticeable when games or movies are on display. Take note that there are manufacturing tolerances, so no two units will look the same in this regard.
The Acer CG437K showed great pixel response time at 144Hz, with blurring kept at a minimum. You need to stare at the screen to notice the trails, but it isn't anything unnatural to a VA-based display product. Stepping down to 120Hz did not show any major difference, apart from some minor artifacts here and there.
The difference between 120Hz and 144Hz is almost perfectly negligible, but that's where the Acer CG437K's flaw lies. You need to use two DisplayPort cables with this monitor for 144Hz operation, unlike the Acer X27 and the PG27UQ. However, doing so will lock out its Adaptive Sync capabilities and HDR, making FreeSync and G-Sync useless.
Using a single DP cable is much more desirable even if you lose a few frames simply because the HDR performance of the product is too good to miss. You will also need G-Sync and FreeSync at this resolution, where any GPU, even the top-end ones, will be tested. Input lag sits at 6ms for 120Hz and 5ms for 144Hz respectively, so there is still no delay no matter which mode you choose.
Thoughts on the Acer CG437K
The Acer CG437K is a fantastic 4K 144Hz monitor and is a must buy if you are in the market for a high-end display with all the right features. The VA panel is capable of excellent color quality by default, while HDR performance is impressive, especially for compatible games. The monitor is very responsive, so there is no need to worry about blurring and delays while enjoying your favorite titles.
The only flaw we can consider from the Acer CG437K is the DP slot issue where you need to use two to get 144Hz, but G-Sync and HDR get locked out. The Acer X27 can do it with one DP capable, but you do get chroma subsampling as a result. However, this monitor is still one of the best buys this year if you are looking to upgrade your visual experience.
About the Author: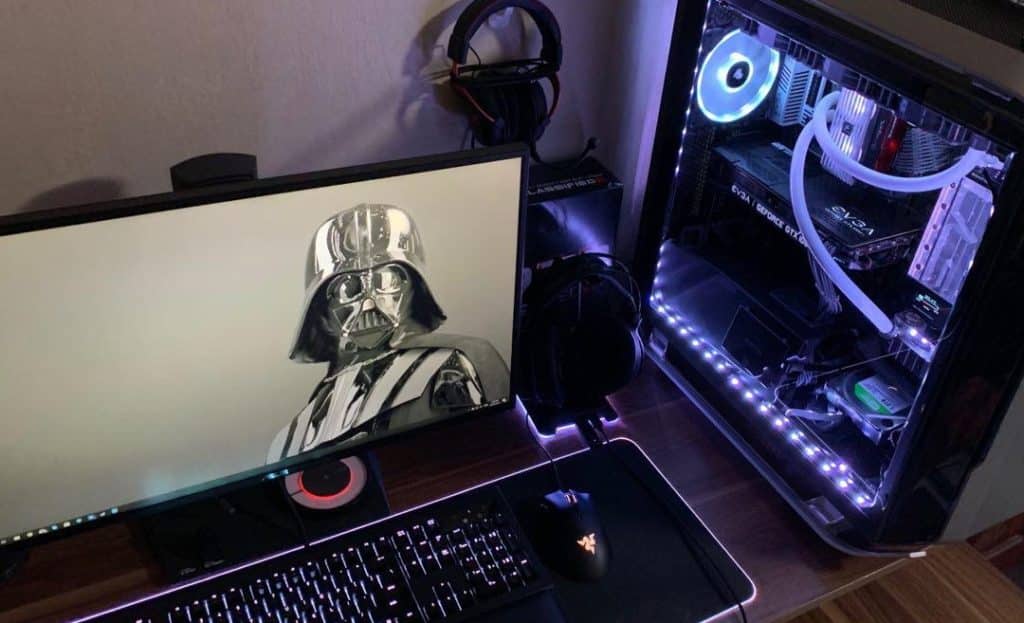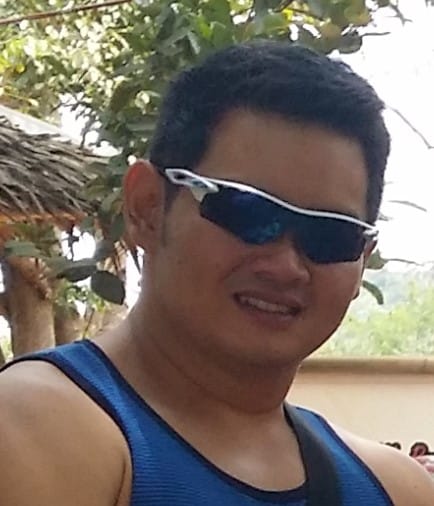 Paolo is a gaming veteran since the golden days of Doom and Warcraft and has been building gaming systems for family, friends, and colleagues since his junior high years. High-performance monitors are one of his fixations and he believes that it's every citizen's right to enjoy one. He has gone through several pieces of hardware in pursuit of every bit of performance gain, much to the dismay of his wallet. He now works with Monitornerds to scrutinize the latest gear to create reviews that accentuate the seldom explained aspects of a PC monitor.