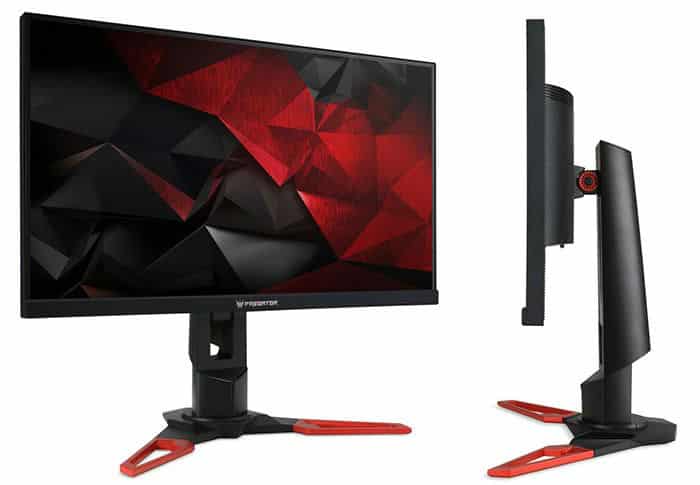 Acer Predator XB271HK Review
Ask any gamer what they want out of a gaming monitor and it's usually down to a couple of variables. The color has to be excellent, naturally. And you're also looking for other elements, such as top-level definition. We're happy to say that the Acer Predator XB271HK ticks those boxes resoundingly and is one of the best gaming monitors out there. It's a great start for the monitor, and should make most gamers foam at the mouth in anticipation.
Review of Acer XB271HK
You're looking at a 27-inch panel here, and it's housed in a rather lovely Matt cabinet that looks the business. Looks do happen to count quite a lot for monitors these days, the sharper, the better. It looks sleek and stylish, and we see that as a plus point.
The stand is a high-quality one, bringing a good level of movement choice for those gamers who have the 'perfect tilt' in mind. With this Acer, you get 40 degrees of tilt and 30 of the swivel. It's got movement, basically, and should fit in with anyone's viewing requirements.
The display quality is uniformly excellent, pretty much. Looking at color first, you get the reds, greens, and blues exactly as God (or the coder) intended them to be. We tested the game out on a few titles, and the color response was vibrant and vivid. It's a real feature of this model, and a credit to Acer that they have delivered admirably on a gaming monitor for color. We tried out Far Cry Primal, for example, one of the most colour-heavy games of the last six months, and it passed with flying colors (if you excuse the poor joke). Bright and clear, it uses the palette perfectly.
Sometimes, for example, you see a skin tone that doesn't quite look human on some game titles with some monitors. No such problem here. Sophisticated and detailed skin work, as well as textures on creatures in Primal, were all handled beautifully.
When it comes to lag after input (where the monitor responds to a controller's movements), you're looking at a very sharp and rapid response. This is especially useful if you're a shooter fanatic, and we tested it on our favorite game, Destiny, and it performed with silky smooth response and precision. Monitor lag is no issue.
The stand is rocking solid, so there're no issues there, but the size of the stand is a major feature too, at 455 mm wide. Big and tough, it requires plenty of space on your desk, so bear that in mind.
Some other features make this a nifty little purchases. Predator has some in-built technology, for example, that makes eye strain a thing of the past. If you're clocking up those hours playing the games that matter, you could be open to serious eye strain and even damage. With the Predator, there's no problem.
It uses something called EyeProtect, which makes it a lot safer and easier on the eyes. It has a flicker-less feature and also a blue light function so that you can manage the glare more effectively. It's very smart and just shows how Acer are pulling out the stops technology wise on their monitors.
Predator GameView is another feature that just adds that extra dimension to the gaming experience. This gives huge amounts of control over the aspects of gaming that other monitors are still missing out on. Like your shooters? Try the aim control, which allows you to set up points on the screen so your hip firing is lethal. You can even make super precise adjustments to color to suit your playing preferences.
But the real jewel in the crown here is G-Sync. This is an amazing feature that the Predator uses incredibly well. It simply syncs up your GPU with the refresh rate on the monitor.This takes out stuttering and tearing and makes for a silky smooth playing experience. We loved it, and it delivered fantastic visuals.
The bad
Let's be honest, this is not the cheapest monitor you are ever going to buy. This is not such a bad thing, hough, because you do get a fair amount of spec for your money. But we can't let this one slip through the review net without mentioning that you are going to be spending upwards of £550 for one of these. It's an investment, due to the good features mentioned above, but it's still a good portion of anyone's pocket money, and we would have liked to have seen a little off that to justify the purchase fully.
The ugly
Okay, we're over the price. But the big and ugly aspect here is the sound. The speakers in the unit are basically underpowered,a nd you'll have to fiddle around with extra kit to make that different. We know it seems a little picky, but gamers needs good sound, so it's a real issue.
The verdict
The Acer Predator XB271HK has 27 inches of glorious visuals that simply can't be argued against. The price is a little scary for some, and the sound is poor. But the colour and the choices in visuals that you can control make this a good-looking, powerful piece of kit. And that G-sync is something else.