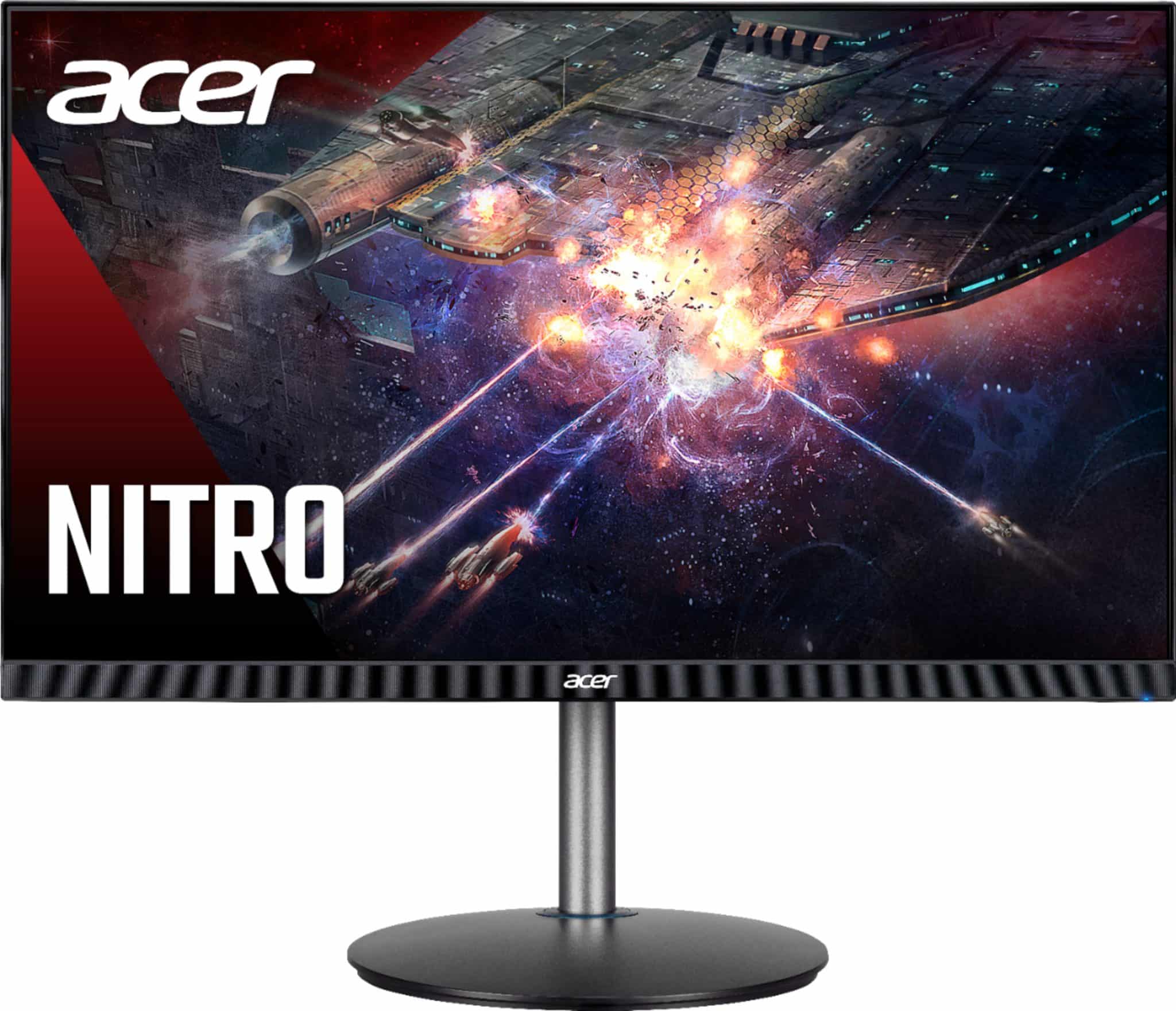 The Acer XF243Y offers smooth and responsive gaming with better colors at a reasonable price point. 144Hz 1080p IPS monitors have flooded the market in recent times, but like with previous trends, we're bound to get 165Hz versions in between. The Acer XF243Y is a promising prospect if you want a competitive gaming monitor for cheap, but let's check out what it can do first before you buy.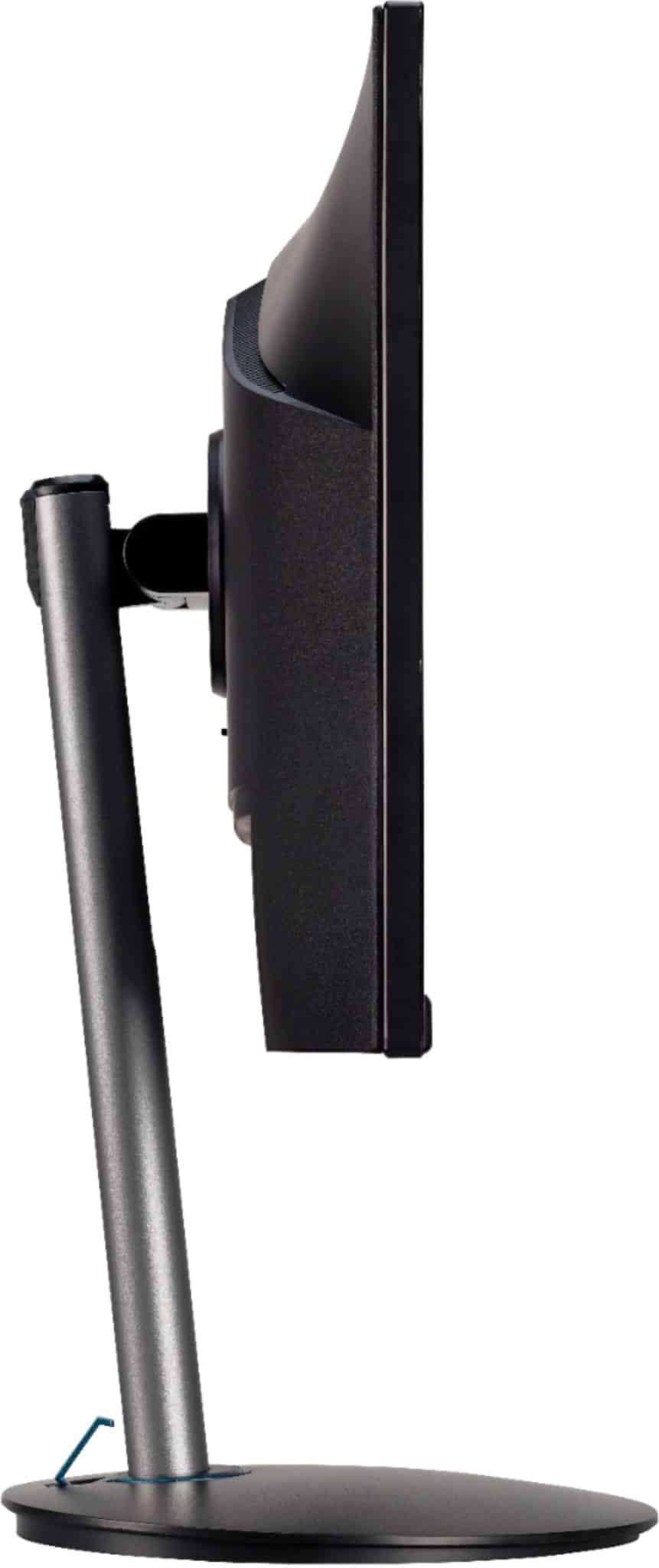 Acer XF243Y Specifications
Screen Size: 24 Inches
Resolution:1920 x 1080 FHD
Aspect Ratio: 16:9
Panel Technology: In-Plane Switching (IPS)
Refresh Rate: 165Hz
Response Time: 4ms (0.5ms MPRT)
Contrast Ratio: 1000:1 (Static)
Brightness: 350 cd/m²
Speakers: Yes (2 x 2 Watts)
Stand: Height – Yes
Stand: Tilt – Yes
Stand: Swivel – No
Stand: Pivot – No
VESA Compatibility: Yes (100 x 100)
Connectivity: DisplayPort 1.2 x 1, HDMI 2.0 x 2, 3.5mm Jack x 1
Dimensions (WxHxD): 21.26" x 19.60" x 9.20"
Weight: 11.46 lbs

Design and Features
The Acer XF243Y follows the aesthetics of the brand's Nitro monitors, so it looks like your typical office display but with more firepower. The device has a matte black chassis without any gamer-centric accents, although the gray pillar of the stand looks quite good against it. The display is bezel-free on three sides, but you will still see flushed inner borders that won't be distracting once you are gaming.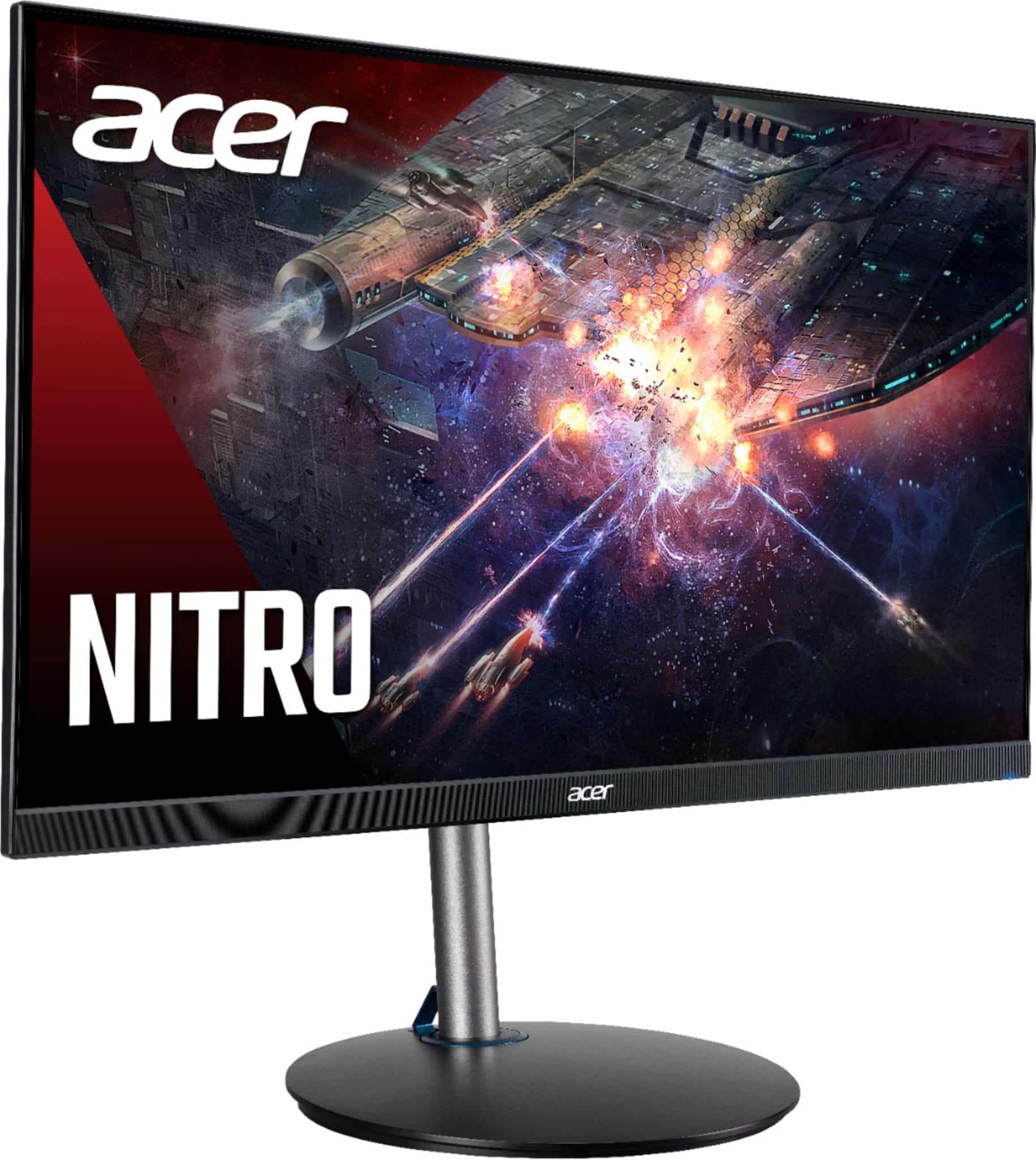 The Acer XF243Y is actually a compact monitor, if not for its circular base that sticks out a lot and takes up most of the depth it needs from your desk. It's no bigger than a regular office monitor, so most wouldn't have any trouble setting it up. It is also lightweight at under twelve pounds, so it is portable enough to take with you to LAN parties or if you move around a lot.
We didn't find anything wrong with the Acer XF243Y's build or construction quality, but there are some aspects that don't make it feel like a premium product. The plastic panel used for the chassis feels weak since there is some flexing, while the buttons on the monitor feel like they are loose. It is okay to get a budget monitor with minor issues like these, but other budget models are better in this regard.
We do like that the Acer XF243Y has an OSD joystick that's accompanied by buttons at the back of the housing. It's always a big plus to have an easy way to manipulate a monitor's features, especially if you tweak your display often. Most budget monitors are still stuck with button layouts, but we're glad brands are already improving this often forgotten aspect, even for their budget lines.
The stand included with the Acer XF243Y isn't fully ergonomic, but you can adjust its height or tilt the display. It isn't the best for multi-display setups, but at least you can get a comfortable view that matches your height. You can also swap it with a VESA mount or arm, but that's only necessary for space-saving or if you have multiple monitors.
The I/O panel on the Acer XF243Y doesn't offer a lot, but you get a DisplayPort 1.2 slot and two HDMI 2.0 slots. That's enough for a gaming PC and two gaming consoles on the side so you can use it as an all-around display. There are no USB ports on this variant, but those are rarely missed except for some users who are meticulous about cable management.
The Acer XF243Y manages to include a pair of speakers for the price, but they only have 2 watts of power per channel. They don't sound powerful enough for gaming or entertainment use, but it's always handy to have a secondary if you don't feel like using your headset. We've seen an uptick in demand for displays with speakers last year, but it's mainly due to the rise of work from home setups caused by the pandemic.
Display and Performance
The Acer XF243Y sports a 24-inch IPS panel with a 1920 x 1080 resolution, a 165Hz maximum refresh rate, and a 0.5ms MPRT response time. The backlight is rated at 350 cd/m2 while the contrast ratio sits at 1000:1 like most IPS panels. The monitor doesn't offer any special features like HDR since it focuses on smooth and responsive visuals more than anything else.
24-inch 1080p monitors are still very common in homes, offices, and schools, so most users won't need room to adjust to its screen. The pixel density isn't the sharpest, but visibility is good in both games and movies. Full HD is still the universal format for competitive gaming as well due to that, but the other side of the coin is that it's rather easy to get high framerates with it using any GPU.
The Acer XF243Y covers 100% of the sRGB gamut, but it is not tuned for HDR performance so its DCI-P3 coverage is quite low at 74%. Default accuracy is excellent for a budget monitor since the deltaE average sits at 2.11, so there is no need to calibrate it apart from adjusting the backlight. Acer did a good job with this monitor since it looks well-balanced and vibrant even if it doesn't offer an extra-wide gamut representation.
Calibrating the Acer XF243Y with a colorimeter can give you an accuracy average of 0.51 which is fantastic for a budget gaming display. Doing so will pit this model against prosumer variants, but you are limited to sRGB. However, we still don't think that it's worth the cost of the colorimeter which can be more expensive than the display itself.
The Acer XF243Y's contrast ratio is its weakest link since the monitor was only able to produce 990:1 at 60% brightness. That's a typical result for IPS panels, but we've seen some units reach higher with lower black luminance averages. The backlight reaches 355 cd/m2 at 100% which is too bright for extended use, so it is better to turn it down to more reasonable levels.
Another issue we saw on the Acer XF243Y is its black uniformity which was largely affected by the backlight bleeding on the top and bottom edges of the screen. Full-color images won't be a problem, but dark games can sometimes make the clouding visible. Take note that this aspect varies between every unit due to manufacturing tolerances and the nature of IPS tech.
The Acer XF243Y's best quality is its responsiveness which is quite impressive compared to TN gaming monitors. You don't need to use its overdrive settings since it is practically blur-free so it is indeed good for competitive gaming right away. Using the overdrive modes will reduce in overshoot, so using them isn't recommended.
The Acer XF243Y is a FreeSync gaming monitor but it also works with Nvidia's G-Sync Compatible mode. It is always great for gamers to get rid of exclusivity so you are free to choose your GPU when the time to upgrade arrives. Input lag is limited to 4ms, so there are no delays or de-synced instances while playing your favorite E-Sports title.
Thoughts on the Acer XF243Y
The Acer XF243Y isn't the current best, but its excellent responsiveness and default image quality make it a great choice for gamers. You don't need to calibrate to get the most out of it, so it's ready to go once you plug it in. it also doesn't have a lot of extra features, but it has a height-adjustable stand and an OSD joystick for your convenience.
The Acer XF243Y's weak points are mostly related to the nature of its IPS panel, so you should know what you are getting into when buying this type of display. It's also not the most affordable compared to similar monitors, with some like the MSI G241 costing around $180 versus $220 for this option.
Pros:
Affordable 165Hz IPS Gaming Monitor
Superb Pixel Response Time and Low Input Lag
Excellent Default Accuracy
FreeSync/G-Sync Compatible
Cons:
Pricier than Similar Monitors
Poor Contrast Ratio
Limited Features
About the Author: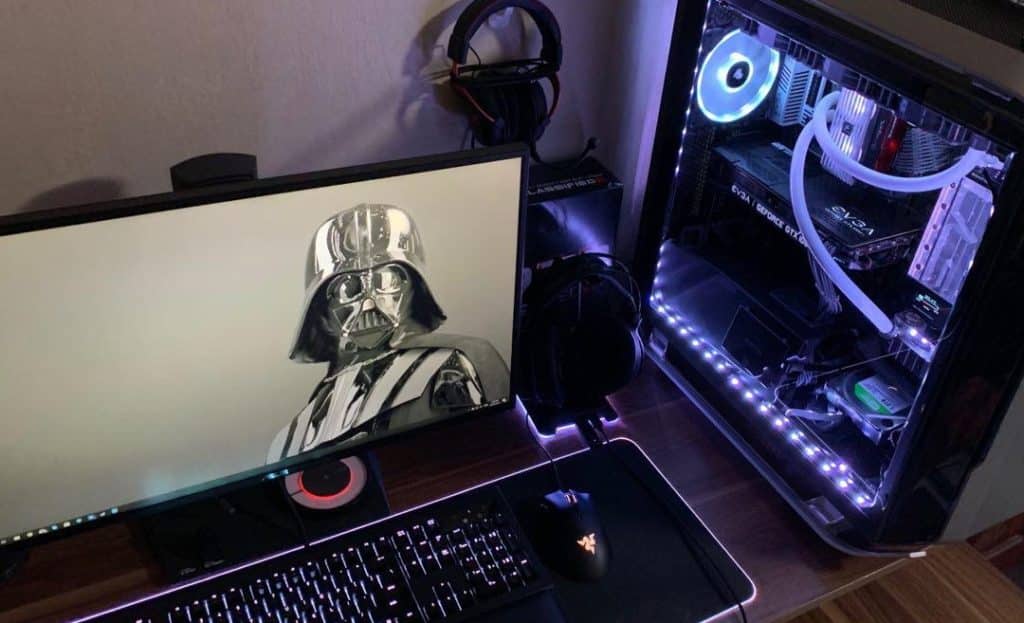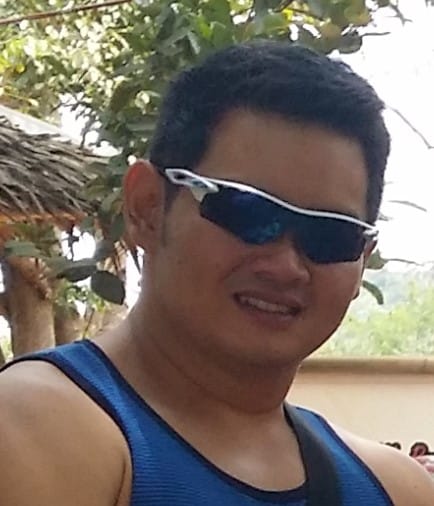 Paolo is a gaming veteran since the golden days of Doom and Warcraft and has been building gaming systems for family, friends, and colleagues since his junior high years. High-performance monitors are one of his fixations and he believes that it's every citizen's right to enjoy one. He has gone through several pieces of hardware in pursuit of every bit of performance gain, much to the dismay of his wallet. He now works with Monitornerds to scrutinize the latest gear to create reviews that accentuate the seldom explained aspects of a PC monitor.