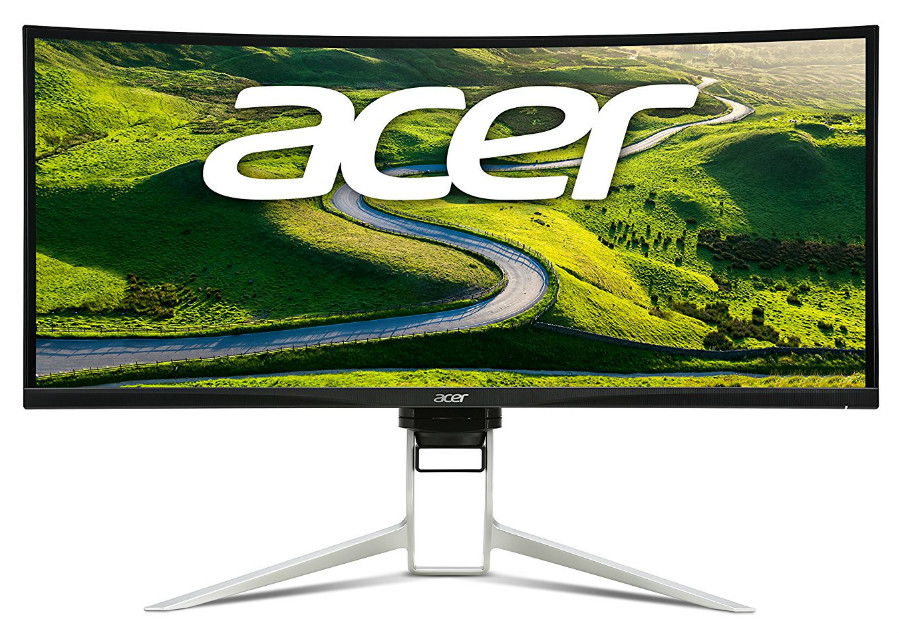 The Acer XR382CQK is a glorious 38-inch ultrawide monitor with excellent features and a beautiful panoramic form and view. This product is the biggest in Acer's gaming stable, plus it delivers stunning gaming pedigree while also promising excellent color-critical output for professionals. The Acer XR382CQK hits the premium end of the pricing bracket, but its enticing size makes it all the more exciting to check it out.

Acer XR382CQK Specifications
Screen Size: 38 Inches
Resolution: 3840 x 1600  UW-QHD
Aspect Ratio: 21:9
Panel Technology: In Plane Switching (IPS)
Refresh Rate: 75Hz
Response Time: 5ms
Contrast Ratio: 1000:1 (Static)
Brightness: 300 cd/m²
Built-in Speakers: Yes 2 x 8 Watts
Stand: Height – Yes (5 Inches)
Stand: Tilt – Yes (-5°/+35°)
Stand: Swivel – No
Stand: Pivot – No
VESA Compatibility: No
Connectivity: DisplayPort 1.2 x 1, DisplayPort Out x 1, HDMI 2.0 x 1, HDMI 2.1 MHL x 1, USB-C 3.1 x 1, USB 3.1 x 4, 3.5mm Audio Jacks
Dimensions (WxHxD): 34.76″ x 19.5″ x 12.16"
Weight: 23.61lbs

Design and Features
The Acer XR382CQK shares its aesthetic treatment with the Acer X34 which is one of the gaming crowd's favorite ultrawides. One thing that sets these two amazing models apart is the sophisticated black and silver feature which forgoes the gaudy or aggressive theme of its predator brethren. We can say that we prefer this theme for its subtlety and finesse, which most, especially professionals would prefer.
The massive screen of the Acer XR382CQK doesn't have bezels, but the dreaded black borders are still there, so you don't get the impression of an infinite screen. Upon turning the display on, you instantly notice these strips but would soon forget about them. Let's face it, 38-inches of real estate isn't something you can easily ignore. To accentuate the premium feel of the screen, there are 12 LEDs which be lit in red, blue, white, green or orange with different effects.
Like other 38-inchers, you will need extra space to hold this beast and its heft. Thankfully, the architectural looking metallic stand provides excellent stability despite its angles, You only get a height adjustment of 5 inches plus forty degrees of tilting, but we don't think you would find any reason to swivel or pivot a 38-inch monitor. Simply set the perfect height and angle for you, sit in the middle, and let the Acer XR382CQK hug you.
The Acer XR382CQK includes an extensive list of features, including multiple input ports for your every need. For video input, you can choose between DisplayPort 1.2, HDMI 2.0, HDMI 2.1 MHL, plus a DisplayPort Out for daisy chaining multiple monitors. For convenience, you get a four-slotted USB 3.1 hub and a lone USB-C receptacle for future proofing.
There are 3.5mm jacks for audio and headphone pass-through, plus a pair of 7-watt speakers. The set is fairly loud with sufficient bass response, but for the total immersive experience, we suggest using a high-quality set or a good pair of cans. They are, however, sufficient for basic media appreciation so that you can go without an extra set.
Display and Performance
The Acer XR382CQK features a stunning, 38-inch IPS panel with a 3840 x 1600 resolution, 75Hz refresh rate, 5ms response time, and a tighter, 2,300 curvature. This model has a more pronounced arc than the Acer X34, although the size might hide the difference. Out of the box, the color accuracy with 100% sRGB coverage and a Delta E of 1.27 is excellent thanks to the 10-bit interface which is capable of 1.07 billion colors.
Our test images and gaming sessions did not reveal any degradation or skewing noticeable enough to warrant calibration, although some might want to adjust some settings in the rich OSD. You can conveniently access color temps, brightness, and other menus via the multi-directional jog button on the side. If you, however, notice some errors in the chromaticity, this model includes a six-axis color calibration tool to help correct even the secondary colors.
Another excellent facet of the Acer XR382CQK is its superb panel uniformity. Our test model did not have detrimental backlight bleeding, color shifts, or deviations more than 11% across the 38-inch diagonal. Although, it is important to remember that this model carries an IPS panel, so the lottery concept applies. Acer is a reliable brand, but some of their amazing products are still susceptible to defects.
Like its gamer-centric cousins, the Acer XR382CQK aced our gaming test with Mass Effect Andromeda and Battlefield 1. Colors are stunning and correctly saturated, and blacks are oily and deep thanks to the 950:1 actual contrast ratio. This result exceeds other IPS gaming monitors including the 16:9 variants, which is saying a lot when it comes to IPS contrast ratios. The 2300r curvature works well in providing an immersive feel for the audience, even if it is less noticeable against the size of this monitor.
The extra headroom for frames from the 75Hz refresh rate helps the case of gaming at 3840 x 1600, which sits closer to the graphics requirements of 4K screens. Although 100Hz models like the X34 feel much smoother and blur-free, for immersive gaming purposes, you will find the Acer XR382CQK to be well worth the money.
If the processing load of the eye-candy goes over the top and FPS fluctuates, you can rely on AMD's FreeSync to help alleviate tears and stuttering. Gaming with the technology activated is a godsend, especially since AMD doesn't have new top range cards as of this time. For fast-paced action fans, the Acer XR382CQK is a good candidate thanks to its input lag of only 14ms, a few frames shy of the ideal sub-10ms models we usually recommend to pro gamers.
Thoughts
If it were me going through a myriad of ultrawide monitors for my next computer upgrade and if money wasn't an issue, the Acer XR382CQK is going to be an easy buy, worthy of at least joining my top three shortlists. The 3840 x 1600 resolution is unconventional for some titles, but the 75Hz refresh rate, low input lag, and FreeSync make this model an interesting solution for high-end gaming.
We wish Acer produced a 100Hz version, but we know that's asking too much since there is no available module from OEM manufacturers. Colors, contrast, and uniformity are all excellent, but the Acer XR382CQK doesn't have enough Adobe RGB or Rec. 709 coverage to warrant the desires of graphic professionals. Don't get us wrong, this is an excellent product worthy of its price, but it sits at an apex of the premium segment where gamer-centric models and designer products meet.