You can learn more about ultrawide monitors further down this page. But if you just want to see the best ultrawide monitors of 2018 then please take a look below.
20 Best Ultrawide Monitors for Gaming and other purposes: All Featured Monitors
Monitor
Screen
Speed
Price
Samsung C34F791 - Excellent 100Hz VA Gaming Monitor With FreeSync
VA
34-inch
3440 x 1440

100hz
4ms
Find Best Price
AOC Agon AG352UCG - All-New Ultrawide Gaming Monitor with G-Sync
VA
34-inch
3440 x 1440
100Hz
Find Best Price
Acer XR341CK -Best Ultrawide Monitor Freesync
IPS
34-inch
3440 x 1440
100hz
4ms
Find Best Price
Acer X34 -Best Ultrawide Monitor G-sync
IPS
34-inch
3440 x 1440

100hz
4ms
Find Best Price
Acer Predator Z35
VA
35-inch
2560 x 1080

200hz
4ms
Find Best Price
ASUS ROG SWIFT PG348Q - Best Ultrawide Curved Gaming Monitor Overall
IPS
34-inch
3440 x 1440

100hz
4ms
Find Best Price
LG 29UM68-P - Cheap Ultra-Wide Freesync Monitor
IPS
34-inch
2560 x 1080
60hz
5ms
Find Best Price
LG 38UC99 - Best 38-Inch IPS Ultrawide Monitor for Photographers and Creators
IPS
38-inch
3840 x 1600
75Hz
4ms
Find Best Price
Asus MX34VQ - Versatile Luxury Ultrawide Monitor
VA
34-inch
3440 x 1440
100Hz
4ms
Find Best Price
Dell U3417W FR3PK - 1440p Ultrawide Monitor for Professionals
IPS
60Hz
Find Best Price
Samsung S34E790C - Premium Ultrawide Monitor with Excellent Colors
IPS
60Hz
Find Best Price
Acer XR382CQK – Best 38-Inch Monitor for Gaming
IPS
75Hz
Find Best Price
LG 34UC89-G – 166Hz Ultrawide Monitor with G-Sync
IPS
166Hz
Find Best Price
Dell U3818DW– 3840 x 1600 USB-C Monitor for Professionals
IPS
60Hz
Find Best Price
Acer Z35P – 120Hz VA Gaming Monitor with G-Sync
VA
120Hz
Find Best Price
Asus XG35VQ – 100Hz FreeSync Gaming Monitor with Aura Sync
VA
100Hz
Find Best Price
Alienware AW3418DW – 120Hz Ultrawide Gaming Monitor with Excellent Color
IPS
120Hz
Find Best Price
BenQ EX3501R - 100Hz Ultrawide Monitor with USB-C
VA
100Hz
Find Best Price
LG 34GK950F
IPS
144Hz
Find Best Price
LG 34W95U
IPS
60Hz
Find Best Price
– Before buying an Ultrawide Gaming Monitor – Read further down this page: 
1.   Samsung C34F791 – Excellent 100Hz VA Gaming Monitor With FreeSync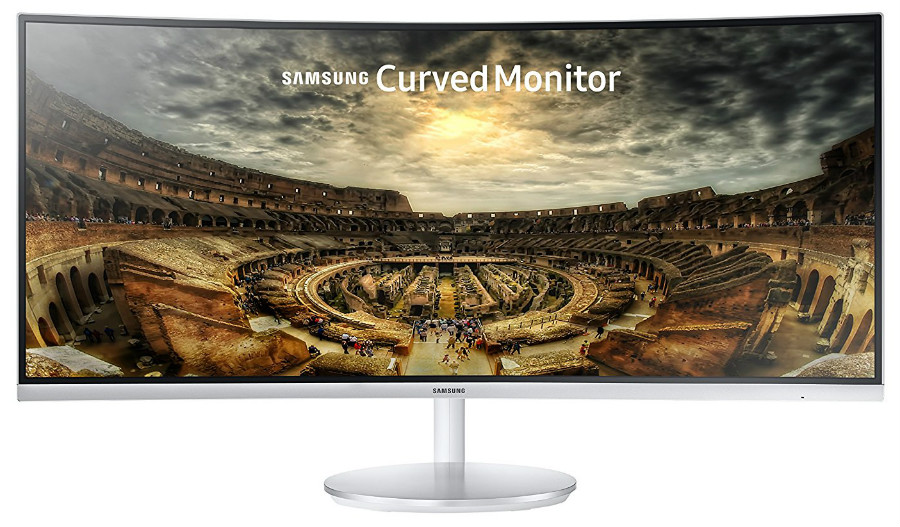 The 100Hz Ultrawide master race of gaming monitors was previously ruled by G-Sync enabled monitors with IPS panels. But as made apparent by their latest products, Samsung always tries to change the game with fantastic models with impressive specs and competitive pricing. One such product is the Samsung C34F791 ultrawide gaming monitor which is equipped with a 100Hz-capable VA panel. Out of the box, color vibrancy and accuracy is top notch, while the contrast level stays uncontested at 3000:1, making games and movies as immersive as ever. The Quantum Dot Backlight has a hand in this commendation since it does correct uniformity and color balances across the massive viewing space. Sceneries and explosive events become much more believable in our tests, and even if our RX480 test GPU overextended itself to produce optimized graphics, we are glad to report that gaming is smooth and this display is virtually lag-free.
Sceneries and explosive events become much more believable in our tests, and even if our RX480 test GPU overextended itself to produce optimized graphics, we are glad to report that gaming is smooth and this display is virtually lag-free. Another important feature of the Samsung C34F791 is its tighter 1500R curve which gives this ultrawide gaming monitor a hugging effect wherein the corners appear closer to your face. This configuration also closes the case on viewing angles, since ideally, you have to sit in the middle when viewing curved monitors.
The whole product is clad in a white and silver exterior which we love for its discreetness and class. And while the Samsung C34F791 is not as flexible as other gaming monitors, you do get height and tilt adjustments for maximum comfort. Finally, you have everything you need regarding input connectors since this product includes a rich I/O port with DisplayPort, HDMI, and USB 3.0 receptacles for your other peripherals plus VESA compatibility for mounting.
---
2. AOC Agon AG352UCG – All-New Ultrawide Gaming Monitor with G-Sync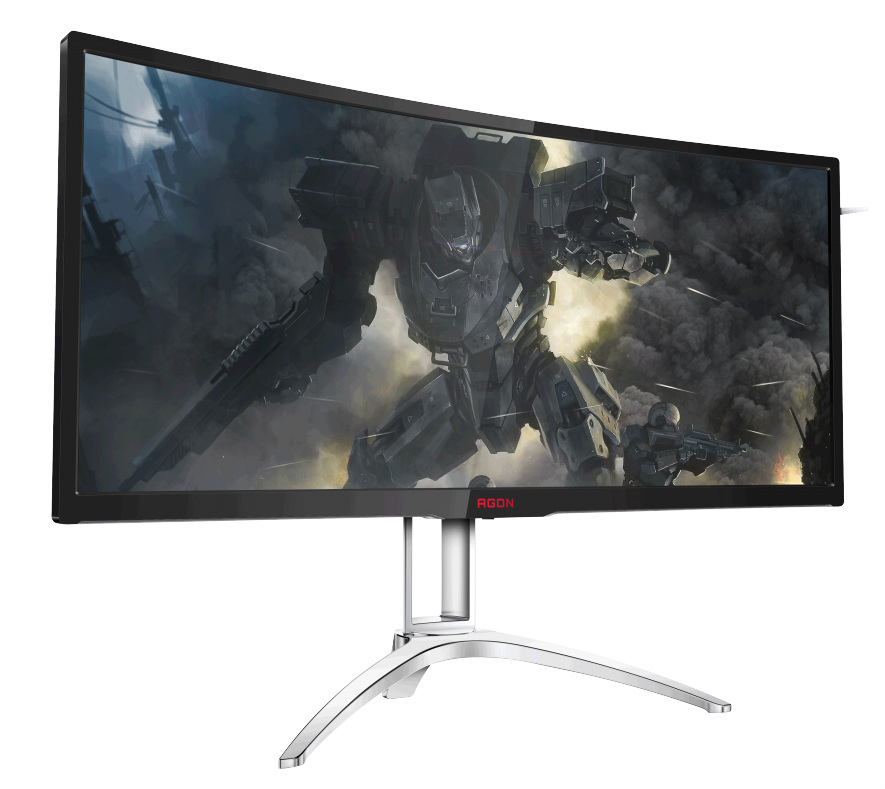 The AOC Agon AG352UCG is a relatively new G-Sync ultrawide gaming monitor which seeks to enter and earn its place in a segment ruled by Asus and Acer. Like the Predator X34 and the PG348Q from these two brands, this model comes with a 3440 x 1440 resolution, up to 100Hz refresh rate, and a VA panel which enhances the contrast levels to create deep blacks and accurate color transitions. You can get fantastic vibrancy by just adjusting gamma and brightness in the OSD, making this model ready for the battles you will fight ahead. VA panels suffer from issues such as interlacing, but immersion enthusiasts can look past these and enjoy the lush images this ultrawide gaming monitor can provide.
What makes the AOC Agon AG352UCG one of the best premium monitors is its G-Sync compatibility at a slightly lower price than its main competitors. 100 frames can be difficult for performance for value cards like the GTX 1060 and GTX 1070, but G-Sync will work its magic. AAA games appear much smoother making the visuals hard to argue with, and once you witness it for yourself, the price premium will be easier to swallow.
This gaming monitor features a gamer-centric design which sits in between aggressive and classy. From the front, the black bezel face looks secretive, but the sophisticated metallic stand which is durable and stable says that this product is at the top of the food chain. The rear of the cabinet will boast of metallic wing-shaped details with LED accents which can decorate your battle station with a multitude of colors. Of course, this exterior is as functional as it is decorative since the unique stand offers height, tilt and swivel adjustments so you can get a perfect view of the action. AOC has been around for decades, and you can't go wrong in investing your money on the AOC Agon AG352UCG.
---
3. Acer XR382CQK – Best Ultrawide Monitor For Gaming with Freesync
38-inch ultrawides like the Acer XR382CQK are slowly becoming more popular than the typical 21:9 models because of the extra vertical and horizontal real estate the 3840 x 1600 resolution provides. Professionals can work more freely while gamers enjoy a wider field of view, so there is little reason to get smaller variants if you are willing to spend the premium. Having a 38-inch behemoth sitting on your desk is a sight to behold, so getting lost in the process or in the immersion is easy.
Coupled with an excellent IPS panel, the Acer XR382CQK provides stunning visuals with its accurate color performance and superb panel quality. 100% of the sRGB color spectrum is correctly pushed out with an impressive Delta E of only 1.27, so the images are lifelike and vibrant. this is also a 10-bit interfaced panel, so you can enjoy 1.07 billion shades and gradients which contribute to the eye-popping visuals.
The best thing about the Acer XR382CQK is its ability to provide enjoyable gaming even if its category fits in a niche for business. The IPS screen has a 75Hz refresh rate which is enough to bring extra smoothness to your experience. Input lag measures at only 14ms, so players can enjoy their titles without any delay while utilizing their mechanical skills. To top these off, you can also enjoy tear and stutter free gaming with AMD FreeSync if you have a matching card. We imagine this beast to flex the hell out of the current Radeon GPUs, so having variable refresh rate will come in handy.
---
4.   Acer Predator X34 – Best Ultrawide Monitor For Gaming with G-sync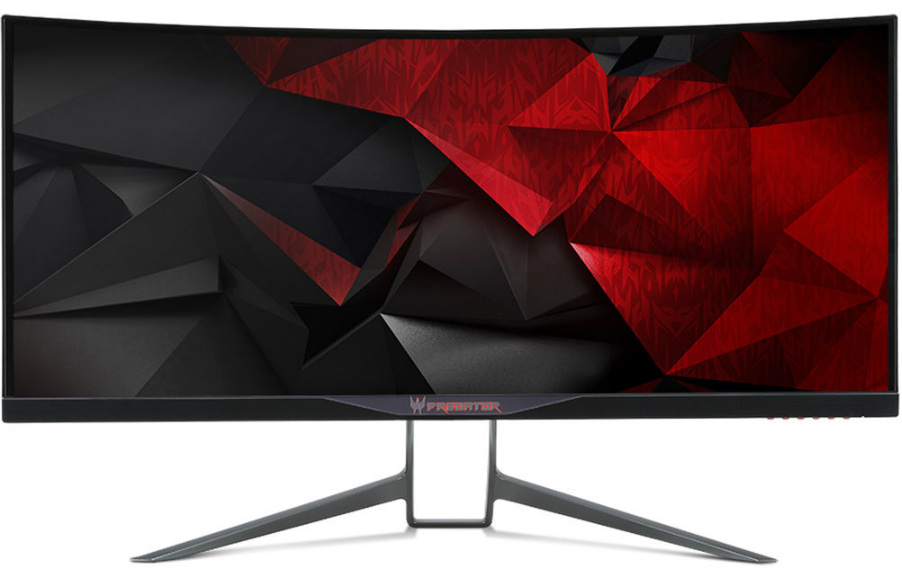 The Acer Predator X34 is probably one of the most popular Ultrawide gaming monitors in the market today. The X34 is a 34-inch gaming monitor complete with an amazing 1440p resolution and the Nvidia GSync feature. The design of the Predator X34 is aggressive. It has a metallic "Skeleton" stand that holds the entire monitor nicely. The stand allows you to adjust the monitor's height up to a maximum of 5 inches. You can also tilt the monitor up to a maximum from -35 to -5 degrees. You get a perfect 178-degree viewing angle that allows you to look at a lot of things at one time.
The X34 offers superb visuals thanks to its 100% color gamut and sRGB score. Not only that but this monitor uses the IPS display panel which is renowned for its impressive color reproduction. For the resolution, this monitor supports up to 3440×1440 resolution, and for you to be able to hit more than 60 frames per second, you will need to have a beefy Nvidia graphics card. In most cases, a GTX 1070 should be adequate, but if you want to crank up the settings, the GTX 1080 is preferred.
Now for its gamer-centric features. The Acer Predator X34 comes with Nvidia's GSync technology. This feature allows the monitor to intelligently communicate with the compatible Nvidia graphics card to ensure that no screen tearing will ever occur on the monitor. This gaming monitor also comes with a 4ms response time and a 60Hz refresh rate. An interesting thing to note here is that the monitor can be overclocked to 100Hz refresh rate. I just don't understand why the company didn't implement this themselves and that the consumer has to take an extra step to squeeze out the additional performance. Still, it can be done.
The X34 also comes with built-in speakers, but they are mediocre in performance. It also lacks additional ports as it only comes with a single DisplayPort and a single HDMI 1.4 port. Despite its shortcomings, the X34 is still a magnificent gaming monitor which is why a lot of gamers has recommended it. This monitor isn't cheap, though. As of the time of writing this article, the Acer Predator X34 costs $1248.99.
---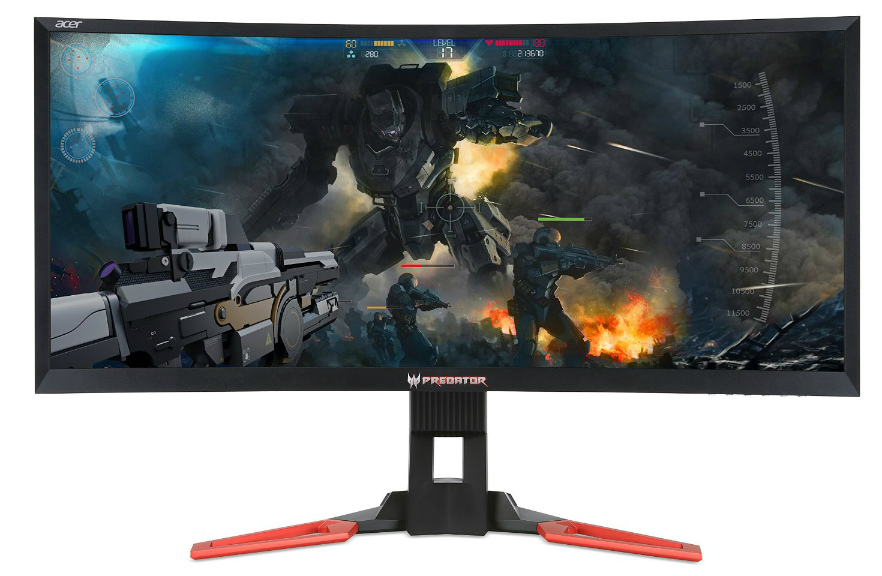 The next monitor in this list also comes from Acer, and it is also part of their Predator lineup. If you wanted the X34 for its impressive 100Hz Refresh rate overclocked, wait until you hear what the Z35 has to offer. The Acer Predator Z35 is an inch larger than the previous monitor at 35-inches, but one of the biggest differences between this one and the X34 is that this monitor only supports up to a maximum resolution of 2560×1080. Despite its downgrade in resolution, there are a lot of things to be happy about the Z35. The Acer Predator Z35 also provides an impressive visual experience as it manages to garner a 100% rating in both the color gamut and the sRGB tests.
The build quality of the Acer Predator Z35 is top notch. It still has the iconic boomerang-like stand which has a black finish with red accents. The black part of the stand is made up of durable plastic while the red parts are made of anodized aluminum. For the perfect viewing experience, the Z35 offers a 5-inch height adjustment, 5 degrees forward, and 25 degrees' backward tilt. Moreover, the Z35 also comes with an amazing afterglow which you can tweak using the OSD settings. The Acer Predator Z35 has a refresh rate of 144Hz with a response time of 4ms. But, this gaming monitor can be overclocked and that you can attain a maximum of 200Hz refresh rate. If you encounter any graphical issues, toning down the refresh rate a little bit can help with that. But for most people who have overclocked this monitor, they did not experience any graphical glitches at all.
The Z35 also comes with the company's ULMB which stands for "Ultra Low Motion Blur" technology. What this means is that no matter how fast-paced the games you play are, there will be no ghosting and blurring at all. Couple that with Nvidia's GSync technology, you are assured that there will be no screen tearing whatsoever. You need to have a very good Nvidia graphics card to be able to handle the refresh rate. Aside from that, Acer also incorporated their GameView technology which allows you to tweak certain color parameters to give you an amazing gaming experience.
Like other gaming monitors, the Acer Predator Z35 is also coupled with two built-in 9W speakers with Dolby's DTS technology. For the most part, the speakers are okay but do not expect too much bass from it. The display inputs which the Z35 has includes a DisplayPort 1.2 and an HDMI 1.4 port. Of course, to be able to acquire all of the features this monitor has, you need to be using the DisplayPort connection. It also includes 5x USB 3.0 ports for your other devices as well. Although this gaming monitor doesn't support the WQHD resolution, it is still quite impressive. For the price of a little over $1000, you get a 35-inch AMVA panel monitor with a maximum resolution of WFHD, Nvidia GSync technology, 144Hz overclockable to 200Hz refresh rates, 4ms response time, and a killer design.
---
6.   ASUS ROG SWIFT PG348Q – Best Ultrawide Curved Gaming Monitor Overall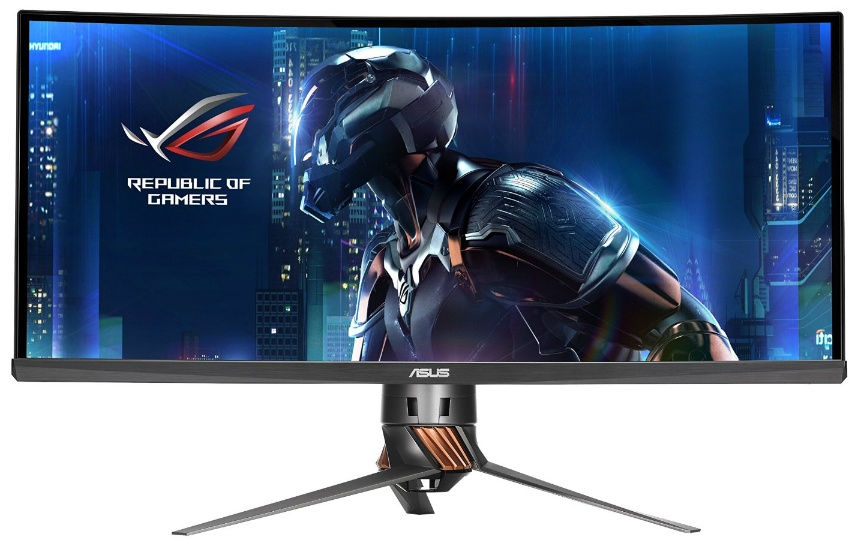 The last Ultrawide Monitor for gaming on the list and also the most expensive is the ASUS ROG SWIFT PG348Q. This gaming monitor, like its rival, the Acer Predator X34, is a 34-inch IPS Ultrawide gaming monitor that has a maximum resolution of 3440×1440 and has a 100Hz refresh rate. It also comes with the Nvidia GSync technology because from my research, Asus is Pro Nvidia. Anyway, the aesthetics of the PG348Q is like no other. ASUS did a splendid job in this department. You can see the 3-legged stand usually found in higher-end gaming monitors. It supports up 4.5-inches of height adjustment, a 100-degree swivel, and it can be tilted 25-degrees forward and backward as well. The stand also comes with Red LED lights that you can adjust using the On-screen Display.
Regarding the curvature, the ASUS ROG SWIFT PG348Q sports the same curvature as other Ultrawide gaming monitors in the market at 3800R. This allows you to see all of the screen's glory without the hassle of maneuvering your head to see what's on display. Like the Acer Predator X34, the ASUS ROG SWIFT PG348Q also has a 100% sRGB score with a 1000:1 contrast ratio, and 10-bit color reproduction. Although the monitor has these specs, it just falls short of the Predator X34's performance. This is not to undermine the performance of the PG348Q, however.
One of the unique features of the ASUS ROG SWIFT PG348Q is the "Turbo Key" which can be found at the back of the monitor. This button allows you to change between 5 preset refresh rates ranging from 60Hz to a maximum of 100Hz. Of course, the higher the refresh rates, the better the performance. Just set it to 100Hz to maximize your gaming experience.
ASUS also includes its GamePlus technology which can be toggled using a button at the back of the monitor. Some GamePlus features include four crosshairs that can help you in FPS games; a timer which is fit for MMORPGs; and an FPS counter that displays the current frames per second.The company also knows that gamers are usually playing for hours. To help them care for their eyes during prolonged gaming sessions, the PG348Q comes with the company's "EyeCare" technology which eliminates screen flicker at the same time, providing you with different blue light levels as well.
Last but not the least, the ASUS ROG SWIFT PG348Q has Nvidia's GSync Technology. You never have to suffer from screen tearing thanks to the GSync Technology. And unlike the traditional VSync, GSync also makes sure that there are no input lags at all. If you buy this monitor, you will get a 34-inch IPS display with a maximum of 100Hz refresh rate, 5ms response time, loads of different gamer-centric features, and Nvidia's GSync technology. The ASUS ROG SWIFT PG348Q might be pricey, but with a lot of features that suit different types of gamers, it is not hard to recommend this gaming monitor.
---
7. LG 29UM68-P – Cheap Ultra-Wide Freesync Monitor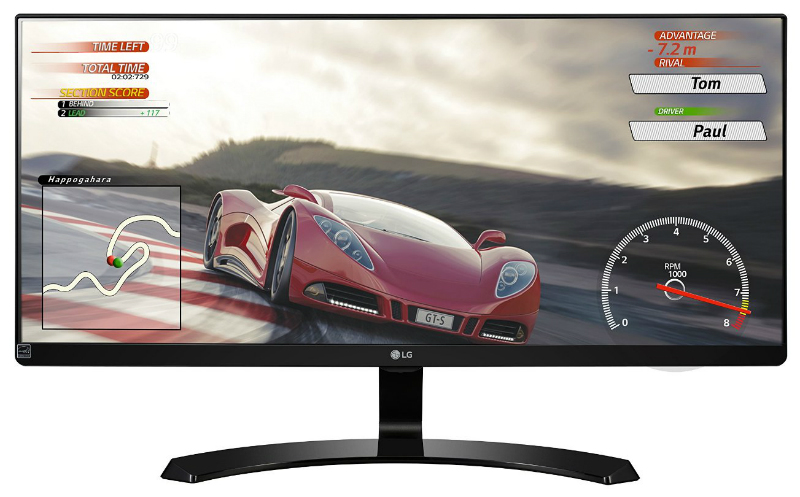 If you are looking to test the waters in the Ultra-Wide monitor segment, one of the best choices for the money you can get is the LG 29UM68-P. This 29-inch, 21:9 ultra-wide Full HD monitor has an IPS panel that is capable of 99% coverage of the sRGB color space, resulting in stunning images with excellent vibrancy and accuracy for a product in this price range. Considering today's ultra-wide standards, the 2560 x 1080 native resolution in this product could be found lacking at some point, but the overall viewing space of monitors in this aspect ratio still does wonders for everyday computing including gaming.
The monitor is also Freesync certified with refresh rates of up to 75hz. By today's standards, that isn't top notch, but for a weekend or after hours warriors looking to enjoy their games without tearing and stuttering, these specs will more than suffice in providing an improved gaming experience. One downside on the technical specs of this monitor is its lacking 5ms response time, which is entirely inadequate for high-speed gaming. But for casual applications, most users wouldn't know the difference. There are two HDMI 1.4 slots and a DisplayPort 1.2 for signal input, plus two 5-watt speakers which aren't as good as a separate set but are louder than most offerings and sufficient for background music and notification alerts.
The stand included only offers tilting from -5 degrees to 20 degrees, but it also detaches to reveal 75 x 75 VESA holes for mounting purposes. For its current price at less than $300, the LG 29UM68-P is indeed an entry level ultra-wide monitor that packs sufficient features, immersive viewing experience, and a beautiful and minimalist design, in a wallet-friendly package that would not disappoint the meticulous consumer.
---
8. LG 38UC99 – Best 38-Inch  IPS Ultrawide Monitor for Photographers and Creators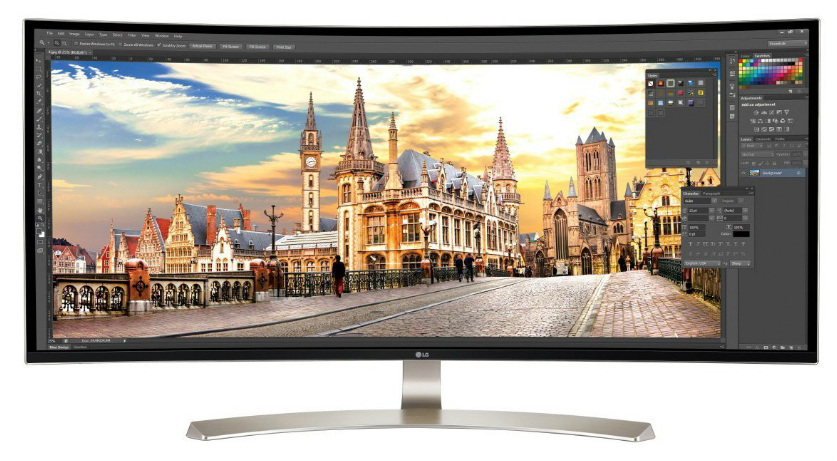 If you are considering the professional models mentioned in this guide, and you want an even bigger alternative, LG also offers a 38-inch behemoth in the LG 38UC99. From the name itself, we can easily derive that this product has a 38-inch diagonal size as opposed to the 34 inches of the other models. This model focuses on the needs of editing professionals since it provides excellent color accuracy with a near perfect coverage of the sRGB gamut. Panel uniformity is good across the entirety of the 38-inch IPS screen which provides superior viewing angles and clarity which makes LG a popular choice for meticulous consumers.
The native resolution of 3840 x 1600 which is a few pixel lines short of 4K maximizes the 38-inches for smooth multitasking while increasing sharpness and details. LG included practical features such as Picture in Picture modes to enrich your experience on this expansive screen. Their Split Screen 2.0 feature allows you to select between a myriad of templates which will divide the display into several sectors for multitasking, although it is easy to place three to six open windows at the same time on this model.
3840 x 1600 is a lot to handle even for today's graphics cards, and thankfully, the LG 38UC99 includes FreeSync to solve jittery frames when gaming. While not as focused as the gamer models in this lineup, you still get an extended refresh rate of up to 75Hz, which is fantastic for a monitor aimed at professionals. Another feature to help alleviate interlacing is LG's 1ms Motion Blur Reduction which overdrives pixel response to catch up to the action during your gaming breaks from working.
Like the rest of LG's products, the build quality of this product is amazing. The ArcLine design stand provides enough stability to hold the 35lbs of heft, and the craftsmanship is unbelievably good since edges and seams are clean. The LG38UC99 is as full-featured as a sophisticated professional ultrawide monitor. Its Connectors include DisplayPort, HDMI, USB 3.0, and a USB-C slot for future proofing, since this monitor should provide its owners with lasting service.
---
9. Asus MX34VQ – Versatile Luxury Ultrawide Monitor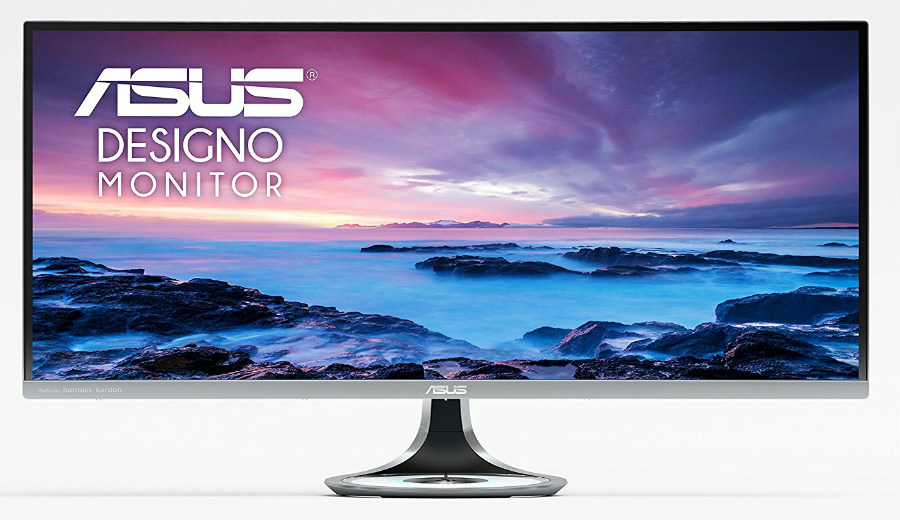 The Asus MX34VQ slightly departs from its gamer-centric counterpart with its sophisticated design which consists of metallic textures. Bezels are absent except for black borders on the gorgeous screen, but the stand out feature on this model's exterior is its artistic stand and base. The mechanism can only provide tilt for ergonomics, but it provides Qi Wireless Charging as a unique feature. You can place a compatible device on the surface, and it will charge without fussy cables while you compute away. The Asus Designo concept is indeed a refreshing change of pace from the graphite and orange theme of the brand's ROG products.
You're mistaken if you think that the Asus MX34VQ's purpose is to thrive in an office since the 3440 x 1440 VA screen comes with a 100Hz refresh rate and FreeSync. Tinkering with the settings will result in pleasing colors and grayscale performance, but one of the testaments to Asus' domination is the excellent screen uniformity which is easily one of the best we have seen in the business. Imagine gaming on a massive screen with sharp details, deep blacks, and buttery smooth frames. Although this monitor still lives with VA-inherent issues like interlacing, we can say both gaming and basic professional work is a dream.
The Asus MX34VQ is as agile as competitive monitors since it only has an input lag rating of 6ms, making it responsive even in the fastest sequences of FPS titles. The 1800R curvature envelops you as you enjoy your work, game, or movies, thus increasing the immersive capabilities of this superb ultrawide monitor.
Like the rest of award-winning Asus products, the MX34VQ has a complete set of nifty extras for your enjoyment. You get a pair of 8-Watt built-in speakers tuned by Harman Kardon which sounds superior with excellent frequency response when compared to other sets. Even if this product does not have VESA compatibility, you get plenty of ports for a multitude of host devices which includes the main DisplayPort, three HDMI slots, and 3.5mm passthrough jacks. If you decide on the MX34VQ, you will easily find that there is little to ask for in this incredible piece of technology.
---
10. Dell U3417W FR3PK – 1440p Ultrawide Monitor for Professionals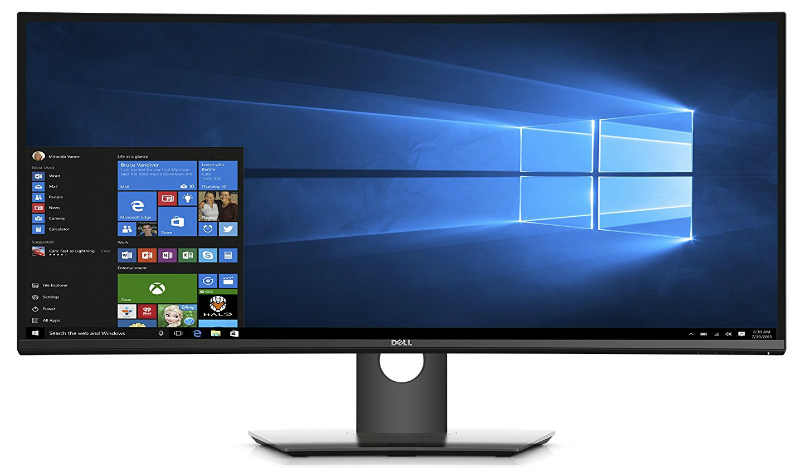 If you are looking to spend a bit more cash on a sophisticated monitor that offers the desktop real estate of dual monitors without taking up too much space on your desk,  then the Dell U3417W FR3PK makes an excellent choice. This curved display product has an IPS panel with an even bigger 3440 x 1440 resolution, a couple of pixels short from 4K. This UltraSharp offering from Dell provides excellent color accuracy out of the box, contrast, and uniformity according to tests.
The size and resolution of this product make it an ideal productivity tool since you can split the screen via the built-in PiP mode in the OSD. To make use of this feature, Dell has designed the I/O layout to have HDMI 2.0 ports, DisplayPort 1.2, and a healthy addition of USB 3.0 slots on the back and the side of the cabinet. The massive screen is supported by a minimalist designed stand, which offers tilting, swivel, and height adjustments so you can acquire your desired position to take advantage of the immersion the huge 1900r curved screen offers. This product also includes two 9-watt speakers with sufficient power for desktop usage and casual entertainment.
On the other hand, the lack of gaming features and the high input lag may be a turn-off for hardcore gamers, but for casual after hours warriors, the immersive effects of the massive screen may suffice for gaming enjoyment. This product is currently sold for around $840, and that price, the high-end and sophisticated design and features make this product a top choice in the ultra-wide prosumer category of monitors.
11. Samsung S34E790C – Premium Ultrawide Monitor with Excellent Colors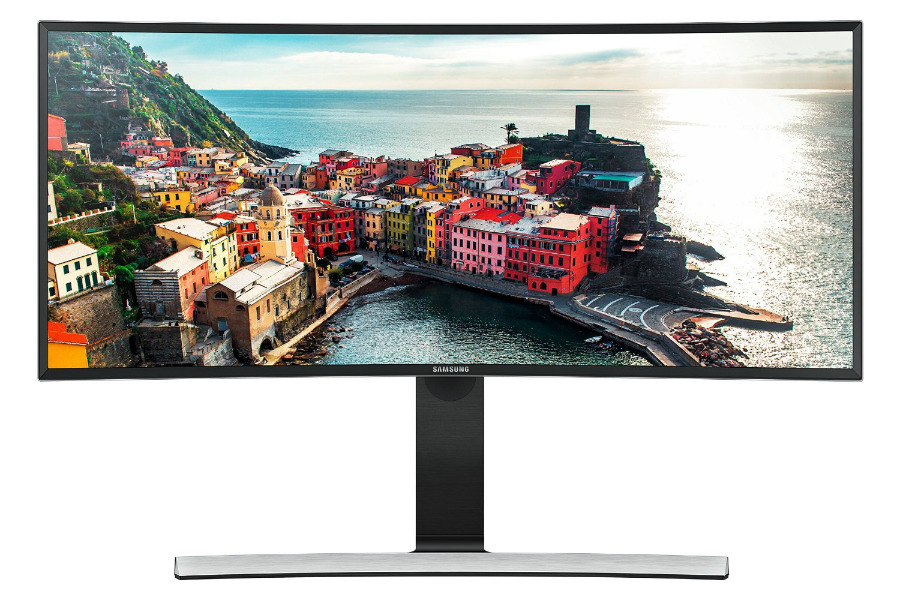 The Samsung S34E790C is a fantastic middle ground for ultrawide monitors without spending more or less a grand. This VA-equipped panel is accurate enough for basic photo editing tasks, even if it cannot cover the full range of the Adobe SRGB standard. The minimal Delta E of 1.65 ensures that the images are vibrant without being overbearing. The VA panel's capabilities enhance the overall image with deep blacks and superb grayscale making viewing or playing games even more immersive and enjoyable.
This product looks simple enough to fit in an office, and it doesn't clash with a posh home decor thanks to its classy black and silver exterior. Adjustments are limited, but if you clear enough space for the 34-inch form factor, the Samsung S34E790C is an excellent centerpiece on any tabletop. Build quality is top notch without any uneven seams or plastic flexing, proving that the quality and expertise we have come to expect from one of the best display makers to be true.
The Samsung S34E790C only has an input lag time of 10.9ms, making it snappy enough even for competitive gaming. But the Korean company did not label this device for gaming, so the refresh rate ceiling is limited to 60FPS. But in our opinion, 60Hz is sufficient for immersive or casual gaming as long as the monitor is responsive enough. Overall, you can't go wrong with the Samsung S34E790C for either your gaming room at home or your executive desk at work.
12. Acer XR382CQK – Best 38-Inch Monitor for Gaming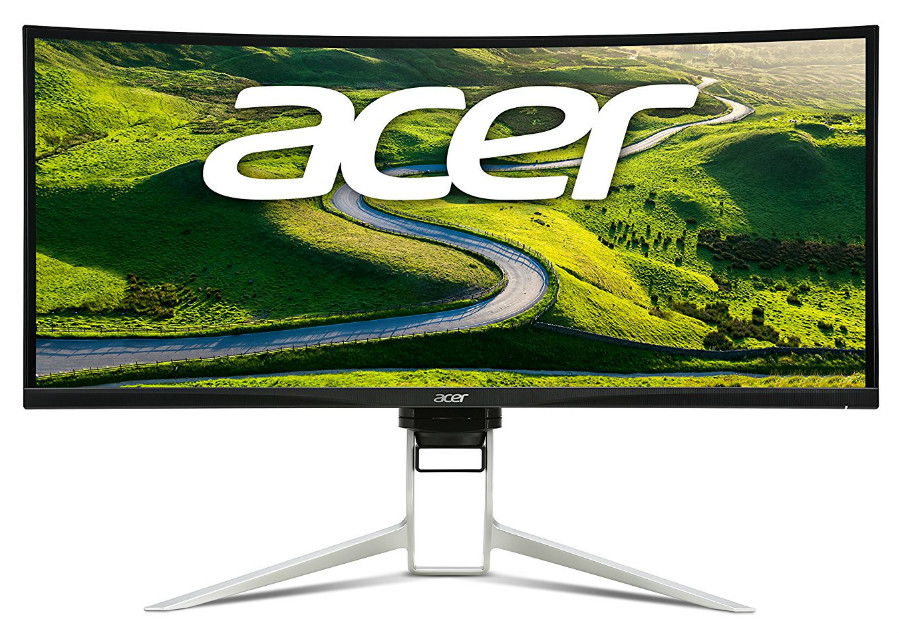 The Acer XR382CQK is an impressive work of art that matches an upscale environment, but its panache for gaming, via its specifications, cannot be denied. At a glance, what separates this model from its competitors is the bezel-free face which this model has inherited from the likes of the X34. At this size and form factor, this aesthetic treatment becomes even more enthralling, giving the impression that your eyes are seeing further than they actually are.
The excellent design and build quality is matched with an architecturally artistic stand, which, aside from its appeal, is fully functional as well. The Acer XR382CQK is fully equipped to take on multitasking with its rich I/O layout which includes standard connectors like DisplayPort 1.2 and HDMI 2.0. The kicker here is that you can daisy-chain two or three of this beast for a super ultra wide setup which should provide an enveloping experience unlike any other.
The excellent color vibrancy and accuracy makes the Acer XR382CQK suitable for editing and designing, but its 3840 x 1600 resolution, 75Hz refresh rate, and FreeSync make it fantastic for gaming as well. It also helps that its contrast ratio sits at an average of 950:1, so blacks are dark and oily while grayscale performance is great. Your GPU will flex its muscles to render graphics at this resolution with frame rate, but your mechanical skills won't go to waste because this unit only has a 14ms input lag rating.
13. LG 34UC89-G – 166Hz Ultrawide Monitor with G-Sync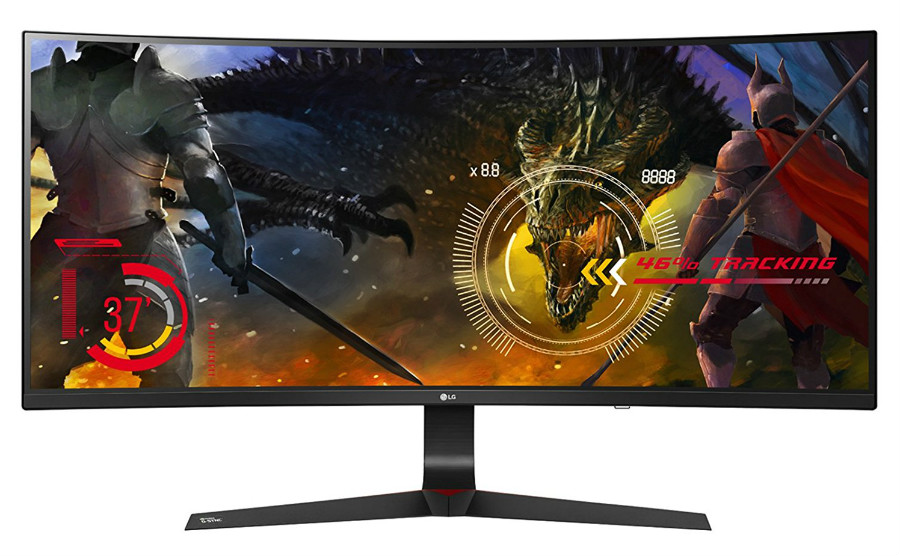 LG creates the 34UC89-G by combining their super 34UC79-G with G-Sync to create a responsive, and visually inspiring ultrawide gaming monitor for Nvidia users. The Korean giant used red accents on a modernist matte black cabinet generously, but this model certainly isn't one of the gaudy options out there. The 34-inch screen is surrounded only by thin panel borders, giving the impression that the screen is a bit bigger.
Aside from the limited I/O panel due to the G-Sync module, the LG 34UC89-G can be considered a functional device as well. The included stand provides height and tilt for adjustments, although it is removable in favor of VESA mounting if you so require. Build quality is phenomenal and we can't see why this display shouldn't outlast your current rig and the next.
The LG 34UC89-G has a lower resolution of only 2560 x 1080, but the IPS panel provides excellent color and contrast performance which can be maximized further if you own a colorimeter. The vibrancy and accuracy more than make up for the lack of sharpness, so games are eye-popping and brilliant. If you have to get the absolute best performance, take comfort in knowing that the OSD is friendly and accessible, while having extra features such as LG's Screen Split 2.0 and Black Stabilizer.
The 2560 x 1080 should be friendly on most GPUs, but purists who want buttery smooth visuals and have a Nvidia GPU will love the G-Sync feature. This feature is a must-have for situations that reach 166FPS because frames will still dip when the action gets intense. We don't usually recommend ultrawides for competitive gaming, but the resolution, refresh rate, and a little over 10ms of input lag makes the LG 34UC89-G a worthy candidate for that usage.
14. Dell U3818DW– 3840 x 1600 USB-C Monitor for Professionals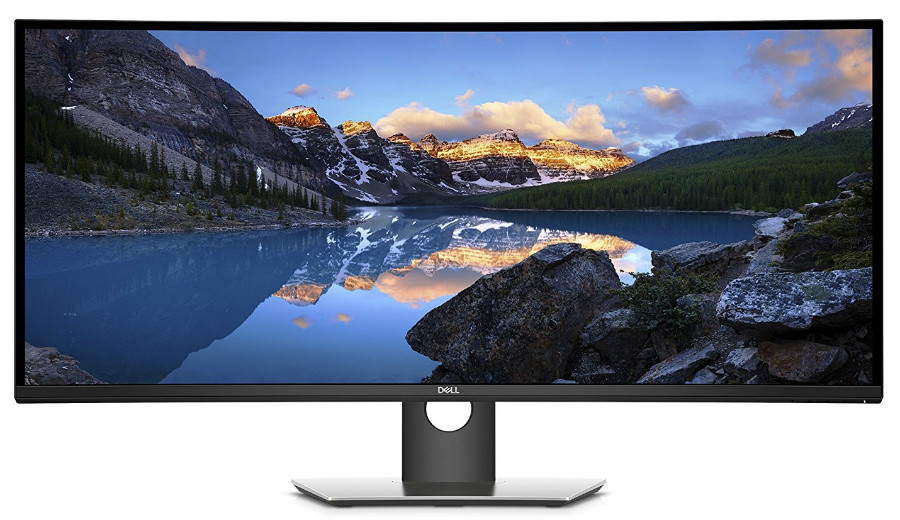 The Dell U3818DW tips the scales as one of the brand's biggest and best monitors for business and leisure with premium-grade performance to boot. This bezel-free behemoth requires an equally upscale computer to match its imposing presence on a desk. The simple, minimalist design courtesy of Dell's signature aesthetic treatment only enhances the luxury and sophistication this model has, but we're glad they didn't skimp on its functionalities as well.
The product bears the best utilitarian features which should make all types of users happy. The I/O panel is one of the best in the market since it includes DisplayPort 1.2 and HDMI 2.0, plus a USB-C port which can provide 100 Watts of charging power while transmitting data and video signals. Because of these specs, the Dell U3818DW is suitable for both a monster PC and a discrete mobile device which uses USB-C.
The Dell U3818DW's massive 38-inch screen with a 3840 x 1600 resolution doesn't disappoint as well, since it can accurately reproduce lifelike colors as soon as you take it out of the box. This achievement allows both designers and gamers to enjoy the screen right without unwanted fuss, although we still would recommend users to take the effort to calibrate.
Since this model is marketed for busy professionals, there are no gaming features on the Dell U3818W. However, its functions are well suited to take advantage of its size and resolution to maximize productivity, so we can't complain. But if you game on a casual level, this model's 20ms input lag still makes immersive titles enjoyable without drastic delays which could ruin the experience.
15. Acer Z35P – 120Hz VA Gaming Monitor with G-Sync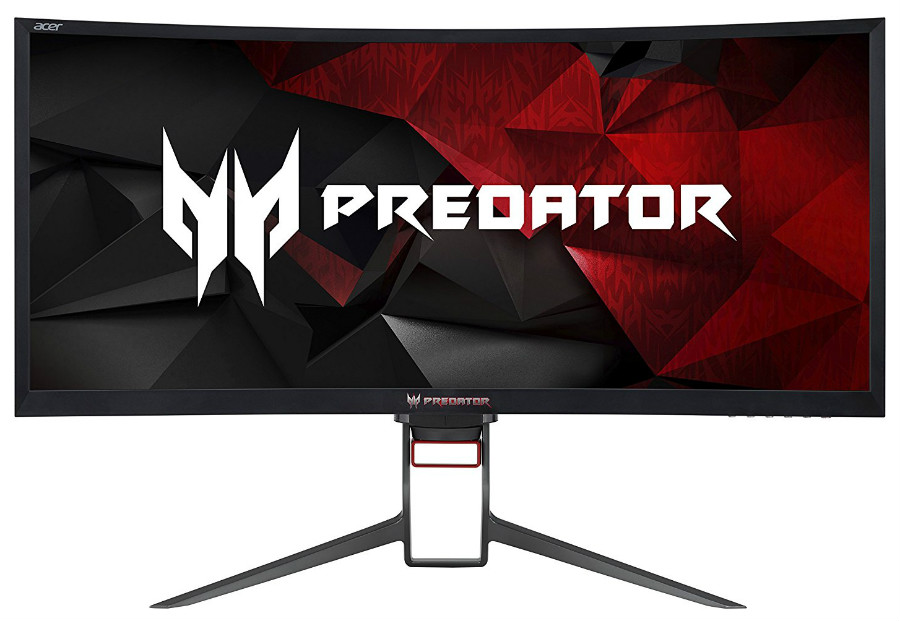 The Acer Z35P is one of the latest and the greatest from the brand's portfolio of Predator gaming displays due to its combination of specifications. The design isn't as refined and may come off as too aggressive for some, but Acer maximized the build quality and functionality for its customers. The cabinet comes in an attractive brushed matte black texture with red accents, adding some uniqueness to reverse the perception that this formula is overused.
The face isn't bezel-free like the X34, but the metallic stand with a unique, structural look is one of its best physical features. Ergonomics would be the best in its class if it included pivoting, but honestly, it isn't needed for a curved ultrawide like this option. Even if this product has a G-Sync module which limits connector options embedded into its innards, Acer did include five USB 3.0 slots and 9-watt speakers to compensate for these limitations.
What makes the Acer Z35P's VA panel striking is its combination of a 3440 x 1440 resolution and 120Hz refresh rate which is enhanced by G-Sync. The screen's color and contrast are exceptional thanks to the panel tech's abilities, so images are always vibrant with deep shades and shadows. This aspect also enhances the immersive factor that the curved screen is trying to achieve, so your games become even more engaging.
All of these positive facets of the Acer Z35P are concluded with a 9ms input lag result, ensuring that the eye-candy you enjoy is always in tune with your control inputs. If you play RPGs and story-driven titles with cutting-edge graphics, this monitor should top your short list of gaming goodies.
16. Asus XG35VQ – 100Hz FreeSync Gaming Monitor with Aura Sync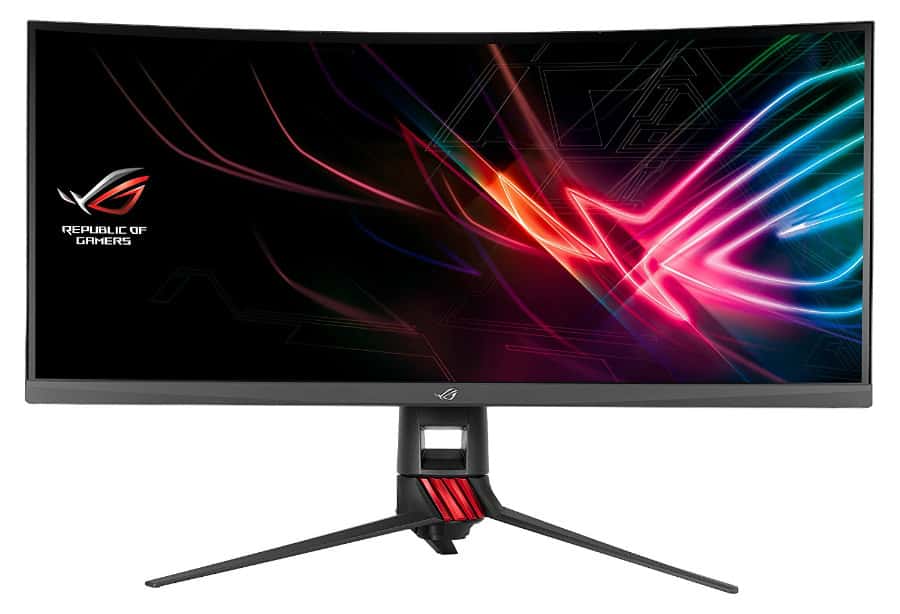 The Asus XG35VQ offers a unique, gamer-centric design that focuses on portraying the raw power of this ultra-wide gaming monitor. This model spearheads a new breed of FreeSync displays under the Strix branding which also includes the brand's gaming or overclocking gear such as motherboards and GPUs. the series is highly popular across the globe, and the Asus XG35VQ won't disappoint as it joins this excellent portfolio of products.
This gaming ultrawide features a 35-inch VA panel with a 3440 x 1440 resolution and a 100Hz refresh rate is capable of crisp and engrossing images suitable for high-end gamers who want the best visuals. Thanks to the panel technology's capabilities, the Asus XG35VQ is able to provide 115% sRGB and 1950:1 contrast ratio for stunning color and depth. Competitive gaming performance isn't an issue as well since this option includes FreeSync functionality and a 4ms input lag time.
The design for the Asus XG35VQ employs a modified version of the 2nd generation ROG Swift treatment which is composed of a graphite chassis with red accents. Features such as complete ergonomics and a rich I/O layout are present with the package, but what stands out is the Aura Sync LED at the rear. This allows gamers to synchronize the monitor with other Aura compatible components for a stunning RGB light show.
17. Alienware AW3418DW – 120Hz Ultrawide Gaming Monitor with Excellent Color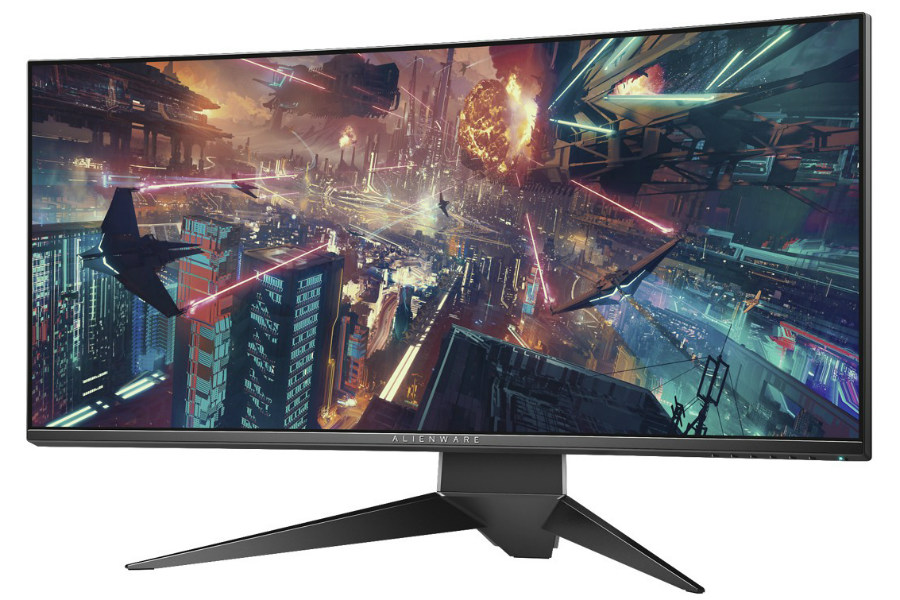 The Alienware AW3418DW is currently one of the absolute best in the G-Sync ultrawide segment thanks to its premium design and features, plus its outstanding abilities. This model embodies the brand's popularity in exclusive high-performance gear that doesn't disappoint despite the price.
The Alienware AW3418DW comes with a 34-inch IPS panel with a 3440 x 1440 resolution just like popular competitors such as the Asus PG348Q and the Acer X34. The difference this time around is that this option includes a native 100Hz panel instead of an overclocked 60Hz unit, ensuring there are less issues if you want to run at full speed. Furthermore, this allows the AW3418DW to max out at 120Hz for extra headroom in graphics.
The performance numbers of the Alienware AW3418DW is equally impressive as its specifications. The monitor is suitable even for color critical work thanks to its color accuracy and vibrancy which could put other models to shame. Responsiveness and buttery-smooth graphics are essential to immersive gaming, and thankfully, this device comes with G-Sync and a low input lag rating.
So far, the Alienware AW3418DW's design is one of our current favorites. The aerospace-inspired theme with sharp angles and edges give the device a futuristic, but minimalist appeal which is a more refreshing take than the typical gaudy gamer-centric aesthetics that we see. Functionalities such as a fully-articulated stand and an intuitive RGB lighting scheme completes the sexiness of this device.
18. BenQ EX3501R – 100Hz Ultrawide Monitor with USB-C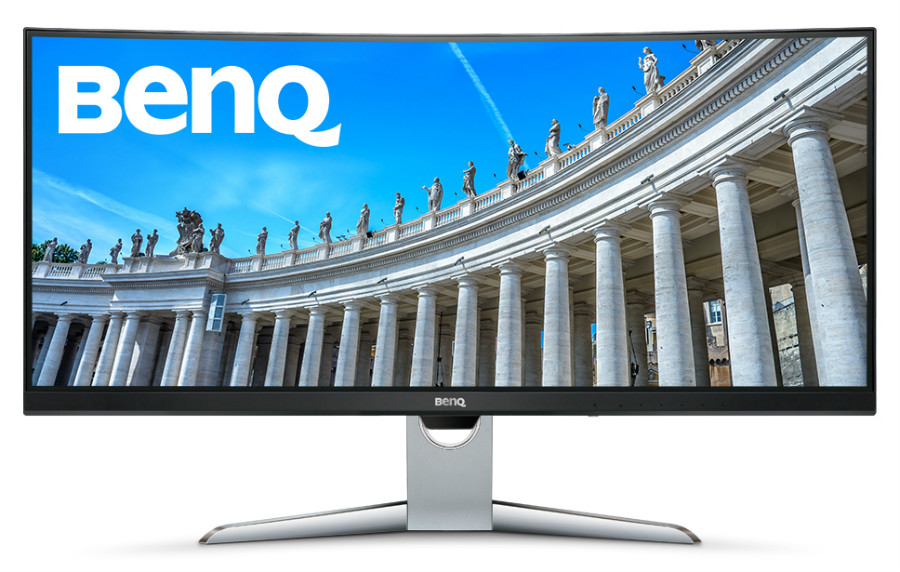 The BenQ EX3501R offers a refreshing aesthetic package that veers away from the gamer-centric formula for a more sophisticated overall look. This curved ultrawide monitor features a bezel-free 35-inch chassis that's mated to a chromed out stand that looks astonishing in clean builds. The product is a fantastic choice for both the savvy executive and the hardcore gamer.
The specs of the BenQ EX3501R make it more than just a relevant option in today's fast growing market. The 100Hz VA screen with a 3440 x 1440 resolution is gorgeous for both games and entertainment, plus it packs an implementation of HDR compatibility that extends its value. Colors could use some improvements in accuracy, but we love the great white balance and the depth of blacks on the high-contrast display.
But what sets the BenQ EX3501R apart from the rest is its home-grown Brightness Intelligence Plus feature which auto-adjusts the screen according to your environment. This is especially useful for out of the box users who want to keep the screen comfortable to view during transitions through out the day.
19. LG 34GK950F – 144Hz Nano IPS Ultrawide Gaming Monitor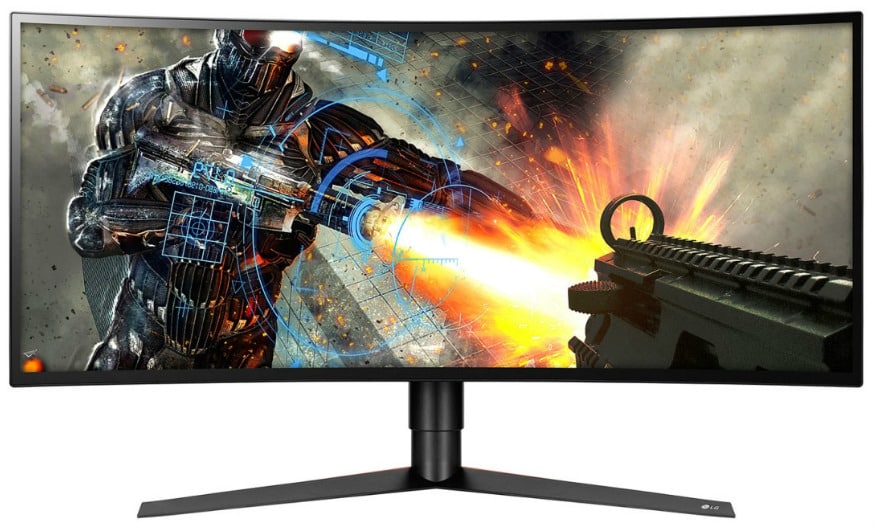 The LG 34GK950F is one of the few ultrawide monitors that offers upgraded specs that are designed to improve your gaming experience. The screen offers a considerably higher 144Hz refresh rate at 3440 x 1440 which makes it smoother and more responsive than the 100Hz models. It's also equipped with the brand's Nano IPS panels which are capable of eye-popping vibrancy that other models struggle to reach.
The KSF phosphor-treated WLED panel in the LG 34GK950F helps it achieve a massive 132% sRGB coverage which also equates to 97% DCI-P3. The resulting tones and shades are great for gaming, while the accuracy can be tightened for professional use. The high gamut reproduction also makes the product great for HDR gaming, although the backlight's brightness falls a bit short.
Saying that the LG 34GK950F was designed in good taste is an understatement since it currently is one of the best looking models available. LG's sleek and thin design coupled with a matte black with distinct red accents make a very compelling model for gamers. It also comes in a G-Sync equipped variant called the LG 34GK950G which has an RGB LED ring for aesthetic builds.
20. LG 34WK95U – 5K 2K Ultrawide Monitor for Designers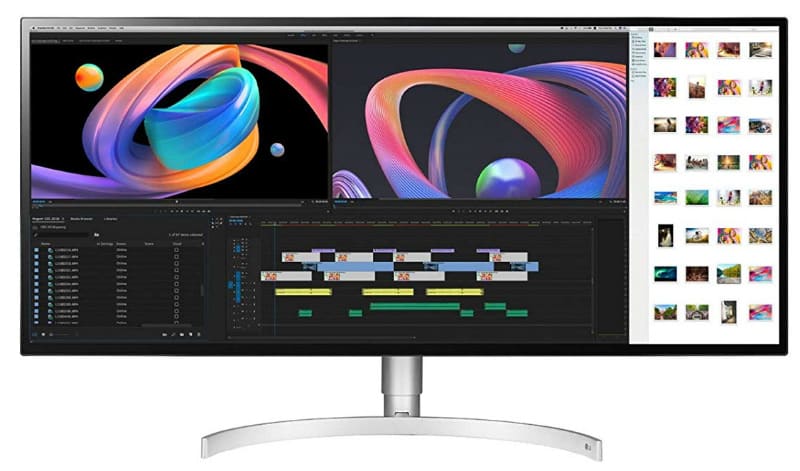 The LG 34WK95 is a brilliant solution for professionals who want an expansive screen for optimizing workflows. This model comes in a more compact 34-inch package, but it manages to squeeze in an impressive 5120 x 2160 resolution that is crisper than all of the units in this line up. This characteristic is great for designers, but gamers will be hardpressed to run at high graphic settings or refresh rates.
As such, LG made sure that the 34WK95U is perfect for editors or content creators by imbuing its display with Nano IPS technology. The monitor is capable of 100% sRGB or 85% DCI-P3 with a calibrated accuracy of only Delta E .40. The monitor is also HDR-capable, but its also limited to the DisplayHDR 400 standard due to the backlight.
The LG 34WK95U's connectivity again, makes it perfect for professionals thanks to the addition of an 85-Watt Thunderbolt 3 port. The connector will allow laptop users with MacBooks or anything similar to operate the display with a single cable connection. This model is also a perfect choice for a display-slash-dock since the TB3 receptacle can provide up to 85 Watts of charging power.
---
 Before buying an Ultrawide Gaming monitor
Ultrawide and curved gaming monitors have been on the rise as of late because who doesn't want a gaming monitor that allows you to see a lot of things at one time?
These types of monitors enable you to see a lot more thanks to its screen real estate and it is perfect for people who are watching a lot of media and of course, playing a lot of games.
Ultrawide gaming monitors sport the 21:9 aspect ratio and unfortunately, there isn't a lot of content that has that aspect ratio. But as previously mentioned, the Ultrawide monitor market is slowly gaining traction, and we should see a lot of 21:9 aspect ratio content shortly.
I saw a lot of Ultrawide gaming monitors on the market, and I have to say that I am impressed with the amount of visual clarity and detail you can get from having one.
Of course, there are still no 4K Ultrawide gaming monitors yet (at least, not prominently on the market). You usually only see Ultrawide monitors that support a maximum resolution of 3440×1440 and 2560×1080.
Still, with the amount of stuff you can cram on an Ultrawide gaming monitor, there is no denying that you would want one. And because of that, they tend to be more expensive than standard sized monitors.
With that being said, what are the things you need to look for when buying an Ultrawide or curved gaming monitor?
1.   Size
The biggest point of consideration when purchasing an Ultrawide gaming monitor is the actual size of the thing. Most ultrawide gaming monitors sport at least a 29-inch form factor. The bigger the screen size, of course, the higher the price.
2.   Resolution
Next up is the resolution of the display. As previously mentioned, there are two main resolutions that you can find on Ultrawide gaming monitors: 3440×1440 and 2560×1080 (1440p and 1080p, respectively). The resolution is crucial because your graphics card might not have enough juice to support 1440p or even maximum settings at 1080p. And, because the graphics card has to produce a lot more pixels than a standard size monitor, it can become too taxing on your video card if you're using an Ultrawide, gaming monitor.
This is another important thing to consider when buying Ultrawide gaming monitors. The graphics card handles all of the graphical load, and when it is not powerful enough, it might not run your favorite games smoothly when most of the settings are cranked up. If you've got a beefy graphics card, you shouldn't worry too much, though.
4.   Picture Quality
Not all monitors are built the same. Some monitors have a perfect color gamut while some monitors might be lacking in that department. Image quality is so important that you have to consider it before buying an Ultrawide monitor. Because of the curved nature of these monitors, sometimes you will see some light "bleeding" at the edges of the screen. So, be sure to look out for that as well.
The monitors display inputs is also important. Look for an Ultrawide monitor that has a DisplayPort connection (although most of the modern ones have it). The DisplayPort is the newest display IO, and it usually unlocks all of the monitor's features like GSync or FreeSync.
6.   Features
Every company incorporates their gimmick into their products. Aside from the ones I mentioned above, be sure to look at the monitor's unique features as well. If you're into gaming, you may want to look for an Ultrawide monitor that has either a FreeSync (for AMD graphics cards) and GSync (for Nvidia graphics cards) technology.
7.   Price
Price is always a point of consideration when buying products, and it still holds true when purchasing an Ultrawide monitor for gaming. There are a lot of Ultrawide monitors out there, and you have to be keen to look at its features so you can say that they warrant their prices. If you are having trouble getting the most bang for your buck Ultrawide monitor, read on to find out some of the best Ultrawide monitors for gaming and other things at different price points.
A lot of people are now buying Ultrawide monitors not only for gaming but also for content creation as well. They choose this over a dual or triple monitor setup because for one, there aren't a lot of cables since you're only going to be working with one big screen, and two, power consumption will be at a minimum. A lot of people also love the fact that Ultrawide monitors provide that continuity and flow of the display as opposed to some bezels being prominent when using dual or triple monitor setups.
With that being said, what are the best Ultrawide monitors on the market? I am glad you asked because I am going to recommend some of the best ones out there.
Conclusion
Ultrawide monitors provide an excellent display that is perfect not only for games but also for other media content as well.
Because of their features and the size of the screen, the Ultrawide monitors are priced much, much higher than regular 21-27-inch monitors.
But despite its higher price, there are a lot of advantages of getting an Ultrawide display. One of the main benefits of getting an Ultrawide monitor is that it gives you a more immersive experience.
All of the monitors outlined here are more than 30-inches in size which mean that there is a ton of screen real estate.
Also, all of the gaming monitors here support a split-screen feature that allows you to divvy up the screen so you can put a lot of applications on display.
I am always an advocate of getting a great monitor to complement your graphics card. If you have a Nvidia graphics card, be sure to get a monitor with the GSync technology. For AMD graphics card users, a FreeSync Monitor should be acquired.
Also, all of the monitors I've mentioned in this article is not only great for gaming, but they are also suitable for content creation and editing as well.
Thanks to their impressive visual performance, any monitor in this list will be ideal for purposes other than gaming.
Again, they might be expensive, but you will be happy if you buy one of these Ultrawide monitors as you are assured that will you get an amazing visual experience.
The prices that you see in this article are based on Amazon.
Ultrawide monitors might be considered as a luxury, but if you can get one, your gaming experience will be amplified manifold.
Now you can go up and choose the best ultrawide monitor for you.
https://en.wikipedia.org/wiki/Widescreen