You can learn more about ultrawide monitors further down this page. But if you just want to see the best ultrawide monitors of then please take a look below.
10 Best Ultrawide Monitors for Gaming and Other Purposes: All Featured Monitors
Monitor
Screen
Speed
Price
Alienware AW3423DW - Best QD-OLED Gaming Monitor with G-Sync
QD-OLED
34-inch
3440 x 1440

175Hz
0.1ms
Find Best Price
Alienware AW3423DWF - 165Hz QD-OLED Gaming Monitor
QD-OLED
34-inch
3440 x 1440
165Hz
0.1ms
Find Best Price
Asus ProArt PA348CGV - 120Hz Professional Ultrawide Monitor
IPS
34-inch
3440 x 1440
120Hz
4ms
Find Best Price
AOC AGON Pro AG344UXM - 170Hz Flagship Ultrawide with Mini LEDs
IPS
34-inch
3440 x 1440

175Hz
1ms
Find Best Price
BenQ Mobiuz EX3410R - Fast Ultrawide Gaming Monitor with Reasonable Price
VA
34-inch
3440 x 1440

165Hz
1ms
Find Best Price
Samsung Odyssey Neo G9 - 49-Inch Super Ultrawide Monitor with Mini LEDs
IPS
49-inch
5120 x 1440
240Hz
1ms
Find Best Price
Gigabyte M34WQ - Affordable IPS Ultrawide with USB-C and KVM
IPS
34-inch
3440 x 1440
170Hz
1ms
Find Best Price
AOC CU34G2X - Affordable 144Hz Curve Gaming Ultrawide
VA
34-inch
3440 x 1440
144Hz
1ms
Find Best Price
BenQ PD3420Q - Reasonably Priced Prosumer Ultrawide Monitor
IPS
60Hz
4ms
Find Best Price
https://geni.us/0JEBQv
IPS
40-inch
5120 x 2560

72Hz
4ms
Find Best Price
– Before buying an Ultrawide Gaming Monitor – Read further down this page: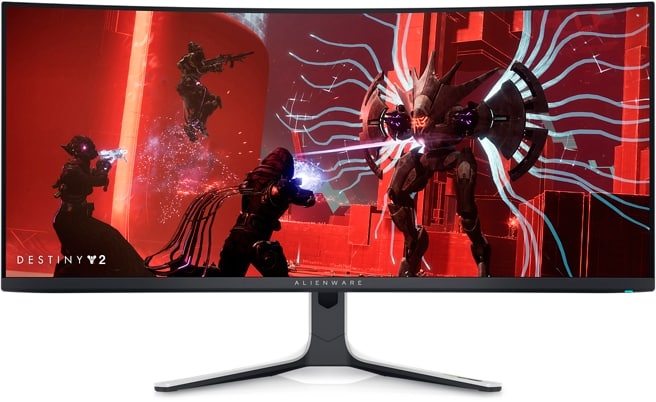 The Alienware AW3423DW revolutionized the gaming monitor space by offering a unique QD-OLED panel that doesn't cost in the thousands. It's still a 34-inch 3440 x 1440 display, so it will place nicely with most games and graphics cards. Ultrawides are versatile for both productivity and entertainment, but that's only the icing on the cake here.
The QD-OLED in this monitor is amazing when it comes to color quality and of course, its infinite contrast ratio. OLEDs do not use backlight panels and their pixels can individually dim or brighten for brilliant HDR performance. You also don't have to deal with backlight bleeding, although it will need extra care since the panel type is prone to burn-in.
Another thing that makes the Alienware AW3423DW unique is it is aesthetic which fits the brand's space-age or ultra-modern themes. This model has the white Lunar Light finish with AlienFX RGB that instantly sets it apart from the run-off-the-mill variants. It's currently our favorite 34-inch ultrawide since it's a pretty good investment based on these characteristics.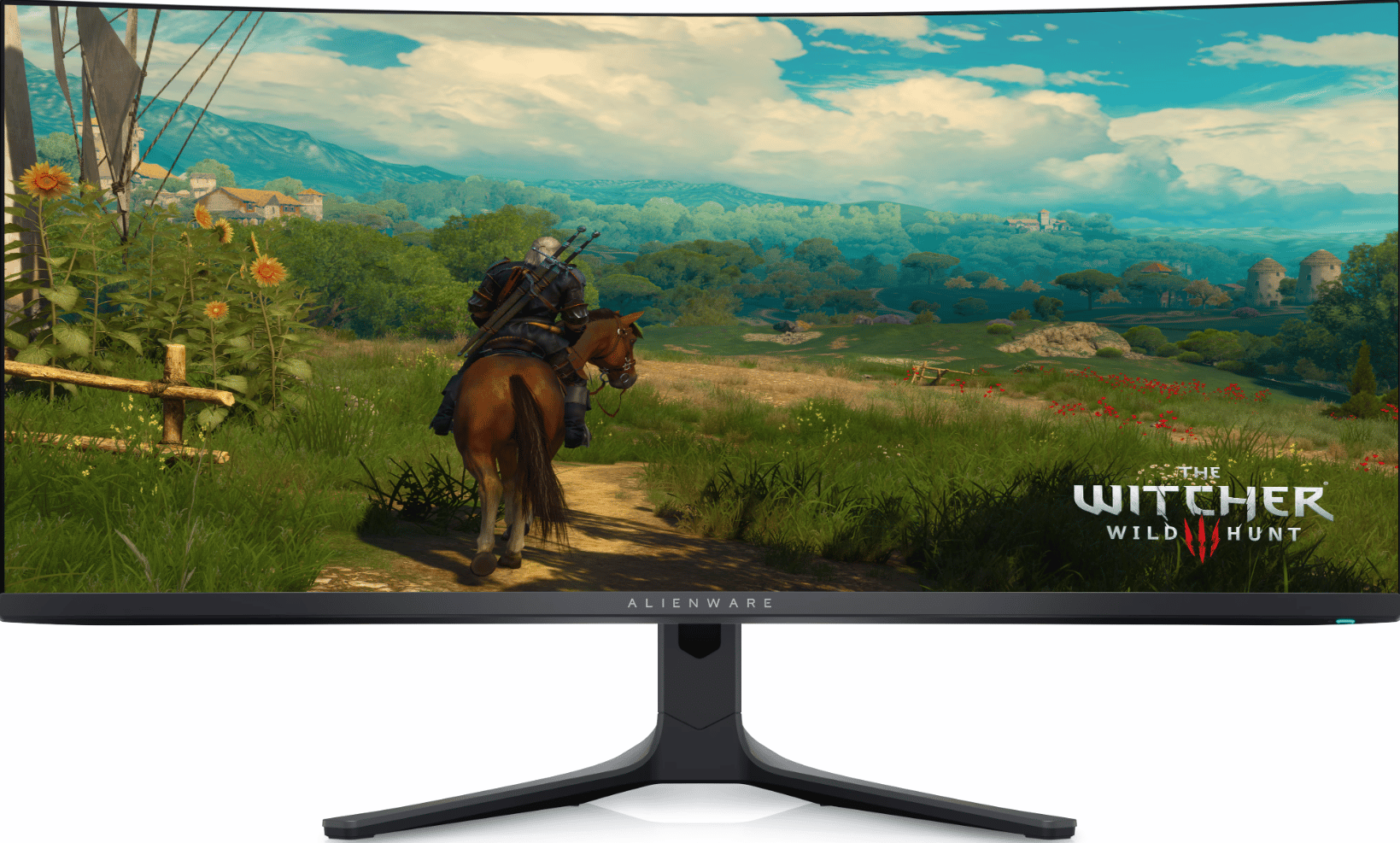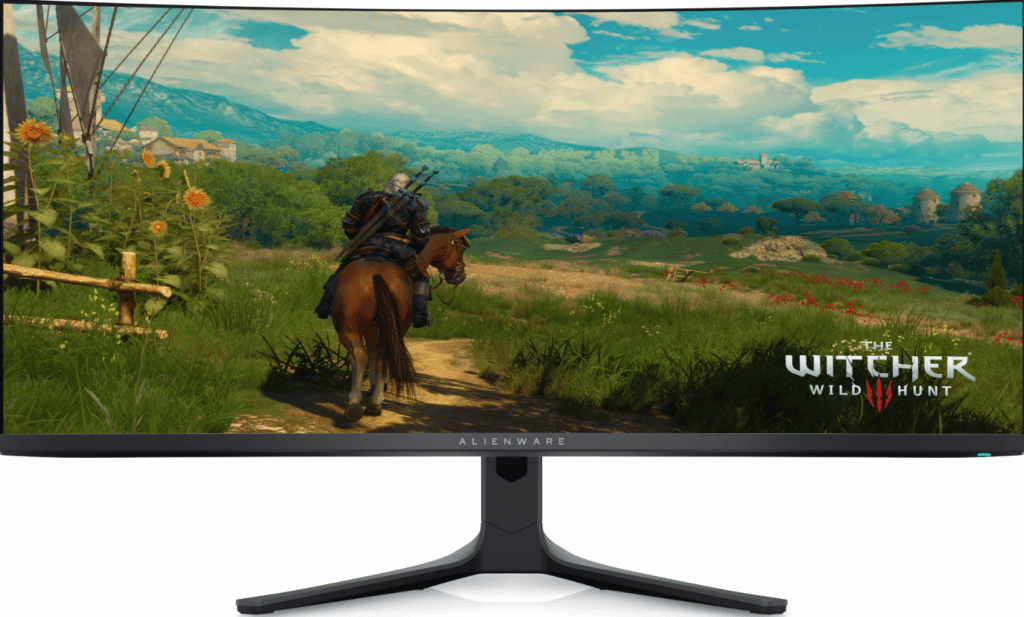 The model above is continuously in demand so Alienware had to make a lower-spec model that could capitalize on its success. This variant became the Alienware AW3423DWF which is slightly watered down while being a bit more affordable. It still features the fantastic 34-inch QD-OLED panel, so it is still a win-win situation for anyone who picks it up.
The AW3423DWF scores even better when it comes to color coverage and it's equally accurate in both default and calibrated states. It's the lower-end of the two, but it still has that fantastic HDR and contrast performance thanks to its QD-OLED panel. Its main difference is it doesn't have a G-Sync Ultimate module and it has a 165Hz refresh versus the 175Hz on the other.
One aspect that may make this variant more appealing than the G-Sync variant is its Dark Side of the Moon finish. It's basically a unique matte black that looks surprisingly good so it's not as gaudy and suitable for stealth-themed builds or even workstations. Functionality-wise it's the same, so you don't lose out if you want to save a bit of cash.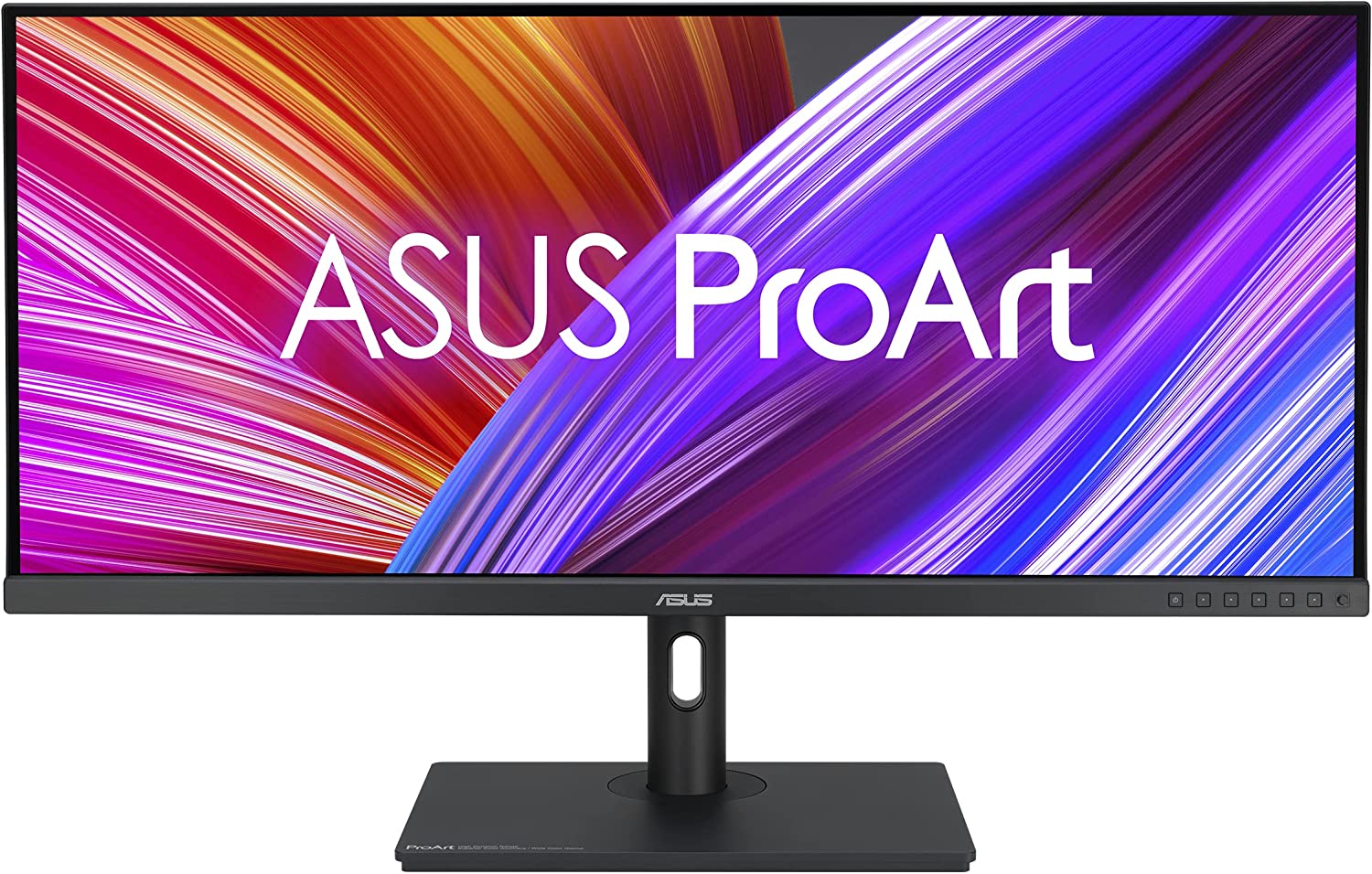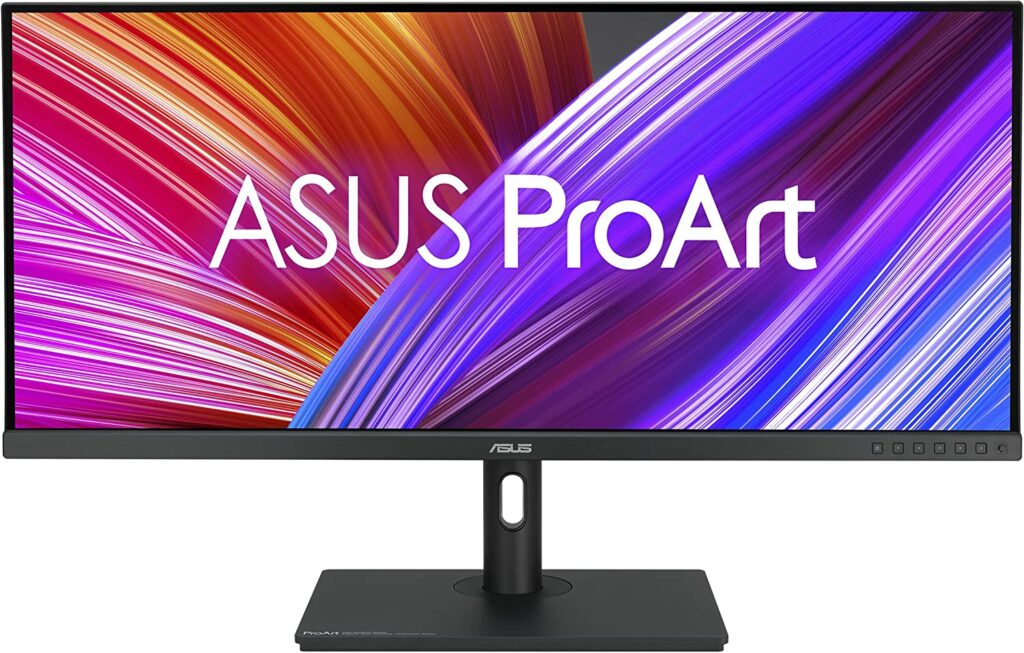 The Asus ProArt PA348CGV is another favorite of ours because of its suitability for both gaming and editing work. It's primarily a ProArt monitor so it is pre-calibrated and equipped with features to maximize the panel for color-critical work. But the best part about it is it's not as expensive as the other ProArt monitors so more users can enjoy it.
The best part about this monitor aside from its pre-calibrated performance is it also goes up to 120Hz with minimal input lag. It is quite capable for enthusiast-level gaming even if higher-refresh rate monitors are already available. The monitor also has an IPS panel instead of VA, so it has better color balance despite its lack of contrast.
The Asus ProArt PA348CGV isn't flashy like its ROG Swift counterparts so it will fit aesthetically into any kind of setup. Its matte black finish looks clean, although we miss the luxurious metal accents on the other ProArt models. However, what's most important is its functionality such as the adjustable stand and its 90-Watt USB-C that open more possibilities of use.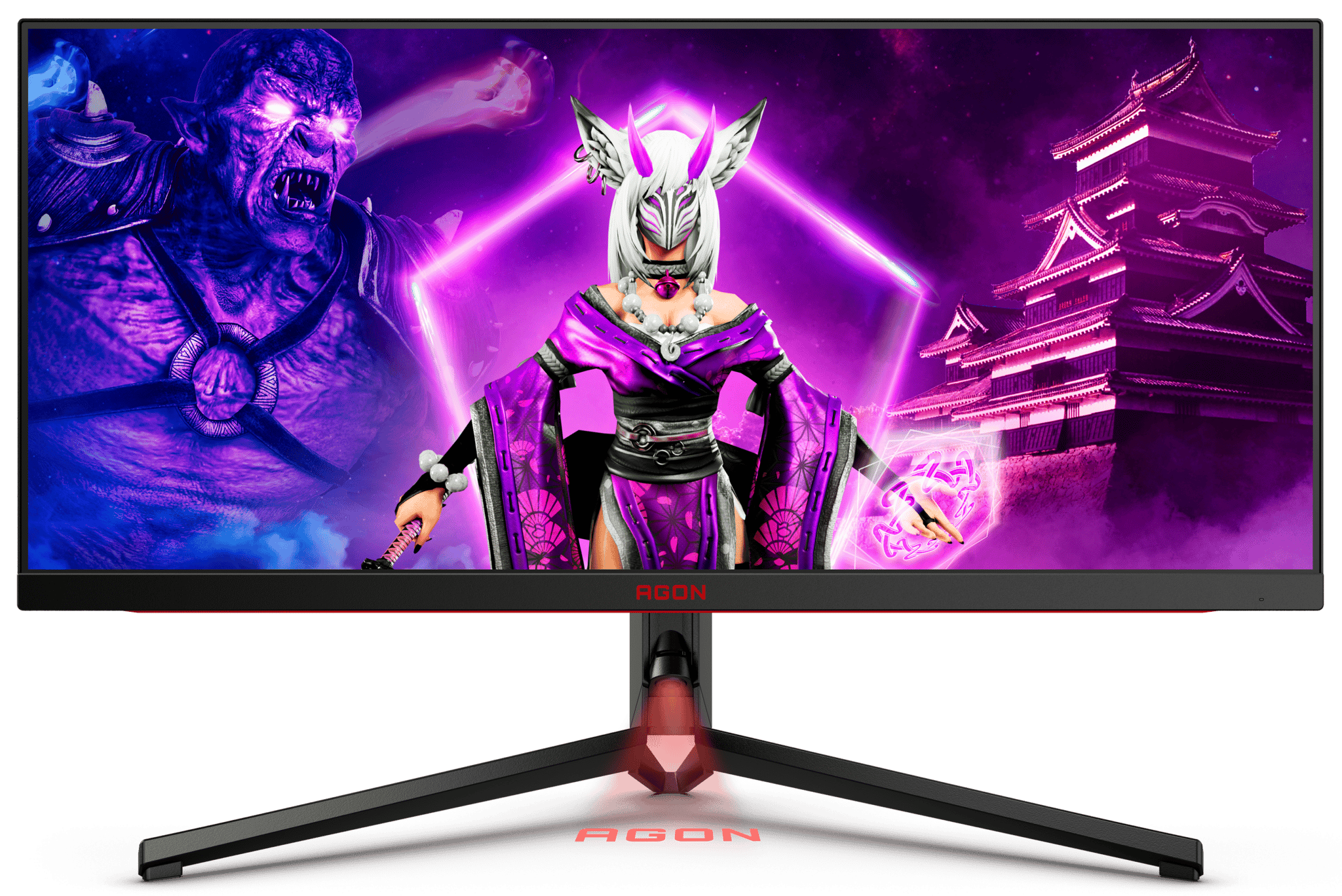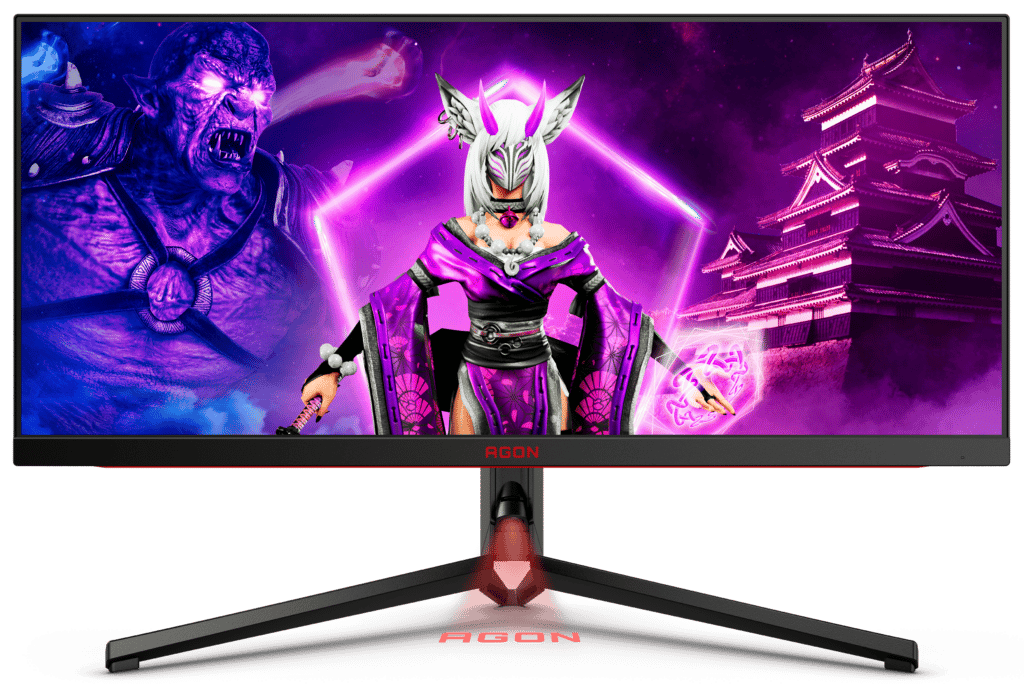 The AOC AGON Pro AG344UXM is one of the few ultrawides that come as close as possible to their OLED-based competitors in HDR performance. It's a top-end gaming monitor with a mini-LED backlight that has over 500 individual zones. It's considerably better at creating intense lighting effects and higher contrast compared to an edge-lit display.
It is capable of great color quality as well, so it is not impossible that someone will likely use it for color-critical work. Not all gaming displays can cover the DCI-P3 gamut to almost 100%, so this option has some merit over its competitors. There's also the fact that it has a FALD backlight, so you can expect best-in-class imaging with it.
The AG344UXM is the gaudiest in this lineup, but it's oozing with functional features just like any other flagship. It has a remote that will spoil you, plus it has USB-C and HDMI 2.1 connectivity for the latest devices. Our only issue with it is it's a bit hard to find, so you have to hunt around for it if you want to enjoy its amazing capabilities.
BenQ Mobiuz EX3410R – Fast Ultrawide Gaming Monitor with Reasonable Price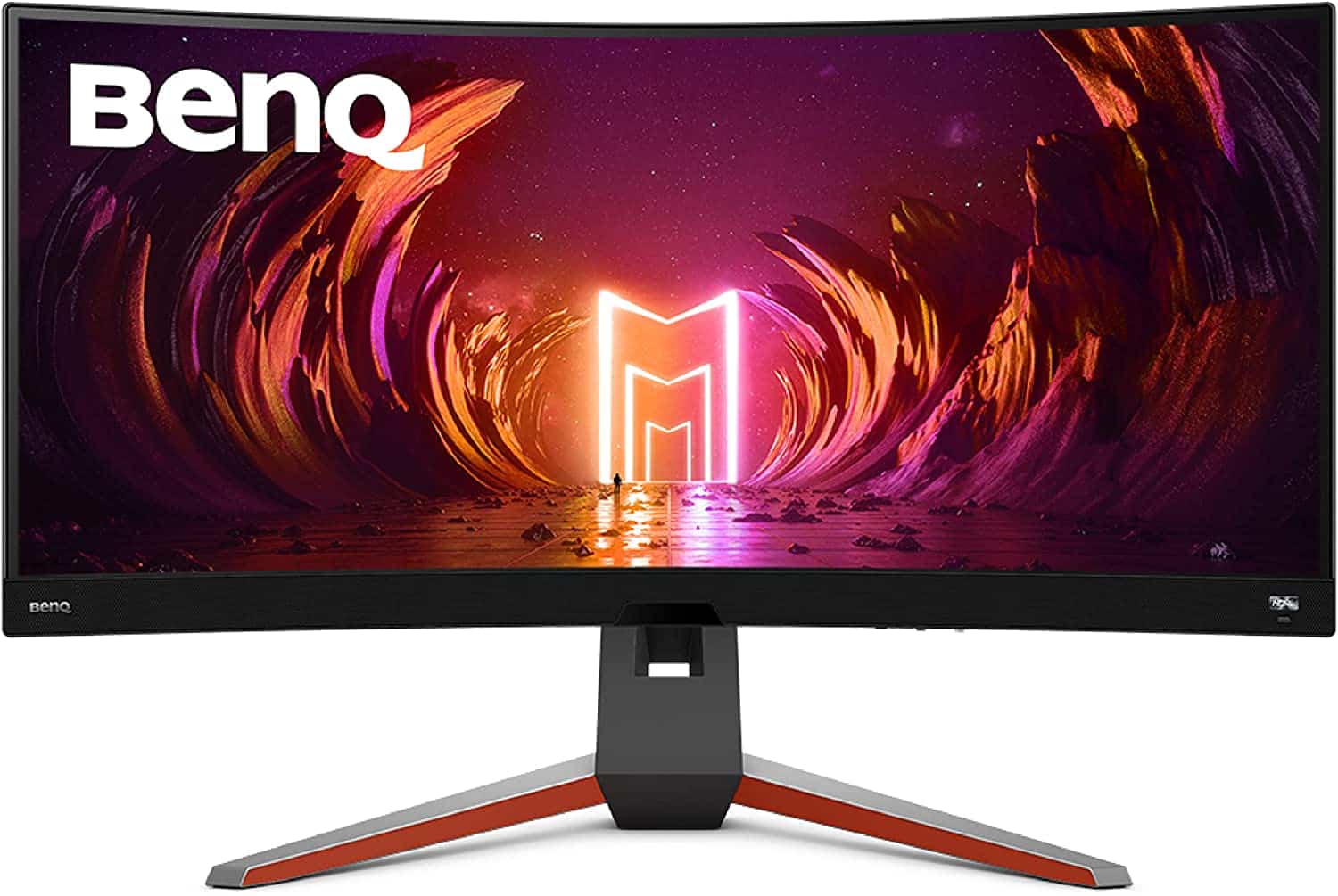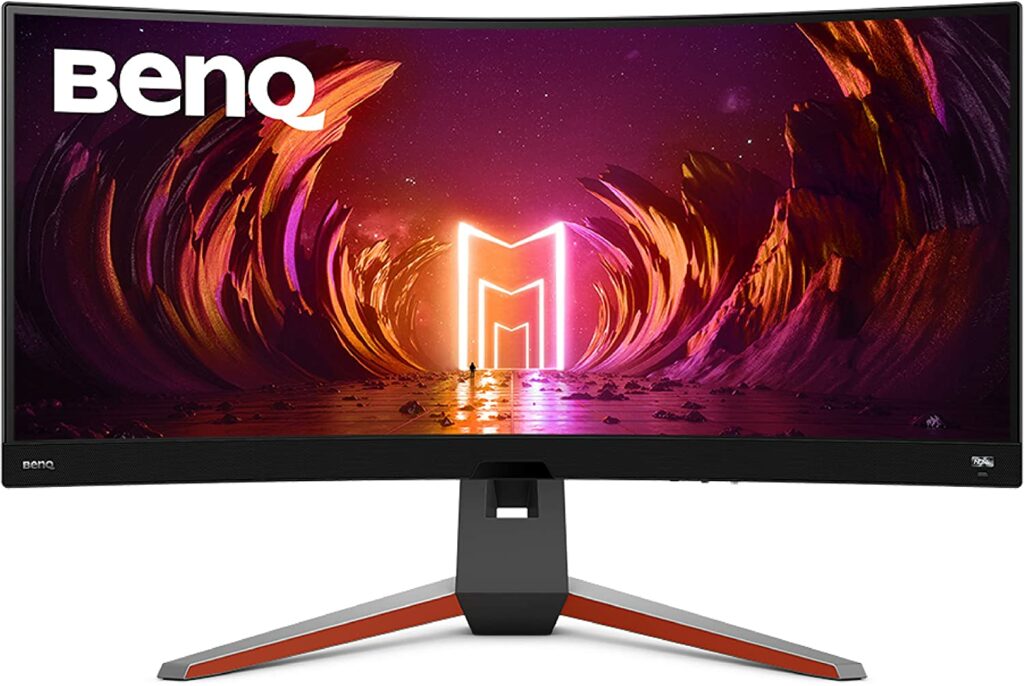 The BenQ EX3410R is a value-oriented gaming ultrawide that performs quite well despite its handicap in pricing. It has a curved VA panel with great performance in both gaming and imaging, so you can't really go wrong with it for the price. It's also built quite well and it feels as if it's a premium display despite its budget-oriented nature.
The 1500r curved panel used for this monitor has excellent contrast and decent color accuracy. Its backlight offers high brightness levels so you get more room for adjustment when needed. It is fast and responsive, although it's still bound by the limitations of the panel type.
One look at the EX3410R and you wouldn't think that it's a sub-$500 gaming monitor because of how good it looks. It has a silver shell with RGB lighting and it feels solid and reliable if you hold it in your hands. It even has a remote that will make ownership easier, especially if you tweak your monitor often to suit the games you play.
Samsung Odyssey Neo G9 – 49-Inch Super Ultrawide Monitor with Mini LEDs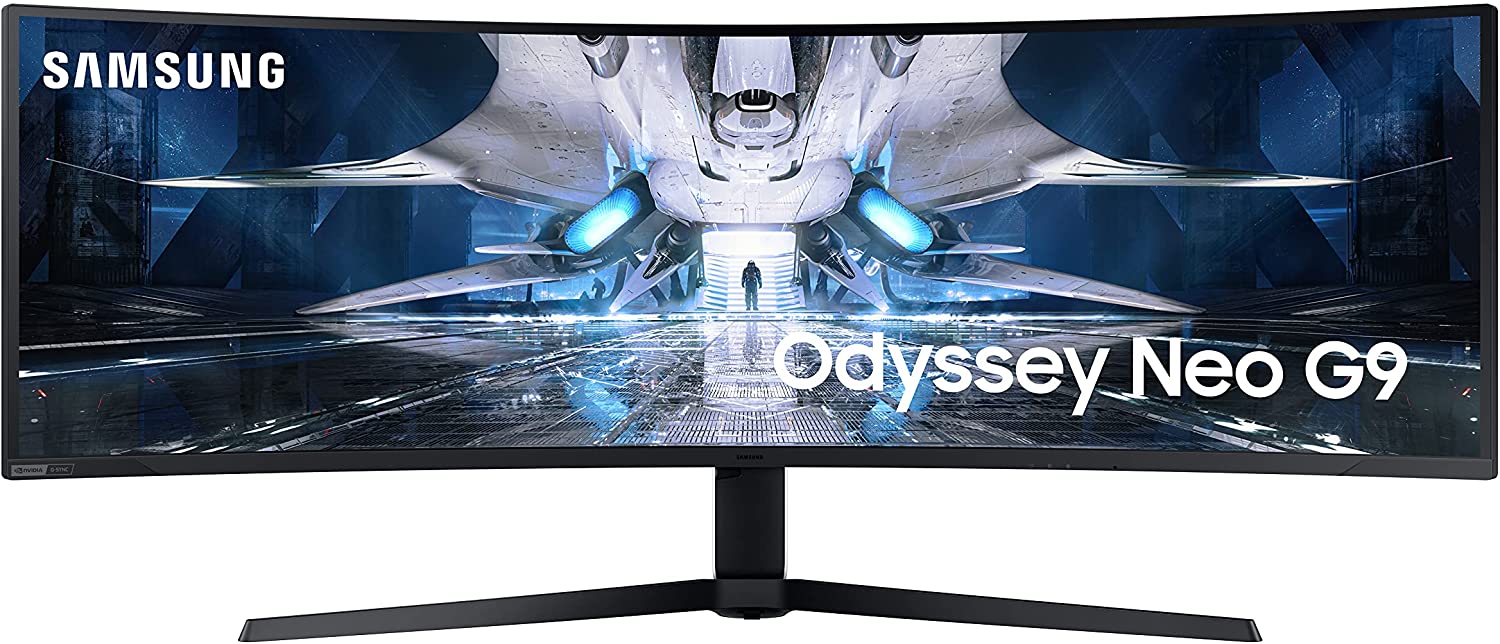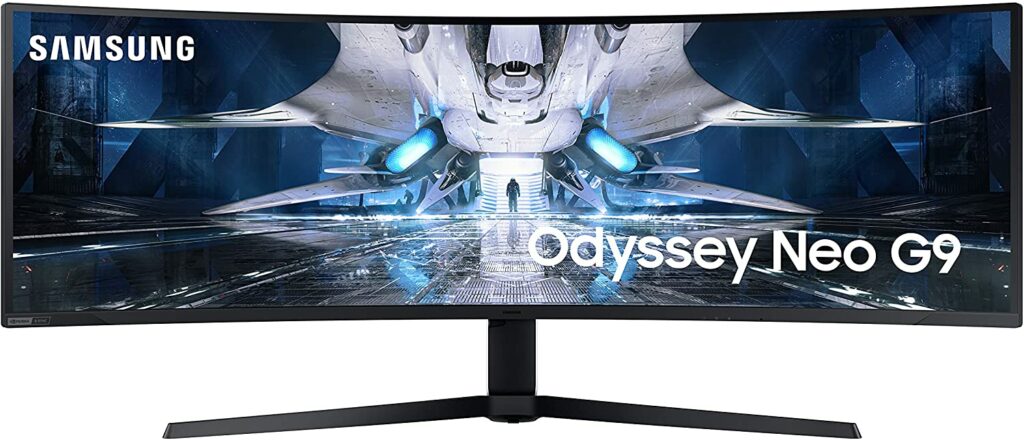 The Samsung Neo G9 is one of the most attractive high-end ultrawides in existence thanks to its jaw-dropping specs. 49-inch monitors are nicknamed super-ultrawides due to their unorthodox aspect ratio which surrounds your vision, including the peripheral sides. It is big and imposing, so you might need to upgrade your desk if you want to enjoy this monitor.
This 49-inch monitor has a resolution called DQHD or Dual Quad HD since it's equivalent to two 27-inch 1440p monitors. It also has a 240Hz refresh rate and a mini-LED backlight, enabling it to produce smooth motion and brilliant HDR effects. Not a lot of monitors can match that, so this model is one of the few that deserves its pedestal.
The Neo G9 is its flagship so it also has a unique aesthetic that will only fit on high-end setups. The white shell makes it a unique choice, while the RGB lighting at the back gives owners a bit of freedom in aesthetic customization. It's quite a handful due to its size, but it is attractive enough so users won't get tired of its looks easily.
Gigabyte M34WQ – Affordable IPS Ultrawide with USB-C and KVM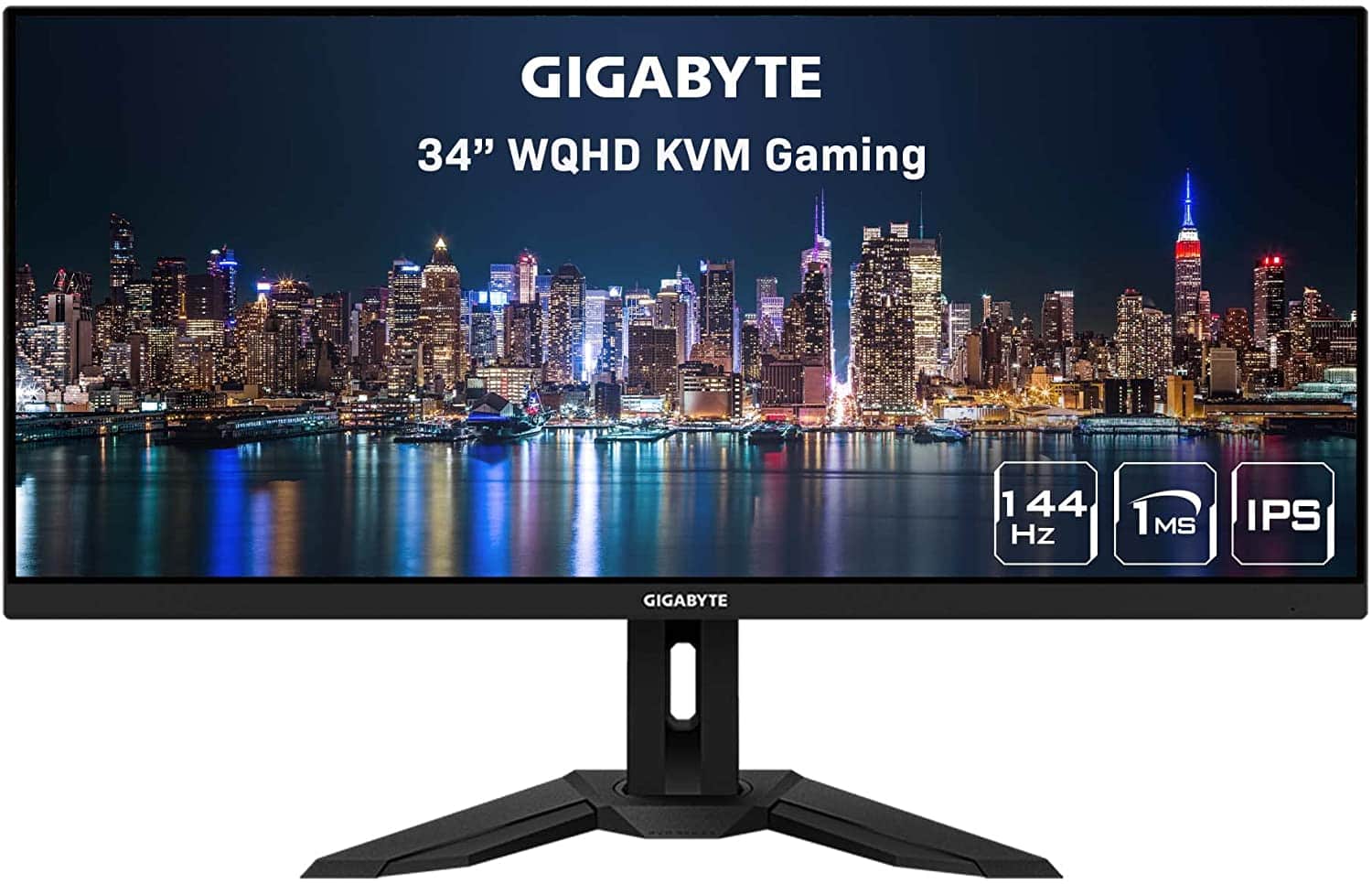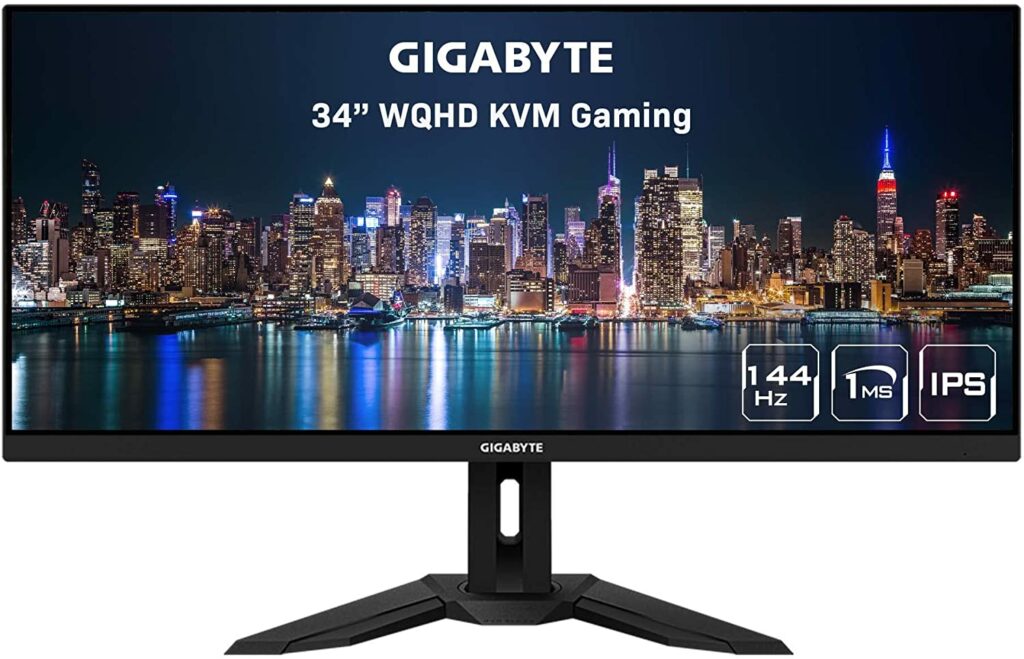 The Gigabyte M34WQ is an affordable yet versatile ultrawide gaming monitor with an IPS panel. It's a high-refresh fast-IPS display, but the monitor comes with KVM functionality and USB-C connectivity for modern setups. It has a dedicated button for it, so you can switch between your work and gaming PCs on the fly.
This may be a budget model, but it has a very good IPS panel with good color consistency and pixel responsiveness. It is great for both gaming and productivity, so you are hitting two birds with one stone if you have this monitor. It has a VA-based counterpart, but this model is preferable if you play fast-paced games and would like to use it for content creation.
It's also built well with decently thick panels and a stable stand that can keep the large screen upright. This model has better connectivity than many of its competitors in the same price bracket, so it's a no-brainer pick for multi-device users.
AOC CU34G2X – Affordable 144Hz Curve Gaming Ultrawide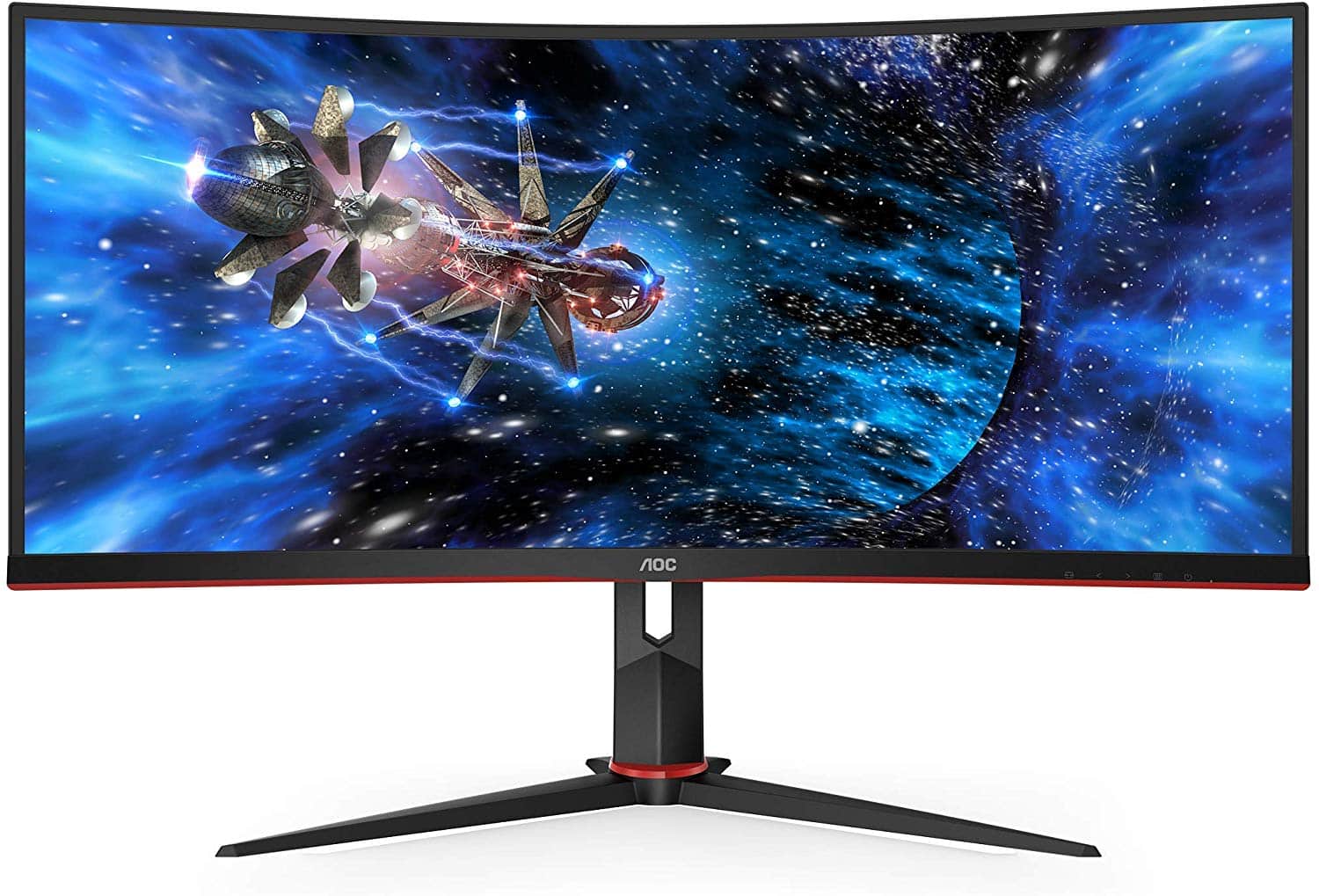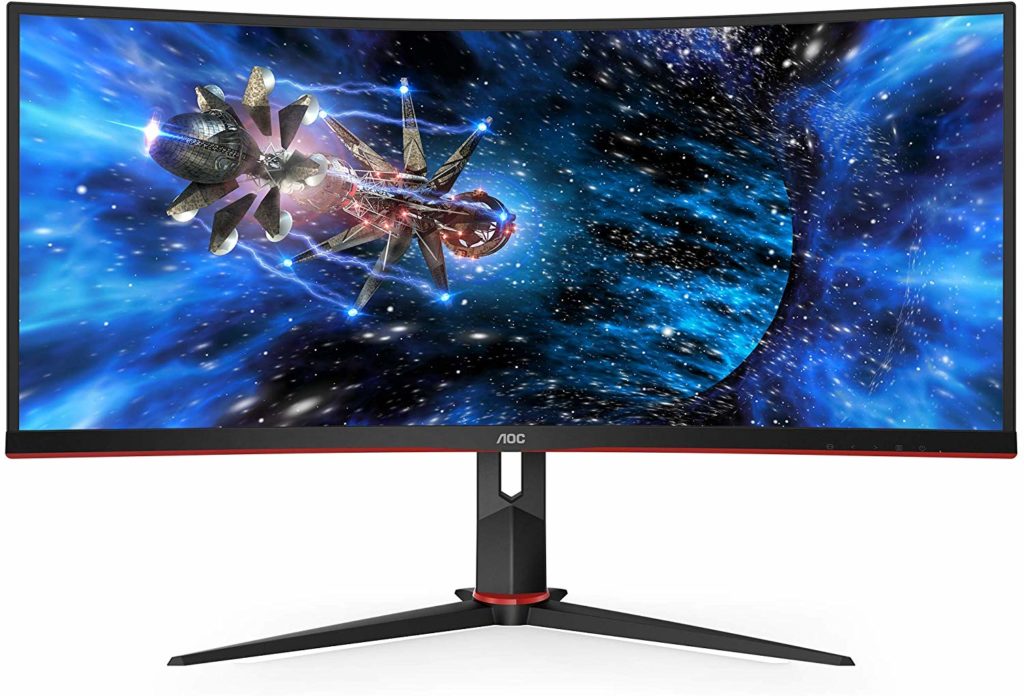 The AOC CU34G2X axed the steep pricing 144Hz ultrawides enjoyed when it first became available a few years ago. Most 144Hz ultrawides cost a thousand bucks, but that quickly changed when this monitor arrived. The monitor class became accessible to the masses because of this model and its batchmates, so it always has a place in any best ultrawide list.
However, that prestige isn't the only reason why we love the CU34G2X. It's also a capable monitor with excellent accuracy out of the box and when it's calibrated, so you can expect balanced colors from it. That and its wide gamut coverage and contrast create eye-popping visuals in any game that's thrown at it, so it's quite impressive for the price.
It's a budget model, so it doesn't have a lot of bells and whistles like the other options here. It has a robust stand and a decent amount of connectors that its intended audience can utilize for daily use. It may look dated now, but it is durable and reliable so there aren't a lot of bad reviews or feedback on it.
BenQ PD3420Q – Reasonably Priced Prosumer Ultrawide Monitor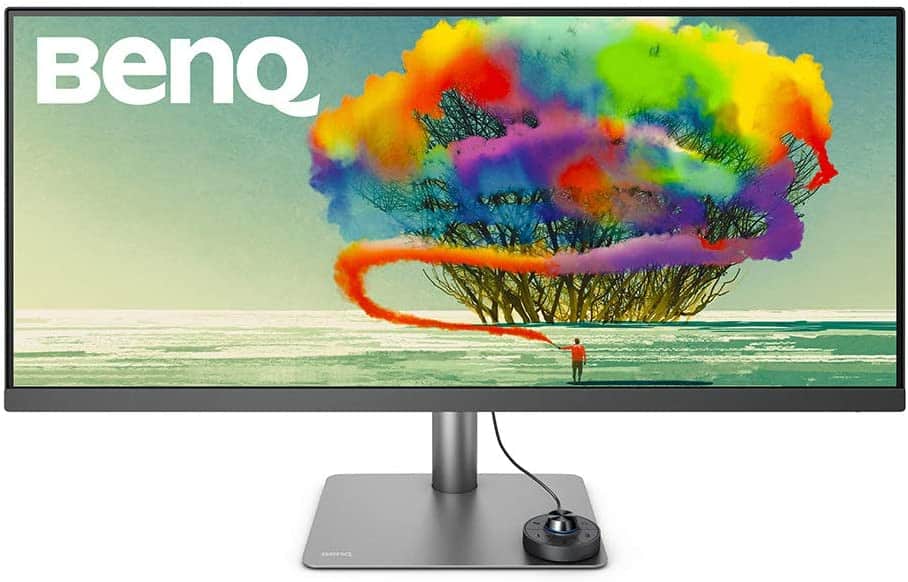 The BenQ PD3420Q is an excellent prosumer monitor that doesn't cost an arm and a leg despite its excellence. This monitor is part of the brand's prosumer lineup, so we were pretty surprised when its price didn't breach a grand when it was released. Most of the brand's high-performance displays are well over a thousand, but the brand decided that this would be one of the exceptions.
The PD3420Q's IPS panel offers wide gamut coverage and excellent accuracy so it's fantastic for editing and content creation. It has specific filters for standard gamuts which have excellent accuracy results. You won't need to calibrate this monitor if you use those, but you'll get equally impressive results if you use a colorimeter.
The BenQ PD3420Q looks like its premium counterparts with its matte black and silver combination. It even has a remote so you can utilize its settings on the fly without straining yourself. It is built like a tank so it should last quite a while, making it a great investment if you want an ultrawide for your work or business.
LG 40WP95C-W – Flagship 40-Inch Ultrawide Monitor with Thunderbolt 4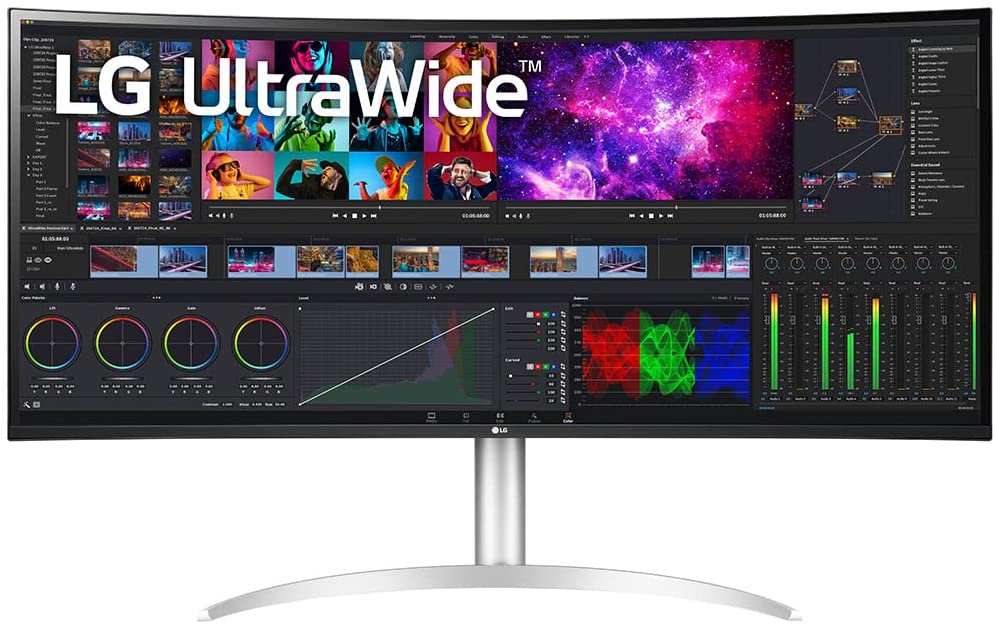 The LG 40WP95C-W is a stunning 40-inch ultrawide with a 5K2K resolution that works great for any sort of multitasking. You get a ton of room on it so you can maneuver various worksheets or apps and it looks quite good doing that for you. The only peculiar thing about this monitor aside from its unique size is its 72Hz refresh rate which you won't normally see in the market.
That massive IPS panel's real estate becomes handy for artists and editors since the monitor is suitable for editing and design. We saw excellent default and calibration scores from this monitor, so it should be great for photoshop and other similar programs. It wasn't meant for gaming, but it is usable for it if your system is powerful enough.
Another main draw this monitor has is its Thunderbolt 4 connectivity which basically future-proofs it for newer laptops and computers. You also get a robust and adjustable stand with it along with USB hubs for convenience. It's pricey, but it's a great investment if you want to upgrade your main display.
---
 Before Buying an Ultrawide Gaming Monitor
Ultrawide and curved gaming monitors have been on the rise as of late because who doesn't want a gaming monitor that allows you to see a lot of things at one time?
These types of monitors enable you to see a lot more thanks to its screen real estate and it is perfect for people who are watching a lot of media and of course, playing a lot of games.
Ultrawide gaming monitors sport the 21:9 aspect ratio and unfortunately, there isn't a lot of content that has that aspect ratio. But as previously mentioned, the Ultrawide monitor market is slowly gaining traction, and we should see a lot of 21:9 aspect ratio content shortly.
I saw a lot of Ultrawide gaming monitors on the market, and I have to say that I am impressed with the amount of visual clarity and detail you can get from having one.
Of course, there are still no 4K Ultrawide gaming monitors yet (at least, not prominently on the market). You usually only see Ultrawide monitors that support a maximum resolution of 3440×1440 and 2560×1080.
Still, with the amount of stuff you can cram on an Ultrawide gaming monitor, there is no denying that you would want one. And because of that, they tend to be more expensive than standard sized monitors.
With that being said, what are the things you need to look for when buying an Ultrawide or curved gaming monitor?
1.   Size
The biggest point of consideration when purchasing an Ultrawide gaming monitor is the actual size of the thing. Most ultrawide gaming monitors sport at least a 29-inch form factor. The bigger the screen size, of course, the higher the price.
2.   Resolution
Next up is the resolution of the display. As previously mentioned, there are two main resolutions that you can find on Ultrawide gaming monitors: 3440×1440 and 2560×1080 (1440p and 1080p, respectively). The resolution is crucial because your graphics card might not have enough juice to support 1440p or even maximum settings at 1080p. And, because the graphics card has to produce a lot more pixels than a standard size monitor, it can become too taxing on your video card if you're using an Ultrawide, gaming monitor.
This is another important thing to consider when buying Ultrawide gaming monitors. The graphics card handles all of the graphical load, and when it is not powerful enough, it might not run your favorite games smoothly when most of the settings are cranked up. If you've got a beefy graphics card, you shouldn't worry too much, though.
4.   Picture Quality
Not all monitors are built the same. Some monitors have a perfect color gamut while some monitors might be lacking in that department. Image quality is so important that you have to consider it before buying an Ultrawide monitor. Because of the curved nature of these monitors, sometimes you will see some light "bleeding" at the edges of the screen. So, be sure to look out for that as well.
The monitors display inputs is also important. Look for an Ultrawide monitor that has a DisplayPort connection (although most of the modern ones have it). The DisplayPort is the newest display IO, and it usually unlocks all of the monitor's features like GSync or FreeSync.
6.   Features
Every company incorporates their gimmick into their products. Aside from the ones I mentioned above, be sure to look at the monitor's unique features as well. If you're into gaming, you may want to look for an Ultrawide monitor that has either a FreeSync (for AMD graphics cards) and GSync (for Nvidia graphics cards) technology.
7.   Price
Price is always a point of consideration when buying products, and it still holds true when purchasing an Ultrawide monitor for gaming. There are a lot of Ultrawide monitors out there, and you have to be keen to look at its features so you can say that they warrant their prices. If you are having trouble getting the most bang for your buck Ultrawide monitor, read on to find out some of the best Ultrawide monitors for gaming and other things at different price points.
A lot of people are now buying Ultrawide monitors not only for gaming but also for content creation as well. They choose this over a dual or triple monitor setup because for one, there aren't a lot of cables since you're only going to be working with one big screen, and two, power consumption will be at a minimum. A lot of people also love the fact that Ultrawide monitors provide that continuity and flow of the display as opposed to some bezels being prominent when using dual or triple monitor setups.
With that being said, what are the best Ultrawide monitors on the market? I am glad you asked because I am going to recommend some of the best ones out there.
Conclusion
Ultrawide monitors provide an excellent display that is perfect not only for games but also for other media content as well.
Because of their features and the size of the screen, the Ultrawide monitors are priced much, much higher than regular 21-27-inch monitors.
But despite its higher price, there are a lot of advantages of getting an Ultrawide display. One of the main benefits of getting an Ultrawide monitor is that it gives you a more immersive experience.
All of the monitors outlined here are more than 30-inches in size which mean that there is a ton of screen real estate.
Also, all of the gaming monitors here support a split-screen feature that allows you to divvy up the screen so you can put a lot of applications on display.
I am always an advocate of getting a great monitor to complement your graphics card. If you have a Nvidia graphics card, be sure to get a monitor with the GSync technology. For AMD graphics card users, a FreeSync Monitor should be acquired.
Also, all of the monitors I've mentioned in this article is not only great for gaming, but they are also suitable for content creation and editing as well.
Thanks to their impressive visual performance, any monitor in this list will be ideal for purposes other than gaming.
Again, they might be expensive, but you will be happy if you buy one of these Ultrawide monitors as you are assured that will you get an amazing visual experience.
The prices that you see in this article are based on Amazon.
Ultrawide monitors might be considered as a luxury, but if you can get one, your gaming experience will be amplified manifold.
Now you can go up and choose the best ultrawide monitor for you.
https://en.wikipedia.org/wiki/Widescreen