Introduction
In any gaming or entertainment setup, speakers are every bit as important as a high-end video card or a fast, high-resolution monitor. If you ask me, of all the choices builders have to make, choosing a speaker that fits your listening preferences and budget is the hardest thing. I know this quite well since it takes me several nights of research, a lot of trips to stores to audition different models and brands, and choosing between the various models which I have found to be a perfect match for my setup.  I usually set two or three choices, weigh their pros and cons, and finally select which one to get. After all, speakers are one of the longest lasting peripherals in any setup. Most users would use them for as much as a decade even after changing or upgrading gaming rigs or entertainment setups.
Adding amazing speakers to a gaming PC or a home theater/couch gaming setup enhances the overall experience by a mile. Choosing a perfect set for you has never been as difficult as it is today. There is a broad range of options out there, and you could go spending 10 dollars on a cheap pair of USB speakers to as much as more than a hundred thousand dollars (I've seen and heard a setup like this). So to sum it up, choosing the perfect set can be confusing. This guide was made to do the exact opposite. We wrote this article to save you the trouble of buying speakers for gaming. We have selected the top five choices in four categories to help you decide. We chose these models for their performance to price ratio, capabilities and user feedback.
How to start the Selection Process (What to look for)
1.     2.0, 2.1, Surround or all in one/sound bars?
There are several types of speaker sets, the most common for gaming would be the 2.1 system. This type is composed of two satellite speakers and a subwoofer. Gamers would pick this mainly because of its convenient placement and its ability to project sound with the added explosiveness of bass. A well-rounded model with a decent sub can produce room rumbling sound especially with games and movies that involve a lot of explosions and gunfire.
The second most common would be the 2.0 speakers. These are mainly composed of two stereo speakers who have better quality highs and mids but sacrifice bass response. This type is the choice of users who prioritize sound quality than power, have limited space, or want speakers that can be used to game and play music that is not bass heavy.
The third type is the surround speakers usually found in 5.1 configurations. This type comprises of five satellite speakers (two front, two rear and one center) and a subwoofer. This option is a favorite choice for couch gamers, home theater owners or simply those who have space, and want detailed positional sound which most of the serious players consider being important. Lastly, the sound bar is the all in one package gamers, and movie goers go for if they have restricted space, full or surround sound and do not like the clutter, other types will cause on a desk or shelves.
2.     Performance and Price
As with all things that can be bought, you get what you pay for every time. A twenty dollar speaker will never sound as good as a better model at a higher price point. So buyers should be sure to limit their expectations to the amount they are willing to spend. As for technical specifications, you should not trust what the manufacturers write on the manuals and websites. Most of the information written there are either exaggerated or the maximum capabilities of the product (Such as frequency range and bass response).
The best thing to do is to go to stores and audition the speakers you are trying to get. You can play different genres of music, watch the demo movie playing, or if possible, play a demo game. Doing this will give you a benchmark of how the speakers will perform. If going to the store is not an option, you can always turn to reviews and guides such as this one. This hindrance one of the main reasons why we wrote this article.
3.     Extra Features and Looks
Since gamers and most users in general rarely change or upgrade speakers, getting a product with impressive, sleek looks and a myriad of additional features is a choice almost as important as the performance. After all, you will be looking at them while using them for a long time. As for the extra features, it would be cool to have more input ports, Bluetooth, equalizers and a whole lot more. Honestly, it is all up to you. Get a product that has what you want and need, looks attractive to you and yet it still performs at your desired level. On the contrary, never sacrifice speaker performance for additional eye candy or features you do not need to maximize its potential.
The top Five Choices  (Five for each Category)
1.     2.1 Speakers ( Two Satellite Speakers with Subwoofer)
Swans Hivi M50W (290$ Amazon)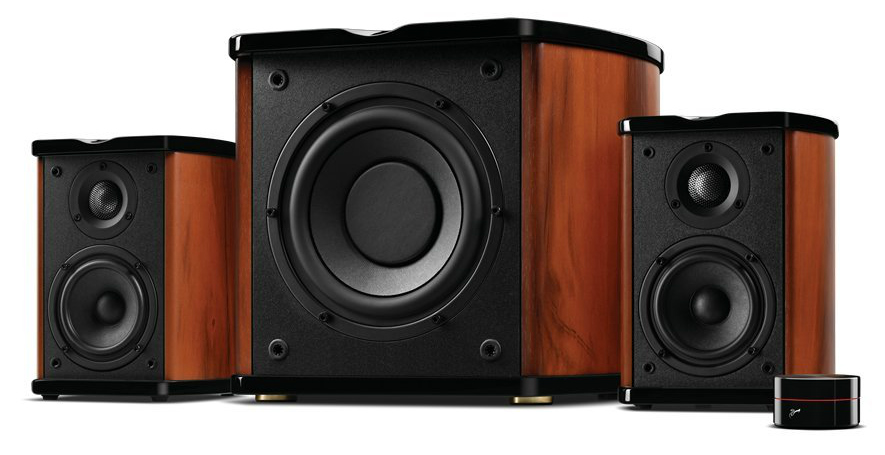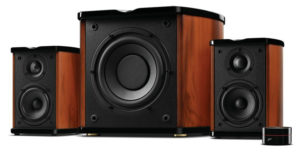 Swans Hivi is an unknown brand to many, but the company has been making high-quality hi-fi speakers out of California and China for two decades. The M50W is their top of the line 2.1 multimedia model for computer use. While this is not the most powerful set regarding bass in this line-up, the M50W offers better clarity, cleaner more detailed mids and a tight and punchy bass that does not over power the total experience. The M50W can go louder than most 2.1 speakers before distortion since the unit has a more powerful amplifier to run the HiVi drivers the set is using. The M50W's cabinet is made of wood with a layer of lacquer for color and black plastic shielding. The look may not appeal to many, but overall the M50W looks classy and would not look out of place beside high-end speakers. The satellite speakers are small and would not take up a lot of desktop space, while the sub is of a decent size common to other 2.1 products. Get this set if you want a full, accurate sound stage and punchy, but not overpowering bass, a performance that has the approval of audiophiles, and a build quality that rivals high-end products.
Klipsch ProMedia 2.1 THX Certified 2.1 Speakers under 150$
For more than a decade, the Klipsch ProMedia 2.1 speaker has set the benchmark for 2.1 PC speakers for gaming. The product offers outstanding value at the price point it is currently at right now. It features a flat response rate,  clear and loud highs and mids thanks to its larger and more powerful satellites (compared to most competitors), and finally a powerful subwoofer that can offer rumbling bass without overpowering the satellites which most 2.1 speakers always do. It has a simple matte black finish and is very easy to setup. At this price bracket, the only real downside is that it is hard to find new and it lacks a remote/controller unit for convenience. Overall this product is an excellent choice if you want a speaker set that is bright sounding, but powerful enough to fill a room with sound.
Logitech Z623 THX Certified Speakers (119$)
The Logitech Z623 is another good choice at a little over a hundred dollars for gaming speakers. While it is widely available and reasonably priced, the Z623 speakers lack power and clarity in the high to mid range frequencies. This drawback is not noticeable most of the time for games, but it would have been a nice characteristic to have better details and clarity. Despite that, the product more than makes up for it in the power department as this set offers a lot of bass thanks it to its slightly larger subwoofer. This product is a good recommendation for an accessible and affordable option for gamers. The product does not include a remote, but the controls are located on the right satellite speaker. There are some reports of durability or build quality issues, but these comments are subjective and dependent on usage. Overall the Z623 is an excellent product for those who want speakers with a decent sound performance that has a THX certification to back it up, powerful and booming bass for sound effects, and widespread availability.
Edifier M3200 2.1 Speakers ($78.52 Amazon)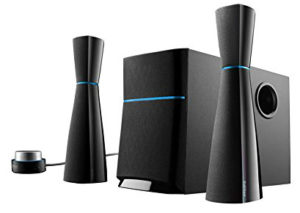 The Edifier M3200 2.1 speakers are one of the unique-looking designed products in this market. Despite the elegant looks, the M3200 lacks power and a bit of detail in the sound department. However, at this price point, you can't get better performance and the looks that go with it. Audio performance is adequate for most games, but at times may lack the rumbling bass most players look for in speakers for gaming. To offset that downside, Edifier has included a desktop volume control dial with looks quite good and has a subtle glow from a LED. That alone is a big bonus considering this product is below a hundred dollars. In conclusion, the Edifier M3200 is a decent all-around package that is easy to use and offers decent sound quality which is hard to beat for below eighty dollars.
Cyber Acoustics Powered Speakers ($41.25 Amazon)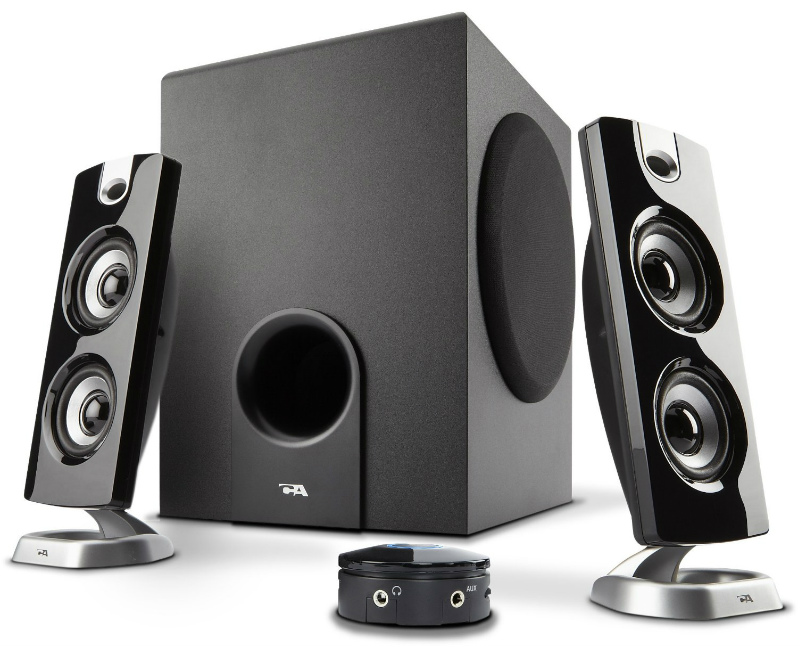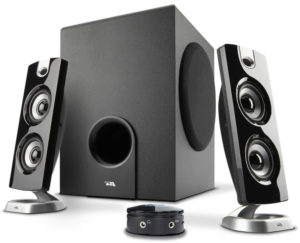 The Cyber Acoustics 30 watt powered speakers offer a lot of value to a buyer. For a little over forty dollars, you get a subwoofer with adequate bass and satellite speakers with two drivers. It also offers a desktop volume control dial with 3.5mm audio jacks for even more audio input options. That feature is relatively rare in speakers at this price. The downside to these speakers are the drowned out mids, and the highs and lows can be a bit overpowering. This issue can somehow be fixed by properly adjusting your audio in the equalizer built into your OS. You can't expect much from a speaker at this price range, but for those who are not willing to spend a lot, the Cyber Acoustics speakers offer a lot of value and decent performance.
2.     2.0 Speakers (Two stereo speakers)
Vanatoo Transparent One ($499 Amazon)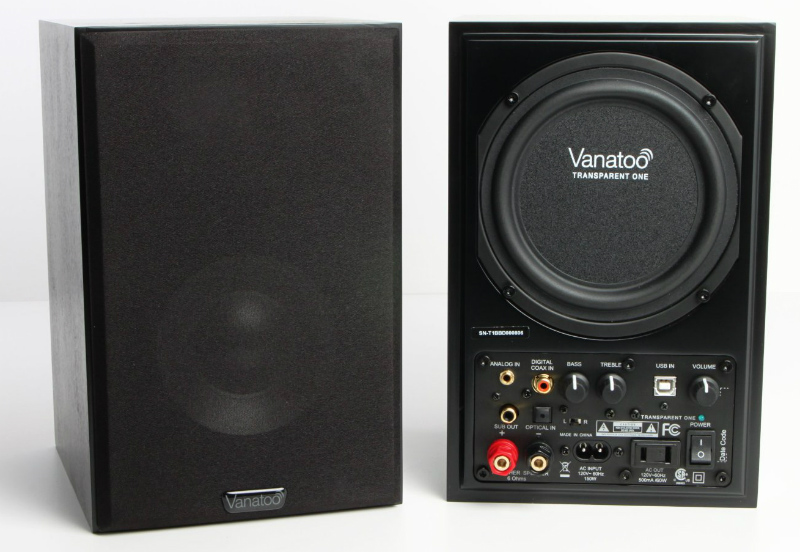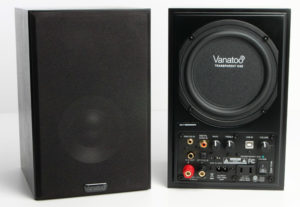 The Vanatoo Transparent ones are a solid choice if you have the budget for high-end audio in the 2.0 speaker category. At just ten inches tall, the T1s provide lively, detailed and balanced sound despite the size. But what makes it an exceptional product for gaming is its bass capabilities for such a small package. The T1 can go to as low as 48hz in frequency, and that is something most products in this configuration cannot reach. It also has an assortment of connection options including a USB input and an AC power outlet for accessories such as a Bluetooth receiver and a sub-out if ever you would want to attach a subwoofer in the future. To top off all these amazing features, the Vanatoo T1 has something other products do not have; it has a built-in DAC. It is a digital audio converter that converts digital signals to analog for less interference and better output. If you have the budget for it, the Vanatoo Transparent Ones in an absolute must buy if you are shopping for a speaker for gaming and other audio purposes.
Audioengine A5+ ($399 Amazon)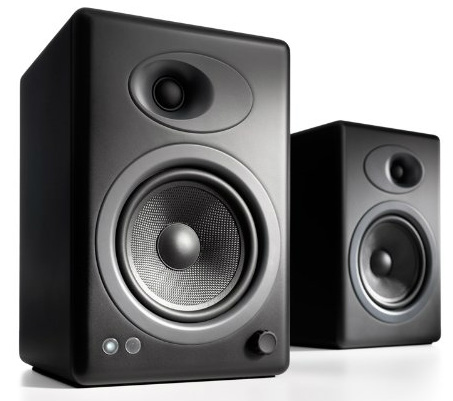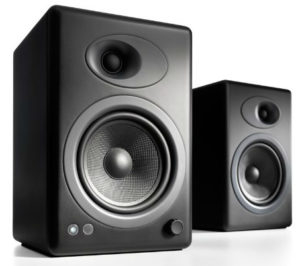 The Audioengine A5+ is one of the most highly regarded desktop speakers money can buy. Like the first example, they are powered (with a built in amplifier) bookshelf speakers categorized as PC speakers. This characteristic is a good thing since this means you get audiophile quality performance In a product mean for the computer market. These speakers deliver detailed and rich sound and deep, solid bass which is good for gaming needs. It 's hard to find other products capable of producing audio like these speakers can unless you go up another notch with your budget. This product has two inputs, one output for a sub and a USB port for charging devices. The kit also includes a handy remote control for volume. The A5+ is one of the better-designed products with its minimalistic look and amazing build quality. If the A5+ is too big or too expensive, It has a smaller brother in the A2+. These speakers are also high performers in their segment, but they lack the firepower the A5+ has. That makes this product much more ideal for gaming. This product is pricey, but if you have the money to spend and the desire for amazingly detailed playback, the Audioengine A5+ is indeed a highly recommended purchase.
Edifier R1700BT ($149.99 Amazon)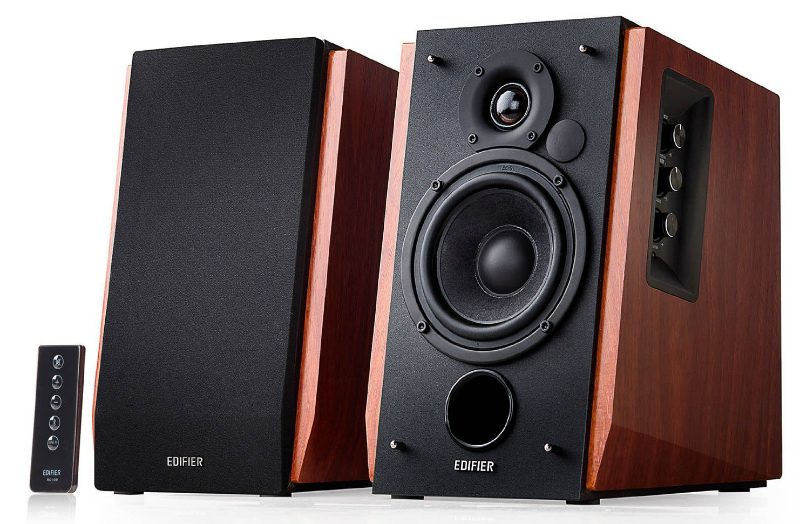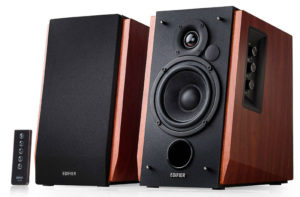 In this segment, most of the top choice products require top dollar to grab the outstanding performance, advanced features, explosive power and beautiful aesthetic for your gaming setup. With the Edifier R1700BT, this is not the case. This product only requires less than half the price of what the first two options need for ownership. Despite the price difference, the R1700BT does not disappoint. This product is capable of high-quality midrange sound with warm and smooth details usually found in actual bookshelf speakers. Most audiophile reviews say that the bass on this model is too boomy for it to qualify for their tastes, but in the gamer's case, that is, of course, a good thing.  High-quality audio in a compact sub 140$ that has enough bass for explosions makes this a very attractive package for gamers who don't want to spend a lot of money but want quality sound for their setups. If that isn't enough value already, the R1700BT also features a Bluetooth wireless playback feature coupled with its beautiful walnut style finish. Overall, this selection represents a sweet spot in the 2.0 speaker segment.
Creative Gigaworks T40 ($109.99 Amazon)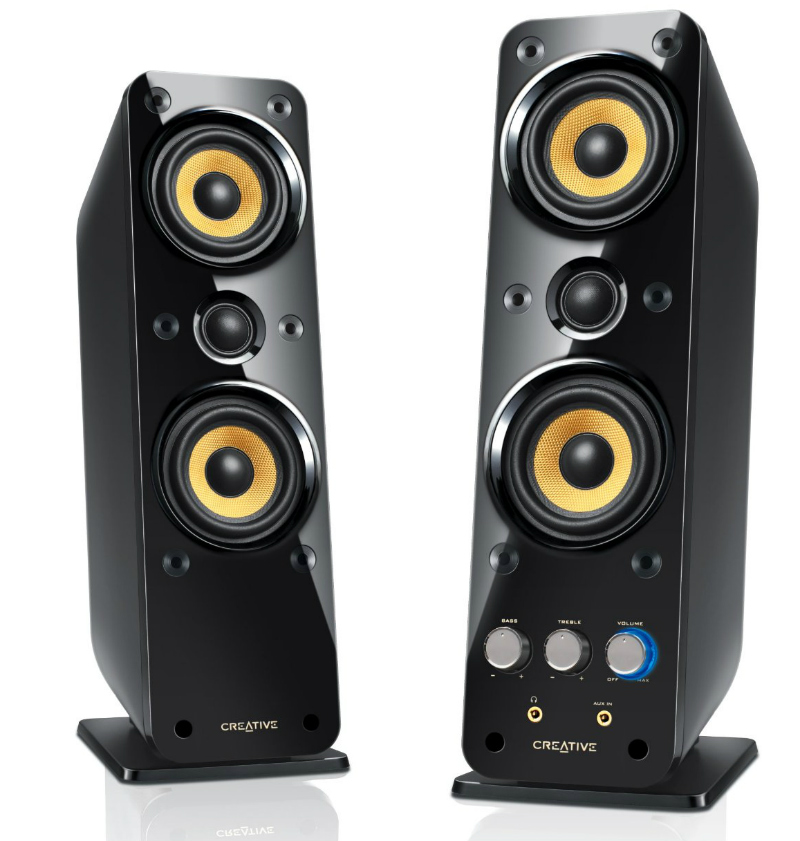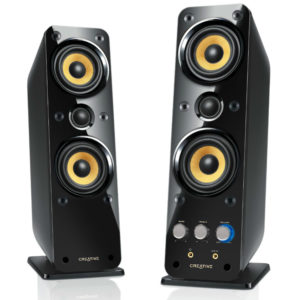 The Creative Gigaworks T40 is one of the oldest models in this lineup, but the phrase "Old is gold." Remains valid for this product.  The most striking feature it has is it is a tall and slim cabinet, and it has a pair of drivers and a tweeter on each side. Some may not like how it looks, but for space-starved setups or those with large monitors, these would fit perfectly. On the performance side of things, the T40 is capable of incredible midrange sound. This capability is mainly due to the dual 2.5 driver configuration this product has employed. Audio such as dialogues and certain sound effects are top notch and outstanding for the price of this set. The downside to the T40 is the lack of bass power. Bass is represented more as a detail in this model. This downside may be a deal breaker to some, but for those who need a product that offers an exciting and detailed midrange, or those who lack the space for boxier speakers, the Creative GIgaworks T40 is a top choice for a reasonable price of a little over a hundred dollars.
Logitech Z200 Multimedia 2.0 Speakers ($27.99 Amazon)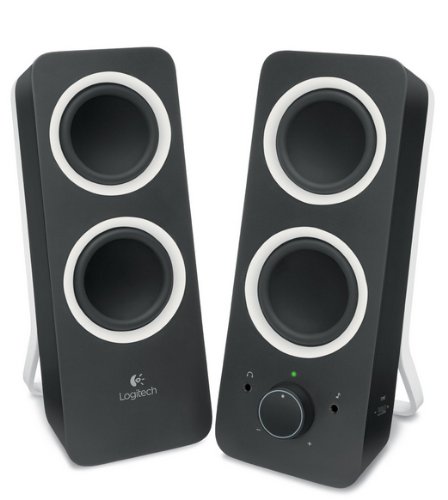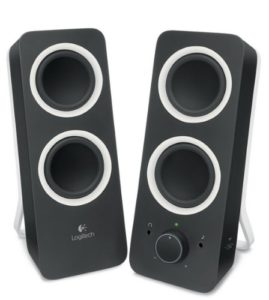 It is quite difficult to find outstanding and powerful 2.0 speakers in the small budget range. Most of the capable models in this segment are almost always over a hundred dollars. But there is still a small niche in gaming that requires a low budget solution for their basic audio needs. IT could be the people who only play light games such as browser games, mobile games or people who have a regular laptop but would want to replace the built-in ones with something a little more powerful. In line with these facts; the Logitech Z200 is a suitable choice. Although not as robust and as detailed as the choices above, the Z200 still gets the job done. This model has plenty of base for its tier and provides decent sound clarity compared to stock speakers. This product is a step up from stock tablet or phone speakers, and they even perform a little bit better than what regular laptops have. It's a given that you cannot expect a lot from something this cheap, but the Z200 is something to consider when you are looking for an upgrade for the uses mentioned here.
3.     5.1 Surround Speakers (2 Front, 2 Rear, 1 Center, and 1 Subwoofer)
Energy 5.1 Take Classic Home Theater System ($314.66 Amazon)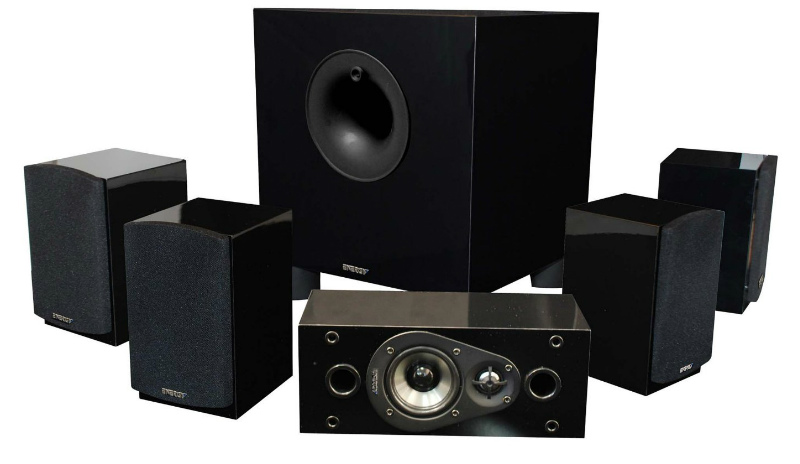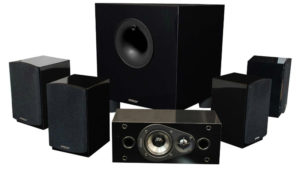 You could easily part with over a thousand dollars on surround systems to get the best your money can buy. But in the case of gaming, the Energy 5.1 Take Classic home theater system does the job with an outstanding price to performance ratio. While this model is not the best sounding choice in the home theater line up at the 300$ mark, the Take Classic makes up for it by sounding big while being compact. Size is of utmost importance for gaming setups since not all of us have huge rooms with a lot of placement options.  The satellite speakers on this package are nearly identical in size to regular desktop speakers, and the sub is quite compact considering this is a full 5.1 product. Despite the small dimensions, The Energy Take Classic delivers exceptional detail, crisp highs and mids, and a deep and resounding bass for a clear and complete audio experience. The sound output these speakers provide is comparable to bigger, favored, and more expensive models. In addition to that, the Take Classic looks gorgeous for a budget set. The Piano black finish would compliment an expensive gaming setup or an elegant living room without question. Pair this with a good entry-level AVR (see below for example)
Monoprice 10565 Premium 5.1 Home Theater with Subwoofer  (219.95 Amazon)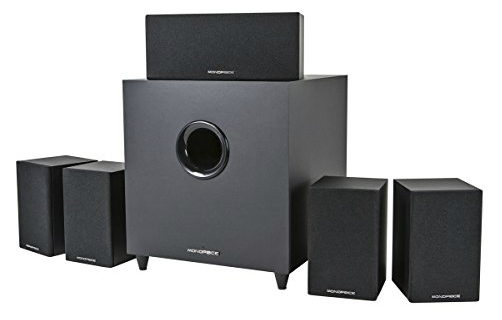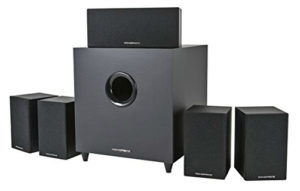 The top choice we listed here is pretty hard to beat regarding price to performance ratio. But in this case, the Monoprice 10565 premium 5.1 home theater does the job. For less money, this package performs extremely well compared to the Energy package. It shares almost the same specifications as the Energy model but sacrifices a few details in sound quality. In some tests, the 10565 has clearer vocals and a deeper bass but is a bit weaker and less warm overall in sound performance. These are little things you can forego to save another hundred bucks for your gaming setup. The biggest drawback of this product is it looks. Its components are compact and would be a perfect fit for restricted placement, but the overall look of each of the speakers leave something more to be desired. Perhaps this is due to the lower price tag. But even then, the sound is more important than looks when you are seeking to save extra cash. Adding an entry level AVR would make this a far better option than just buying an all-in-one 5.1 speaker setup from computer brands such as Logitech and Edifier.
Logitech Z906 Surround Speakers ($323.95 Amazon)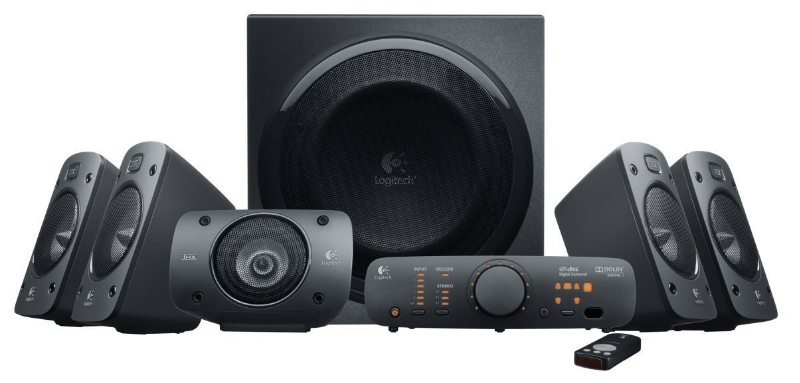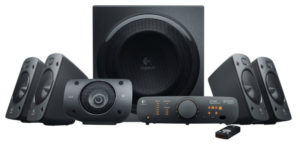 If you want a 5.1 speaker set specific for gaming use, there is no better option out there (other than building a home theater based setup) than Logitech's Z906 Surround speakers. This product is potent and capable of explosive sound since it this unit is mostly meant for gaming. Highs and mids were satisfying and defined with some fair degree of detail. The bass is where this product is best at since it provides a tight and solid bass response. While not the best at clarity compared to home theater setups, The Z906 more than makes up for it in features and design. Mostly meant for PC use, this product can be rewired with standard speakers wires to extend the placement of the satellites. Another favorite feature of the Z906 is its control console. It's easy to use has six different connection options. It's an excellent all in one solution that is user-friendly, compact and attractive at the same time. It's quite pricey at over three hundred, so it's either you spend that amount or save up a bit for a full home theater setup. Either way, the Logitech Z906 is still a recommended buy for gamers who want to define audio in an easy to setup and use package.
Creative A550 5.1 Speaker System ($72.99 Amazon)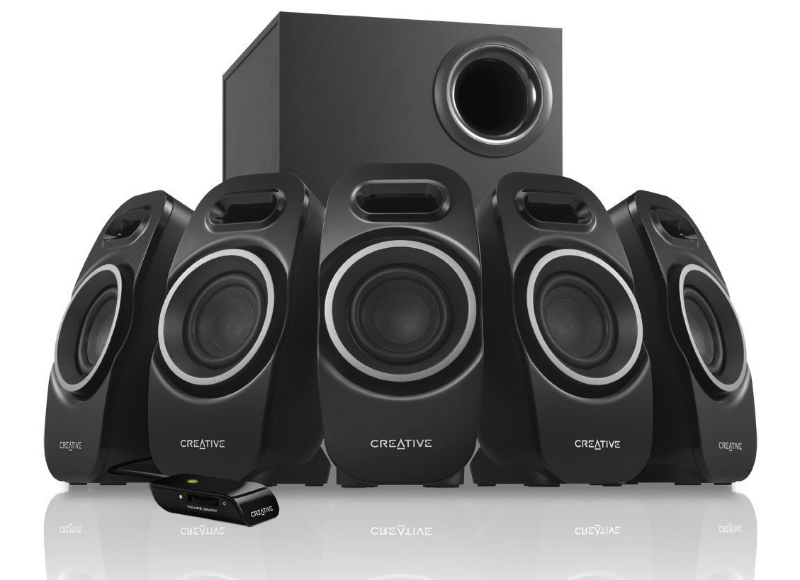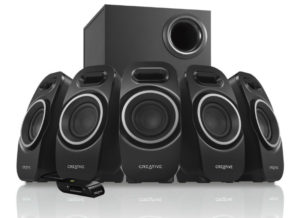 The 5.1 speaker segment can get expensive quickly if you do not know what you are doing. Luckily, for most gamers, there are entry level options still available in an ever evolving market. The Creative A550 5.1 Speaker system is one such speaker. Most would be skeptical of such a system at this price range, but for those who want to test the waters, this is a good choice to do so. Sound quality is surprisingly decent despite the weak overall output. Despite the shortcomings, the A550 will surprise the users coming from regular desktop speakers. The satellites also carry technology called Dual Slot Enclosure. In the simplest terms, this means that the cabinet design of each satellite is design for it to put out the sound of a bigger speaker than what it has. Other than the decent performance, the Creative A550 5.1 Speakers look quite attractive, especially for a budget-friendly product.
Logitech Z506 6($59.90 Amazon)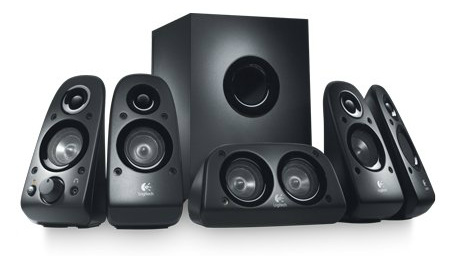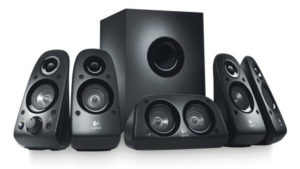 At around 60$, the Logitech Z506 presents the lowest priced 5.1 speaker set you can find today. This product is the most popular choice most gamers go for if they want to try surround audio. Despite the price, the Z506 still packs a decent punch that is above the expectation its price tag sets. It presents acceptable shrill highs and a solid, but an incomplete mid range, and sufficient bass to fill a small gaming space. But what it lacks for in sound quality, it more than makes up for regarding ease of use. You can spend a lot trying to configure the other 5.1 speakers in this lineup, but with the Z506, it's only going to take you about 15mins or less to assemble and use. Cables are color coded for easy assembly, and each of the satellites and the subwoofer are small enough, so they are easy to place. On the other hand, the downsides to this product are of course its lack of necessary firepower. The details such as rain drops, or background sound are there, but the overall loudness of the package is missing. It's particularly easy to distort the output, but it's  easy to remedy that with a little tweaking. Digital signal support is missing, so the Z506 just spreads the signal through the different speakers instead of virtualizing it.  There are also no wall-mounting options for the Z506. However, these are cons expected since you only pay about sixty dollars for something that can give you a taste of surround sound.
AVR Suggestions – Denon AVR S510BT Z(279$ Amazon) and Yamaha RX-V379BL (229.95 Amazon)                          '
For the purpose of convenience, we have selected two entry level AVRs to match with the surround sound products mentioned above that require them. The Denon S510BT and Yamaha RX-V379BT are two inexpensive AVRs directly in competition with each other. Both are built with 5 70 watt channels, Bluetooth, HDMI video output and HDCP 2.2 which means they are fully capable of playing 4k content. Both of these products offer improved audio capabilities than their predecessors and are more than worth the price that they have. Choosing between them will come down to preference in how each one looks, price( the Denon model is slightly more expensive but has a better build quality)or availability.
4.     Soundbars
Yamaha YAS-302 ($399.95 Amazon)
The Yamaha YAS-302 represents the top choice in this lineup for sound bars. It's been around for quite some time, but it still is the best selling and highest rated model in the soundbar arena. Most soundbars cannot sufficiently fill a room with high-quality playback, but the YAS-302 has the deepest and widest soundstage a product can offer at four hundred dollars. It is pretty tough to beat considering it can decode both Dolby Digital and DTS as compared to other models who can only process on or the other. On the other hand, this product is only 34.9 inches long compared to most sound bars at 40 inches. That translates to a slightly easier placement option. With the dimensions in mind, you might have to center the YAS-302 to maximize its capabilities. The wireless subwoofer also adds the convenience of the whole package. Finding a place for the YAS-302 is easy, and setup can only take minutes. The only real downside to this package is its lack of HDMI inputs and the rather limited Bluetooth capability (Non-AptX devices sound harsher). All in all the Yamaha YAS-302 has enough firepower to fill a medium sized gaming room with detailed sound and powerful bass rumbling for your gaming needs.
Polk MagniFi One ($236.36)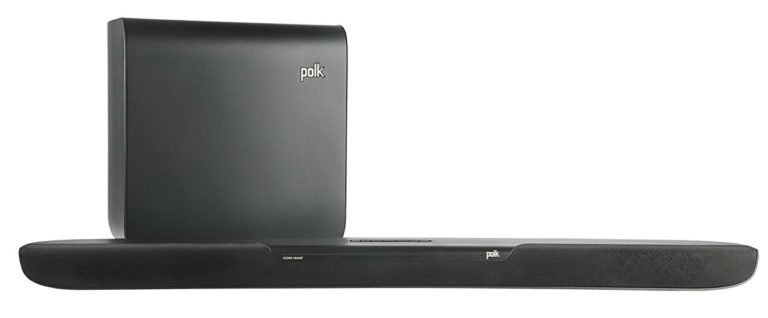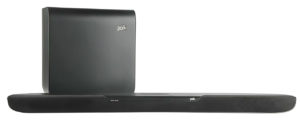 Another excellent option with a wireless subwoofer is the Polk MagniFi One. In my opinion, this is the best-looking product in the soundbar selection.  The soundbar is rather slim, making it easy to place under your TV or monitor. Despite the modest dimensions, the MagniFi One certainly does not lack in bass power. The subwoofer has enough firepower to shake your furniture or floor and the drivers provide excellent mid-range capabilities for better dialogue and sound effects. The MagniFi One's characteristics make it shine in movies more than it does in music, and this only means that this is an excellent choice for gamers. Action sequences will sound massive and engaging without sacrificing total sound quality, unlike most bass-heavy products. The current price it is at now, this is a definite steal!
Vizio S4251w-B4 ($194.49 Amazon)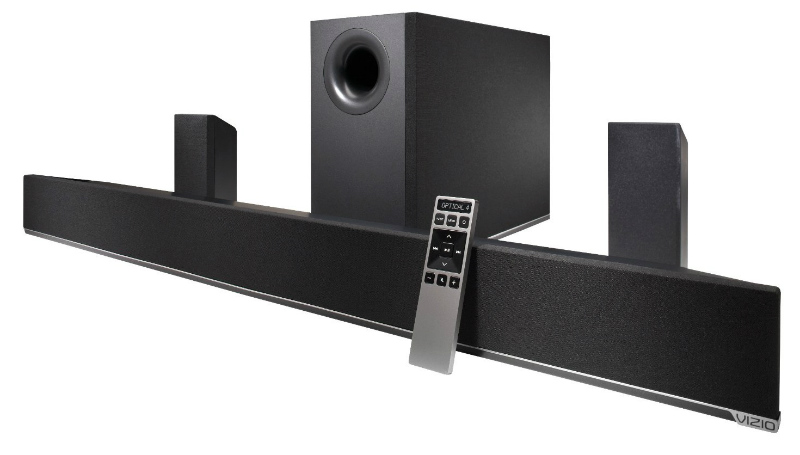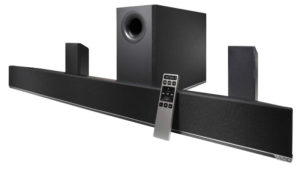 The Vizio S4251w-B4 is another fabulous option we included in this roundup. This product is unique since it has two additional satellite speakers for other surround sound options. Another good point this product has it includes a slim yet sufficiently powerful subwoofer. The total package makes this product versatile and convenient in placement. The only hindrance you could encounter is the length of the soundbar itself which it at 43 inches. As for the sound performance, the S4251w-B4 can be considered as amazing since it provides true 5.1 compared to most products that only emulate it. The two satellites provide immersive audio detail for users while the sub provides enough bass resonance that is not overpowering but lacks the details and depth other models offer. With its five connection options and, Bluetooth connectivity, and USB input, you have a versatile product at such a low price. These characteristics are perfect for gamers who are not looking to pay too much but requires a good performing product that can provide audio for different gaming platforms all while being immersive.
Polk Audio N1 ($229.99)


We chose to place the Polk Audio N1 in this roundup because it is currently the only soundbar designed for gaming aside from what gaming brands offer. What makes it unique for gamers is its presets for four different usages. It includes "Forza Racer" for racing games, "Halo FPS" for shooters and action games, plus a preset for cinema and music. It produces a big and spacious soundstage well suited for all sorts of games whether on the PC, Xbox or Playstation.  It can also go very loud without distorting, and it can fill a room with dynamic and detailed sound. The Polk N1 is also a very attractive and its size gives a grand impression. It is also available in white, which makes this an extraordinary product. The downside to the N1 is it does not have a subwoofer with the package. While it already offers plenty of bass for most gaming applications, Polk was kind enough to include a sub-out option if in case you decide to add more oomph. An additional sub such as the Polk PSW10 will cost another hundred dollars or so; you can sometimes catch the N1 for as low as a hundred itself.
Razer Leviathan Elite Gaming Soundbar ($194 Amazon)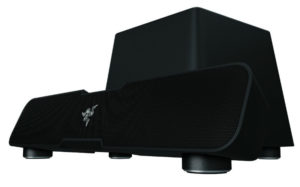 The Razer Leviathan elite gaming soundbar is the only PC gaming dedicated product in this category. The 20-inch soundbar was meant to sit on a desktop and the compact yet powerful subwoofer under or at the side. At close range, the Leviathan packs a lot of punch in its output. The bass it provides add a lot of kick to gaming audio while mids are decent as well. It lacks in the treble and high range, but in most games, this will not be an issue. As this is the case, minor tweaking can help in preventing the bass from overpowering the rest of the sound that plays from the Leviathan. While technically the Leviathan is a 2.1 speaker in a soundbar configuration, it is capable of virtualizing surround sound. That feature together with the bass will enhance the total experience with aural positioning.These characteristics make it a poor choice for couch gaming and it will not provide a soundstage large enough to fill a whole room. Despite that drawback, the Razer Leviathan elite gaming soundbar is still a top choice if you want a substitute for your gaming headset or you only want an excellent upgrade.
Conclusion
The speakers for gaming market is always evolving. Searching and buying a new set can be confusing and challenging. We wrote this guide not to give you a list of choices set in stone, but rather a glimpse of what are the best possible options you can get with maximized value.  In making your choice, make sure you are looking at what suits your current situation. You can't get surround speakers if you are living in a small apartment or 2.0 speakers for a whole room. You won't like the results. Finally, set your expectations with the budget you are willing to spend.
Learn more about PC speakers on Wikipedia