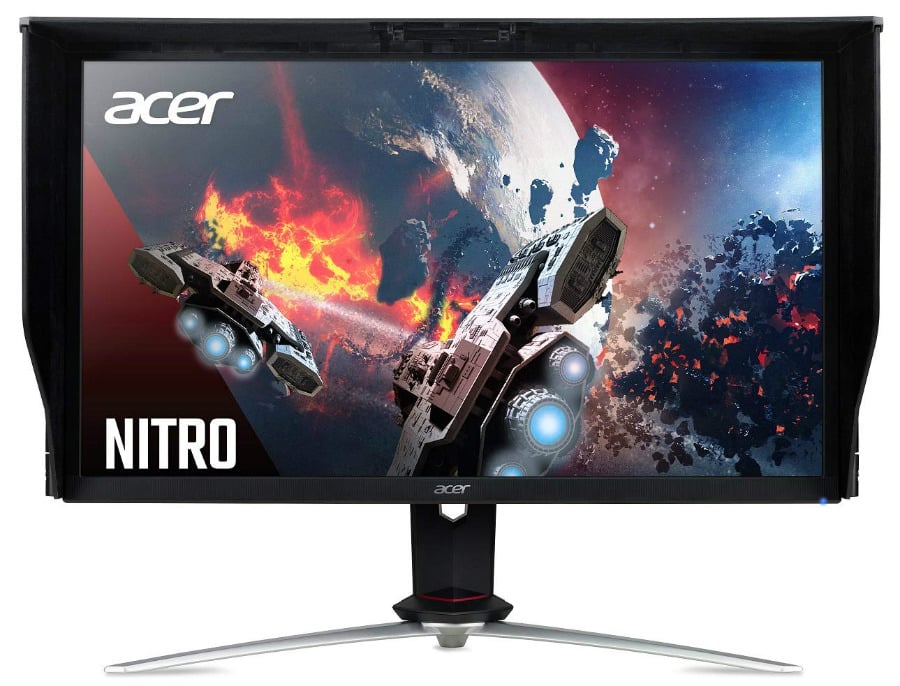 The Acer XV273K bridges the gap between high-refresh gaming and 4K in a more affordable, yet very capable package for enthusiast-grade systems. 144Hz 4K used to cost over two grand, but this model breaks the mold by starting at half of what the Acer X27 costs. The Acer XV273K lacks a few flagship features from the latter, but does it have the right characteristics which would make it the better and more practical pick?

Acer XV273K Specifications
Screen Size: 27 Inches
Resolution: 3840 x 2160 4K UHD
Aspect Ratio: 16:9
Panel Technology: In-Plane Switching (IPS)
Refresh Rate: 144Hz
Response Time: 4ms
Contrast Ratio:1000:1
Brightness: 400cd/m2
Speakers: Yes (2 x 4 Watts)
Stand: Height – Yes
Stand: Tilt – Yes
Stand: Swivel – Yes
VESA Compatibility: Yes
Connectivity DisplayPort 1.4 x 2, HDMI 2.0 x 2, USB 3.0 x 4
Dimensions (W x H x D): 24.76" x 21.3" x 195"
Weight: 14.53 lbs

Design and Features
The Acer XV273K wears a new aesthetic that fits its modernity without forgetting the Predator heritage thats prevalent on the brand's gaming displays. The product is finished in matte black all around save for the base's feet and the minimal red accent at the bottom of the arm. This model isn't bezel-free, but it's entirely forgivable since there are no borderless 4K 144Hz variants at this time.
The package also includes removable flaps which form a shading hood over the top and sides of the Acer XV273K. This add-on is usually found on professional monitors for calibration or anti-glare protection, but it's more of a blinder which is supposed to enhance focus for gaming. We know many dislike having a hood over the display, but it has its value in any use since it helps to keep the image quality balanced.

The proportions of the Acer XV273K are noticeably more modest than the X27, and the PG27UQ since this model doesn't have a FALD backlight with an active cooling solution inside the chassis. You lose the ability to enjoy DisplayHDR 1000 visuals, but at least you don't have to deal with a meaty monitor with temperature issues. Build quality is just as good as the more expensive models, and we feel Acer did not spare any expense on this lower tier variant.
We like that the Acer XV273K has an OSD joystick and a two-slot USB 3.0 hub flanking its sides for convenience. Buttons are an outdated design while rear USB receptacles sometimes become useless since they are hard to reach.  There still is a three button layout which turns on the monitor and opens the menus, but they are minor inconveniences when using this gaming display.
The Acer XV273K employs a more straightforward stand that its up tier sibling, but it doesn't lessen its functionalities for ease of use. The mechanism requires assembly out of the box since the metal base is detached from the upright when unpacked. You can also remove this part to reveal VESA 100 x 100 holes if you have a better mounting solution.
You can tilt, swivel, and pivot the Acer XV273K's screen according to your viewing angle needs. A four-inch height adjustment is also possible so the device could fit a broader range of anthropometrics or human dimensions. Using a monitor arm will give you more variety, but in most cases, the included stand is more than good enough.
The Acer XV273K isn't limited by the G-Sync HDR module found on the X27 when it comes to connectivity, so it has a few more connectivity slots. You get dual DisplayPort 1.4 and HDMI 2.0 connectors for video signals and a total of four USB 3.0 ports for accessories. Take note that you need to utilize the two DP 1.4 inputs to operate this monitor at 4K 144Hz.
Display and Performance
The Acer XV273K sports a Quantum Dot-treated IPS panel with a 3840 x 2160 resolution, 144Hz refresh rate, and 4ms response time. A 1000:1 contrast ratio is specified, along with a 400cd/m2 backlight which limits the display to DisplayHDR 400 standards which is the bare minimum set by VESA. You don't get full LCD HDR benefits with this device, but it has a backlight strobing feature which can boost the response time to near TN speeds.
The panel used utilizes overclocking to reach 144Hz since its native refresh sits at 120Hz, just like the X27 and the PG27UQ. Take note that you need the two DisplayPort 1.4 slots connected to your GPU, so the massive bandwidth requirement is reached. The good thing with this model is that you don't need to worry about the chroma subsampling issues with this model at 144Hz operation.
The Acer XV273K can produce colors at an impressive rate thanks to the exquisite IPS panel used, and it's Quantum Dot treatment. The colorimeter reveals that the display reaches 132% sRGB and around 97.5 DCI P3 gamut coverage for outstanding vibrancy and richness. Color accuracy stayed at DeltaE 2.4 which is already superb for a default profile, but it can be improved to DE 1.0 if you have a colorimeter.
The contrast ratio and maximum brightness of the Acer XV273K also exceeded the company's claims at 1090:1 and 440cd/m2 which is excellent for gaming. You need to turn down the backlight for safety and comfort reasons, especially for daily or extended use. As for gamma, you only need to lock it into its 2.2 setting to get a perfect setting.
Any type of game looks great on the Acer XV273K since shades are rich and well defined, while blacks are bold and deep. The grayish look of IPS panels in dark environments is less apparent with this model, leading us to think that its just the tech's limitations instead of the contrast. We've seen modern IPS panels with outputs going over 1100:1 to 1200:1, but the difference is minor and difficult to distinguish for most users.
The Acer XV273K sample's panel uniformity could use some improvements since deviations reached as much as 14% on the side. There is a slightly noticeable variance in brightness when you look closely, but the difference in color from the D65 standard is difficult to see plainly. Take note that this aspect varies from every IPS unit since no two are made equal.
We love how the Acer XV273K handles motion at 120Hz and 144Hz since ghosting and blurs are barely noticeable. We recommend setting the overdrive feature in the OSD to its normal setting which doesn't entirely get rid of the residual trails in the dark to light transitions, but with very minimal added overshoot. Enabling the monitor's 144Hz operation further improves motion handling, so its best to utilize that if you have the necessary ports and power needed.
You can also turn to the Acer XV273K's VRB or Visual Response Boost which is another name for backlight strobing. Its available on both 120Hz and 144Hz operation, but it works best with the latter when it comes to reducing blurring. Take note that using this feature will lock out most settings including FreeSync, although it's notable that the screen is still bright enough when VRB is active.
The Acer XV273K is a FreeSync monitor which is compatible with AMD GPUs and cheaper than G-Sync HDR variants like the X27. FreeSync will only run at 48Hz to 120Hz when using a 4K resolution, so you need to step down to 2560 x 1440 if you want it all the way up to 144Hz. This model is also one of the initial twelve to be certified by Nvidia as G-Sync compatible, so running this monitor with the latest RTX cards should be perfect.
Finally, the Acer XV273K is every bit a high-end gaming monitor that would be suitable for E-Sports if not for its massive resolution. The display only has around 6ms of input lag which many high-end displays struggle to reach. Fast-paced games like Apex Legends will be heavenly on a screen like this model.
Thoughts on the Acer XV273K
The Acer XV273K is an excellent point of entry into the 4K 144Hz category that's reserved for the most hardcore enthusiasts. The monitor costs half of what Acer is asking for the X27, but it still manages to pull superb scores in image quality and responsiveness. It's also FreeSync and G-Sync compatible, so both AMD and Nvidia users with top-end cards can enjoy buttery smooth frames on this device.
The only hindrance the Acer XV273K is facing is the massive graphics processing requirement it incurs for 4K 120Hz or 144Hz operation. A single high-end GPU still isn't sufficient for a monitor like this, so the cost of a second card for NVlink or Crossfire will negate its price difference. But if you are looking for a bleeding-edge gaming monitor and can't be bothered with HDR, the Acer XV273K is the best you can get.