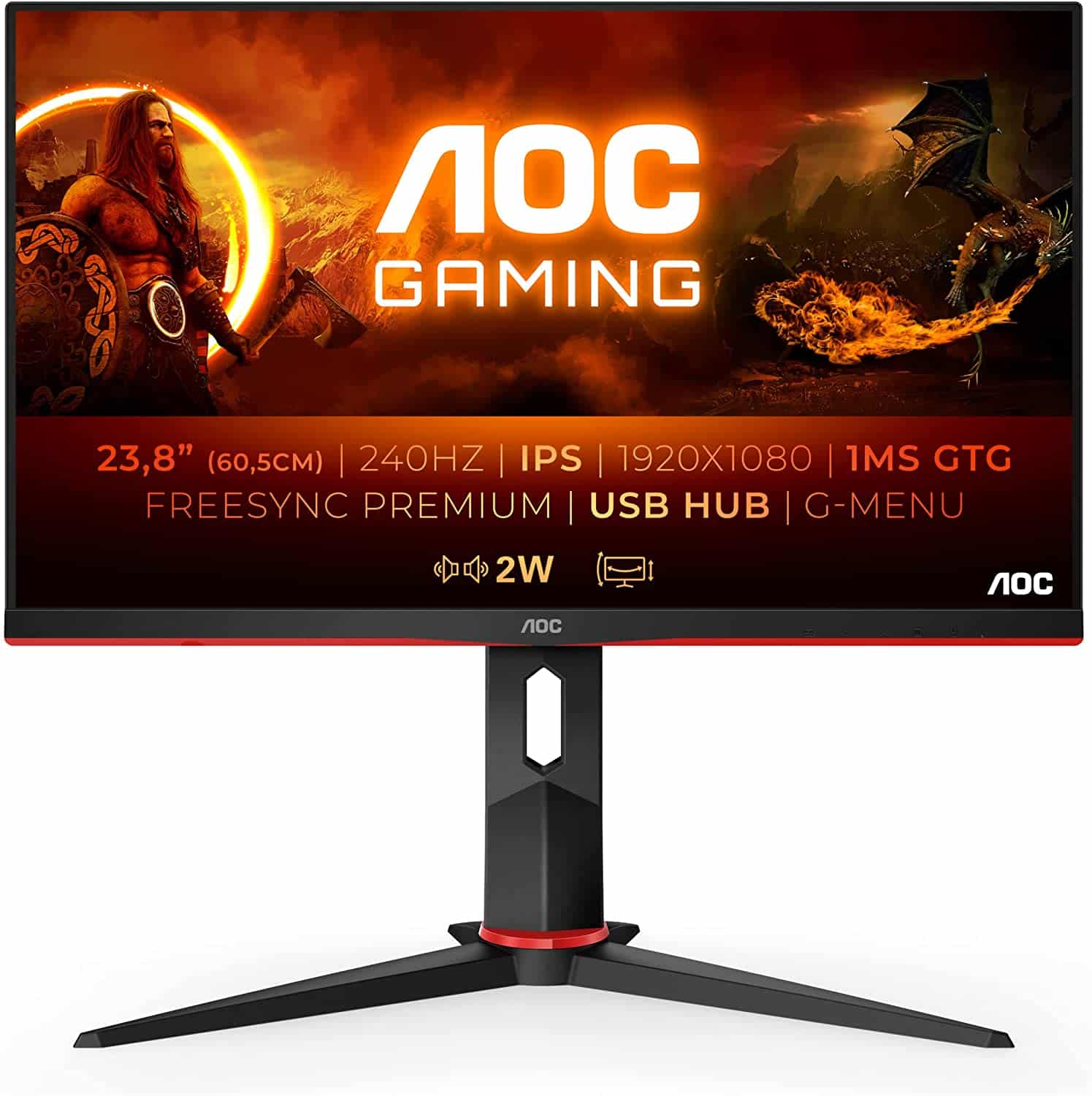 The AOC 24G2ZU offers the same attractive package comprised of great performance and a low price just like the popular 24G2. It looks the same on the outside, but this model has almost double the refresh rate of its best-selling sibling. Let's see if the AOC 24G2ZU offers the same value if it should be the next practical upgrade you can buy for E-Sports gaming.

AOC 24G2ZU Specifications
Screen Size: 24 Inches
Resolution:1920 x 1080 FHD
Aspect Ratio: 16:9
Panel Technology: In-Plane Switching (IPS)
Refresh Rate: 240Hz
Response Time: 0.5ms
Contrast Ratio: 1000:1 (Static)
Brightness: 350cd/m²
Speakers: Yes(2 x 2 Watts)
Stand: Height -Yes
Stand: Tilt – Yes
Stand: Swivel – Yes
Stand: Pivot – Yes
VESA Compatibility: Yes (100 x 100)
Connectivity: HDMI 2.0 x 2, DisplayPort 1.2 x 1, USB 3.1 x 4, 3.5mm Jack
Dimensions (W x H x D): 21.22" x 19.87" x 8.95"
Weight: 11.09lbs

Design and Features
The AOC 24G2ZU has the same distinct aesthetic as the rest of the G2 monitors which is geared towards gamers. It's not as aggressive as other options with its matte black finish with streaks of red in discrete spots. The display is bezel-free on three sides so it's less distracting even if you still have inner borders on the top and side edges.
It's a reasonably-sized desktop display so we reckon most won't struggle with setting it up on a fully-equipped build. It needs nine inches of depth when fully assembled, but the V-shaped base leaves a lot of blank space in that area for your other peripherals. It's not the lightest at 11.09 pounds, but it is still very portable and easy to move around when you rearrange your setup.

Build quality is great even if the 24G2ZU so it doesn't feel cheap even if it's a budget gaming monitor. The plastics used are thick enough to withstand flexing and cracking with minimal force, and there were no cosmetic defects like uneven gaps or seams. The stand is steady and firm, so it won't shake or sag on you during your sessions.
One thing we disliked about the AOC 24G2ZU is its use of OSD buttons instead of a more convenient joystick. The keys are responsive but they feel mushy and loose so you don't get that satisfying click. It also takes more time to get to a specific setting versus the alternative so it can get annoying if you calibrate your monitor often.
The stand included with the monitor is fully adjustable for your convenience and comfort. You can tilt, swivel, pivot, and adjust the height of the display to find a suitable viewing angle that matches your seating position or your height. You can also use VESA mounts, but that's only truly necessary if you have multiple screens or if desk space is very limited.
The AOC 24G2ZU's connectivity layout includes DisplayPort 1.2, two HDMI 2.0 ports, and four USB 3.1 slots for peripherals. You can use the monitor for your PC and up to two gaming consoles, but only the former can maximize the refresh rate. You also get a 3.5mm jack and speakers, but they are quiet and incapable of bass so they are not suitable for gaming or entertainment use.
We'd like to point out that the AOC 24G2ZU has two more variants floating around in different regions and markets. There's the 24G2ZE which has the same IPS panel but without USB ports and is limited to tilt, and the 24G2Z which uses TN instead of Fast IPS. We recommend taking note of the model names before pulling the trigger to avoid mistakes and delays.
Display and Performance
The AOC 24G2ZU sports a 24-inch Fast IPS panel with a 1920 x 1080 resolution, a 240Hz refresh rate, and a 0.5ms claimed response time. The backlight has a 350 cd/m2 maximum while the contrast is listed at 1000:1 like most IPS panels. This model doesn't advertise special features like HDR since its main focus is its 240Hz output which costs less than many of its competitors.
1080p monitors like this model are still wildly popular since the format is universal and it is cheaper now more than ever. 240Hz models used to cost almost a thousand when they first came out, and it is still widely used in gaming circles. It won't be as crisp or detailed, but visibility and legibility are excellent so you won't struggle with gaming, browsing, and reading.
The AOC 24G2ZU renders 98% sRGB and around 75% DCI-P3 which isn't the most vibrant, but decent enough for daily use. however, default accuracy is great since the deltaE average is limited to 1.41 so the image is already balanced and ready for use. Users will be happy with the monitor out of the box, so only basic tweaks like adjusting the brightness to comfortable labels will be necessary.
Calibrating it with a colorimeter lowered the dE average to 0.52 which is something you would normally see on prosumer displays. It doesn't offer wide gamut coverage, but it can be used for content creation and basic editing. However, colorimeters aren't cheap so it would be more practical if you go with a prosumer monitor instead if your priority is on the professional side.
Its backlight reached a healthy 351 cd/m2 at 100%, but its contrast is dismal at 843:1 at 60% brightness. The screen can fight off glare in well-lit rooms but it's incapable of deep blacks, especially when viewed at night. The latter is a known weakness of IPS monitors but some models have gotten around the limitation.
Panel uniformity for the AOC 24G2ZU sample was great since there were no considerable light leaks on the edges of the screen. There is some variance in the backlight's spread, but it's only noticeable in extreme circumstances or when the display is measured with a colorimeter. Note that not all units are made equal due to tolerances and the nature of IPS, so it is possible to get a worse one out there.
The AOC 24G2ZU has an excellent pixel response time so it doesn't show a ton of blurring in fast-paced scenes. There is a bit of persistence especially when the framerate fluctuates, but it only shows up in select instances. Setting the overdrive to its Strong setting helps in this regard, making the monitor ideal for E-Sports games.
The AOC 24G2ZU is compatible with both FreeSync and G-Sync so you don't have to worry about losing VRR if you change GPU brands. This duality is crucial now since the video card market is crazy so getting a specific GPU from AMD or Nvidia can be difficult. Input lag sits at 3ms at 240Hz, so there is no need to worry about delays while gaming.
Thoughts on the AOC 24G2ZU
The AOC 24G2ZU is a fantastic budget 240Hz monitor based on its performance in games and imaging quality. It's lightning-fast and smooth, so you don't have to worry about latency or blurring while playing competitive titles. It is not the most vibrant, but its default and calibrated accuracy are comparable to what premium or even prosumer variants can offer.
We don't have a lot of complaints about the monitor since it's priced lower than most 240Hz options in the market. Things like the OSD buttons can be a pain for discerning users, but that's okay if you are saving hundreds of bucks while enjoying comparable, if not the same performance. Another issue we have with it is it's quite scarce, but that can only mean that it is selling quite well in a very competitive segment.
Pros:
Affordable
Fast and Responsive
Excellent Color Performance (Default and Calibrated)
FreeSync and G-Sync Compatible
Cons:
Poor Contrast
Confusing Model Codes and Limited Availability
OSD Buttons
About the Author: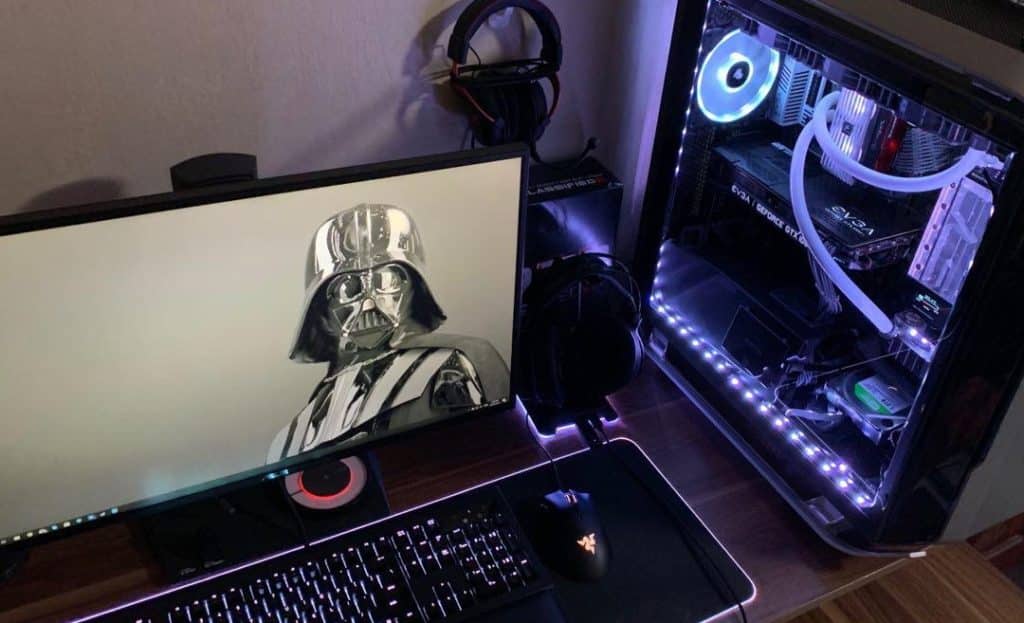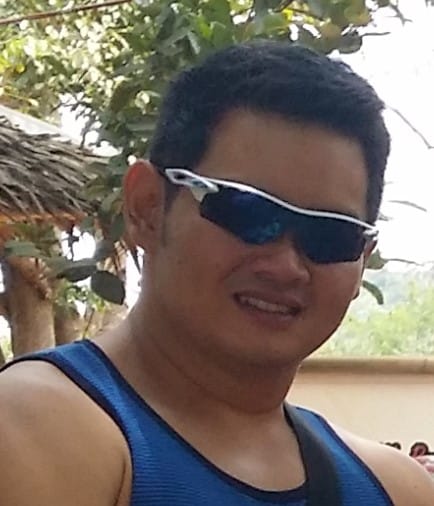 Paolo is a gaming veteran since the golden days of Doom and Warcraft and has been building gaming systems for family, friends, and colleagues since junior high. High-performance monitors are one of his fixations and he believes that it's every citizen's right to enjoy one. He has gone through several pieces of hardware in pursuit of every bit of performance gain, much to the dismay of his wallet. He now works with Monitornerds to scrutinize the latest gear to create reviews that accentuate the seldom explained aspects of a PC monitor.