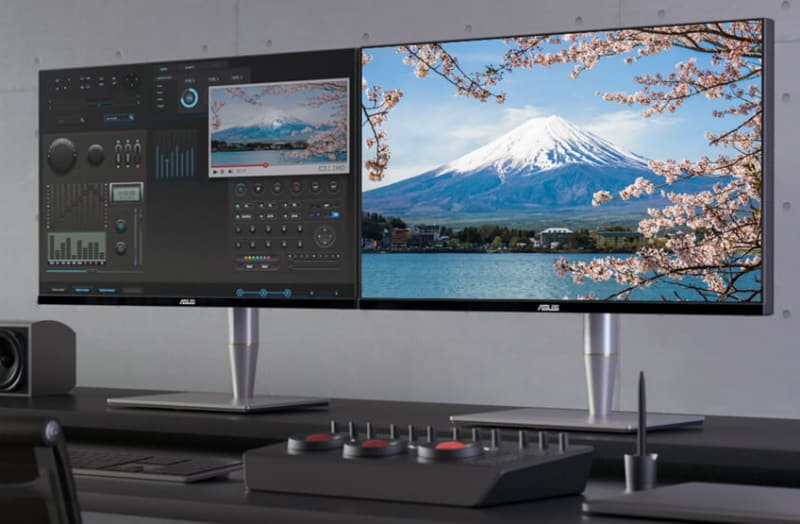 Adobe RGB monitors are a staple for designers and studios who want a wide gamut-screen that is beneficial for creating eye-popping content. Being able to display an exponentially increased color palette improves the accuracy and quality of your projects for both digital media and print. Color accurate Adobe RGB monitors are expensive, but the technologies and capabilities imbued by the manufacturers present an ideal canvass for your professional endeavors.
Why Should I Buy Adobe RGB Monitors
Adobe RGB monitors provide an advantage if you are doing work such as color grading or creating content. The more comprehensive spectrum adds an advantage when it comes to vibrancy which factors into many things such as how lifelike and image is. The extra shades will provide editors with more room to work with for a more faithfully reproduced or vivid image.
As such, Adobe RGB monitors are preferred when it comes to print media since almost every printer has a gamut reproduction that exceeds the typical sRGB standard. A display with a comprehensive color output will ensure that the printed output will look natural and lifelike when compared to the screen output and the actual subject. To compare the difference between sRGB and Adobe RGB coverage, check the graphic below: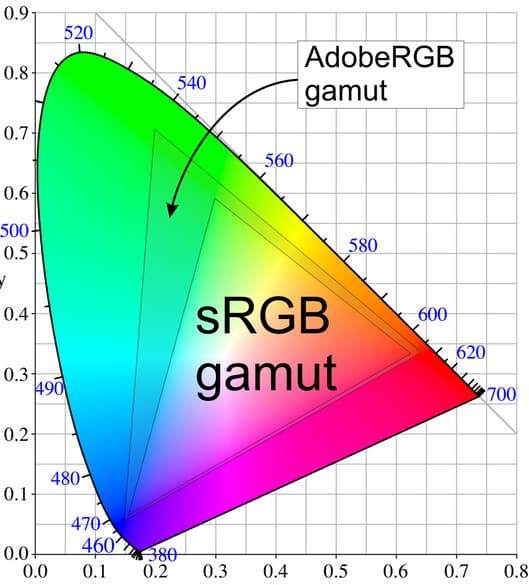 (Image by http://wiki.td-er.nl)
However, the reality is that Adobe RGB monitors have a bias towards the greens and blues with a little extension for the reds. This representation isn't always ideal for creating content or editing, so some designers tend to revert to the sRGB color space. Typically, sRGB is sufficient for general use, but we can consider Adobe RGB monitors as a tool that's equipped with a secret weapon.
How to Choose Color Accurate Adobe RGB Monitors
These are the points you should consider before pulling the trigger on premium displays with Adobe RGB outputs:
Panel Type – Hands down, IPS is the only way to go for Adobe RGB displays due to their better accuracy than TNs and VAs. Aside from the wider viewing angles, IPS panels also offer a more balanced luminosity and contrast which are both critical to the accuracy of your work. VA monitors are capable of wide gamuts, but IPS panels have a tighter representation of shades when correctly calibrated.
Resolution – Most of the Adobe RGB monitors come with a 4K resolution since it is the current industry standard for computer displays. 4K offers cleaner details and sharpness due to the substantially increased pixels. These variants are pricey but fret not because there are notable lower-resolutions on the market.
Size – Size is another key factor when shopping for an Adobe RGB monitor because it affects the cost of ownership just as much as the panel's resolution. This aspect also dictates how convenient and comfortable the product will be for extended use which is expected when it comes to photo and video editing. We recommend starting at 27 Inches for these monitors for the best balance and eye comfort.
The Best Adobe RGB Monitors We Have Tested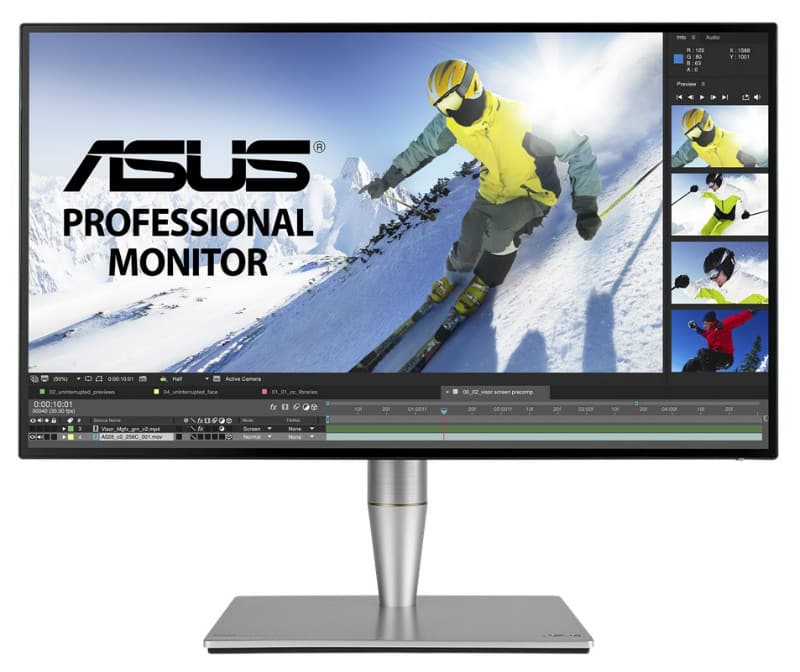 The Asus PA32UC is the current flagship from the ProArt line, offering high-end features and capabilities you won't find easily. This wide gamut model incorporates jaw-dropping specs such as a 1000cd/m2 FALD backlight for HDR imaging and refined factory calibration. The 10-bit IPS panel is very vivid thanks to a 100% Adobe RGB and 95% DCI-P3 coverage.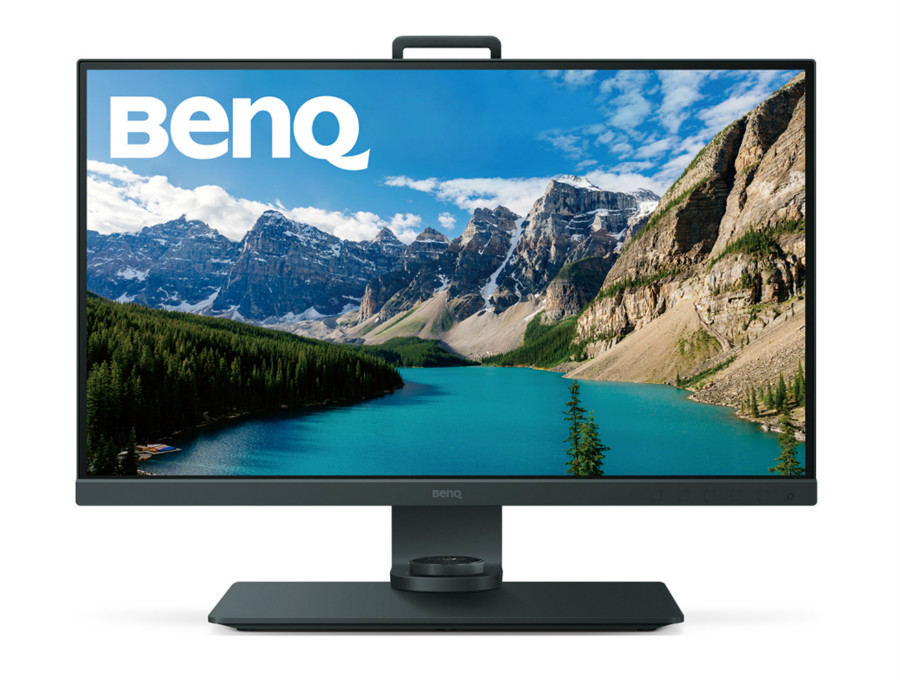 The BenQ SW271 can be considered as a baseline of top-notch quality for its 100% coverage of the Adobe RGB gamut and fantastic calibration options. This model is designed almost similar to the brand's gaming models, meaning you can expect excellent build quality and functionality for the price. The BenQ SW271 is one of the few models we tested that has impeccable panel uniformity, with no quadrant exceeding DeltaE 1.1 variance in color quality.

The Acer PE320QK is another staple recommendation for our readers who are looking for a reasonably-priced photo or video editing USB-C monitor. The factory-calibrated IPS panel in this monitor is capable of perfect coverage of the Adobe RGB color space and 96.6% for DCI-P3. This model also responds to calibration nicely, allowing users to maximize its potential for design and editing.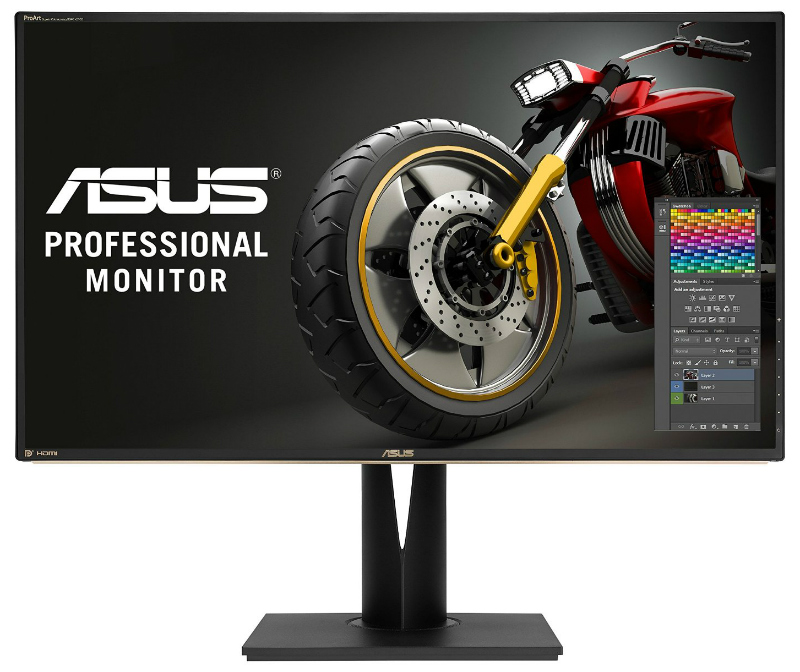 The Asus PA329Q held the flagship podium for a while before the PA32UC was released with its Quantum-Dot-treated IPS screen. The monitor is capable of 99.5% Adobe RGB with a factory calibration score of DeltaE <2. This capability is made possible with the monitor's 10-bit color output that's supported by extensive calibration features and a 14-bit LUT.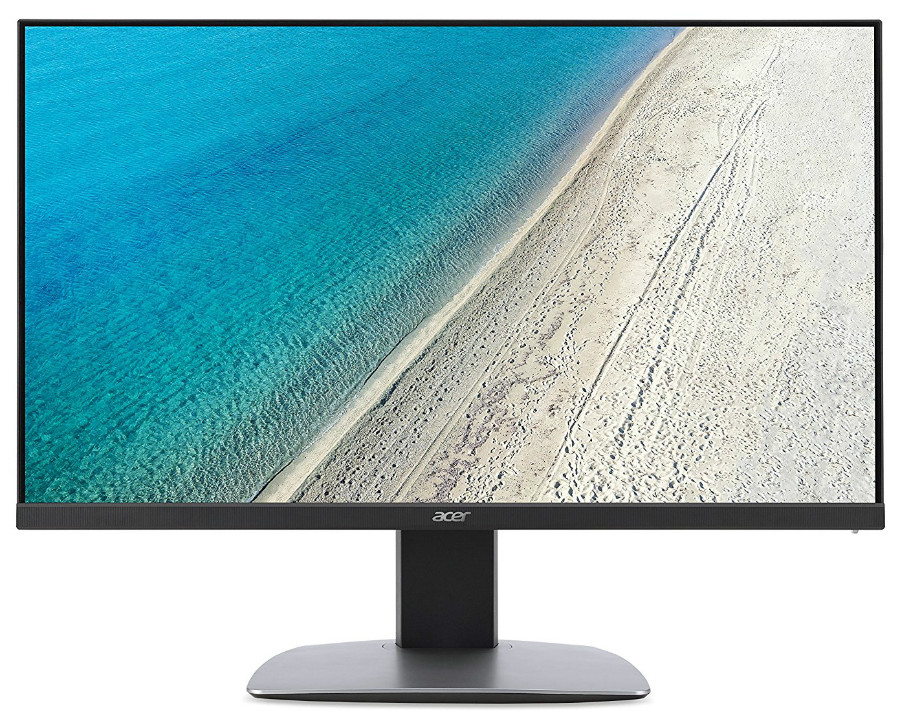 The Acer BM320 is a more subtle version of the PE320QK which offers excellent Adobe RGB coverage and accuracy. The model we tested provided fantastic panel uniformity in both color and brightness, ensuring the output is always balanced and accurate. What we love about this option is its factory-calibrated presets which have consistent accuracy scores, eliminating the need for tedious tweaking.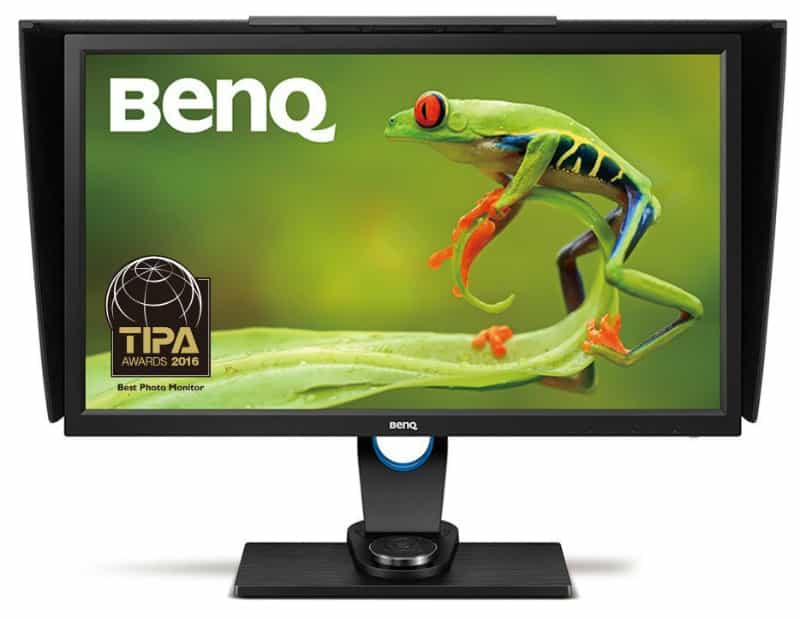 The BenQ SW2700PT is a favorite in the photo editing crowd since it offers excellent performance at a considerably lower price. The IPS panel offers 99% Adobe RGB with superb accuracy and a 1440p resolution that doesn't posterize your projects. This model is one of the few low-priced displays available that offers nifty extras such as the calibration hood and an OSD puck remote for easy calibration.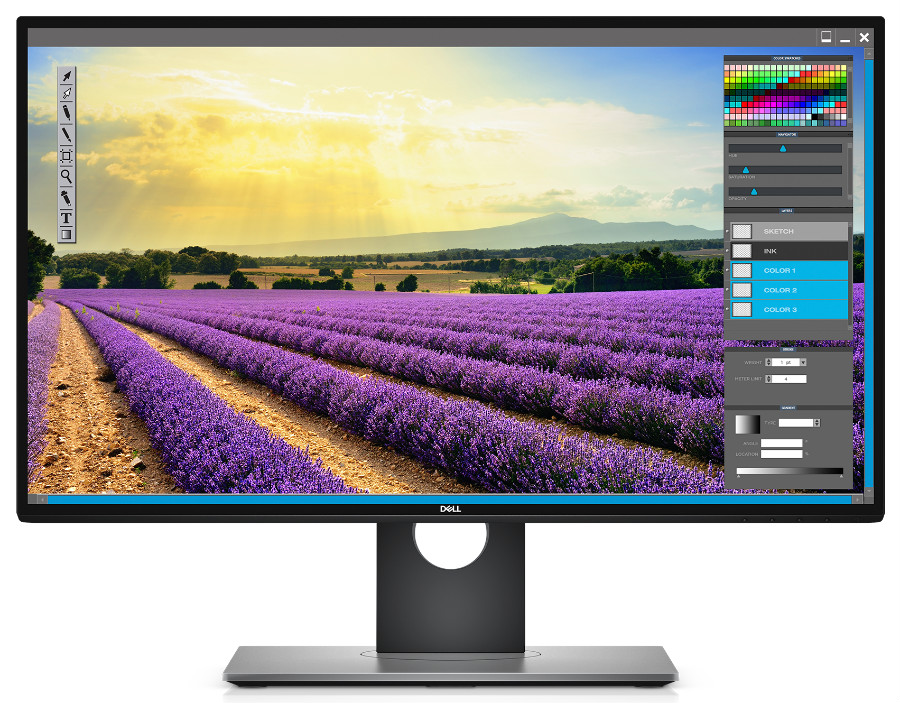 The Dell UP2718Q is another flagship-level offering that provides a stunning, HDR-capable screen courtesy of wide gamut coverages and a 1000cd/m2 FALD backlight. This HDR professional monitor offers 100% Adobe RGB or up to 97.7% DCI-P3 with stunning out of the box accuracy. But what blows us away is the drastic improvements you can achieve with a colorimeter that will tighten the colors to an error level that's almost zero.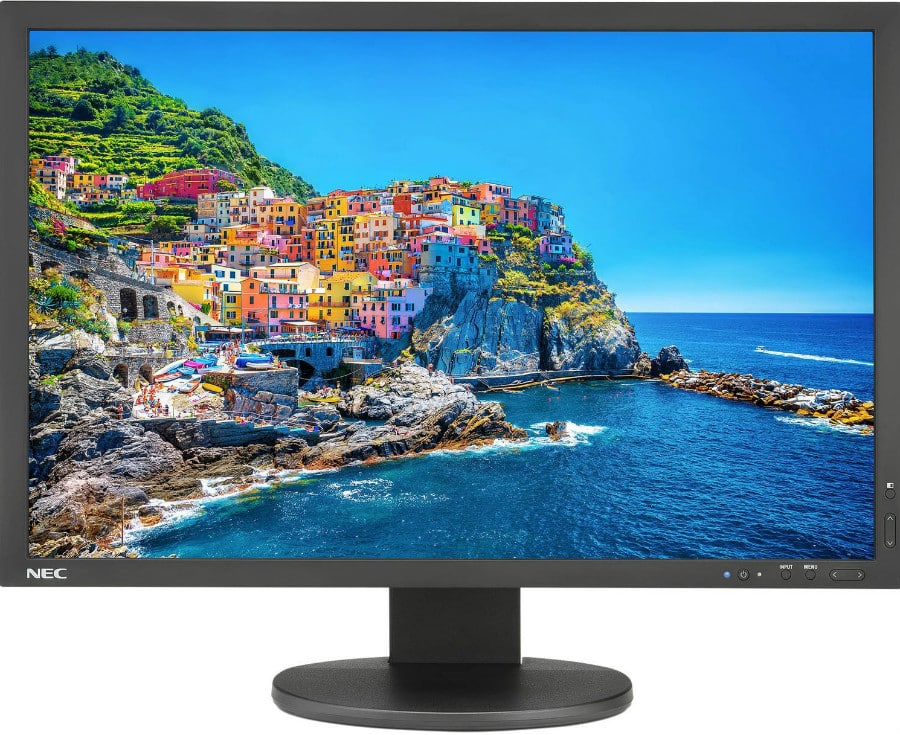 The NEC PA243W has the smallest, 1920 x 1200 resolution out of the bunch, but it packs a punch in the vibrancy department. The IPS screen's 10-bit color with a 14-bit LUT allows users to utilize up to 99.8% Adobe RGB coverage with DeltaE <1 right out of the box. This professional variant also offers factory-calibrated modes that cover the DCI-P3 and Rec 2020 standards with aplomb.