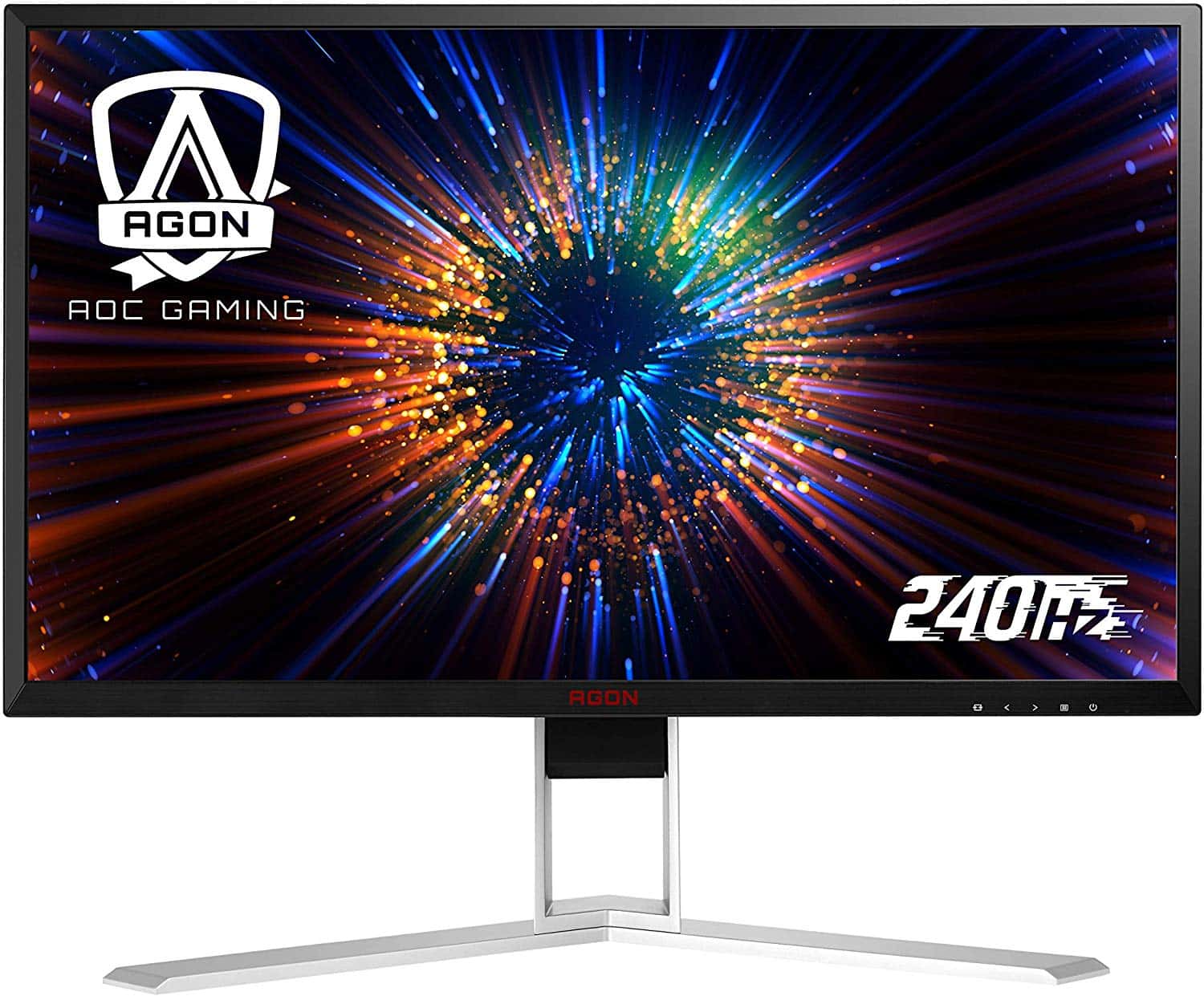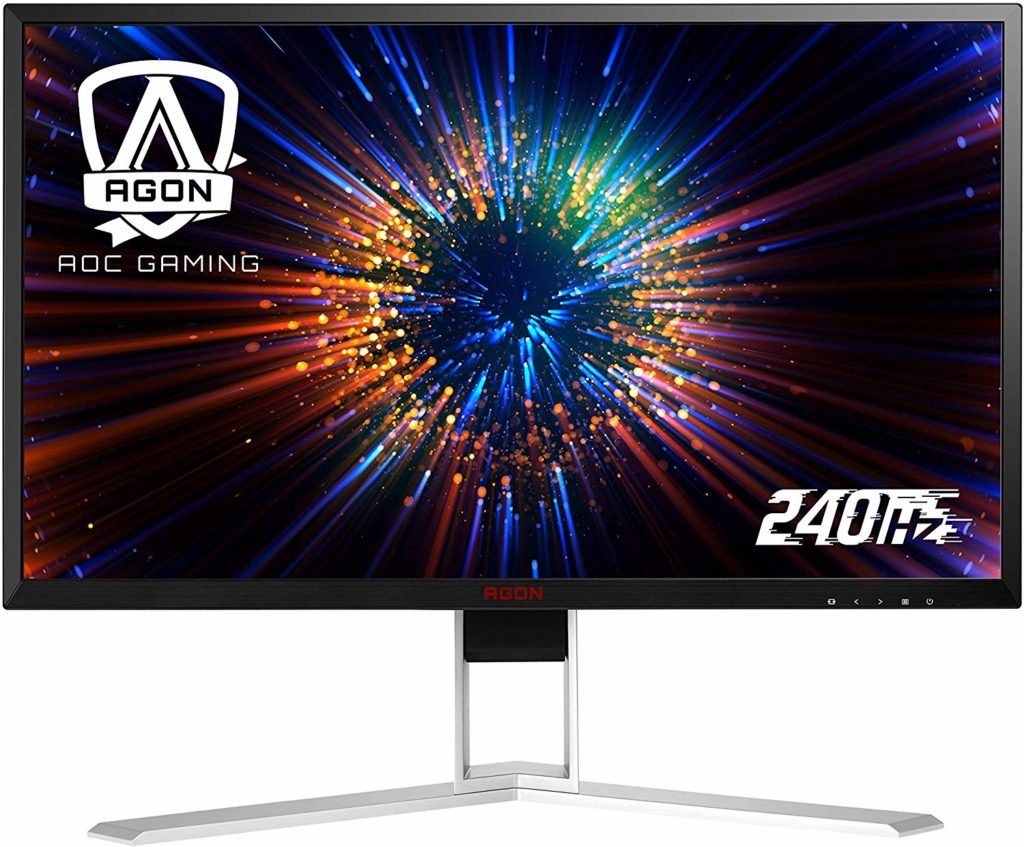 Pros:
Excellent Pixel Responsiveness
Low Input Lag
FreeSync/G-Sync Compatible
Sleek Design
Very Affordable
Cons:
Image Quality Needs Improvement
Boost Mode Adds Overshoot
The AOC AG271FZ2 offers top-end specs and design that's ideal for competitive gaming at a very low and irresistible price point. 240Hz speeds used to be available at half a grand and above, but this robust variant slashes that in half, enabling a wider audience to enjoy a gaming experience that is comparable with E-Sports events. The AOC AG271FZ2 seems like its too good to be true, so let's find out what kind of performance numbers it can offer.


AOC AG271FZ2 Specifications
Screen Size: 27 Inches
Resolution: 1920 x 1080 FHD
Aspect Ratio: 16:9
Panel Technology: Twisted Nematic (TN)
Refresh Rate: 240Hz
Response Time: 1ms
Contrast Ratio: 1000:1 (Static)
Brightness: 400 cd/m²
Built-in Speakers: Yes (2 x 3 Watts)
Stand: Height – Yes
Stand: Tilt – Yes
Stand: Swivel – Yes
Stand: Pivot – Yes
VESA Compatibility: Yes
Connectivity: DisplayPort 1.2 x 1, HDMI 2.0 x 1, HDMI 1.4 x 1, DVI-DL x 1, VGA x 1, USB 3.0 x 5, 3.5mm Jack x 2
Dimensions with Stand (W x H x D): 24.53" x 17.05" x 8.58"
Weight: 18.74lbs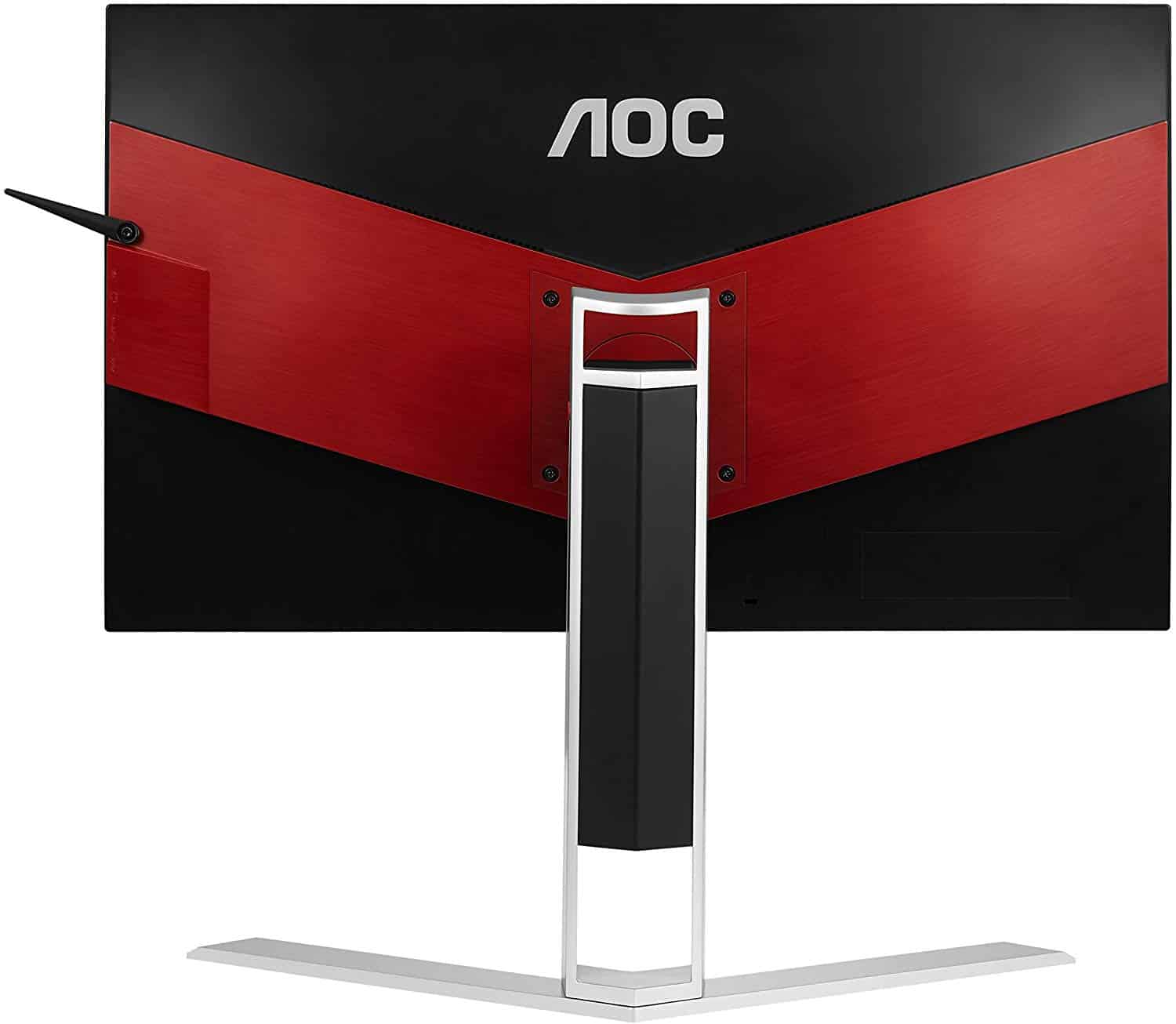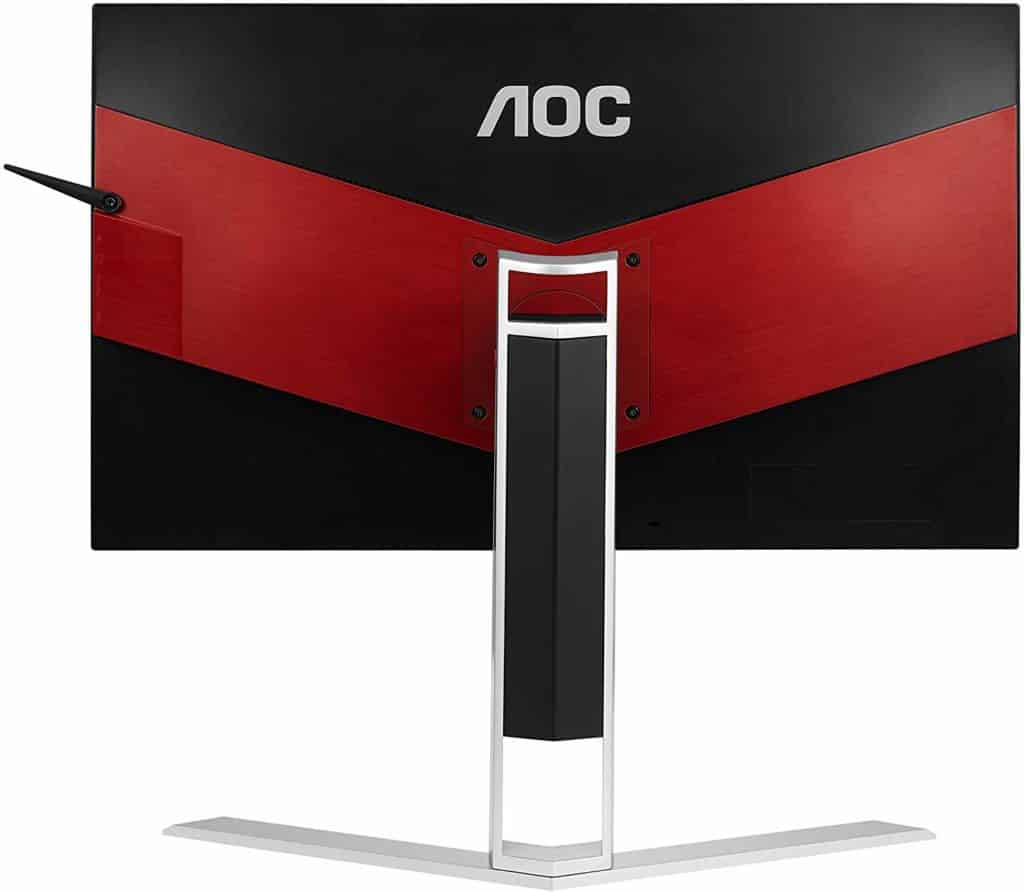 Design and Features
The AOC AG271FZ2 utilizes the unique AGON aesthetic that blends gamer-centric cues with premium materials that prosumers will find attractive. The device uses a combination of matte black with a dash of classy red and brushed metal surfaces which sets it apart from the usual gamer variants we've seen. The display isn't bezel-free, but the plastic borders will not distract you from the lightning-fast display while gaming.
The device looks slightly chunkier than the new models we've seen, but it doesn't require a lot of desktop space when fully assembled. You do, however, need to consider that this offering is a 27-0inch variant, so it will be larger than most 1080p monitors which are usually three to four inches smaller. The boomerang-shaped base eats up most of the space required from your desk, but it's flat and good-looking so it shouldn't be a bother.
The AOC AG271FZ2 like all AGON monitors is built like a tank with excellent stability and durability once fully assembled. The metallic base provides fantastic rigidity and balance to the large cabinet, so you won't have to worry about accidents. The plastics feel reinforced as well, while there were no cosmetic defects on any of the surfaces.
The AOC AG271FZ2 comes with interesting extras in the form of a desktop controller and the folding headset hanger at the rear. The former is particularly intriguing since you don't usually find a nifty alternative to the pesky OSD buttons at this price range. It connects via the micro USB slot at the rear, plus it also comes with preset buttons which makes swapping more convenient.
One of the best things about the AOC AG271FZ2 is its metal stand which has an expensive-looking brushed steel texture. The mechanism provides tilt, swivel, pivot, and height adjustments, so it is as functional as it is attractive. You can also swap this part out with a VESA mount, but we don't it's necessary unless you really want to save some desk space.
The AOC AG271FZ2 also has one of the most well-equipped I/O panels in the market to provide the user with a lot of options. The layout includes a slot each for DisplayPort 1.2, HDMI 2.0, HDMI 1.4, DVI-DL, and VGA along with five USB 3.0 slots for convenience. This allows you to connect your older machines and gaming consoles, but do take note that only the DP 1.2 and HDMI 2.0 connectors support the full 240Hz refresh rate.
There is also a pair of 3.5mm jacks to make audio passthrough more convenient and a 3-watt pair of speakers for basic audio output. The pair doesn't sound too bad for built-ins, but you don't get a performance that is ideal for gaming or even movies. The speakers start to distort as you go north of 50% in volume, plus it has very little bass response that is required for booming gaming sounds.
Display and Performance
The AOC AG271FZ2 sports a 27-inch TN panel with a 1920 x 1080 resolution, 240Hz refresh rate, and .5ms response time. The backlight sits at a peak of 400 cd/m2, while the contrast ratio is at a typical 1000:1 like all TN monitors. The .5ms spec isn't entirely accurate, but it indicates that this newer variant has an improved pixel response time that will reduce ghosting.
27-inch Full HD monitors are less popular due to the misconception that it is fuzzy or pixelized, resulting in bad image or graphics quality in games. However, we can say that it isn't completely accurate since you still get a clean looking screen that has enhanced visibility. You won't need to use scaling for walls of text, while smaller objects like enemies peeking from corners are far easier to see, making this size preferable for competitive gaming.
The AOC AG271FZ2 provided decent color results starting with 98% coverage of the sRGB gamut and a DeltaE average of 2.6 which is decent for competitive gaming. Color quality isn't the strongest characteristic of TN panels, but we've seen models with better scores in this regard. The screen's color temperature is also slightly warmer than the ideal 6500K, so some white backgrounds like browsers tend to look yellowish at a glance.
You can correct these flaws with the help of a colorimeter, but results will always vary and buying the gadget isn't practical for gaming applications. The only considerable positive outcome you can gain from that is more balanced color temperature and lower DE scores.
The contrast ratio of the AOC AG271FZ2 reached a maximum of 930:1, which is a bit lower than the current standard for today's gaming monitors. The screen looks grayish when displaying black images, especially when you are using it at night. It also doesn't help that the gamma was stuck at 2.1 with no visible improvements even if you switch through the gamma presets in the OSD.
Panel uniformity for the AOC AG271FZ2 was superb since there were no leaks or clouding issues on any of the screen's quadrants. There are some slight differences in brightness compared to the center of the display, but its barely noticeable even when viewing darker scenes. There are manufacturing tolerances to consider, but TN-based monitors are less prone to these issues compared to IPS or VA.
The best part about the AOC AG271FZ2 its pixel responsiveness which does not show blurring by default. The device has an overdrive feature which you can use to clear up the already very minor blurs and persistence. We recommend choosing between the Medium and Strong settings since these two provided the best possible outcome for gaming.
The final stage of the AOC AG271FZ2's overdrive is called Boost which is a form of backlight strobing to further reduce blurring. The bad news is it induces noticeable overshoot, plus it locks out Adaptive Sync while dimming the screen. This feature is what corresponds to the .5ms spec, but sadly, its unusable in our opinion.
The AOC AG271FZ2 is a FreeSync gaming monitor, but its also G-Sync compatible, so adaptive sync works with the latest GPUs and drivers from both brands. Input lag sits at 4ms, so there will be no delays or de-synced instances while enjoying your favorite competitive games.
Thoughts on the AOC AG271FZ2
The AOC AG271FZ2 is a fantastic choice if you want a competitive gaming solution that is very responsive while looking great on your desk. The monitor's blur reduction performance is excellent by default, so you won't need to max out the overdrive functions in the OSD. We also love the bounty of useful extras such as the connectivity ports and the remote which extend the value of every dollar you spend on this product.
However, that focus on speed overlooked a few key aspects such as the default calibration of the screen which left a few things to be desired. It's easy to adjust a few settings, but this model was particularly difficult to manipulate since its gamma wasn't very responsive. It's still a fantastic buy if you only care about speed, but those who want punchier colors might have to look elsewhere.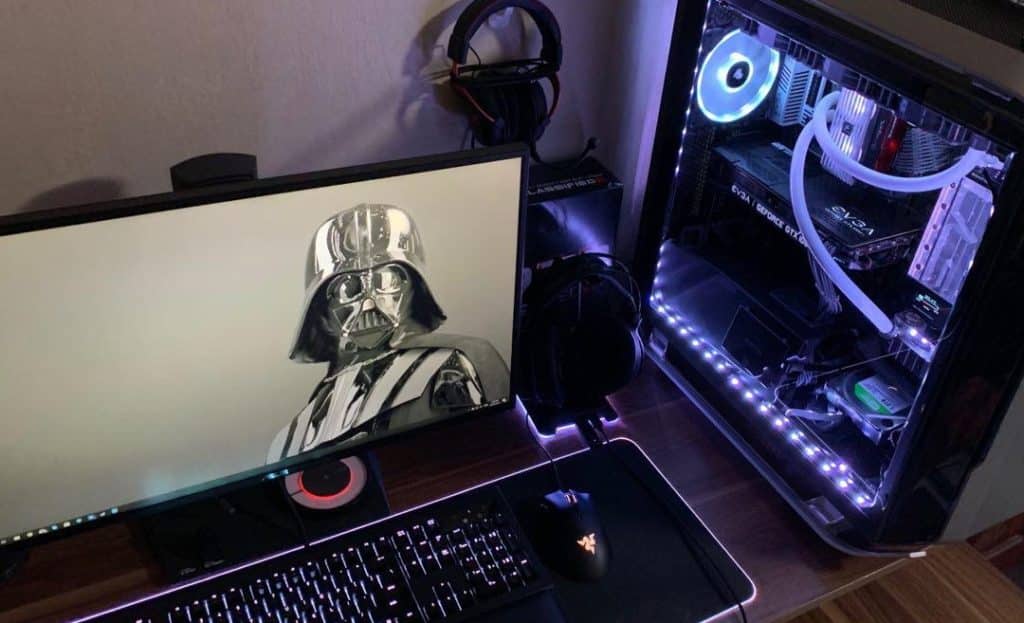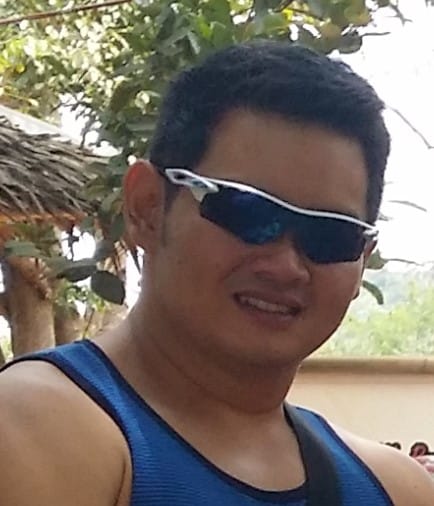 Paolo is a gaming veteran since the golden days of Doom and Warcraft and has been building gaming systems for family, friends, and colleagues since his junior high years. High-performance monitors are one of his fixations and he believes that it's every citizen's right to enjoy one. He has gone through several pieces of hardware in pursuit of every bit of performance gain, much to the dismay of his wallet. He now works with Monitornerds to scrutinize the latest gear to create reviews that accentuate the seldom explained aspects of a PC monitor.