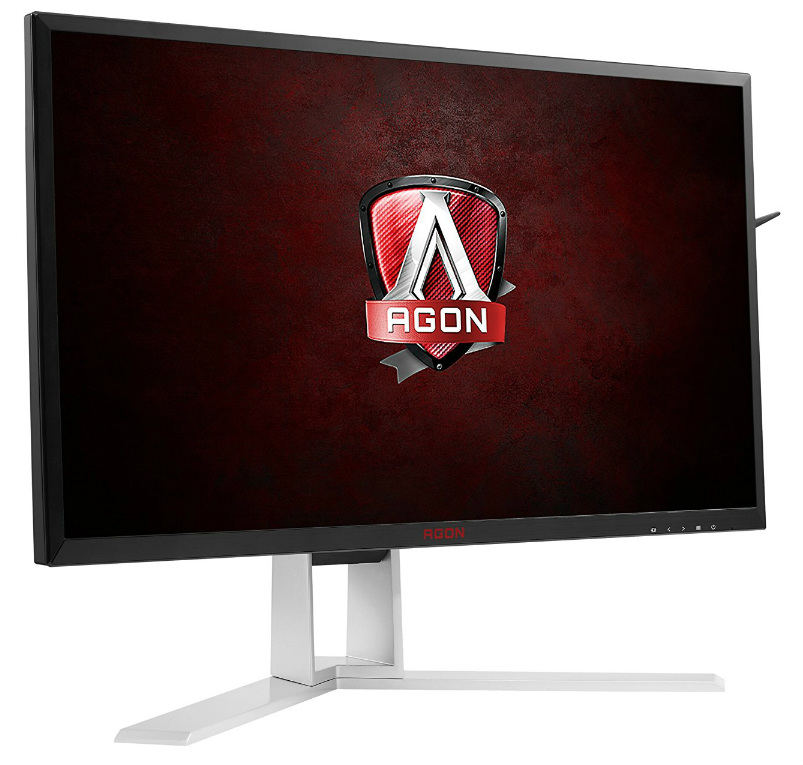 These days, more monitors are being aimed at gamers than ever before. AOC has introduced the AGON ranges specifically targeted at the competitive gamer.
The AOC AGON AG271QX is a 27-inch gaming monitor which is the flagship model of the range and is undeniably armed with a plethora of nifty features under its belt.
Review of AOC Agon AG271QX
The AG271QX not only ticks all the boxes essential for any monitor to be classified as a gaming monitor with its Quad HD 2,560 x 1,440 resolution, 1ms response time, 144Hz refresh rate, 1000:1 contrast ratio, 170-degree viewing angle, and 350cd/m2 brightness. It also comes with a nifty keypad called the Quick Switch which connects to the monitor to ensure speedy access to OSD options, which we will delve into later. This comes in handy especially when you need to adjust dynamic range during gameplay. It also has 3W built-in speakers so one can enjoy audio even without multimedia speakers.
Priced at $499.99 on Amazon, this kit is in the middle price range of gaming monitors with a 27-inch panel. Below are the specifications for this model: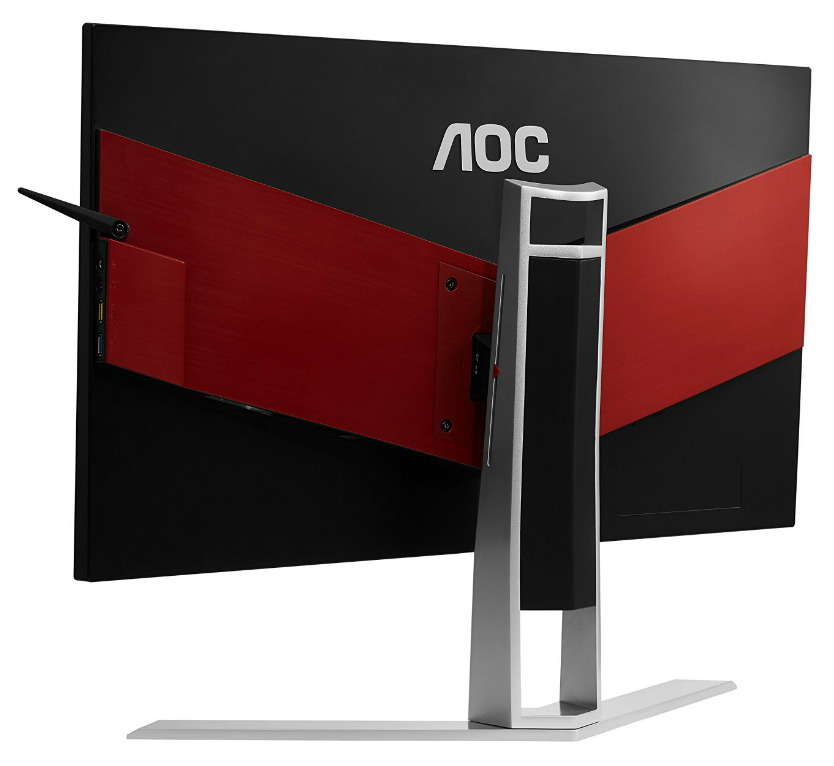 Specifications of AOC Agon AG271QX
Screen size: 27-inch
Aspect Ratio: 16:9 widescreen
Native resolution: 2,560 x 1,440
Contrast ratio: 1000:1
Dynamic Contrast Ratio: 50M:1
Brightness: 350cd/m2
Refresh rate: 144Hz
Response time: 1ms
Panel type: TN
Display inputs: DisplayPort 1.2, 2 x HDMI, VGA, DVI-D
USB hub: Yes
Tilt: Yes
Raise: Yes
Swivel: Yes
The AGON AG271QX comes with more than the standard equipment out of the box – it includes a DisplayPort cable, HDMI cable, HDMI to Micro HDMI, even including legacy connectors for DVI as well as VGA. It is supplied with mini-jack cables which connects headphones and microphones to the monitor as well as a USB 3.0 hub. It also comes with an external power supply.
The Design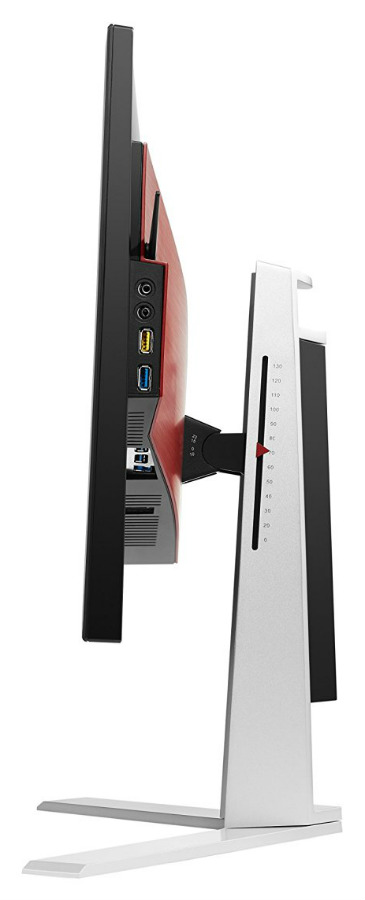 The monitor has the standard black bezel screen with a silver "V-shaped" base which is screwed onto the monitor. The advantage is a very sturdy connection to the base. However, when one needs to quickly un-mount the monitor, one will need to undo all the screws first.
The logo is placed mid-screen which announces its gaming moniker – AGON, in bold, red type. All usual on-screen display buttons are placed at the bottom-right part of the screen.
The screen is very flexible. It is able to rotate to a full 90 degrees into portrait mode and can swivel 20 degrees right to left. It can also be tilted 3.5 degrees downwards and 21.5 degrees upwards. The monitor also has 130mm clearance for adjusting the height of the screen depending on your preference.
AOC also includes a special "Quick Switch" controller keypad which directly links the user to all the options included on the on-screen display, all within a small keypad which can be placed next to your input devices for ease of access when playing or simply want to change screen modes to watch a movie. It includes arrow keys to move around the menu as well as OK and back buttons. Saving presets can also be done on this keypad with numbered buttons which allow the user to switch to user configured gaming settings. All in all, I think the quick switch keypad is a very efficient way of moving through modes and is highly beneficial to any demanding gamer.
Image Quality
The 27" monitor boasts 2560 x 1440 resolution or QHD (Quad HD) which displays sharp and crisp images as well as a very picture quality. The widescreen 16:9 aspect ratio allows one the space to spread out work and multitask, as well as enjoy games and movies in the size they were meant to be played. The 144Hz Refresh Rate and 1ms Response Time ensures that all transitions during gameplay are smooth especially this translates to either winning or losing during a match.
The AOC AGON AG271QX also boasts of a Flicker Free screen to ensure comfortable viewing all around.
Display Settings
The first menu is Luminance, with submenus including Contrast, Brightness, Gamma, OCR as well as Eco Mode which adjusts the monitor to a low power setting and gives 5 options: Text, Internet, Game, Movie, or Sports.
The second item on the menu is Image Setup and has options for positioning the frame on the screen.
The third option in the Color Setup menu and has the following options: Color Temperature which has Normal, Cool, SRGB as well as User defined option for RGB adjustment, OCB mode, and OCB demo.
The fourth option is quite a particular one which is specific to AOC, the Picture Boost mode, which has an option called Bright Frame. This feature lets the user select a specific area on the screen where a different set of brightness and contrast can be applied. This can be moved around the screen in the X or Y position.
The fifth option on the list is OSD setup where the user can configure where the OSD is displayed as well as change volume and has a break reminder.
Game setting where one can find details such as FPS, RTS, Racing as well as providing 3 user configurable gaming settings which can be toggled with the external Quick Switch button keypad. On the submenu, the user can configure Shadow Control where you can adjust contrast, turn on frame butter to minimize input lag. There is also a Game Color setting where you can adjust the hue of the monitor. An option for Low Blue Light reduces eye-fatigue when one logs many hours in front of the screen.
The last item on the menu is the Extra menu which includes Input Selection options, Auto Configuration, Off Timer, Image Ratio, DDC/CI toggle, and Reset when you want to clear all settings and revert back to default.
Overall
The AOC AGON AG271QX is well deserving of the gaming monitor title with plenty of features at your fingertips. It is compatible with any input connection fathomable (even legacy inputs DVI and VGA) which means it can handle pretty much anything. To add to this, AOC even added an extra Quick Switch external keypad to toggle around user defined presets with ease. All in all, this is a very impressive package that deserves your attention.