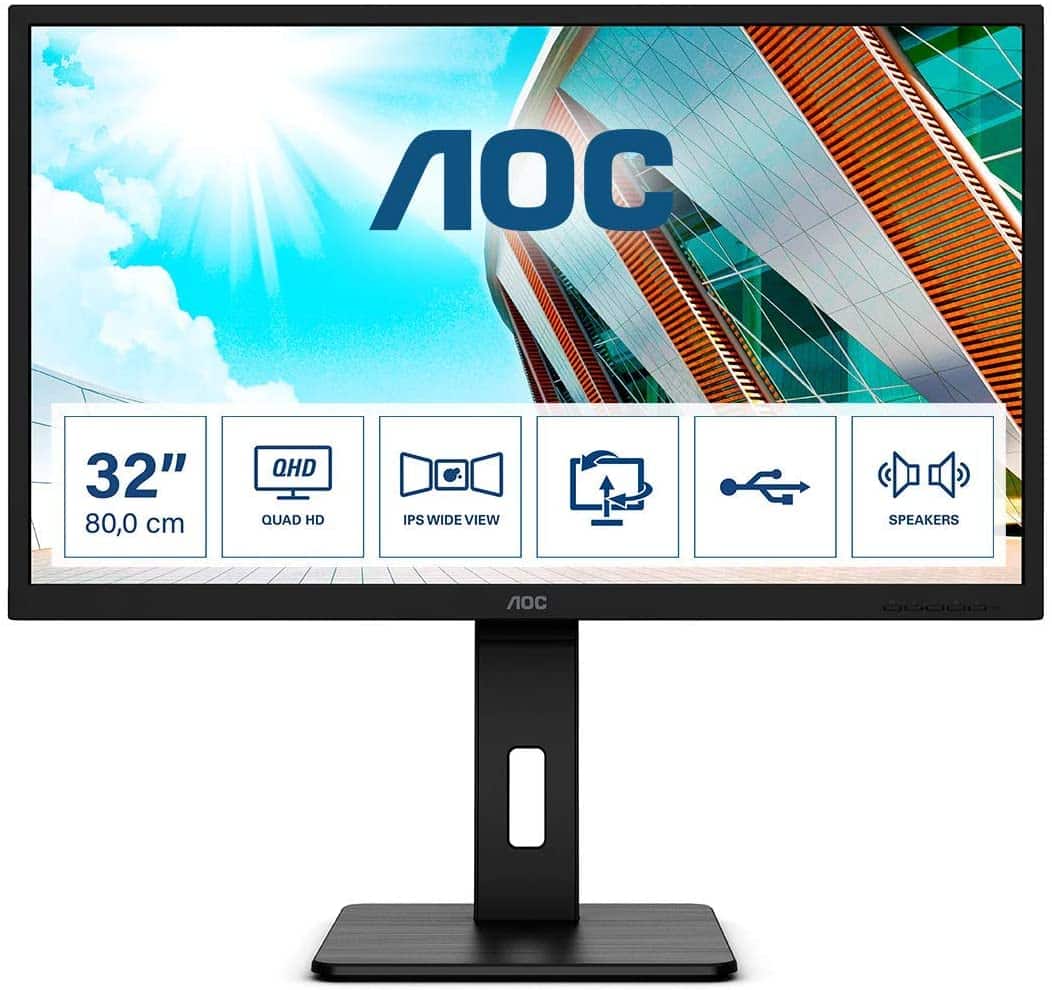 The AOC Q32P2 is a very affordable monitor with a large 1440p screen that's suited for daily tasks such as office work and casual entertainment. The brand is popular because of its value-oriented products which offer more for every dollar spent. The AOC Q32P2 seems like it's too good to be true, so let's check out what it brings to the table for our thrifty readers.

AOC Q32P2 Specifications
Screen Size: 32 Inches
Resolution: 2560 x 1440 QHD
Aspect Ratio: 16:9
Panel Technology: In-Plane Switching (IPS)
Refresh Rate: 75Hz
Response Time: 4ms
Contrast Ratio: 1000:1
Brightness: 250 cd/m²
Built-in Speakers: Yes (2 x 3 Watts)
Stand: Height – Yes
Stand: Tilt – Yes
Stand: Swivel – Yes
Stand: Pivot – No
VESA Compatibility: Yes 100 x 100
Connectivity: DisplayPort 1.2 x 1, HDMI 1.4 x 2, USB 3.2 x 4, 3.5mm x 1
Dimensions With Stand(WxHxD): 28.75″ x 19.74″ x 10.83″
Weight: 27.12 lbs

Design and Features
The AOC Q32P2 sports a sleeker and simplified aesthetic versus its gamer-centric G2 counterpart. The monitor has a matte black chassis which is easy on the eyes and even easier to maintain from looking dusty or slathered with fingerprints. The display isn't bezel-free, so it's not ideal for multi-monitor setups.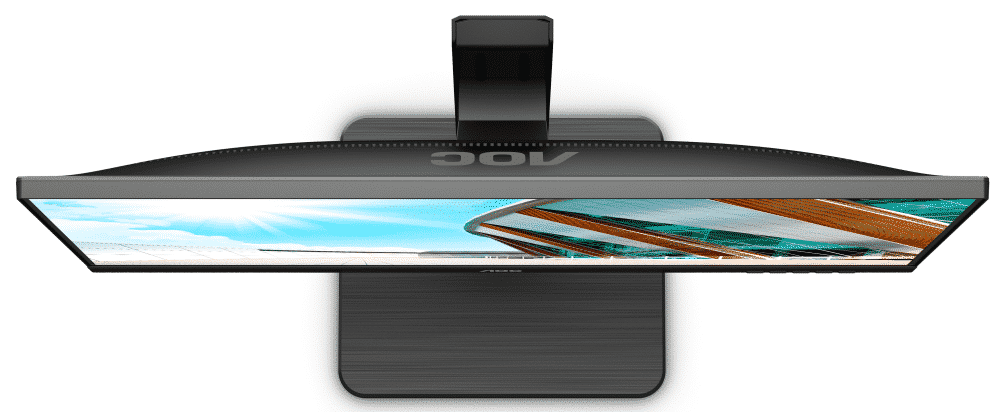 You have to take note of the AOC Q32P2's size which will challenge many regular-sized desks with plenty of peripherals. It needs a total depth of almost 11 inches and its width could interfere with desktop speakers. The base is oversized, but it is nice and flat so it can be used as a platform for smaller gadgets like mini soundbars or stream decks.
It also offers decent build quality even if it's a budget model that's aimed at offices and regular home use. The chassis feels sturdy thanks to its reasonably thick plastic panels that will not flex or easily crack. The stand offers superb stability and balance, so the screen won't wobble even if you have heavy hands.
The AOC Q32P2 doesn't have an OSD joystick or a remote, so you have to live with its tiny buttons at the lower right of its face. They're almost invisible without any labels, so some users might struggle with OSD navigation if they aren't familiar with it. It's an affordable variant, but many brands already offer quicker solutions with their entry-level models.
The stand included with the AOC Q32P2 is its highlight since it offers a complete range of ergonomics. You can tilt, swivel, pivot, and adjust the height of the screen, so a comfortable view angle will always be doable. You can swap it out with a VESA mount, but it's unnecessary unless you have multiple displays on your desk.
The AOC Q32P2 has plenty of connectivity options, starting with its DisplayPort 1.2 and dual HDMI 1.4 slots. It also carries four USB 3.2 slots for peripherals and speedy transfers, plus a 3.5mm analog jack for headphones. It could use a USB-C slot which is very handy for its intended audience, but its lack of it is excusable at this price range.
It even manages to include speakers which are limited to 3 watts per channel, but still useful in its class and targeted usage environment. The pair doesn't have sufficient power for games and movies, but they are useful for conference calls or even background music. It is always nice to have extras in an affordable package, and we expected nothing less in this regard from AOC.
Display and Performance
The AOC Q32P2 boasts a 32-inch IPS panel with a 2560 x 1440 resolution, a 75Hz maximum refresh rate, and a 4ms response time. The backlight has a 250 cd/m2 maximum while the contrast ratio is specified at 1000:1 like most IPS panels. This model doesn't have special features like HDR, although its main draw is its large screen that costs less when compared to identical competitors.
32-inch 1440p screens are less sharp than the more ideal 27-inch variants, but they still have the extra pixels and space. You get more room to work with using the AOC Q32P2, so will still be great for productivity and multitasking. The looser pixel density also makes visibility a bit better so there will be less squinting involved when processing documents or reading.
The AOC Q32P2 only managed to produce 95% sRGB which is reasonable for daily tasks, but falls short when compared to the newer IPS monitors. The deltaE average could also be better since it was at 2.93 which isn't perfect, but acceptable after a few tweaks. The screen also has a dedicated sRGB mode that improves the latter to 2.13, but it dims the screen by around 40% while locking the adjustment for it.
Calibrating the AOC Q32P2 with the help of a colorimeter produced a healthier 1.76 which is much more balanced and natural. It's not on the same level as some prosumer monitors, but it's decent enough for basic editing and content creation. However, buying a colorimeter for it isn't practical since they aren't particularly cheap.
The AOC Q32P2's backlight reached 251 cd/m2 at 100% brightness which is great and within specifications. It can look a bit dim against a well-lit room, but it looks lackluster in dark scenes when used at night due to its limited contrast. It produced a modest 938:1 at 60% backlight, so dark colors and shades look slightly washed out.
Panel uniformity for the AOC Q32P2 is great considering its size since there were no considerable backlight leaks or clouding issues on the screen. There are some variances near the edges, but they only become noticeable in dark scenes. Take note that this aspect varies wildly between every unit, so there are better and worse specimens out there.
The AOC Q32P2's motion handling is great for a monitor compared to 144Hz alternatives and competitors. blurring is surprisingly limited on the display thanks to a decent overdrive, so persistence and slight smudges are barely noticeable. However, we don't recommend maxing it out since it adds overshoot which is even more visible than the already minor flaws on the panel.
The AOC Q32P2 is a FreeSync monitor, but G-Sync also works with it when forced via the Nvidia Control Panel. Adaptive Sync isn't necessary for office use, but it will come in handy for after-hours gaming when the jobs are done. Input lag sits at 9ms at 75Hz, so there is no need to worry about delays while using the device.
Thoughts on the AOC Q32P2
The AOC Q32P2 is a great buy considering its price that's made even more enticing by its ergonomic stand. You normally can't buy a 32-inch monitor with that feature at this price range, so it's a great choice for those who want a secondary monitor or those who work from home. It doesn't offer flagship-level imaging quality, but it's acceptable for basic tasks, including light gaming.
It's great that the monitor gets enhancements in its physical features, but we honestly prefer better colors and contrast from the AOC Q32P2. A budget monitor that excels in color accuracy will be a hot seller, especially now where graphics artists or content creators work more at home. It's a great buy if you want a big and affordable screen, but take note of its limitations which can be deal-breakers for some users.
Pros:
Cheap for its Size and Resolution
Fully Adjustable Stand
USB Hub with USB 3.2 Ports
Decent Gaming Performance
Cons:
Poor Color Performance
Limited Contrast
Not Yet Available in All Regions
About the Author: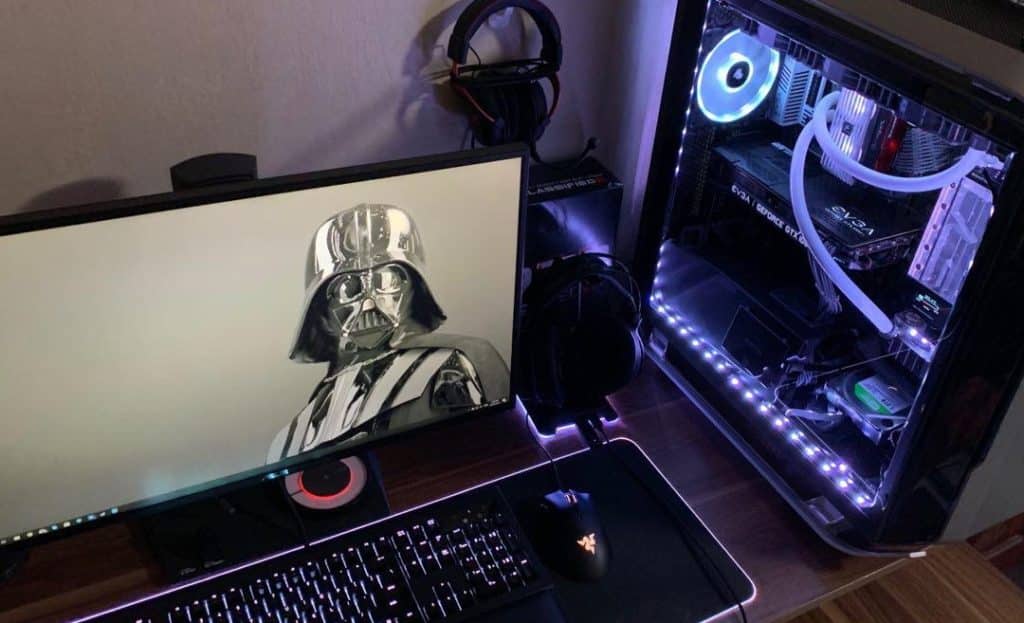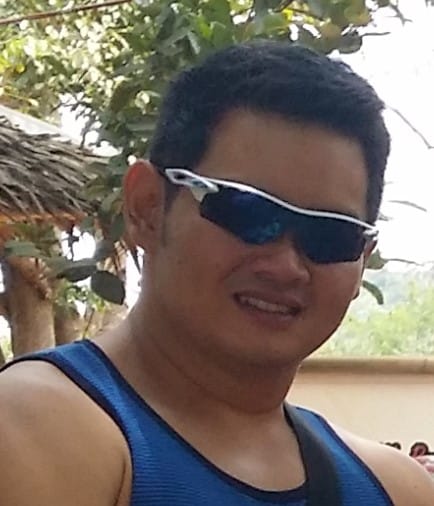 Paolo is a gaming veteran since the golden days of Doom and Warcraft and has been building gaming systems for family, friends, and colleagues since junior high. High-performance monitors are one of his fixations and he believes that it's every citizen's right to enjoy one. He has gone through several pieces of hardware in pursuit of every bit of performance gain, much to the dismay of his wallet. He now works with Monitornerds to scrutinize the latest gear to create reviews that accentuate the seldom explained aspects of a PC monitor.