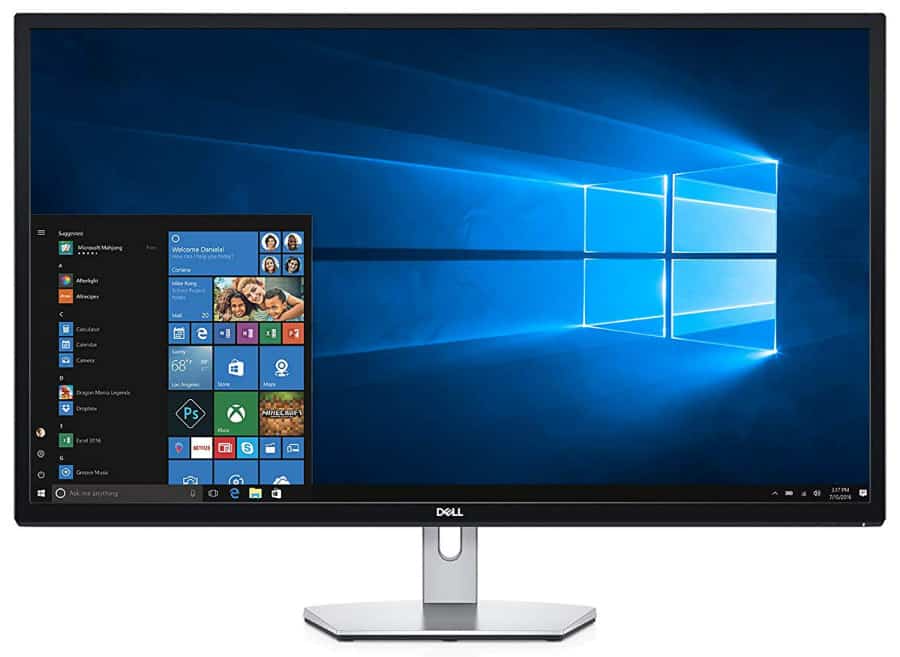 The Dell S3219D offers a reasonably-priced package that features a large, VA panel which is capable of deep contrast levels and colors. The device biases towards entertainment purposes such as casual gaming more than anything else, but it does have its limitations in certain aspects. The Dell S3219D is a great choice if you want a large display, but can it push its value beyond its very reasonable price?

Dell S3219D Specifications
Screen Size: 32Inches
Resolution: 2560 x 1440 QHD
Aspect Ratio: 16:9
Panel Technology: Vertical Alignment(VA)
Refresh Rate:60Hz (75Hz Max)
Response Time: 4ms
Contrast Ratio:3000:1
Brightness: 300cd/m²
Speakers: Yes
VESA: Yes
Stand: Height – No
Stand: Tilt – Yes
Stand: Swivel – No
Connectivity: DisplayPort 1.2 x 1, HDMI 1.4 x 2, USB 3.0 x 3, 3.5mm Jack x 1
Dimensions: 29.05" x 20.60" x 78"
Weight: 22.33 lbs

Design and Features
The Dell S3219D looks slightly different from its siblings in the brand's recent portfolio of monitors, but it's in a good way. The device is dominantly finished in piano or glossy black which adds a hint of style while also upping the requirements for aesthetic maintenance. The monitor isn't bezel-free compared to Dell's InfinityEdge displays, but the large screen size makes them barely visible when its in use.
The Dell S3219D still offers excellent build quality for its price, compared to budget offerings which are often flimsy or poorly manufactured. The material is mostly plastic, but the seams are free from gaps or burrs for a smooth overall finish. The monitor stands firmly when placed on a desk, but there is a slight wobble which isn't enough to cause concern.
There are a few missing creature comforts on the Dell S3219D since it is a budget-oriented display. The device comes with a matte silver stand that holds the chassis' center of gravity perfectly, but it can only offer tilt adjustments. It can be removed in favor of VESA mounting, but that will add to the total cost of the display which defeats its purpose.

The connectivity layout on the Dell S3219D is sufficiently equipped with DisplayPort 1.2 and dual HDMI 1.4 connectors for video signals. There is also a set of USB 3.0 slots for accessories, but they are located under the opening on the rear chassis which makes them hard to reach. Most modern displays position the latter on the side as a connectivity hub, but it's quite rare for low priced options like this model.
There is also a pair of built-in speakers which makes the S3219D a great all-in-one display if you have a PC, Xbox, and PlayStation 4. The size is large enough to be comparable to a regular-sized LCD TV. The porportions of the product are also within reasonable limits, so even if ergonomics is limited, placement and positioning should be easy for most desks.
Display and Performance
The Dell S3219D sports a 32-inch VA panel with a 2560 x 1440 resolution, 60Hz refresh rate, and 4ms response time. The backlight goes up to 300cd/m2 according to the spec sheet, while contrast is estimated to reach 3000:1 as expected. You can also push the screen's refresh rate to 75Hz by creating a custom resolution.
The specs aren't ideal by today's standards for gaming, but for casual purposes, it should be more than enough. 75Hz provides a decent boost, but it's not substantial enough to push the limits of your chosen titles. But on the other hand, console gamers will find this combination perfect for regular gaming sessions.
2560 x 1440 at this size isn't as crisp as most would expect due to the larger pixel pitch of the screen. The Dell S3219D looks and feels identical to a 24-inch 1080p monitor, but that isn't necessarily a bad thing. Some heavily detailed images will look softer, but the extra sharpness of the pixel count is still visible where it counts.
The VA panel in the Dell S3219D performed poorly out of the box when ti comes to color output and accuracy. The display only covered 98% of the sRGB gamut which is decent enough, but a bit lower than what is expected of VA modules. Color accuracy is dismal at DeltaE 4.5 which gave way to noticeable deviations in shades and colors presented by the test images.
But calibrating the Dell S3219D can turn its poor display around, correcting shades to within DeltaE 0.5. Doing so will also correct color temperature which had a bluish tint at the default settings, with gamma tracking closer to the ideal 2.2. This result is great and all, but it would require an expensive colorimeter to achieve it.
The Dell S3219D's panel uniformity is superb overall due to brightness deviances which did not exceed 8% in all quadrants. The panel's colors are balanced on each as well since flaws aren't readily noticeable. The more significant concern here is the peak brightness which is limited to 230cd/m2.
The backlight used on the Dell S3219D missed its specified 300 cd/m2, but what makes it worse is it cannot fight off ambient lighting. Contrast is extra high at 2900:1, but some conditions like daylight can nullify that advantage. Large screens like this require backlights with higher outputs to highlight the screen.
We're surprised that the Dell S3219D handles motion, unlike most VA panels which are prone to image retention and blurring. The module feels closer to recent IPS displays when in this aspect, resulting in minimized image retention or blurring. Response time looks snappier than the usual, and most of the blurring noticeable in games like Apex Legends are more related to the limited refresh rate.
The Dell S3219D is compatible with FreeSync at 48Hz to 75Hz which isn't much but is still helpful in graphics-intensive titles. Some games such as Rise of the Tomb Raider will squeeze every ounce of juice from most GPUs at this resolution, so the VRR tech will come in handy when the time comes. Input lag is limited to 8ms, so games will feel connected and on the dot all the time.
The Dell S3219D also works with G-Sync compatibility mode using the latest Nvidia GPUs. It's not one of the certified displays and the feature is yet to be thoroughly tested, so we cannot guarantee that it will activate for everyone.
Thoughts on the Dell S3219D
The Dell S3219D offers excellent value at its price range if you want a larger screen with an upgraded resolution. This model is great if you want to watch movies or play games casually, but making it color-accurate will be challenging. The display has superb contrast levels and decent gamma tracking, but its low output backlight negates the presented advantages in some conditions.
We understand the Dell S3219D wasn't made for editing tasks or professional endeavors. You can maximize its output if you know your way around an OSD's picture settings to tweak the display according to your taste. This variant is a decent choice if you are after a large screen for entertainment purposes without breaking the bank.