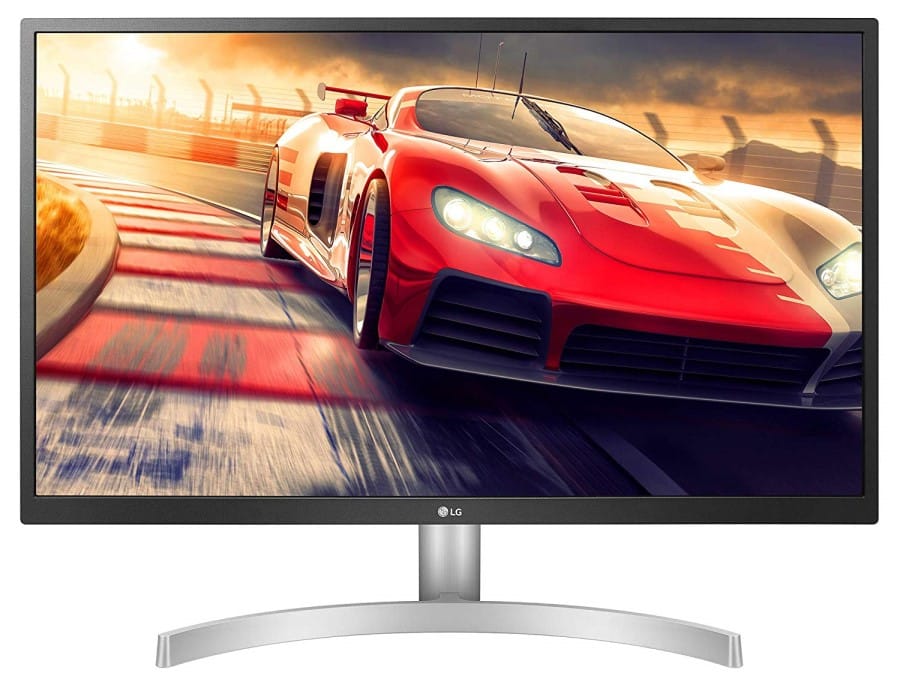 The LG 27UL500 is the next budget variant of the Korean brand's extensive 4K IPS monitor portfolio which provides excellent quality and performance for the price.  This model builds on the success of the 27UD58 which surprised the market in 2016 by selling below four hundred bucks which are quite low for a 4K display. The LG 27UL500 sits in a series where many expect fantastic image quality at a reasonable price, but can it hold its own in its respective bracket?

LG 27UL500 Specifications
Screen Size: 27 Inches
Resolution: 3840 x 2160 4K
Aspect Ratio: 16:9
Panel Technology: In-Plane Switching (IPS)
Refresh Rate: 60Hz
Response Time:5ms
Contrast Ratio:1000:1
Brightness: 350 cd/m²
Built-in Speakers: No
Stand: Height – Yes
Stand: Tilt – Yes
Stand: Swivel – Yes
Stand: Pivot– Yes
VESA Compatibility: Yes (100 x 100)
Connectivity: DisplayPort 1.2 x 1, HDMI 2.0 x 2, 3.5mm Audio Jack
Dimensions With Stand(WxHxD): 24.13″ x 17.99″ x 9.1″
Weight: 13.89 lbs

Design and Features
The LG 27UL500 looks more or less the same as the 27UL650 we reviewed earlier except for a few key differences in design. The design has the same matte white chassis that's paired with a silver stand which makes these displays look refreshing in a sea of matte black choices. The biggest difference, however, is that this model isn't bezel-free which makes it less appealing than its more expensive siblings.
The LG 27UL500 is built with sleekness in mind which in turn makes it look fragile or cheapened. However, this is not the case since the product's parts are well executed and perfectly matched to avoid gaps or weak points. There is a slight wobble on the stand, but it shouldn't disturb users with regular use.
There are no OSD buttons with the LG 27UL500, which points us to a better solution called On-Screen Control. This app lets you tweak the monitor in Windows, which is considerably more convenient. Learning to utilize this feature is as easy as peas, especially if you are the type of user who regularly adjusts brightness or color temps.
The LG 27UL500 features the ArcLine stand design which is distinct to various offerings from the Korean tech giant. The bow-shaped base doesn't take up a lot of space but it still manages to provide excellent stability to the base. But one of the sacrificial aspects of the monitor is it can only offer tilt adjustments which are somewhat limiting for many users.
You can swap this out with a VESA mount that has a 100 x 100 bolt pattern but spending the extra defeats the budget-friendliness of the LG 27UL500. This problem is common with budget buyers since you can already get an ergonomic variant if you add up the cost. There are ways to make this product work in your setup such as stacking books below the base, but that also ruins the cleanliness of the LG 27UL500's appearance.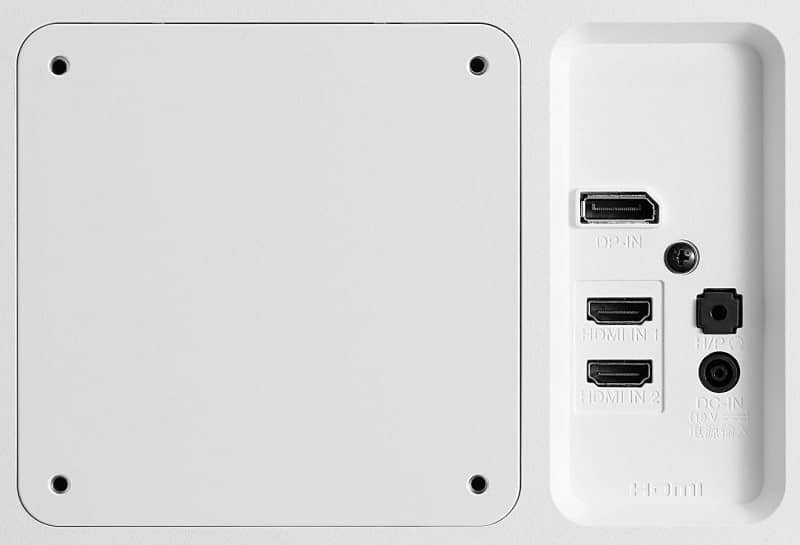 The LG 27UL500's connectivity layout isn't as generous as its competitors, but it's got all you will ever need. The panel includes DisplayPort 1.2 for your PC and two HDMI 2.0 slots for 4K devices such as the Xbox One X. There are no built-in speakers and USB slots, but there is a 3.5mm jack for your headphones or a separate set.
Display and Performance
The LG 27UL500 sports a 27-inch IPS panel with a 3840 x 2160 resolution, 60Hz refresh rate, and 5ms response time. This monitor includes a 300 cd/m2 backlight and is rated to have a 1000:1 contrast ratio like most typical IPS variants. There is nothing special about the spec sheet, but this type of affordable display should be great for everyday use, including gaming.
UHD screens at 27-inch can provide a level of sharpness that's fantastic for editing and entertainment purposes. However, we've always felt that 4K is more suited to 32-inch variants since the slightly looser pixel pitch makes visibility better. Users with anything less than 20/20 vision will require scaling on a monitor like this for tasks such as document processing and reading.
Another distinct change in the LG 27UL500 is its HDR10 compatibility which you can't find on the 27UD58 and the like. However, this is more of a marketing gimmick since the monitor does not have HDR-ready specs or capabilities. It can only merely translate HDR10 signals as best it can with its sRGB screen.
The LG 27UL500 covers 98% sRGB as advertised which is decent for day to day use, including light editing. The average color accuracy sits at a respectable 2.46, which is slightly off from the standard, but it doesn't mean colors will look skewed. This is caused by the screen's cooler temperature which adds a slightly bluish touch to the screen.
However, the LG 27UL500 drops the ball in contrast and gamma, with a peak of only 850:1 and gamma 2.4 respectively. You can correct the latter to a more decent 2.3 by adjusting the backlight, but contrast remained more or less the same. This gave us washed out blacks and a slightly skewed grayscale performance which are annoying if you are playing games or editing photos.
Panel uniformity is decent with a 10% deviance in brightness on the sides compared to the center. However, there is a light leak on the bottom left corner which worsened brightness deviation to 17%, but take note that this changes between unit to unit. Color uniformity is still pretty decent with an average DE of 2.8 from the D65 standard, save for the lower left corner which showed a DE of 3.2.
Motion handling is one of the better characteristics of the LG 27UL500 since its comparable to some of the high-end models in the lineup. Blurring and ghosting only show when you pan the screen too quickly, but other scenes with reasonable speed gave us no immediately visible flaws. The monitor is only a 60Hz variant after all and you would have to spend close to a grand to get a 144Hz 4K model.
The LG 27UL500 is a FreeSync monitor, but it is not listed as G-Sync compatible which is rapidly becoming common in the market. 4K variants have had the most issues with the latter, so we're hoping Nvidia will work more with these UHD options sometime soon. Input lag is excellently low at 9.5ms, so gamers will not feel delays or "de-synced" instances.
Thoughts on the LG 27UL500
What's fantastic about the LG 27UL500 is its premise of class-leading affordability if you consider its design and lineage. LG has always been great with IPS products, but this particular option needs a bit of tweaking. Color fidelity is decent, but other aspects such as gamma and contrast could use a boost.
The LG 27UL500 is great for casual gaming purposes and day to day tasks such as document processing or office work. However, if you are looking for better color, its more expensive sibling, the LG 27UL650 or the older LG 27UK650, are worth a look.