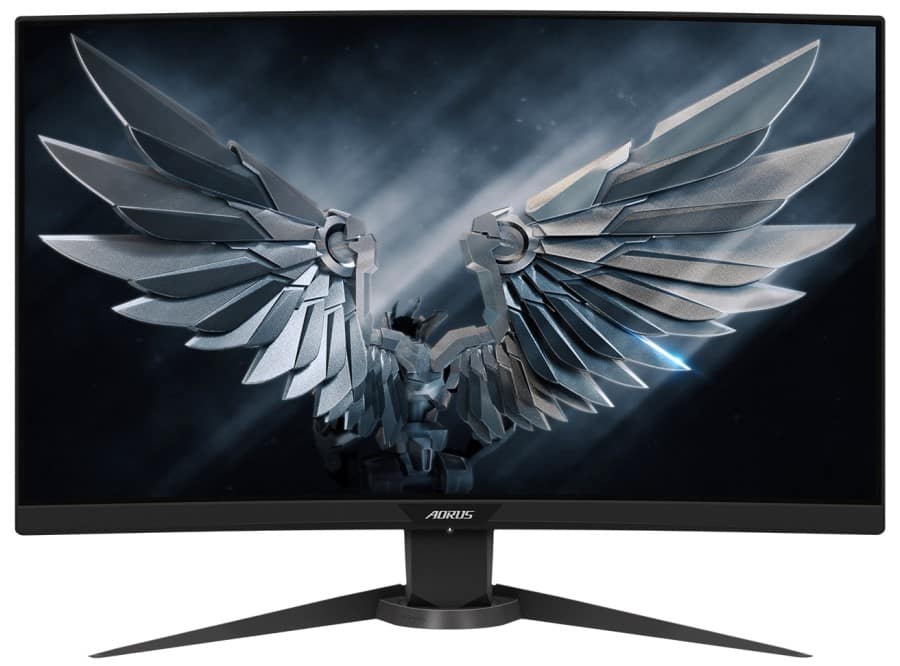 The Aorus CV27F is a recently announced curved gaming monitor that offers a vibrant, curved screen with HDR400 capabilities. This monitor is looking to build on the success of the AD27QD with a different formula that should be palatable to a wider audience. The Aorus CV27F is boasting very attractive capabilities, but how does it perform in the real world?
Aorus CV27F Specifications
Screen Size: 27 Inches
Resolution:1920 x 1080 FHD
Aspect Ratio: 16:9
Panel Technology: Vertical Alignment (VA)
Refresh Rate: 144Hz
Response Time: 4 ms
Contrast Ratio: 3000:1 (Static)
Brightness: 400 cd/m²
Speakers: No
Stand: Height -Yes
Stand: Tilt – Yes
Stand: Swivel – Yes
Stand: Pivot – Yes
VESA Compatibility: Yes (100 x 100)
Connectivity: HDMI 0x 2, DisplayPort 1.2 x 1, 3.5mm Jack
Dimensions (W x H x D): 24.17" x 20.95" x 24"
Weight: 43 lbs
Design and Features
The Aorus CV27F is distinctly designed to fit right into the gamer-centric branding of the brand with its aggressive angles combined with minimalist cues. The monitor is mostly matte black, but its RGB implementation will add color once it's activated. The curved screen is bezel-free on three sides, but minimal panel borders are still visible when the screen is turned on.
The product does include a lot of features, but getting the most out of them isn't tricky or confusing. The Aorus CV27F incorporates a centrally located OSD button which doubles as the main power switch under the bottom bezel. You can also use the monitor's OSD Sidekick capability which will allow OSD manipulation via the desktop.
Build quality is surprisingly very solid and sturdy, so there is no wobbling or creaking from the Aorus CV27F. The panels are made to match perfectly, so there are no nasty edges or wide gaps. The monitor feels like a premium device, adding worth to the cash you spend on it.
The distinct aesthetic features of the Aorus CV27F are located at the back of the housing. The brushed metal texture adds a nice touch of premium flair, while the angular lines add a hint of aggressiveness that doesn't border on being too gaudy. But what stands out is the RGB LED array that will respond to Gigabyte's RGB Fusion application.
The LEDs add a nice glow to your desktop that isn't too gentle nor too strong. It's a great feature to have if you are all about matching setups, especially if you have Aorus gear in your build. This add on also doubles as a bias light, which is proven to help keep your eyes safe and comfortable for extended periods of use.
The Aorus CV27F is supported by a flexible stand with a boomerang-shaped base that consumers a little over ten inches of depth. The mechanism provides excellent stability, along with tilt, swivel, pivot and height adjustments. The device is also VESA compatible, but we don't think it's necessary in this case unless you want to clear your desktop real estate for neatness or for other peripherals.
The Aorus CV27F doesn't include speakers, but those tinny-sounding add-ons are rarely missed in gaming setups. This model emphasizes on immersion as well, so it would be better to use decent-sounding headphones to maximize the experience.
Display and Performance
The Aorus CV27F sports a 27-inch curved VA panel with a 1920 x 1080 resolution, 165Hz max refresh rate, and 1ms boosted response time. The panel is DisplayHDR 400-compliant, which means it includes a 400 cd/m2 backlight and a 3000:1 contrast ratio. HDR400 isn't a substantial upgrade in color and dynamic range, but some models have shown improvements in image quality in some instances.
The Aorus CV27F's size doesn't make it a great choice if you want crisp images and sharp details. The loose pixel pitch can sometimes make images look jagged or pixelized, but it's great for visibility and legibility. Competitive gamers love this format since it makes small objects like peeking heads more visible while reading text or browsing won't require scaling for those with less than 20/20 vision.
The Aorus CV27F posts impressive color qualities thanks to its vibrant VA panel. The screen is capable of producing 89% of the DCI-P3 gamut and over 100% in sRGB. Color accuracy is acceptable at Delta E 2.6, while the overall color temperature biases towards warmth which can make whites look slightly yellowish.
The benefits of calibrating the Aorus CV27F is minimal, so we don't think spending the extra on a colorimeter for a bit more accuracy is practical. The screen's oversaturation can be a pain if you are working with color-critical tasks, but it looks fantastic for games overall.
The Aorus CV27F also offers excellent contrast which reaches 2950:1 easily by adjusting the brightness setting to around 30%. Colorimeter scans reveal that it can even exceed that up to a certain degree when HDR mode is active, but we couldn't measure it accurately. The backlight can exceed its rating at 420 cd/m2, but that's not enough for true HDR purposes.
The monitor doesn't have individual dimming zones, so the HDR effects are less profound compared to an HDR1000 display like the Asus PG27UQ. At least, for this model, you can enjoy excellent vibrancy and contrast which will contribute to the dynamic range.
Panel uniformity for the Aorus CV27F is fantastic due to deviances which are limited to 10%. The screen looks evenly lit even if there are minor leaks on the corners which only become noticeable in all-black images. Color uniformity is perfect with a maximum variance of only DE 1.6 from the D65 standard which is unnoticeable for most.
The Aorus CV27F's motion handling is one of the best we've seen, with blurs and smudges only appearing if you pan the screen too fast. The monitor's overdrive feature will completely clean these flaws off, but setting it too high will induce massive overshoot. We recommend the Balance setting for the best possible results.
The Aorus CV27F is a FreeSync 2 gaming monitor, making it a compelling match for the latest Radeon GPUs like the 5700XT. This model is not yet G-Sync certified, but the inclusion of the AD27QD in the list is a good sign that this model will follow sooner or later. Input lag sits at 11ms, so there will be no delays or "de-synced" instances.
Thoughts on the Aorus CV27F
The Aorus CV27F is a fantastic gaming monitor overall, but there are a few limitations you should consider. The DisplayHDR 400 rating which adds a premium isn't true HDR, but it does nice improvements in color when done right. The screen's features are excellent for gamers, plus the responsiveness of the monitor is one of the best as far as VA displays go.
We love the Aorus CV27F's design, including its 1500r curvature which Aorus says is the closest curvature that is comparable to human eyes. The imaging results are slightly mixed, but we will leave it to you to decide if the screen's curve is indeed an improvement over 1800r or similar variants.
About the Author: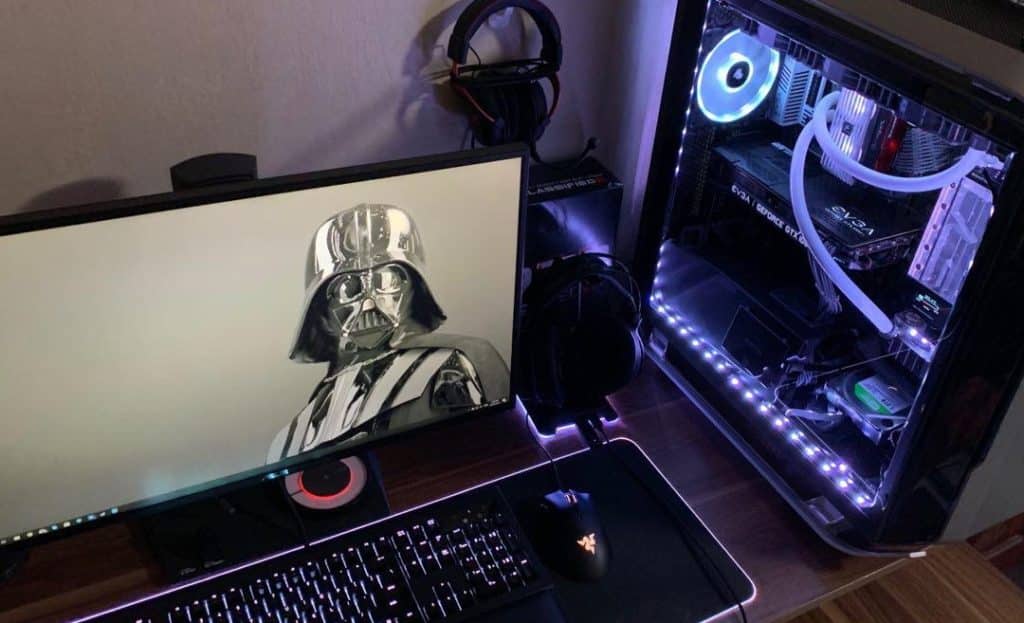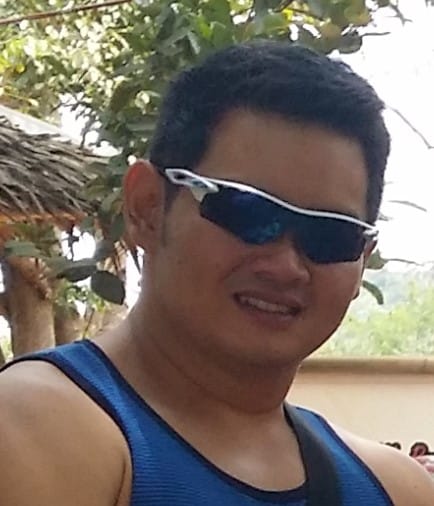 Paolo is a gaming veteran since the golden days of Doom and Warcraft and has been building gaming systems for family, friends, and colleagues since his junior high years. High-performance monitors are one of his fixations and he believes that it's every citizen's right to enjoy one. He has gone through several pieces of hardware in pursuit of every bit of performance gain, much to the dismay of his wallet. He now works with Monitornerds to scrutinize the latest gear to create reviews which accentuate the seldom explained aspects of a PC monitor.