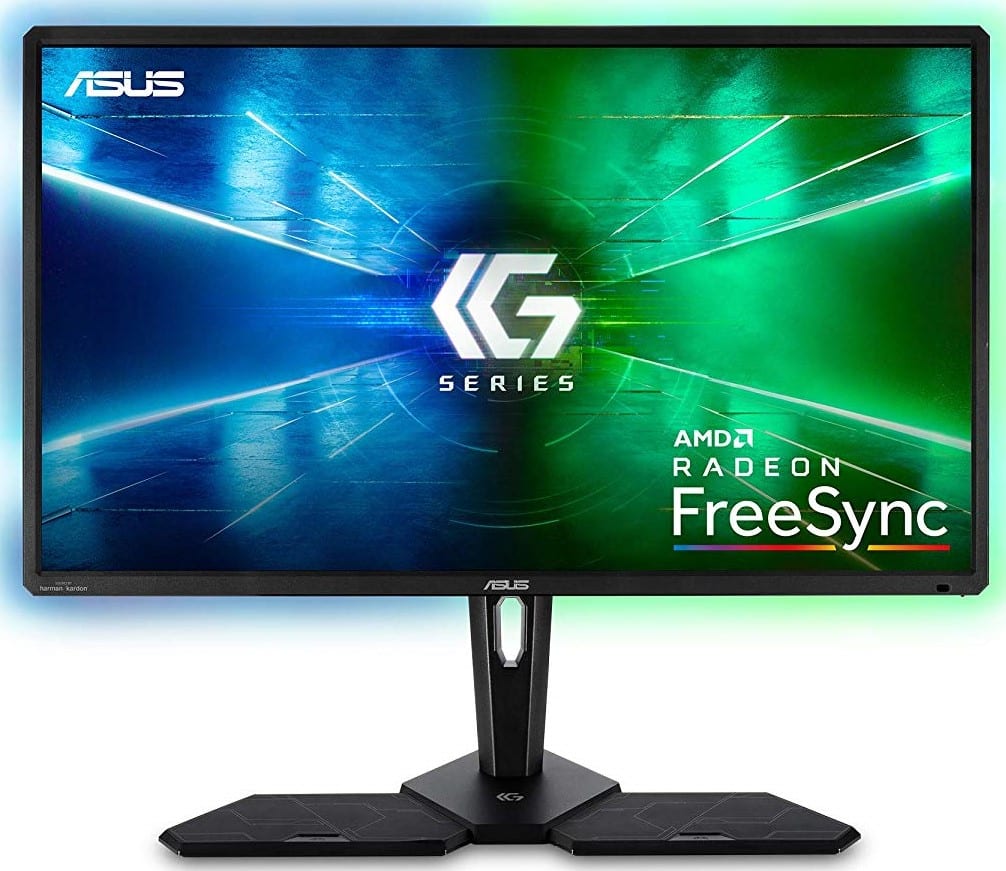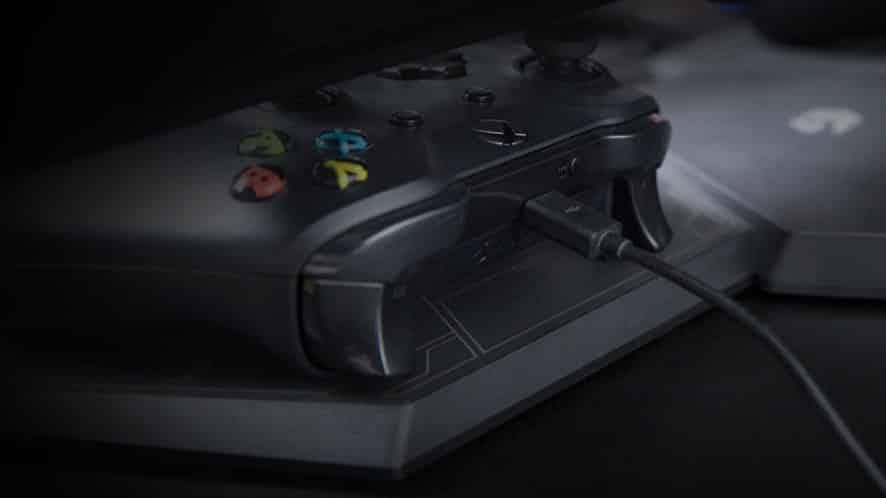 Pros:
Charging Stand and Harman Kardon Speakers
Excellent Image Quality with good HDR Performance
Low Input Lag
FreeSync and G-Sync Compatible
Useful RGB Feature
Recommended by Monitornerds!
Cons:
Expensive
Limited to 60Hz for the Price
Slow Pixel Responsiveness
The Asus CG32UQ is designed from the ground up to cater to the rigors of console gaming in 4K HDR while adding in some nice premium tidbits. The monitor is pricey, but what makes it very attractive is the way it can support your console gaming lifestyle via its fantastic design. Let's check out if the Asus CG32UQ offers a substantial advantage over regular 4K monitors for its intended or primary application.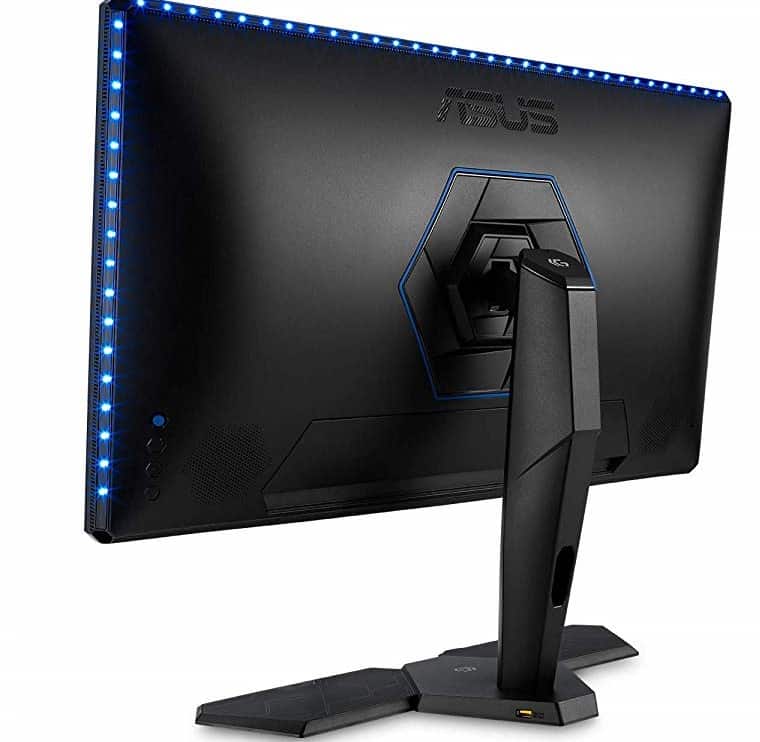 AOC CG32UQ Specifications
Screen Size: 32 Inches
Resolution: 3840 x 2160 4K UHD
Aspect Ratio: 16:9
Panel Technology: Vertical Alignment (VA)
Refresh Rate: 60Hz
Response Time: 5ms
Contrast Ratio: 3000:1 (Static)
Brightness: 400 cd/m²(600 cd/ m² Max)
Built-in Speakers: Yes (2 x 12 Watts)
Stand: Height – Yes
Stand: Tilt – Yes
Stand: Swivel – No
Stand: Pivot – No
VESA Compatibility: Yes 100 x 100
Connectivity: DisplayPort 1.2 x 1,, HDMI 2.0 x 3, USB 3.0 x 4, 3.5mm Jack
Dimensions with Stand(WxHxD): 28.75" x 1993" x 10.57″
Weight: 29.54 lbs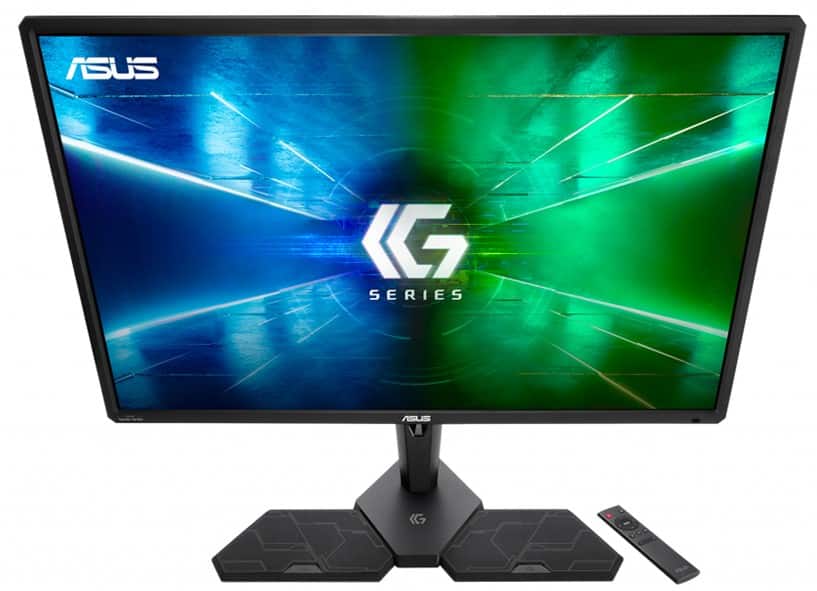 Design and Features
The Asus CG32UQ sports a unique design compared to all of the PC-centric variants which share their aesthetics with almost every other variant in their respective categories. Examples of this treatment are the ROG Swift, ROG Strix, TUF Gaming, and ProArt lines, all of which have identical-looking products. This model is the exception to the rule in this regard, but Asus engineers used a specific purpose to come up with the design, so it isn't merely limited to looking attractive for gamers.
The monitor chassis itself sports a minimalist design which could trick most into thinking that this model is meant for the office. The matte black texture feels nice to the touch, but it also helps prevent dust and fingerprint attraction. The device isn't bezel-free, but the borders are thin enough to become unnoticeable while the large display is in use.
Build quality for the Asus CG32UQ is excellent since there are no wobbles or any physical issues of some sort. There is also no visible cosmetic defect on the device, while the plastics used feel thick and sturdy. It's also worth noting that the monitor has a very bright RGB LED feature at the rear's edges which is powerful enough to cast a glow that acts as a bias light for eye safety.
The brand included two ways you can control the OSD of the Asus CG32UQ which we believe will get regular use from time to time. The familiar OSD joystick with hotkey layout is present in this model, but it also includes a proprietary remote for convenience. Having this add on is great if you want to use the CG32UQ for couch gaming so you don't have to stand up each time you need to adjust something.
Another notable feature of the Asus CG32UQ is its stand which was not built to simply look enticing for gamers. The mechanism only offers tilt and height adjustments, but we think that's fair unless you are the type that uses displays at an offset angle. You can also swap this part out with VESA mounts, but you do lose its key feature on the base.
The base of the Asus CG32UQ is meant to accommodate gaming console controllers and keep them in place at all times. The two flanking surfaces have built-in rubber mats so your DS4 or Xbox controllers don't slip and slide annoyingly. The USB slots on the middle platform towards the rear provide charging capabilities which come in handy if you are still using the old cable method to top-up their batteries.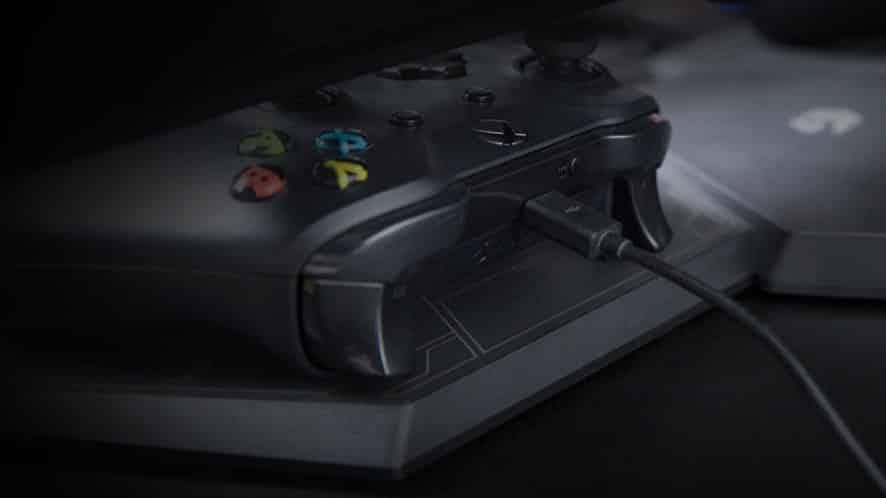 The Asus CG32UQ focuses on console connectivity with its trio of HDMI 2.0 slots, but there is also a DisplayPort 1.2 slot that is still present for PC gamers. You will also find two USB 3.0 ports at for peripherals in addition to the pair on the base which is aimed at charging purposes. There is also a 3.5mm jack for audio output, although we think it would also be nice if there was another for input as well.
Its weird to say this, but you'd actually want to be able to connect external audio sources to the Asus CG32UQ because of its 12-watt Harman Kardon speakers. The pair sounds excellent as far as built-ins go with just enough power to make games and movies enjoyable. It doesn't sound as profound as a separate set, but the praise it gets is a first for monitor speakers.
Display and Performance
The Asus CG32UQ boasts a 32-inch VA-type panel from Innolux with a 3840 x 2160 resolution, 60Hz refresh rate, and 5ms response time. Contrast is rated at 3000:1, while the backlight has a typical brightness of 400 cd/m2 and a maximum output of 600 cd/m2 for HDR. This model has an edge-lit local dimming backlight which enables it to reach DisplayHDR 600 certification from VESA.
UHD or 4K is a more natural fit on 32-inch screens since the pixel density isn't too tightly packed to diminish the benefits of their high count. The screen looks sharper compared to a 27-inch 1440p variant, but it's also great for couch gaming and the like. Some users will still need to use scaling for other tasks such as reading, but many won't be disturbed by the extra sharpness of the display.
The Asus CG32UQ is capable of fantastic color output thanks to its 95% coverage of the DCI-P3 color space and around 120% of sRGB. Color accuracy sits at DeltaE 2.4 by default which is decent, so gamers don't need to calibrate the screen to get the most out of it. However, the default Racing Mode preset is too cool compared to the ideal 6500K, so some tweaks are in order if you want a more balanced appearance.
The screen's gamma, on the other hand, is as well-behaved as a pre-calibrated display with most of the presets staying at the ideal 2.2. Contrast is equally excellent, maxing out at 3600:1 for SDR and going as high as 4100:1 when HDR is active. The screen doesn't look grayish or incorrectly saturated, but the HDR modes did have a noticeable effect on black luminance which somehow lightened darker scenes by a small degree.
The Asus CG32UQ is capable of considerably better HDR performance compared to other variants that can only emulate it. Compatible games like Modern Warfare display fantastic lighting detail in the explosions and the environments, especially in the desert scenes of the campaign. Of course, the output isn't as refined or controlled compared to FALD-equipped displays like the PG27UQ, so some light blooms might look out of place.

Panel uniformity for the Asus CG32UQ is decent so images look balanced with no noticeable decline in contrast and saturation on the quadrants. There is some minor backlight bleeding on one bottom corner which induced a bit of clouding, but it's only noticeable when an all-black image is on display. Take note that some models might exhibit better or worse symptoms since no amount of quality control can guarantee that there is absolutely no leak or bleeding.
The one downside we noticed on the Asus CG32UQ is its pixel responsiveness which, as expected from VA-type screens, can produce blurs or ghosting. Fast-paced transitions or contrasting color shifts will reveal these image defects up to a degree for some users. Setting the overdrive to its Level 2 setting helps, but be wary of using the stronger stages since overshoot already starts to appear at the third option.
The Asus CG32UQ is a FreeSync gaming monitor, but it also works with Nvidia's G-Sync compatibility. This characteristic is always great for gamers since you are not stuck with one GPU brand when you upgrade. Input lag sits at 9ms, so there is no need to worry about delays or de-synced instances when playing.
Thoughts on the Asus CG32UQ
The Asus CG32UQ is a fantastic console gaming monitor thanks to its outstanding image quality, good HDR performance, and an impressive array of features. Asus spared no expense in equipping this variant with the best upgrades such as the charging base and the Harman Kardon speakers. It's an excellent all-in-one solution for both PC and console, especially if you don't have the space for a flatscreen and some audio equipment.
The flaws are mostly minor for the Asus CG32UQ, but the glaring limitation is the 60Hz refresh rate, at a time where high-refresh 4K consoles like the Xbox Series X received a release date. This characteristic makes the proposition of the product expensive, especially since you can get 32-inch 4K variants minus the extras at around half the cost. The Asus CG32UQ comes highly recommended by Monitornerds, but you have to be willing to pay for the premium it commands in exchange for its attractive design, features, and performance.
About the Author: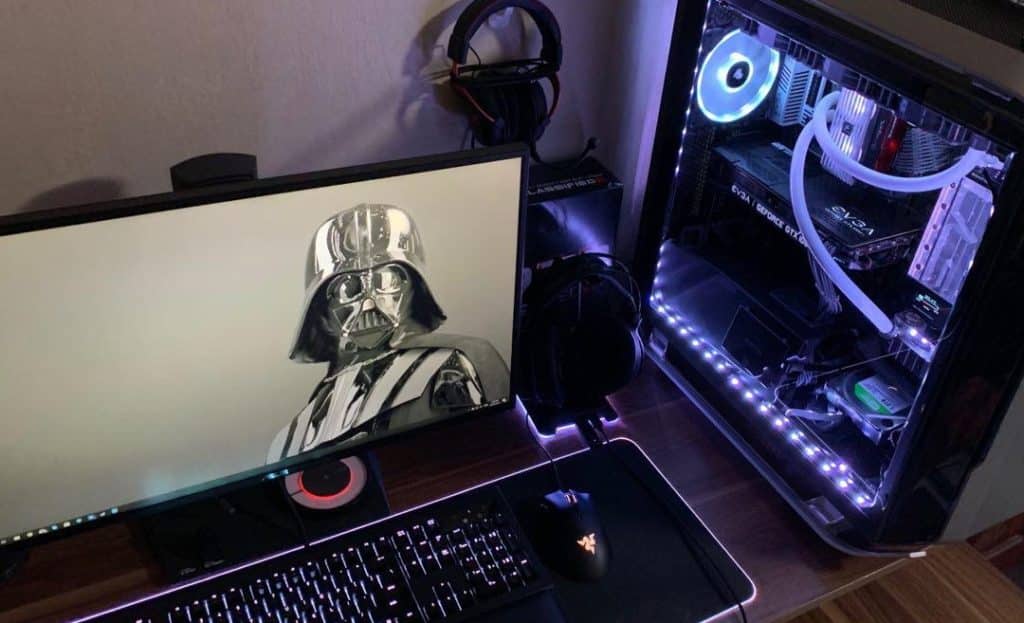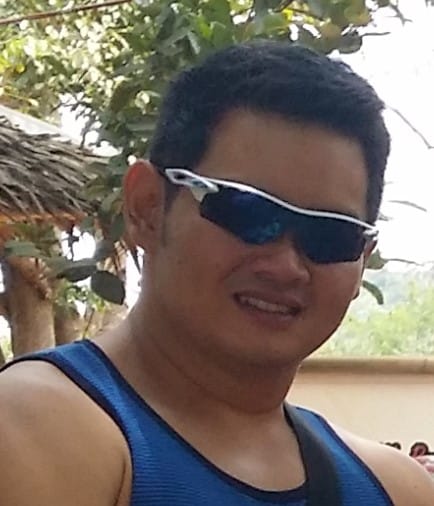 Paolo is a gaming veteran since the golden days of Doom and Warcraft and has been building gaming systems for family, friends, and colleagues since his junior high years. High-performance monitors are one of his fixations and he believes that it's every citizen's right to enjoy one. He has gone through several pieces of hardware in pursuit of every bit of performance gain, much to the dismay of his wallet. He now works with Monitornerds to scrutinize the latest gear to create reviews that accentuate the seldom explained aspects of a PC monitor.