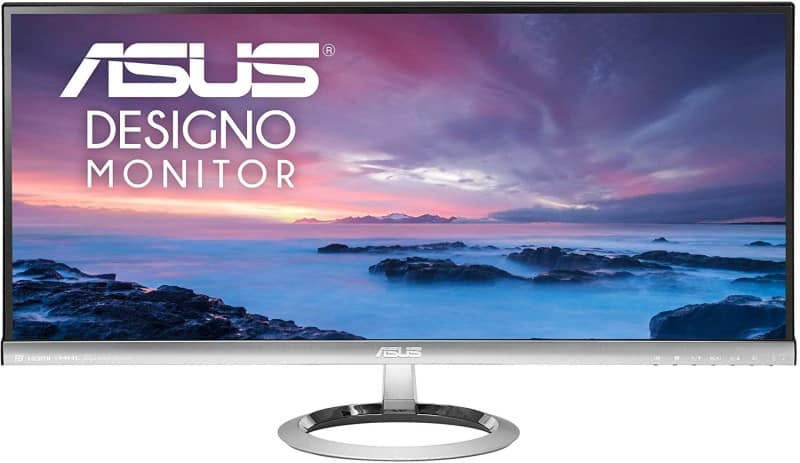 The Asus MX299Q is a stylish ultrawide monitor that's intended to provide an extended visual space while looking good in your game room or office. 2560 x 1080 monitors are less desirable nowadays compared to the 34-inch QHD variants, but these models are considerably cheaper at a third of the price. The Asus MX299Q sits at the higher price point of its category despite that, but is it worth the extra cost?

Asus MX299Q Specifications
Screen Size: 29 Inches
Resolution: 2560 x 1080
Aspect Ratio: 21:9
Panel Technology: In-Plane Switching (IPS)
Refresh Rate: 60 Hz
Response Time: 5ms
Contrast Ratio: 1000:1 (Static)
Brightness: 250 cd/m²
Built-in Speakers: Yes
Stand: Height – No
Stand: Tilt – Yes
Stand: Swivel – No
VESA Compatibility: No
Connectivity: DisplayPort x 1, HDMI 1.4 MHL x 1, DVI-DL x 1, 5mm Audio Jack x 2
Dimensions with Stand(WxHxD): 27.57″ x 15.39″ x 8.46″
Weight: 12.13lbs

Design and Features
The Asus MX299Q sports the unique and clean aesthetic of the MX line which makes the products look like they are most suitable in an executive environment. The monitor has slim proportions which make it look more modern than the newer 29-inch models we've seen. The display is also bezel-free on three sides, but panel borders are still visible when the screen is in use.
Build quality is decent for the Asus MX299Q since it belongs to a higher tier in the brand's portfolio. The plastics are durable enough to prevent warping, while edges and gaps are even and without any visible defects. However, there is a slight wobble on the monitor if you apply a bit of force on your desk, but you shouldn't worry about it since the device will remain upright all the time.
The Asus MX299Q is an older model so it doesn't have the OSD joystick that Asus applies to most of its monitor product range. You have to deal with wonky buttons which can get confusing, especially if you haven't memorized their functions yet. Buttons have been around since the CRT days, but they are tiring and dragging to use.

The Asus MX299Q is supported by a metallic stand that looks decorative and timeless, despite its age. The polished lip adds a nice touch of flair, but the short upright sets the already narrow monitor quite low. Unfortunately, there isn't much you can do about that since the ergonomics are limited to tilt only, leaving much to be desired when it comes to viewing angles and comfort.
The I/O layout on the Asus MX299Q is pretty standard, but it includes everything you will need to daily use. The panel offers a slot each for DisplayPort 1.2, HDMI 1.4 with MHL, and DVI-DL, along with two 3.5mm jacks for audio pass-through. There are no USB connectors, which is a shame since the device is ideal for multitasking and productivity.
But what makes the Asus MX299Q shine despite its age and the limitations that come with are its speakers. The three-watt pair isn't powerful or rich in bass, but it's noticeably cleaner sounding and more detailed than the usual. Asus' SonicMaster tech that's co-developed with Bang and Olufsen adds a decent aural experience if you consider the limitations that bind built-in speakers.
Display and Performance
The Asus MX299Q sports a 29-inch IPS panel with a 2560 x 1080 resolution, 60Hz refresh rate, and 5ms response time. Its supported by a 250 cd/m2 backlight which is enough for daily use, while contrast is specified at 1000:1 like most IPS monitors. 29-inch monitors like this model give you more horizontal space, but the stretched out display can look narrower than the usual 16:9 variants.
You don't get a noticeable penalty on clarity with the Asus MX299's pixel density even if they try to cover a wider area. Images appear well balanced with minimal softening, while small objects like text won't make your eyes suffer. This model won't feel too far off from your usual screen, but you don't get to enjoy the extra sharpness of its high-resolution counterparts.
The Asus MX299Q can provide excellent color quality which makes it ideal as an entry-level editing monitor. The display covers 97% of the sRGB gamut which is vibrant enough for basic design and entertainment. Color accuracy sits at an average of DeltaE 1.7 which makes the product comparable to some prosumer offerings we've seen.
The downside is the color temparature which deviates too much from the ideal 6500K point. This flaw adds a cooler hue on the screen, so some whites may look slightly bluish depending on your ambient lighting and the backlight's brightness. Using a colorimeter did not yield considerable improvements, so we do not recommend buying one for the Asus MX299Q.
Another strength in the Asus MX299Q's image quality is its contrast which reached a maximum of 1150:1. The problem is that you can only achieve this if you max out the backlight, which goes all the way up to 320 cd/m2. Dropping it will also affect the contrast a bit, but that is a fair trade off especially if you work long hours on your PC.
Gamma is also slightly higher than expected at 2.25, but the difference between that and the ideal 2.2 is minimal. Most would be hard-pressed to notice the variance between the two, so we don't think you should worry about it.
The Asus MX299Q's panel uniformity needs improvement, especially for black or dark images. There is some clouding on the top corner which drops the contrast which results in an even more grayish output. Colors and whites aren't as affected, but take note that this could vary between unit to unit.
What's most surprising about the Asus MX299Q is its response time which is quick enough to reduce blurs. Some trails and persistence will still be visible if you look close enough, but to be fair, this display only goes up to 60Hz. The monitor isn't ideal for competitive play, but casual gamers will be satisfied in this regard.
The Asus MX299Q doesn't have FreeSync or G-Sync compatibility, so you can't rely on VRR to take care of tearing if FPS drops too low. The good news you don't need a ton of GPU horsepower to keep frames stable at this resolution, so optimizing your game settings should do the trick. Input lag sits at 9ms, so you won't feel any delays between your keypresses and the display.
Thoughts on the Asus MX299Q
The Asus MX299Q offers an appealing aesthetic that packs decent imaging quality and responsiveness you don't normally find on business monitors. This model is older than the likes of the LG 29WK500-P, but it can keep up where it matters most. We like the bonus the professionally tuned speakers add to the product which enables its suitability for a wider audience.
However, the main downside of the Asus MX299Q is its considerably more expensive than the aforementioned LG and its comparable models. There are things you could love about this display, but in the end, budget and practicality will be the main factors you will consider.
About the Author: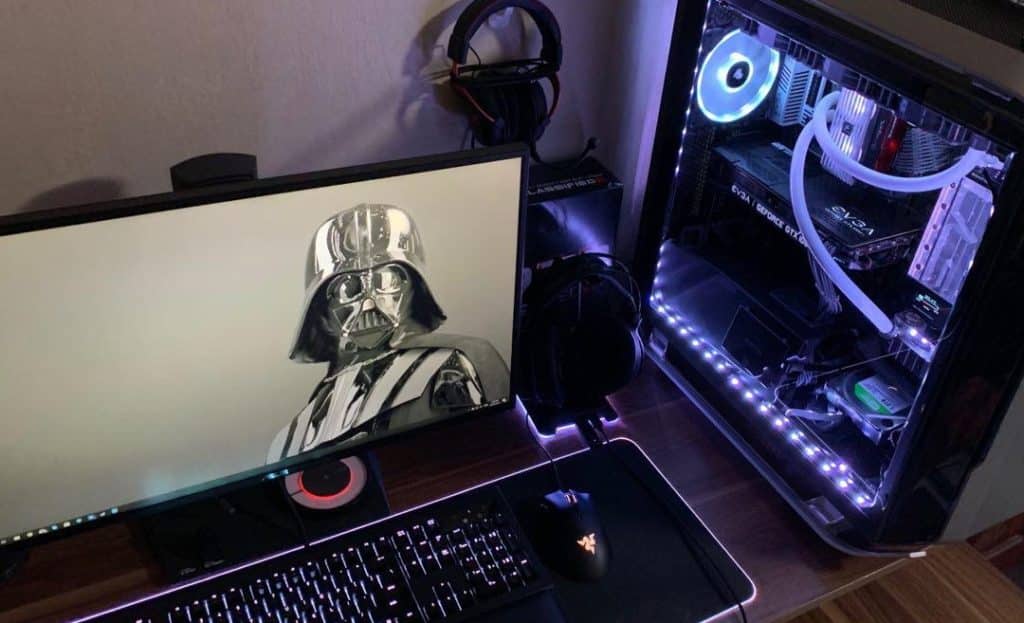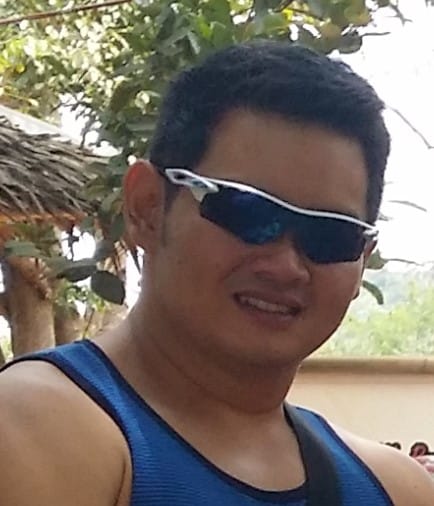 Paolo is a gaming veteran since the golden days of Doom and Warcraft and has been building gaming systems for family, friends, and colleagues since his junior high years. High-performance monitors are one of his fixations and he believes that it's every citizen's right to enjoy one. He has gone through several pieces of hardware in pursuit of every bit of performance gain, much to the dismay of his wallet. He now works with Monitornerds to scrutinize the latest gear to create reviews which accentuate the seldom explained aspects of a PC monitor.