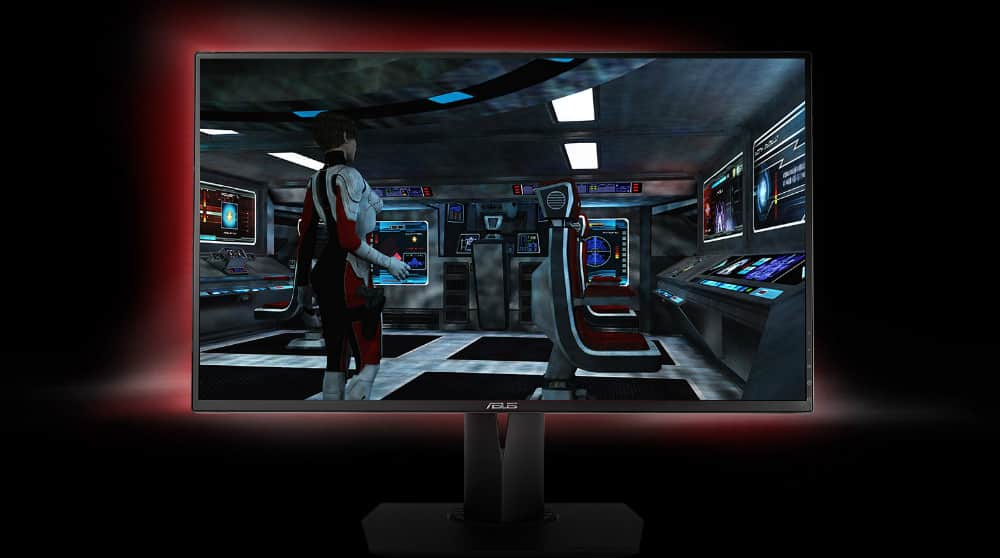 The Asus ROG Swift PG278QR is still our favorite gaming monitor for this year due to its exceptional value, performance, and advantages. We've seen numerous releases such as the Asus PG27VQ which should have been comparable in many ways, but the PG278QR manages to beat them in both synthetic and real-world applications. Yes, the Asus PG278QR has a glaring handicap which is its TN panel and the accompanying limitations, but let's see why it still is one of the best selling gaming displays according to our statistics.
Asus PG278QR Design – Aesthetics and Functionality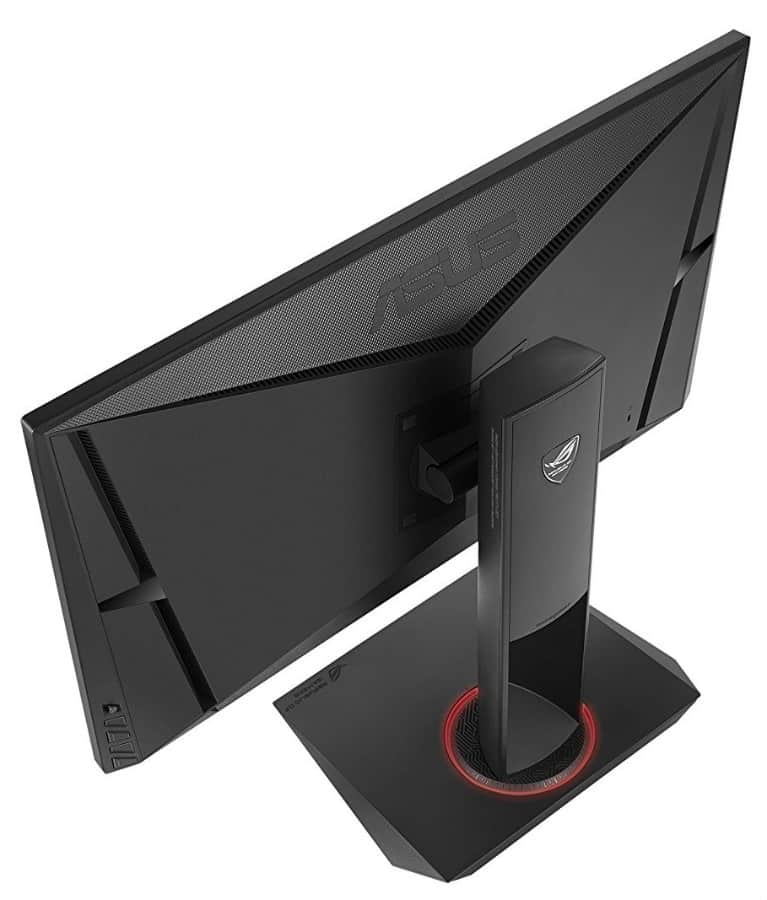 The Asus PG278QR doesn't sport the aggressive or overly decorated aesthetics of today's models. It still uses the well-loved graphite black chassis with minimal bezels and subtle hints of being a ROG model. There is a ROG badge and a red LED ring on the base, but otherwise, the monitor only reveals it's true pedigree once you use it for gaming.
Frankly, this model wouldn't look out of place in business environments such as offices and studios. We've seen feedback from people suggesting that they like a streamlined and subtle-looking display more than a gaudy one since not everyone is a fan. An individual once mentioned that he hated the second generation ROG aesthetic because he felt he loses his credibility as a lawyer when his clients see the monitor in his home office.
The monitor is also flexible, offering a complete range of ergonomics for easy and comfortable use. Lesser decorative add-ons also mean the PG278QR is lighter by around two to three pounds against its competitors, including its successor. You will also find intuitive functions such as hotkeys and an OSD joystick in this excellent model.
Asus PG278QR Display and Imaging Quality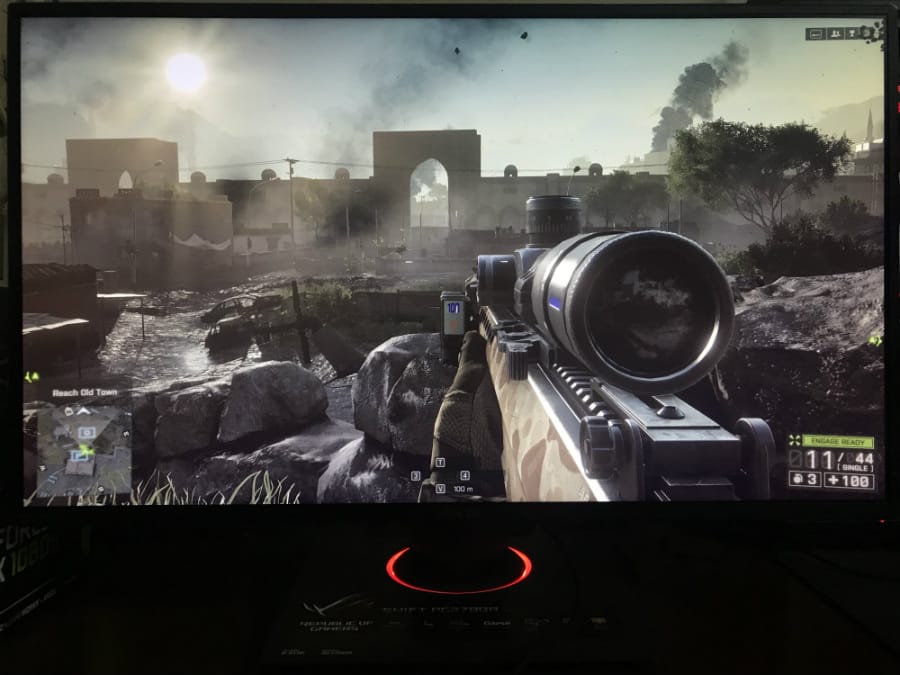 Don't be so quick to judge the Asus PG278QR just because it still uses a TN panel which does have its caveats. Colors and viewing angles aren't as great as they are on IPS and VA screens, but there are a few key considerations to choose TN monitors. For starters, the Asus PG278QR uses an AU Optronics module that has native 8-bit color, meaning it instantly has improved vibrancy over other TN-based models.
Testing shows that this monitor is capable of almost a perfect coverage of the sRGB gamut, meaning it can produce impressive, and near-lifelike colors. Color accuracy is equally impressive since the Asus PG278QR has a DeltaE of only 1.2 which can be improved to 0.6 with a colorimeter. You can also tweak Gamma and a few other settings including hue temps.
TN monitors are also known to be faster in pixel transitions, hence the 1ms Response Time tagging we normally see on the packaging. The Asus PG278QR isn't prone to issues such as blurring or ghosting so there is little reason to prefer using ULMB over its G-Sync feature.
G-Sync is also the key ingredient for the Asus PG278QR which can produce a 165Hz making it suitable for competitive gaming. 1440p can still place tedious processing loads on powerful GPUs such as the GTX 1080 Ti, so having a premium VRR solution can be handy for demanding titles.
Asus PG278QR Responsiveness and Input Lag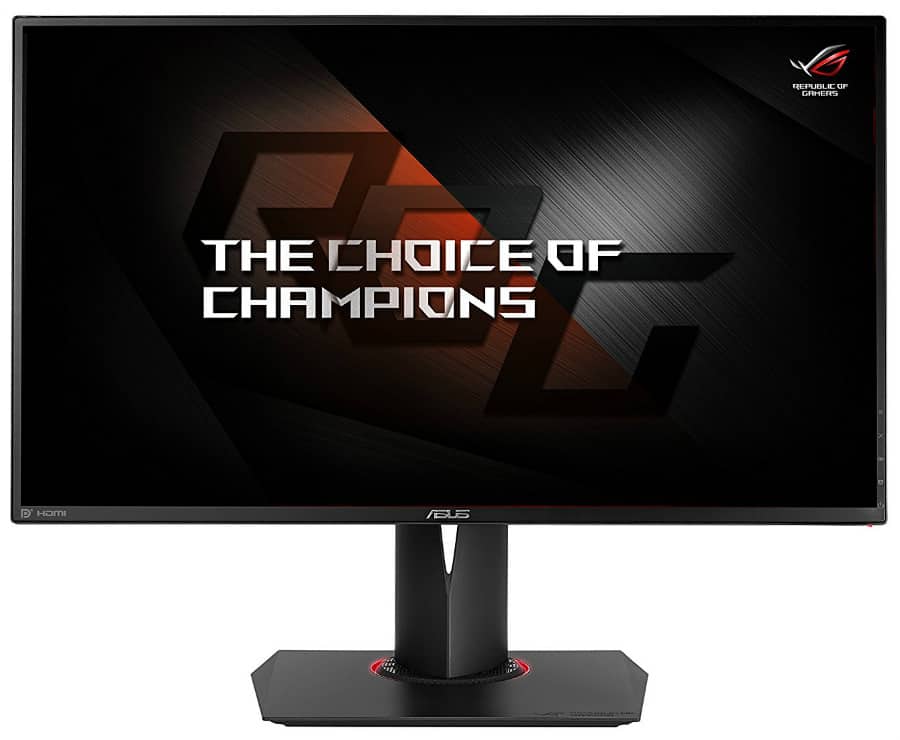 Contrary to popular belief, the 1ms specification plastered all over the box and spec sheets do not describe the latency or input lag of a gaming monitor. Rather, it is the signal processing delay of a specific model which dictates how fast your control inputs will manifest on screen. The Asus PG278QR is tested to have an input lag of only 4ms or less which signifies that there is virtually no delay.
We've been using this monitor for the past year both as a benchmark for performance and personal gaming. We did not encounter an instance or title where the Asus PG278QR failed to impress when it came to its speed and accuracy, especially in FPS titles. If there was a fault or loss in our serious gaming sessions, it would have to be our limited mechanical skills more than the monitor's responsiveness.
Asus PG278QR for High-End and Competitive Gaming
For us, high-end gaming simply means enjoying titles at maximum graphics settings to produce the best eye candy the devs produced. Since the Asus PG278QR has a 2560 x 1440 resolution, it can be considered as a faster alternative to 4K monitors which have yet to break the 60Hz barrier. 1440p or QHD also isn't as demanding as the latter, allowing users to enjoy higher frames at maximized in-game configurations for fantastic eye-candy.
The Asus PG278QR's 165Hz refresh rate also allows for fluid motion, so running, gunning, or slashing appears smoother and faster on-screen. Tearing and stuttering during FPS drops isn't an issue as well thanks to G-Sync.
On the other hand, competitive gamers in titles such as CS:GO or Overwatch also get a lot of mileage from the Asus PG278QR. The monitor is virtually blur and lag-free, so hardcore users need not worry about disadvantages in the heat of battle. It's also worth noting that TN panels are still widely used and preferred by significant gaming evens and E-Sports athletes due to these properties.
Asus PG278QR Pricing
Cost is probably the Asus PG278QR's main deal-breaker since it still hovers above a price point usually set for IPS G-Sync variants. The listed price or SRP is too high for 2018, but we've seen this model drop to practical levels or in the half a grand range. This isn't due to overpricing (Although Asus is known to be unable to price its products competitively), but it is a good example or proof that the PG278QR is aging well with excellent market presence.
You can get a cheaper $400+ G-Sync monitor like the Dell S2716DGR which also has decent performance, but you will be missing crucial features and functionalities. We also dare to say that the Asus PG278QR looks better in every way, even if we favor Dell's minimalistic approach more than the gaudy brands. Even if this model carries a hefty premium, it still is the current best-selling gaming monitor according to Monitornerd's statistics.
Why the Asus PG278QR is the Best Gaming Monitor for the Money in 2018
If you compare the Asus PG278QR to the latest or upcoming models, it would probably struggle to compete simply because it doesn't have the latest tech or gimmick such as HDR. But in practice or actual use, its excellent imaging quality (for a TN monitor) and responsiveness makes it an invaluable tool in your gaming arsenal. There are excellent new models out there, but we still prefer the Asus PG278QR our best and brightest recommendation for this year.