ASUS has unveiled a whopper of a monitor at this year's Computex: the ASUS ROG Swift PG258Q gaming monitor. Although ASUS just released the 180Hz ROG Swift PG248Q, they went a step further and released this bad boy. The ASUS PG258Q is an elite gaming monitor with some surprising specs that are well above the industry standard. A very good gaming monitor you can buy on a budget is the Asus vg248qe 144hz monitor.
What makes a gaming monitor different from a regular monitor? Along with having a powerful computer, you need a solid monitor to deliver you that information quickly and clearly. When talking about gaming monitors, the two terms that come up most frequently are "-Refresh rate" and "panel type."
Hz, or in it's non-abbreviated form, Hertz, is a measurement that determines how many times per second a monitor refreshes its image. Traditionally, "normal" monitors are 60Hz. The current popular choice for gaming monitors is 120Hz or higher. This means that gaming monitors are getting twice the images per second, and thus a smoother, more real-time image. This conclusion gets a little murky if your graphics card is outputting more frames per second than your monitor's refresh rate and can a lack of graphic smoothness. This is called tearing, and it is fixable.
The two most common panel types are TN (Twisted Nematic) and IPS (In-Plane Switching). The PG248Q is a TN panel monitor—by far the most common. They're older technology, but cheap and energy efficient. However, they're the kind of monitors that have wonky looking colors if you look at them from a different angle. IPS monitors look the same no matter where you look from because they have superb color consistency. Since IPS monitors are more rare and newer technology, they aren't as well developed yet and thus aren't available at anything other than 60Hz models. A high hertz IPS monitor is something to keep an eye out for in the future, though.
Asus PG258Q Review – Specs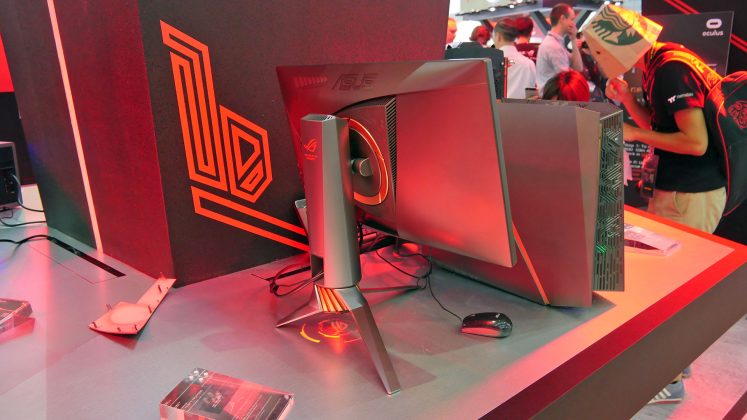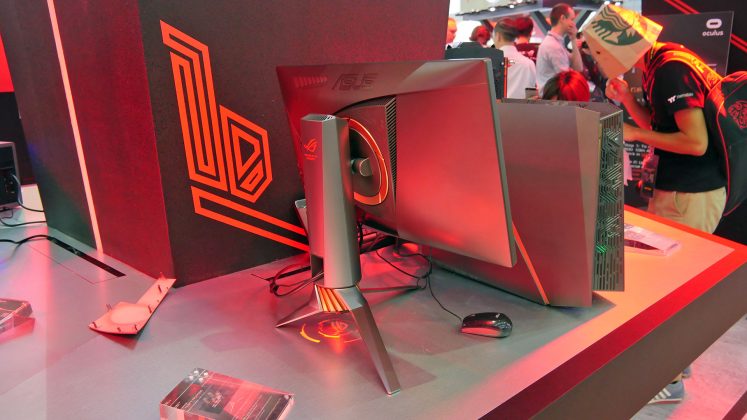 Despite not being excellent on the color continuation, the PG248Q is outstanding in its hertz rate. If the 180Hz found in the PG248Q, wasn't good enough (it was), the ASUS PG258Q will blow you out of the water with it's revolutionary 240Hz display.
How good is that, you ask? Well, that's up for debate. While the added 60Hz will make a difference, there is diminishing return once you get above about 160Hz. The ASUS PG248Q's 180Hz is already damned good. You would have to have some pretty gifted eyesight to be able to notice the improvement of the new ROG Swift's display. As it is, you can barely tell, at best. That's not to say it isn't better, just that its predecessor was already so good that it's not a game-changer. Where big money is concerned for gaming products, is it something worth sticking your credit card out for?
The specs of PG258Q
Here are the monitor's specs, as stated in a press release by ASUS:
• 24.5-inch gaming monitor
• Full HD (1920 x 1080) panel with a native 240Hz refresh rate
• 1ms gray-to-gray (GTG) response time
• TN panel type
• Built-in NVIDIA® G-SYNC™ technology "to eliminate lag and frame rate stutter for the smoothest, fastest, and most breathtaking gaming visuals imaginable."
• "Its narrow bezel design makes it perfect for expansive multi-display setups."
• "Swift PG258Q has a revolutionary design finished in ROG's new Armor Titanium and Plasma Copper color scheme and has built-in ROG light effects on its stand to add ambiance to gaming set-ups. Also, Swift PG258Q features ASUS GamePlus in-game enhancements and ASUS GameVisual technology for optimized gaming visuals."
So what does this all mean?
24.5 inches isn't that big for a gaming monitor. It's not by any means small, either. But plenty of good gaming monitors are as big as 32 inches, or even as big as 40 inches. So nothing super special there, and many gamers would see 24.5 inches as a disadvantage.
As stated before, the 240Hz refresh rate is insane. For gamers that depend on strong FPS rate, such as CS: GO and League of Legends, this is a monitor to wait in line for. It is so good that the human eye can barely notice the improvement. It's like Sterling Archer asking "Or are five in a dark-black, and five in a slightly-darker-black?" Sure, you can tell if you look for it. But to the average person, it's not all that mind-blowing. I'm not knocking the ROG Swift PG258Q's ridiculous refresh rate. I'm just saying it's not all that important if you already play with 180Hz, or don't want to fork out the extra cash. Just stick with 180Hz, and you won't be missing anything.
1920x1080p means full HD. If you aren't already playing with this resolution, you're sorely missing out. If you're an avid gamer with a gaming PC, you likely already play at 1080p, so the ASUS PG258Q doesn't have anything on you there. With the slow rolling introduction of a 4K resolution to the mainstream market, it's predicted that 4K technology will eventually render 1080p obsolete. Though, I wouldn't go scurrying to get the next big thing in 4K monitors since the first wave of products left many buyers feeling underwhelmed and in some cases, rather angry.
The 1ms gray-to-gray (GTG) response time is misleading. Response time is the amount of time it takes a pixel in a display to change colors. There are two types of response times. Gray-to-gray, and black-to-black (BTB). This means that GTG is the time it takes a pixel to turn from gray to white, then back to gray again. BTB is the time it takes for a pixel to turn from black to white, back to black again. The latter is more practical of a measurement, but since GTG takes less time, developers can advertise the GTG time, it will sound faster (1ms GTG vs. 5ms BTB), and they won't be lying to you. However, 1ms GTG response time is still pretty good. 2ms is standard on most nice gaming monitors. Again, however, we are dealing with the diminishing return. If you already have a fantastic response time, you don't need (and likely won't notice) anything better.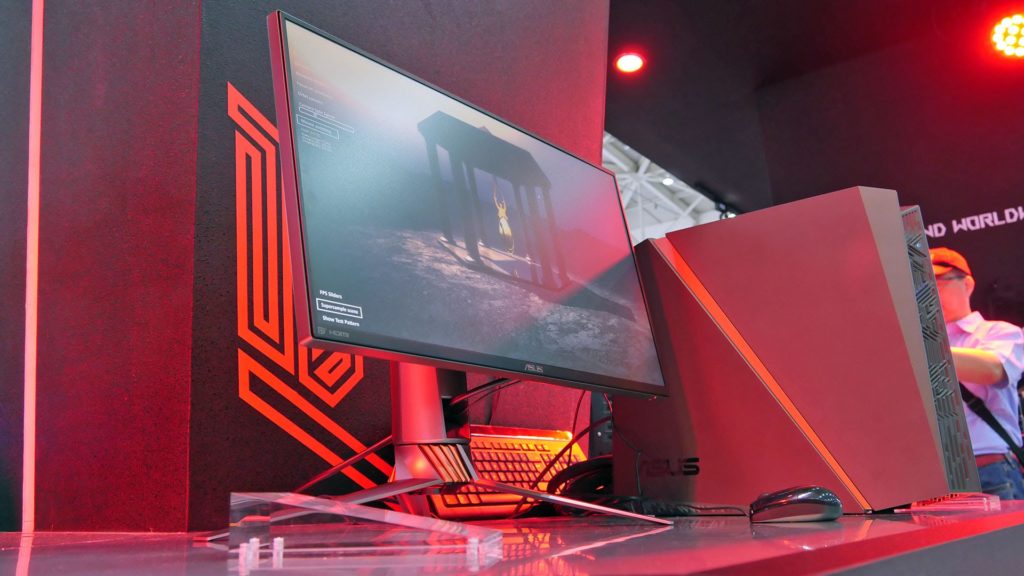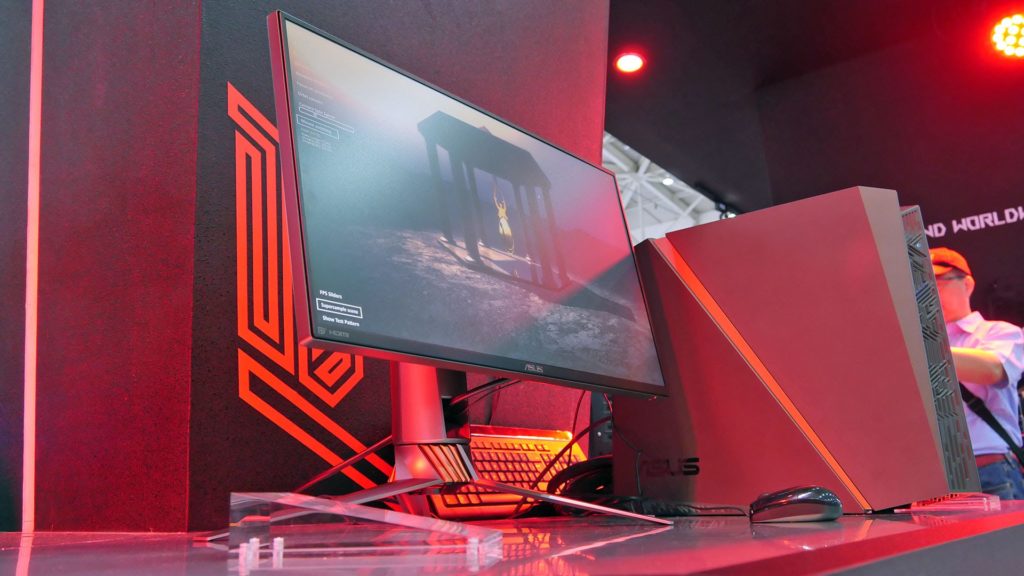 As for the built-in Nvidia G-Sync technology, it's nice that it's built in, but it isn't exclusive, either. Most current gaming monitors are capable of supporting G-Sync, and ones that don't have alternatives that do the same thing. G-Sync prevents lag and screen tearing, which is important in gaming. But again, the ASUS PG258Q doesn't have what plenty of other monitors can't have, too.
The narrow bezel design is always a nice feature for a gaming monitor. Especially for a monitor that is a bit smaller, like the ASUS PG258Q, the narrower the bezel, the better, if you want to run two or more monitors. Although, it's doubtful you'd have any cash left to dish out on another monitor. While prices for the ASUS PG258Q are unknown, it will likely be pretty expensive.
Ok, so the built-in LED ROG image that's projected under the stand is pretty cool. It's purely cosmetic, but you likely wouldn't be buying this monitor if you didn't care that it looked super badass. It is made from metals of titanium, and its stand looks like the legs of some robot-spider thing. Oh, and did I mention the screen can go vertical?
ASUS's GamePlus and GameVisual are pretty cool features, but they were also included in the last few monitors released by ASUS. These are in-game software that can enhance your gaming experience. GamePlus allows for add-ons like an on-screen timer, an FPS counter, or different-styled crosshairs for your FPS gaming. GameVisual is just some preset display settings that are tailored for different game genres. They have an FPS mode setting for enhanced visibility, for example.
The verdict of this ASUS PG258Q Review
The ASUS ROG Swift PG258Q gaming monitor is kind of… lackluster. It has a lot of the top-of-the-line specs, and its 240Hz refresh rate is impressive. But it's not leaps and bounds better than its predecessors. It's a bit better than the next best monitor. The previous model, the ASUS ROG Swift PG248Q is almost as good, and likely at a significantly lower price. This Reddit thread perfectly captures how we should feel about the new ASUS monitor. It's cool, and way ahead of where experts thought we would be at this point a few years ago, but nothing crazy, and certainly not the future of gaming monitors.
If you have enough money to throw around on top of the line monitors, go ahead and pick one of these up. I can't say there isn't a bit of envy there on my part. You sure as hell won't be disappointed, unless you are already running a top-tier gaming monitor and setup. I for one would love to pair this monitor with the Digital Storm Bolt 3, and see how Overwatch looks and feels on such an epic setup. The price and release date of the ASUS ROG Swift PG258Q gaming monitor are unknown as of right now, but more information will be available in the coming weeks.
Because speed matters
Announced at Computex 2016, Asus has already marked its territory among the top 10 already with its 240Hz Asus gaming monitor that goes by the name PG258Q. This is Asus's fastest monitor yet in terms of refresh rates, and that means a lot of value to gamers of all genres. Let's go ahead and talk about what we know so far.
Technical specifications
Screen size: 24.5 inches
Resolution: 1920 x 1080p
Refresh Rate: 240 Hz
Response time: 1 ms
Aspect Ratio: 16:9
Adaptive Sync: NVIDIA G-Sync
Input/output: DisplayPort 1.3 / 1.4
Breaking it down
Firepower
First and foremost, this display will have a 240Hz refresh rate with a 1ms response time that will focus on lowering the input lag as much as possible and spicing things up with NVIDIA G-sync. This will give us hassle-free gaming; there is no doubt in that. The only problem here is that the resolution is low, as compared to the competition. 1080p isn't exactly in demand. However, Asus might be targeting more on the 'tearing-free' side on things, making the games as snappy as they have never felt before. With these features syncing any frames outputted by the GPU with the monitor's refresh rate. And that is a unique selling point that just can't be beaten.
Design and connectivity
Design-wise speaking, this monitor is very similar to the ASUS ROG Swift PG248Q, so we can expect some of the design features to be included in this one as well, such as pivot, height and swivel adjustability. A 'snappy' Mayan-inspired pattern design with a futuristic finish will be an attraction unlike any other. We also know that the base will be projecting the ROG logo on the desk, with an option of turning it off of course. A LED projector incorporated into the base will illuminate the work space nicely.
We know that this monitor will only be working with DisplayPort 1.3 or DisplayPort 1.4, so this is a negative thing for sure as it's confirmed that no HDMI, VGA or DVI options will be provided. However, it makes the monitor that much more precise for gamers who just love to game using the Display Port?
Maybe Asus is onto something here concerning a target audience?
Bottom line
Pros
240Hz refresh rate
NVIDIA G-sync support
Highly adjustable (height, tilt, pivot)
Ergonomic, attractive design
Cons
TN panel, limited viewing angle
1080p resolution
Limited connectivity, no
If you want to get a closer look at how this monitor 'looks' like, you can review the ASUS ROG Swift PG248Q. But in terms of 'feeling' what it has to offer, I am afraid we all are going to have to wait for a little bit longer. Asus has sacrificed an IPS panel and the ability to have a higher resolution for more speed on the 1080p. And we can't wait to see the results, as we are assured of their brilliance.