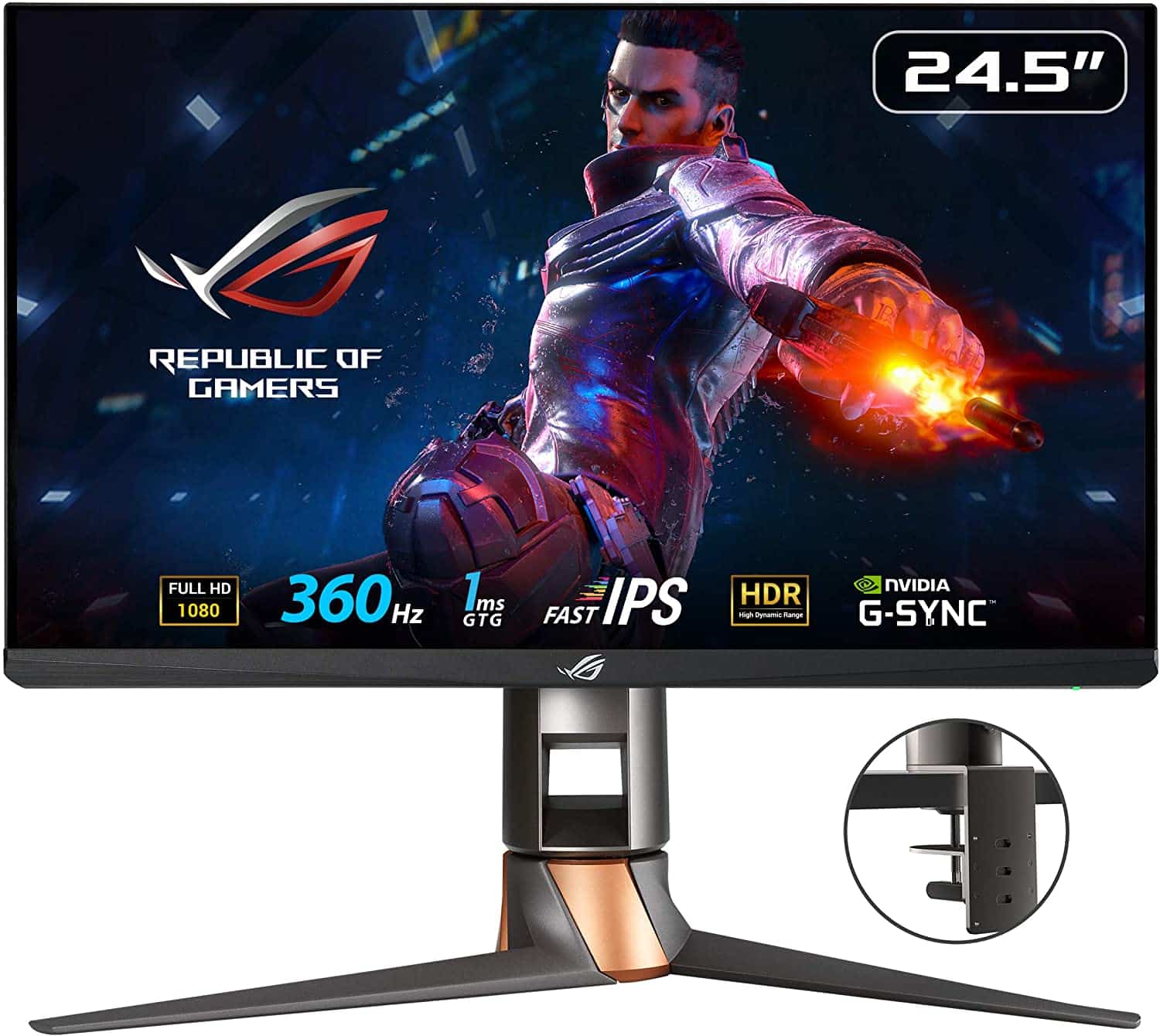 The Asus ROG Swift PG259QNR is one of the premier choices when speed is a priority for competitive or E-Sports gaming. Its 360Hz refresh rate is crazy-fast, but it also includes low-latency features to ensure that you have every advantage on the battlefield. Let's take a closer look to see how it performs in all aspects to know if it's a must-buy for avid E-Sports gamers.

Asus ROG Swift PG259QNR Specifications
Screen Size: 25 Inches
Resolution: 1920 x 1080 Full HD
Aspect Ratio: 16:9
Panel Technology: In-Plane Switching (IPS)
Refresh Rate: 360Hz
Response Time: 1ms
Contrast Ratio: 1000:1 (Static)
Brightness: 400 cd/m2
Built-in Speakers: No
Stand: Height – Yes
Stand: Tilt – Yes
Stand: Swivel – Yes
Stand: Pivot – Yes
VESA Compatibility: Yes (100 x 100)
Connectivity: DisplayPort 1.4 x 1, HDMI 2.0 x 1, USB 3.2 x 2, 3.5mm Jack x 1
Dimensions with Stand(WxHxD): 21.93" x 19.65" x 9.72"
Weight: 15.65 lbs

Design and Features
The Asus ROG Swift PG259QNR is a refreshed version of the PG259QN, so there is no difference between them. The monitor has a matte black chassis while the stand has a gunmetal finish with copper accents that indicate that it is a ROG Swift flagship model. The display is bezel-free on three sides to lessen the distractions for serious gamers.
The monitor also has a large ROG eye logo at the back with RGB LEDs that are bright and vibrant. It glows up when your room's lighting is turned down, but its offset position prevents it from being used as an effective bias light. This feature is great if you already have Asus gear since its colors and themes can be synced with them via Aura Sync.
It's not a big monitor, so we reckon most users will not struggle with setting up, even if their desks are somewhat below standard sizes. It is not too heavy since it's under 16 pounds so it's portable enough to be packed and brought with you to E-Sports events. It needs less than 10 inches of depth from your desk so it won't be impossible to place it next to a large keyboard or big speakers in the background.
There is no question about its build quality either since it's one of Asus' top offerings from its flagship gaming lineup. There are no signs that the monitor was cheapened in any way since all the materials are sturdy and free from cosmetic defects. The included stand is firm and stable so you won't need to worry about wobbling or sagging while you are in the heat of battle.
An OSD joystick with dedicated hotkeys comes standard with the Asus ROG Swift PG259QNR for your convenience. It is very easy to use since it's responsive, plus the menus themselves are well laid out. The hotkeys provide easy access to useful features such as the monitor's overlay, so there really isn't anything to upgrade in this proven design that traces back to the first ROG Swift monitors.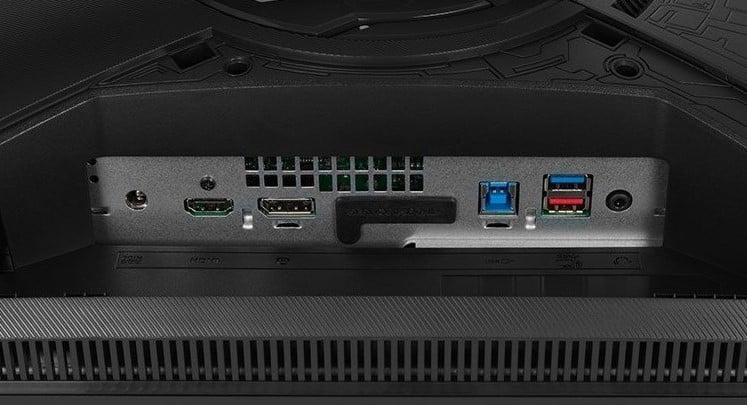 The stand included with the package offers tilt, swivel, pivot, and height adjustments for your convenience. It's VESA-compatible, but there is no need to spend the extra since the monitor includes a desk-clamp alternative if you want to save space. This is a very handy add-on, but you are going to need the VESA mount if you have multiple screens.
The Asus ROG Swift PG259QNR has a full G-Sync module inside, so it has a fixed set of connectivity options. It includes a slot each for DisplayPort 1.4 and HDMI 2.0, plus two usable USB 3.2 ports and a 3.5mm audio jack. It's not as equipped as non-G-Sync variants, but at least you have USB ports for your mouse, keyboard, and Nvidia's Reflex Latency Analyzer feature.
It is missing a pair of upgraded speakers, but that's okay since E-Sports monitors like this model are meant to be used with headsets. That makes this forgivable, but we expect everything if you are paying this much for a premium monitor that brags about features.
Display and Performance
The Asus ROG Swift PG259QNR sports a 25-inch fast IPS panel with a 1920 x 1080 resolution, a 360Hz refresh rate, and a 1ms response time. The backlight has a 400 cd/m2 maximum while the contrast ratio is listed at 1000:1 like most IPS panels. This model has HDR 400 certification, but we know that it isn't capable of compelling performance, and it matters less compared to speed and smoothness.
1080p monitors are still popular because they are common everywhere and it doesn't take much to utilize them. It is easy to get maximum framerates with them and you won't struggle with other tasks such as reading, browsing, or document processing. The downside is it isn't the sharpest monitor available now, so pixel peepers will not have it on their list.
The Asus ROG Swift PG259QNR renders 100% of the sRGB gamut and around 74% of DCI-P3 which is sufficient for competitive gaming purposes. Its default accuracy using the Racing Mode filter had a deltaE average of 1.97 which is excellent. It's not as accurate as the result we got from the PG259QN, but gamers will still be happy with it without calibration.
Calibrating it reduced the dE average to 0.89 which is excellent for a gaming-grade display. The downside is you need a colorimeter to improve it by that much, and those don't come cheap or accessible. We recommend using the monitor's sRGB mode instead if you need the display for content creation since it has a decent 1.14 dE average.
Its backlight reached 401 cd/m2 at 100 so it can fight off glare in well-lit rooms. However, its contrast is limited to 972:1, so it is unable to produce deep blacks like VA or OLED panels. These results also mean that it cannot provide a meaningful HDR output, so its HDR 400 certification is merely just an extra add-on.
Panel uniformity for the Asus ROG Swift PG259QNR sample was great since there were no backlight leaks or noticeable clouding. There is some variance in the backlight's spread, but it is only noticeable when it is scanned with a colorimeter. Note that all IPS monitors are prone to these issues, so it's entirely possible to get a bad unit.
Responsiveness is the Asus ROG Swift PG259QNR's strongest suite thanks to its 360Hz which barely leaves any room for blurring. You only need a modest amount of overdrive to cure the minor persistence. What's lacking with this model is the brand's ELMB strobing feature which doesn't lock out essential features like Adaptive Sync.
There's also Nvidia's Reflex Latency Analyzer feature which wasn't available on the previous version. What it does is it calculates your total latency between the PC, monitor, and your peripherals which by the way needs to be connected to the USB slots. It's a great way to know if there is indeed a delay so you can eliminate it from your system and ensure optimized performance.
The Asus ROG Swift PG259QNR is a full G-Sync monitor, but FreeSync isn't locked out like it was before with the older models. This is crucial now since both brands have compelling GPUs for the best possible performance. Input lag sits under 2ms, making this one of the fastest monitors available right now.
Thoughts on the Asus ROG Swift PG259QNR
The Asus ROG Swift PG259QNR is one of your top picks if you want the absolute best gaming display for professional E-Sports gaming. Its 360Hz is lightning fast while the addition of latency-reducing features takes it one step further from the rest. It is designed like a tank without forgetting about the ROG brand of aesthetics, so owners will love it either way.
The only problem with the Asus ROG Swift PG259QNR is its higher price which puts it above other attractive 360Hz models like the Alienware AW2521H. However, all the benefits we listed aren't free, so it's justified either way. It's a must-have investment for avid E-Sports players, especially now that it is always discounted.
Pros:
Great Accuracy
Fast and Responsive
G-Sync and FreeSync Compatible
Excellent Design and Features
Cons:
Expensive
Limited Connectivity
Poor HDR Performance
About the Author: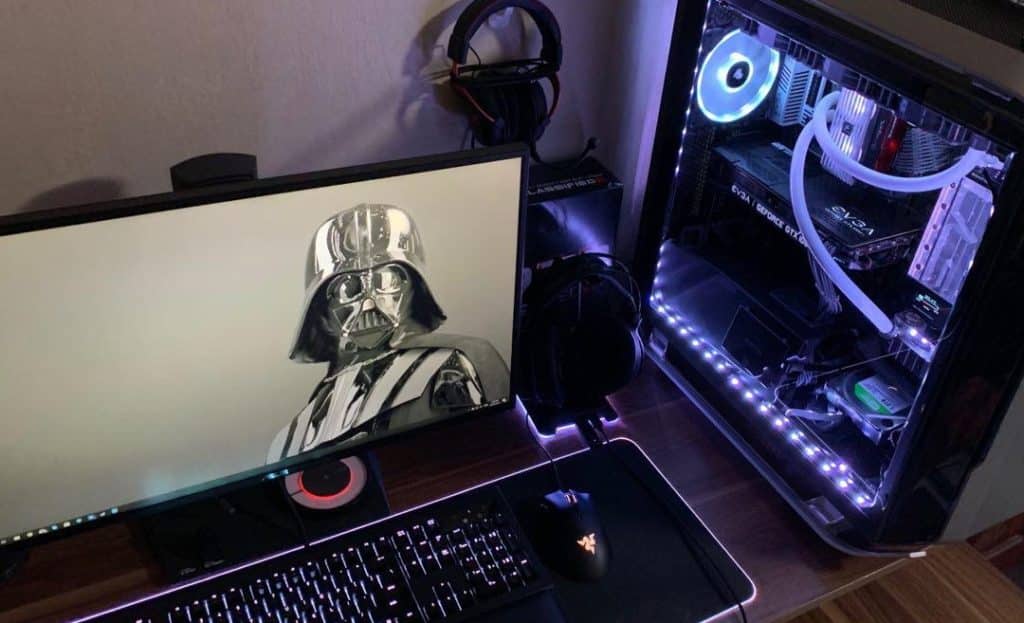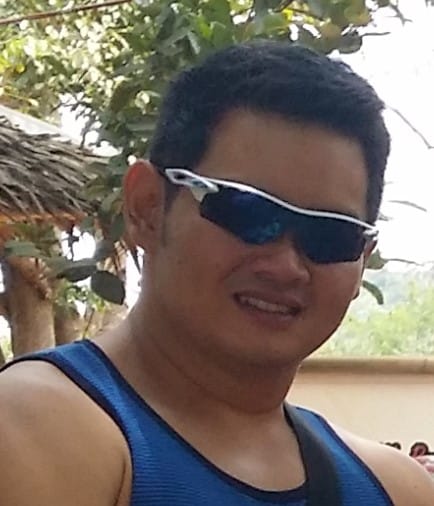 Paolo is a gaming veteran since the golden days of Doom and Warcraft and has been building gaming systems for family, friends, and colleagues since junior high. High-performance monitors are one of his fixations and he believes that it's every citizen's right to enjoy one. He has gone through several pieces of hardware in pursuit of every bit of performance gain, much to the dismay of his wallet. He now works with Monitornerds to scrutinize the latest gear to create reviews that accentuate the seldom explained aspects of a PC monitor.