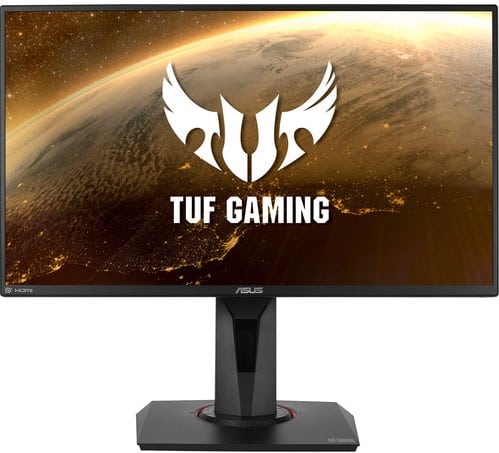 The Asus VG259QM is one of the best options you can get if you want a fast and reasonably priced gaming monitor for E-Sports. It's the fastest option available that isn't as expensive as the insane Asus PG259QN which leaves you more room for other important parts such as a powerful GPU. Let's check out if the Asus VG259QM's performance and see if it is the value king of the high-speed competitive gaming monitors in today's market.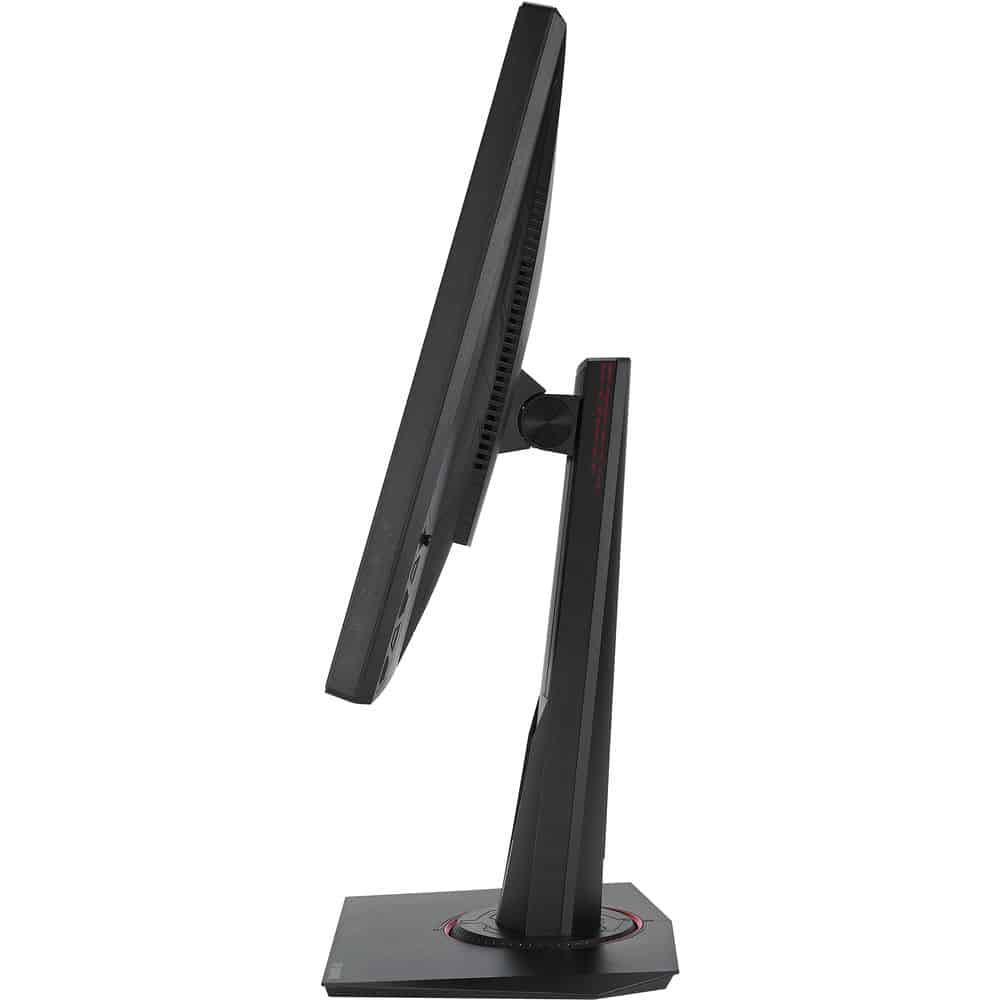 Asus VG259QM Specifications
Screen Size: 25 Inches
Resolution:1920 x 1080 FHD
Aspect Ratio: 16:9
Panel Technology: In-Plane Switching (IPS)
Refresh Rate: 280Hz
Response Time: 1ms
Contrast Ratio: 1000:1 (Static)
Brightness: 400 cd/m²
Speakers: Yes (2 x 2 Watts)
Stand: Height -Yes
Stand: Tilt – Yes
Stand: Swivel – Yes
Stand: Pivot – Yes
VESA Compatibility: Yes (100 x 100)
Connectivity: HDMI 2.0 x 2, DisplayPort 1.2 x 1, 3.5mm Jack
Dimensions (W x H x D): 22.2" x 19.1" x 8.3"
Weight: 11.24 lbs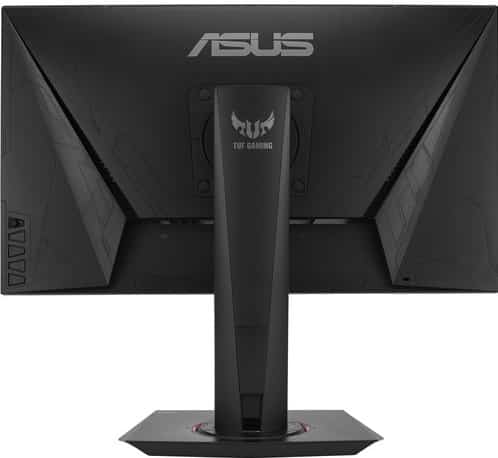 Design and Features
It's easy to confuse the Asus VG259QM with its 144Hz sibling, the VG259Q since they practically look identical. Asus' proven design for its gaming monitor is still used with this model, featuring a full matte black chassis that is scratch and smudge-proof. The screen isn't bezel-free, but the brand made the borders as thin as possible so they are less distracting in the heat of battle.
We like how the Asus VG259QM looks, to be honest since it is easier to introduce into a themed setup compared to the ROG models. It looks just like any other monitor with a few discrete accents and it isn't too gaudy, unlike the PG258Q which has the helix stand. This means you won't get tired of it easily so you don't have to factor in a new monitor's cost when you rebuild your system.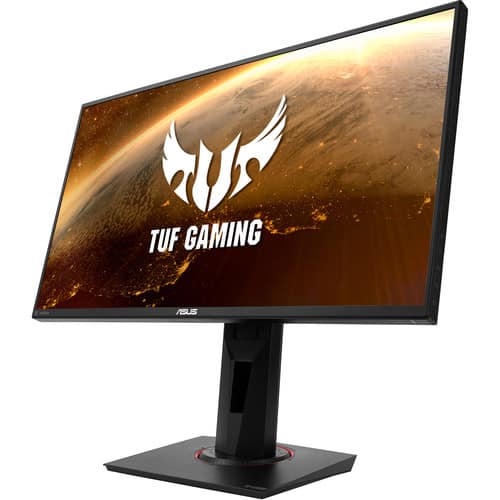 The Asus VG259QM is also not that much bigger than your typical office monitor so we imagine everyone won't have issues with placement. It's not too heavy at 11.24lbs which makes glass tables safe from breakage. It's also worth noting that this model doesn't have RGB, but that isn't a deal-breaker since you can't see the lights from the back of a monitor anyway.
Build quality for the Asus VG259QM is nothing short of impressive since the device feels rock-solid and reliable. There are no cosmetic defects on the chassis, and every line, seam, or edge is perfectly straight and clean. The stand is quite firm so you need two hands to adjust it, but it doesn't wobble and it retains the angle you've set until you want to change it again.
Another aspect we love about the Asus VG259QM and the rest of the gaming monitor line is its OSD setup which includes a joystick. You get shortcut keys for the filters and overlays, but most of the monitor's functions are accessible with the former. It is very easy to adjust the monitor's settings so you don't have to struggle with calibration.
The stand included with the Asus VG259QM offers tilt, swivel, pivot, and height adjustments so you can easily attain your preferred view angle. It also helps that the base has been reduced in size so it doesn't interfere with your other peripherals. You can also swap it out with a VESA mount, but we think it's only necessary for multiple monitor setups or if you absolutely need to save space.
The Asus VG259QM belongs to the TUF Gaming line, so it is part of the budget to midrange category. This means that you don't get a full suite of connectivity options with it since it doesn't have USB ports and other extras. There is, however, a DisplayPort 1.2 slot and two HDMI 2.0 ports which are enough to handle your gaming PC and up to two consoles.
You also get a pair of speakers and a 3.5mm jack with the Asus VG259QM, but we think many will opt for headsets for competitive gaming. The pair does not have enough power for entertainment purposes, but they are useful for simpler tasks such as conference calls or even some background music. We don't consider this a fault for the product, but we think it's about time for manufacturers to upgrade this particular characteristic for their next releases.
Display and Performance
The Asus VG259QM boasts a 25-inch Fast IPS panel with a 1920 x 1080 resolution, a 280Hz maximum refresh rate, and a 1ms boosted response time. The backlight tops out at 400 cd/m2, but its contrast ratio is still limited to 1000:1 just like any IPS panel. This variant is DisplayHDR 400-compliant, but it doesn't have local dimming and its brightness is limited so you can't expect massive improvements in the output.
The 1920 x 1080 resolution is slowly becoming outdated according to many opinions, but it still is the universal standard for competitive gaming. You don't get extra sharpness and display space, but it is rather easy to get high framerates with it. Visibility which counts for competitive titles is also excellent, so sniping that distant opponent is somewhat easier for some users.
The Asus VG259QM is capable of 110% sRGB, but its DCI-P3 coverage is mediocre at 73% for a DIsplayHDR-certified monitor. Color accuracy could be better since the default setting has a deltaE average of 2.98 which is acceptable for daily use, but not the best we have seen. this model looks slightly watered down compared to the VG259Q due to some errors in gamma and color temperature.
Calibrating the Asus VG259QM modestly corrected the latter issues, but the color dE only went down to 2.46. it does balance e out the gamma and temperature issues to make the screen less watery, but it doesn't enable users to dabble in editing. Results will vary with every unit, but you have to remember that the focus with this model is speed rather than eye candy.
The backlight on the Asus VG259QM reached 405 cd/m2 at 100% and it managed a 1120:1 contrast ratio at 50% brightness. You get a good range of adjustment for different times of the day, but the screen can still look washed out when used at night. So far only VA monitors are guaranteed to be better when it comes to contrast, but some IPS models have already reached 1300:1 or more.
On the other hand, panel uniformity for the Asus VG259QM is great since there are no considerable leaks on the monitor. There is very minor clouding on the sides in dark scenes or all-black images, but it's only noticeable in extreme circumstances. Take note that this will also vary between every unit due to the nature of IPS technology and some manufacturing tolerances.
Pixel responsiveness is the Asus VG259QM's main draw since it is practically blur-free, even if ELMB isn't in use. Activating the feature further improves the motion clarity of the monitor, but what's great about it is it doesn't lock out FreeSync. However, we think many will be satisfied even if ELMB is turned off, but it is nice to have for special instances.
The Asus VG259QM is a FreeSync gaming monitor, but it also works with Nvidia's G-Sync Compatibility mode. This is a must-have feature if you are in the market for a gaming monitor since it means that you don't have to change it if ever you switch GPU brands. Input lag sits under 4ms at 280Hz, so the monitor is lag and delay-free at all times.
Thoughts on the Asus VG259QM
The Asus VG259QM is a fantastic choice if you want one of the fastest gaming monitors available without spending over $400. The monitor offers perfect motion handling without relying on its ELMB feature which even pushes that up a notch. It isn't the best when it comes to color quality and HDR performance, but those are less important for the games most would play on this display.
We also love the design and functionality of the Asus VG259QM even if it's missing a few bits and pieces. The lack of USB ports and the weak speakers are understandable since the consideration for them helped with the low price point. We highly recommend this game for gamers who play titles like CSGO where that split second difference matters more than punchy colors and gorgeous eye-candy.
Pros:
Reasonable Price
Lightning-Fast Gaming Monitor
Fantastic Motion Handling and Clarity
FreeSync/G-Sync Compatible
Cheaper Alternative to PG259QN
Cons:
Panel Looks Slightly Washed Out
Poor HDR Performance
About the Author: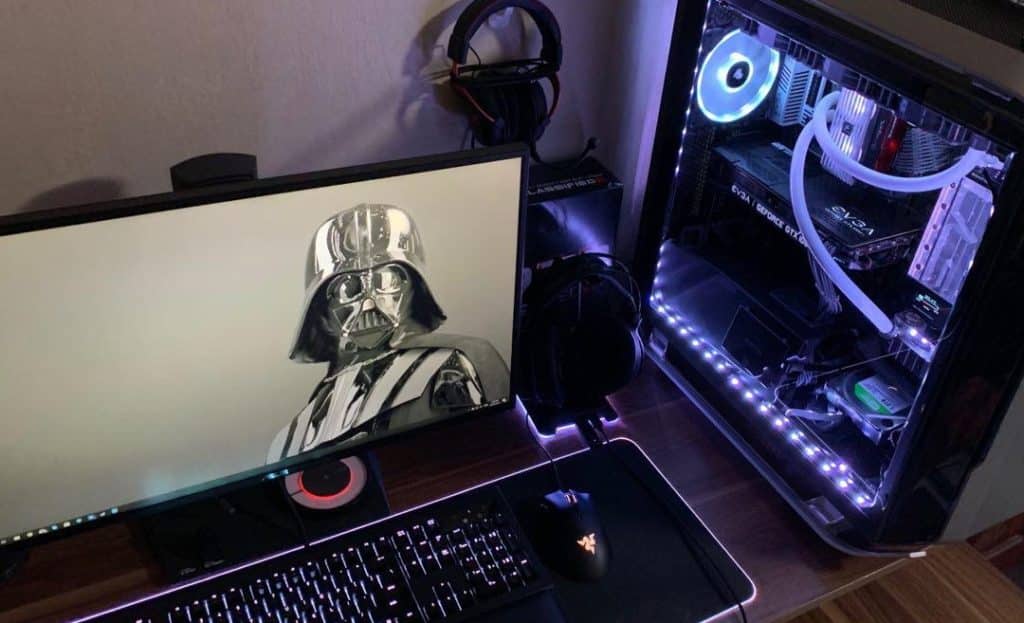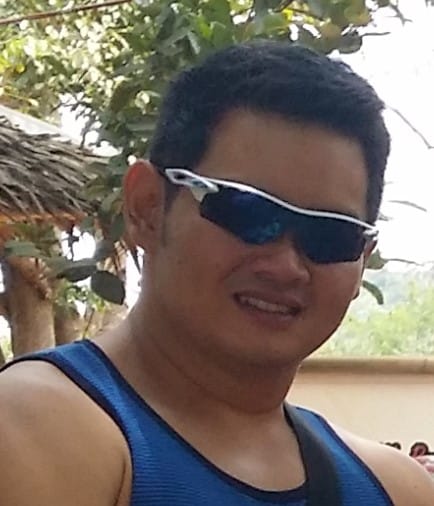 Paolo is a gaming veteran since the golden days of Doom and Warcraft and has been building gaming systems for family, friends, and colleagues since his junior high years. High-performance monitors are one of his fixations and he believes that it's every citizen's right to enjoy one. He has gone through several pieces of hardware in pursuit of every bit of performance gain, much to the dismay of his wallet. He now works with Monitornerds to scrutinize the latest gear to create reviews that accentuate the seldom explained aspects of a PC monitor.