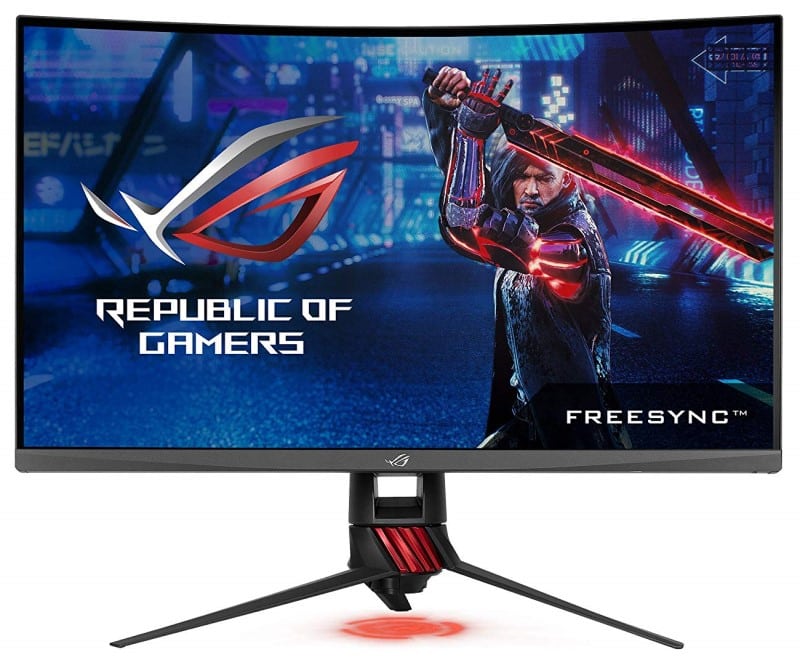 The Asus XG32VQR is a sign of sales growth for curved monitors since it is the second coming of the immersive and popular Asus XG32VQ. Very few models exhibit constant demand which prompts manufacturers to re-release tweaked or improved variants of their products. Let's find out if the Asus XG32VQR solved some of the troubles its predecessor faced when it released.

Asus XG32VQR Specifications
Screen Size: 32 Inches
Resolution:2560 x 1440 QHD
Aspect Ratio: 16:9
Panel Technology: Vertical Alignment (VA)
Refresh Rate: 144Hz
Response Time:4ms
Contrast Ratio: 3000:1
Brightness: 450cd/m²
Built-in Speakers: No
Stand: Height – Yes
Stand: Tilt – Yes
Stand: Swivel – Yes
Stand: Pivot – No
VESA Compatibility: Yes 100 x 100
Connectivity: DisplayPort 1.2 x 1, Mini DP 1.2 x 1, HDMI 2.0 x 1, USB 3.0 x 3, 3.5mm Jack
Dimensions With Stand(WxHxD): 28.09″ x 23.23″ x 11.78″
Weight: 21.16 lbs

Design and Features
The Asus XG32VQR utilizes the same ROG aesthetic treatment many of the brand's newer models are presenting. The chassis has a nice, matte black exterior along with distinct gunmetal accents which make it less aggressive-looking that the first few variants which had gray and orange. The display is bezel-free, but minimal panel borders are still present when you turn on the device.
The rear has a unique, robotic pattern embossed on the plastic along with angular divides which act as the vents for the innards. Asus designs their monitors with gamer-centric styles, but opinions are always mixed regarding if they are attractive or not. The brand was one of the first few to offer this kind of treatment, and many have already followed suit with their iterations.
One of the most stand-out features of the Asus XG32VQR is the Aura Sync LED ring at the rear which can synchronize with your other Asus gaming gear. This add-on used to be considered tacky, but it has so far, decreased the difficulty of building a themed rig. But the more significant benefit to it is its glow which doubles as a bias light whose purpose is to reduce eye strain in general.
We love the Asus XG32VQR's build quality, which cements its premium nature and somehow, justifies the higher pricing. The device feels solid like a tank, and there are no wobbles or unwanted flexing on any of the parts. The seams are matched perfectly, so you don't see or feel any cheapness from the product.
Another aspect we love on the Asus XG32VQR is its use of a joystick instead of a full-blown layout of OSD buttons. The latter you can locate at the rear are merely hotkeys for some add-ons like the gameplus features, but all of the OSD's navigation and selection goes through the joystick. We also like the cover panel for the I/O ports at the rear which helps to keep the neatness of your gaming build.
The Asus XG32VQR is no slouch when it comes to connectivity since it already offers everything you will ever need. The concealed panel at the rear provides DisplayPort 1.2 and mini DP 1.2, an HDMI 2.0 connector, and three USB 3.0 receptacles. There is no need for older standards such as VGA since they will not support the screen's specifications.
Another substantial aspect of the Asus XG32VQR is its stand which features the unique helix base with an LED projector at the bottom. Frankly, the latter seems pointless to us while the aesthetics look overkill, but we know many still like this look over the office or business-type displays. You can also swap the included stand with a VESA armature, but its height, tilt, and swivel adjustments will negate the need to do so.
Display and Performance
The Asus XG32VQR sports a 32-inch VA panel with a 2560 x 1440 resolution, 144Hz refresh rate, and 4ms response time. A contrast ratio of 3000:1 is also mentioned, but what Asus upgraded for this model is its backlight which is now rated at 450 cd/m2. The curved screen is somehow considered a gimmick by many, but its effects are more prominent at this size.
QHD screens are better suited for 27-inch variants when it comes to balancing between sharpness and visibility. However, the Asus XG32VQR doesn't look bad even if softening and some minor pixelations start to appear. You can still enjoy crisp images and graphics with this type of monitor, but sitting distance starts to become crucial at this point.
The Asus XG32VQR posts a little over 100% sRGB coverage or around 90% DCI-P3 which falls short in comparison the company's claims of 125% volume. It does, however, make up for it with color accuracy since errors are limited to a Delta E of only 1.2. We also like that you don't have to go through too much trouble with gamma, since the 1.8, 2.2, and 2.5 track correctly.
Contrast is lower than the predecessor at an average of 2000:1 across all modes, but that isn't sufficient to dismiss this model as a bad choice. The screen can still produce deep and convincing blacks with great grayscale performance, which combines with the fantastic saturations to create eye-popping visuals. This model is suitable if you like the more colorful or noire-y games, but E-Sports titles with blander color are still a joy to see on the display.
One thing the Asus XG32VQR doesn't do well at is its panel uniformity, which we think is due to the curved nature of the screen. Brightness deviances reached as much as 18% on the top and bottom corners which become noticeable in darker scenes. Color uniformity is also affected, showing a maximum of DeltaE variances from the D65 standard.
Motion handling isn't as great as we expected since the VA display is still prone to blurring in fast-paced play. There is an overdrive option in the OSD, but we recommend staying with the normal setting to avoid artifacts and overshoot.
The Asus XG32VQR is a DisplayHDR 400 gaming monitor, but it does little to create the HDR effect we see on its up tier cousins like the PG27UQ. The screen's vibrancy and contrast change little when HDR is active in compatible games, but it's a nice to have feature if you like playing around with gaming visuals. Frankly, HDR400 tagging should be abolished since it doesn't offer the improvements many would expect from such a monitor.
Input lag isn't an issue for the Asus XG32VQR, which clocked in at 4ms just like its predecessor. We did not feel any delays or "de-synced" instances while playing BFV, so its smooth sailing all the way. Asus has always been fantastic when it comes to this aspect, and this model isn't an exception.
Thoughts on the Asus XG32VQR
The Asus XG32VQR faced a few modifications to make it more enticing, but the improvements feel more like minor tweaks you could get from updated firmware. The only considerable characteristic we saw was the higher color accuracy, which matters a lot if you want true to life color rendering or representation. We also think that it's great that you don't have to get a colorimeter to achieve perfect gamma scores and fidelity with this option.
The biggest con of the Asus XG32VQR is its panel uniformity, which we hope improves between unit to unit. Many gamers will be disappointed if they see defects on a premium screen, which costs considerably more than its comparable competitors. This product would be a fantastic option if these flaws are limited to a few units floating around in the market.
About the Author: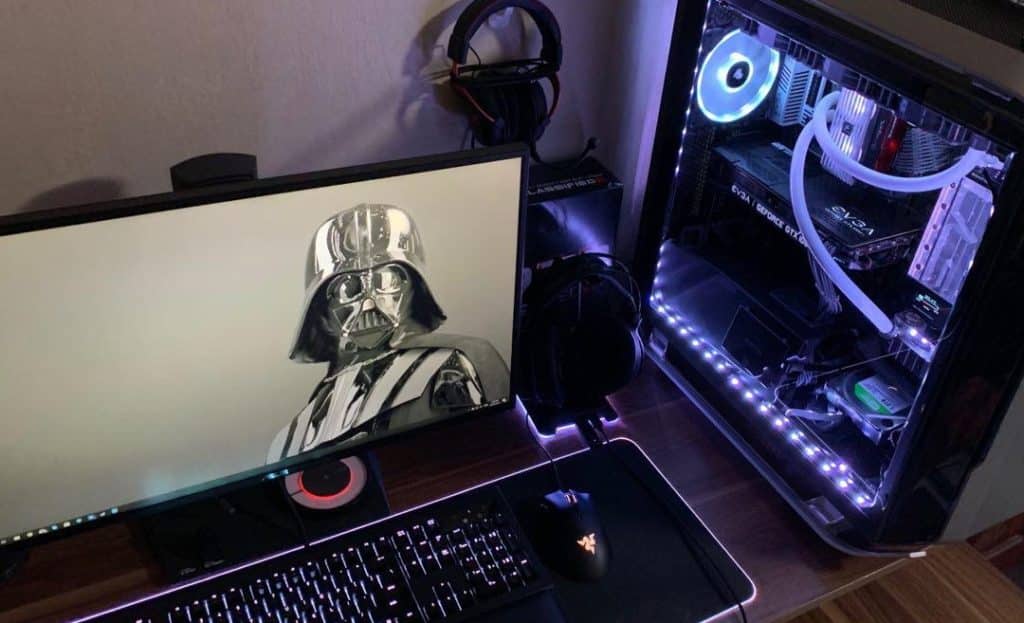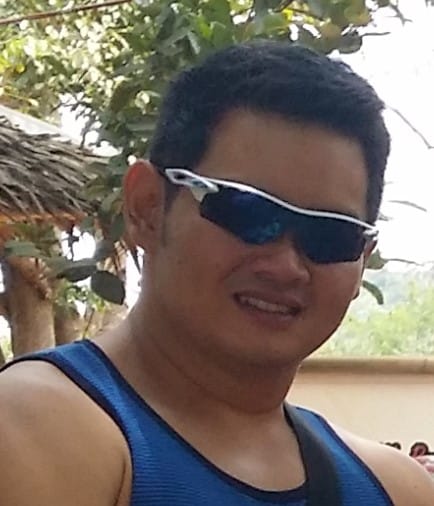 Paolo is a gaming veteran since the golden days of Doom and Warcraft and has been building gaming systems for family, friends, and colleagues since his junior high years. High-performance monitors are one of his fixations and he believes that it's every citizen's right to enjoy one. He has gone through several pieces of hardware in pursuit of every bit of performance gain, much to the dismay of his wallet. He now works with Monitornerds to scrutinize the latest gear to create reviews which accentuate the seldom explained aspects of a PC monitor.