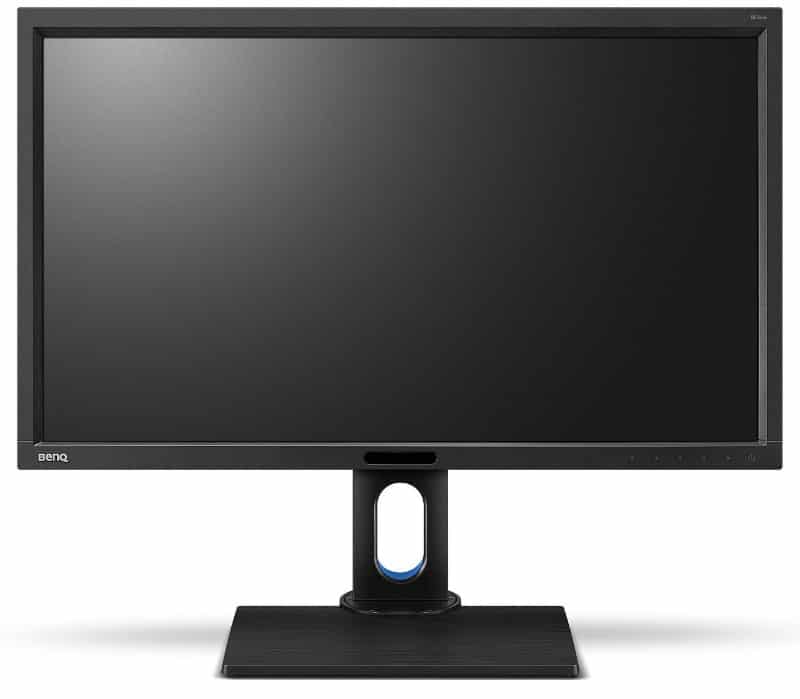 Review of  BenQ BL2711U
Large 4k monitors are steadily becoming the norm for most of the current releases flooding the shelves. BenQ, one of the competitive brands today is releasing products to cover all levels of budget and purposes. Aside from the gaming/E-Sports displays they are famous for, the company is also venturing into the realm of professional monitors. Their BL (Business Line) of products provides designers and artists with quality products at an affordable price bracket compared to Dell or Asus.  The BenQ BL2711U, a model, designed to cater to the professional field, offers a stunning 4k resolution at a respectable 60hz packed into a 27″ frame. What unique about this product is the modes built into the product that specializes in improving viewing projects while avoiding eye fatigue for extended usage.
Specifications
Screen Size: 27 Inches
Resolution: 4k UHD (3840 x 2160)
Aspect Ratio: 16:9
Panel Technology: In Plane Switching (IPS)
Refresh Rate: 60hz
Response Time: 4ms
Contrast Ratio: 1000:1
Brightness: 300 cd/m²
Built-in Speakers: Yes (2 x 3 watts)
Stand: Height -Yes (5.12 Inches)
Stand: Tilt – Yes (5°/+20°)
Stand: Swivel – Yes (60°/60°)
Stand: Swivel – Yes (60°/60°)
VESA Compatibility: Yes (100×100)
Connectivity: 1 x HDMI 2.0, 1 x HDMI 1.4 ,DisplayPort 1.2, 4 x USB 3.0 Slots, 3.5mm Headphone jack
Dimensions: Without stand (WxHxD) – 15.16" x 25.16" x 2.75"
Weight: 17.64lbs
Design and Features
Design-wise, there is nothing much to say about the Benq BL2711U. Since the BL series was meant for tamer environments such as your office or design studio, BenQ's engineers decided to go without adding bling to the looks of the product. Instead, they opted to go with a minimalist but sleek look to better suit the professional atmosphere. The Cabinet has the distinct matte black exterior of the company's entire range, including their gaming products. The fingerprint-free, subtle, and grippy texture as always is a welcome application to the exterior since the display's usage might entail a lot of adjustments. The bezels share the same finish as the cabinet, and from viewing the 27″ screen real estate, they are barely noticeable and cause little to no distraction whatsoever. The screen has a layer of BenQ's medium anti-glare coating that does an excellent job of preventing reflections but applies at grainy texture to the picture. This factor will be noticeable regularly since the monitor has a large resolution.
On the face of the bezels on the right-hand side, there are five OSD touch buttons and the power button which only light up when touched. Considering it's a touch sensitive feature, BenQ could have steadied the lighting for better visibility. On the other side of the frame, there is a USB hub containing two USB 3.0 ports for convenience and an audio jack. As always, it is better to use your sound card or motherboard jacks to avail of sweeter-sounding music since the quality degrades when this port is used. The rear of the cabinet is perforated all around with ventilation slits to keep the power supply and the other innards cool when the BL2711U is in use. To me, it's not meant to appeal visually, but it gives a hint of classic design cues from the 90s merged with modern tech.
The BL2711U's connection options lie facing downward in the rear of the cabinet, well hidden from plain sight. This orientation allows for cleaner cable management since it would be easier to shoot the wires through the cable tidy hole in the neck of the mount. Input options include a DisplayPort 1.2 and HDMI 2.0 for 60hz 4k operation, an HDMI 1.4 and DVI port for 30hz operation, and USB ports for upstream and downstream. This model also comes with a dedicated on/off switch, which is handy in case the user is rendering a design which may take quite a while. Unfortunately, this is located in an inconvenient spot so it might not end up getting usage. One thing this product is lacking is the inclusion of a USB-C Thunderbolt 3 port which would make it more functional with Apple's features. Macs are in reality, the popular choice for design applications as compared to Windows based PCs. The stand included with the BL series shares the same ergonomics found from the XL line. The display can rise, tilt, swivel and rotate to fit the user's comfort. The neck features a cable hole and a brushed aluminum finish in black, plus it quickly detaches at the push of a button to reveal the VESA holes for aftermarket mounting purposes.
Display Performance and Features of BenQ BL2711U
The BenQ BL2711U's 4k 27″ IPS panel provides eye-popping clarity and stunning detail just like any other 4k display would. What makes this monitor special is its 10-bit color interface which provides 1.07 billion accurate colors for the designer's eyes. This tech allows the product to cover 100% of the sRGB and REC 709 color spaces. Color representation is vibrant and accurate, coupled with the native resolution details are crisp and clear. What's lacking from this product is an Adobe RGB gamut coverage and other extended color spectrums, so photo and video professionals can further consider this model for use in their fields. Those specs usually require a 12-bit interface and having a panel capable of that significantly increases the cost to build a product. But judging from the pricing for the BL2711U, the product aims for an entry-level or general/mix use in professional displays. After all, the specifications on this product cover a wider range of work related applications; and some of those do not require outstanding color-critical output.
The strength of the BL2711U lies in the OSD modes built into the product. The monitor has a CAD/CAM option which works best for use with programs such as AutoCAD and Solidworks (The BL2711U is a Solidworks certified monitor) and presets for Animation, Video Editing, and Graphic Arts. What this does is basically, it adjusts brightness, contrast, and gamma on different levels to suit the usage the presets were named after. While it does not do wonders for the applications that use a lot of colors, the feature works well for AutoCAD and similar programs. Wireframes and lines appear clearer and well defined, without strain to the eyes since the contrast goes up to a natural level that does oversaturate the whole picture. Make no mistake, though, on the other hand; colors are still vibrant and shades are still represented correctly in the other presets included. Still, a higher color interface would have justified these other modes better for their respective uses. There is also a slight blue hue on pictures, but this can be corrected as the monitor can filter blue light.
The Blue Light filter in the OSD can be adjusted according to named profiles listed on the menu, namely; Reading (70% blue light reduction), Office (60% blue light reduction), Web-surfing (50% blue light reduction), and multimedia (30% blue light reduction). Finding a perfect sweet spot is always up to the user, so viewing performance can vary from person to person. The inclusion of this feature defines BenQ's commitment to eye safety and comfort. Aside from the filters, the panel is also flicker-free. The WLED backlighting does not use a PWM module for power, so the light is steady and won't strain your eyes. Just be sure to adjust the brightness accordingly if the given presets do not do it for you adequately. Aside from the mentioned precautions, the hardware in the product's hardware also integrates an Automatic Eye-Protect Sensor that adjusts screen brightness depending on ambient lighting. This piece of tech is a handy feature to have as most professionals might end up spending a lot of hours in working at varying points of the day.
Finally, to make use of the multiple features of the BL2711U and its input options, BenQ included a PBP (Picture by Picture) and PIP (Picture in Picture) feature typically found in most professional monitors. PbP splits the screen into up to four divisions so you can run different inputs together on a single screen and PiP works by enclosing a second smaller window overlay on the primary display. There is a multitude of applications for this feature in professional working environments. You can place a sketch of a plan on a smaller window, and work with AutoCAD on the primary display. Of course, the display presets included in the OSD affect the screen as a whole; so you may encounter misrepresentation of contrasts in between the different images showing on your desktop. The 27″ work space and the 4k resolution works quite well for this feature, but it will look less restrained in a slightly bigger monitor such as a 32″ product.
For gaming purposes, the BL2711U still does an acceptable job. Since most rigs are hard-pressed to produce high framerates at 4k, this model's 60hz maximum refresh rate fits the bill perfectly. The resolution and size make a detailed image, and colors and effects are vibrant and well-defined, and the contrast range and 4ms response time do a lot of justice to the overall output. But of course, tearing, stuttering and blurring become apparent in some circumstances. This product is mainly for productive use, after all. We would not recommend this monitor for those who are looking for an excellent gaming experience, but on the contrary, for professionals who own a capable CPU and does a bit of gaming on the side, the BenQ BL2711U is a good and affordable choice.
Conclusion of  BenQ BL2711U Review
While BenQ has labeled this product as an all around productivity/professional product, the capabilities they built into the specs are ideal for CAD/CAM applications more than the other types of work as described by the other presets. The monitor could have performed better in video and image related work if it had a higher color look-up interface, thus allowing it to cover the extended color spaces most competitors have in their more expensive lines. Although, this does not mean the BL2711U is a bad choice. The 4k display and the 60hz refresh rates still is an improvement over lower resolutions at this monitor size, so the pricing is entirely justified.
If you are looking for a monitor for CAD, Solidworks or wireframe modeling, this product excels in that department compared to a regular 4k monitor. The CAD/CAM mode enhances the contrast to a level that does not oversaturate the total picture. Lines and frames look clearer and are completely visible, so productivity is not hampered. If you are also seeking to game on the side, this model still can give you a good experience overall. But for those focusing on entertainment more than work, you are better off looking elsewhere and spending your hard earned $700 on another product.