The Asus PG27UQ – One of the Ultimate 4K Monitors for Gaming
What You Need to Know Before Buying a 4K Display
Primarily aimed at enthusiast gamers and professionals, 4K monitors (3840x2160p) are getting more and more popular every day. With developments in IPS and TN panels and the rising competition in the market,  these monitors have been becoming more common and more affordable.
With new display ports, faster computers, and cheaper gaming monitors, the transition to UHD is now much easier. In this article, we will be describing a series of steps you need to follow to make sure you pick the right kind of 4K display for you.
User-Oriented Features of 4K Monitors
There are two types of 4K displays available in the market today: the 4K digital cinema standard displays that have a resolution of 4096 x 2160 pixels, and the consumer standard Ultra High Definition displays that have a slightly less resolution of 3840×2160 pixels. TV displays on the market use the consumer-standard 4K, however, if you are planning to buy a monitor, both of these options are available. The rare LG 31MU97, for example, has a resolution of 4096 x 2160 pixels.
Delivering 8 million pixels to make everything crystal clear and super sharp, 4K displays ensure that all your needs are taken care of, whether they are graphics designing, photo or video editing or immersive gaming. But firstly, you need to decide what you will be using this UHD display for so you can better discern which is best for you.
This will help  clear out other things that you need along with the resolution. For example, if your primary use is editing photos or videos, you need to prefer an IPS panel over a TN panel. If on the other hand, if you are a gamer, and you want to game at 4K, the preference needs to be given to adaptive sync support and a low response time over other things.
Photo Editing, Video Editing and Graphic Arts
With 4K, you have a clearer and sharper picture as compared to other resolutions. This is the preferred resolution today for photo and video editors, and for gamers who need higher visual feudality. If you shoot and edit 4K however, you will need a 4k or 5K monitor to edit the video natively.
This is because with an increase in visualization, comes a corresponding drop in frame rates. And that can reduce your video quality, as you might have to compress them to be a little bit less than the maximum resolution of the display, to get your work done with good speed (and fewer chances of a software crash).
So a higher resolution is a good thing to have if you are looking for aesthetics and graphically intensive work. However, the frame rate is equally important with such a high pixel count – so make sure you save up enough for a 60Hz display setup that outputs 4K for the best experience.
Having an 8-million pixel virtual workspace is also ideal for professional computing since it provides a substantially bigger area for your apps and media. This advantage allows users to maximize a single screen while also providing deeper or further levels of zoom for minuscule details which are unnoticeable in smaller resolutions.
4k Gaming Monitors
On the other hand, if you are planning to buy any display for gaming (4K included), you need to prioritize Response time, Refresh rate and adaptive sync technology above the rest. The biggest problem with low-cost, early 4K monitors was that they have high input lag results, or worse, 30Hz operation. These limitations are detrimental to gaming because they disconnect the immersive aspect of your title while making the screen jittery.
There are outstanding budget 4K options out there, but then again, there are gamer-specific UHD products with technologies such as G-Sync, FreeSync, and more, although they come at a premium price. The best thing about these products is that even if they are expensive, most of the compromises you would have to accept with budget 4K monitors are eliminated. 4K Gaming monitors have proliferated for the past year or two, and now we already have 4K 144Hz monitors with HDR.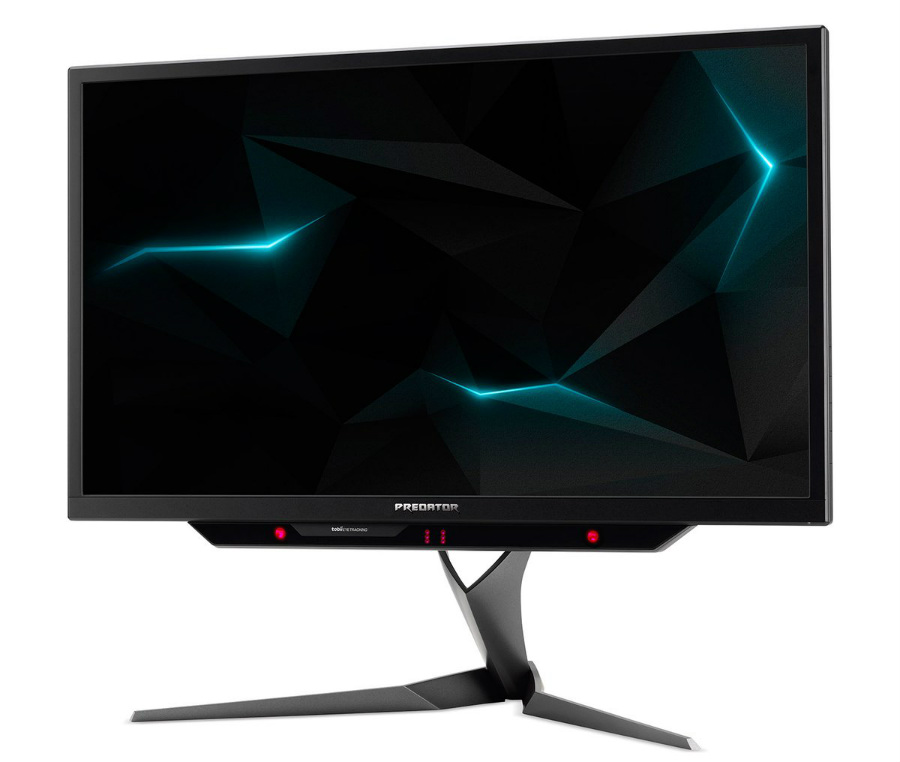 The Acer X27 4K 144Hz HDR Monitor
The refresh rate is the number of frames drawn from the GPU  and displayed by on display per second and response time is the time taken by pixels to change their color from one shade of gray to the other (or from black to white). While gaming, both of these things are equally important, as you are pushing a lot of frames and an insane amount of pixels every second. And if you are doing this at a massive resolution of 3840 x 2160p, you need a 60Hz refresh rate and a low response time to avoid issues like ghosting, screen tearing, and stuttering. For gaming, it's not recommended that you use a 4K with a refresh rate that is as low as 30Hz.
Scaling
Resolution and Scaling go hand in hand. The higher resolution you have, the number of pixels are mounted on the screen. Setting your screen to a high resolution means that you will have more 'desktop real estate' (lots of icons and stuff on the desktop). This is a pro for people who work in editing, design and what not, as these things demand to multitask more than games do. So you might want to go for a 4K IPS display for this sort of work. You need great viewing angles, color accuracy, and sharpness which you can get with a decent option.
We recommend 27-inch models as the sweet spot for 4K if you like it sharp and crisp, especially for games. However, we recommendto 32-inch variants for comfortable viewing, especially if scaling isn't your cup of tea.. Users should take note that not all 4K products scale down correctly unless the manufacturer specified that their implementation is equipped to do so. Scaling to 1080p usually does not present issues because it is a direct ratio derivative of UHD, but 1440p will sometimes degrade.
System Requirements
A typical 16:9 4K monitor has about 8.3 million pixels. Pushing these many pixels on a screen requires a serious amount of horsepower, especially if you intend to use graphically intensive applications or for gaming. You can use the 4K monitor utilizing the integrated graphics on the latest Intel and AMD processors that are found in desktop PCs and laptops for basic or standard use. However, it is not recommended as it just lacks the power (and often the display connections).
This is simply because of the number of pixels used in these displays. If the refresh rate and the response time ratings are not good enough, problems will occur. When you are spending that kind of money, you need to make sure that you have some longevity out of your arrangement. Take the Dell P2815Q for example, which is a 4K TN panel monitor which you can get if you are on a budget. But the problem with that is the low refresh rate on the top of the TN panel that cannot match the viewing angle range and color accuracy of IPS or PLS panels.
Gaming with a 4K monitor is still a challenge, even if the Latest Nvidia GeForce cards can now overcome the 60Hz 4K hurdle. Of course, not everybody can afford these top end cards, and nearly every other GPU below these two cannot handle stable a stable 60FPS output. To fully enjoy what a game has to offer in 4K, your system needs to have pretty meaty specs at this point. This fact cements the thought that 4K gaming is still an enthusiast level endeavor, although some practical and wise gamers out there find compromises such as lowering graphic settings or using SLI and Crossfire with two budget cards.
Connectivity
When it comes to connectivity, the best thing you can get a 4K monitor today is the HDMI 2.0 port, which is rare these days. The HDMI 2.0 is 4K capable at 60Hz. The most common one is the HDMI 1.4 port that can run 4K at 30Hz (which obviously does not make it the best bet). Then we have the Displayport 1.2 connection, which is also a good bet as it outputs 4K at 60Hz frames per second. Most displays in the market come with HDMI 1.4 or DisplayPort 1.2 (or both) connections. For professional use, it is recommended that you go with a monitor that has the Displayport 1.2 or the HDMI version 2.0 as the bare minumums.
5 Best 4K Monitors Available Today
1. Asus PG27UQ – Best 4K Monitor with 144Hz and HDR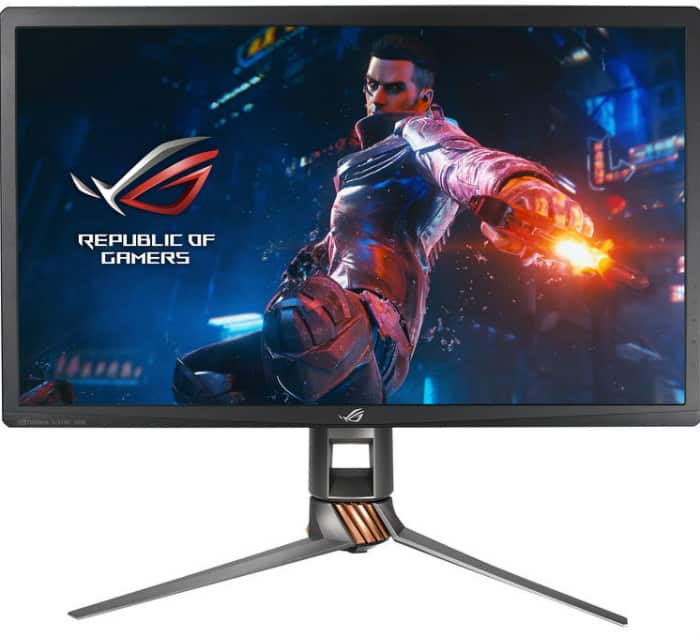 The Asus PG27UQ is the first 4K 144Hz monitor to become available in the market. The 4K 144Hz IPS panel offers stunning color quality along with 1000-nit FALD backlight for brilliant HDR performance. This model also offers G-Sync HDR which works hand in hand with an Nvidia GPU for smooth and eye-popping graphics.
The Asus PG27UQ sports the signature ROG Swift aesthetic that comes with the helix-shaped stand and Asus Aura RGB lighting. Its functional and build quality is superb, allowing the user to get the most out of the big bucks they have to spend on this variant. The PG27UQ was intended to provide top-end gaming performance while also looking good in a themed or high-end build.
2. LG 27UL650 – Best 4K Monitor for Gaming and Editing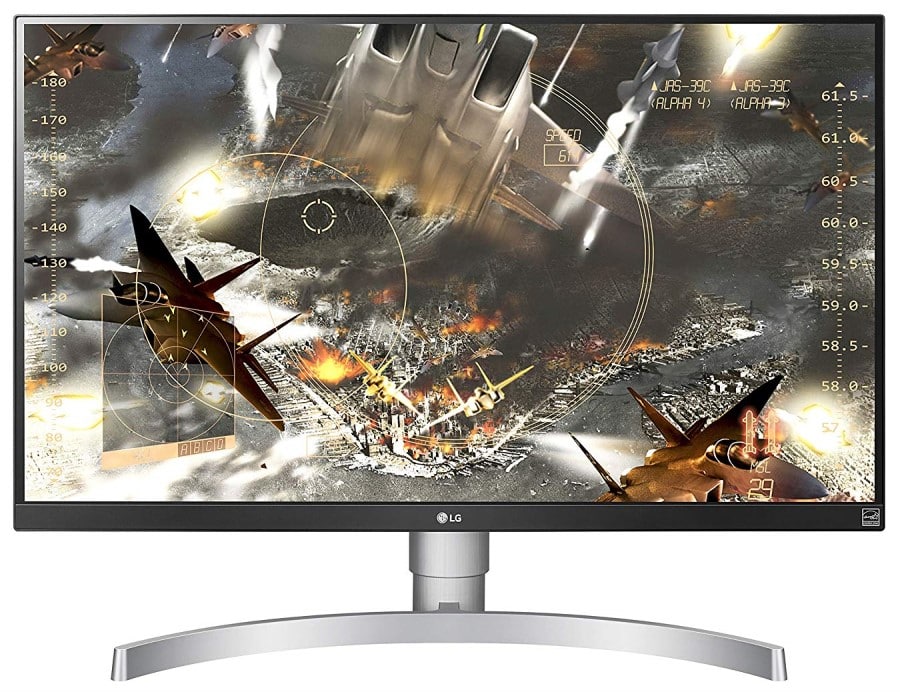 The LG 27UL650 offers a crisp and clear IPS panel with excellent color accuracy that's ideal for web creation and the like. This model is one of the best we have seen at the $400 price point when it comes to image quality, making it a top-choice for mixed use applications. Its also imbued with some gaming chops such as low input lag and FreeSync which make it a formidable value option.
The premium ArcLine design stand from the Korean brand is also included in the LG 27UL650's package. The aesthetic is both classic and timeless, so you won't easily get tired of this product as your work or gaming station's centerpiece. Another important characteristic of the device is the inclusion of LG's distinct user-friendly features which makes day to day use even more convenient.
3. Acer CG437K – Best 43-Inch 4K 144Hz HDR Monitor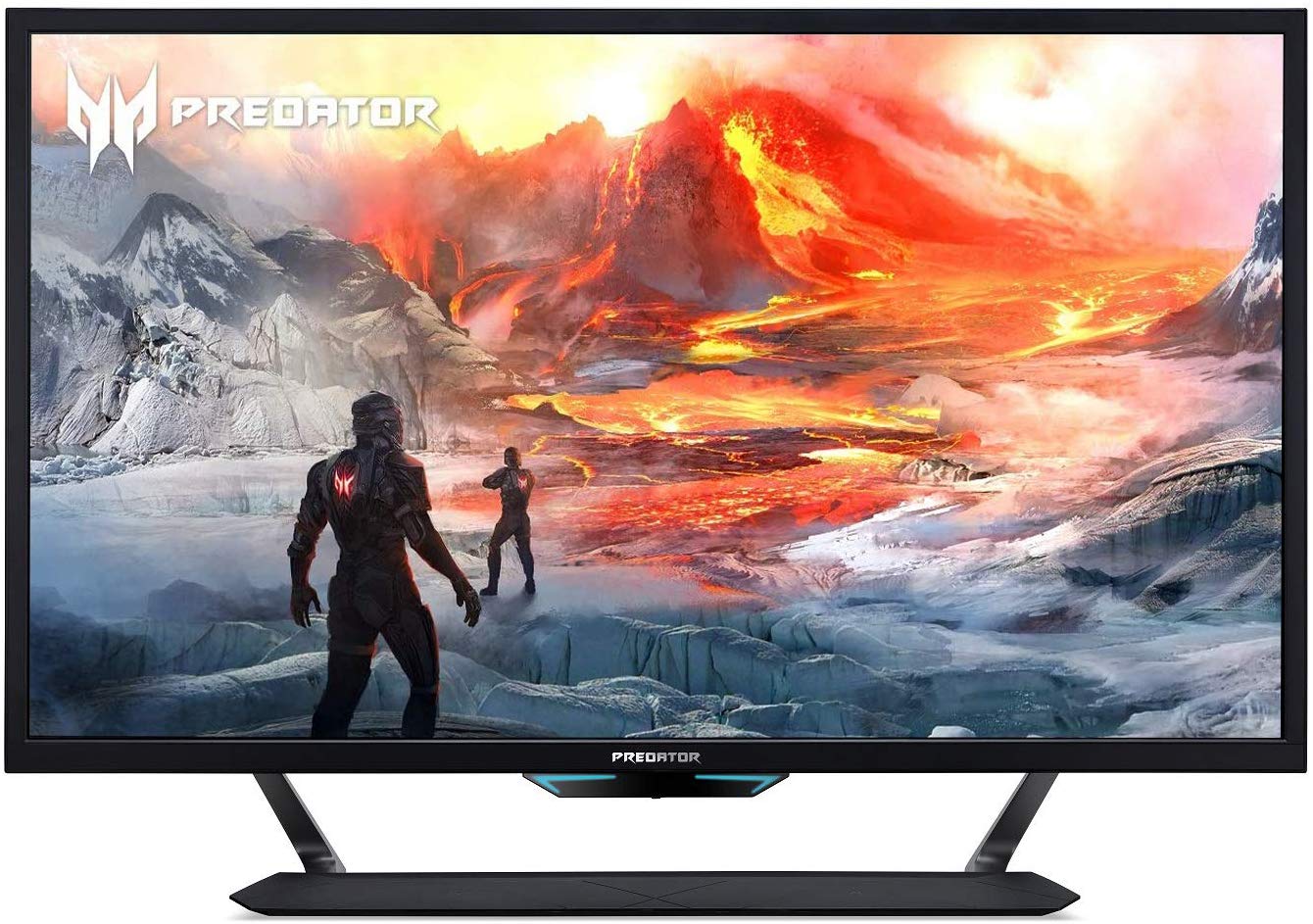 The Acer CG437K offers a TV-sized display that comes with enthusiast-grade features such as G-Sync. This LFGD or Large Format Gaming Display is capable of prosumer-grade visual quality and superb HDR rendering, so great colors and image balance are pretty much guaranteed. Its also one of the few 4K monitors certified to work with both FreeSync and G-Sync, so you don't need to stick with one GPU brand during your upgrade cycles.
Thge Acer CG437K's design also comes with valuable gaming features such as its ambient light sensor and LED lighting array. The extras, along with the remote and plethora of connections mean that you don't have to look at other products or upgrades to make your visual experience impressive.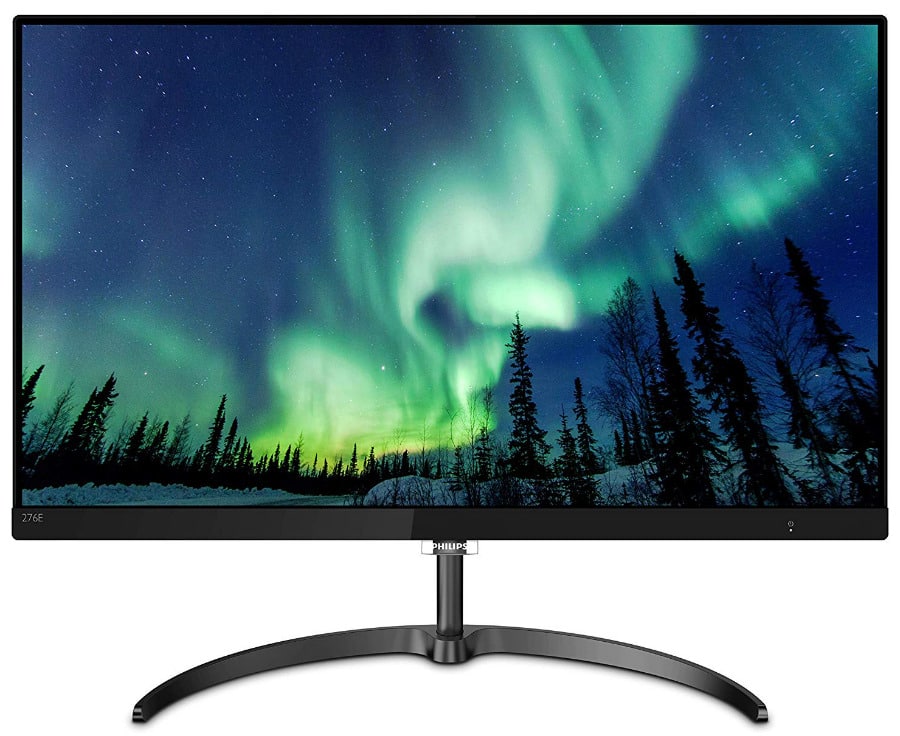 The Philips 276E8VJSB's more or less $250 price tag is hard to believe, but the 4K budget monitor actually punches above and beyond that. The clear IPS panel is capable of jaw-dropping accuracy, dispelling the myth that you have to pay top dollar for chart-topping performance. Its ideal for just about any type of use such as basic editing or even 4K gaming on a budget.
The Philips 276E8VJSB doesn't have a lot of extra features such as a fully-adjustable stand to help it make its very attractive price point. However, we think that's a fair trade, considering you are getting a product with a beautiful screen for a very low price. One thing you don't have to worry about is its build quality, because even if it is cheap, the materials and craftsmanship are still great.
5. Asus CG32UQ – Ultimate 4K Console Monitor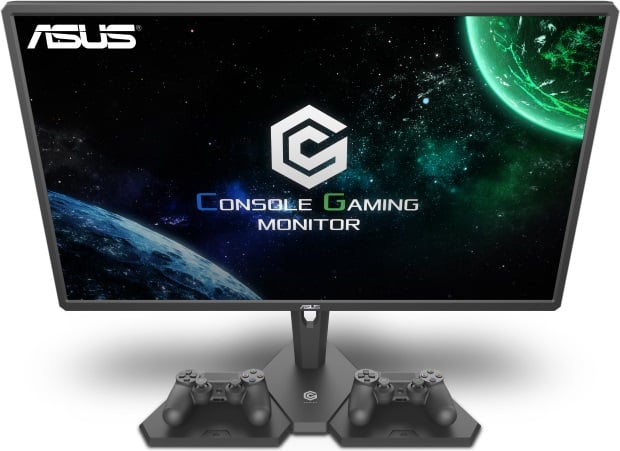 The Asus CG32UQ is unique since it was designed from the ground up for gaming on 4K consoles like the Xbox One X. Its not a 4K budget gaming monitor, but it houses a capable VA panel with excellent contrast and a 600-nit backlight for HDR600 performance. The monitor also emphasizes on low input lag and responsiveness which should enable you play competitively in popular console multiplayer titles like Modern Warfare.
One of the key features of the Asus CG32UQ is its stand which also doubles as a charing station for your controllers. The monitor also comes with RGB LEDs for bias lighting, as well as premium speakers that are capable of gaming-grade audio. This option is a fantastic choice if you are looking for an all-in-one product for your multiplatform gaming needs.
6. HP Omen X Emperium – Ultimate 4K Gaming Monitor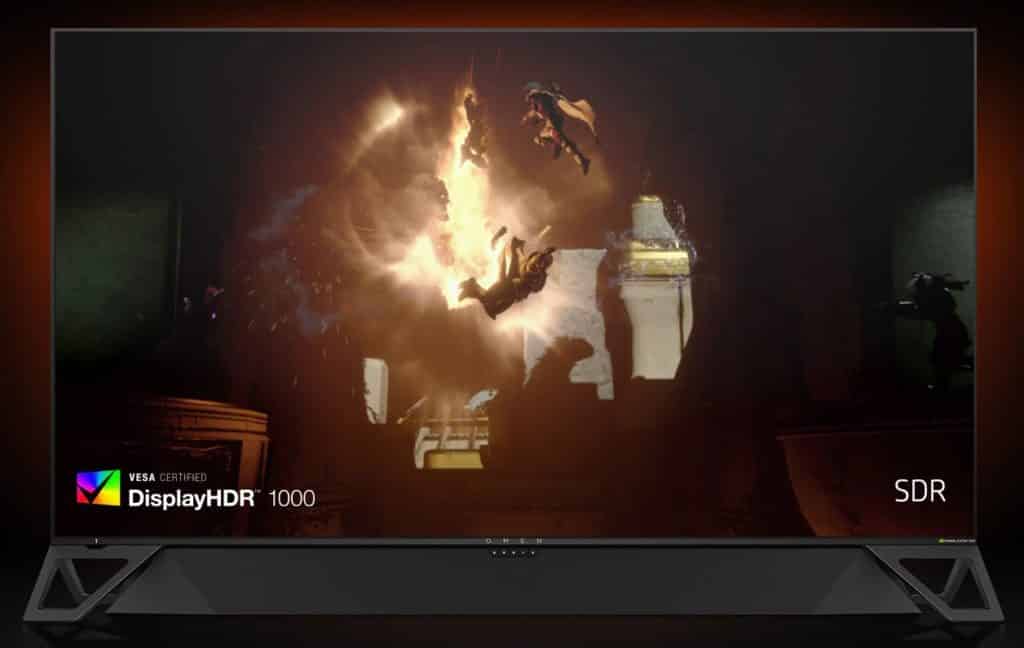 The HP Omen X Emperium BFGD or Big Format Gaming Display offers a massive, 65-inch VA panel capable of comprehensive contrast and extended gamut coverages. This model offers jaw-dropping imaging output courtesy of the panel's characteristics along with a 144Hz refresh rate for clarity and detail. This beast also includes G-Sync HDR which will help you to run games more smoothly with the most powerful Nvidia GPUs.
The HP Omen X Emperium has a very long spec sheet thanks to a multitude of features which are tuned for gaming. The device comes with a dedicated sound bar for heart-pumping audio that many PC speakers will struggle to match. Just make sure you have the space for this monster since its almost five feet wide!
Bottom line
This monitor category has grown in such as short span, allowing gamers to choose between a budget 4K monitor or blowing a small fortune on a top-end model. It blurs the lines on which is truly the best product to get, but it expands your options depending on how much you are willing to spend or what features you would like. The market is flooded with new variants, but these are our current favorites at the start of 2020.
Wikipedia about 4k resolution.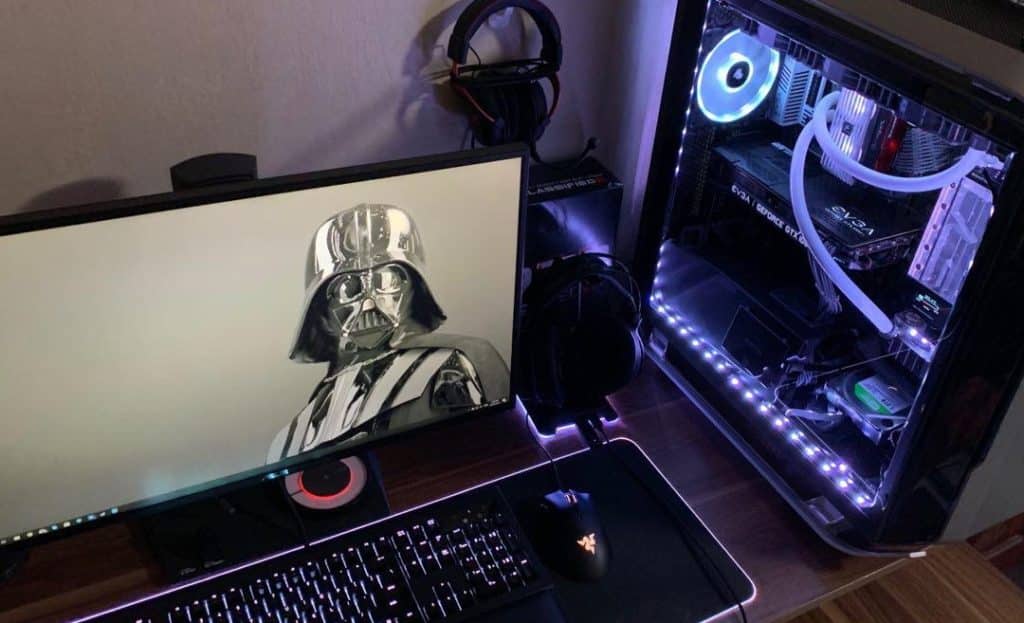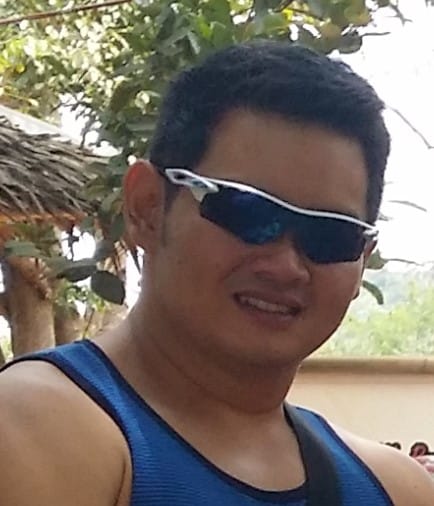 Paolo is a gaming veteran since the golden days of Doom and Warcraft and has been building gaming systems for family, friends, and colleagues since his junior high years. High-performance monitors are one of his fixations and he believes that it's every citizen's right to enjoy one. He has gone through several pieces of hardware in pursuit of every bit of performance gain, much to the dismay of his wallet. He now works with Monitornerds to scrutinize the latest gear to create reviews that accentuate the seldom explained aspects of a PC monitor.