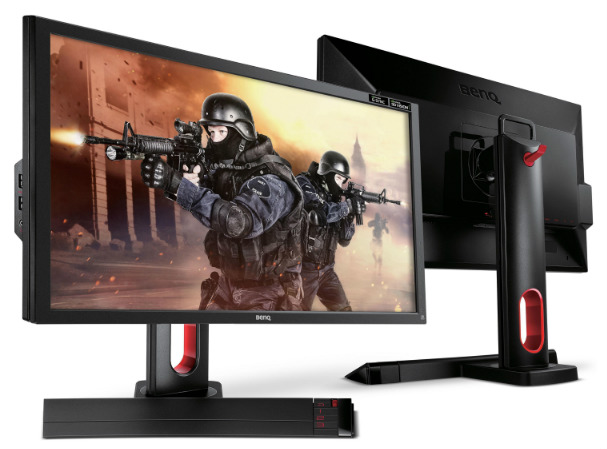 Bottom Line
Pros
Highly practical design
Great gaming performance (144Hz, NVIDIA G-Sync and add-ons)
Height, tilt, swivel adjustability and VESA mount
Value for money (costs around $599)
3 year warranty
Cons
TN panel (limited viewing angles as compared to IPS)
Limited resolution (1080p)
As we said earlier, the BenQ XL2420G was made keeping in mind the deliverance of performance and value for money, hence delivering you the best of both worlds. However, there are a couple of small issues here, like the TN panel (which people are skeptical about) and a 1080p resolution. But then again for this price, the BenQ XL2420G has a lot to offer to the end user. It is made for no-frill gaming, and it combines comfort, flexibility, and performance with a practical design – something that most $1400 monitors fail to achieve.
The best of both worlds!
BenQ is a company that surpasses many competitors because of its clever designs. Now combine that with a lot of gaming add-ons and neat technical specs, and you get a powerhouse that is comfortable affordable and supports high FPS gaming.
In this article, we will be deep diving into the BenQ XL2420G, which was made keeping in mind the deliverance of performance and value for money.
What's in the box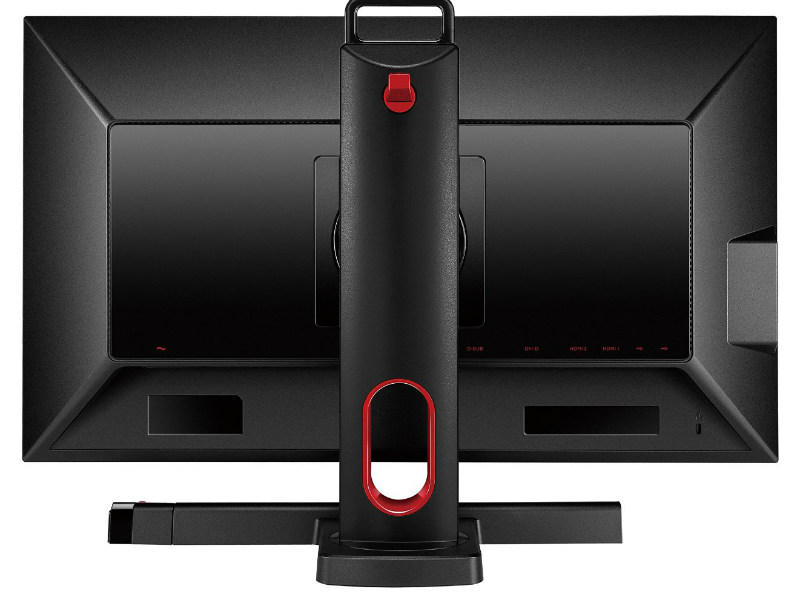 The box for the BenQ XL2420G comes with the TN display, the stand, the base, a profile toggle switch, a power cord, a USB connector, the software CD, a DVI digital cable, a Display Port2.0 connector, a protective cover for the screen and a warranty card.
Quick specs
Panel Type: TN
Screen size: 24 inches
Resolution: 1920x1080p
Refresh Rate: 144 Hz
Response time: 1 ms (gray to gray)
Dimensions: 22.4 x 2.4 x 20.3 inches
Brightness: 350cd/m2
Aspect ratio: 16:9
Adaptive Sync support: NVIDIA G-Sync
I/O: 1xDisplay Port, 2xHDMI, 1xDVI, USB v2.0 (1xup, 2xdown)
Warranty: 3 years parts & labor warranty
First of all, let's deep dive into the sheer firepower of the monitor and what gamers might find interesting in the BenQ XL2420G. A resolution of 1920×1080 and an aspect ratio of 16:9 ensure that te monitor can reproduce colors in a very efficient way, so does the 12M:1 DCR. The display can be best described as a no frill gaming system. There aren't any unnecessary features or designs incorporated in the structure, and the resources are utilized effectively enough. With a 1ms gray to gray response time, FPS gaming becomes easier as there is no motion blur. Now while this response time might not be very high in value, it sure is effective when it is combined with an array of gaming oriented features – all of which work great.
There are color calibration and gamut options in there but doesn't matter if you calibrate or not, the XL2420G's color performance is astonishing. The CIE and luminance charts are about as close to perfect as you can get. When to go to the G-sync mode in the monitor, gaming on 144Hz is not a problem as the monitor has the capability to be consistent with the output quality.
Now that we have discussed the basic stats on gaming let's have a look at the add-ons that make the performance of the XL2420G extraordinary.
Add-ons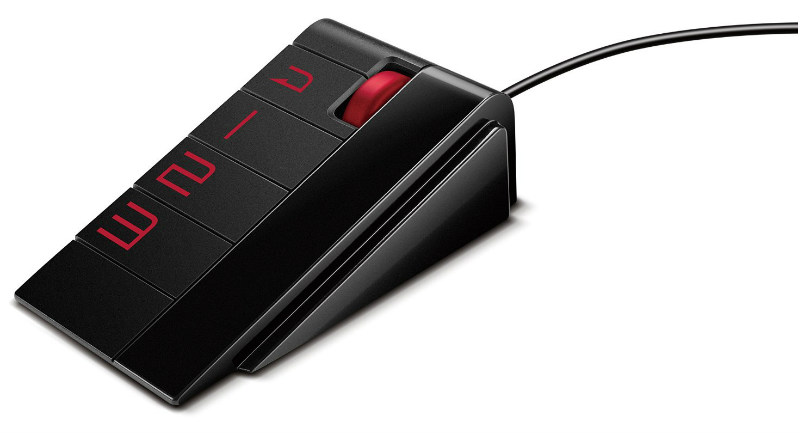 The first one in a series of add-on features is BenQ's RevolutionEyes technology. While the name might sound like it is just another 'blue light reduction technology' given yet another fancy name, the truth is that it's not. This is what BenQ has to say about the RevolutionEyes:
" The RevolutionEyes technology empowers users to work and play better than ever before, and is also better for the eyes, allowing extended, comfortable vision. In BenQ's gaming monitors, RevolutionEyes technology includes Black eQualizer, FPS/RTS gaming modes, motion blur reduction, 1ms with 144hz refresh rate, and ZeroFlicker Technology. "
So in a nutshell, this is a package deal, incorporating a lot of features to ensure high-speed gaming and enhanced graphics at the same time. When it comes to value for money, this is the best one can get. Let's break these down one by one.
The Black eQualizer Dynamic color engine technology is nothing but an automatic calibration of the environments in the game regarding brightness. The XL2420G can automatically detect the input source and fine-tune the amount of brightness there,  within the range of a given brightness level selected by the user. This helps a lot in shooter games, as you can see the enemy effortlessly.
The second one in a line of add-ons is an RTS gaming mode that can easily be optimized for real-time games or strategy-based games. Along with this, you also have three customizable "Gamer" presets that you can tweak to get that perfect feel of the gaming environment.
Next, up, we have the motion blur reduction technology, the sole purpose of which is to reduce motion blur during gaming. This is most commonly achieved by using backlights on the panel, but the goal is always to simply improve the pixel response times so that the sharpness and the density are maintained during FPS games. Since this monitor can go up to 144Hz, this feature sure holds down the fort.
Next, we have the Zero Flicker technology, which is just another way of saying that the XL2420G is a flicker-free screen. Screen flickering can be annoying as all hell, especially with hardcore games on full native resolution and high frame rates. This feature focuses on operating at high refresh rates (up to 144Hz in this case) while maintaining the graphics quality at the same time. So no ghosting, no screen tearing, no flicker and no mess. This, in turn, reduces eye fatigue and elevates gaming performance for even the most hardcore gamers enrolling long hours in action. Having adaptive sync support in the XL2420G just makes things easier for these features.
On top of all these features, this monitor also offers Gaming Refresh rate Optimization Management (GROM), which in a nutshell is the ability to provide more than just the refresh rate feature for different resolutions to reach more levels of optimal refresh rates (100/120/144Hz). So you have calibration, you have quick-switching between gaming modes, you have automated corrections on tint, color, sharpness and brightness and you have management techniques like these- this covers all the peripherals and provides you with the best gaming experience a 144Hz monitor can provide at 1920x1080p. It just can't be matched.
Build
Now we will talk about the build and the design of the XL2420G, of which there isn't much to say except that it has a very practical, simple, no-frill design. The XL2420G  more or less looks like an average 24-inch display, with some minor things elevating it. The bezels aren't too thick or thin; the panel is a TN (which of course is not a highlight but the high quality of the panel helps). The design is flexible enough for us to access the rear ports with ease – a task that can be a nightmare.
The base is rectangular, and it has a slight curve to it. Additionally, there is a hole in the middle of the stand which provides us enough room to run the wire through it. There is also a small red hook in the back that can allow you to hang the monitor when you are done playing. If you want to hang it up via a VESA mount, you can use a button on the back that helps the display slide off of the stand. On the base, there are magnetic edges that allow you to attach the included S Switch. This switch can be used to access different modes on the monitor, and it's good that it's handy like that.
Comfort
Now that we have established that the XL2420G is highly comfortable during gaming and suitable for long sittings by reducing eye fatigue, it's time to see that physical side of things. Being 22.5 x 20.3 x 5.9 inches and 9.4 pounds, the monitor is also highly adjustable. The stand allows us to move the screen about 5 inches up or down, swivel it 35 degrees left or right, and tilt it 20 degrees back or 5 degrees forward. And that's about it. There aren't any unnecessary features added to it to make it look of feel out of the range that it is in. All things included are practical only.
Connectivity
The BenQ XL2420G features the essential ports tucked below the rear panel, where they are easily accessible. These include a DVI-DL connection, two HDMI ports, a Display Port, a USB port and a mini-USB connection. On the left side of the screen, there are 2 USB ports and a standard 3.5mm headphone jack. On the right, we have five touch-sensitive buttons for navigating the on-screen menu and one power button to turn the monitor on or off. This is a straight-up, practical design and it covers virtually all peripherals.
On the on-screen menu, things are very simple: the 'Engine Switch' lets you choose between modes (G-Sync/Classic), the 'Picture Mode' allows you to select presets (FPS or Movie for example), and the 'Display Mode' lets you alter the aspect ratio of the monitor.
Note: The BenQ XL2420G has been discontinued by the company but will soon be replaced with a new and improved model. Stay tuned!