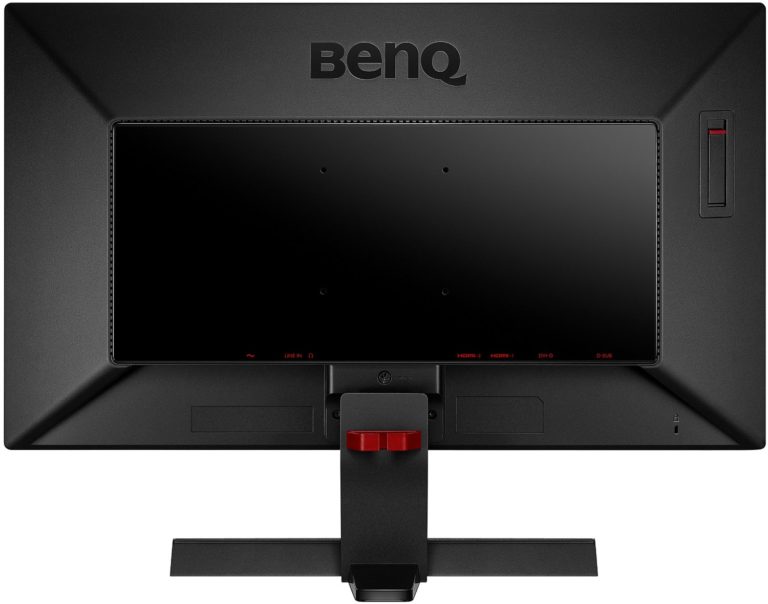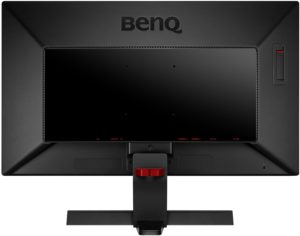 | | |
| --- | --- |
| Our Rating:           | 7/10 |
| Size | 27″ |
| Adaptivesync | No |
| Refresh rate | 144 Hz |
| Response time | 1ms |
| Panel | TN |
| Resolution | 1080p Full HD |
| Price | |
| | |
| --- | --- |
| Pros | Cons |
| Excellent color production for a TN panel | Bad viewing angles |
| S Switch and other BenQ gaming feature | Low resolution |
| Multiple I/O's for connectivity | Lacks adaptive sync for higher rating |
Conclusion
The Benq XL2720Z is one of a complete gaming monitors that you can get when it comes to first person shooting gaming and E-sports gaming monitors (Counter-Strike, Battlefield, Call of Duty). As with most BenQ monitors, you get a ton of opportunities for regulating gaming features such as the DisplayMode feature that allows you to change the screen size from 17" to 27" and the Gaming Refresh Optimization Management that can adjust the Refresh rate to be set at 100 Hz, 120 Hz, and 144 Hz. The S Switch module allows you to change gaming preferences in an instant without having to exit the game or program, which we think is a very useful feature if you are playing different kinds of games. Being a TN panel based monitor, the XL2720Z excels in color production and viewing angles when compared to other 144 Hz TN based gaming monitors, not to get the comparison confused by IPS based gaming monitors. It has the nVidia 3D Vision 2 ready included as well as nVidia's Light Boost Technology if 3D gaming is to be preferred or tried out. Besides the specs, as you can see in the specs table, Low Motion Blur, 0-Flicker Technology, and Low Blue Light Reduction features are included as well.
Full Review
The stand simply clicks its way into place and is fully adjustable for height, swivel, pivot and tilt. Besides the cool gaming monitor look you get from the BenQ gaming monitor designs, it also features an S Switch which is used to switch between your profiles easily and navigate your on-screen menu on the fly without using the buttons built-in to the monitors. Included is additionally a VGA cable, a Dual Link DVI-D cable a USB cable for the S Switch and finally a dust cover.
Being the successor of the XL2420TE, BenQ has optimized to the XL2720Z which now has a 27" screen which is a big difference when it comes to overall gaming comfort. We recommend at least a 27" screen to game on, but that is just our subjective opinion. As opposed to the XL2420TE, the XL2720Z also comes with a bunch of new features such as Low Motion Blur, nVidia's 3D Vision 2, nVidia's Light Boost Technology, 0-Flicker Technology, Blue Light Reduction and Gaming Refresh rate Optimization Management.
As typical for BenQ monitors, the XL2720Z specializes in the fast-paced action games and online games because of its fast responsiveness and its high refresh rate with the use of its TN panel. However, being a gaming monitor manufacturer in general, BenQ manages to make the TN panel of the XL2720Z perform surprisingly well in image quality and color performance and accuracy when compared to other TN panel based gaming monitors. This widens the spectrum of the games which can be played towards an enjoyable level beyond that of online and fast paced action games.
During the testing, it was obvious that the refresh rate and response time was a valuable factor for the smoothness in fast paced games. The input lag time is fast as well making it the obvious choice for the gamer who wants precision in aiming and a boost in responsiveness when playing online and lastly a true gaming monitor appearance as the BenQ designs has always been a pleasure for, dare I say, every gamer.
All specs:
Refresh Rate

144 Hz

Response Time

1ms

Input Lag Time

10ms

Size

27"

Aspect Ratio

16:9

Static Contrast Ratio

1000:1

Dynamic Contrast Ratio

12,000,000:1

Resolution

1920 x 1080 (Full HD)

Panel Type
TN

Adaptive Sync
No
Brightness

300cd/cm2

Blue Light Reduction

Yes

Anti-Glare

Yes

Anti-Reflection

No

Backlight

LED

Speakers

No

Color
Matte Black

Ports
1x D-Sub, 2x HDMI (HDCP supported), 1x DVI-D, DisplayPort 1.2, 1x Audio line in, 1x headphone jack, 3x USB 2.0

Viewing Angle

170/160 Degrees

Adjustability

Height 140mm (down to the base), pivot, swivel 45 degrees, tilt 5/20 degrees

Brand-Specific Features
S Switch, Auto Brightness Control, Advanced Motion Accelerator (AMA)

Technology, Senseye 3 Technology, Black eQualizer, Smart Scaling, Flicker Free-technology, RTS Mode, Motion Blur Reduction, Display Pilot, FPS Mode

Additional Features
Nvidia's 3D Vision 2, Nvidia 3D Light Boost Technology